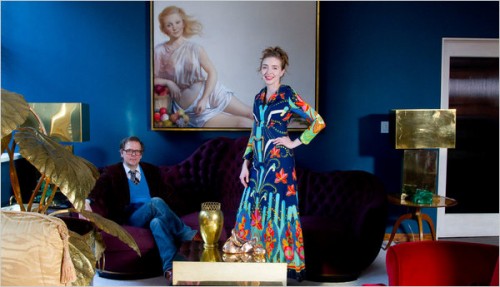 Photo: Lee Clower for The New York Times
I had an entirely different post planned for today, but after reading this article in the New York Times yesterday, I knew I had to chime in. If  you didn't see the piece, it is about artists Rachel Feinstein and John Currin, "the most potent marital pairing since Jackson Pollock and Lee Krasner." The article struck a chord with me because I have long also had mixed feelings about the couple myself. It brings forth many questions about our conceptions of what artists are, how they should live and what success should look like. And beyond that it even relates to broader issues such as the many Baby Boomers (which the Currins most certainly are not) and their dichotomous transformations from 60s anti-establishment hippies to successful 21st century CEO's.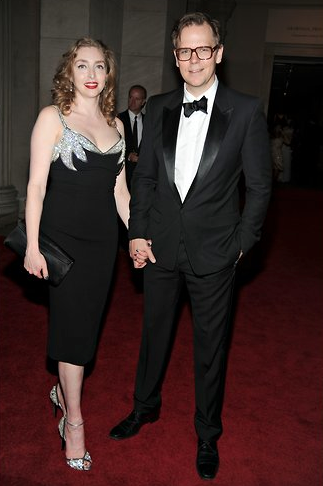 But back to the Currins – what is it about them that invites so much controversy – or is it resentment? There are many potential areas of discontent  – from their lavish lifestyle (see them above at the spring 2010 Costume Institute gala at the Met) to their libertarian politics. It is Mr. Currin who seems to be the half who incites more ire – especially after he left his long time gallery Andrea Rosen for Gagosian, clearly for glory and gain. Would we hold such ambition against anyone in any other field – I doubt it. Certainly not in the business world. And would we resent them if they were film stars or even designers? Again, unlikely. So what does that say about our expectations for fine artists?
Photo: AMBER De VOS/PatrickMcMullan.com
We don't even have the same expectations for musicians or writers. As I started to mull these thoughts over, I realized that I was indeed harboring some residual resentment seeing Ms. Feinstein in Vogue so frequently, modeling in the Tom Ford show (below) or at the star studded gala for the opening of her recent "The Snow Queen" exhibition. (See the couple at the event above with Anna Wintour, Marc Jacobs, Alexa Chung) But why? Is it fair? Is it even generational? Probably none of the above, but clearly I am not alone.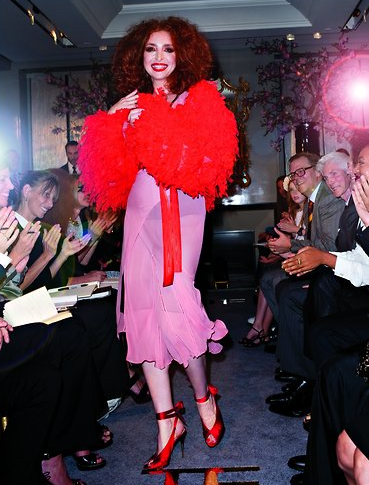 Photo: Terry Richardson for Tom Ford
And the couple themselves is fully aware of their image. As Ms. Feinstein said, "What people don't understand is that there is no gain at all for an artist to do something like that in a public eye. As a movie star or fashion designer, the more publicity you get, the consensus is that (she is referring to being featured in Marc Jacobs' several years ago) it's a good thing. But I make maybe six pieces of art a year — and the more the general public knows about me, the less it helps in the small sphere of the art world."
I am certainly going to be taking a long hard look at my attitudes towards fine artists. If you have a chance, read the article. Lots of food for thought. And let me know what you think – I'd be curious.