What a wild style ride the last few weeks have been. While there is much to report, there are a few touch points to quickly share from the latest design event I attended, Blogfest. The most important concepts are usually the simplest but executing them well is what separates the good from the exceptional.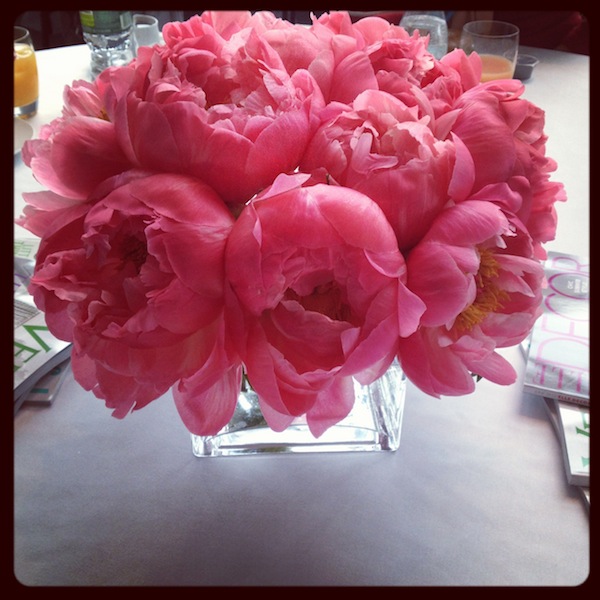 Details are key. While this certainly isn't new news, seeing and hearing it from the experts helps to emphasize the point. At our breakfast at the impressive Hearst Tower, every table was graced with beautiful peony arrangements. It set the tone for the day and brightened everyone's mood on such a dreary morning.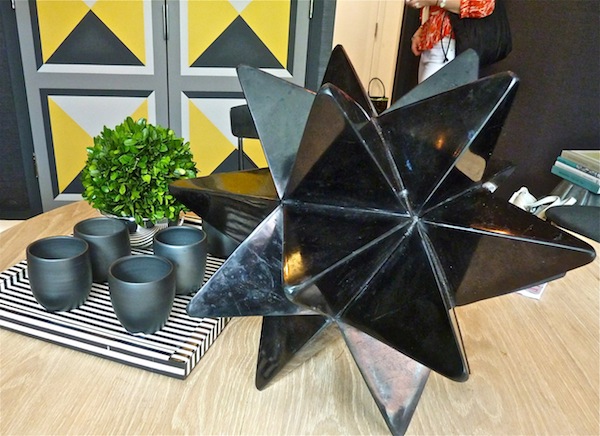 It was evident at both Kips Bay and the Elle Decor Modern Life Concept House as well, where top tier designers included incredible details to bring their spaces alive, as Nina Freudenberger did in her room for Haus Interior. Whether designing a space, publishing a magazine, writing a blog or running a company, it's the vigilant attention to details that helps spell success.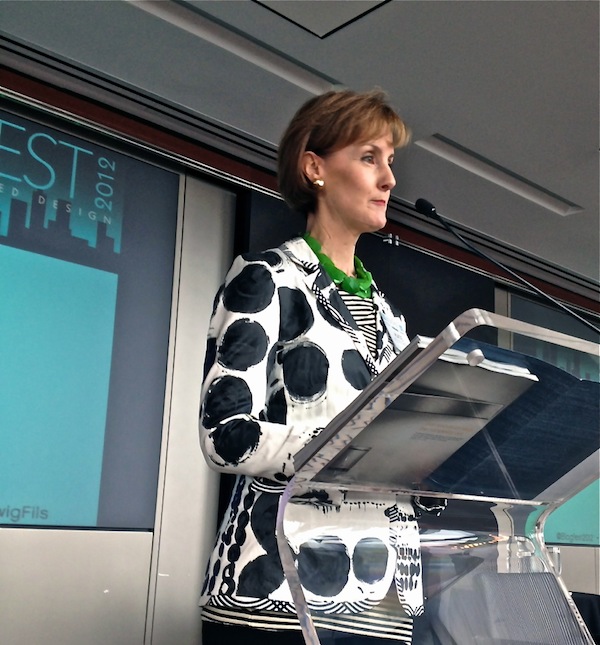 Distinguish yourself by creating an authentic voice. Of all the advice given and shared at Blogfest, this was the most prevalent. Even in publishing, establishing a distinctive presence is a vital concept. While Hearst Home Group owns several of the most influential magazines in the design world, they each have their own niche within this vast print empire. Kate Kelly Smith, SVP, Publishing Director & Chief Revenue Officer of Hearst Design Group made references to each of the publications in her group, Elle Decor, House Beautiful, Veranda and introduced our Blogfest host Kravet.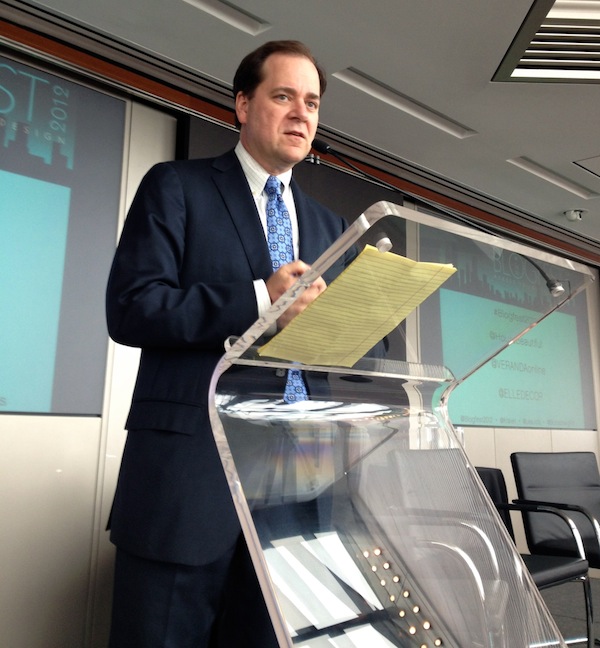 Cary Kravet represented the firm explaining how they have distinguished themselves through their dedicated vision of innovation, attention to detail, keeping it personal and maintaining the authenticity of a fourth generation family owned company.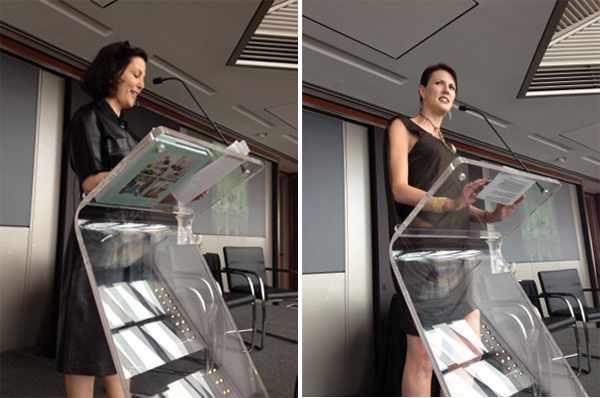 The dynamic duo from Veranda, editor-in-chief Dara Caponigro and Publisher and Chief Revenue Officer Jennifer Levene Bruno spoke of how Veranda distinguishes itself in the world of shelter magazines. Acquired by Hearst in 2002, their focus on authenticity, quality and beauty starts with production, using some of the heaviest paper and lamination in the industry. It was not surprising to hear that their ad revenues are up – they know their audience and speak to it. With an affluent readership who likes to collect and is willing to spend, Veranda's approach to stylish living includes much more than decorating.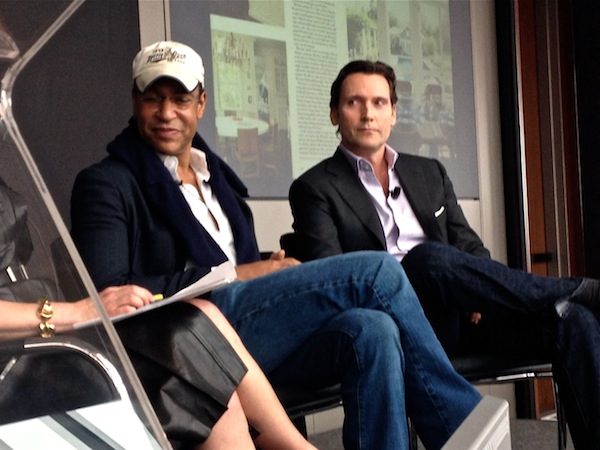 It's all about the personal fit. Dara brought two design stars from the May/June issue, Darryl Carter and Timothy Whealon, to speak about their projects, their inspiration and their thoughts on the business of design. While many aspects of the industry were discussed, both agreed that the bottom line for successful design jobs is the personality fit. If the relationship with a potential client doesn't click, chances are neither will the job. By maintaining consistent authenticity, it should be clear to a client what they can expect. Later at the Kravet showroom, Alexa Hampton's discussion with Traditional Home's editor-in-chief Ann Maine, echoed these sentiments as well. She emphasized how important it was for her personal version of traditional style to shine though in her Kips Bay room and how she retires patterns and trends after each client to keep her work fresh yet faithful to her vision.
Harnessing technology for effective communication
New and ever-improving technology has made connections possible in ways we never could have imagined in the past. Sophisticated technological integration at home was seen at the incredible Savant Showroom and Newell Turner, the innovative editor-in-chief of House Beautiful was excited to share the magazine's latest forays into cutting edge technological features.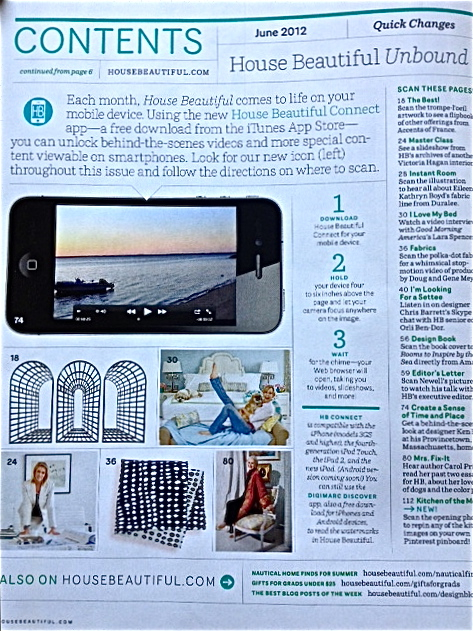 Their new free House Beautiful Connect app (House Beautiful Connect in the app store), enables you to see videos and additional content from the magazine merely by holding your smart device over the page where the circular HB symbol appears – amazing!! And they are the first magazine to introduce a print to pin (as in Pinterest) option – yet another way, as Newell says, to "further deepening engagement with our readers."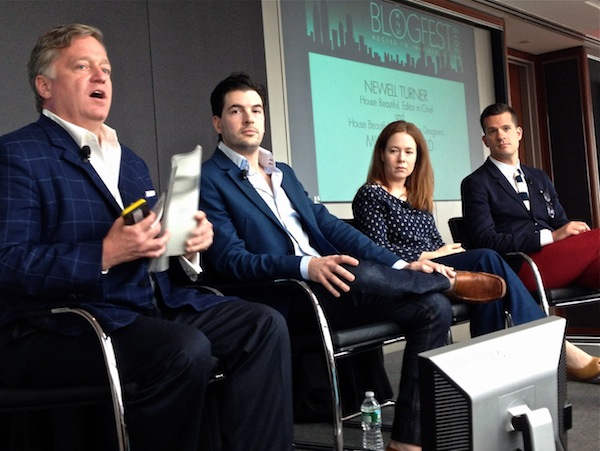 Newell brought House Beautiful Next Wave designers Michael Herold, Jill Goldberg & Jon Call to join his panel about how to get your projects noticed and finding your "A-Ha" moments. While all three were informative and entertaining while sharing their professional experiences, Jon Call's articulate outlining of his strategy to build his business was eye opening. Which brings me to my next point.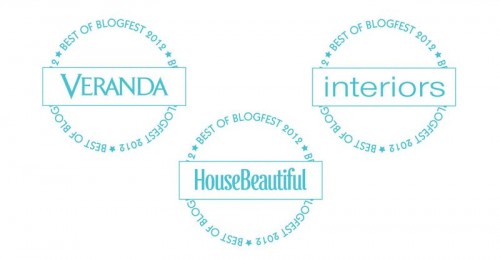 Social media is a powerful tool  If any readers still have lingering doubts about the power of social media, they merely had to attend this 3 day tour. Every single talk and visit included links to Twitter, Facebook and/or Pinterest pages as well as contests on these platforms involving both brands and publications. And for designers, as mentioned above, Jon Call articulated how he strategically began his brand building on Facebook, setting specific goals before he moved on to twitter and a blog.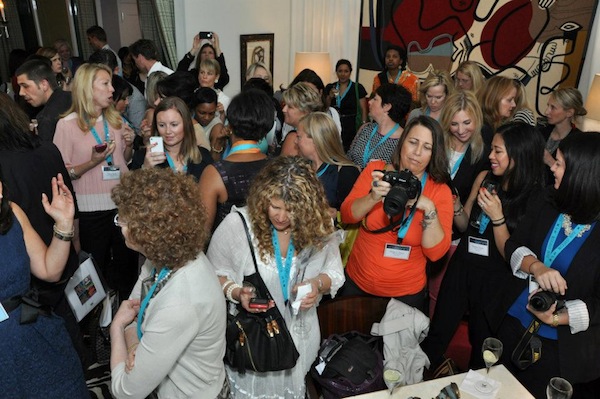 photo courtesy of Kravet
It's the people who count While  initial contact may be established through social media, nothing brings it home like face to face. And that is the beauty of Blogfest – cementing relationships launched through social media in a real life environment. Almost all the designers who spoke echoed this as well, many citing their clients as the favorite part of their work. Throughout the conference it was clear that Kravet has established their position of leadership in the industry through great relationships with their employees, brand partners, media sponsors and designers. It's reassuring to know that even as technology and social media advance, nothing can replace the value of personal relationships.