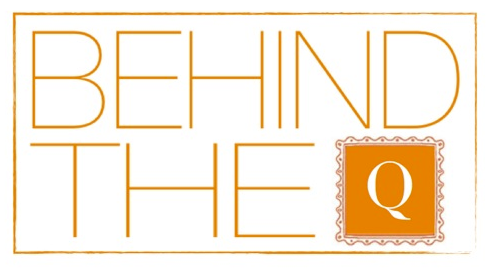 Welcome to the third BEHIND THE Q, a monthly feature showcasing behind-the-scenes visits with select stylemakers. In entertaining venues, we explore, through both video (below) and editorial content, their style quotients and gain insight into their creativity. I am especially thrilled to introduce this month's subject.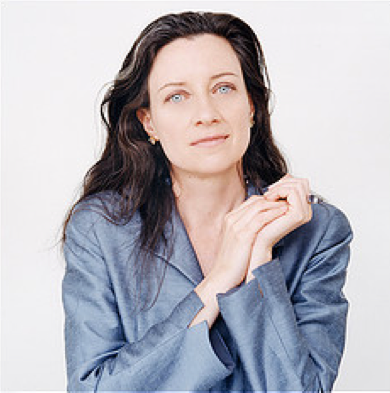 Photo by Brigitte Lacombe for Conde Nast's House & Garden
Anyone interested in magazines and design is familiar with my guest this month. Dominique Browning is an iconic figure in the world of print. Well known for her long tenure (13 years) as the last editor-in-chief of House and Garden and as a writer for such distinguished publications as The New York Times, The Wall Street Journal, Departures and Food & Wine, she is also the author of several books, most recently the best-selling Slow Love.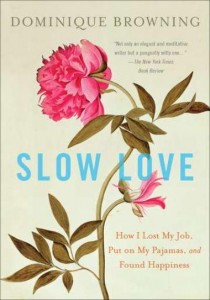 If you have not read this gem, you owe it to yourself to pick it up, especially now that it has been released in paper. You will find yourself nodding in recognition and laughing out loud. In addition to her articles for magazines and newspapers, Dominique is a regular contributor to the Environmental Defense Fund website, Women's Voices for Change, Moms Clean Air Force and can be found blogging at Slow Love Life.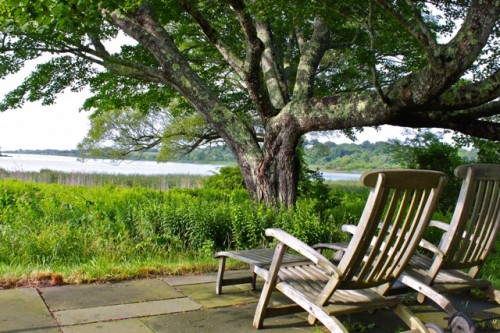 I had the pleasure of visiting Dominique at her home in Rhode Island last month, where we toured some local shops and galleries and had a chance to catch up at her lovely home on the water.
Those of you who have read Slow Love can imagine what a delightful weekend I had visiting with the insightful, design-savvy, smart and yes, funny author. Joining me was our mutual friend and doctor, affectionately known as Dr. Pat, my previous (and hopefully future) road trip partner. To set the scene, you can read about Dominique's amusing preparations here. And to set the record straight, her house was exquisite and immaculate – the perfect amalgamation of eclectic chic, old and new, natural and sleek, and always unique, just like her – a fabulous mix of seasoned editorial vision!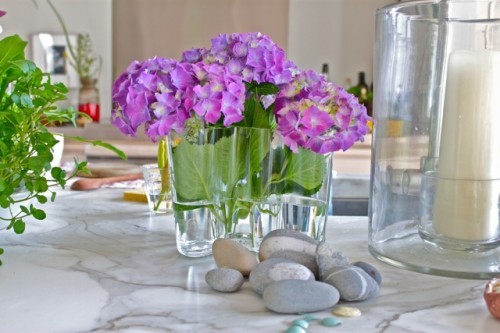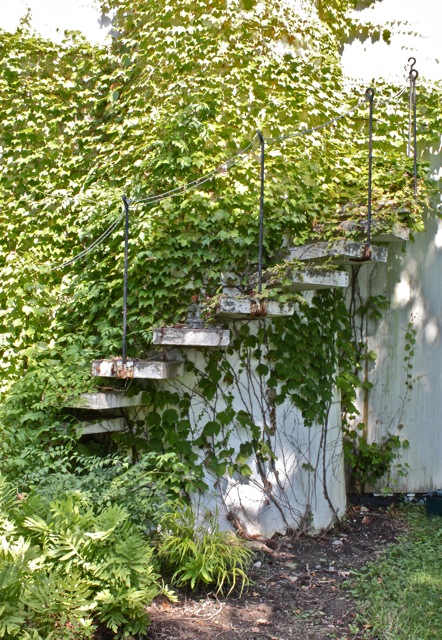 My room welcomed me with special thoughtful touches, the sign of an attentive and considerate hostess.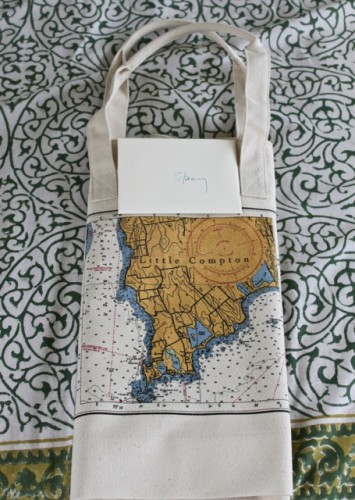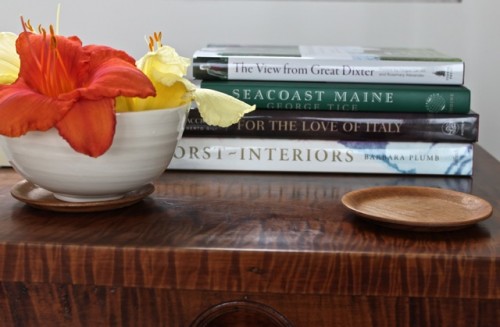 Outside of Newport, Rhode Island is a somewhat under-the-radar New England destination. Having attended college in Providence, I have a special affection for this tiny state and its disproportionately large coastline. So does Dominique, as you can see in this little bonus video.
For further Rhode Island adventures, be sure to read Dominique's piece in Travel and Leisure this month where she "wends through the small towns, quiet beaches, historic sites, and stylish hotels that make up Rhode Island's secret coast".

After stopping at an old fashioned local church fair in Little Compton, where I scored some amazing purchases, to be featured in a later post, and a delicious lobster roll at Commons Lunch, above, we arrived at Tiverton Four Corners. This quaint village of 18th century houses is also a local center for antiques, decorative crafts, art galleries, and charming shops, all within walking distance.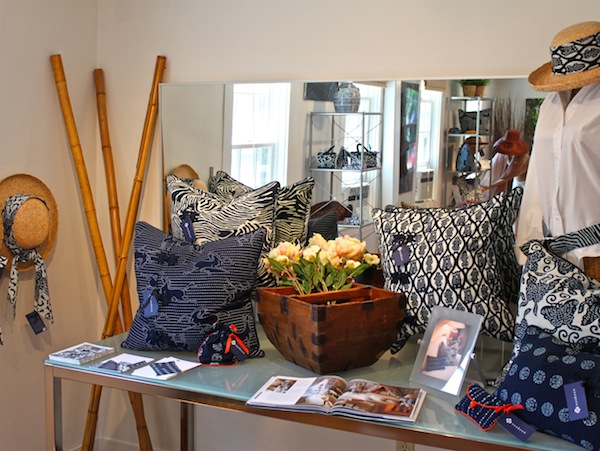 Dominique knew I would love Nankeen. Designer Ann Page's store is a collection of wonderful cotton accessories. It is a winning combination of contemporary designs made from an ancient traditional Chinese art form. "Blue nankeen" refers to the hand-dyed fabric of indigo hue in patterns made from hand-carved stencils. This meticulous, labor intensive process results in durable fabric of striking graphic appeal.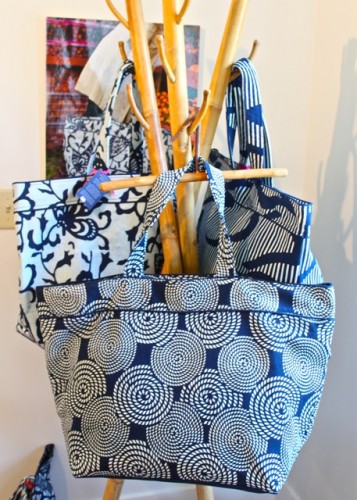 This imported fabric is then made into chic and functional bags as well as fashion and home accessories with great attention to design details. Note that you can also purchase some of the fabrics by the yard – we were all thinking what a marvelous tablecloth many of the designs would make! Dominique chose the large lily tote. It would make a perfectly chic beach bag or tote for traveling back and forth to a summer rental or home.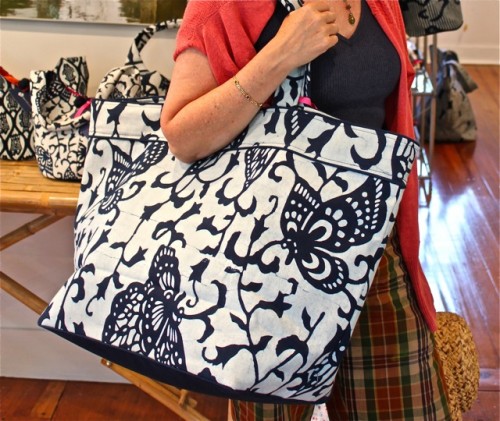 Our next stop was Tiffany Peay Jewelry.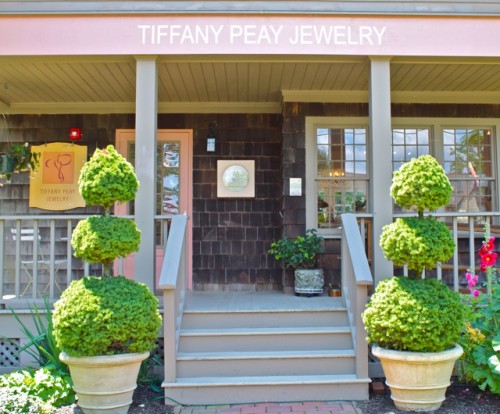 In this workshop/gallery, Tiffany assembles her hand-selected gemstones into elegantly simple designs that look beautiful individually or layered for a more impressive effect.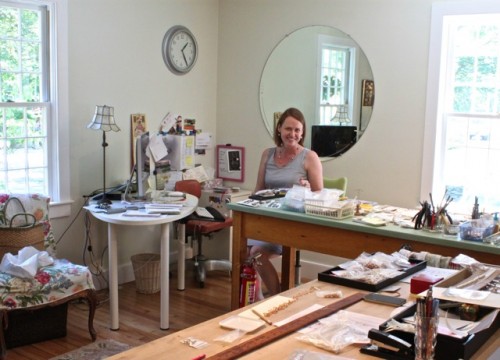 Seeing Tiffany in her workspace surrounded by stones was like being in a candy shop of gems, with pieces in all different stages of completion. I loved how Dominique modeled these rings – it made choosing just one perhaps less difficult.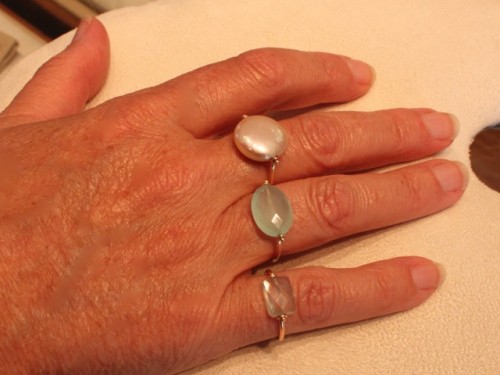 Tiffany frequently uses green or rose gold, enhancing the shade of the stones with delicate detail. After launching her first collection in Barney's in 1994, Tiffany has been featured in numerous magazines and websites. Working with her on a custom piece would be a total delight – she is both knowledgeable and approachable, with a great sense of scale and color.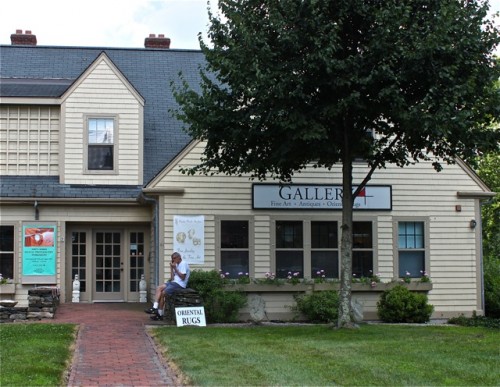 Gallery 4, our next stop, is just that – a gallery of four owners, combining art from their respective collections including Turkish textiles, wire-designed jewelry and art, and furniture and decorative art from China and Southeast Asia. It is from this latter collection, Bob Smith's Wanderer Imports, that Dominique made her selection.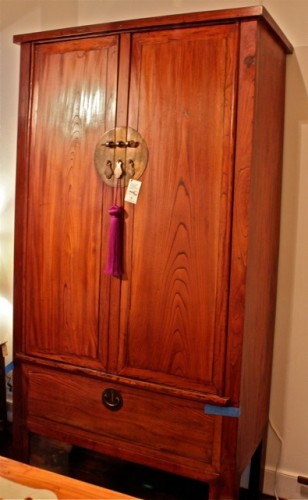 This tall two door beechwood cabinet from Shanghai of the late Qing dynasty would make a lovely addition to Dominique's beautiful space. It's spare yet exotic presence would easily mix with her chic collection of eclectic pieces.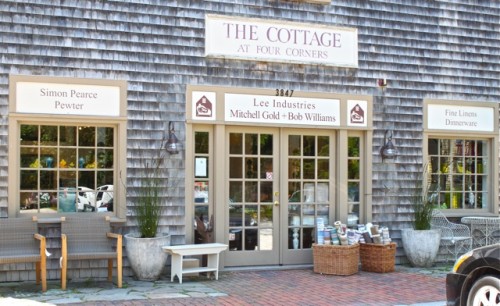 You could just about furnish an entire weekend house at  The Cottage at Four Corners. This charming shop carries a thoughtfully curated selection of well known, more obscure and locally made products. From large pieces of furniture to tabletop items and smaller household accessories, this appealing store was teeming with temptation!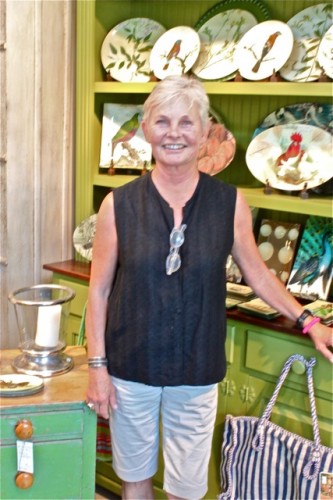 I wasn't surprised to discover that founder Nancy Hemenway was a member of the elite alumni from Design Research, recently the subject of a new book. Her shop is typical of both the design conscious selection and enticing merchandising the iconic Cambridge store was known for.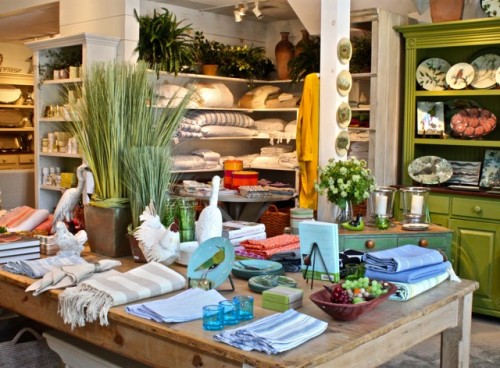 From Janus et Cie wicker to Match pewter to furniture by local artisan Jim Stubblefield, The Cottage epitomizes the casual chic style of this lovely coastal community. Dominique found several ideas for a summer tabletop vignette.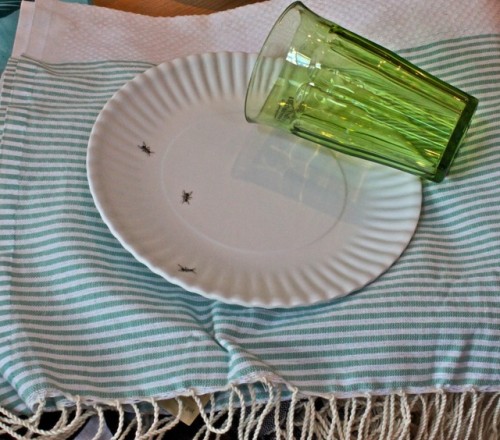 How fun are those reusable melamine "paper plates" – ants included!! The acrylic version of the classic French tumblers are in the perfect shade of summer green accompanying the beautiful Belgian Libeco linens – all set for an al fresco meal with some fresh local produce and delicious home-made ice cream from Gray's across the street (Dr. Pat and I can personally vouch for the quality of their tasty product).
I was so sad for our wonderful girls' weekend to end. I got to experience some slow love first hand, enjoying my morning coffee (Dominique makes a mean cappuccino) overlooking the water from her terrace. We have vowed to find another excuse to get together, hopefully soon. Be on the lookout next week for my picks from our outing and perhaps another bonus video!! Thank you so much Dominique – what a special treat!!