My spirit of choice is vodka so I was thrilled to hear that Terry had an artisanal New England-made one to recommend. Vermont Gold Vodka is made, surprisingly, from the essence of Vermont – maple sap! Here's Terry to tell you a bit more.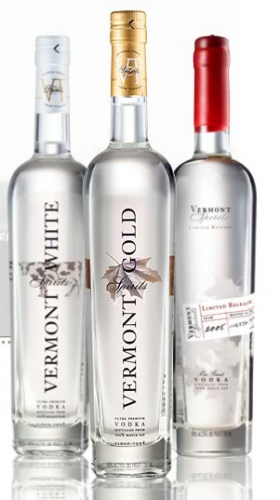 Although Vermont Gold Vodka is handmade in small batches from the sugar of maple sap, it is a pure, delicate, unflavored vodka. This is rather amazing considering that maple sap flows for less than six weeks each year.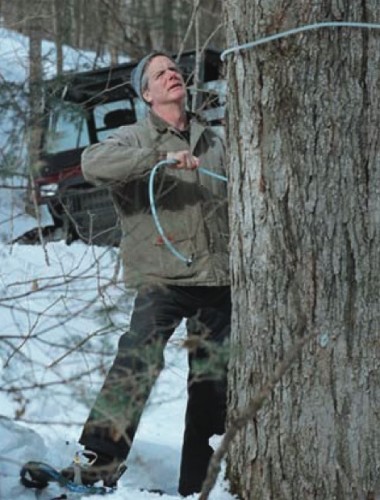 This vodka is produced in St Johnsbury, Vermont from maple sap in a distillery that is seriously crunchy granola, even for Vermont. The operation is off the grid- no electricity hookups. The distillery has glass sides to maximize natural light for working. As someone from the Northeast and descended from a long line of maple syrup makers, let me assure you that maple sap gathering is a time-and-labor intensive process. Anyone who has done it will respect what these people have accomplished (and not complain about the price).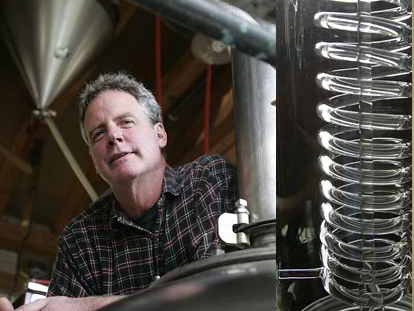 "Our goal is to produce vodkas with flavor…not flavored vodkas, and we distill each batch with the spirits connoisseur and love of fine food in mind." – Harry Gorman, Distiller, Vermont Spirits (above & shown gathering sap top)
One important note is this is a wheat/gluten free product (in fact entirely grain free – one of the few vodkas that can lay claim to that) so anyone with an intolerance to wheat should consider it as an alternative to many of the vodkas out there.
Appearance: Crystal clear, no sediment whatsoever or separation. Medium thick body. On swirling it leaves a a thin clear coat on the inside of the glass, then some beading (droplets) and legs forming.
First Impression: Maple sweetness with clean alcohol notes. You can tell at first whiff this is going to be a treat.
Taste: Sweet, thick, and slightly oily on the tongue, toasted wood and grain notes (carmelization of sugars) leading to a incredibly smooth taste like the lightest (and best) grade of maple sugar or the butter cream you can make from same with a wonderful warming alcohol tale to it. Almost a vodka malt syrup if one can imagine such a thing.
Drinks: I'll cop out and quote from Duncan, the original distiller, he said it very succinctly: 'Vermont Spirits Gold stands on its own alone. Let first-time tasters drink it neat at room temperature, in a clean glass with no ice. For a martini, shake it with ice and add nothing but a twist of fresh, preferably organic lemon."
For mixed drinks that feature fruit juice, vermouth or Kahlúa, use another vodka. My suggestion might be to try it with a flamed twist to caramelize the lemon oil a bit. Another suggestion is if you are making a petit punch (rum, cane syrup, wedge of lime, one ice cube) use this instead of the cane.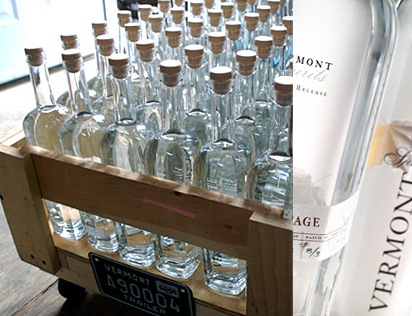 Bottle: Distinctive, in that it is tall, rectangular, bright clear glass with rounded shoulders, and NO frosting unlike the sea of others. The bottle has changed in that they no longer use a hand dipped wax seal to finish the bottle anymore – they use a simpler metal foil cap instead – which we personally think is a pity. Simple graphics silkscreened or printed directly onto the glass. Gold maple leaf shows through back to front to distinguish the ingredients. Nice heft to the bottle and a good grade of clear glass with nice foot to it. Bottle was imported from France and is of very high quality – lovely sparkling glass to showcase an excellent product.
Final Thoughts: Finally, a high end vodka that is clearly worth the money on merit, not name or just plain greed. This vodka has both a ingredient and quality class that is singular. There is no other vodka that uses these ingredients or has a similar taste profile.
And now for the best part – some fabulous recipes created for Vermont gold lovers:
Liberation Libation 2 oz Vermont Gold 1/2 oz maple syrup 1-1/2 oz non-alcoholic sparkling apple cider Chill over ice, strain and service in a cinnamon-sugar rimmed martini glass! Green Mountain Fizz 1-1/2 Vermont Gold 1/2 oz fresh lime juice 1/2 oz fresh lemon juice 1-1/2 oz cream 1/4 oz grade A dark amber maple syrup 1 egg white 3 drops orange flower water Chilled club soda, mint leaf Shake all ingredients except for orange flower water and club soda WITHOUT ice for about one minute. Add ice and shake again very well for another minute. Strain ingredients into a tall glass without ice. Top with club soda. Gently place the 3 drops of orange flower water atop the froth and gently float 1 tsp maple syrup. Garnish with mint leaf. Gold Rush 2 oz Vermont Gold 1/4 oz Chambord Dry Champagne Shake Vermont Gold and Chambord, strain and pour into a champagne glass. Top with the bubbly. Garnish with a generous twist of lemon.
Thanks Terry – I can't wait to try it – I love supporting these American made artisanal products!!