As the beautiful weather seems to have arrived, we are thinking about what to drink for the approaching summer months. I think everyone is always looking for something new and fresh yet still worthy of our demanding desire for style and substance.  Terry of course has a great idea. Let's travel with her today to Germany.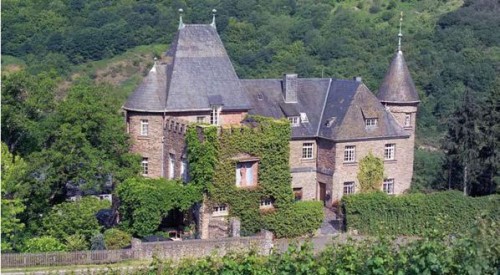 After just spending the morning with Annegret Reh-Gartner, owner of the Reichsgraf von Kesselstatt winery, and tasting through four of their classic Rieslings, I just feel compelled to share my experience with you.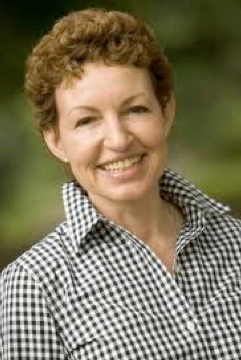 In 1978 Gunther Reh, Annegret's father, acquired Weingut Reichsgraf von Kesselstaff in Trier.  It was at that time that Annegret Reh-Gartner discovered her love for wine and decided to pursue a career in viticulture, a profession still dominated by men in those days.  Since 1983 she has directed the more than 600 year old estate with commitment and competence.  Her pleasure in the product and deep devotion to her native region as well as her quality consciousness and years of customer contact in Germany and abroad all helped the wine estate achieve international renown.  In 1989 she was named "vintner of the year" and was nominated for this "wine industry Oscar" again in 2001 and 2005.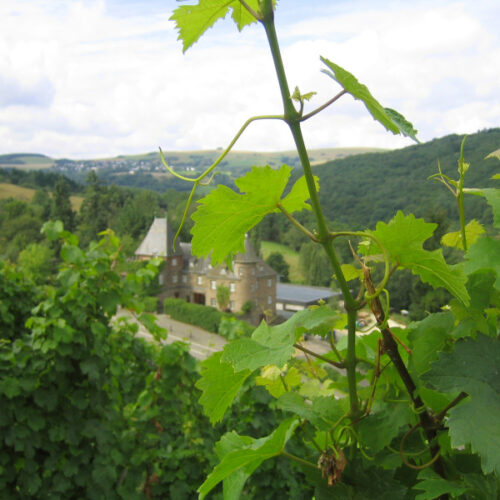 Annegret Reh-Gartner has been married for more than 20 years to Gerhard Gartner, who defended two Michelin stars in his Aachen-based restaurant Gala for over 10 years where he was recognized as one of the finest chefs in Germany. After taking his final curtain call on the gourmet stage, he devoted himself to his second passion – wine. Gerhard Gartner has stood by his wife with advice and support for many years.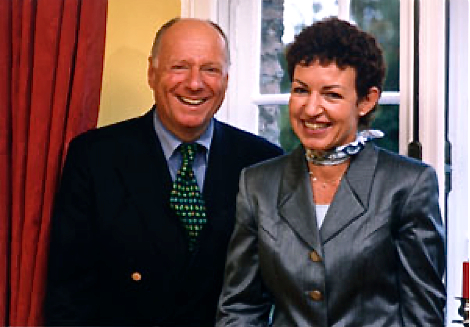 The first wine we tasted this morning was the Reichsgraf Von Kesselstatt Estate "RK" Riesling.  This delicious 2009 vintage for $15 a bottle was such a bargain and with our weather jumping from 50 – 90 degrees in a week, it was very, very refreshing.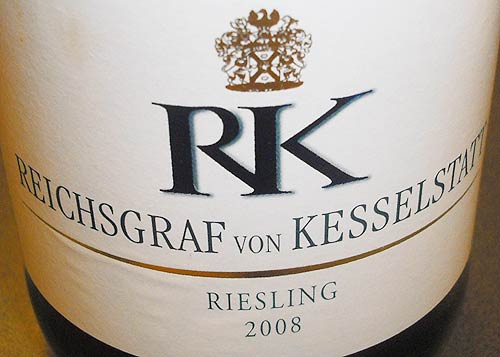 Riesling is a white grape variety which originated in the Rhine region of Germany. It is an aromatic grape variety displaying flowery, almost perfumed, aromas as well as high acidity. It is used to make dry, semi-sweet, sweet and sparkling white wines.  As of 2004, Riesling was estimated to be the world's 20th most grown variety, but in terms of importance for quality wines, it is usually included in the "top three" white wine varieties together with Chardonnay and Sauvignon Blanc. Riesling is a variety which is highly "terroir-expressive", meaning that the character of Riesling wines is clearly influenced by its place of origin.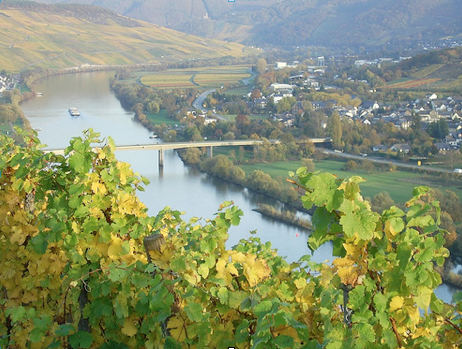 Our next Riesling was the Reichsgraf Von Kesselstatt Piesporter Goldtropfchen.   As you will read below in the explanation of German wine labels, the Piesporter Goldtropfchen is the vineyard.  It was the Kabinett therefore the wines were ripe, with a beautiful hint of sweetness.  It is a reasonable $24 a bottle and just screamed to have lobster next to it.
The Reichsgraf Von Kesselstatt Josephshofer Riesling Kabinett is one of their stars.  This is  a solely owned vineyard site.  The first documented mention of the Josephshofer site was in 1400.  This gem, formerly a monastery of vineyard holdings, was acquired by the Counts of Kesselstatt in 1858.  Only the Josephshofer wines bear the exclusive, historical label from 1870-1880.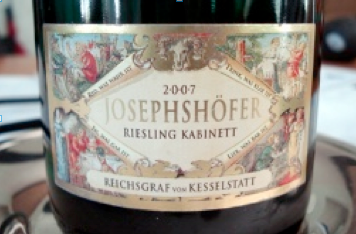 The final and fullest wine of the morning was the Reichsgraf Von Kesselstatt Scharzhofberger Riesling Spatlese  $35 a bottle and still a value for the quality and richness.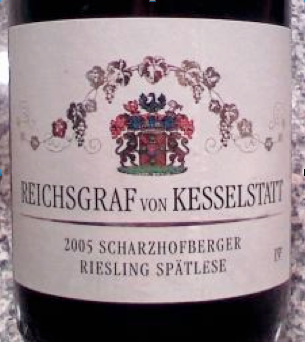 A German wine label includes the following things:
Winemaker, the people who made the wine, such as Reichsgraf von Kesselstatt. You will often see the word "Weingut"; this means winemaker and indicates that the wine was grown, made, and bottled on the premises (in the manner of a French chateau). There are other designations for cooperatives and merchant resellers.
Varietal, the type of grape. Most top German wine is Riesling, but one occasionally runs into other varieties like Gewurztraminer or Silvaner. Muller-Thurgau is one of the most widely grown varieties, but nobody advertises this fact because it's a fast-ripening grape designed to be grown in bulk. A named varietal guarantees a minimum of 85% content.
Vintage, the year the grapes were harvested. All grapes must come from the named year.
Geographic Origin, the region the grapes came from, such as Mosel-Saar-Ruwer. All grapes come from the specified region.
A pradikat designation for QmP wines.
A vineyard may also be named, such as Piesporter Goldtropfchen, although this is usually done only for the better pradikat wines.
The pradikat designation on the wine indicates the level of ripeness that the grapes have attained. They are, in order of increasing ripeness:
Kabinett
These grapes are considered ripe. They make the lightest wines of the pradikat-designated wines.
Spatlese
These grapes are considered late harvest; they have been left on the vine much longer and are more intensely flavored.
Auslese
These grapes are very late harvest hand-selected grapes, and are extremely ripe.
Beerenauslese
These grapes are over-ripe and are showing signs of botrytis fungus infection (which is a good thing). The grapes are extremely concentrated and intense, and is usually made as dessert wine.
Eiswein
These are Beerenauslese grapes that have been deliberately allowed to freeze on the vine. The grapes are pressed while still frozen. The ice locks up most of the water, leaving a more concentrated, sweeter juice. Since the frozen grapes must be hand selected and processed immediately in the middle of the night while they are still frozen, production is very limited and expensive.
Trockenbeerenauslese
These are Beerenauselse that have been left on the vine so long that they have shriveled due to botrytis. This produces fine dessert wine. Riesling Trockenbeerenauslese is extremely rare and expensive.
Germany is cold, even more so than most of Continental Europe (which exists at a latitude corresponding with the more northern parts of the Continental United States). The climate is very marginal for growing grapes, and the extremely steep slopes that are characteristic of Germany's most famous wine regions are extremely hostile towards agriculture. Unfortunately nobody informed the Germans of this fact, and they proceeded to make world-class white wines from the land.
The most famous region is unquestionably the Mosel-Saar-Ruwer valley. The finer vineyards here are situated on extremely steep slopes (over 45 degrees), giving lower yields but better solar exposure and ripeness. Most of the region has slate soil, and this shows up in some of the wines as a mineral-like flavor. It is here that the finest Riesling is produced. They changed labeling recently to be less of a mouthful, so after 2007 it will just say Mosel on the label instead of Mosel-Saar-Ruwer, but nothing else has changed.
If you're interested in pairing some traditional foods that would be found in Germany and that match perfectly with the Riesling Grape Variety, you could try the following well known dishes: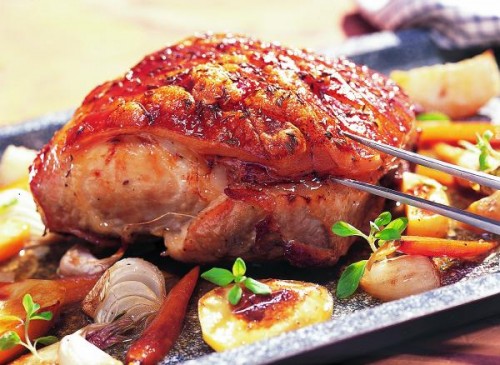 Schweinebraten
Pork roast in a rich gravy. Served with boiled potatoes, Knšdeln (dumplings) or SpŠtzle in Swabia.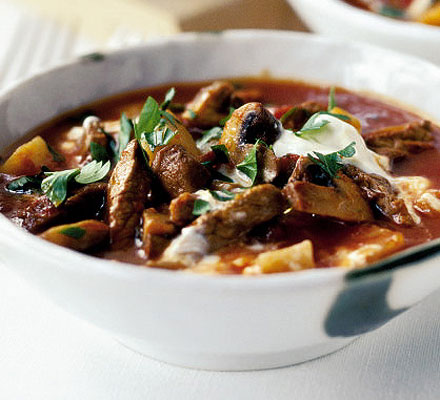 Goulasch
Sharply fried beef and pork cubes stewed with onions and red or green pepper. It is served with boiled potatoes, mashed potatoes or noodles.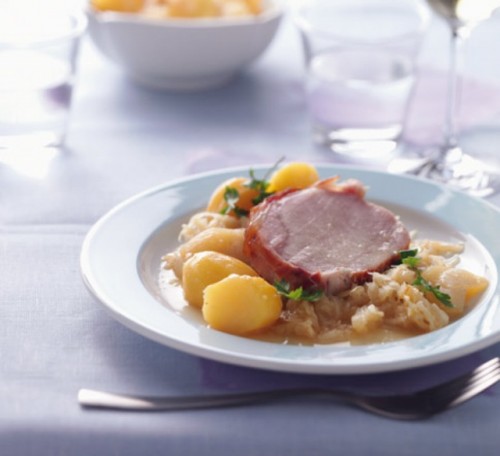 Kassler mit Sauerkraut
Cured pork chops, cooked, served with Sauerkraut and boiled potatoes.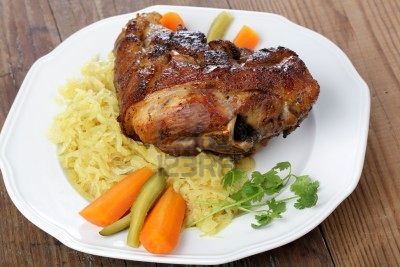 Eisbein mit Sauerkraut
Very fatty pork knuckles, cooked, served with sauerkraut. It was a favourite when most people still worked hard in the fields. Nowadays this heavy meal isn't as popular.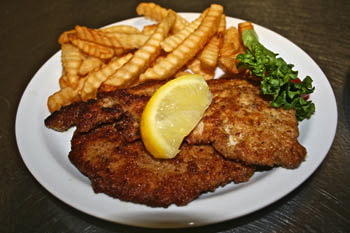 Wiener Schnitzel
Thin veal fillet, crumbed and fried. Frequently served with fries and salad.
Thank you Terry for that incredibly informative post on Rieslings and the wines of Germany. Unfortunately there is always a huge learning curve involved with the wine classifications – thank goodness we have you to sort it out and make some suggestions for us!!