Just over the British border, in the breathtaking countryside of Wales, Penny Morrison and art dealer husband Guy retreat from their busy lives in London to their beautiful country home. While the house was originally built in 1790 with an addition thirty years later, the Morrisons were thrilled to discover when they purchased the property some 30 years ago, that it hadn't been touched since 1910.  After a sensitive 18 month renovation, Penny put her own decorative stamp on the interiors, thus catapulting her interior design career. Please join Susanna and me for a heavenly video visit with Penny at her bucolic country home.
While the house certainly has an English country sensibility at its roots, it is made personal and unique with bold hues and scale, incorporating an eclectic mix of fabrics, accessories and art. Mixing classic chintzes with Indian, Moroccan and Turkish textiles and rugs, as well as her own fabrics, Penny has created a fearless and yet sublimely comfortable home.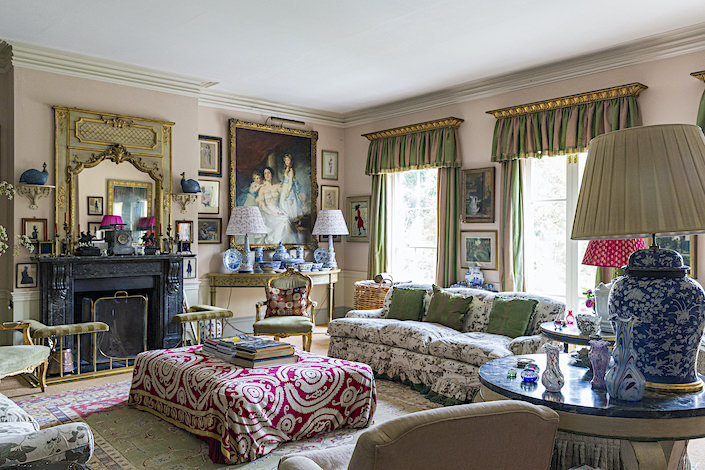 With vast vistas and magnificent views,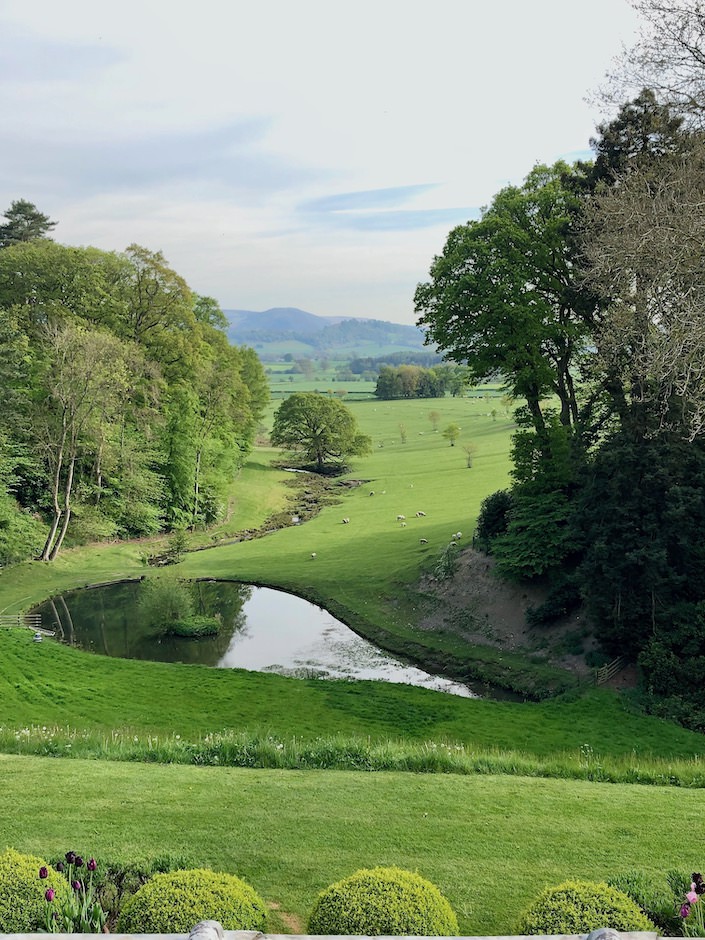 all the main floor rooms, like the charming breakfast room below, have fireplaces and access to the terraces and gardens, making it a house that celebrates nature year round.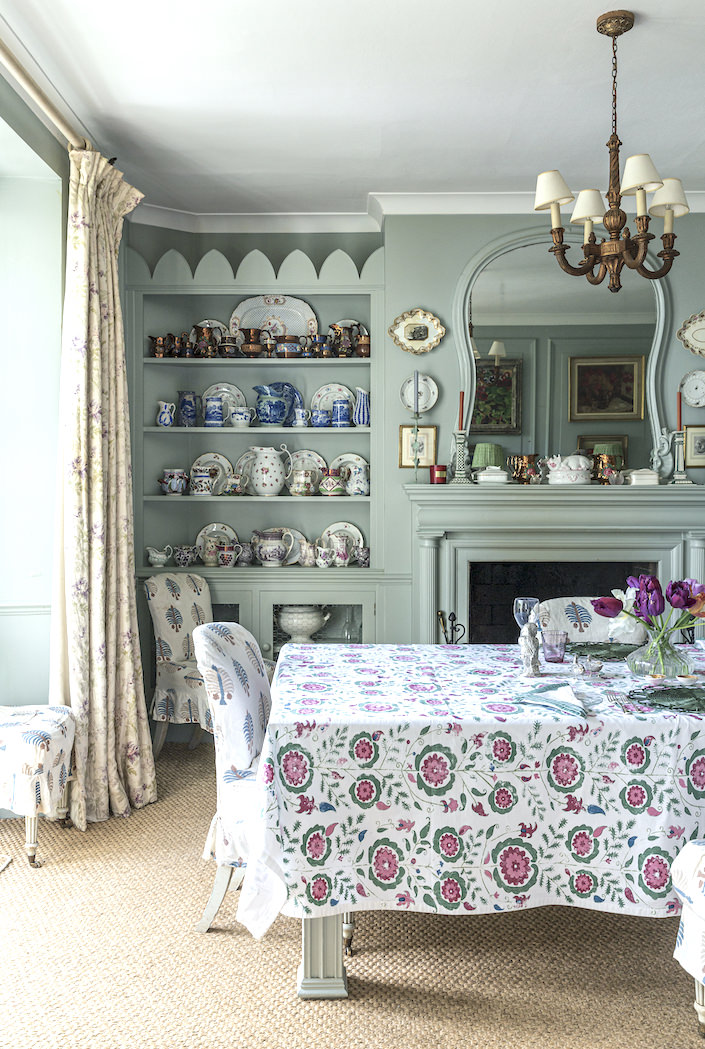 Throughout, the oversized and extensive mix of artwork helps bring a dramatic sense of scale to the already generous space, from the traditional 19th century Robert Brough portrait in the drawing room at top to contemporary Scottish artist Robert Byrne's piece in the dining room below.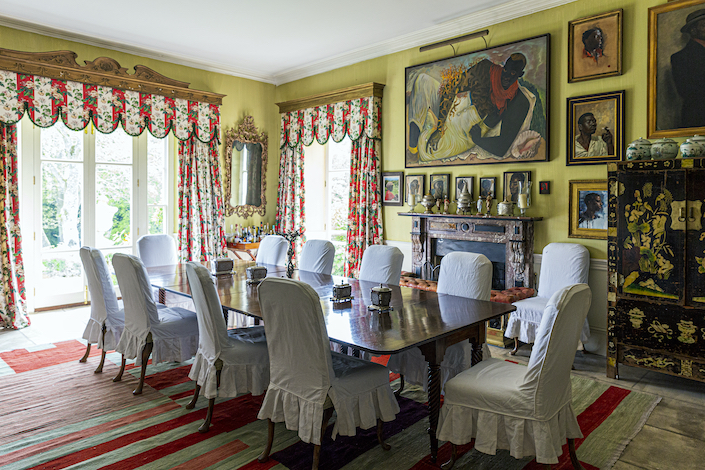 And it is these unexpected pairings that distinguishes Penny's work. Over the years, she has gradually added her own fabrics and accessories to the mix, as in the guest bedroom (where I was lucky enough to stay), below, where her Begum wallpaper and Killi linen on the bed hangings live in bold yet harmonious contrast with a fun OKA throw and antique Bessarabian rug.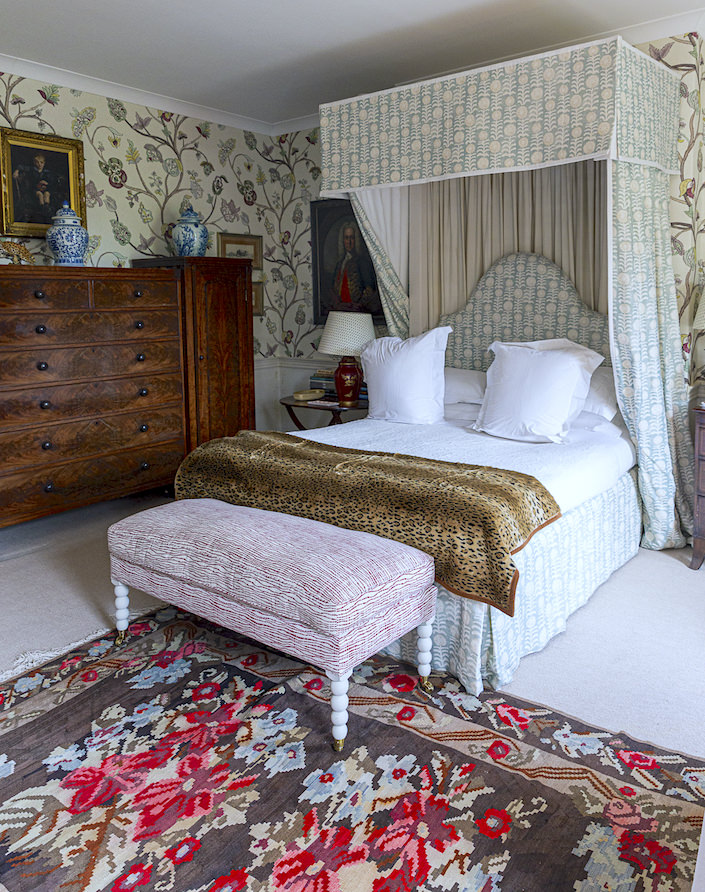 Penny has, in my view, achieved the decorating trifecta – a home that is at once chic, comfortable and supremely personal. Grounded with a strong sense of place, yet not limited by its heritage, it is, most importantly, a statement of her own story. Thank you Penny (and Guy) for your hospitality – what a special treat to visit such a longtime favorite home!
all photos by Stacey Bewkes for Quintessence
And be sure to look for Penny and her darling dogs in Susanna's upcoming book "At Home in the English Countryside: Designers and Their Dogs" with photos by moi!