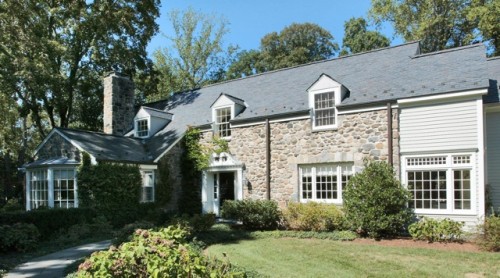 Almost four years ago, we downsized and moved to a more modest house next door – yes, next door. With our third child about to go away to school, my husband understandably decided that we didn't need such a large and expensive-to-run house any more. Rationally it made sense. Emotionally, it was another story. I had put my heart and soul into renovating our house. Those hefty files filled with tearsheets and notes had finally found a purpose. I had spent years preparing for just such an opportunity and relished every moment. We lived in a rental dubbed "our lady of the four garages" (as you might glean from the name, a house that was 3/4 car port and 1/4 living space) while every day I visited our project as it developed into my dream. A lovely family lives there now, with three young children who fill the house with laughter, love and lots of legos. My youngest spends much of her time there and in the end it has worked out to be quite an agreeable situation. Now that I am more removed from the emotionality of the separation, I'd like to share with you a bit of my handiwork. After building, I didn't have much of a budget left for decorating, so please look at these photos more for the architectural, rather than interior design, value.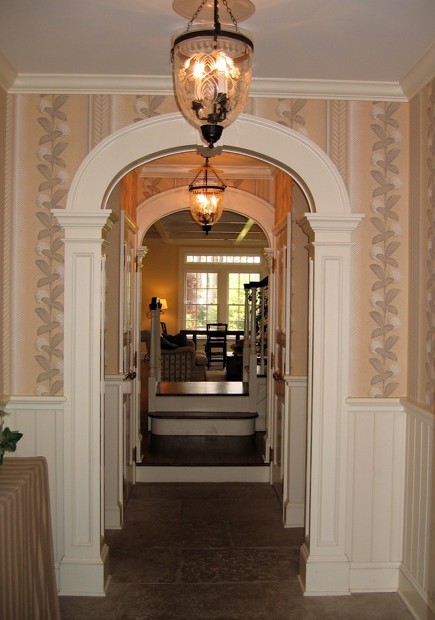 The kitchen is how the whole project started – and where my focus was most intense -Dutch tiles, mahogany and carrera counters, antique halophanes, Lacanche range.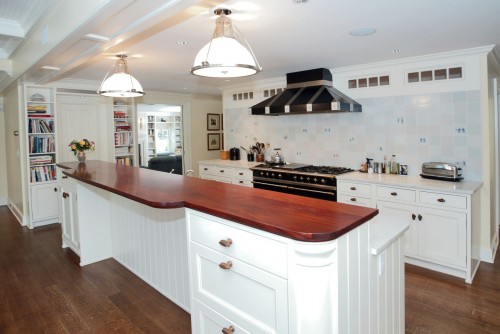 Coffered ceiling, fireplace with storage abounding – the cabinets on either side just fit my stacks of magazines.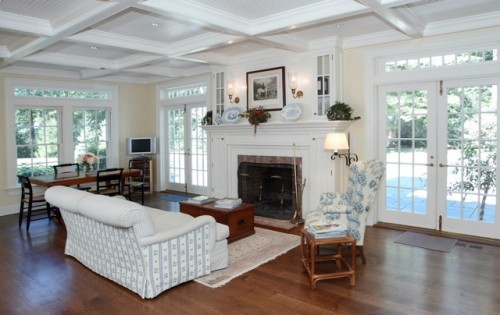 kitchen sitting area
Open shelving, fireclay sink.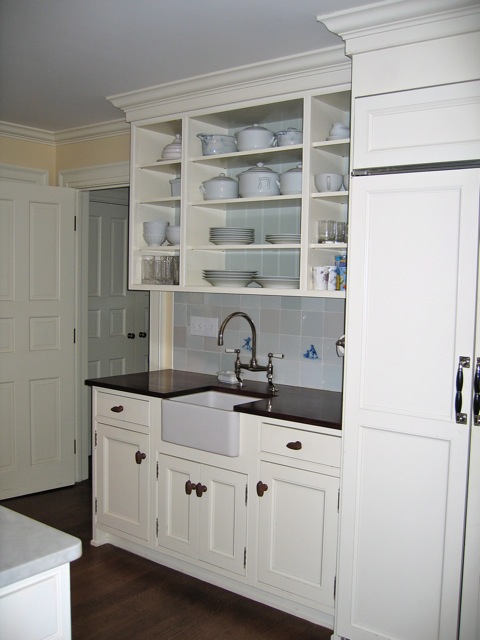 Possibly my favorite room – lots of wonderful storage, clever halogen lighting under shelves, second dishwasher and wine fridge.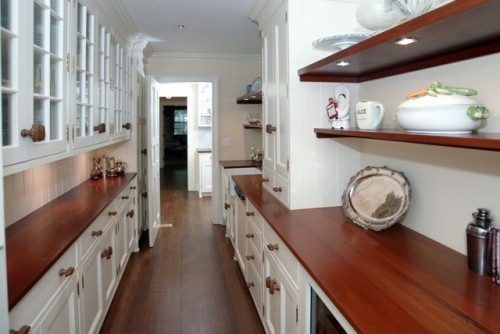 Powder room with now discontinued Schumacher Paris map wallpaper, black high gloss paint, custom mirror and vanity.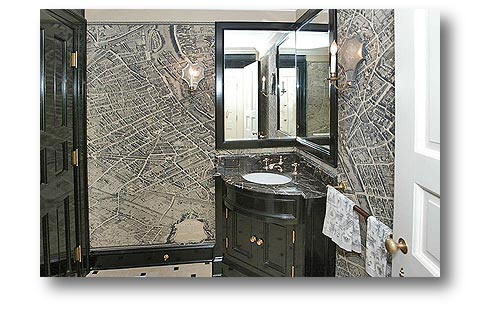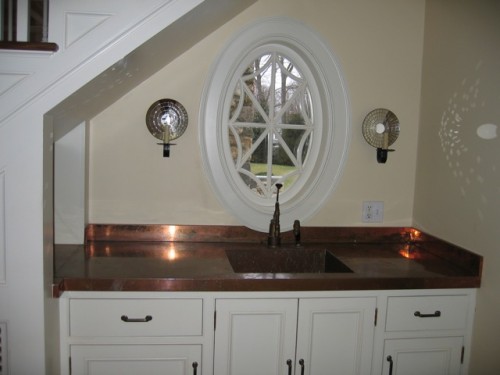 Dining room with wonderful corner window. The current owners put in the bookcase/windowseat at the far end that I had designed with the architect, Rink Dupont, but never put in.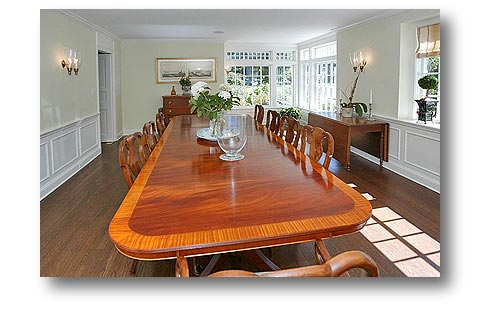 Family room has two walls of bookcases and tailored millwork on walls.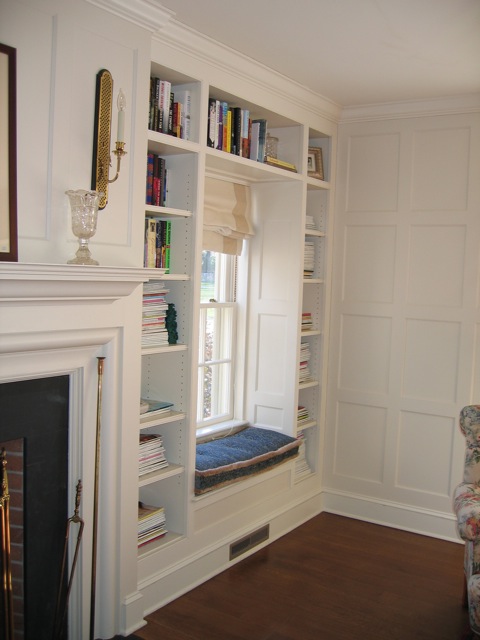 My younger son's room had lots of built ins to help keep things tidy.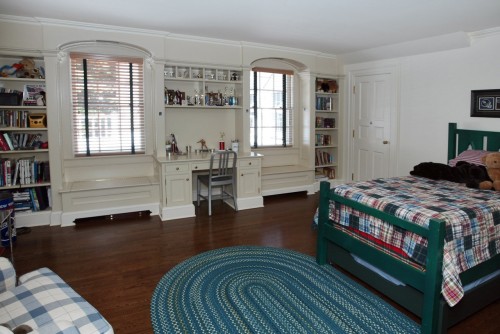 Guest room with my favorite Pillement toile and charming eyebrow window.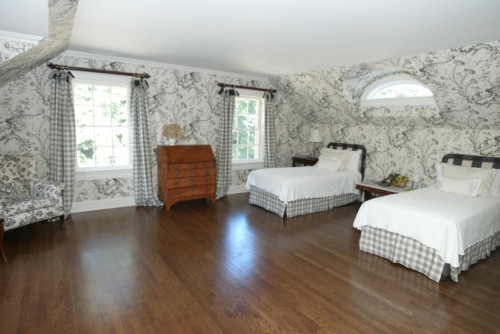 This bathroom came out so wonderfully, I don't know whether I liked this or the master better.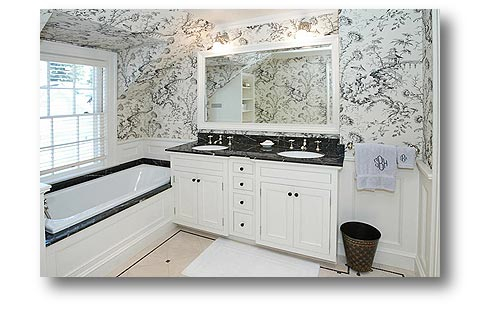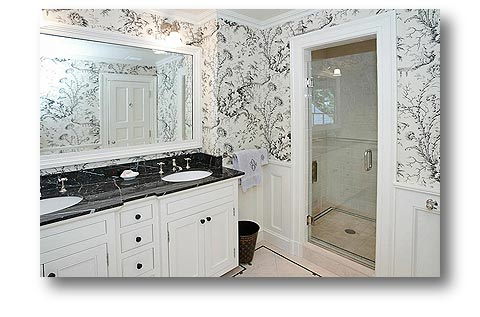 Can you tell I like working on bathrooms? The girls shared this bath with the pretty Clarence House wallpaper. You can't see very well in this photo but the marble was a lovely Oxford pink.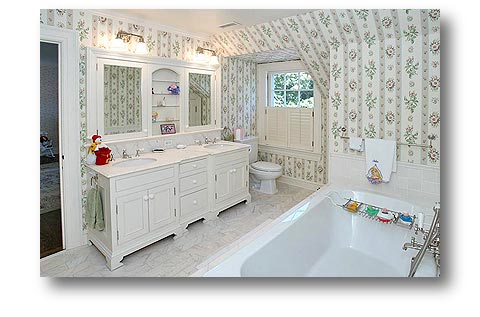 I had the sinks divided by the middle cabinet for extra storage and so I didn't have to look at my husband's messier side. He wouldn't let me take the fabulous John Rosselli fixture.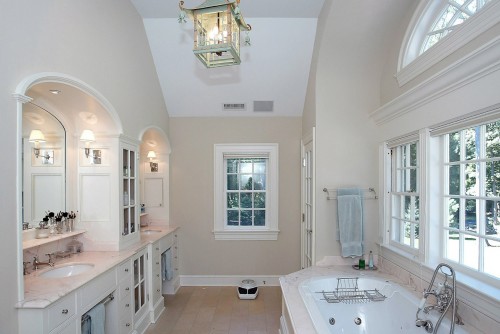 This terrace was a lovely place to sit for much of the year. It took me several tries to get the blue ceiling exactly the right color.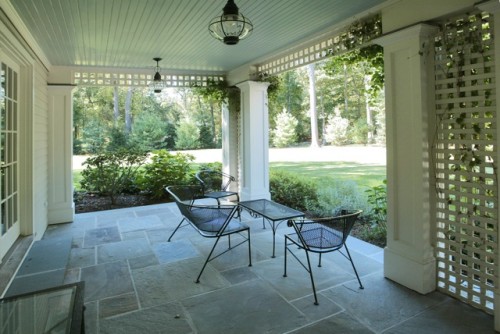 I can't take credit for the fabulous clematis – my husband is the one with the green thumb.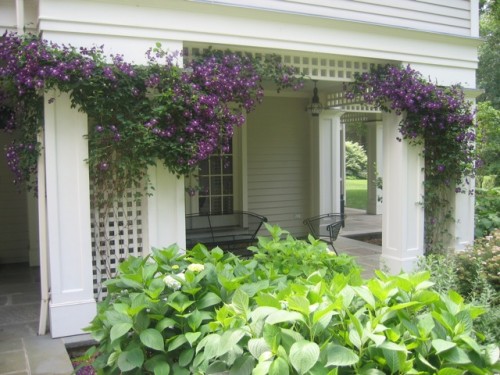 Even though I miss the house, I'm happy to know that the family who lives there now appreciates and enjoys all my hard work. They have since built a beautiful pool and pool house that I featured in a previous post a couple of months ago and are always finding creative ways to expand and improve upon my efforts.