Building on the success of last year's more vibrantly decorated booths, The Winter Show (the new name has lost "Antiques" in the title reflecting the broader collections of the exhibitors) opened this week, celebrating its 65th anniversary in style.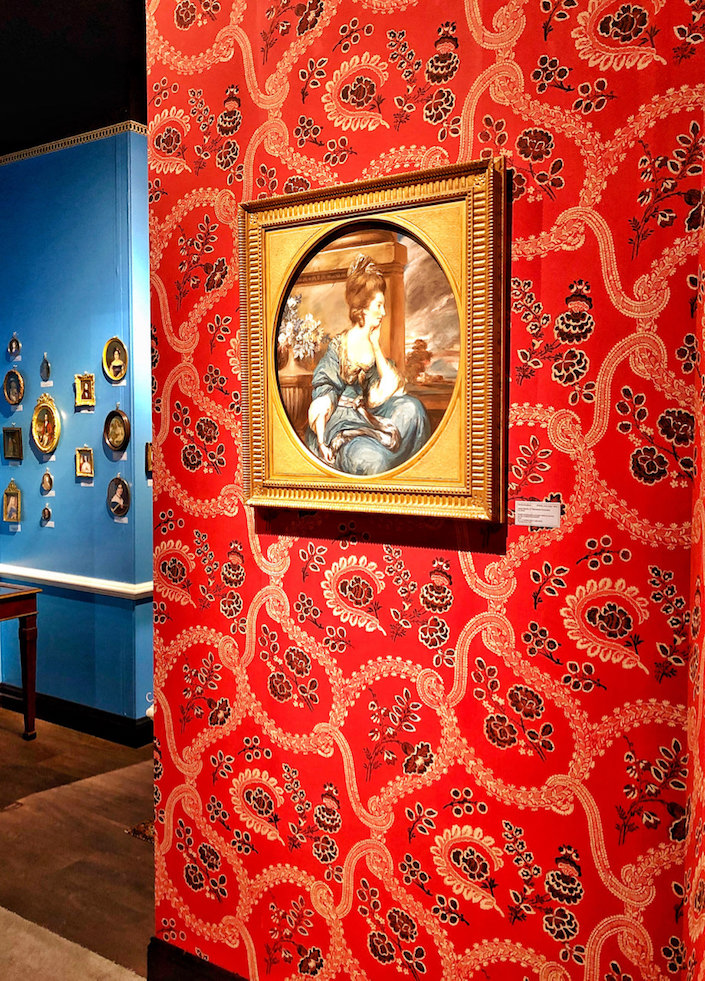 Elle Shushan's booth, decorated by Ralph Harvard with an Adelphi wallpaper, was, as usual, a standout. And also front and center this year was perennial favorite Cove Landing.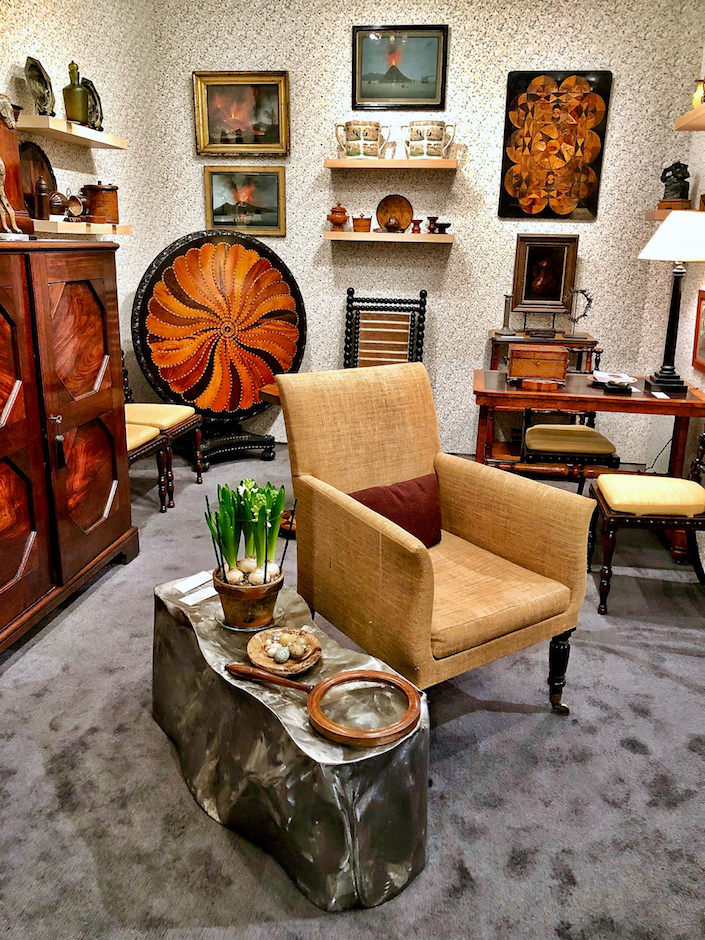 This year's sophisticated mix of worldly finds centers on a collection of Grand Tour Italian volcano paintings.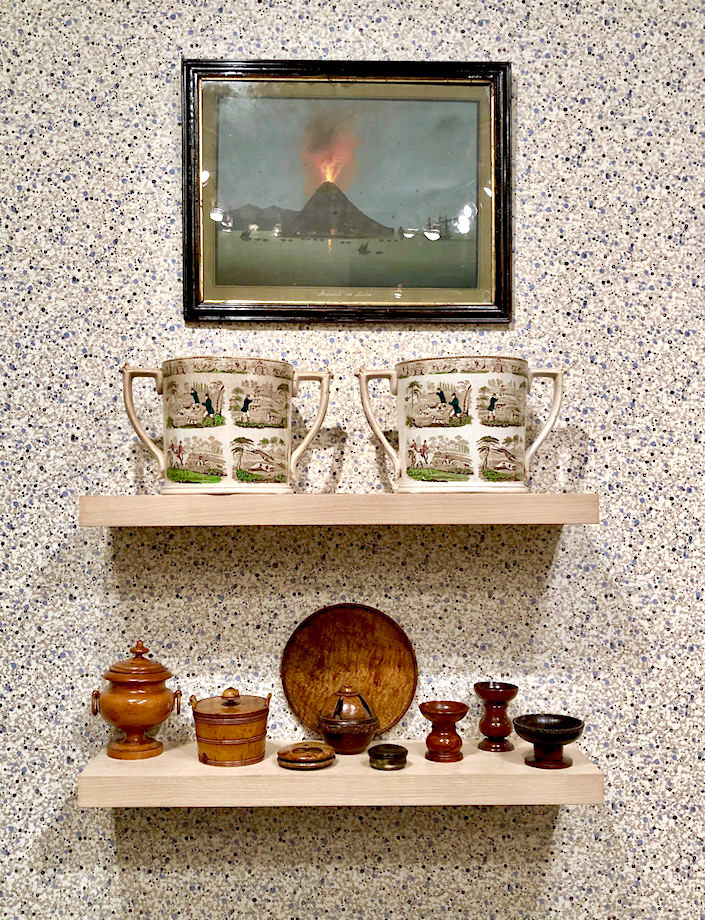 And everything from the treen, to small sculptures, such as the petite Rodin below, looked great against the Swedish Lim & Handtryck Stänk wallpaper. With its handmade texture, historic sources and splatterware like pattern , it not only anchored the booth in artisanal style but it perfectly referenced the Nantucket Historical Association loan exhibition across the aisle (more on that later).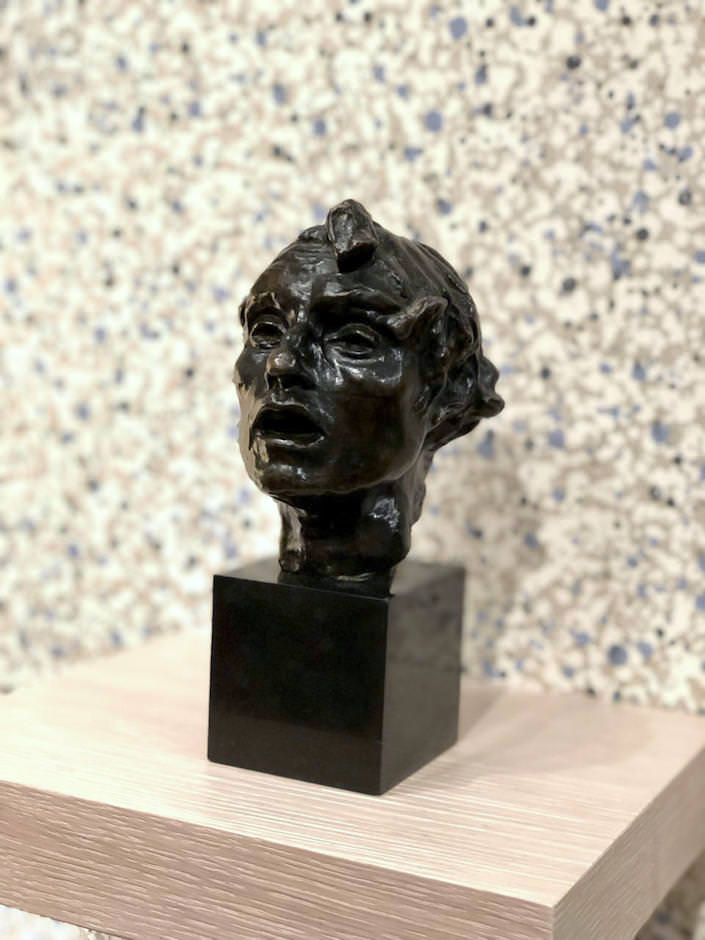 And I loved this display of Austrian agate handled flatware.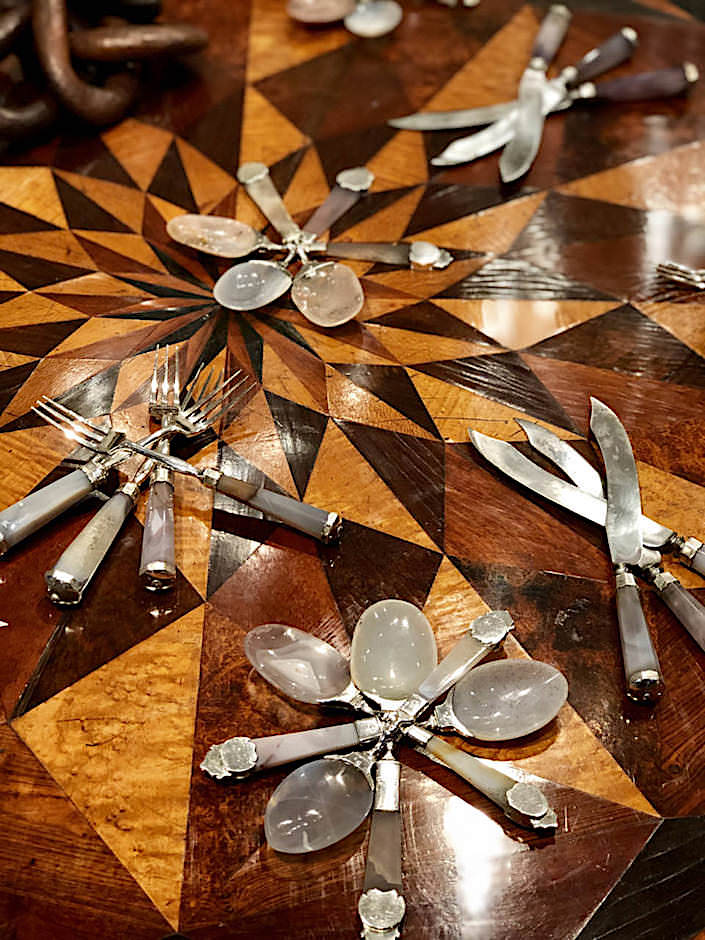 Ralph Harvard also designed, as he has in the past, the booth for Pennsylvania antiques dealer Kelly Kinzle. With a vibrant egg yolk yellow backdrop, their collection of American antiques shone. A rare set of 8 19th c. nesting Nantucket lightship baskets on a mid 19th c. lift top bench (the blue paint is original) sit under an unusual collection of 19th c. silver trumpets.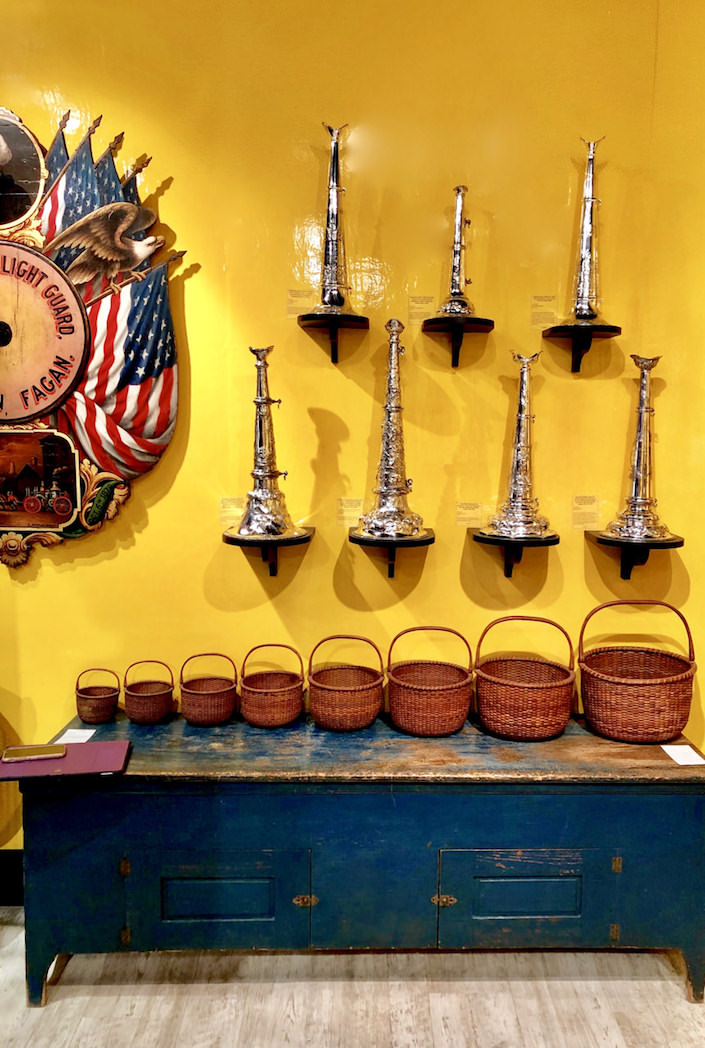 A set of six colorful captain's chairs from an Odd Fellows Lodge (a secret society and fraternal order – the first to admit women) decorated with symbols of the all-seeing eye, three link chain symbolizing friendship, love and truth and the mystic moon and stars sit in front of a fantastic gargoyle weathervane from the original Cincinnati zoo.
You may remember Bernard & S. Dean Levy's cleverly wallpapered booth from last year. This year, perhaps in reference to the Nantucket loan exhibit, Ralph Harvard employed John Derian's seashell wallpaper for Designer's Guild with a ocean-like paint overwash below chair rail height to highlight their collection of classic American antiques.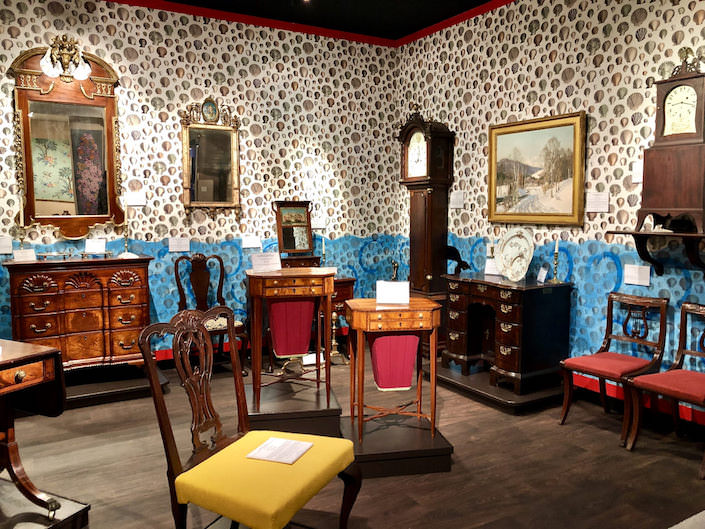 It's such a great design takeaway to see how an 18th c. Chippendale chest on chest and two 19th c. Chinese seascapes look against the unexpected backdrop.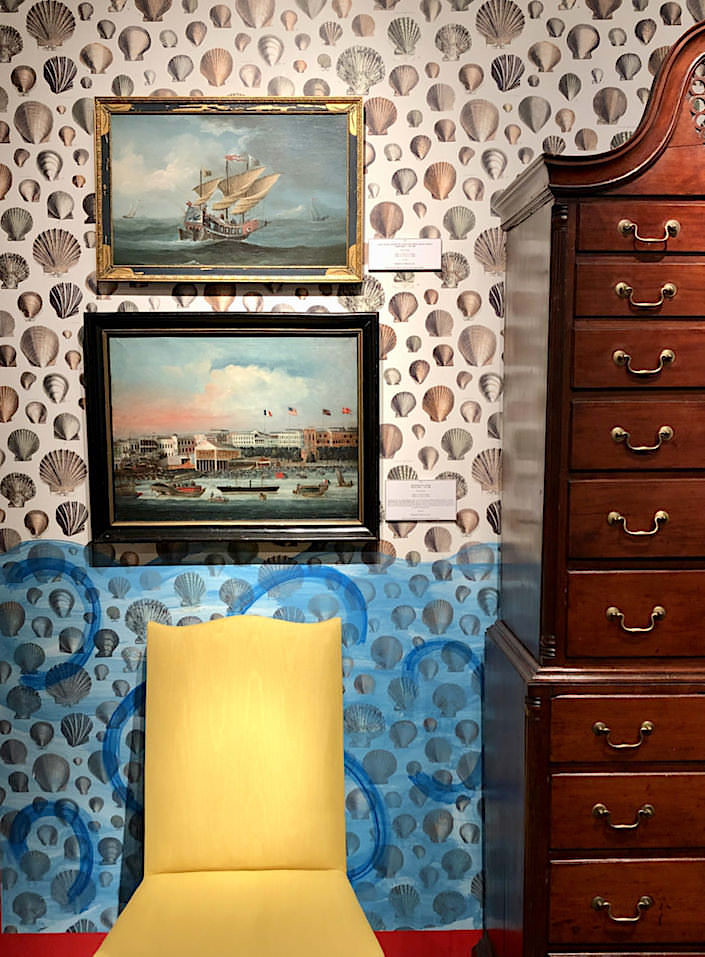 American folk art resource Olde Hope Antiques had large portraits printed on a vinyl wallcovering to set the stage for their distinctive collections, including a camel carousel figure.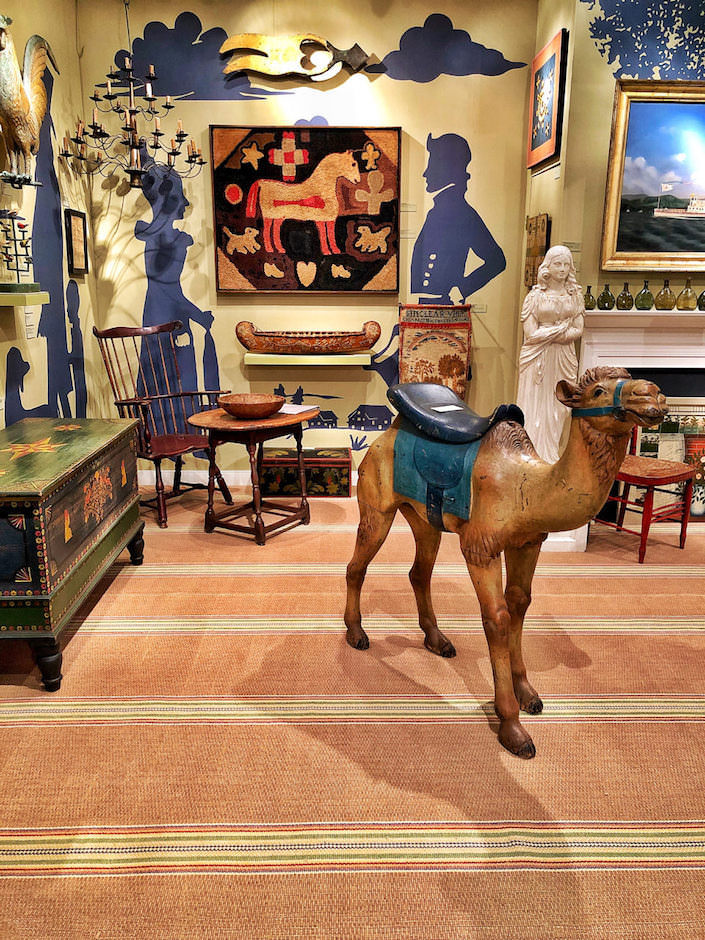 And their booth proves the power of scale and effectiveness of displaying collections en masse with a grouping of New England chestnut bottles beneath a James Bard painting, flanked by giant 19th c. stove figures of George Washington and Columbia (goddess of liberty and the personification of America).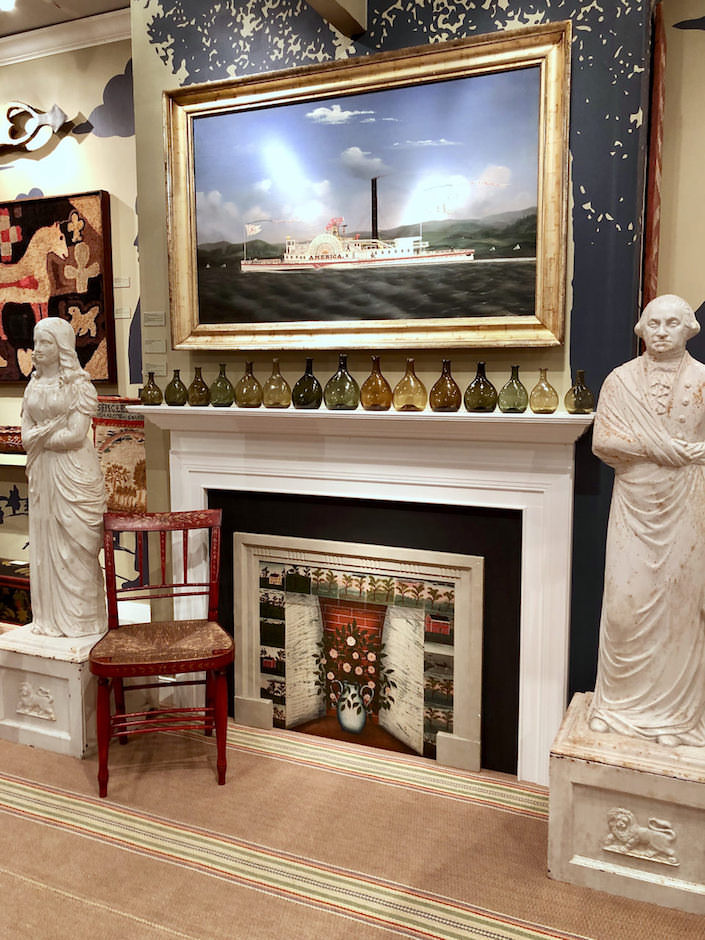 Some of the booths employed more subtle backdrops such as Hyde Park Antiques, where the modern texture of grasscloth was a chic textural backdrop for the 18th century glamour of a George II giltwood mirror and George III giltwood console table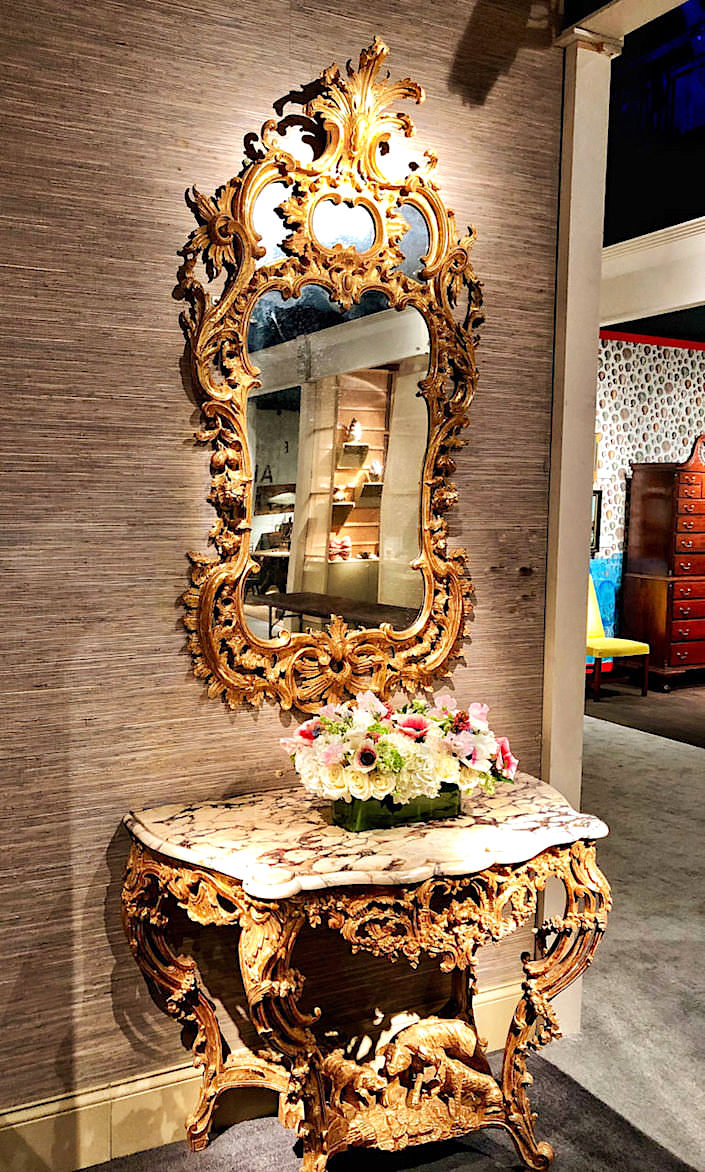 as well as this rosewood table inset with a detailed gouache delineating views of Rome.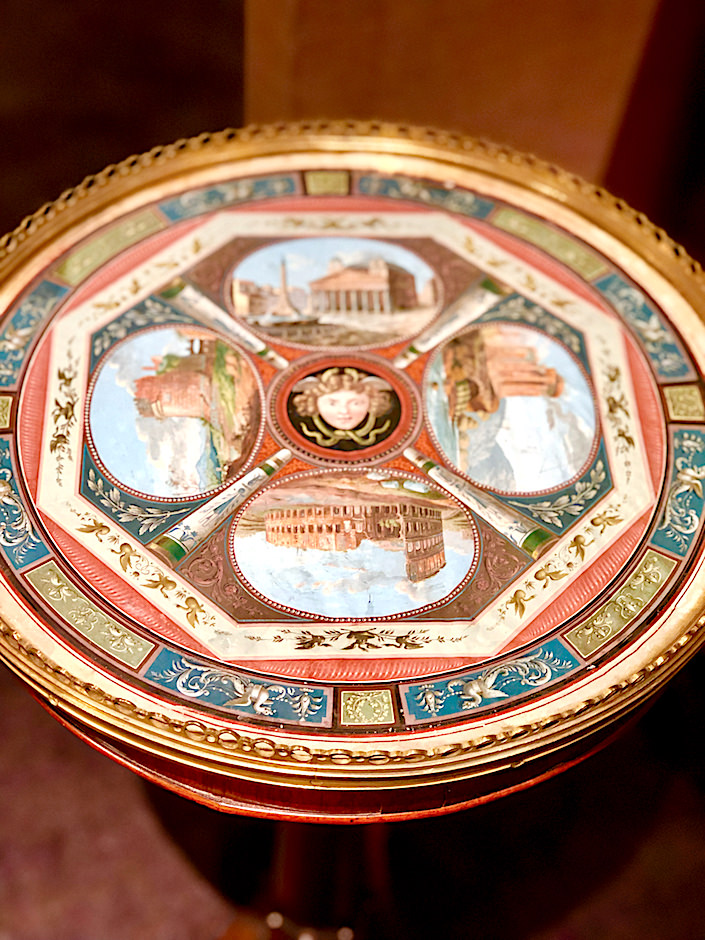 And a large silvered tin oak leaf mirror (one of a pair) – each leaf numbered and hand molded, was luminous against a bright cobalt background at Philip Colleck's booth,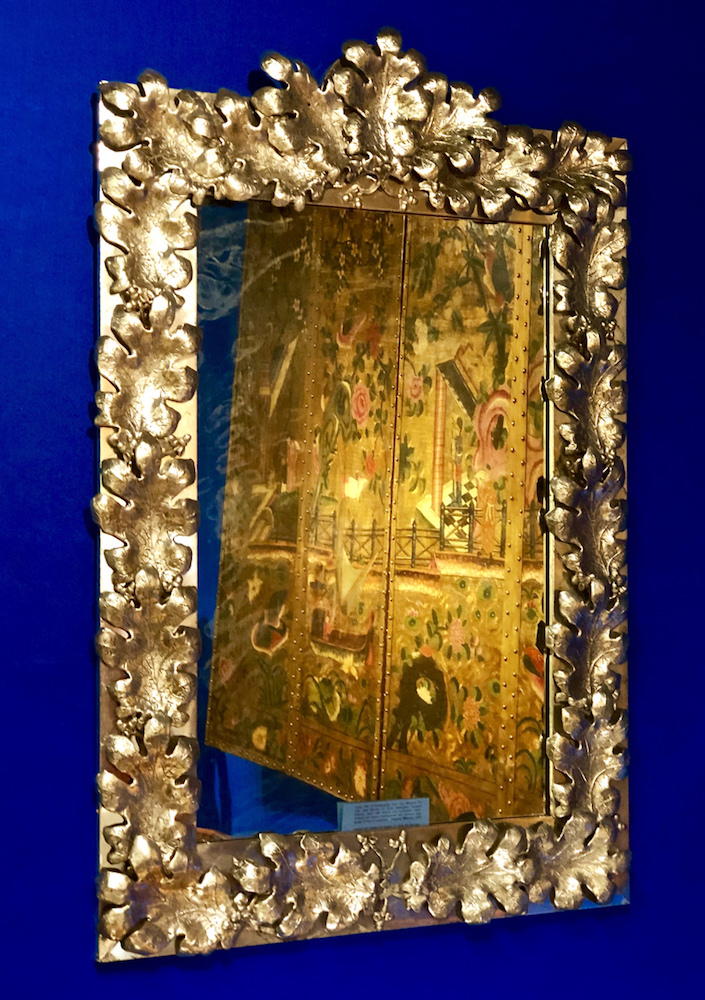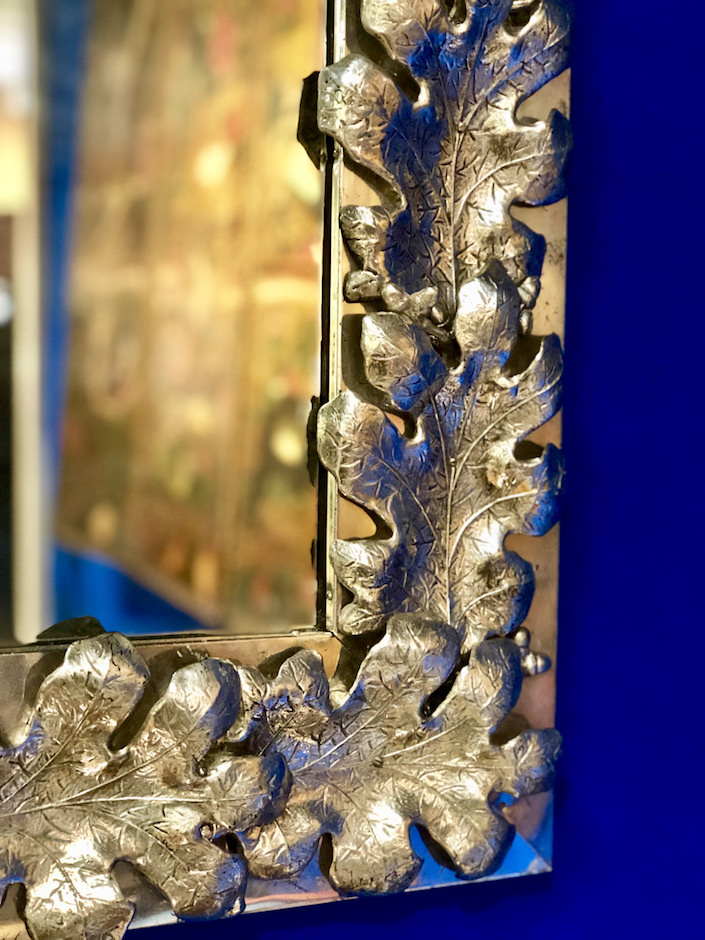 where the art of entertaining Regency style was also elegantly displayed.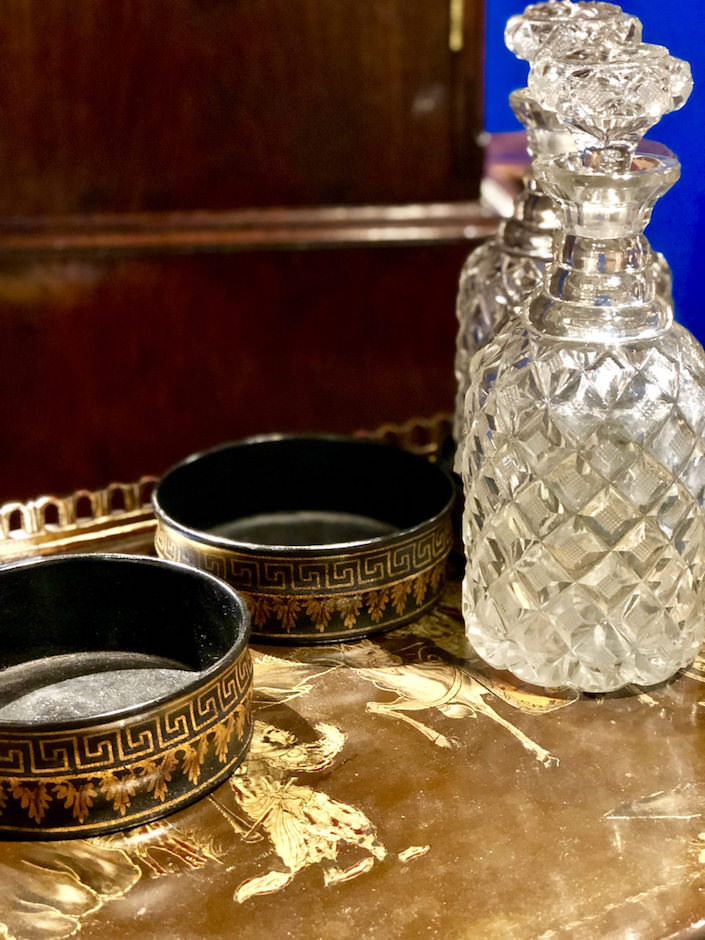 And speaking of entertaining, I had never seen a piece of furniture like this George III mahogany cellar and dumbwaiter that is at Apter-Fredericks.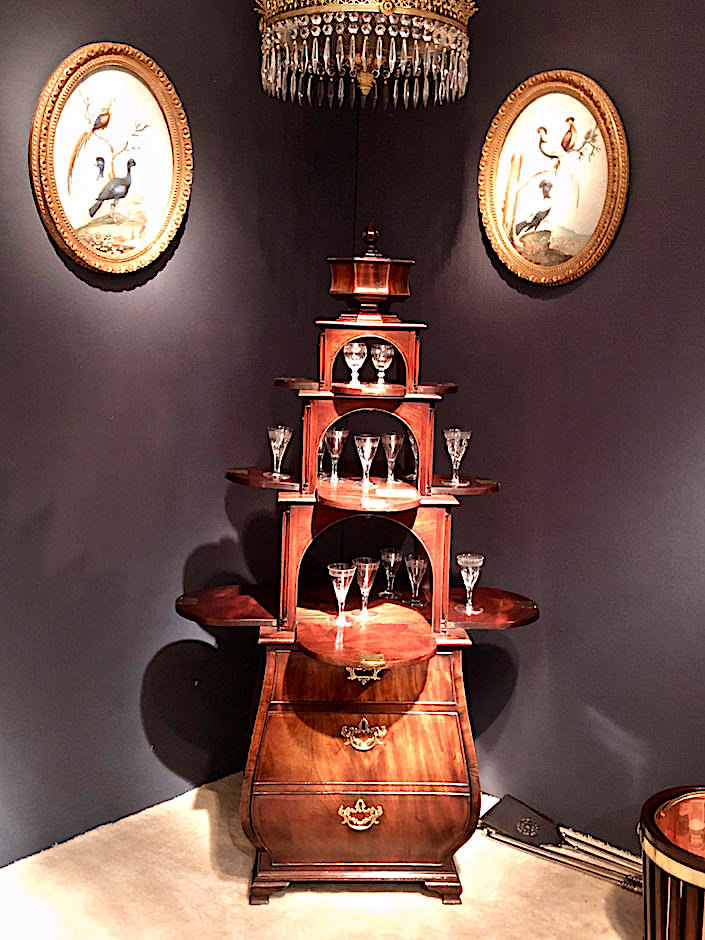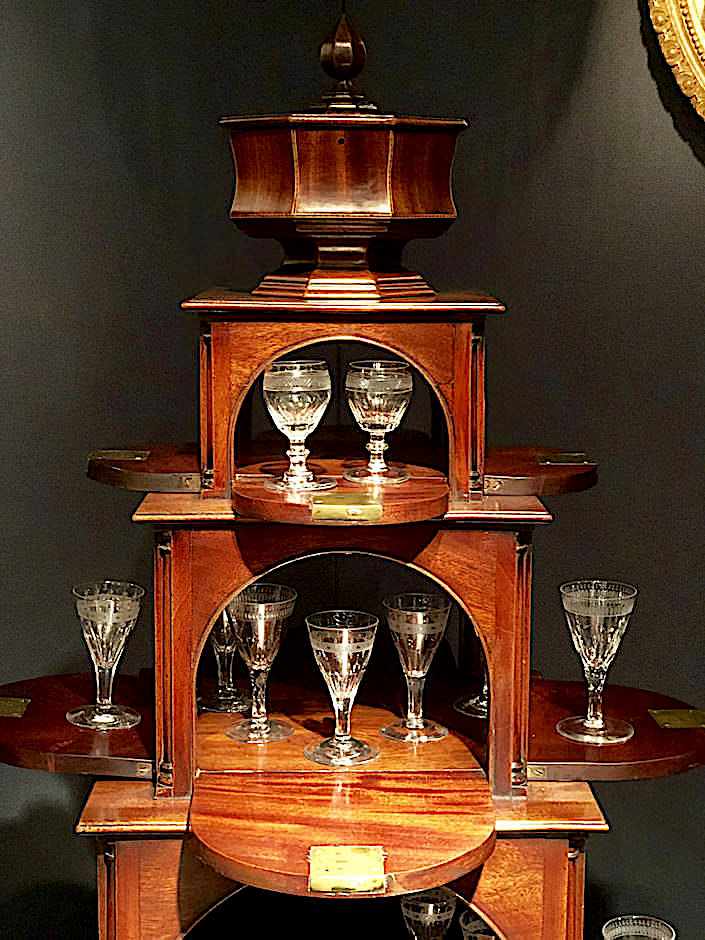 A large George IV wine cooler proved a perfect receptacle for orchids under a lovely 19th c. chandelier – you may remember their glorious green glass and ormolu 18th c. one from last year.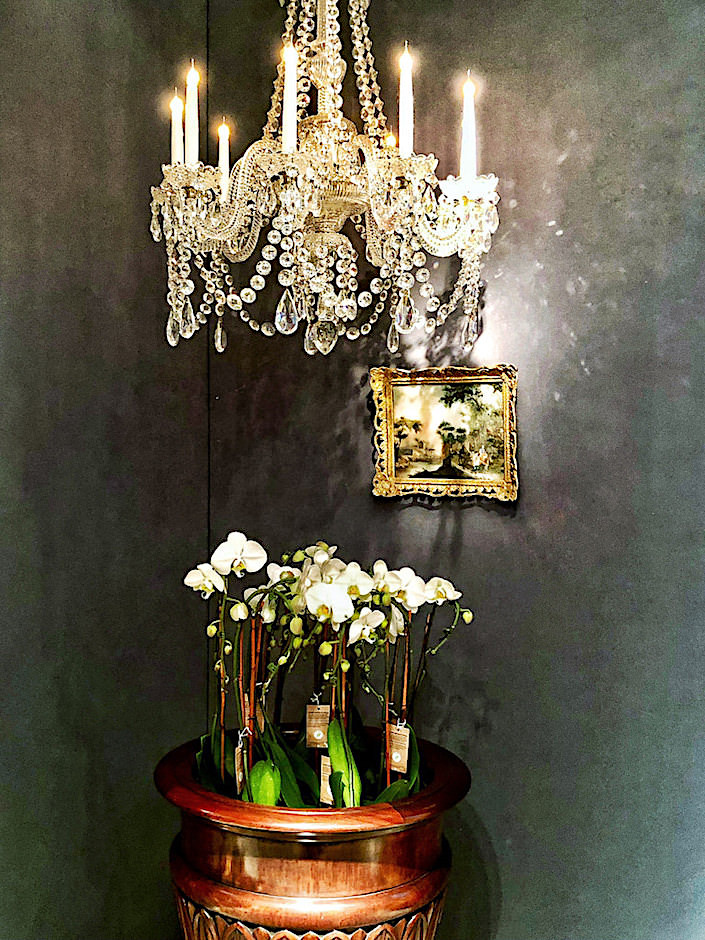 Classic 19th century style was on full display at Hirschl & Adler with this extraordinary American recamier possibly by Duncan Phyfe.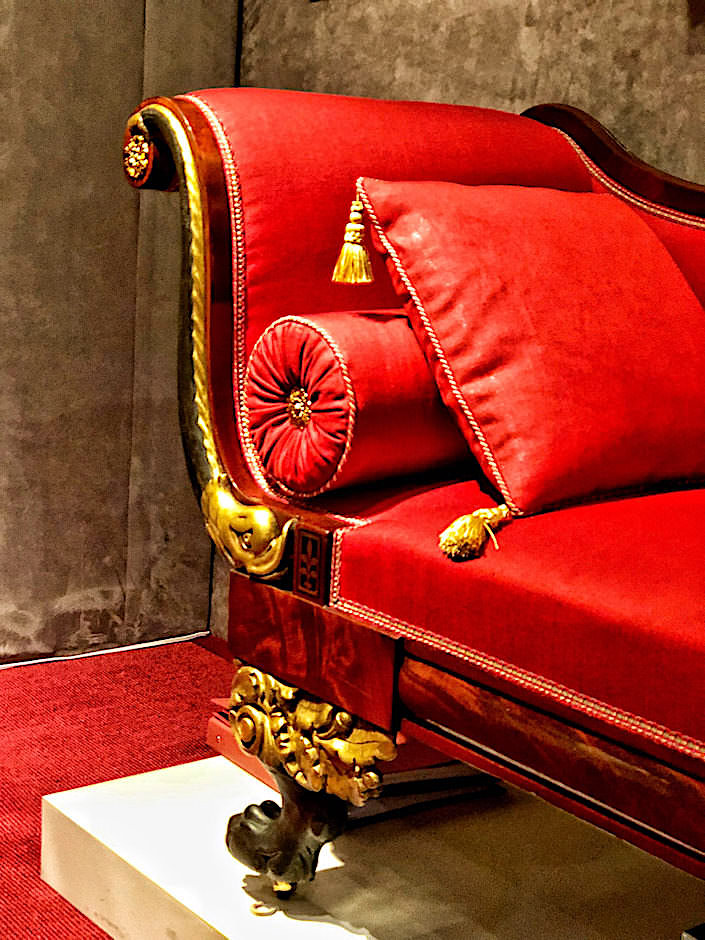 Aronson always brings a standout collection of antique Delft and this year the star is this pair of exceptionally old flower vases – circa 1680. Attributed to prominent Delftware designer and factory owner Lambertus Cleffius, there are only two other flower vases by him known.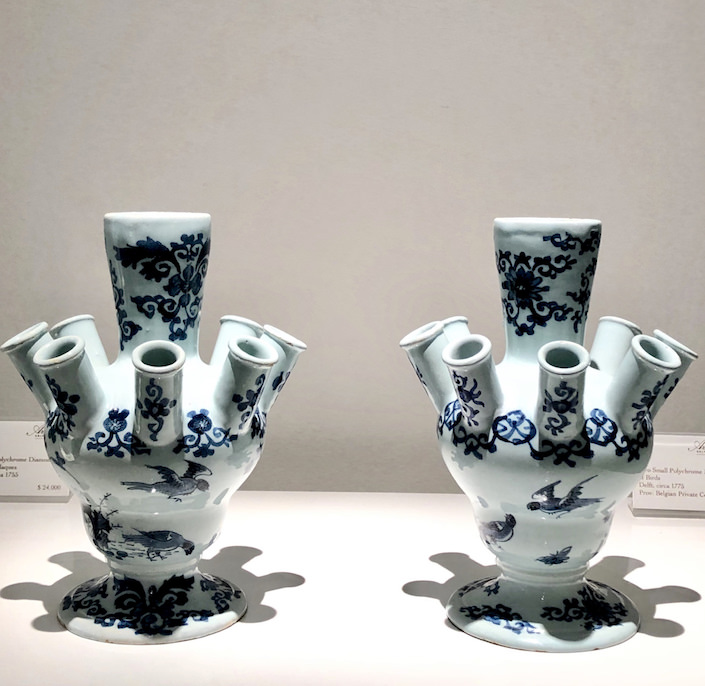 Specialists in Chinese export porcelain, London based Cohen & Cohen are showing an unusual early 18th c. (Kangxi period) Chinese garniture with an almost lavender ground.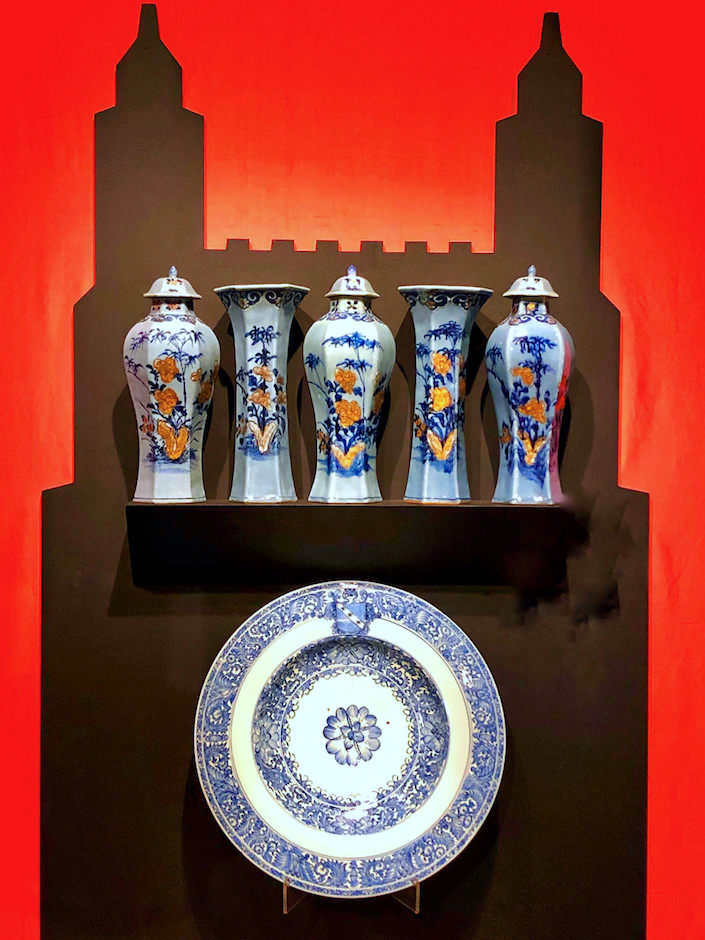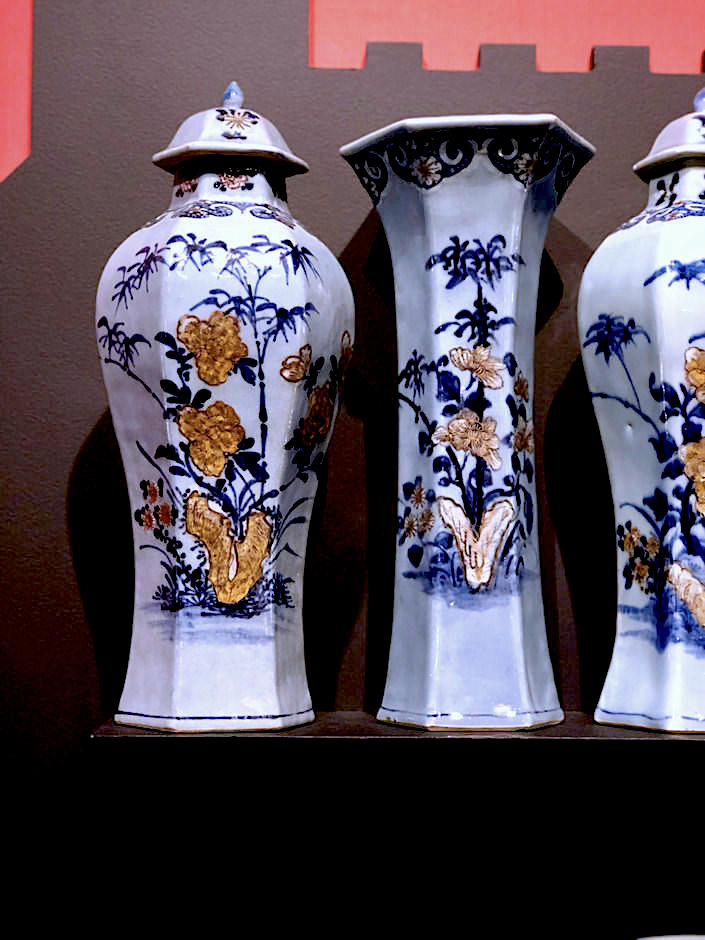 The large late 17th c. Chinese export armorial porcelain charger shown at top, interestingly, has the arms of Ginori on the rim. Evidently Lorenzo Ginori, a noted porcelain collector, had ordered the server  through the Portuguese East India Company when he was the Medici appointed consul in Lisbon. It was Lorenzo's son, Carlo Andrea, who later founded the Manifattura Ginori in Doccia, Italy. Cohen & Cohen are also exhibiting this colossal early 18th c. soldier vase (41″ tall) decorated with a pair of Chinese phoenix.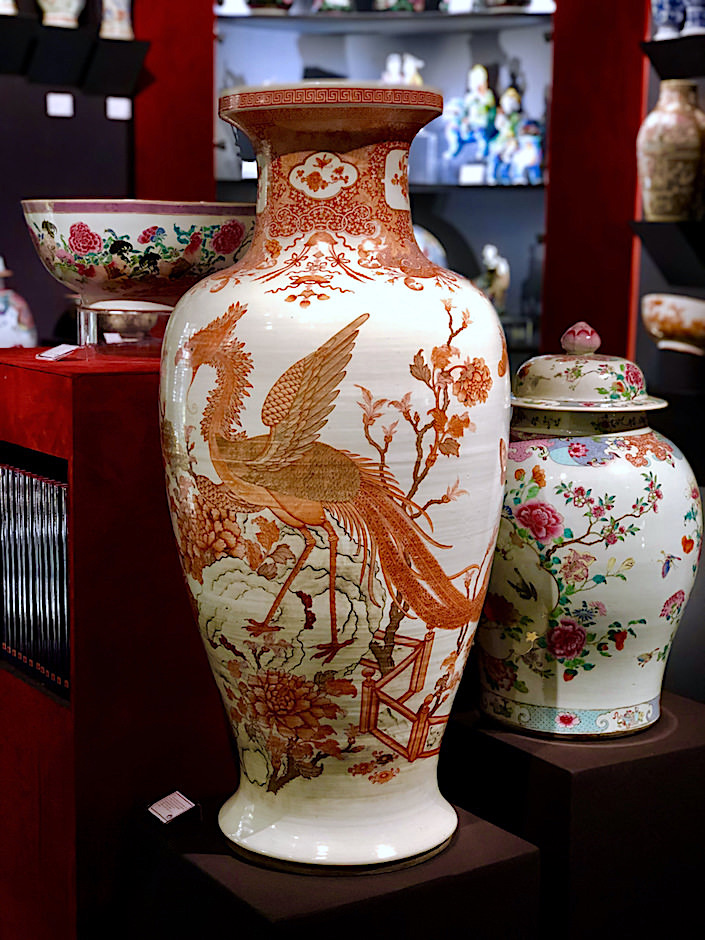 Photography gallery Peter Fetterman is always a favorite stop and is showing several stunning Sarah Moon images such as this fashion shot from the 1997 Yohji Yamamoto collection.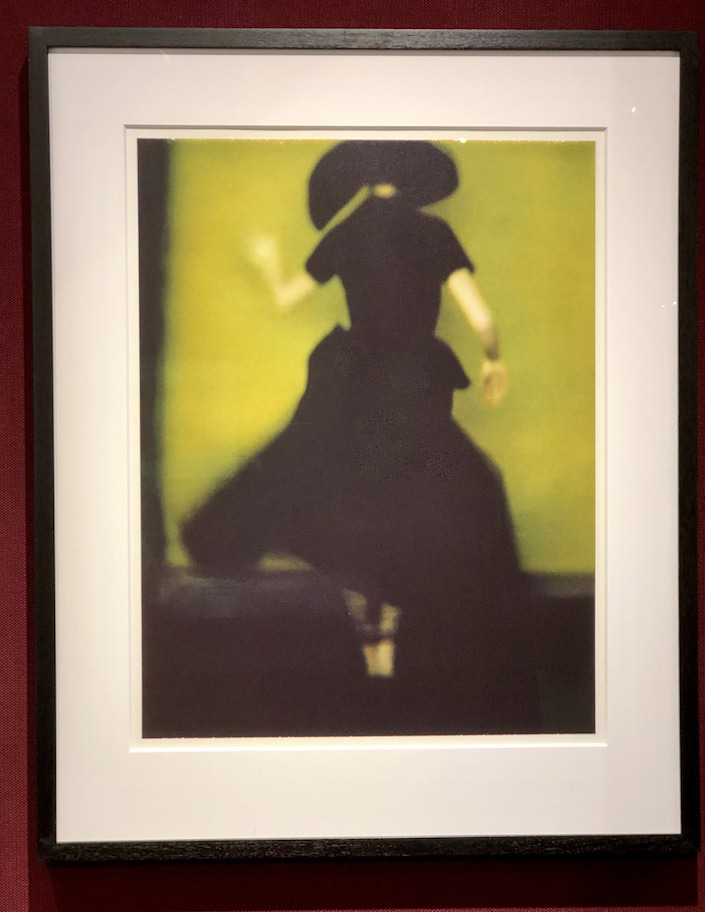 I was interested to learn that Throckmorton Fine Art has one of the largest collection of vintage photos of Frida Kahlo, such as the one below by Nickolas Murray from 1939, anywhere. They are frequently on loan throughout the world, such as at the recent V&A Frida Kahlo show and the much anticipated upcoming exhibit at the Brooklyn Museum.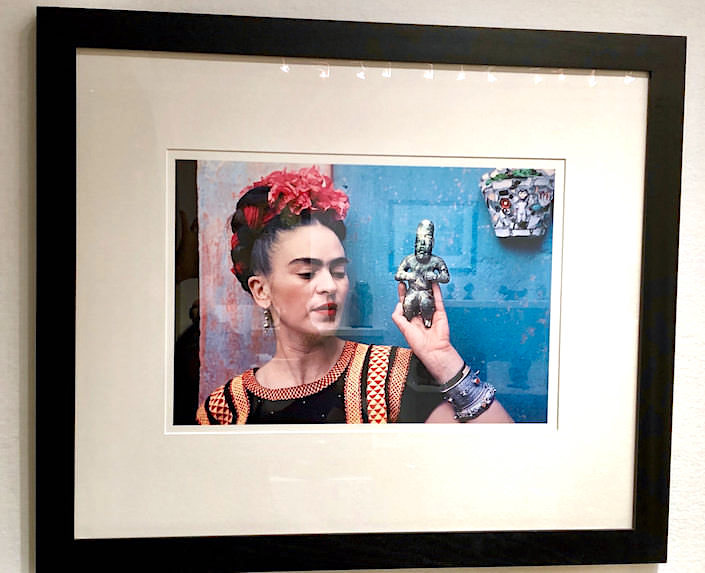 Several of the jewelry dealers had not yet set up their booths in time for the press preview but I did spy this impressive Victorian amethyst and pearl necklace at James Robinson.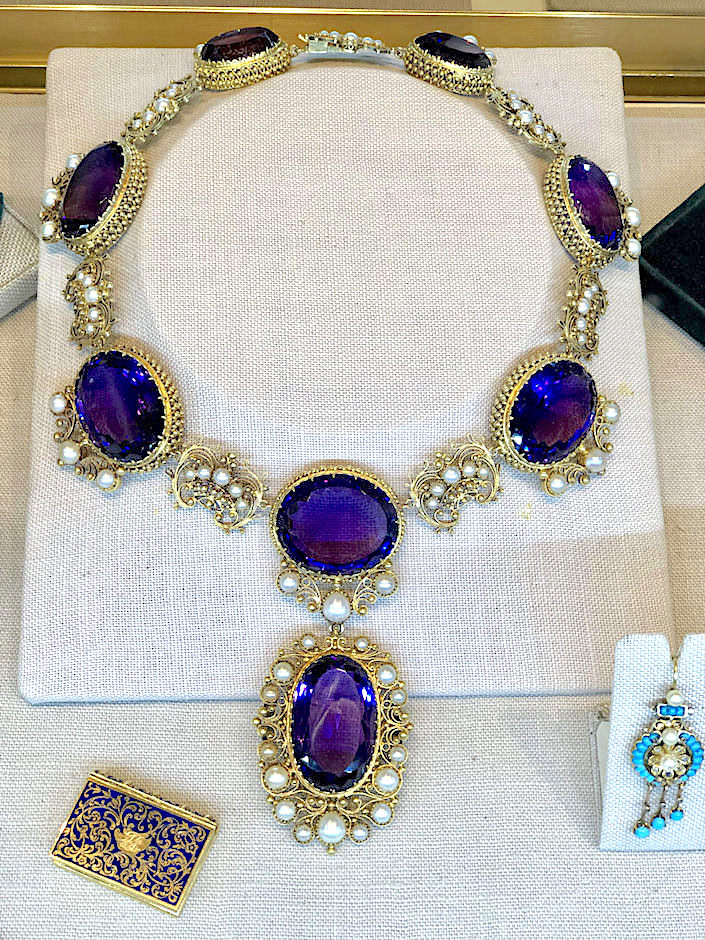 One of the more unusual collections was Gerald Peter Gallery, exhibiting the sculpture of Karen LaMonte. Her latest body of work, Nocturnes, is her expression of night, "fashioning female forms dressed in evening wear she herself designed and fabricating these works in materials evocative of twilight and deep night." Based on real body casts, the dress is then created around the form, in the case below in iron. This piece is 5 feet tall!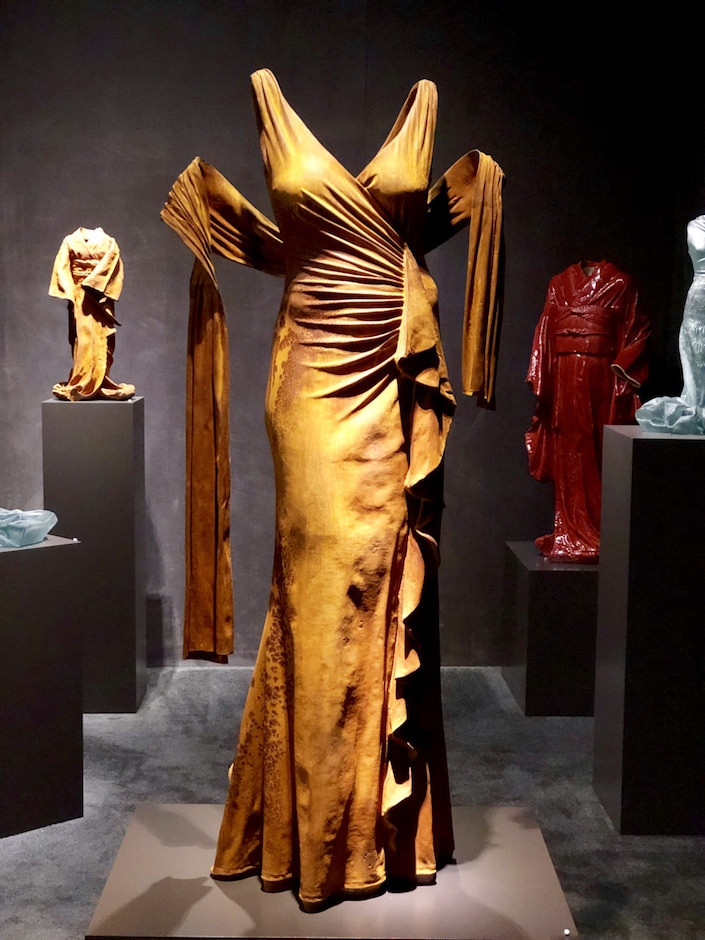 Another unusual work of large metal sculpture, is Hunt Diederich's enormous iron silhouette cutout at Bernard Goldberg, one of a group made for a townhouse on East 77th Street in NYC in the late 1920s. Inspired by his lifelong love of animals, the 15′ wide piece feels so modern with its reduced simple, elegant and organic forms.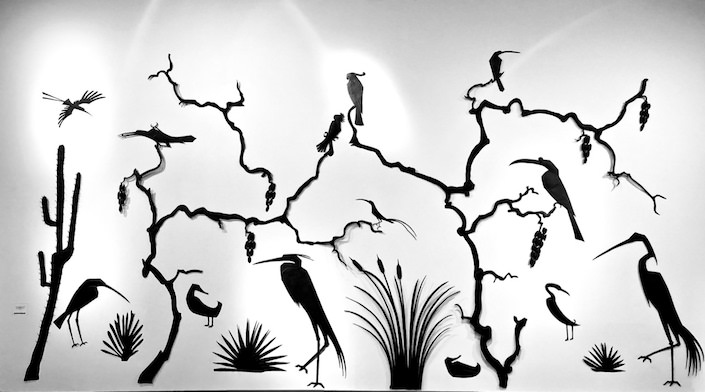 And thinking of nature, it is always a pleasure, in the middle of frigid January, to see Barbara Israel's booth with her classical garden sculpture.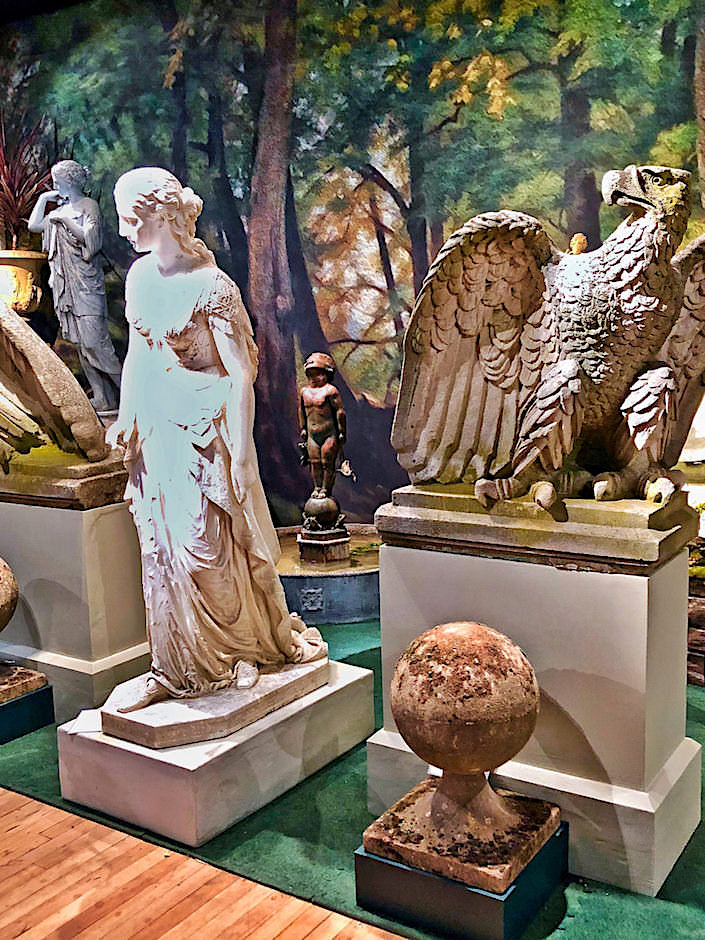 Carolle Thibaut-Pomerantz also has the natural world on her mind. Her booth's theme is Floral Fantasies, anchored by the beautiful panel below. From "Le Jardin d'Hiver" designed by Edouard Miller in 1853, this was the first realistic depiction of elaborate flowers in a wallpaper design.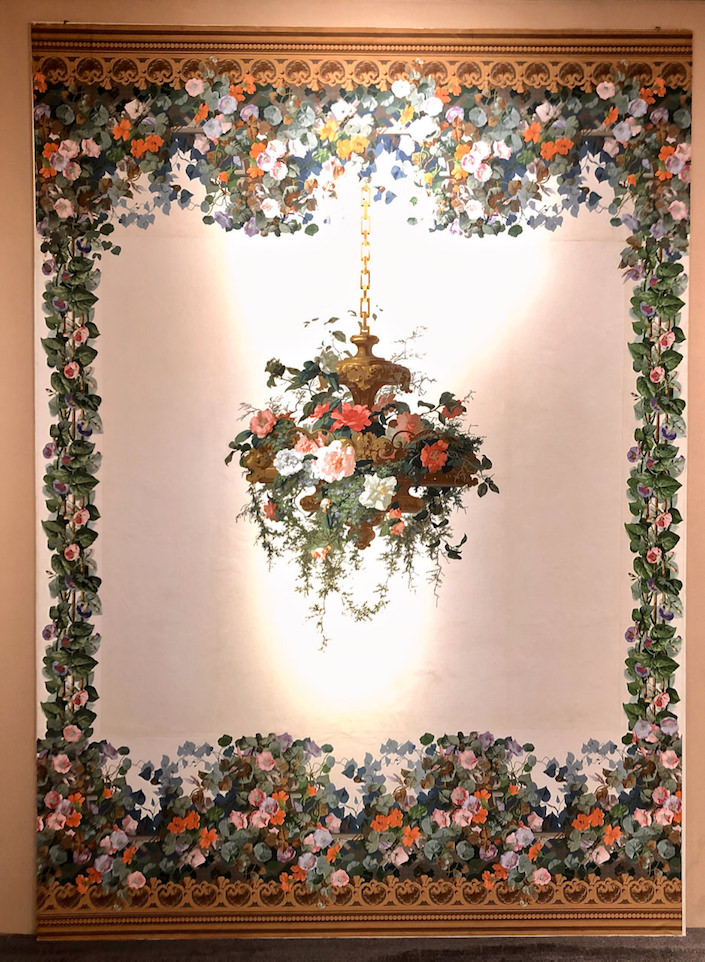 all photos by Stacey Bewkes for Quintessence
Stay tuned next time for a look at the Nantucket Historical Association's loan exhibit, Collecting Nantucket, Connecting the World.