While many visit Nantucket for its beautiful beaches, charming cobblestone streets and rose covered cottages, those of us who annually frequent the Grey Lady's shores know she also holds a special place of significance in our country's cultural history. It is therefore fitting, that at the start of its 125th anniversary, the Nantucket Historical Association, is proud to be the loan exhibit at the 2019 Winter Show.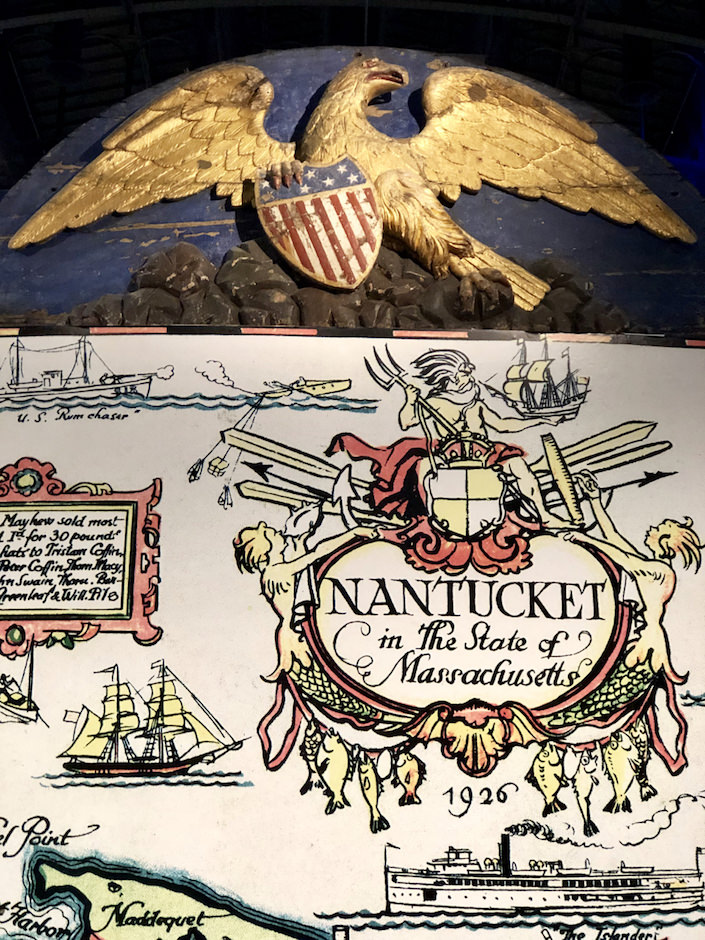 As NHA Board President Kelly Williams writes in the publication for the exhibit, "From entrepreneurs forging the Colonies' first global industry to abolitionists and civil rights leaders forcing societal change in the 18th and 19th centuries, through to its art colony and popular destination as a resort town in the 20th century, Nantucket's small landmass belies its strategic, economic, political, artistic and cultural significance."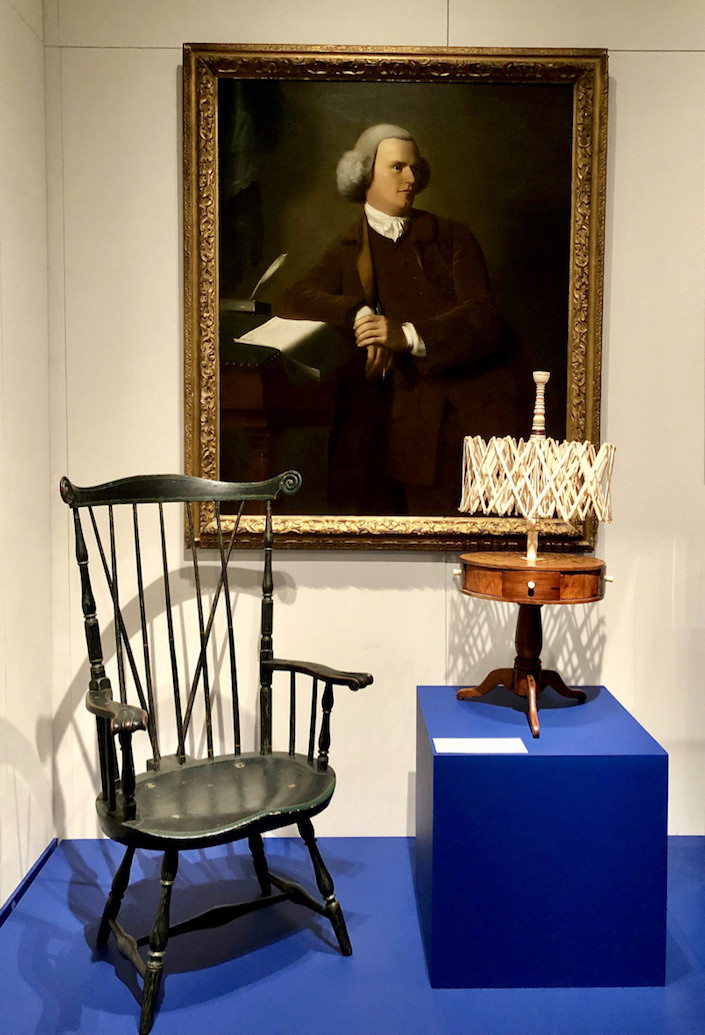 Aptly entitled "Collecting Nantucket, Connecting the World," the exhibit illustrates the many threads of this small island's history through the fine and decorative arts in the collection. At top, the entrance to the exhibit features an eagle lunette from an unknown steamship atop a map by Tony Sarg, the highly collectible graphic artist who summered on island. Folgers, one of Nantucket's first families, have lived on island since 1663. Above, an 18th c. portrait of whaling captain Timothy Folger (a first cousin of Benjamin Franklin – their mutual grandfather, Peter Folger, being one of Nantucket's original English settlers) by John Singleton Copley, next to a 1799 Nantucket Windsor chair by island chair maker Frederick Spade and a mid 19th c. drum table wood and ivory swift. For those not familiar, swifts are used to wind yarn into balls. Often of intricate construction, the historic Nantucket examples, like this one, were frequently made of carved whalebone by sailors as gifts for their wives or loved ones.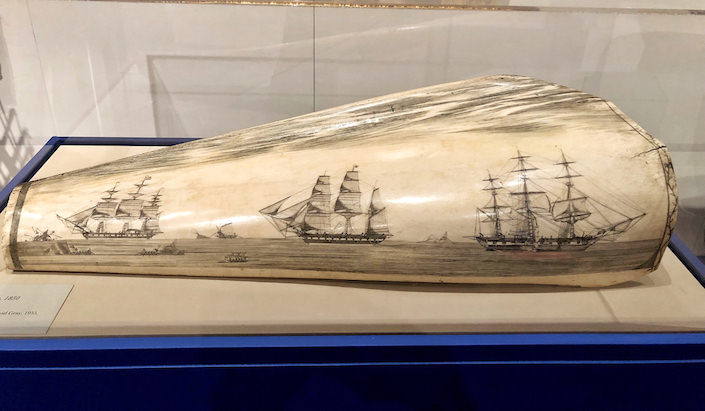 One of the most impressive items in the exhibit is this giant piece of 19th c. scrimshaw, above. At almost 40″ long, it is the very fine example of elaborate carving, depicting a range of whaling activities. And below, the inlaid ivory embellishment is beautiful on this outstanding 1856 dressing case made by Captain James Archer during a whaling voyage. While his time at sea was not successful in terms of obtaining whale oil, it offered him the opportunity to make this beauty. Many of the most well known pieces in the NHA's collection were made by men on whaling journeys. The women at home ran the businesses that kept daily Nantucket life afloat (so to speak), giving them a vital role not available to women in other parts of the country at the time. This "petticoat aristocracy" led to a group of interesting, independent and often well educated women whose influence and voices were well ahead of their time.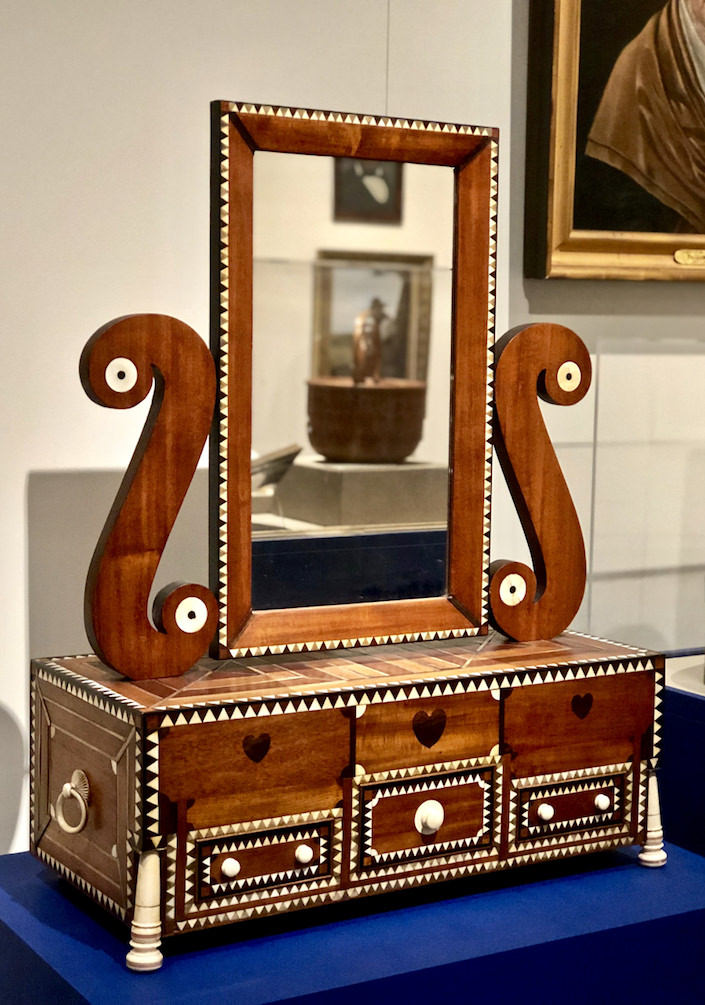 Of course the most well known craft from Nantucket is lightship baskets. The nesting set of 8 below, from 1895, was made by Davis Hall, a crewman on the South Shoals lightship. In front are a set of elaborately carved ivory napkin rings make by an anonymous sailor during a mid 19th c. whaling expedition.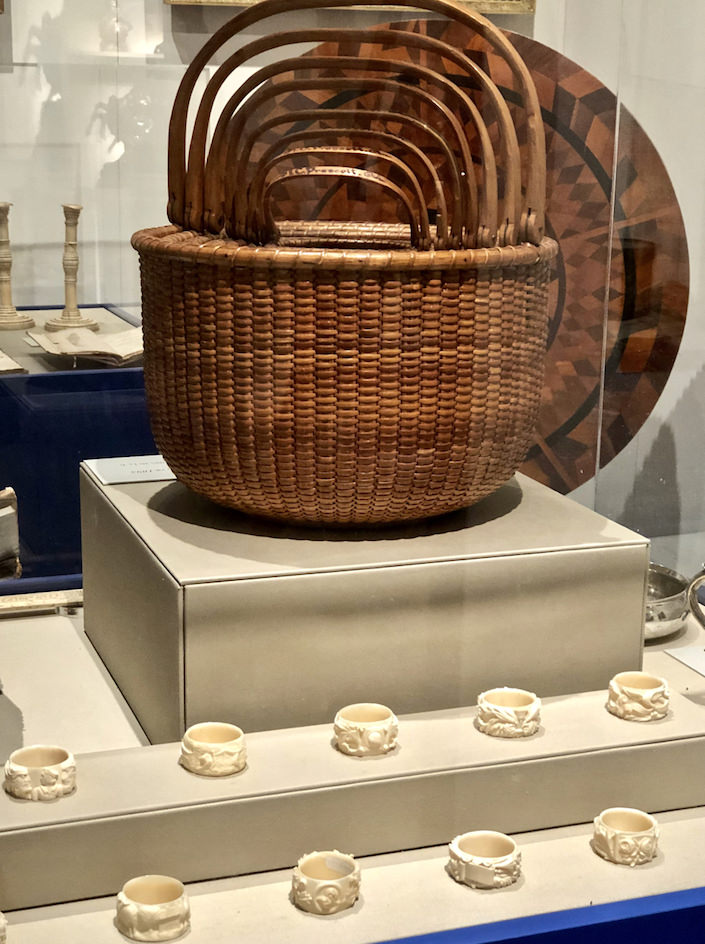 Probably the most famous whaling expedition shipwreck ever was that of the Nantucket boat Essex in 1820. Immortalized by Melville (whose 200th birthday is this year) in Moby Dick, it was revisited over a century later by island author Nathaniel Philbrick in his National Book Award winning title, In the Heart of the Sea. The only remaining artifact from the wreck is a piece of twine, encased on a card in an ivory frame, below. In front, the 19th c. logbook of the ship Wabash and in back a decorative bandbox with whaling scenes from the ever inventive and creative Tony Sarg.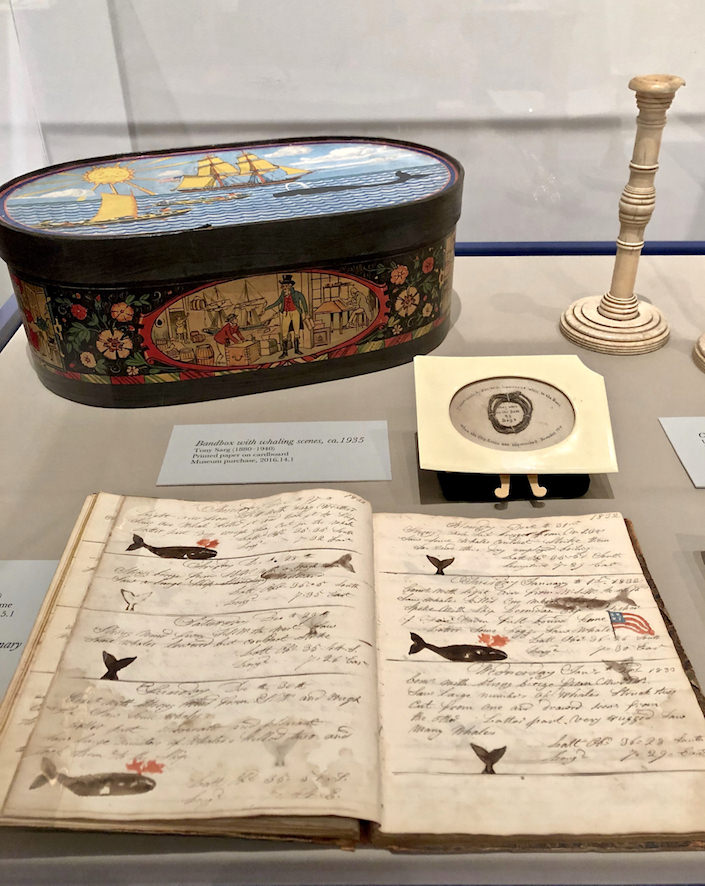 In 1848, Susan Veeder, wife of a Nantucket whaling captain, set sail with her husband and young sons on a five year whaling expedition, which took them around Cape Horn, to Chile, the South Seas and the Arctic Circle. Veeder chronicled the entire trip in great detail with accompanying illustrations.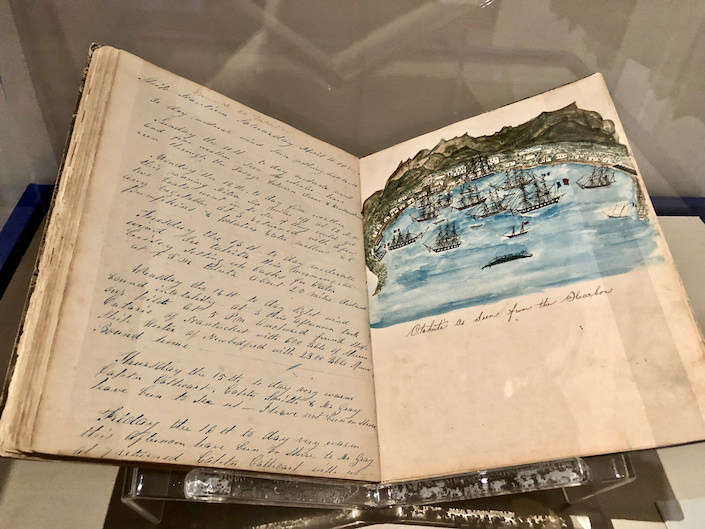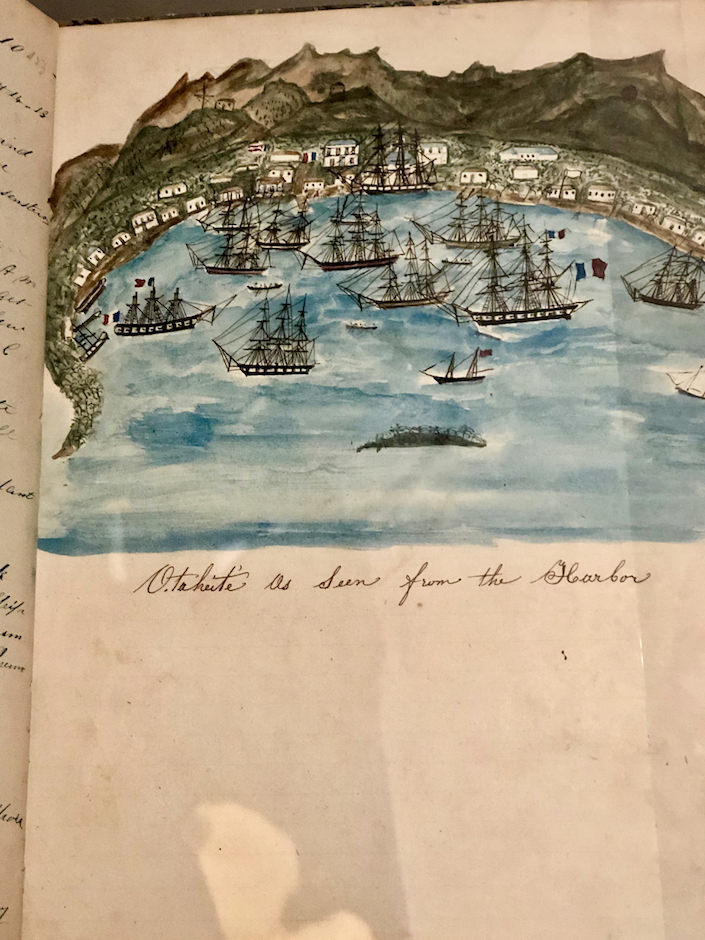 My favorite NHA house property might just be Greater Light, the house/studio owned by sisters Hanna and Gertrude Monaghan. They furnished it with eclectic and often exotic items including the 17th c. Italian settee below, which they recovered with canvas-work panels Gertrude designed, then embroidered by her mother, illustrating the family's favorite spots on island. Above the bench is a 19th c. painting by Wendell Macy (a descendant of the Nantucket Macy's) of a shipwreck on Nantucket's south shore.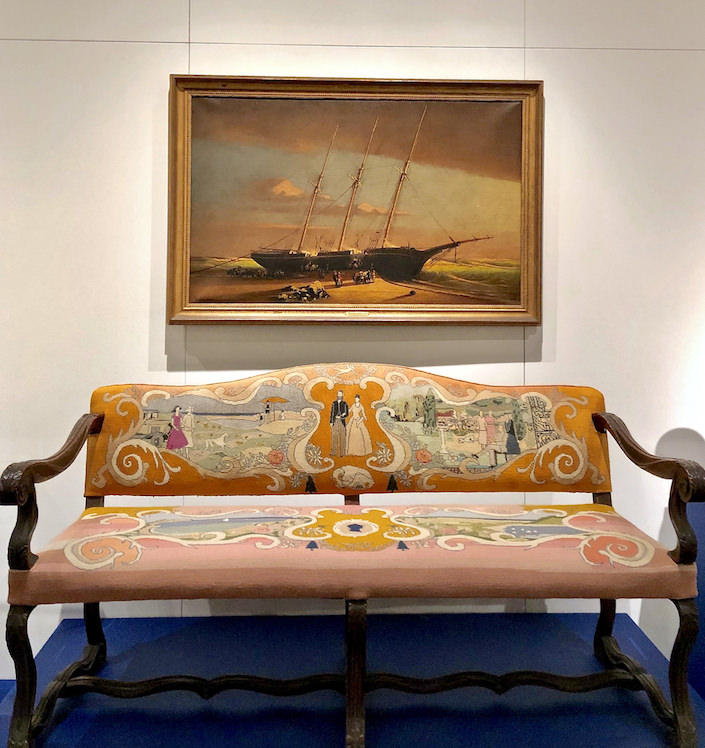 all photos by Stacey Bewkes for Quintessence
These are merely a few highlights from the exhibit of this important historical association. As I have highlighted in previous posts over the years, the NHA not only houses this collection but tells the stories of Nantucket through its properties, continual historic preservation and programming. I encourage any of you attending the 2019 Winter Show to take time and visit this fascinating exhibition. And of course stay tuned for Nantucket by Design this summer!