If you can't get to John Derian's charming east village emporiums, seeing his booth at the NY Now Spring 2018 show was certainly the next best thing.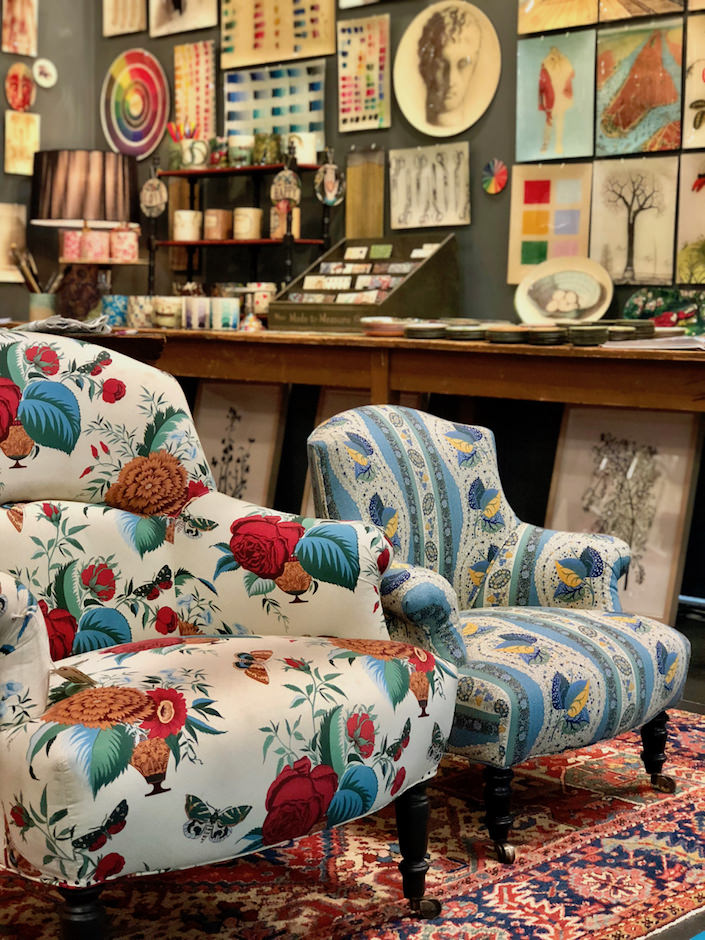 From his myriad of decoupage collections, to charming furniture, above, bedecked in Nathalie Farman-Farma's beautiful Decors Barbares fabrics.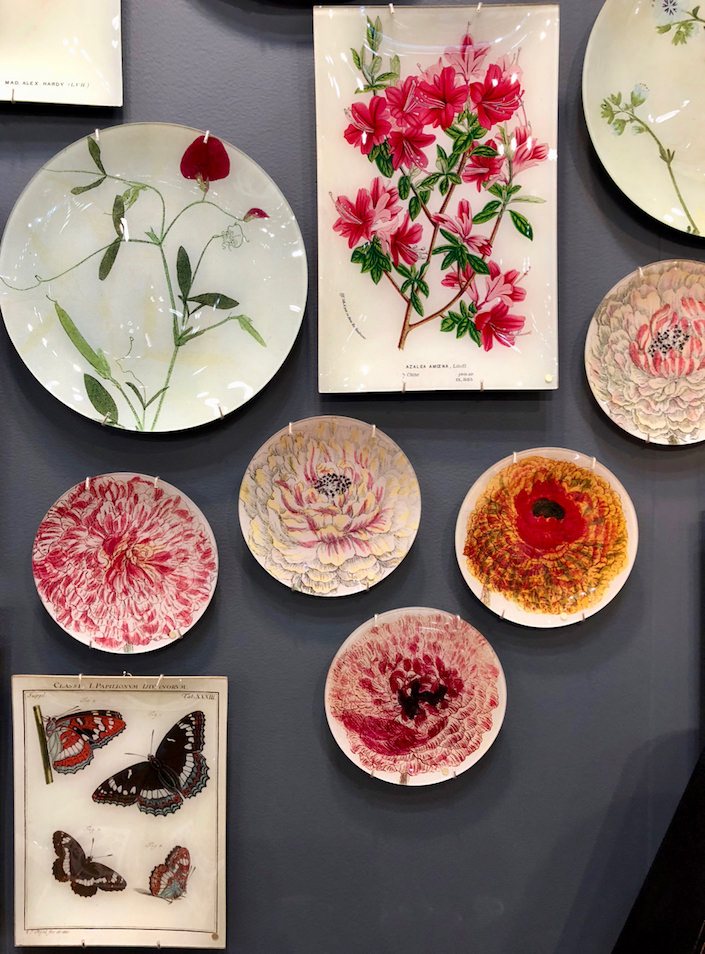 These new florals, above, and ferns below, almost have us feeling spring in the air,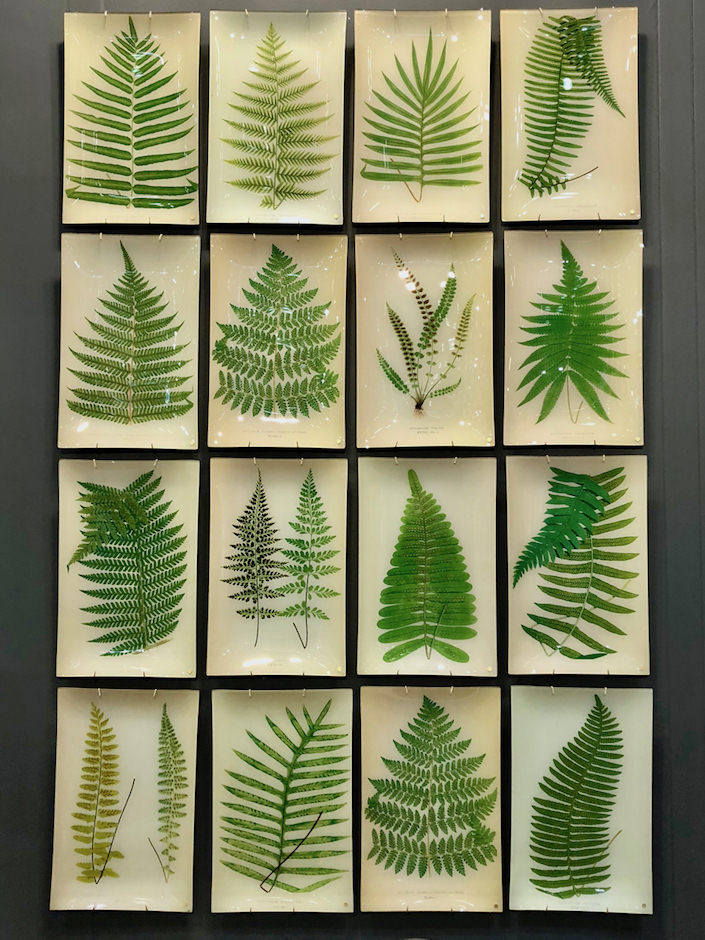 and I loved the new series of constellations and astronomy.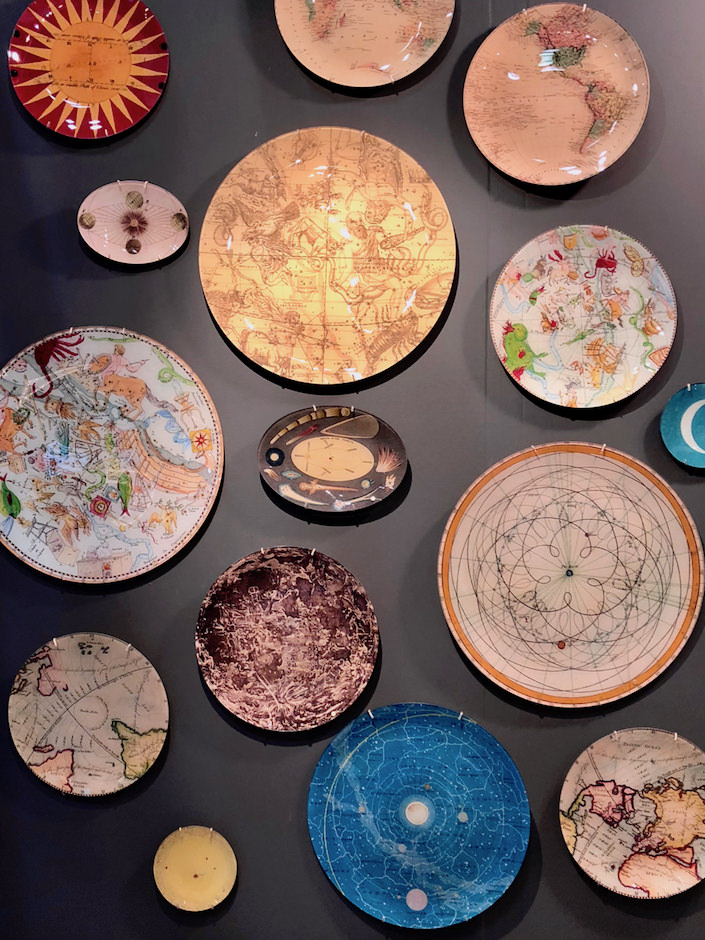 New paperweights are detailed with a beautiful scalloped edge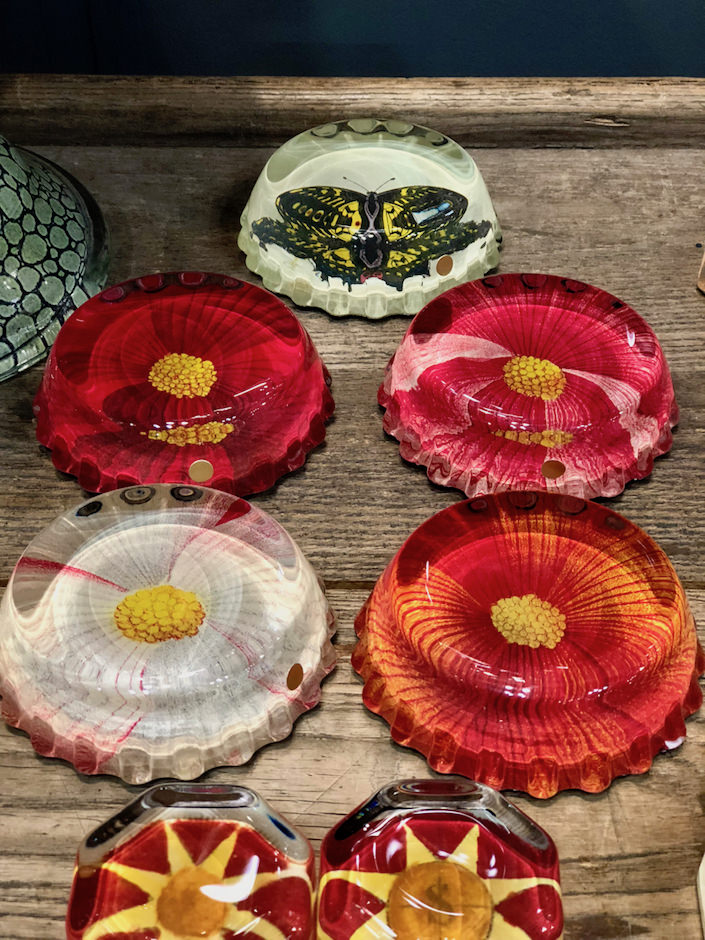 and of course John's enchanting collaboration with Astier de Villatte is always a winning combo.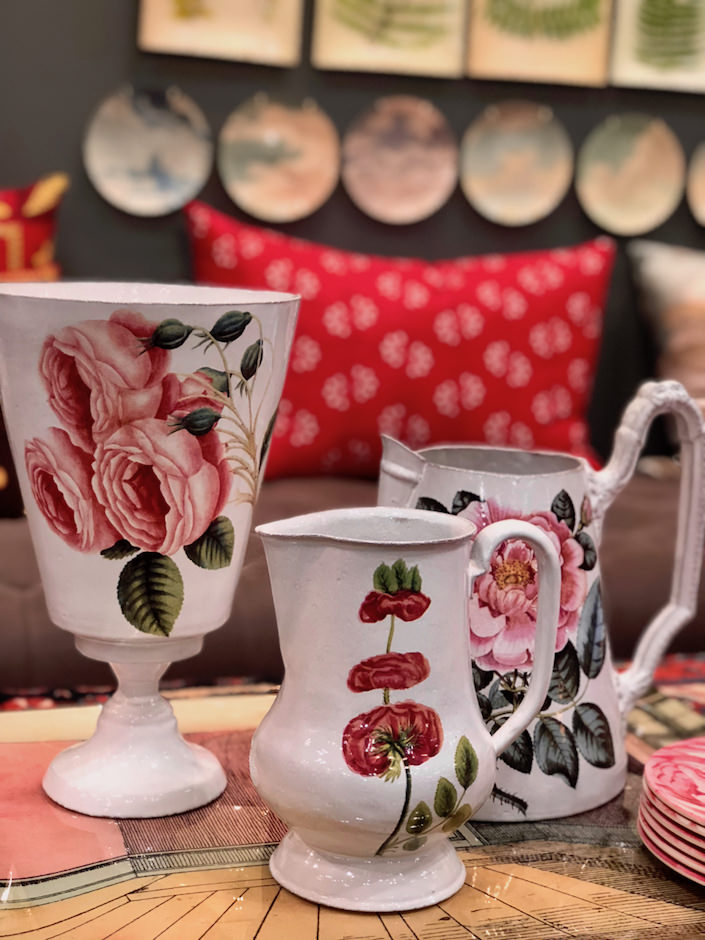 I have been a fan of les-Ottomans ever since discovering their chic east meets west sensibility. Walking the line between Italian sophistication and traditional Turkish style and pattern, les Ottomans offers many avenues for adding some exotic elegance to your home.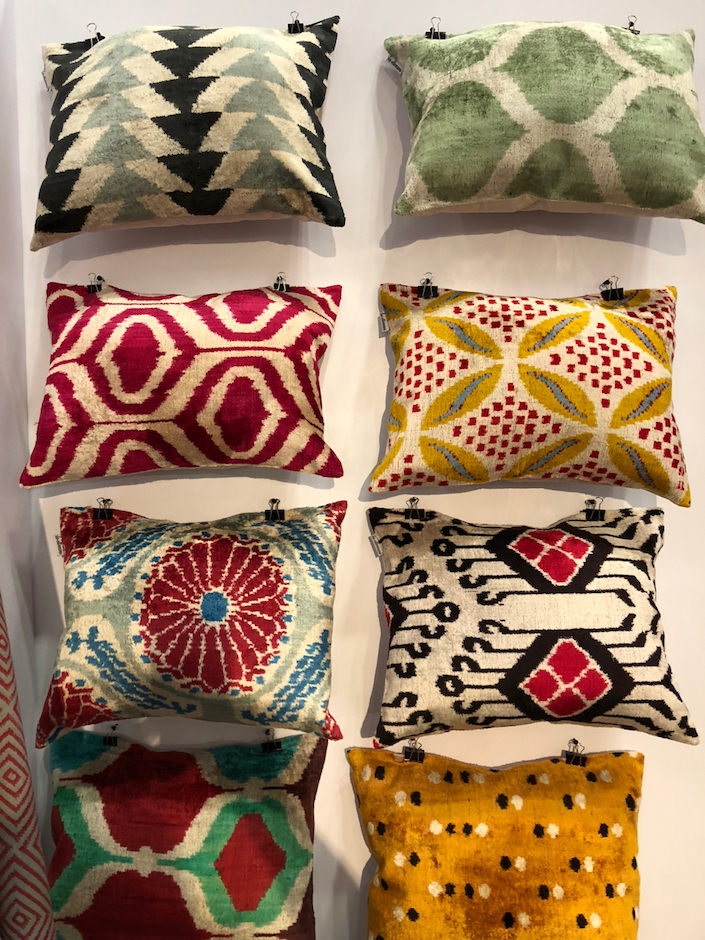 From silk and velvet ikat cushions and plates to tantalizing story-inspired tabletop, it was a booth of resplendent opulence.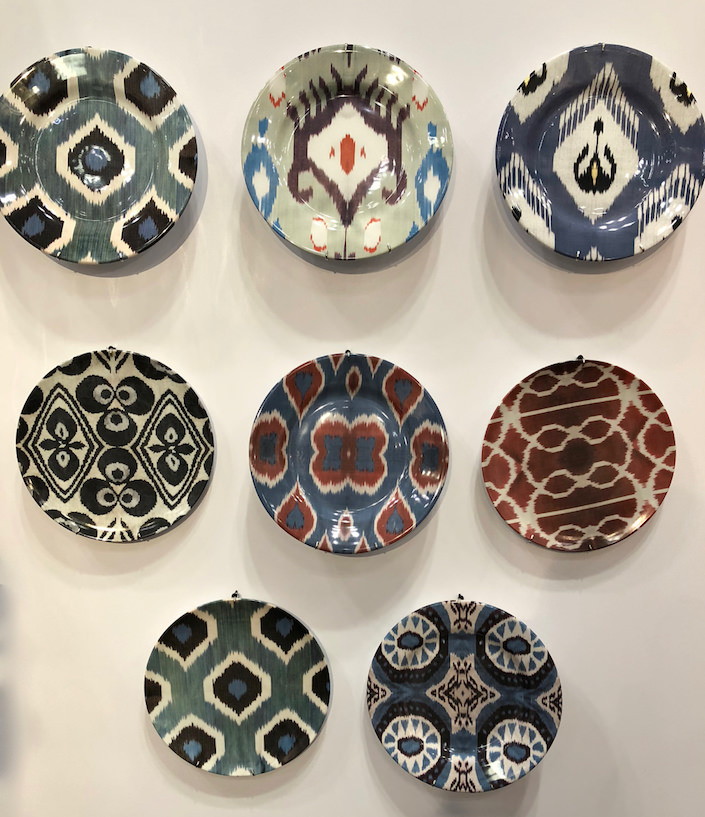 A collaboration with artist Vito Nesta resulted in the enchanting Constantinopoli porcelain series where animals and figures dance together in harmony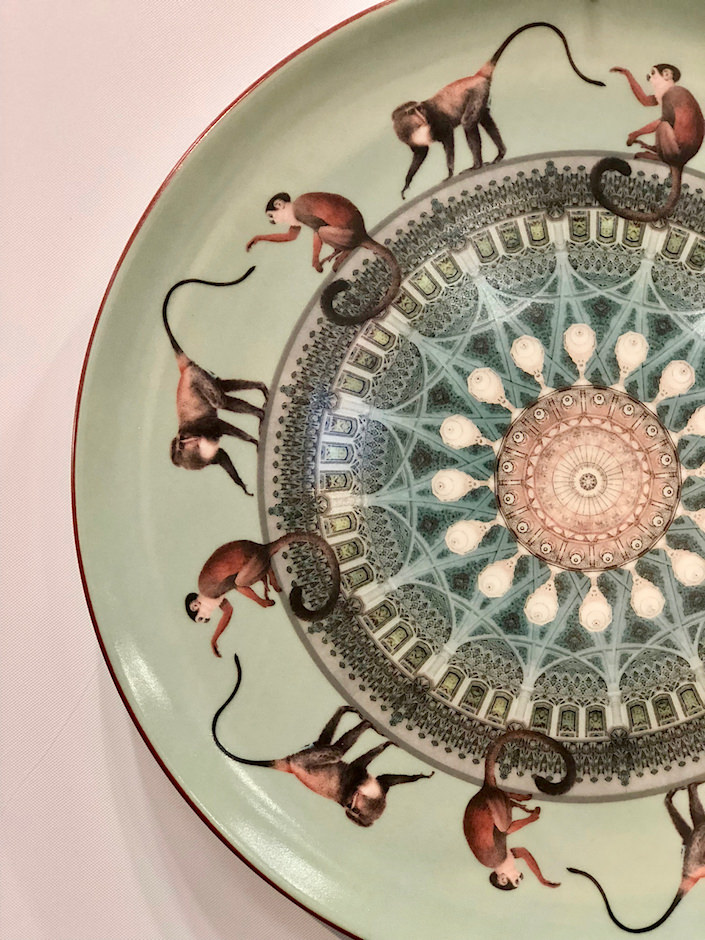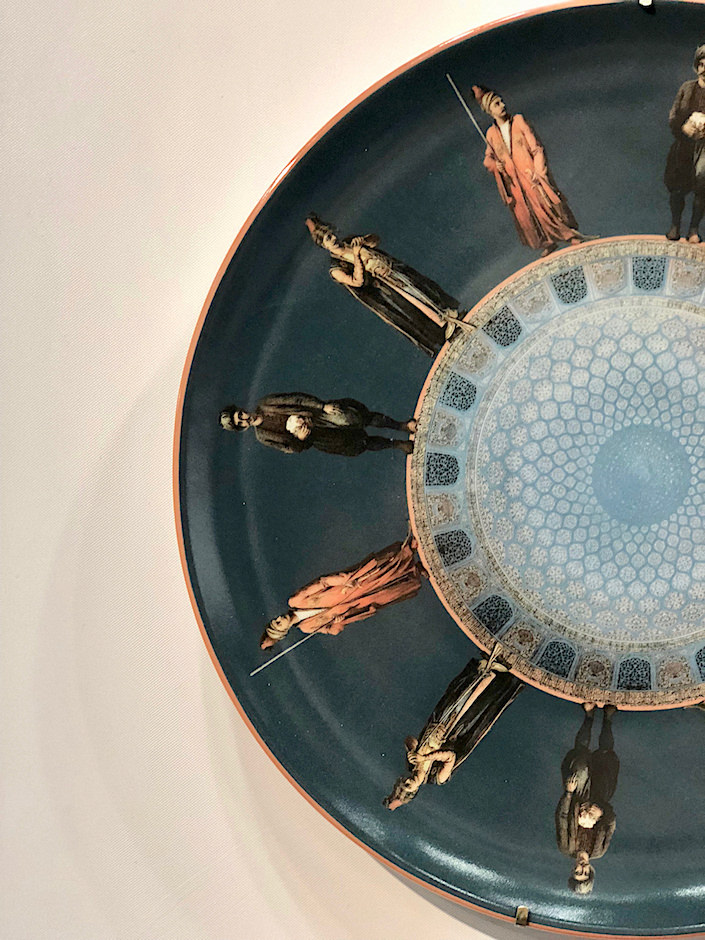 and the new Corteo series of the Sultan's parade as they enter the palace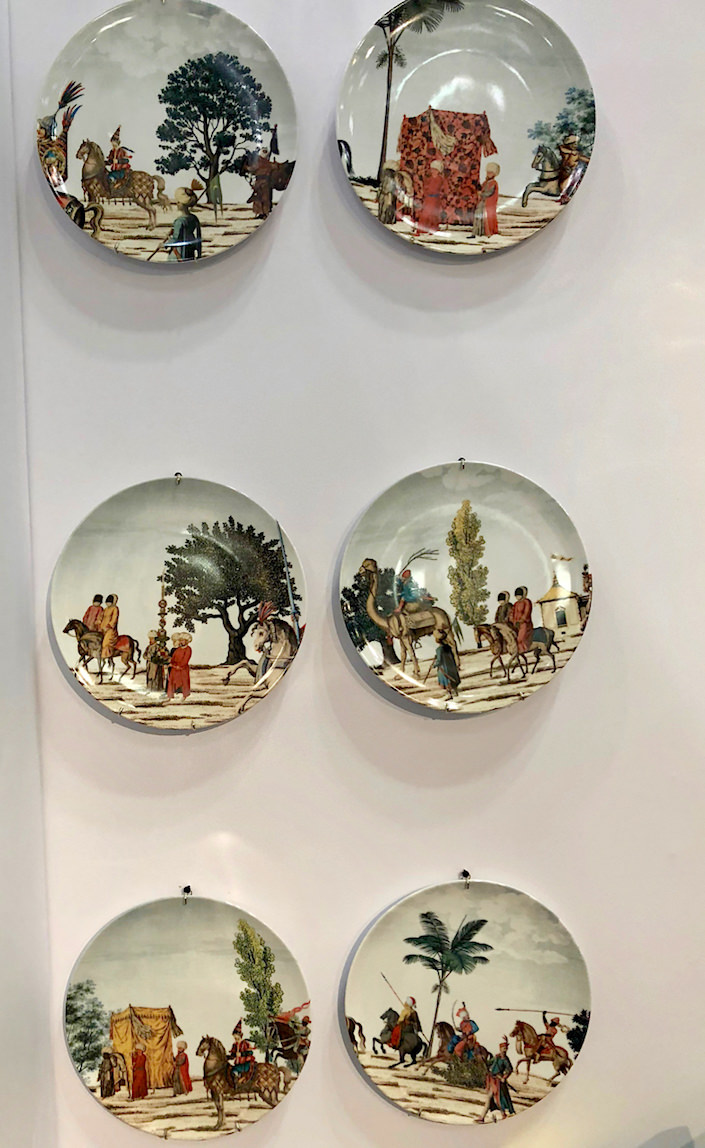 – a series of 12 different designs.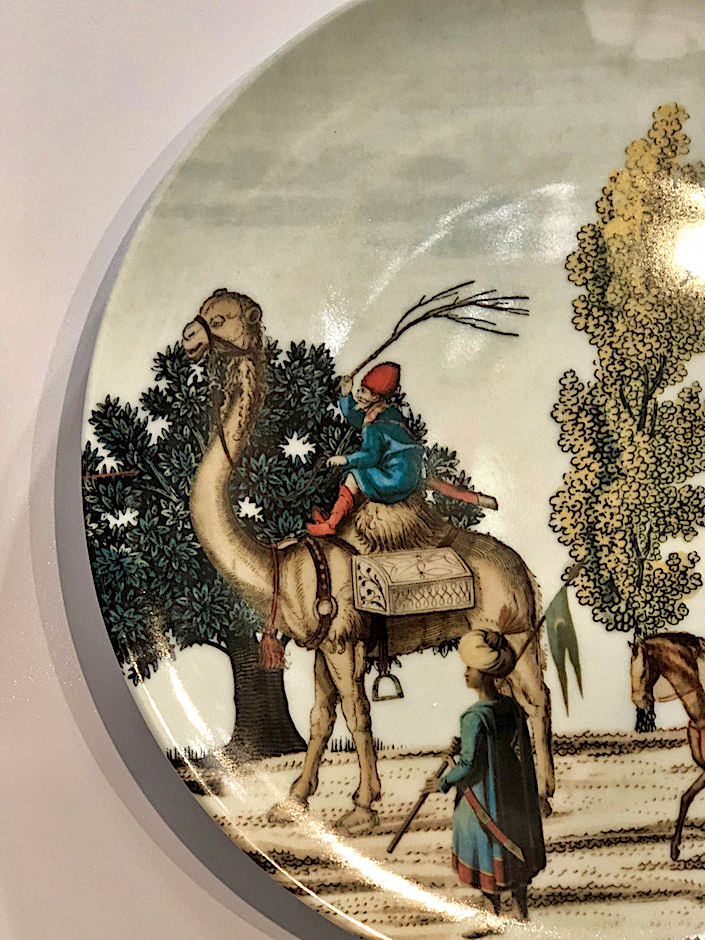 Among their many offerings, I also loved another new collection of maze plates made entirely of Murano glass – graphic with a beautiful luminescence.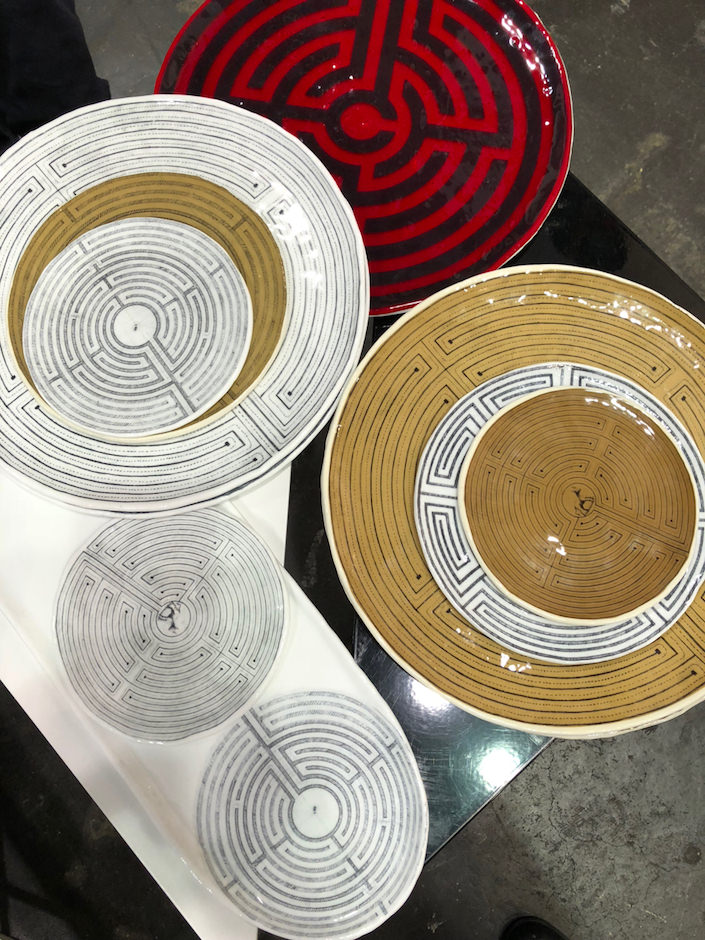 Decorative and scented candles are a popular category and Baobab is a brand that stands out from the crowd. Belgium based but inspired by the world, their candles are made with mineral wax from Germany, hand-blown glass from Poland, leather from Italy with scents created in Grasse.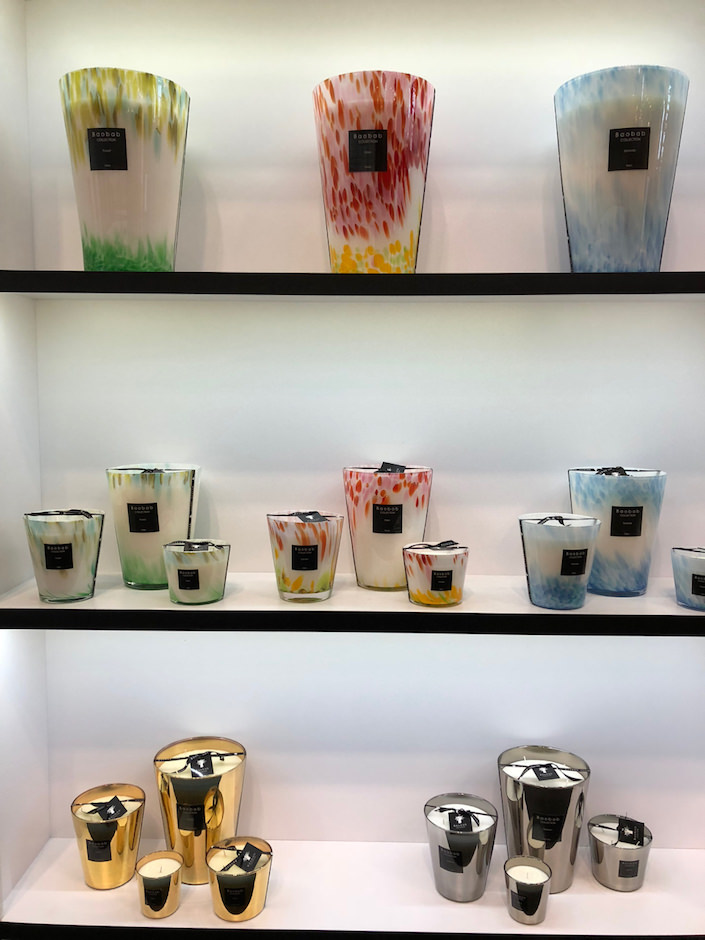 With two limited editions a year, Baobab offers five sizes. Above top Pearls in three of the five scents and on the bottom shelf, les Exclusives in Aurum and Platinum.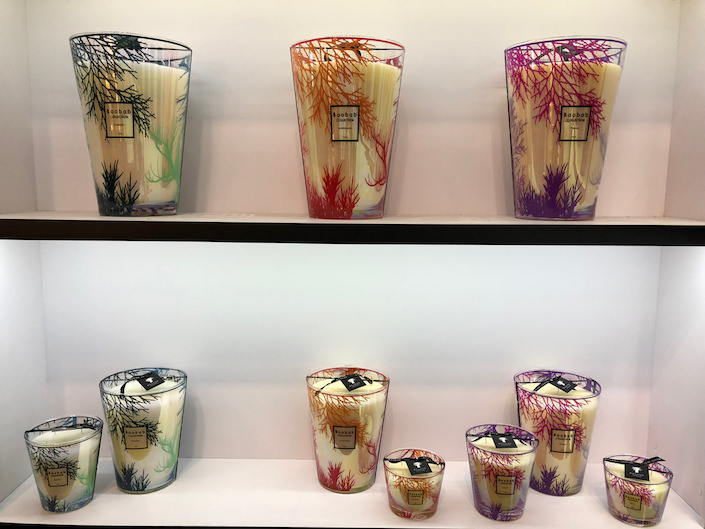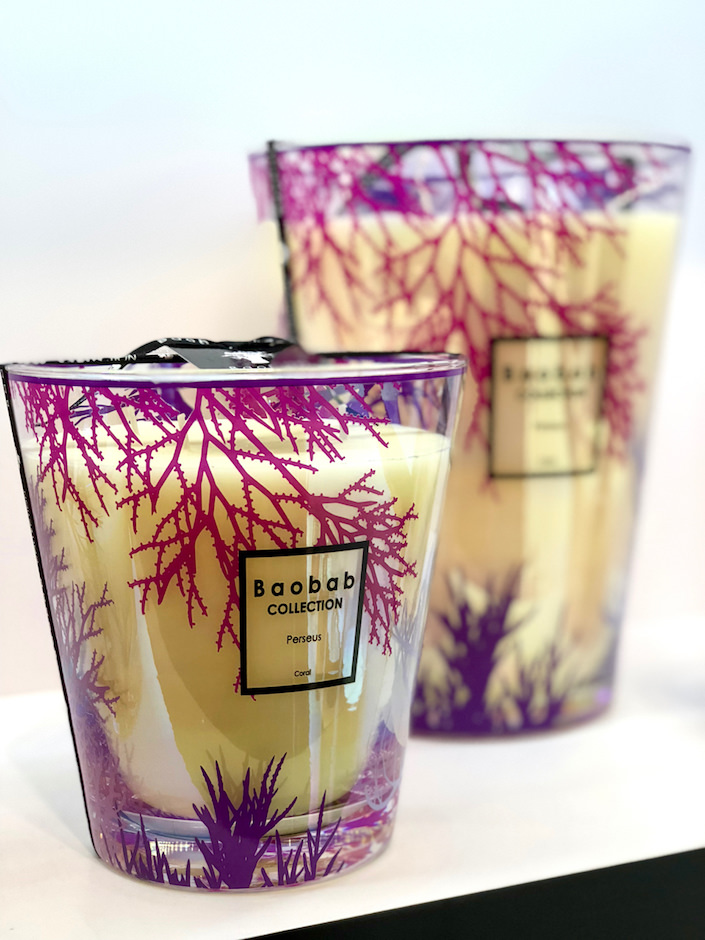 The Coral collection brings the freshness of summer to your home year round with three options, Poseidon, Andromeda or Perseus, above.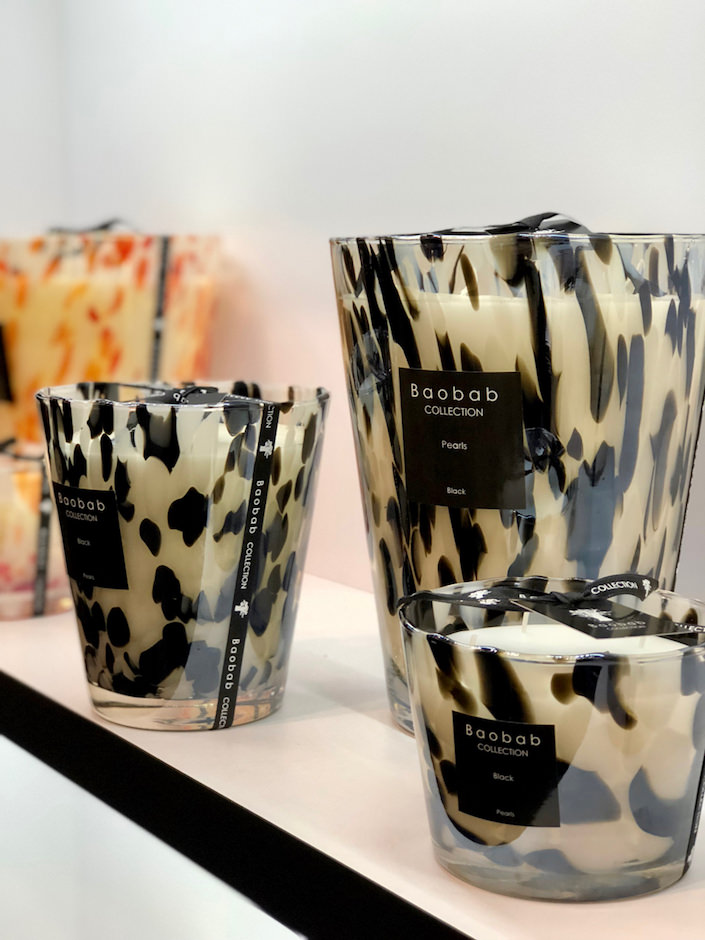 Even without knowing the black rose and ginger scent, I loved the chic containers for Black Pearls, inspired by the gems of Tahiti, above.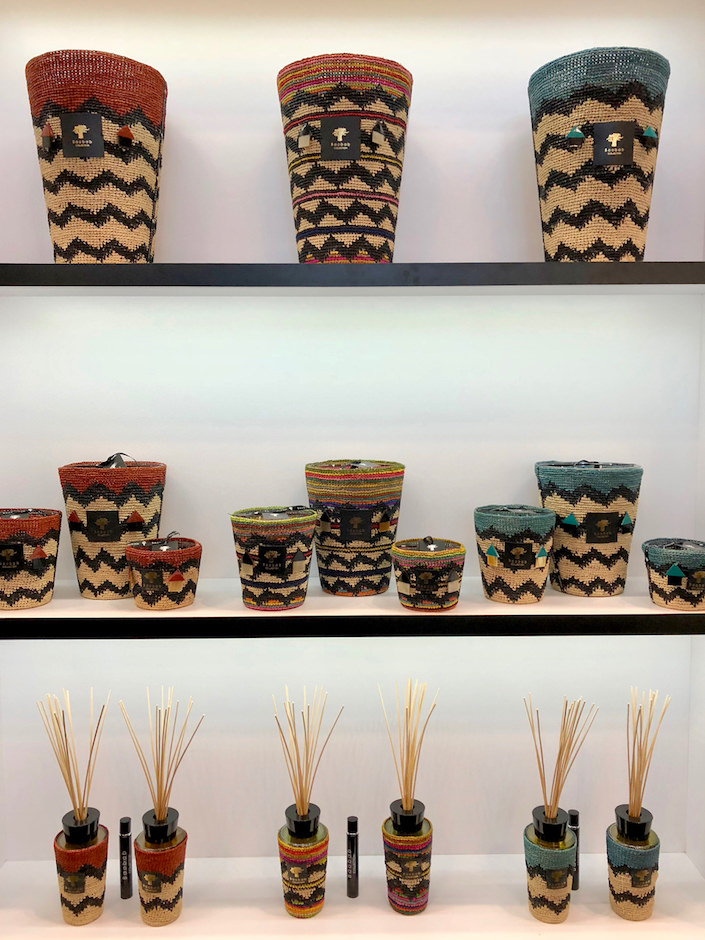 The new Trano collection is covered in rafia hand crocheted in Madagascar and inspired by Ndebele art of South Africa, where female artists paint on the the walls of their houses. A heritage passed down from mother to daughter, it is considered the ancestor of Street Art. Baobab is donating a portion of its sales to the MTAM Foundation which is dedicated to changed the lives of artisans in rural communities throughout South Africa including preserving the heritage of Ndebele women artists. Baobab also introduced their new outdoor collection, below.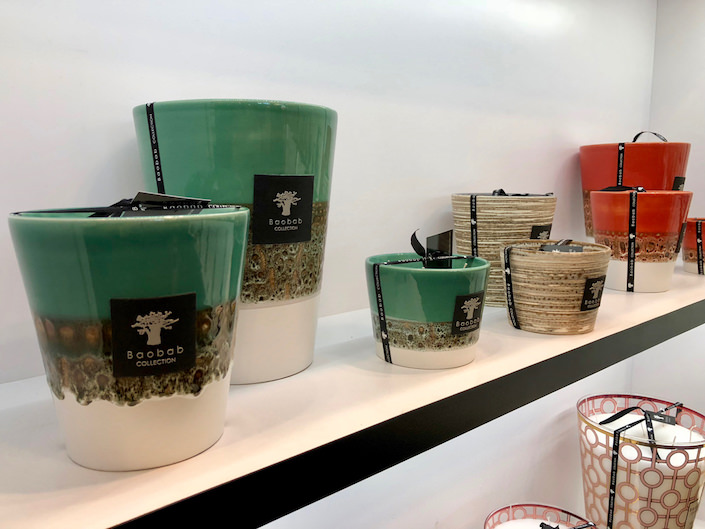 Hand-crafted by Czech masters according to centuries-old traditions of glass-making, Artel is a brand I've admired for years. New offerings at the NY Now Spring 2018 show included the beautiful Mussels collection – a modern graphic pattern referencing the shell shapes of these molluscs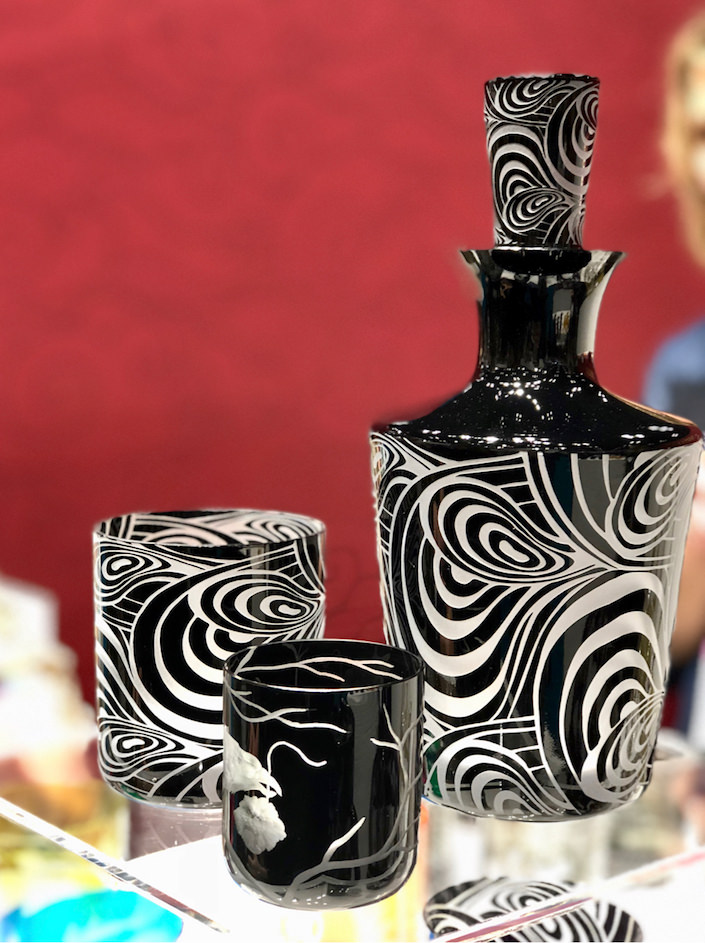 and Chinese Zodiac.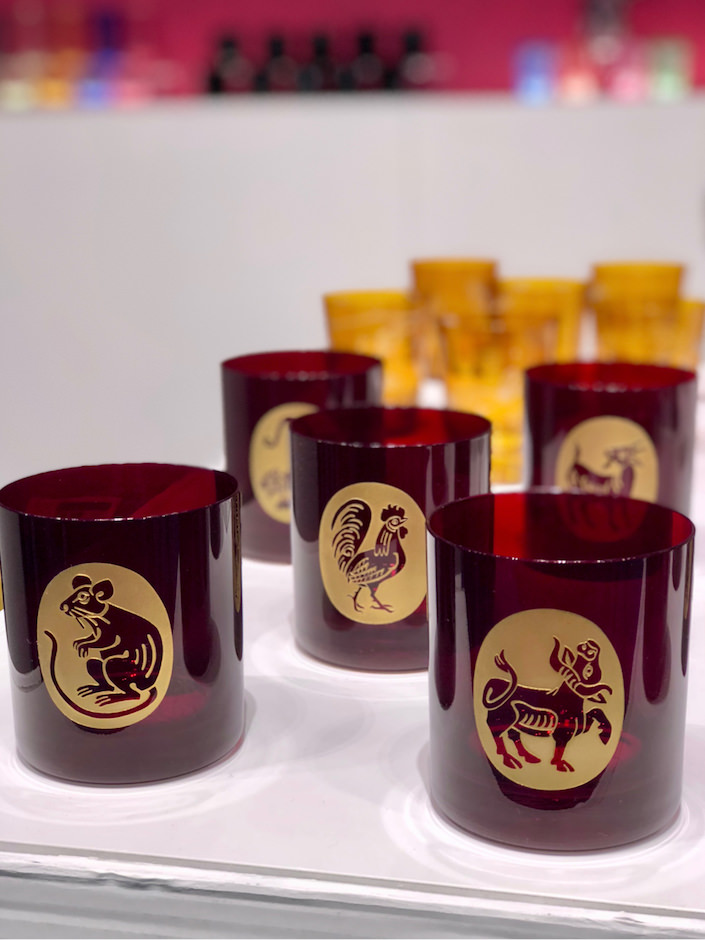 Kiss That Frog is an odd name for a French themed import company that encompasses a range of interesting produces from ceramics and glassware, to home decor and accessories. From these Indochine cage tumblers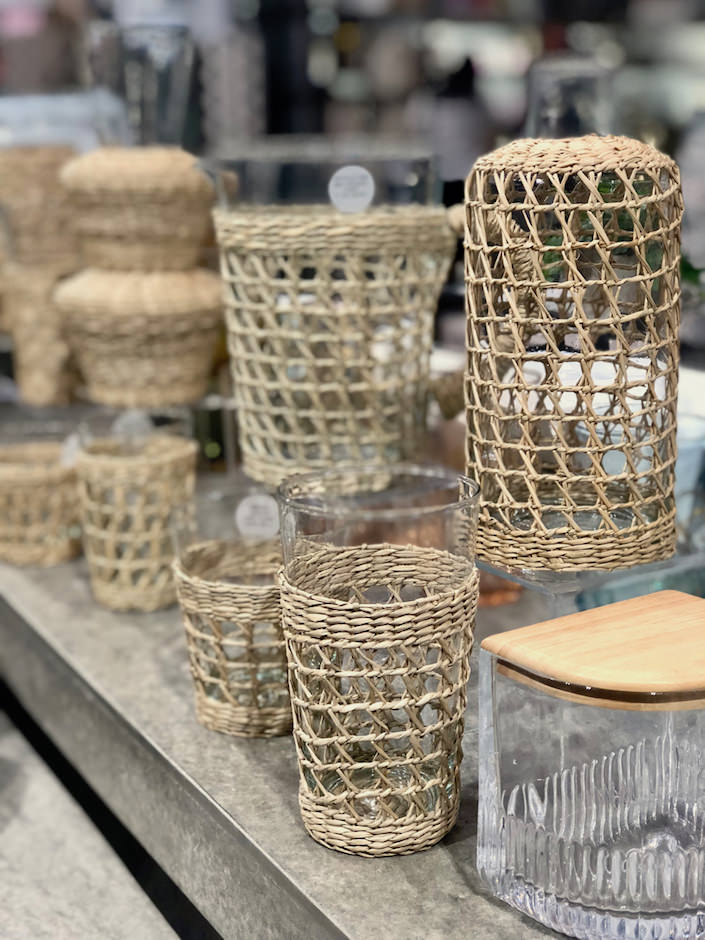 to Filt French net shoppers,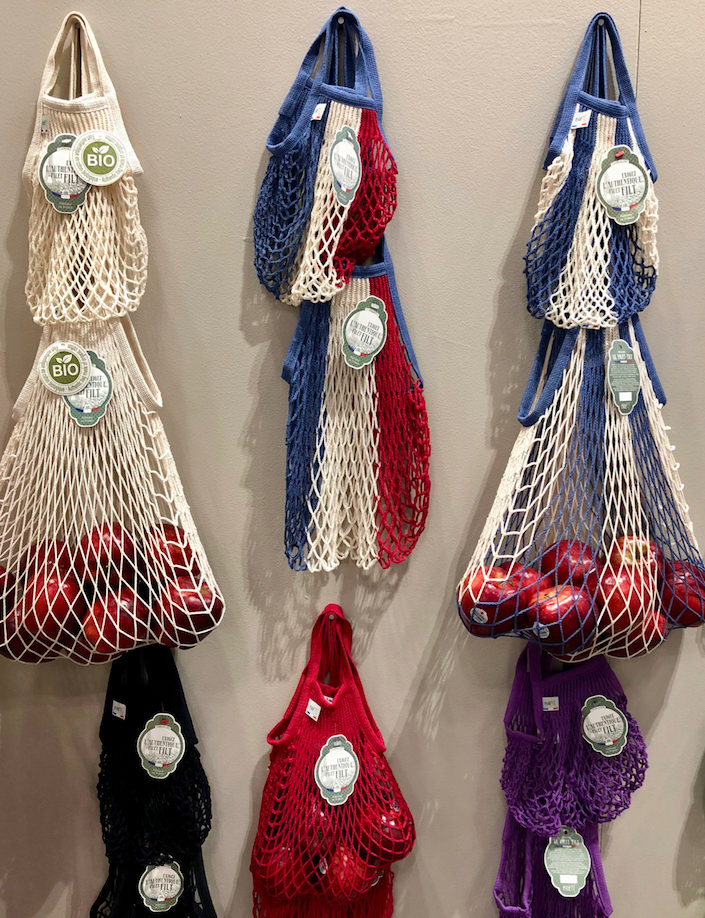 Thieffry linens, produced from Dutch, French and Belgian harvested flax since 1837,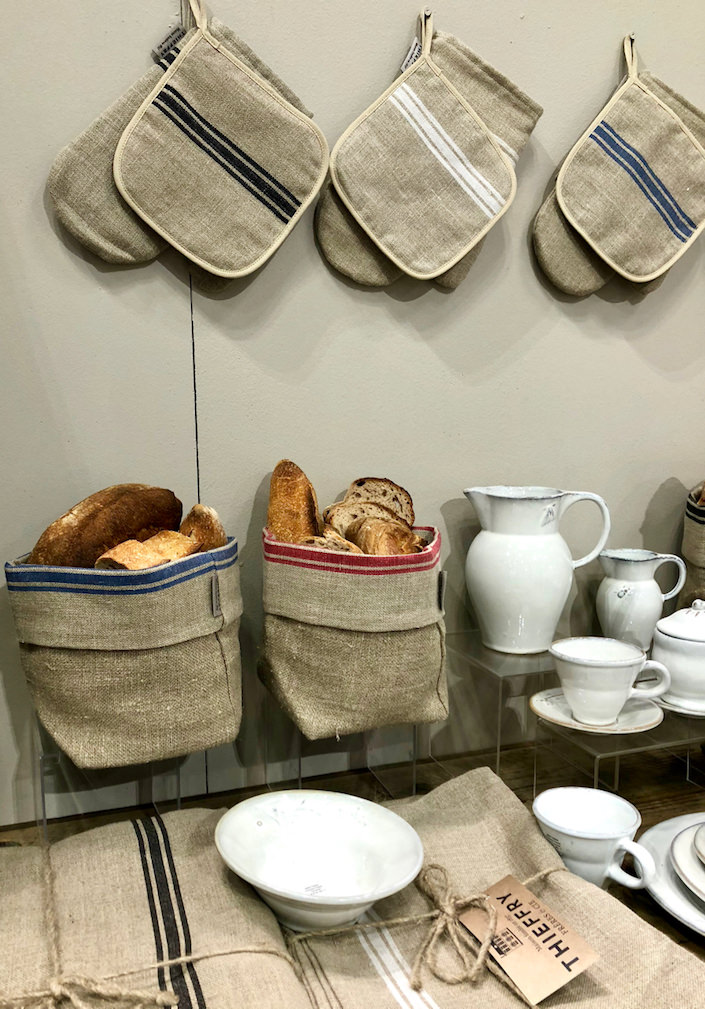 to Bangkok based Yarnnakarn rustic tableware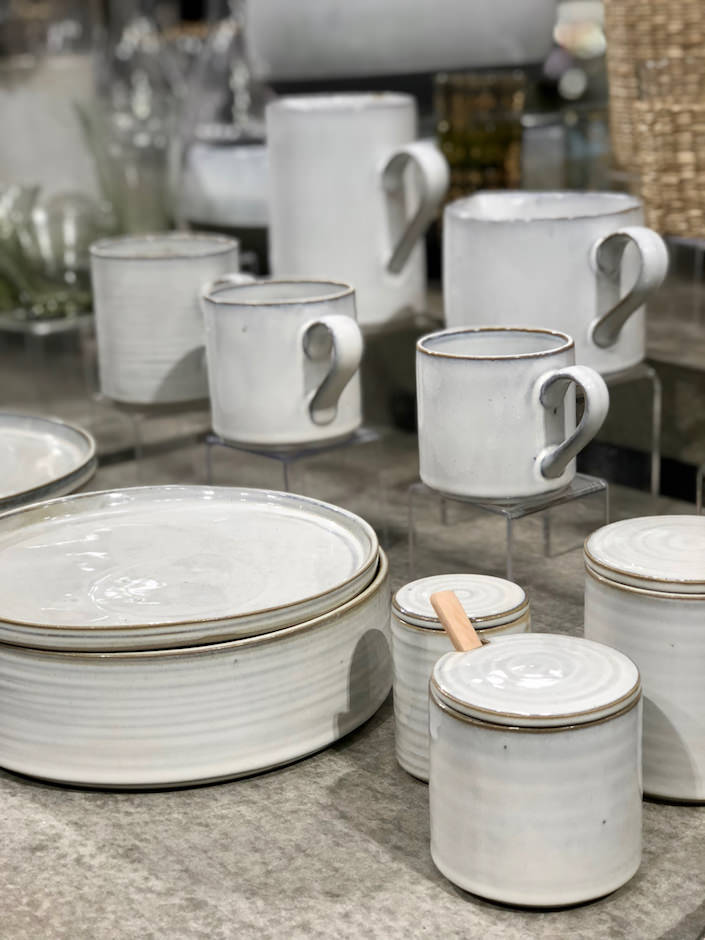 and whimsical ceramics.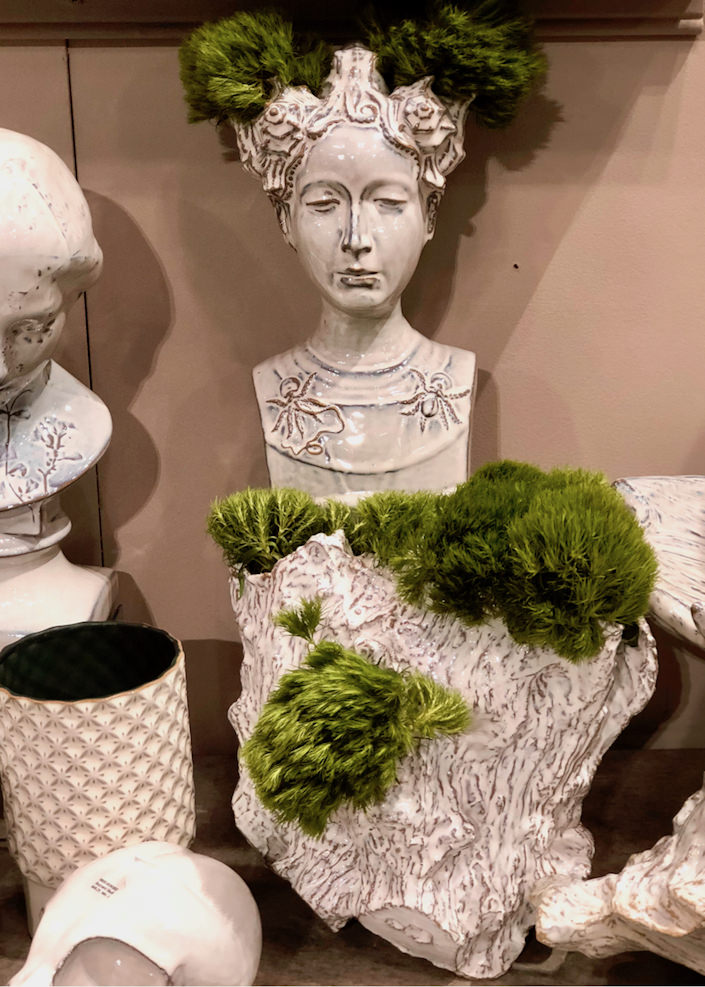 French based Couleur Nature and sister company Caravan showed their Provencal style linens and tableware together.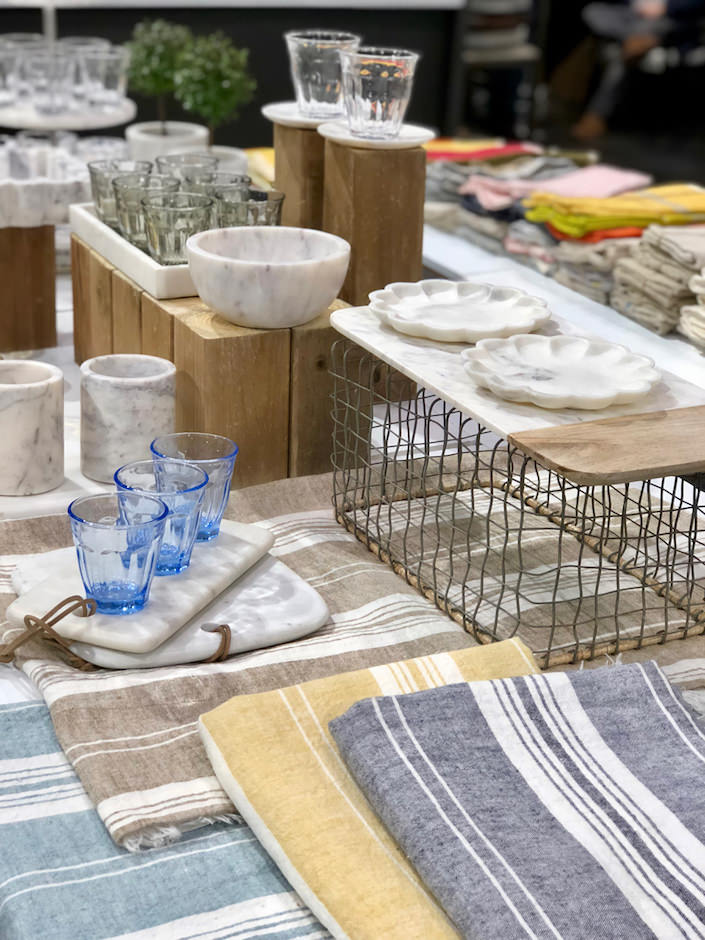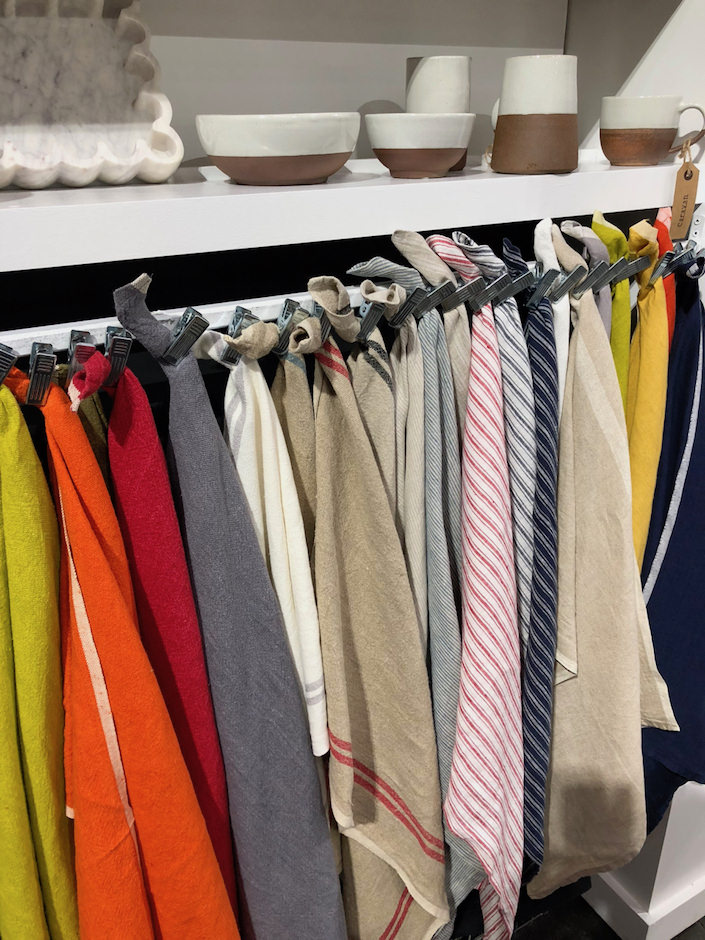 These colored glasses from Caravan are so fun and very reasonable.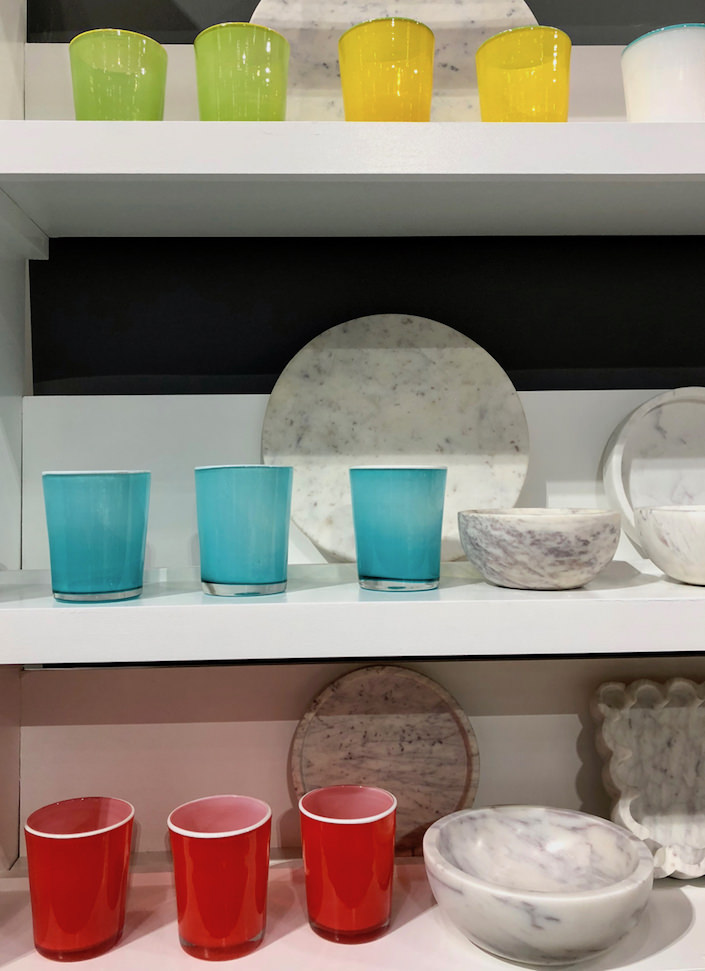 The Busatti/Sassolini Family has been in the medieval village of Anghiari weaving in their workshops with artisanship and creativity for over a century.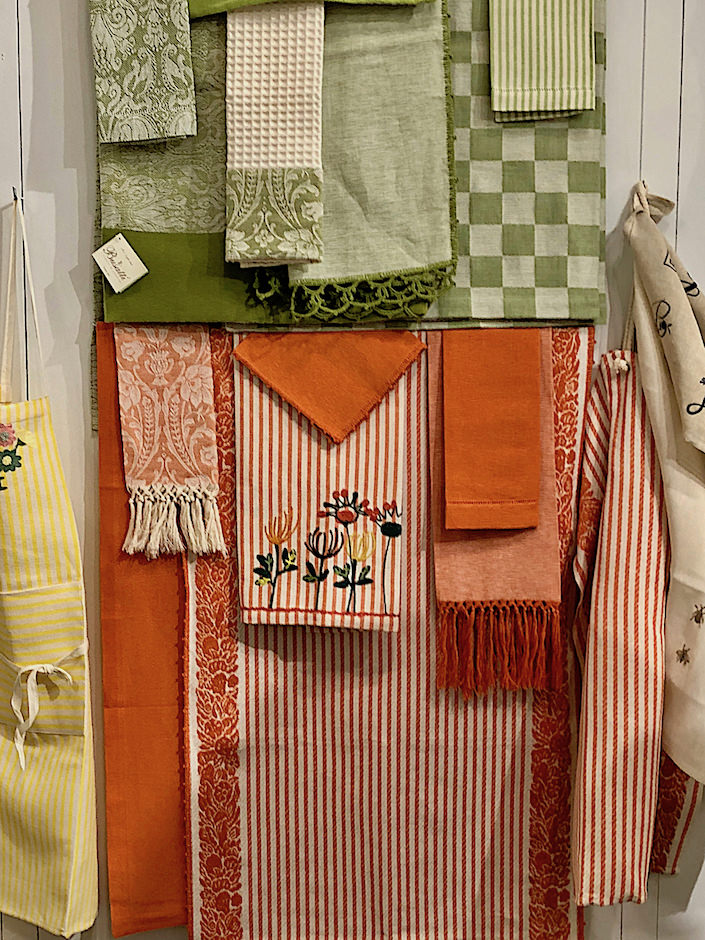 With their pledge of "never disown the origins, the taste and the quality," they create authentic shuttle-loom weaving of linen, wool, hemp and cotton. Their Tuscan artistry is immediately apparent in all their beautiful products.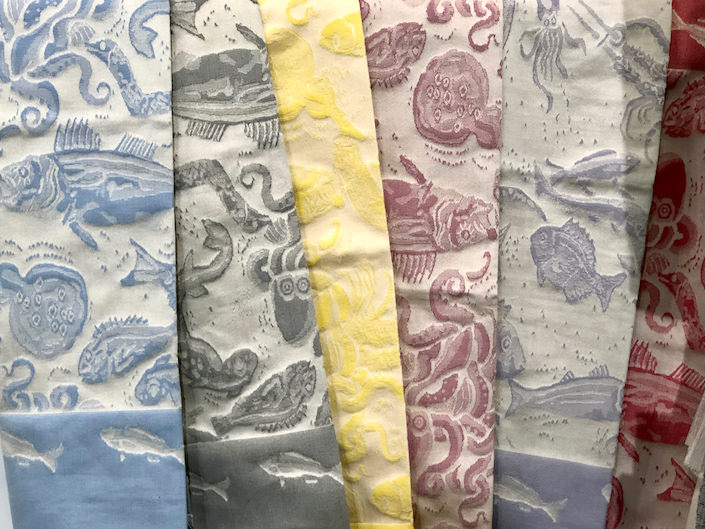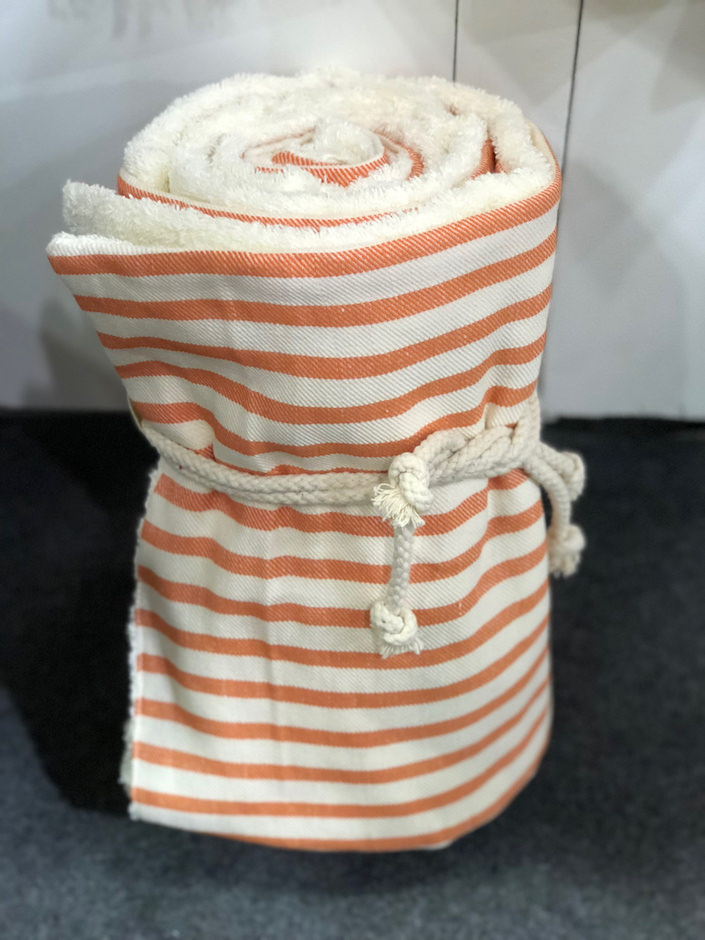 Stalwart tabletop expert Kim Seybert introduced quite a few new collections for spring. From glam to casual, you can find a wide range of styles. I tend to gravitate to the more understated and liked the Provence placemats (new colors below)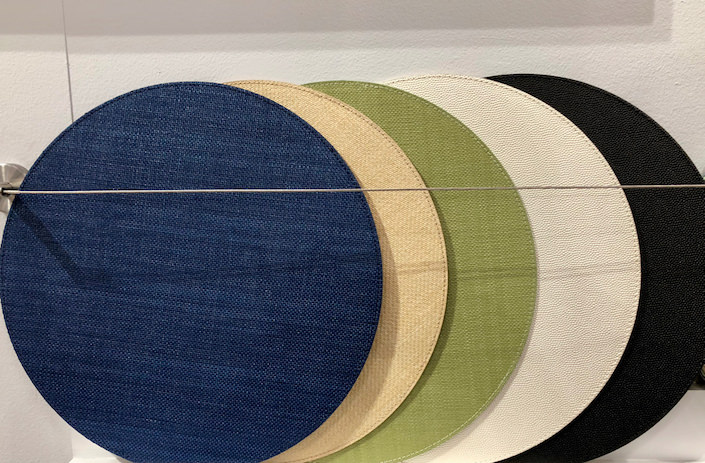 shown below with a Wales napkin and Quill napkin ring and the beautifully beaded Jackson mat placemat with the linen Provence napkin, inspired by vintage French country kitchen towels with the Fiesta ring.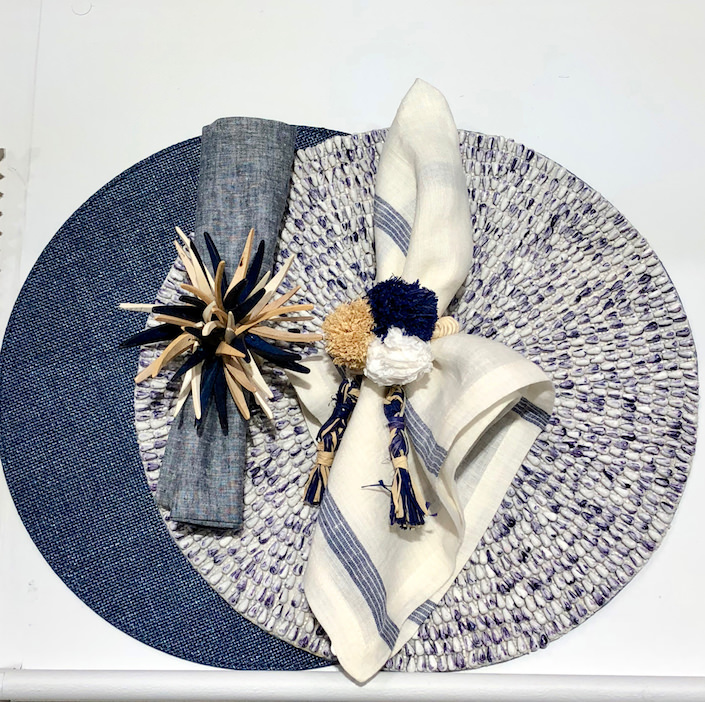 The new Horizon napkin echoes the blended vanishing points of the sky with natural dyes on 100% linen.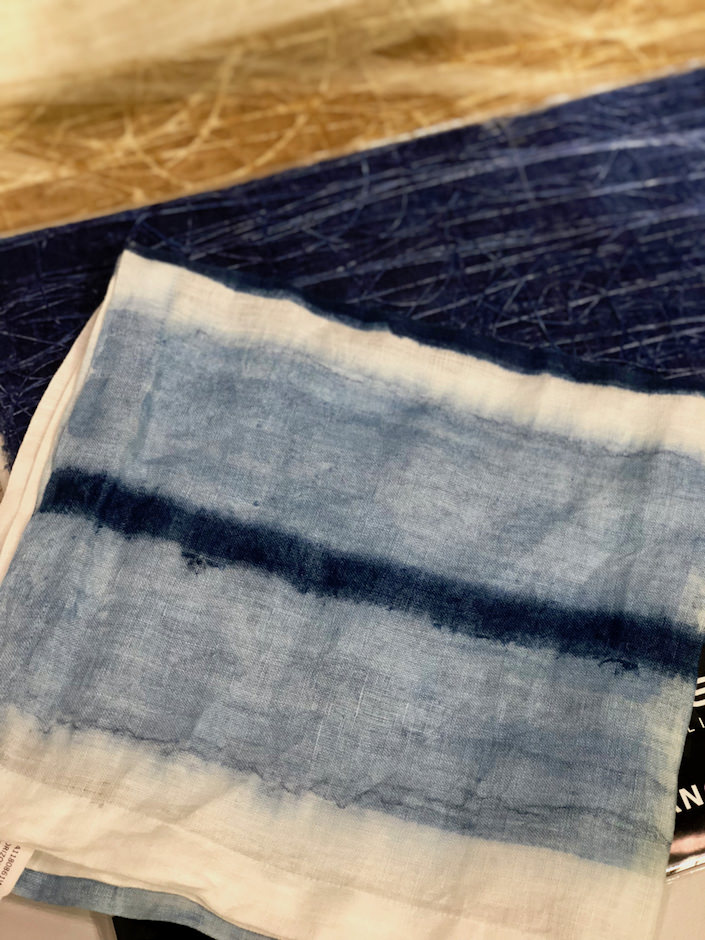 I loved the new Ombre placemats with a similar sensibility executed in lightweight straw.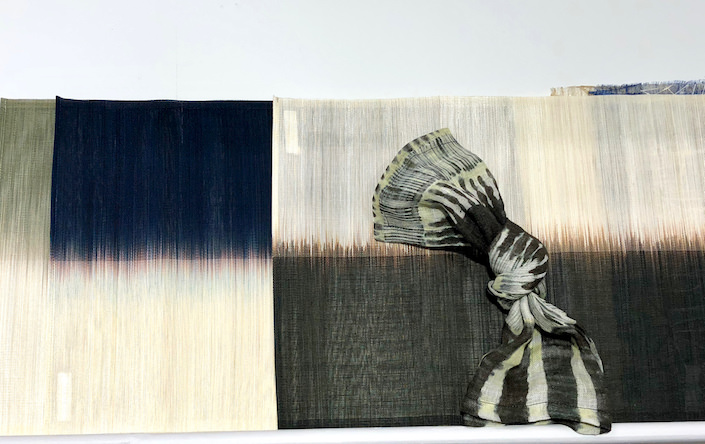 and the new Tangle placemats feature fibrous webbing for a natural vibe with texture.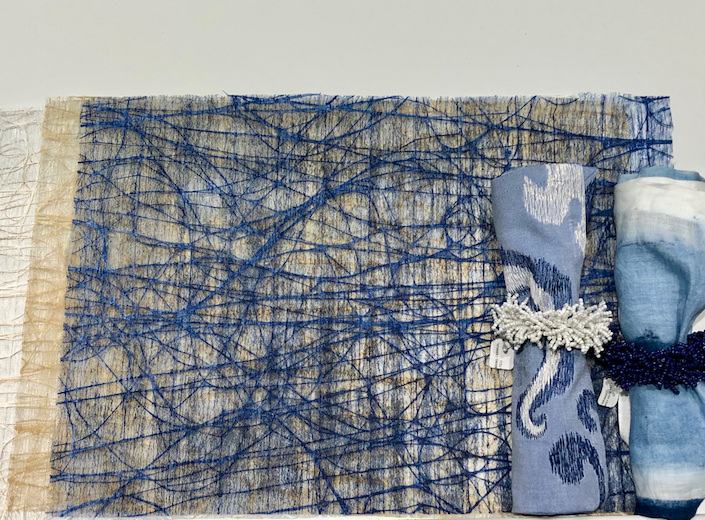 The embroidered Arabesque runner from the new Bistro collection looked beautiful with flowers by Emily Thompson.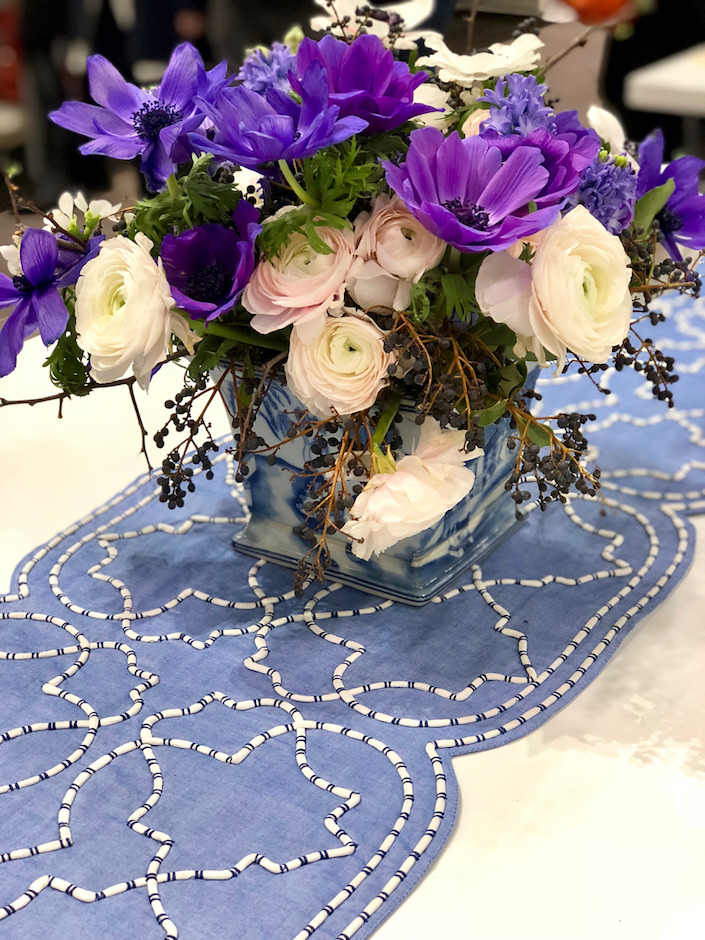 This was just the tip of the iceberg – you really need to investigate all the spring 2018 collections – there is something for every taste and style.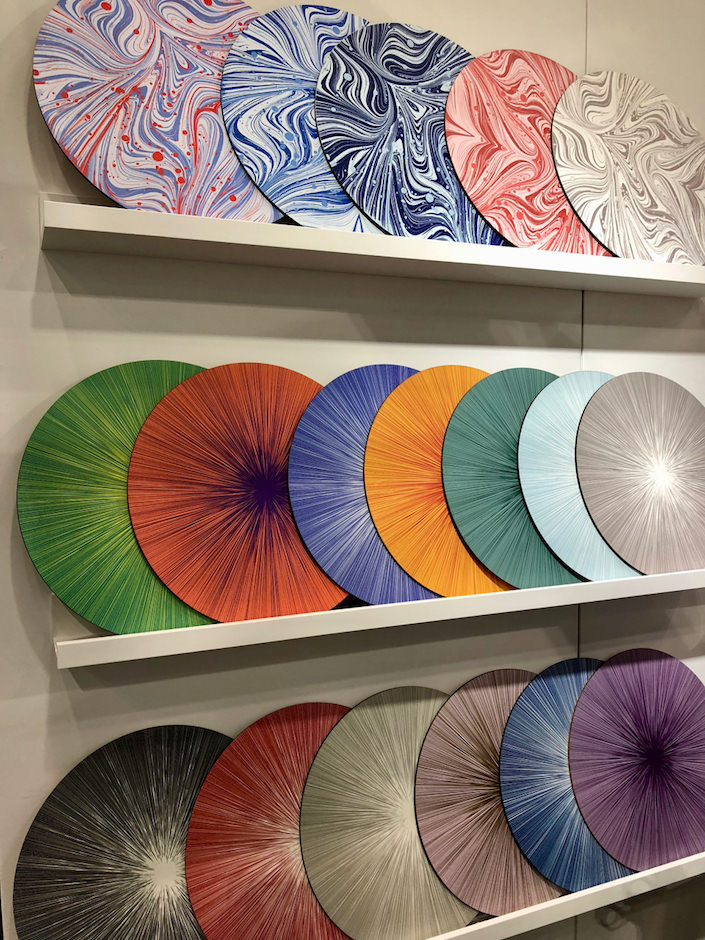 Tisch New York is a tabletop line that is the epitome of modern chic. I own some coasters but clearly need to expand my collection. Founder, ex fashion editor Amanda Tisch Weitzman, has a contemporary and clean sensibility with an artistic twist.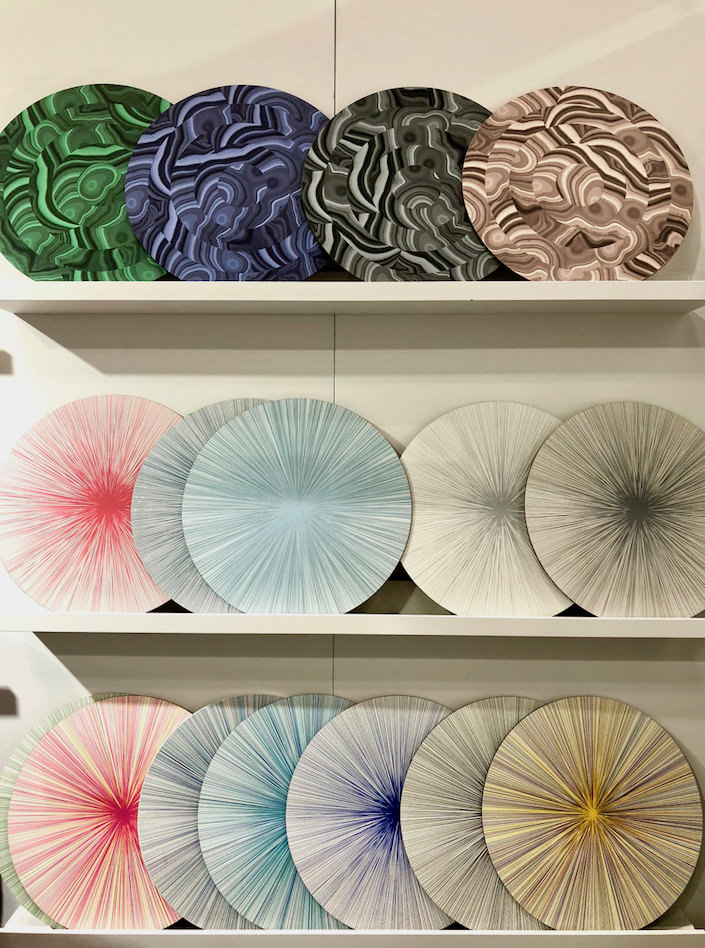 Each season she adds more colors and several new products, like new rectangular mats and these fabulous large wooden trays made in Sweden!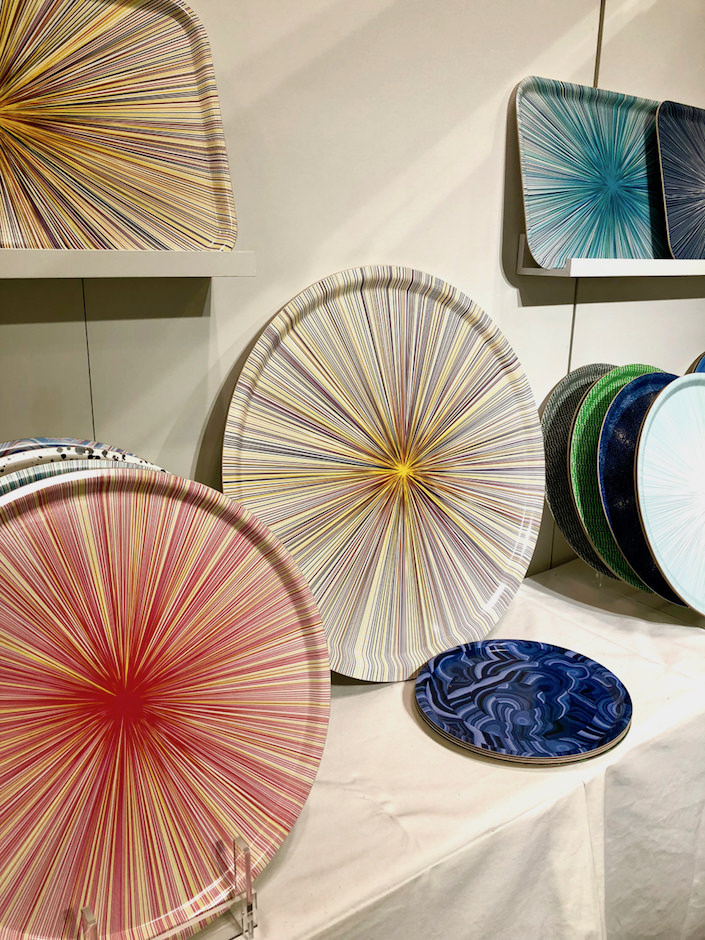 Since 1994, NYC based Bodrum Linens has been supplying quality Turkish linens.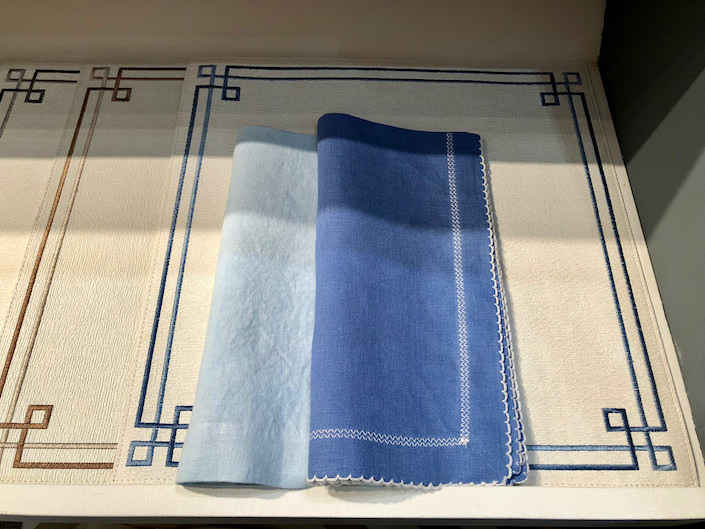 Their coated mats, above, have a silicon coating to repel liquids and resist stains – a handy item in busy households!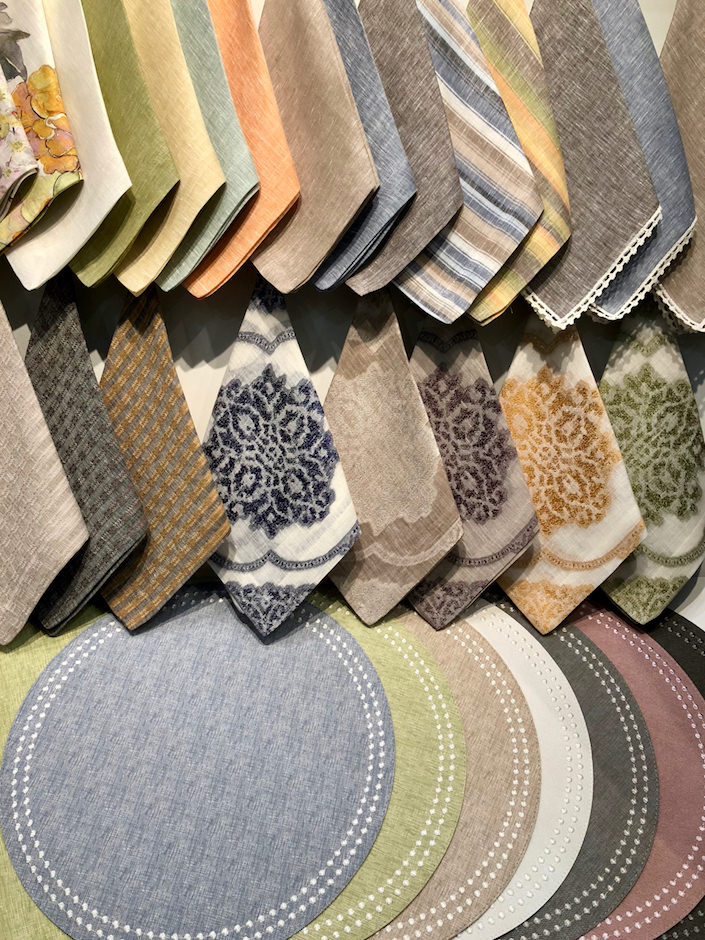 My favorite of the easy care mats were the Presto, which closely resemble stonewashed linen and the new colors of Picot and striped linen napkins.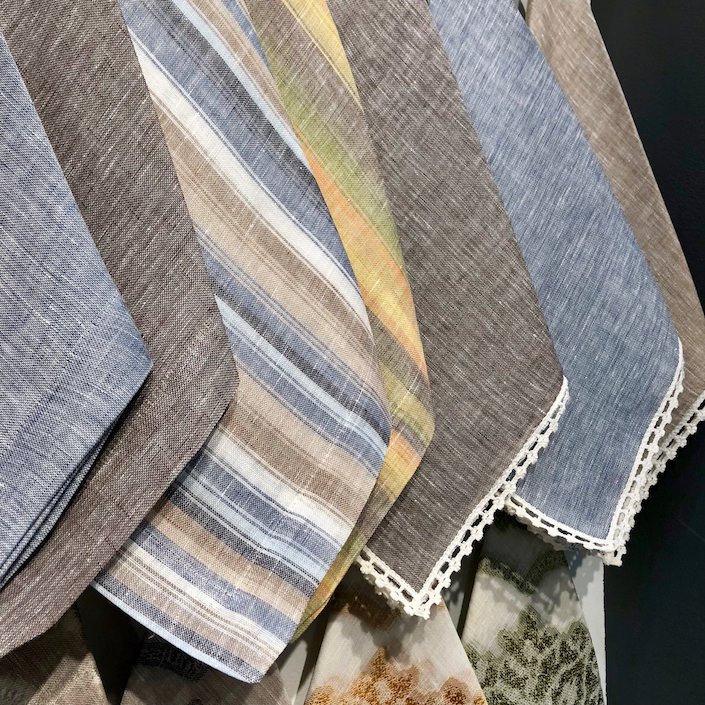 Jonathan Adler introduced a plethora of new furniture and accessories. I liked his Doris chair in a lively chartreuse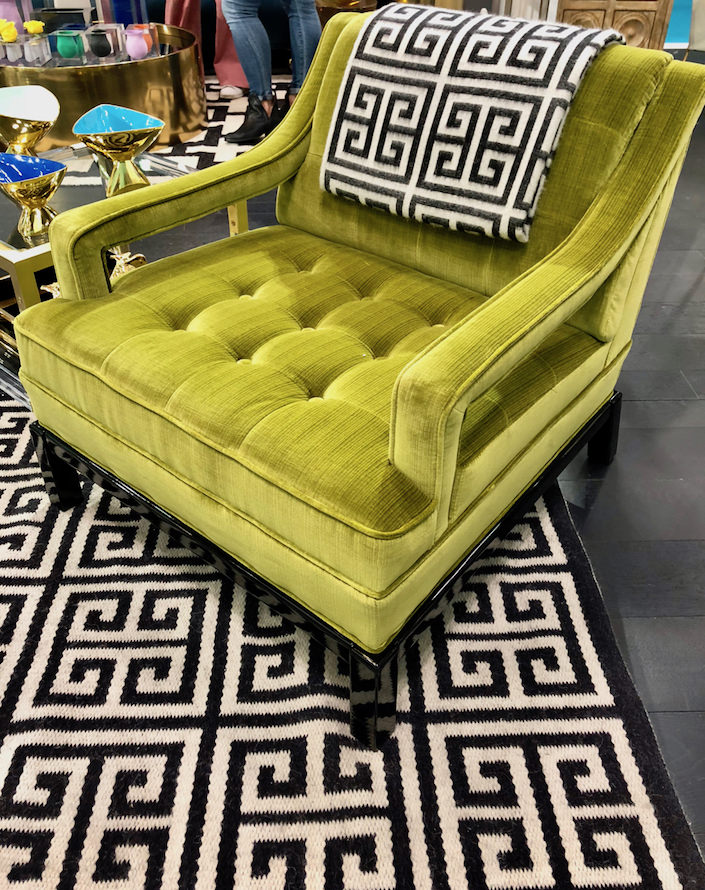 The hand-thrown Palm Springs collection, made by skilled artisans in their Peruvian workshop, harkens back to Jonathan's artisanal roots as a potter. "Crafty yet couture, graphic yet organic," it is a collection that successfully walks the line.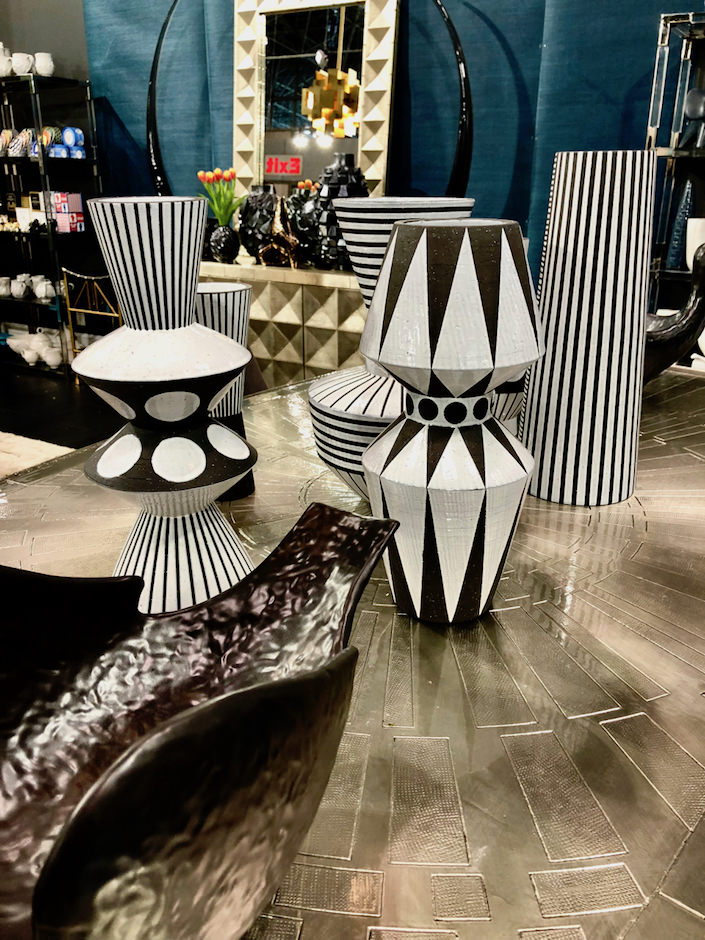 With a different bold graphic vibe are the new additions to the Canaan collection. Sleek black and white marble packs a minimalist modern punch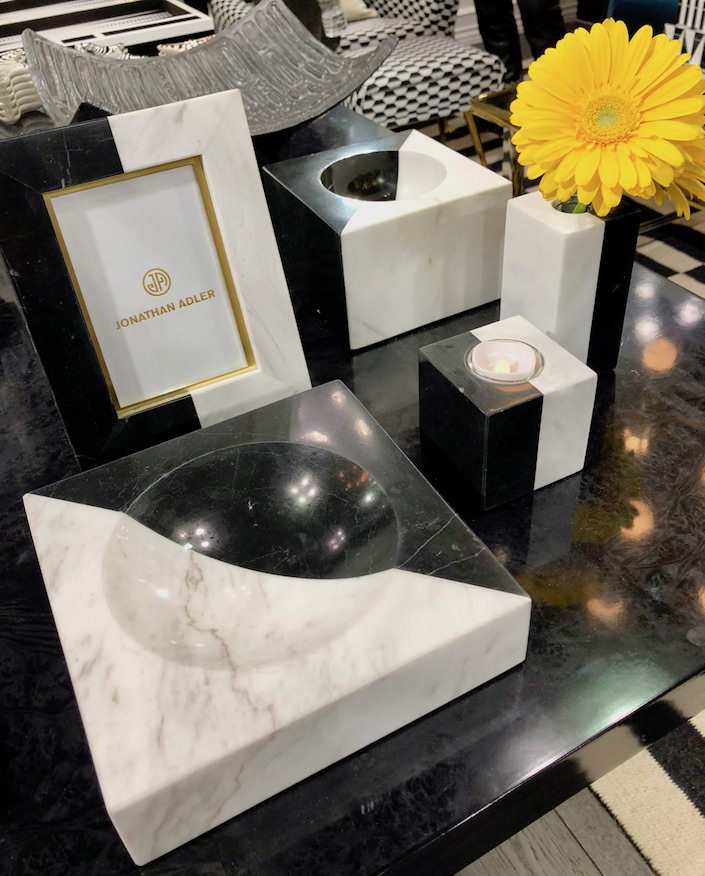 as do these candy colored acrylic boxes.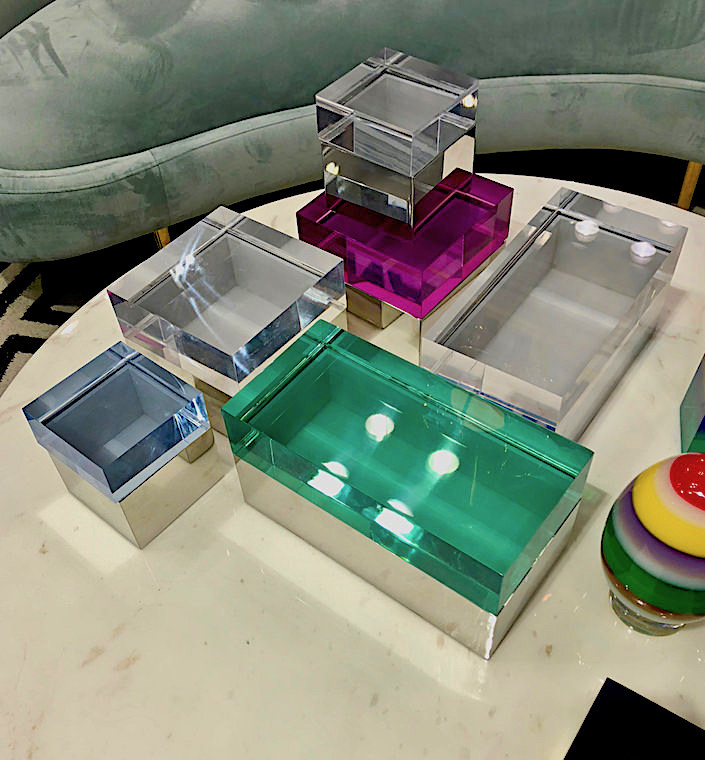 And while not new this season, I liked the Antwerp Brutalist limed cabinet (currently out of stock online), that has the feel of a vintage piece. The repeating circular pattern was inspired by an Eva Hesse drawing which Adler referenced when creating tiles for his Shelter Island house.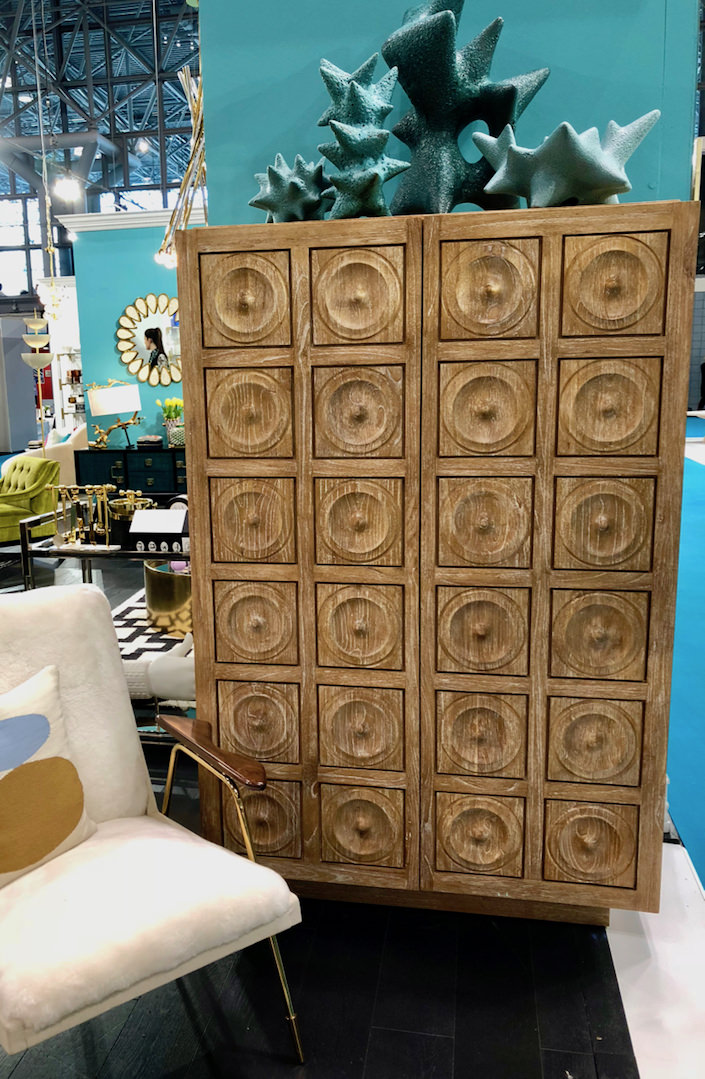 When the heritage NYC chocolate brand Louis Sherry was revived in 2012, the owners brilliantly repackaged the sweets in stylish tins with a touch of nostalgia. Miles Redd designed a few and now chinoiserie chic master Harrison Howard has been responsible for a series of eminently collectible editions.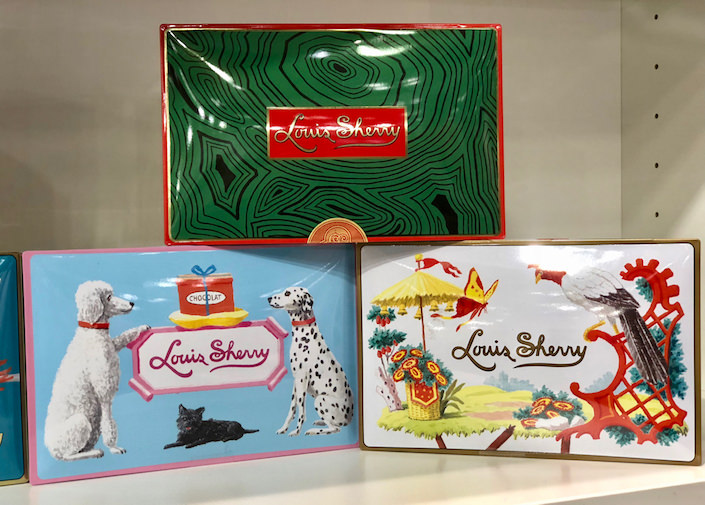 This season, he has created everything from malachite to equestrian (Cheval de Course – did you know that the original Louis Sherry NYC building is where Hermès is now?) to tropical,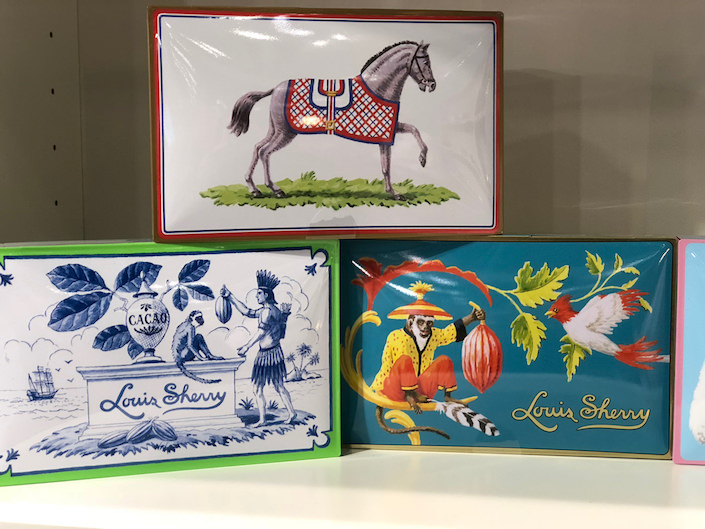 to singerie chic containers.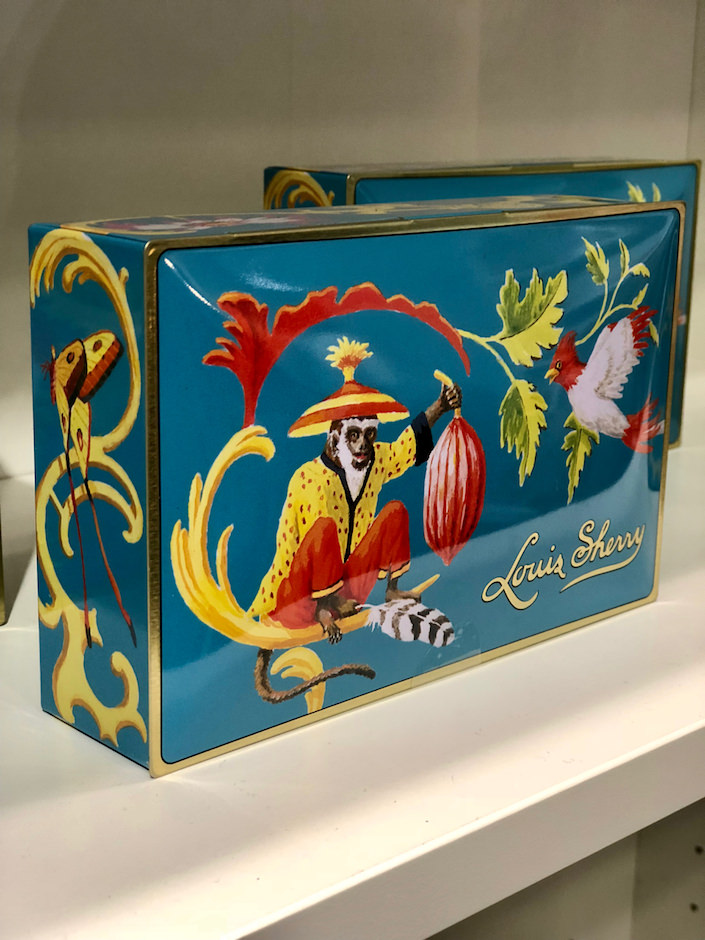 Not only do they make the best hostess or Valentine's gifts, thank you's, wedding favors and of course stocking stuffers, but they are so perfect to then repurpose for everything from paper clips to loose change. And in three sizes, you can have your chocolate and eat it too!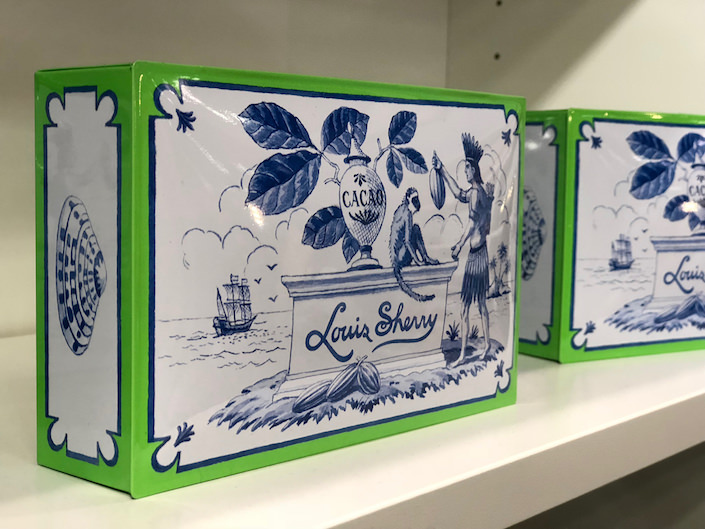 Another comestible booth that caught my eye was Kerber's Farm. Using the vintage Land Rover for their display was brilliant, immediately sending the message of their timeless, old school brand.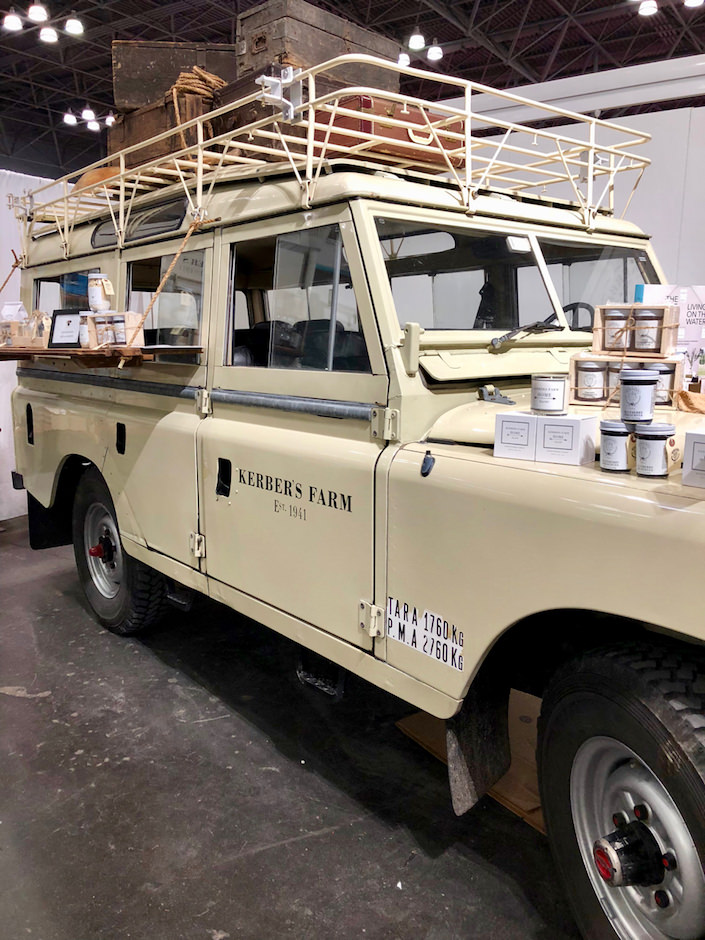 Kerber's Farm, originally founded in 1941, was slated to be sold to developers when author Nick Voulgaris, who fondly remembered it as a childhood favorite, purchased and restored the property. It is now one of the last remaining working farms in Huntington, Long Island and produces an upscale line of home provisions. In addition, there are also a three bedroom farm house and Captain's House on the property available for rent.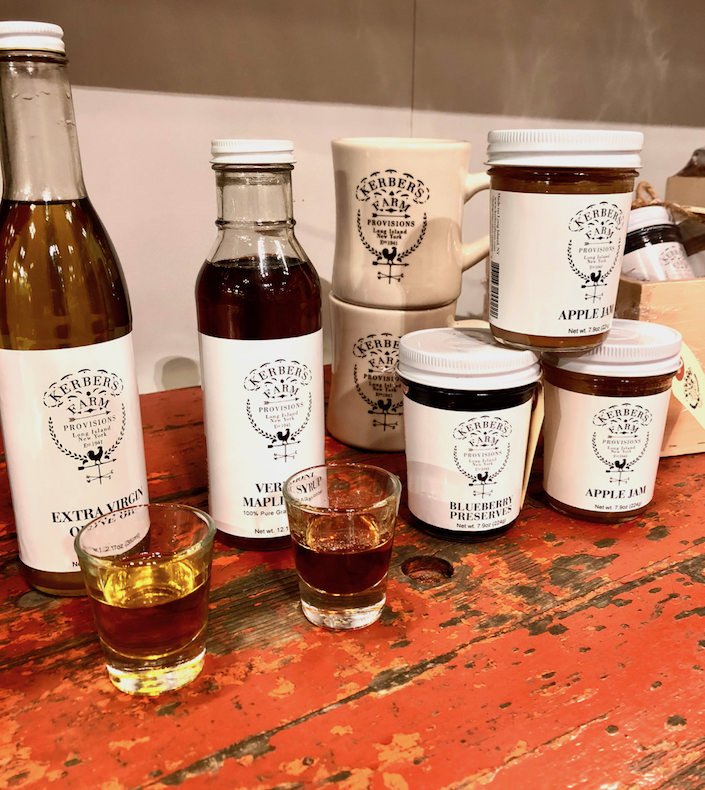 A few other favorites I spied along the way were new splatterware at Canvas Home,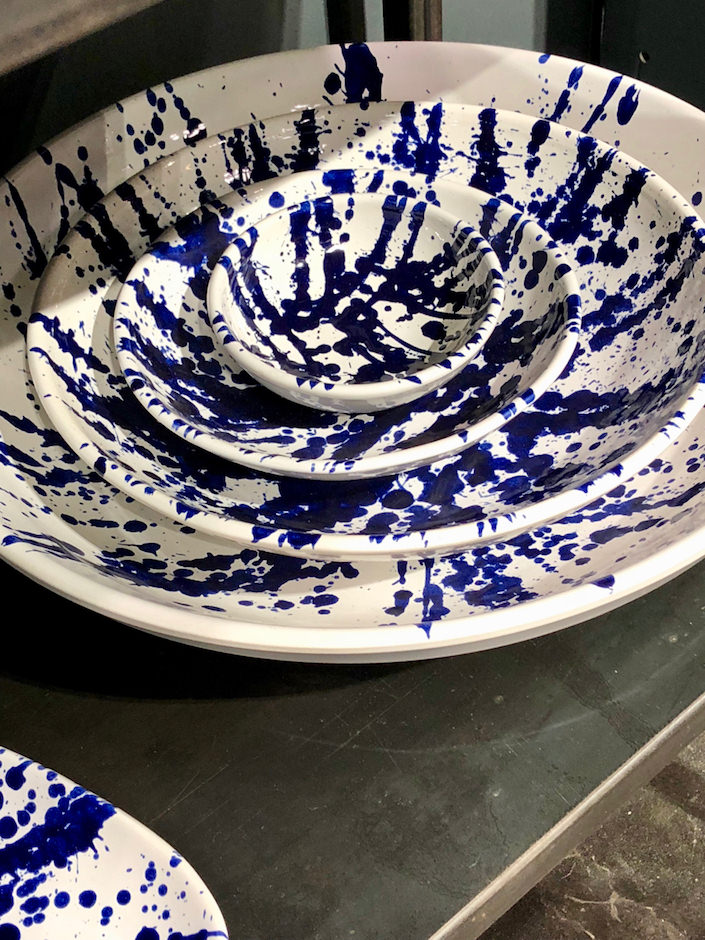 this display at Roost with an appealing mix of warm patina and natural fibers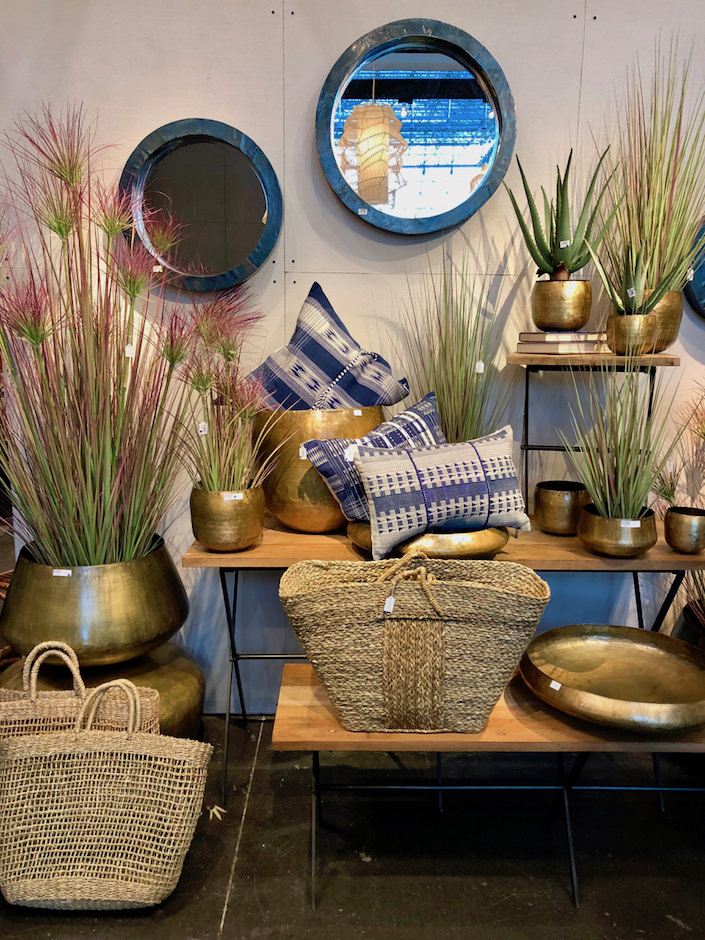 the unique and unexpected collections at Bunakara, Joana Aranha's vision of a European/Indian mix in a "dialogue between her cosmopolitan soul and her artisan essence,"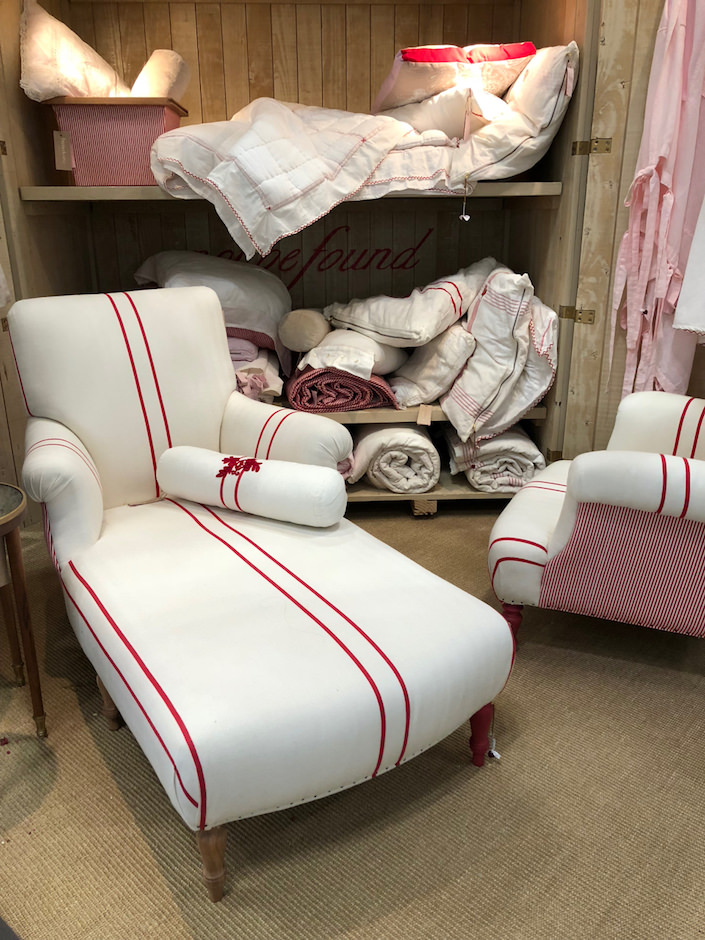 the unique prints at Barloga Studios – fine photographs on intriguing papers.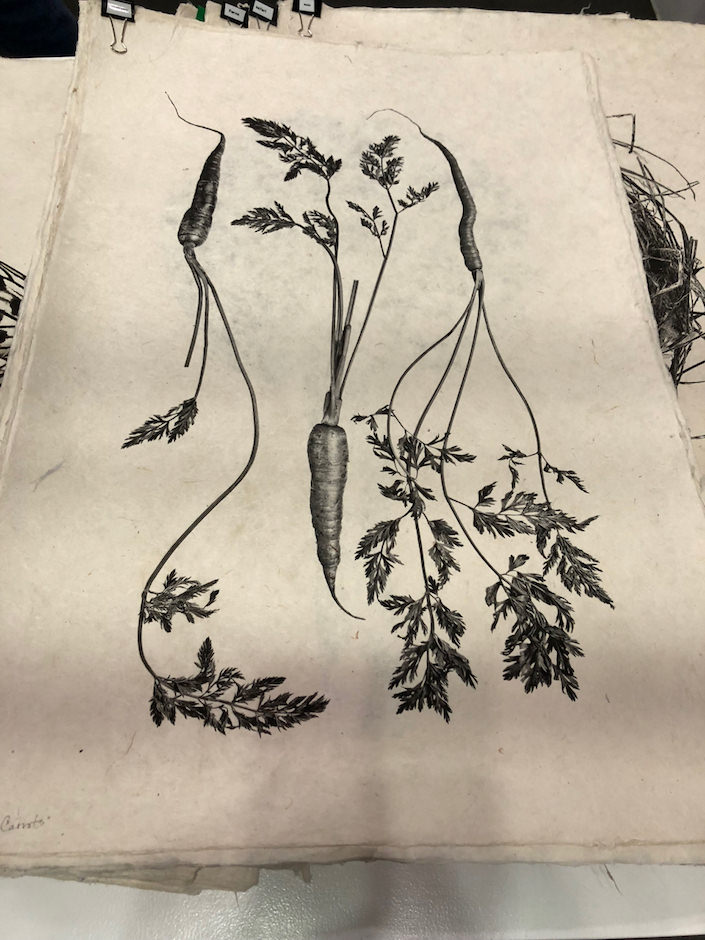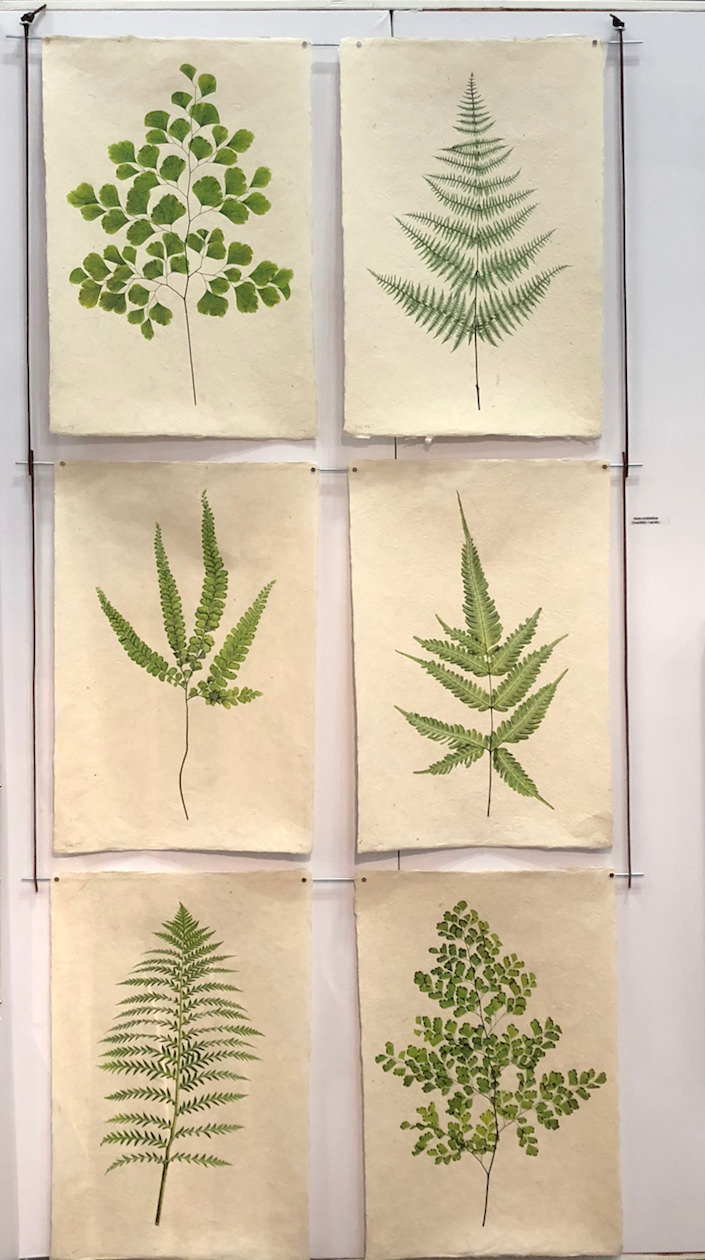 and the contemporary cool of Nude Glass, where the simplicity of lead-free crystal is imagined in many forms, from drinkware and dishes to lighting and home accessories.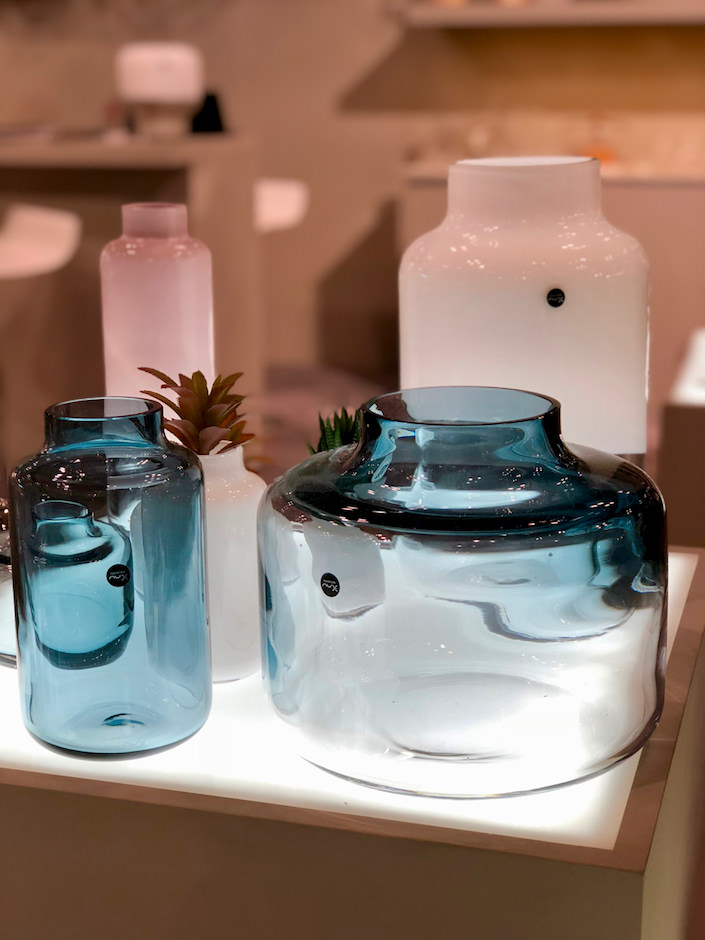 all photos by Stacey Bewkes for Quintessence