As the founding Creative Director of the original beloved Domino magazine, Sara Ruffin Costello proved she knew a thing or two about style. Since then her talents have been well served writing for everyone from T Magazine and the Wall Street Journal to Vogue and Architectural Digest, authoring design books, such as The Domino Book of Decorating and Jeffrey Bilhuber American Master, consulting, decorating and recently designing a capsule collection of dresses, jewelry and homewares. And since Sara's and husband, photographer Paul Costello's move to New Orleans with their three children, her efforts have notably included putting her signature eclectic touch on their historic family home. We are delighted for you to join us in the Big Easy for an At Home With video visit at Sara's stylish and welcoming family home.
Sarah's casually chic house proves that you can have kids and still live with style. Effortlessly mixing classic pieces with both modern and boho touches imbues her home with an organic and personal style all its own.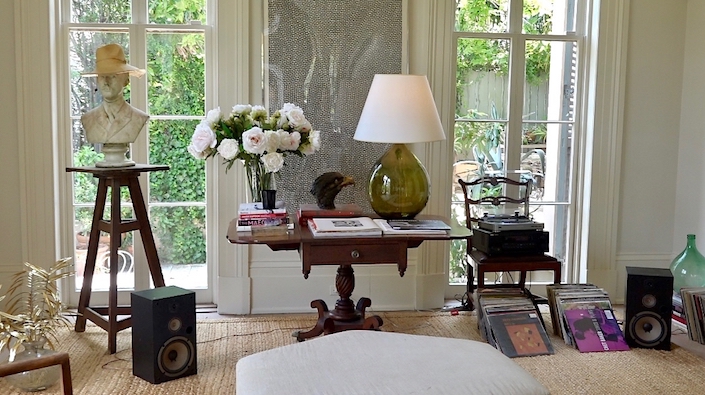 And while she may have used family antiques and repurposed furnishings from her New York City apartment, the house still have a noticeable New Orleans flavor with sense of place.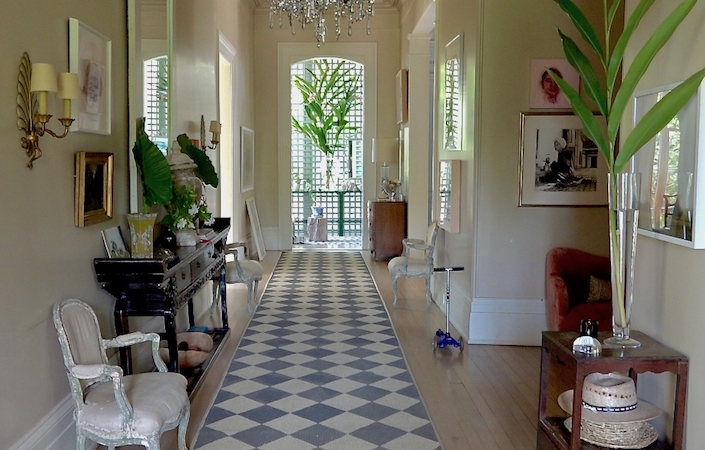 Perhaps it's the inclusion of something from nature in every room or Sara's slightly irreverent attitude, but even the children's rooms have that "let the good times roll" spirit.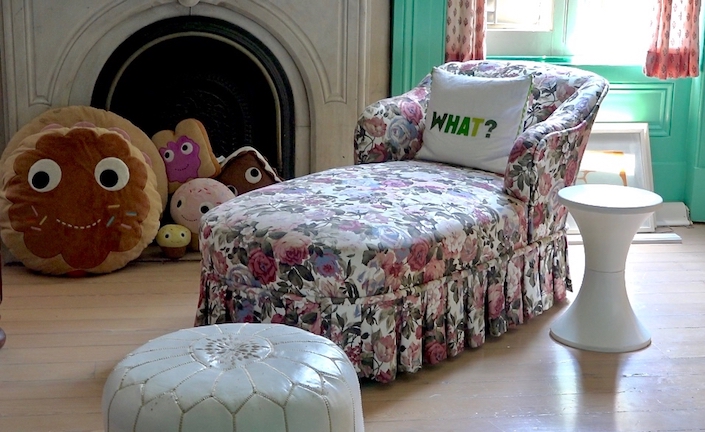 The distinct mix of art is another signature element of Sara's style. From family portraits to husband Paul's modern photograms, each art filled room, witness the master bath below, offers insight into Sara's edited eye.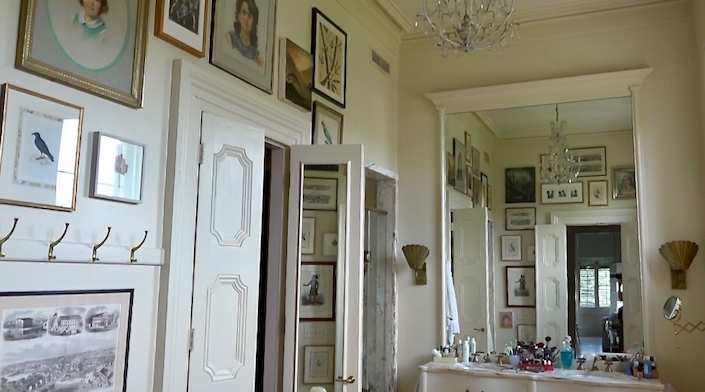 So thank you Sara for welcoming us to your very chic take on New Orleans living – we love how you roll!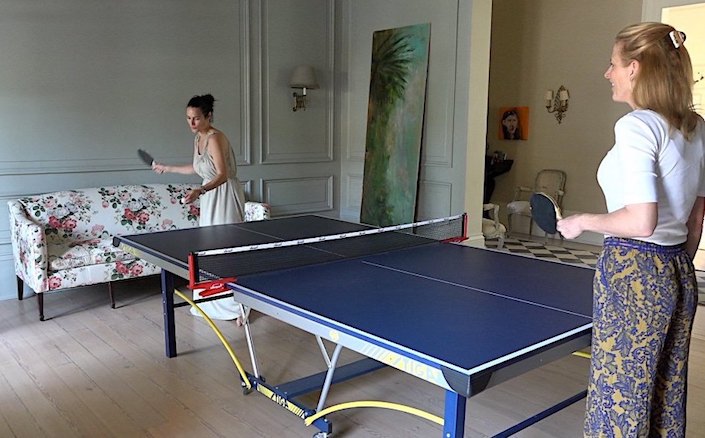 A huge thank you to video sponsor Chairish, the popular online destination for design lovers to buy and sell vetted, vintage pieces with personality, from every style, for every room in your home. Husband and wife team Gregg Brockway and Anna Brockway founded Chairish in 2013 after they had difficulty selling their own pieces during a move and knew there was a need for a curated, online marketplace of high-quality, used home furnishings. As a result, Chairish is like visiting your favorite flea markets around the world with a trusted designer at your side.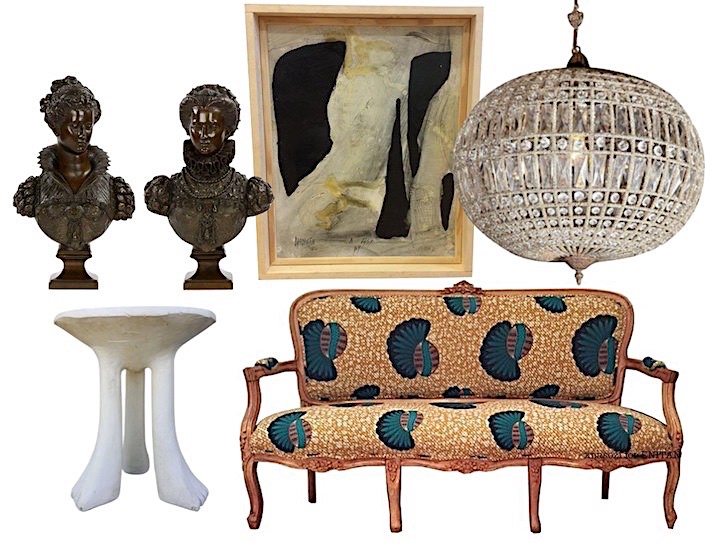 If you're on the hunt, Chairish makes it easy – not to mention fun – discovering treasures in a full-service environment. With over 125,000 + curated items prepped and ready to ship daily (and hundreds of new pieces continually being added), Chairish makes it easy to search by category, price, color or amount of time item has spent on the site. For sellers, Chairish is a unique and efficient way to reach design aficionados with the pieces you value yet no longer have a spot for in your home. And a bonus for buyers and sellers alike is that Chairish takes care of all the pesky logistics of payments and shipping. Whether scouring on your own, in the "Staff Picks" selection, or "Playing Favorites with…" you're sure to find something that fills your decorating needs or lust list.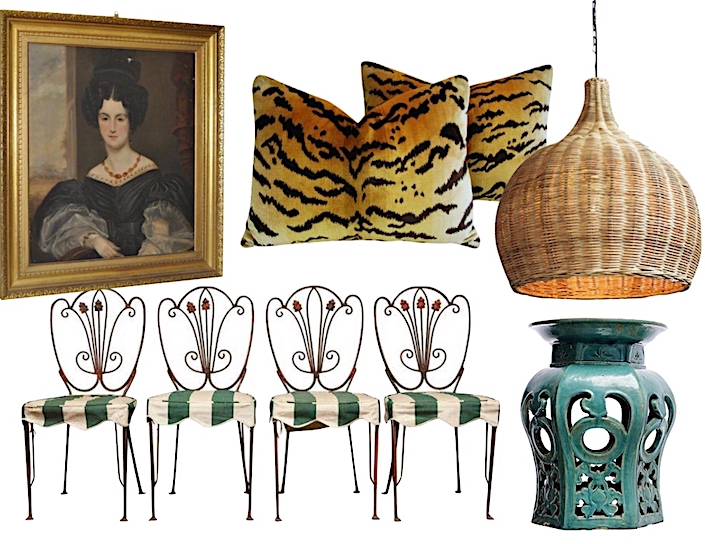 Loved Sara Ruffin Costello's style? Then you'll want to take a peek at her picks on Chairish, echoing the fabulous mix she created in her chic New Orleans home. Pair, as in the top photo, a one of kind salvaged and restyled French-style settee with a Hollywood regency style crystal globe chandelier, Graham Harmon abstract painting with and original John Dickinson plaster end table and Mathurin Moreau Bronze Renaissance busts, the latter two both from the Chairish Vault, an expertly edited collection of the most exceptional pieces currently available on the site. Or create a decadent New Orleans style indoor/outdoor mix with a set of French Iron Bistro chairs, Qing Dynasty ceramic garden stool, 19th portrait oil portrait (just say it's an ancestor), Scalamandre lush velvet pillows and a wicker bell lantern! It all can be yours!