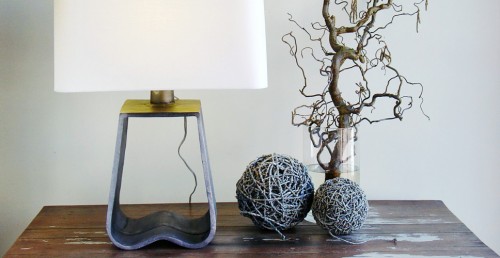 Do you know C.S. Post? If not, you should! It is a wonderful site full of carefully vetted and super stylish products for your home.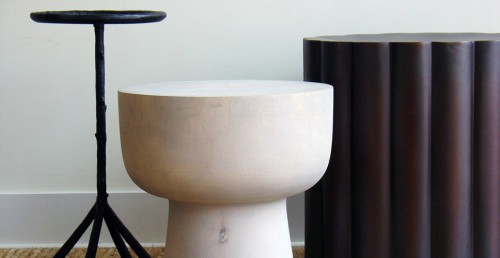 An offshoot of the bricks and mortar store in Hays, Kansas, it has recently refocussed its attention on home furnishings, bringing to market designer-quality pieces, well made and readily accessible at great prices, including discounts for the trade. I just love the variety of products that represent the sophisticated design sensibility of the store. From organic shapes such as this Gypso Accent Table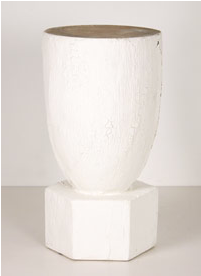 or Low Square Stool
to the elegant lines of the Regency Bar Cart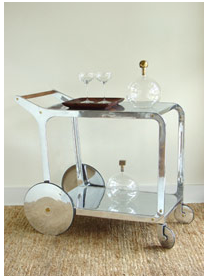 and Antiqued Brass Pierre Table, there are many items to lust after.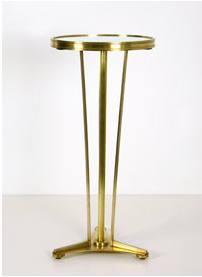 And with the summer entertaining season almost upon us, C.S. Post offers a plethora of fashionable furniture and accessories for the outdoor season. I love these zinc plated iron Giverny cachepots. Just add some potted plants for instant party chic.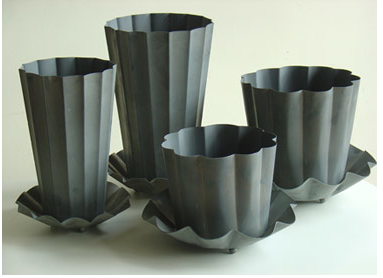 I was delighted to discover that the store has a great back story. Chuck Comeau was born and raised in nearby Plainville, Kansas attending college in Hays. After school he moved to Los Angeles and in 1993 founded Dessin Fournir, the luxury furniture and lighting company. He created two other start ups to add to the mix, Classic Cloth, a sophisticated textile line, and Gérard, a more contemporary furniture collection, eventually also acquiring the prestigious Palmer Hargrave, Kerry Joyce and Rose Cummings labels. But the pull of his native state was strong and as Dessin Fournir became successful, Comeau began, in 1996, moving parts of the company back to Kansas. Wanting to share his love of design and quality of life with the local community, the seed of C.S. Post was born. In 1997 Chuck Comeau and wife Shirley (the C and S in C.S. Post) joined up with two friends, Norman Keller, a florist, and his wife Sandy to open the store.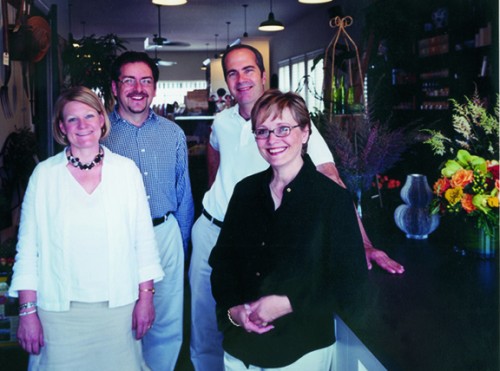 Front row, left to right – Sandy Keller, Store Manager; Shirley Comeau, Co-Founder
Back row, left to right – Norman Keller, AIFD Florist; Chuck Comeau, Co-Founder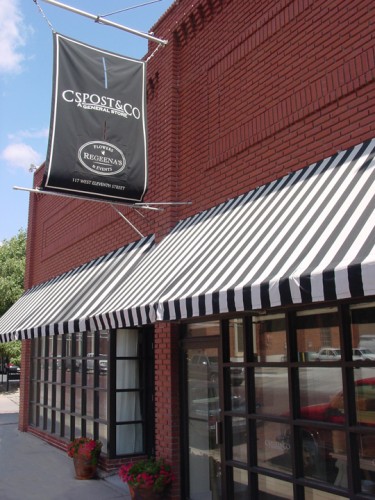 The concept was a general store with a twist. All products, sourced from a wide variety of manufacturers, are vigorously vetted for both great design and durability. From home furnishings, gourmet food and pet products to entertaining accessories, jewelry and clothing, kitchen supplies and fresh flowers, only the best of market is represented.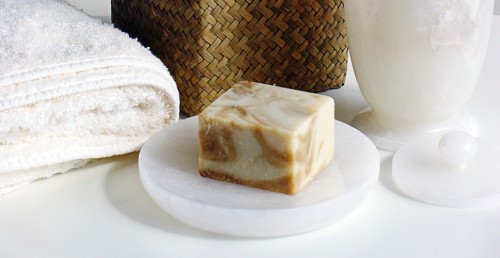 The flower shop, Regeena's, under the watchful eye of Keller, is a separate entity within the store.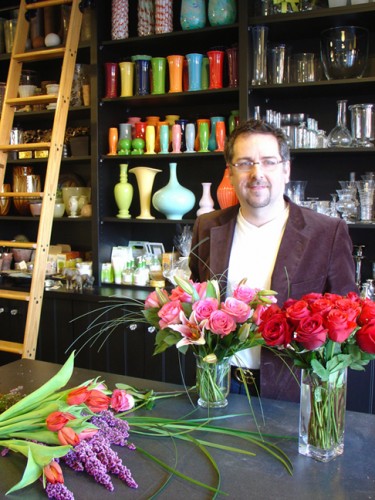 The store is the result of the renovation of two combined buildings. It has a homey old fashioned general store feel combined with an eclectic modern and chic design aesthetic.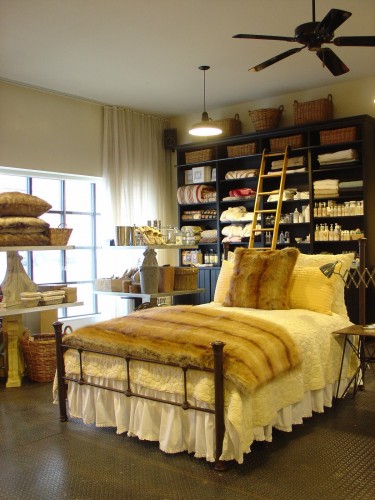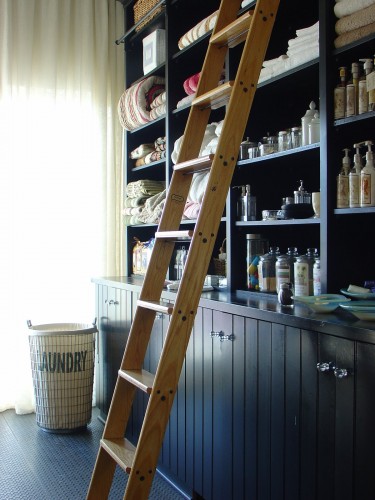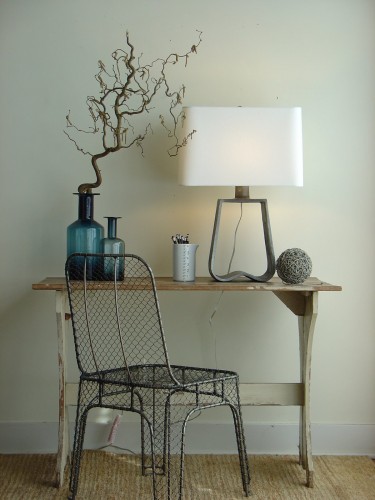 But as I discovered that was just the beginning of the story. In 1999, Comeau also created a development company named the Liberty Group to save and renovate the dilapidated downtown Hays area where he had opened C.S. Post. He remembered how neighbors used to get together and felt that the community was becoming disconnected. Comeau approached the city with his vision of what the neglected area could become. And inspired by Liberty, the community formed its own corporation, the DHDC (Downtown Hays Development Corporation). Together in 2000 they purchased 19 properties to preserve and revitalize the critical core downtown area and by 2002 businesses were opening. The area is now called the Chestnut Street district, after the original pre-1929 Main St. name.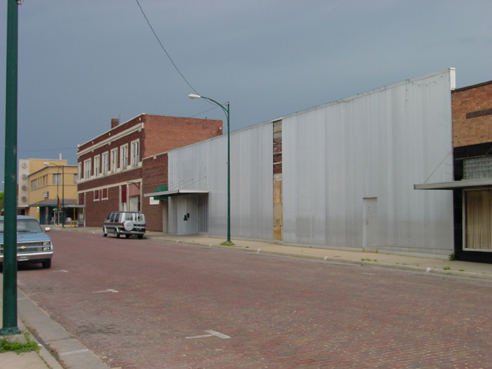 One of the first buildings to be renovated was a combination of four abandoned storefronts hidden under aluminum siding (above). Gerald Wyman, another native Kansan, was looking to open a microbrewery in a nearby strip mall – that is until he met Comeau. Along with 52 local investors the two opened Hays' own microbrewery, Lb. Brewing and Gella's Diner in the summer of 2005. Four months later Wyman entered the Great American Beer Festival (GABF), winning a silver medal and has since won the World Beer Cup two years in a row.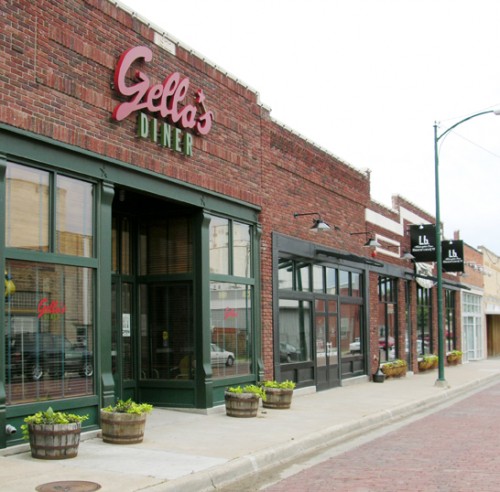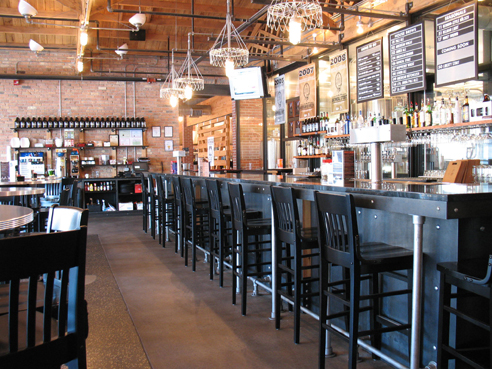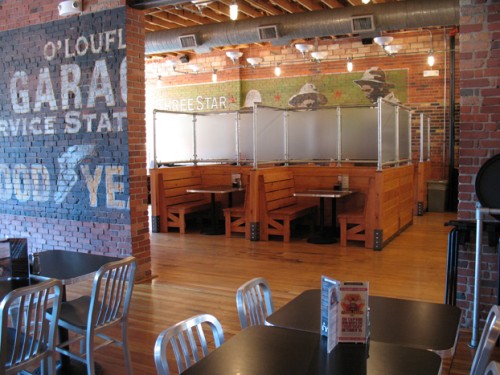 And that was just the first. Since then many establishments have moved into these renovated spaces.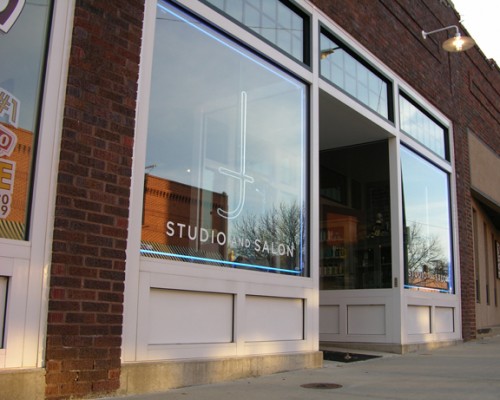 J Studio & Salon renovated a building that formerly housed the USO dances during WWII.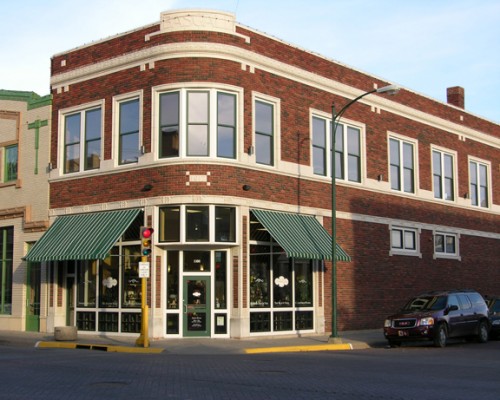 The "Basgall" building, a former grocery store, is now home to Paisley Pear, an interior design and kitchen accessory store.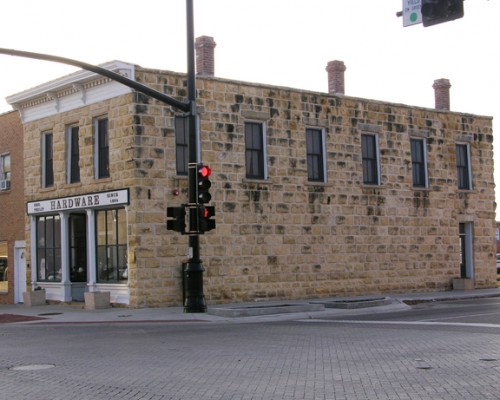 Listed on the National Register for Historic Places and owned and operated by 5 generations of the Philip family, the Philip Hardware name will remain on the building. A tenant is moving in soon and two loft apartments are now located on the second floor.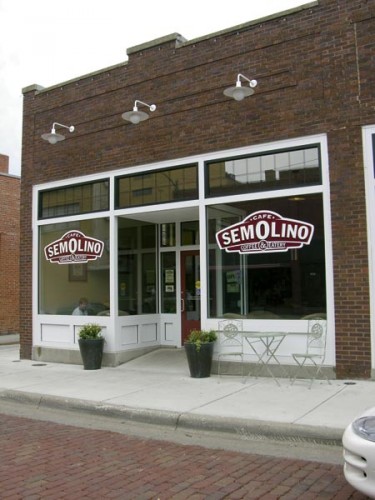 Semolino Coffee & Eatery is a coffee shop and eatery with a gallery in the basement that doubles for public meetings and hosts many live music and open mic events.
And the initiative continues. The next projects include creating pedestrian walkways out of the alleys, hopefully renaming them after all those lost street names and renovating buildings to become loft hotels. It's a clever idea – you would check into a main office downtown and then proceed to your individual loft space, within walking distance of gyms, restaurants and a vibrant nightlife. Here's a drawing of the concept.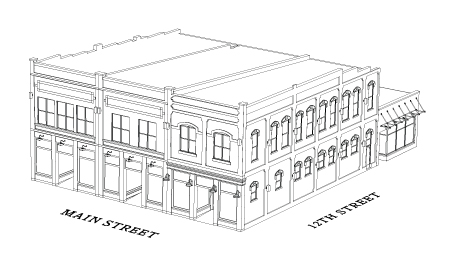 I wish Comeau and his revitalization of Hays were better known, to serve as an example to other communities. I just love this story of adaptive reuse, of a return to community downtown neighborhoods and the renaissance of American entrepreneurial spirit. People like Chuck Comeau should be receiving awards and appearing on 60 Minutes – it's the perfect opportunity to give the design community some recognition and credit for its contributions to successfully improving our American lifestyle in an eco-friendly way. Take a look at this video, proudly made by the Kansas Department of Commerce, showing Chuck explaining some of his projects. It's truly inspiring!!
I
I'd also like to thank Billie Ayers of C.S. Post for her indispensable help in preparing this piece!