Thank you to ELLE DECOR for including me in their "Great Ideas from the Modern Life Concept House" piece online. During our Blogfest visit, several of us were asked to pick a favorite idea from the show house.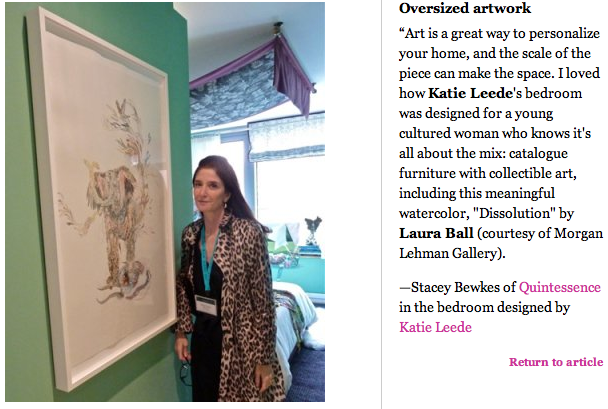 There has been much discussion about how to personalize spaces and make them feel representative of the owners while attractive and interesting. One way of course is to incorporate art and oversized artwork makes a singular dramatic statement. I chose a piece from Katie Leede's bedroom for both its aesthetics and narrative. The room was designed for an educated young woman with discerning taste, a recent college graduate now living at home. Her parents have generously given her a budget. As she segues from school to find her place in the world, she wants to start a serious art collection, which she balances by purchasing her furniture from online stores that are low in price but high in style. The room resonated with me on several levels – I loved the story, the mix and the fact that the art (Dissolution by Laura Ball) was not only beautiful but significant in its message of transformation – the perfect blend of style and substance.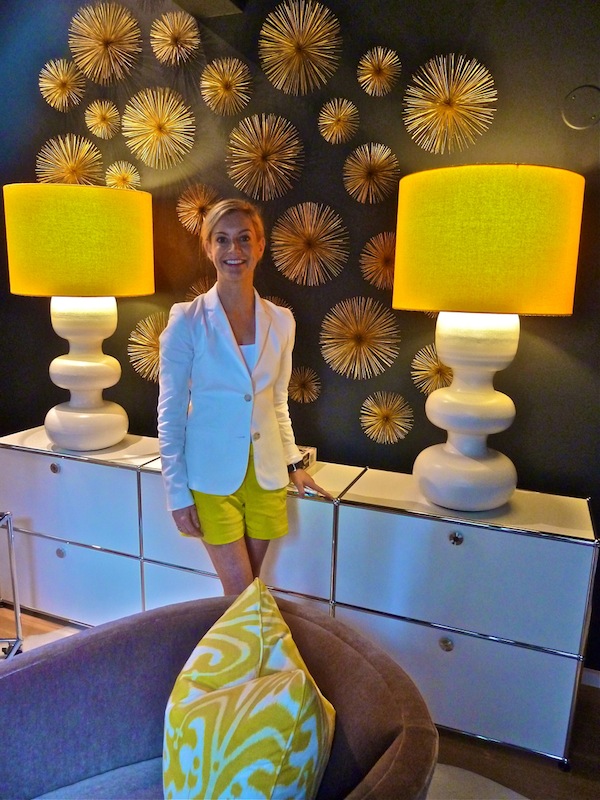 It was very crowded when we all visited the showhouse at once so while I didn't get shots of all the spaces, I thought I would share a few that I did manage to capture. It was a total delight to finally meet Lee Kleinhelter the petite powerhouse behind the successful Atlanta boutique Pieces. Her Sanctuary featured a sophisticated mix of sleek USM furniture against earthy textures and pops of color and gilt.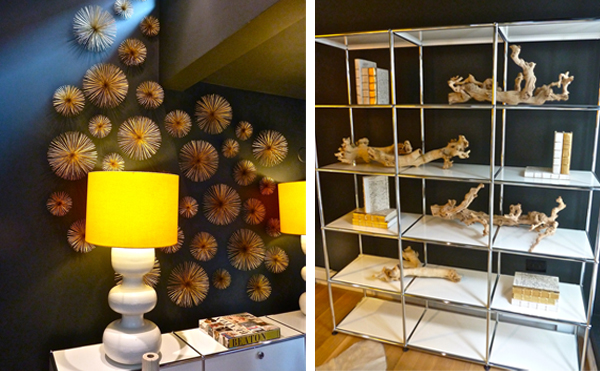 Sherrill Canet's kitchen and dining room included this chic table setting.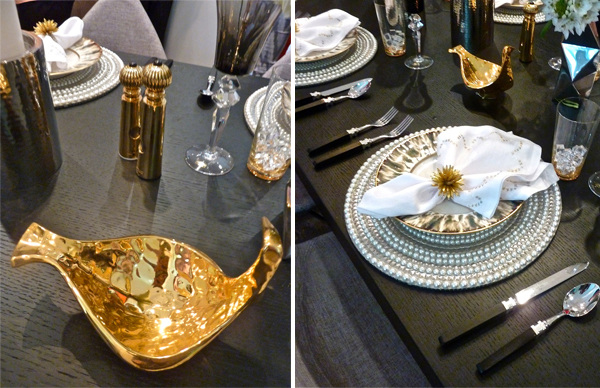 Against the dark wood, a rich assemblage of wood tones, pearlescence and gold blended for an elegant design, including my lustworthy favorite Jaune de Chrome dinnerware which I have been pining after forever.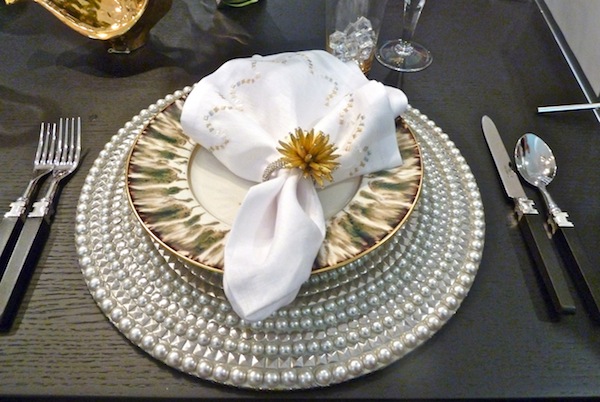 Christopher Coleman's master bedroom was a vintage feeling of technicolor primaries.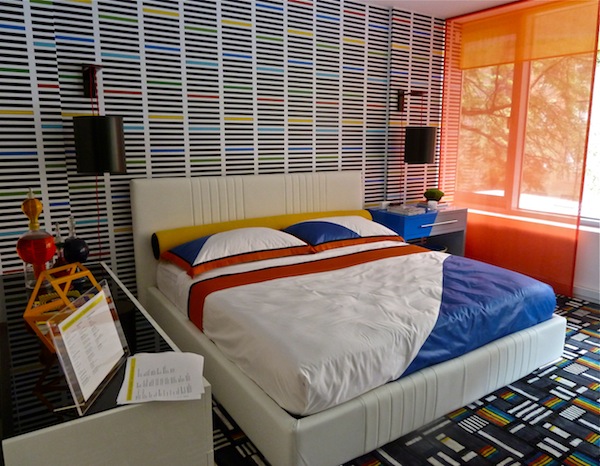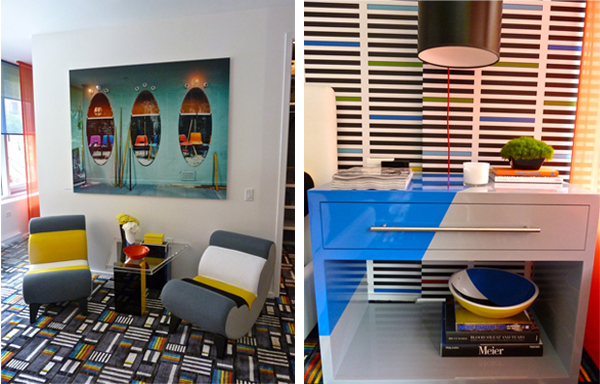 Nina Freudenberger transformed the upstairs guest bedroom into an elegantly chic tailored sitting room. The graphic closet doors were so clever and gave the room a great visual impact.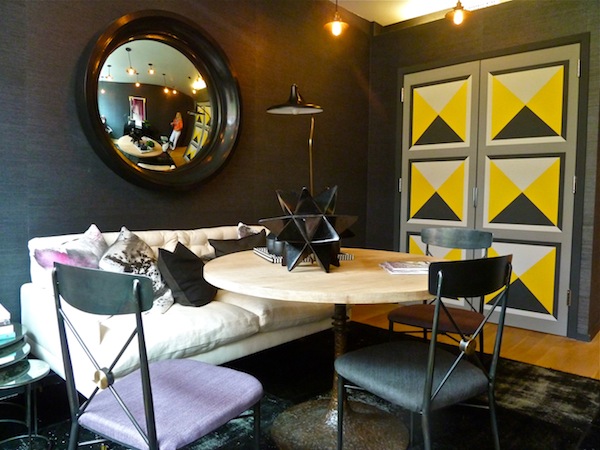 And a couple more shots from Katie Leede's room show you how she pulled off her imaginary narrative in style!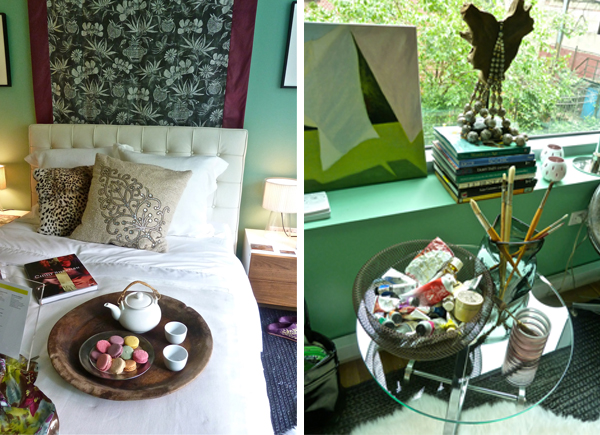 If you haven't been yet, I recommend a visit to the beautiful show house at The Dillon – 425 W. 53rd St. Open Friday – Sunday, this coming weekend will be the last opportunity to view this state of the art design. You can purchase tickets here.