If ever there was an example of the value of staying true to one's vision, Iris Apfel is certainly it!  An enduring style icon still going strong at 90, she has collections at HSN, Yoox, MAC, a new handbag line amusingly called Extinctions (produced with Lisa Nunziata) debuting this fall, and an eyewear collection with Eyebobs coming next year. As the famous line goes, "I'll take what she's having!"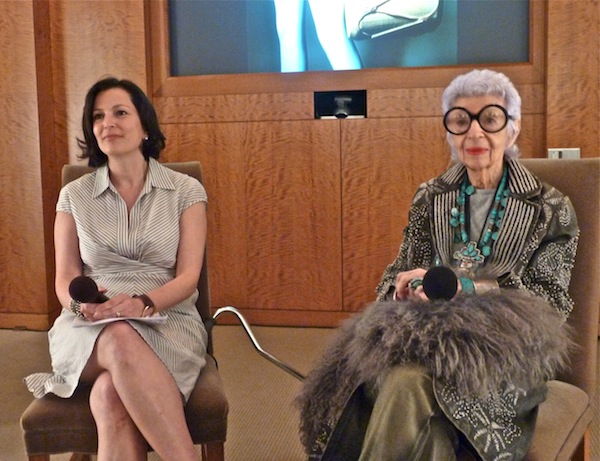 Last week I attended a "conversation" with Apfel and Veranda editor-in-chief Dara Caponigo, as part of the Hearst Design Group "best of" lecture series, benefitting the Kips Bay Boys & Girls Club and hosted by Sotheby's. While she just donated 600 pieces from her wardrobe to the Peabody Essex Museum in Salem, Massachusetts (with 300 more coming), she still managed to look incredibly chic in a fabulous embroidered gray suede coat, a Mongolian fur wrap and an impressive layering of turquoise jewelry.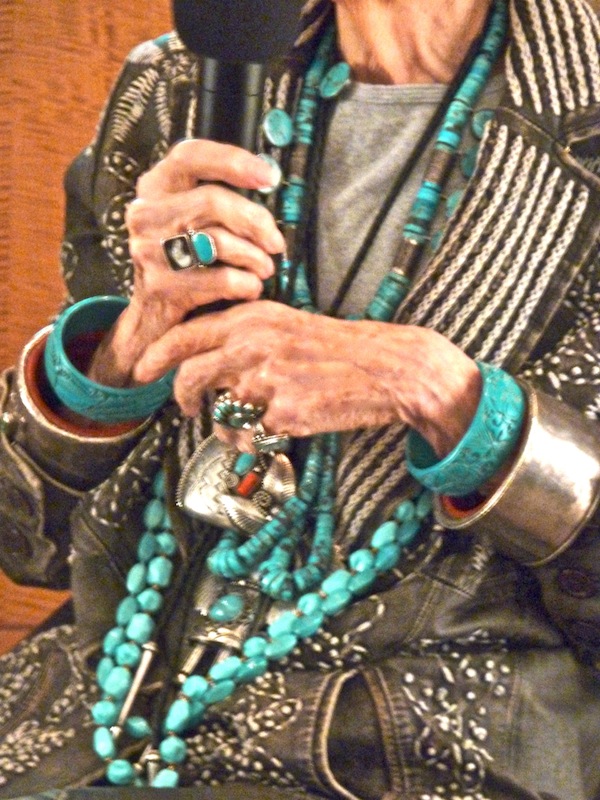 As Apfel regaled us with anecdotes of her life and experiences, guided by Dara's insightful questions, the theme of her idiosyncratic style was made more than clear – by staying true to herself, following her gut and not being afraid to take chances, opportunities found her and she found success. "If someone does not like what I do, it's their problem, not mine." She was and is her own person, that "Rare Bird of Fashion" whose creative energy and unbridled enthusiasm is totally infectious. As Dara mentioned at Blogfest, she feels American designers are masters of the mix. And nowhere is that more evident than in the inimitable fashionable art of Iris Apfel.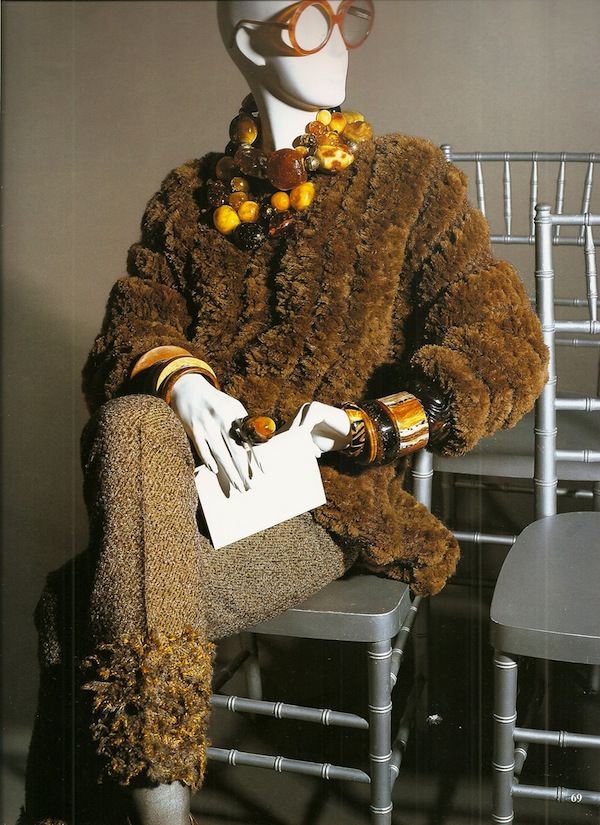 photo by Eric Boman from Rare Bird of Fashion
We heard how her lifelong affair with style started as an 8 year old would-be ballet student who decided to fashion a diaphanous Isadora Duncan outfit out of cheesecloth. While an undisputed disaster, Apfel realized she loved creating the vision. Between her unconventional yet stylish father and more buttoned up law school-educated mother, she learned from the best of both worlds. She even got her first exposure to interior design in weekly visits to the bedroom of Elsie de Wolfe, a client of her father's glass and mirror business. Years later she was to realize exactly how much she absorbed from those visits including the relationship between fashion and decor. And it was exactly this relationship that catapulted her career in design – people realized that if she could put herself together so creatively, she could probably do the same for their homes – and of course they were right!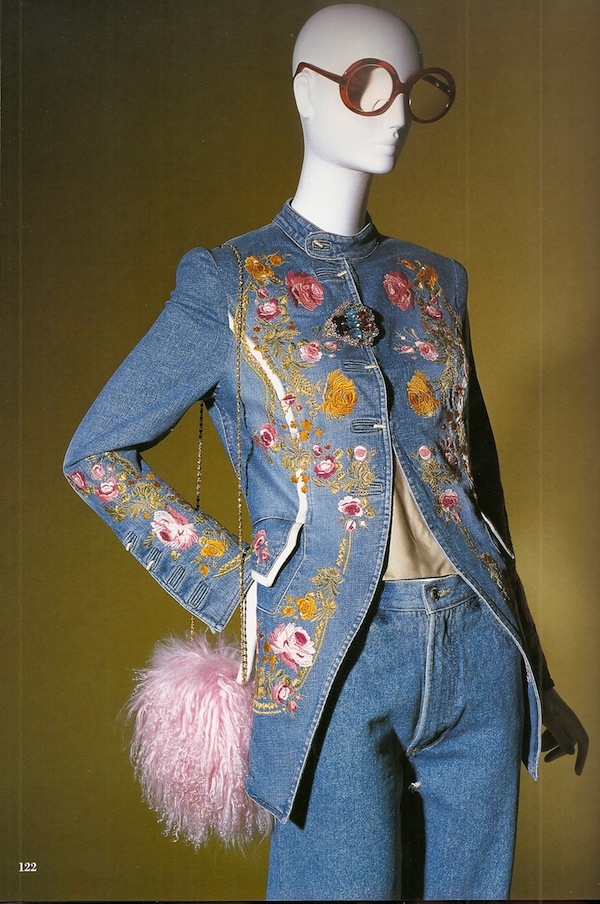 photo by Eric Boman from Rare Bird of Fashion
And we learned that Apfel was one of the first women to wear jeans. She told of how difficult it was to secure a pair – she harangued the staff at her local Army & Navy store until they finally ordered her a pair of boy-sized denims. She had intended to wear them with a turban and hoop earrings, but on her way to the millinery department in Marshall Fields, she got distracted in the book section and spent all her money there. It was the best diversion ever, as she bought twelve books of English and American poetry – better to put the money "in her head rather than on it" she explained!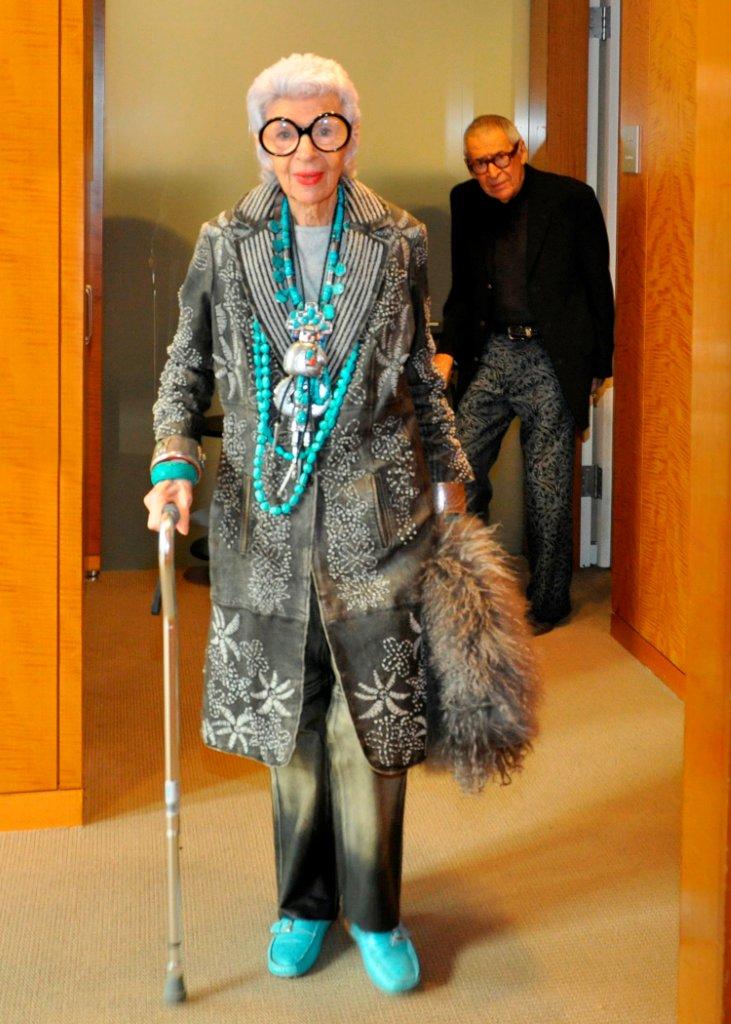 photo by Annie Watt
Apfel's husband of 65 years, Carl, sat next to us in the front row. Equally stylish in brocade pants, he loyally supported his wife with a few reminders throughout the talk. She spoke of how they started Old World Weavers together, specializing in antique reproductions. When the samples  of heavy silk dupioni became too much to lug around, she had the idea of making one long piece of fabric with gradations of each colorway. Shortly afterward, they had an appointment with Dorothy Draper, who fell in love with the sample, thinking it a horizontal stripe. She ordered 300 yards and the next day, retailer Sarah Fredericks ordered another 250 and a new fabric was born! Sometimes you just have to go with the flow!
photo by Louise Dahl-Wolfe
Apfel identified her personal style icons as Pauline de Rothschild (above) and Millicent Rogers (below). She described Rothschild as bold in her choices and Rogers eclectic.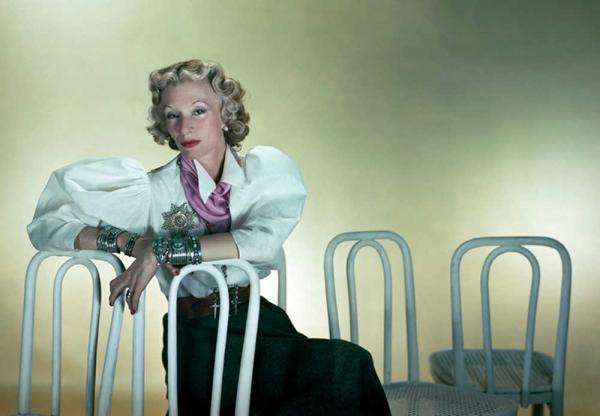 AP Photo/Courtesy of the Millicent Rogers Museum, Louise Dahl-Wolfe
It was latter who introduced Apfel to the Native American jewelry she now covets. She spoke of how Rogers was so ahead of her time, buying directly from the chiefs in New Mexico. Rogers' jewelry collection now resides in a small museum in Taos named after her.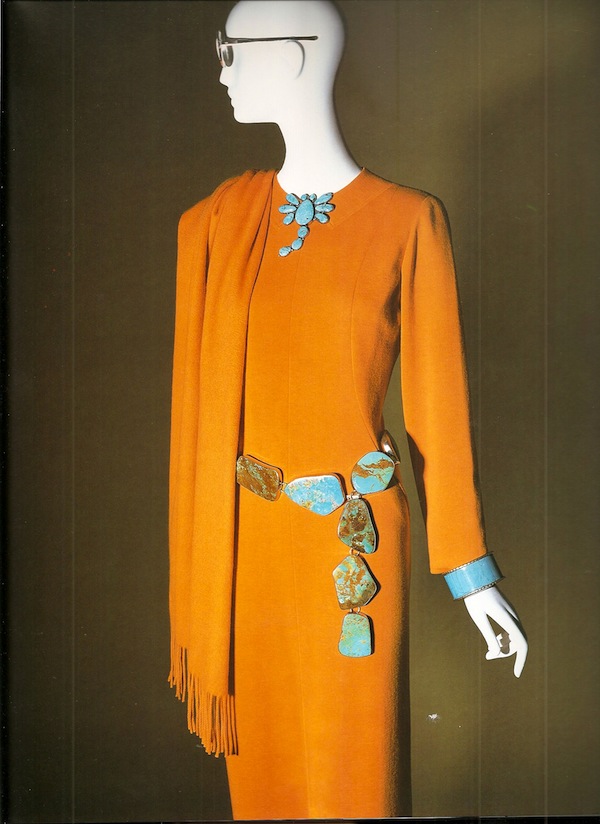 photo by Eric Boman from Rare Bird of Fashion
In speaking of current fashion, Apfel shared how difficult it is for women between 65 and 80. They control so much money, have all this expendable income and yet have so few options. "You go shopping and there is nothing to buy." She said if she ever had time she would like to open a store in NYC called "Sleeves" (sense of humor clearly intact). I was reminded of Amex's Werner Decker's words from the Financial Times luxury conference – how spending is gradual and as the consumer life cycle progresses, so does their purchasing. Clearly the fashion industry needs to take note.
When questioned about the Albert Maysles (of Grey Gardens fame) documentary of her in the making, she explained she hadn't been enthusiastic at first but that now things are proceeding swimmingly. I for one can't wait! And in the meantime, I highly recommend Eric Boman's beautifully photographed volume Rare Bird of Fashion. What a fun and inspiring evening with two great women of style!