A couple of weeks ago I had the pleasure of visiting John Rosselli's showroom to see the new fabric line from Tania Vartan. What a delightful morning! Not only did I get to spend some time with several friends I don't often see, but Tania's tale was so inspiring and fascinating that we were all entranced by her incredible talent and creative life.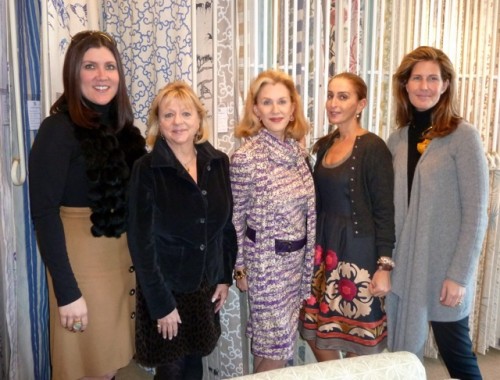 The designer, above, is wearing one of her creations, surrounded by Ronda Carman, Carolyn Sollis, Christina Juarez and Linherr Hollingsworth.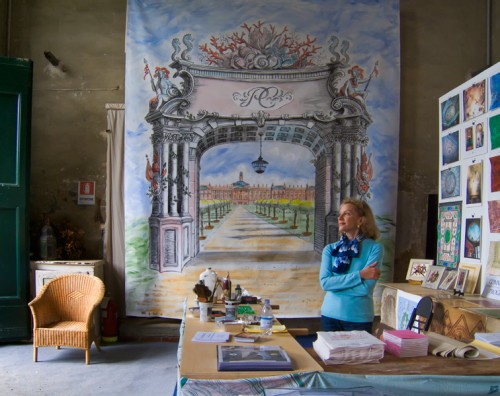 A southern debutante from Kentucky, Tania's creative spirit has taken her on an amazing journey of incredible experiences around the world, leading an enviable life that is the stuff of young girls' dreams. After trying out a variety of art colleges on for size, Tania traveled the globe drinking in life – a year studying in Paris, living on a houseboat in California while making costumes for Rock groups, working in Canadian theater design in Montreal and an impressive stint on Seventh Avenue in New York City, where she founded a small company manufacturing dresses of her own print fabric and design.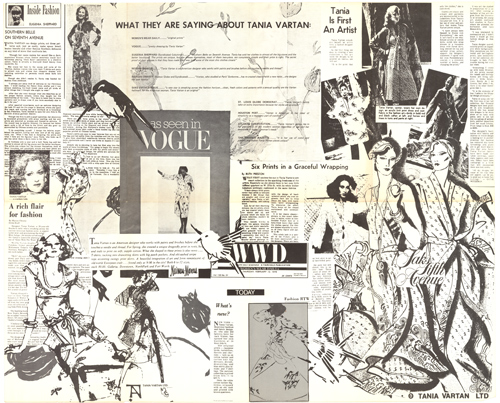 But fashion was not ultimately her calling. In 1978, Tania rented an apartment on Park Avenue which she covered in tromp l'oeil painting and used her dress fabrics to make curtains and upholstery. Mark Hampton, who lived across the street, discovered her talents and a career was launched. From first Hampton client Lee Radziwill to the Smithsonian and White House, Tania's commissions took her around the country and the globe.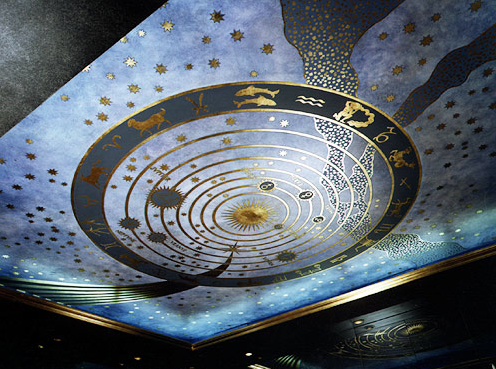 Above a zodiac ceiling commissioned by Billy McMaster for Georgette Mossbacher's dining room.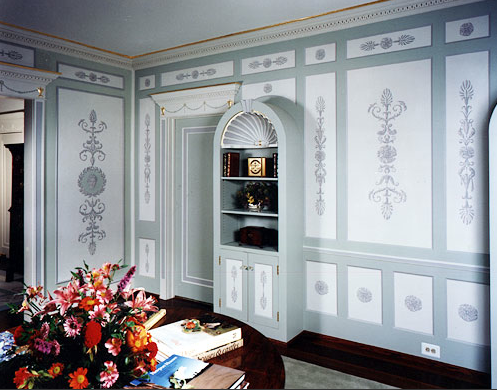 In a mainline Federal-style Philadelphia house, grisaille on canvas in the French wood block technique.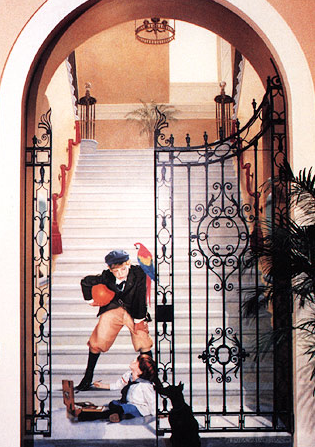 Commissioned by the Smithsonian Institute to paint two life size murals of interiors of the White House, "The Family Staircase circa 1902" depicts Teddy Roosevelt's oldest and youngest children. It now is on permanent display in the National Museum of American History.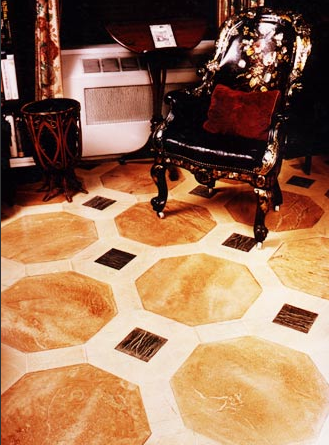 A faux marbelized floor on wood commissioned by Mark Hampton for Carter Burden
After 17 years in New York, wanderlust set in and Tania moved to Europe, living and working in the south of France and London with such luminaries as Alain Ducasse and David Linley before moving back to the States where she settled this time in Palm Beach. She spent most of her time executing charming watercolors of clients' interiors, such as this Albert Hadley designed living room.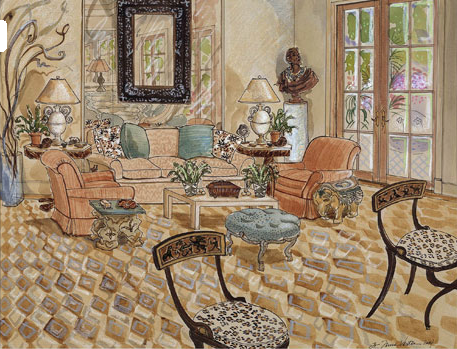 But even during this period, she spent a large part of the year in Florence where she established a tromp l'oeil academy and turned her huge palazzo apartment on the Arno into a living work of art!
Last year her life came full circle and, after a brief stint in London, she found herself back in New York where she started creating a collection of  textiles based on her fashion designs from the 1970's. Hand printed on linen in England, the capsule collection of 11 patterns is carried through John Rosselli in New York and George Spencer in London.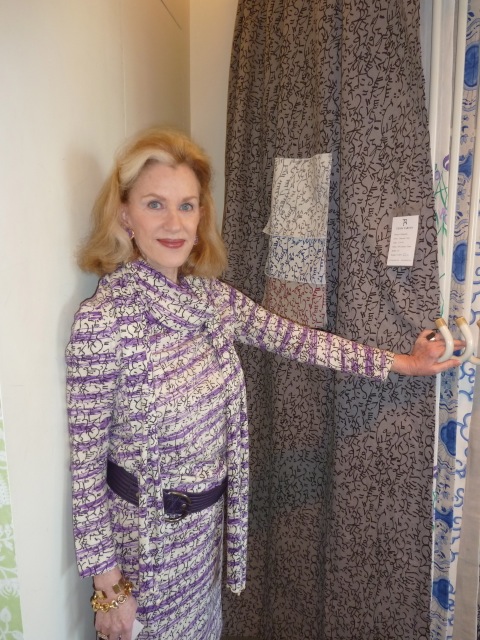 Here Tania shows her Calligraphy pattern, a version of the fabric on her dress.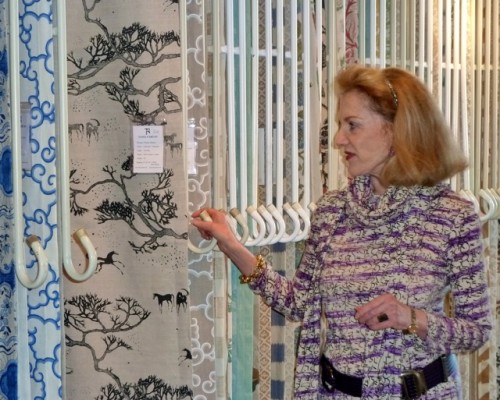 Chinese horses features a large overall pattern with movement throughout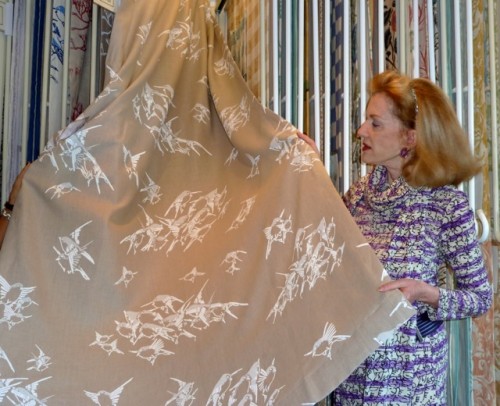 I love the pretty neutral color way in her Japanese Sparrows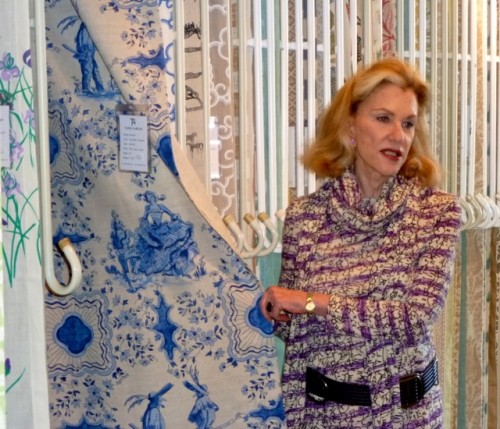 But I think my favorite is the very french Moustier in a classic provencal blue.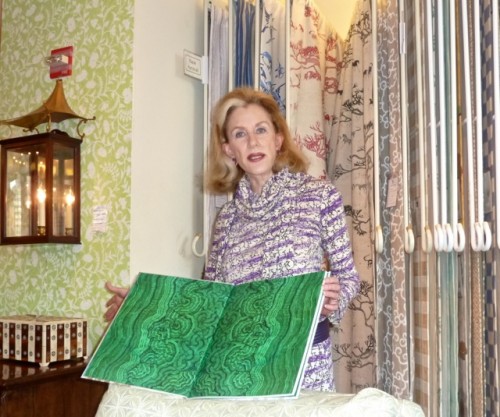 Tania has recently published a book "A Memoir of the Decorative Arts 1970 – 2011," an illustrated story of her incredible experiences and work. A limited edition, it is available through Rizzoli. Above she shows us the beautiful malachite inspired endpapers and below, some of her early fashion fabrics.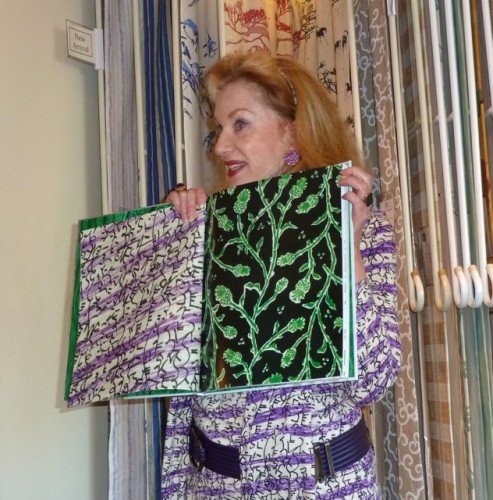 And because Tania clearly has creative juices coursing through her veins, she has also created a line of hand painted silk pillows, a collection of eglomise and continues to collaborate with designers as a decorative painter.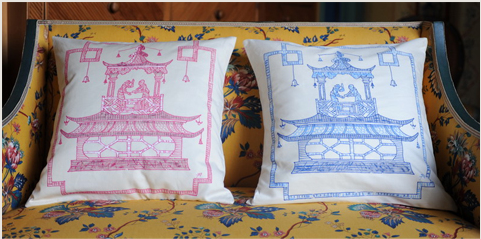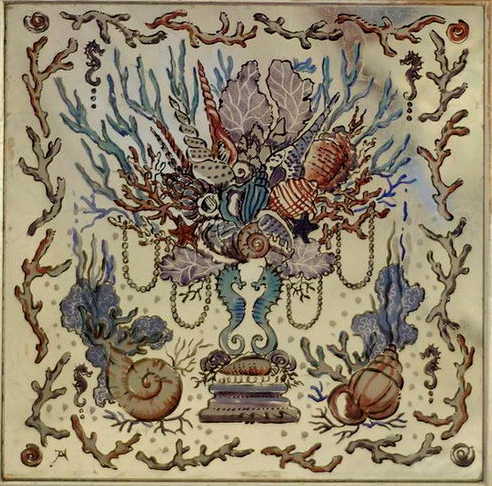 Tania is one of those people who has grabbed life by the horns. So full of life and creative energy, hers is an inspiring story of self expression and following one's passion!!