One of my favorite design events here in Connecticut is Rooms with a View. Originally conceived by Albert Hadley 18 years ago, the popular fundraiser transforms the Southport Congregational Church into a showhouse featuring twelve 5′ x8′ mini rooms created by local and NYC designers. This year's theme was "Design on a Shoestring" under the directorship of Honorary Chairman and Parish Hadley alumnus Thom Filicia. Despite the disruptions from hurricane Sandy, the vignettes were miraculously ready for viewing when I stopped by last Friday for the gala preview.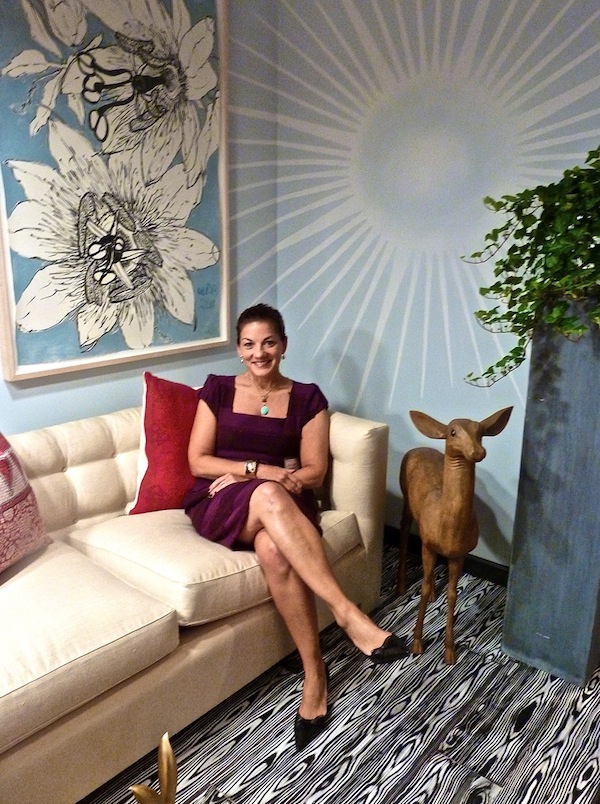 Starting in the front room, was, appropriately, a disciple of the Parish Hadley lineage. Occupying the space her long time employer and mentor, Bunny Williams, occupied the year before, bicoastal designer Allison Caccoma's room was an "Homage to Albert Hadley," based on his own 2001 Kips Bay Showhouse 'Homage to Van Day Truex'.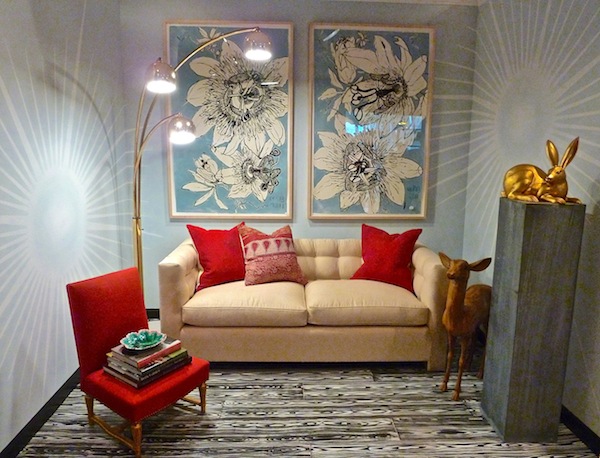 "What better way to honor Mr. Hadley than stenciling his iconic sunburst mirror image on the walls, doing a painted floor in the pattern of black and white faux bois and including precious animals such as the bunny and the deer.  Albert's whimsy, along with his incredibly chic and timeless style, will always inspire!"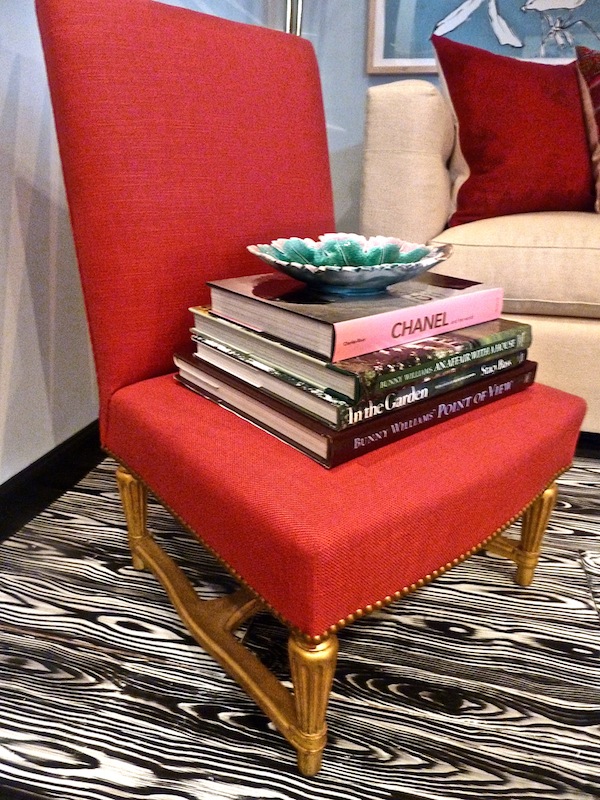 I loved the chic blue and raspberry color combination with shots of glamorous gold. The charming side chair, which actually once belonged to Mr. Hadley, sits on the fabulous floor executed by Art Groove Decorative Painting.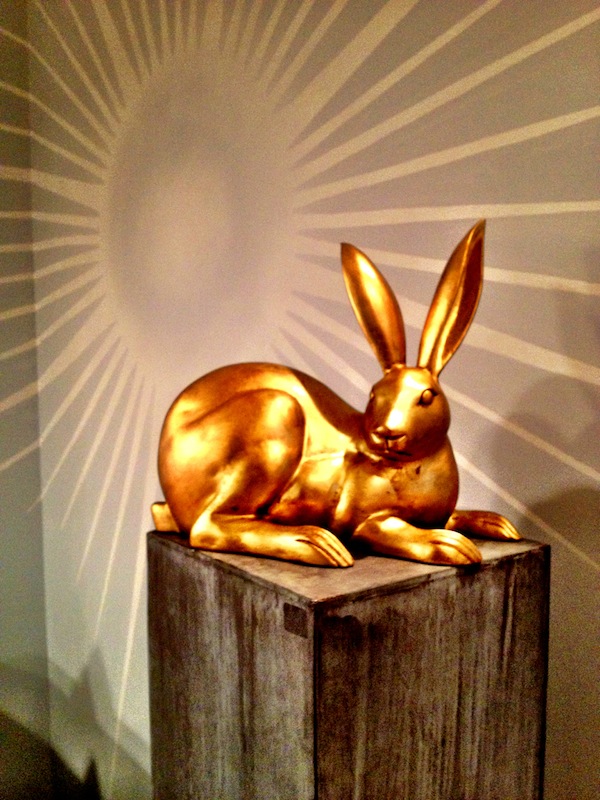 The gold Twitter Bunny, radiant in front of the dramatic sunburst, is part of Bunny Williams' stylish BeeLine collection.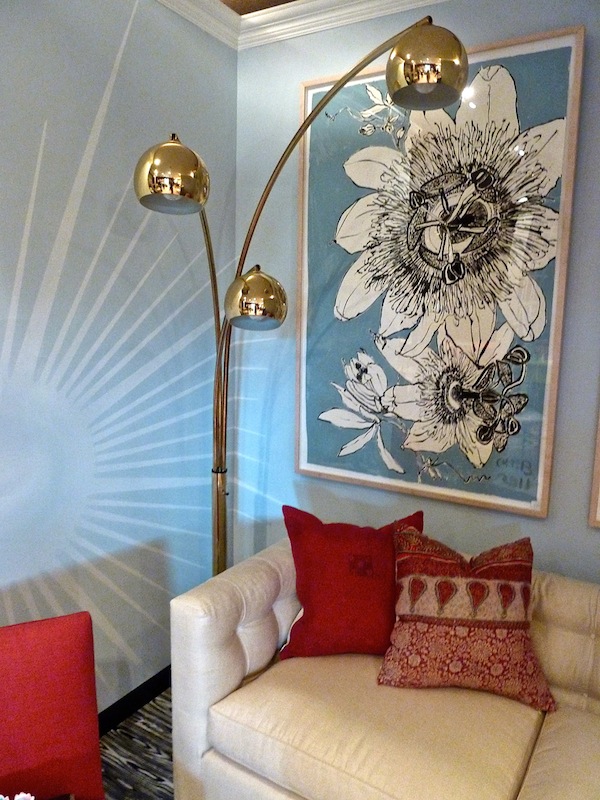 A vintage lamp adds to the eclectic melange with the large graphic Christian Brechneff 'Passion Flowers' Painting (one of two) available through Treillage and pillows from Lillian August.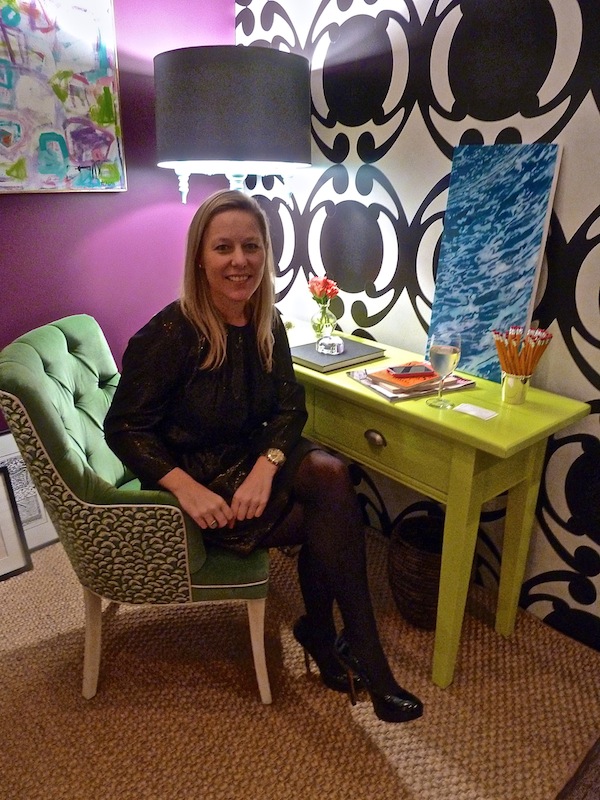 Across the aisle, designer Rebecca Soskin created a vibrant energetic vignette. Entitled, 'Unfinished Business, ' the space was imagined as a decorator's office, created as a collaborative effort by Soskin and decorative artist, Topher Carnes.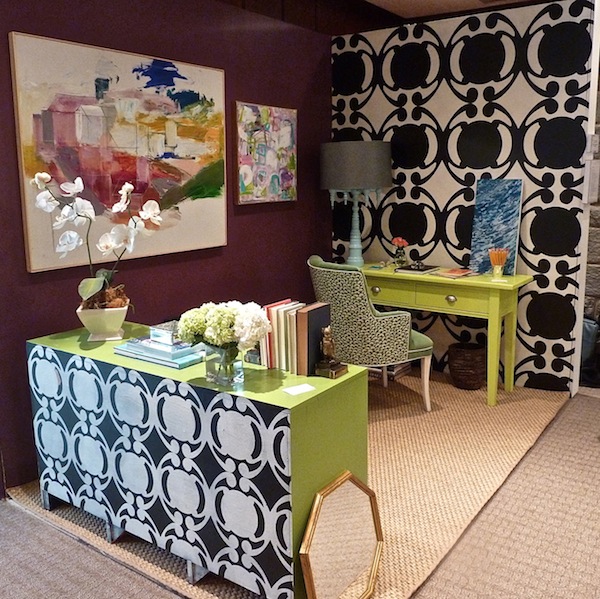 The bold graphic painted pattern defined the space, set against the bright lime green. Together Soskin and Carnes refinished old furniture, reupholstered antique chairs and added bold abstract paintings by various local artists.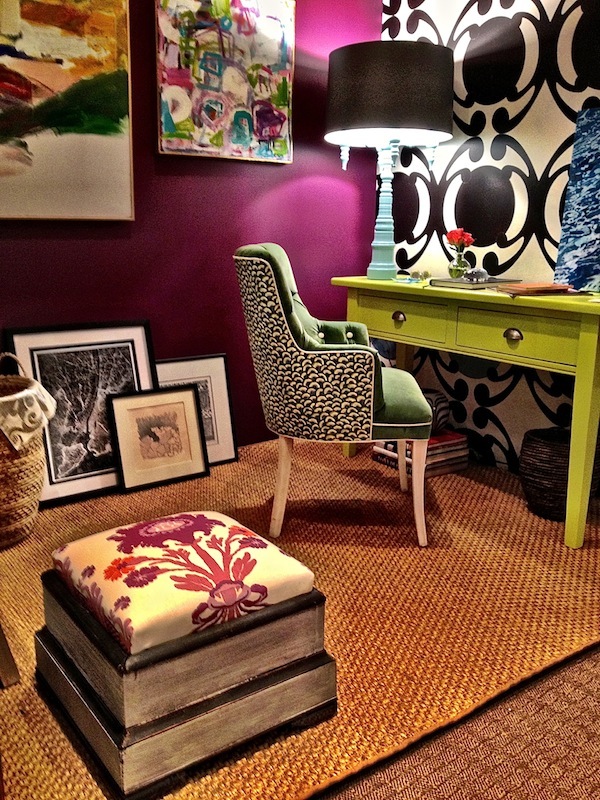 They wanted to illustrate the drama and ingenuity that a limited budget and a lot of imagination can produce. It's a playful vignette that successfully grabs your attention!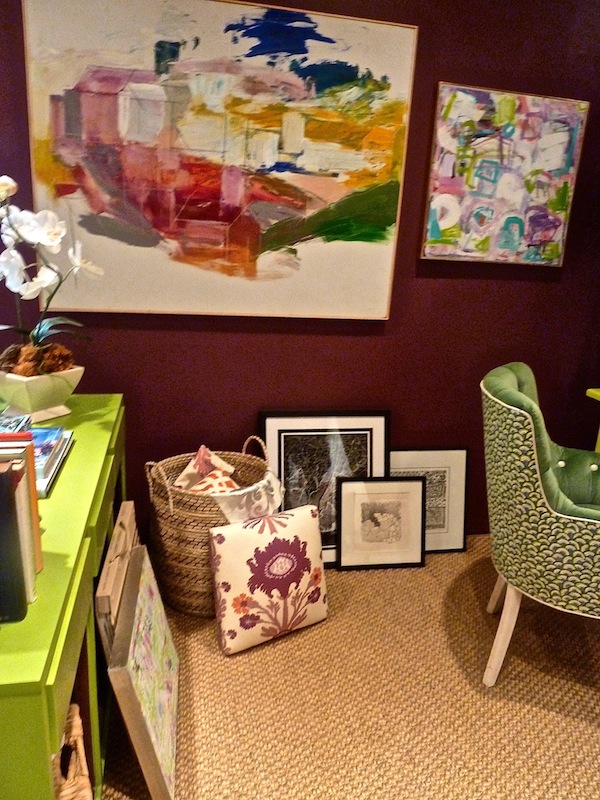 I liked that it resembled a real working space with inspiration out and about. Contrasting colors at the desk collaborated for a dynamic yet pleasing pallette.  A pretty tufted chair with a great mix of fabrics worked well with the Dunes and Duchess four arm candelabra lamp in turquoise.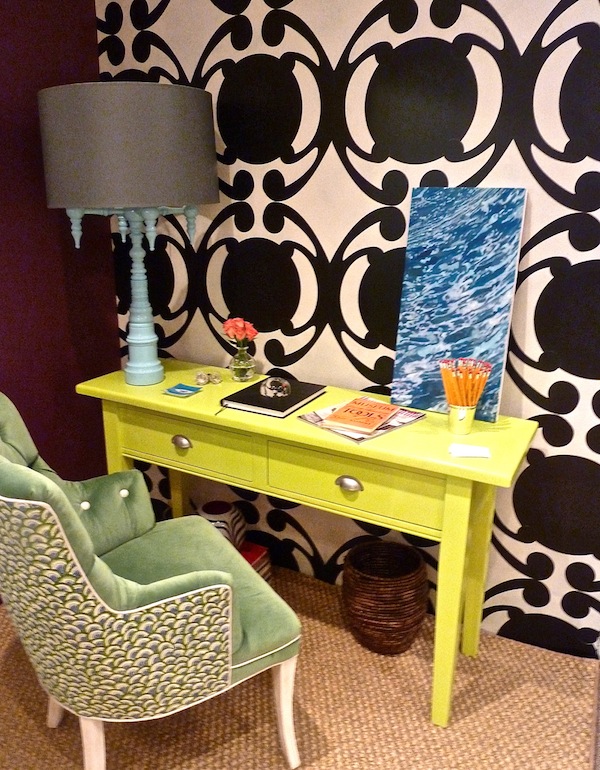 Tools of the trade at fingertips' edge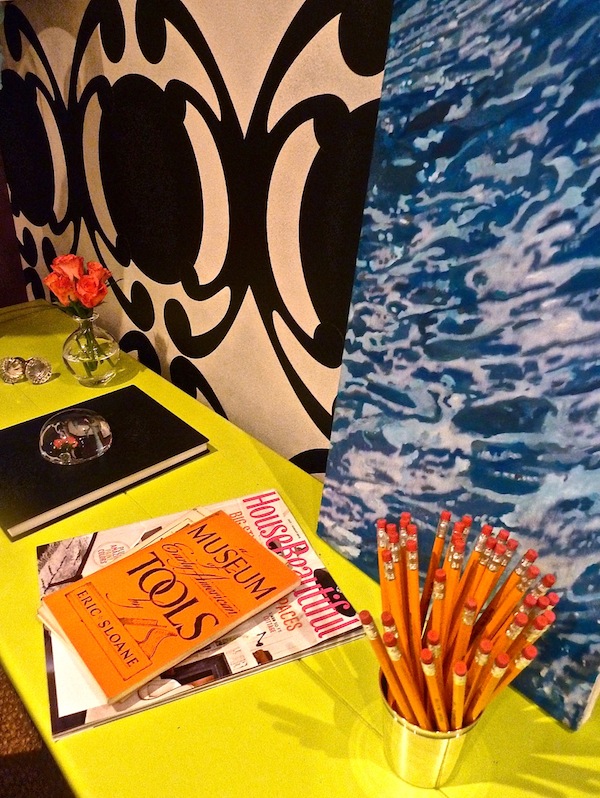 Stop back tomorrow as we take a peek at many more Rooms with a View!