Part of the fun of Rooms with a View is discovering the story behind the spaces, especially when they have personal resonance. As Helen Koch said of business partner John Murphy, both below, "John was thrilled to learn he had been chosen for Rooms with a View but even more so when he heard the theme was 'Design on a Shoestring.'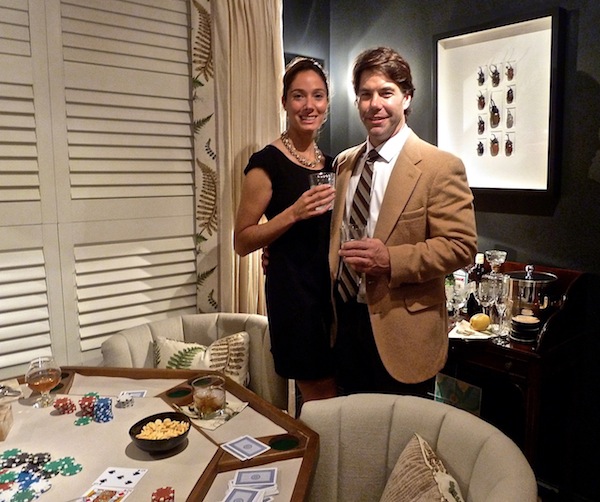 John is a hunter gatherer at heart and has trouble passing up a yard sale, fleamarket or antique mart, so he was excited to recently acquire a barrel game table set from a childhood friend in Barrington, RI whose parents had sold their house and were downsizing. He had spent many hours, back in the day, at this table and when his friend called to say the set was his, if he wanted, he jumped at the chance. With the vision to see an updated future for these 1970's pieces, John gave them a new lease on life."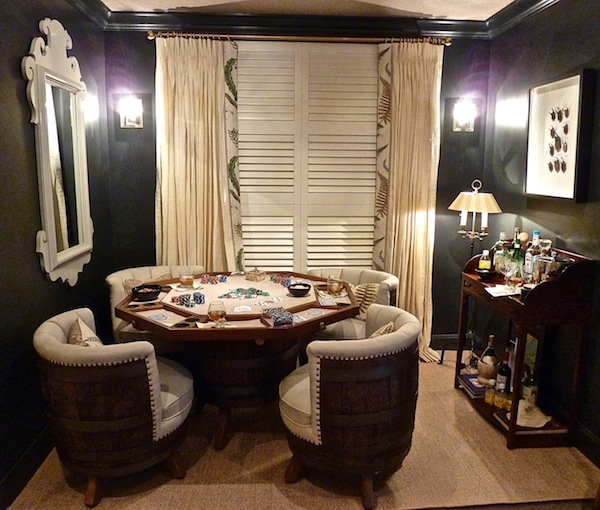 This comfortably chic game room by Murphy's firm, Tracker Home Decor on Martha's Vineyard strikes just the right note. With a Mad Men meets modern classic style, this rooms proves that living with what you love can be both stylish and practical.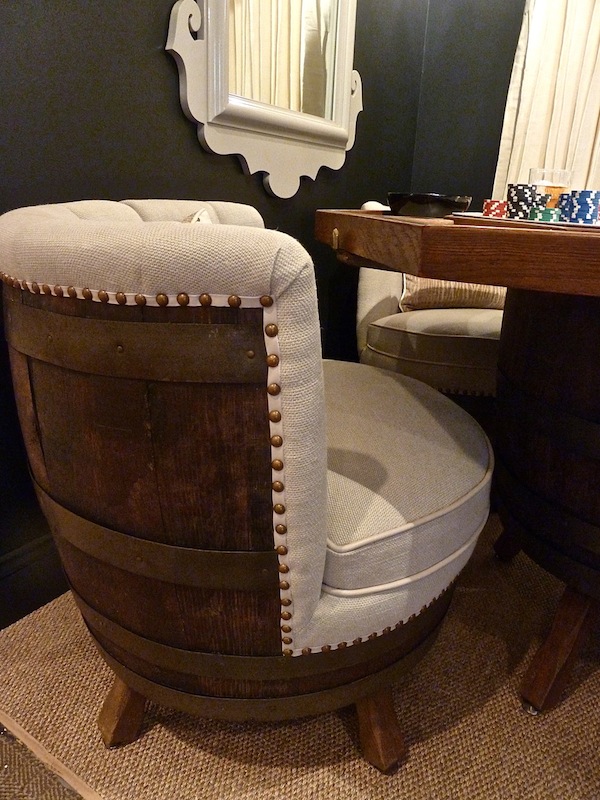 Walls of Benjamin Moore Black Panther are the perfect backdrop for the tailored scene. The barrel chairs were updated with a nubby Schumacher linen and Lee Industries leather trim with nailheads to give them a gutsy yet casual elegance.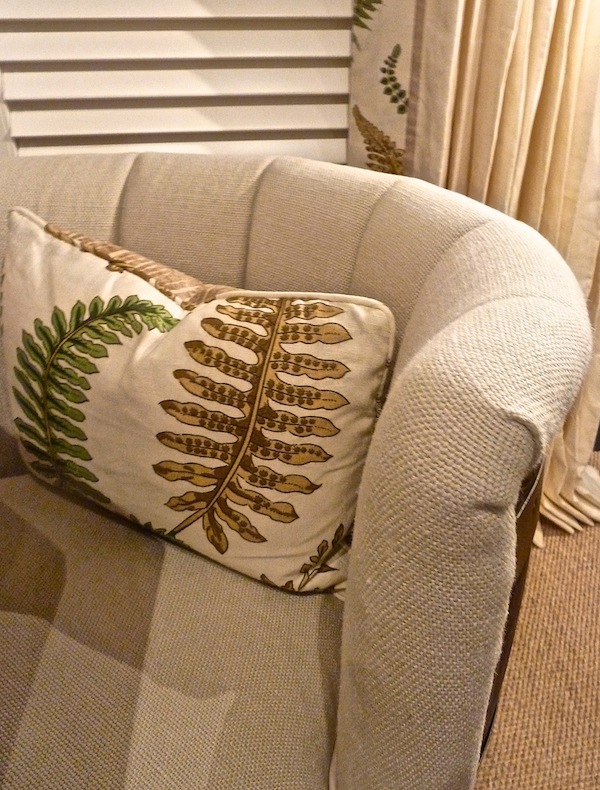 The Scalamandre Elsie de Wolf fern fabric is a nod to Albert Hadley, who had used the same fabric in his local Southport, CT home. Although Murphy originally wanted to execute the curtains in it as well, in keeping with the frugal theme, he repurposed existing drapes and used the print as the leading edge tape, in front of the Hunter Douglas shutters, as well as on the small lumbar pillows and fun cocktail napkins. It's a move Hadley would have loved.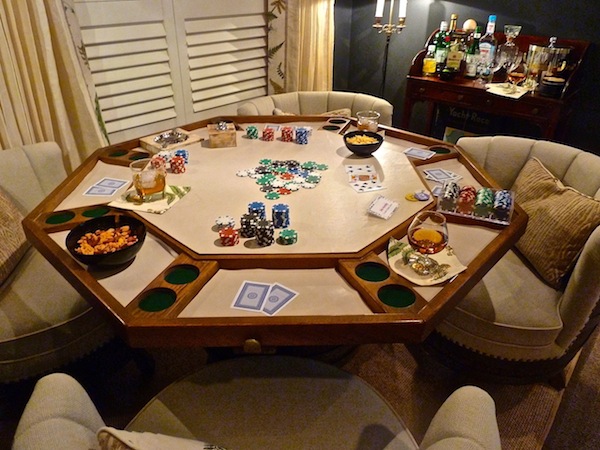 The game table received new felt and leather and was good as new, the poker face reversing to more family friendly fare on the other side. And talk about taking his assignment to heart – both the bar and tole floor lamp were bought from a client who had decided to change it up and "go modern," who sold them to John for a very reasonable price.  A good part of the bar accessories was purchased at the Southport Congregational Church's Carousel Re-Sale Shop and the poker chips were from Wal Mart!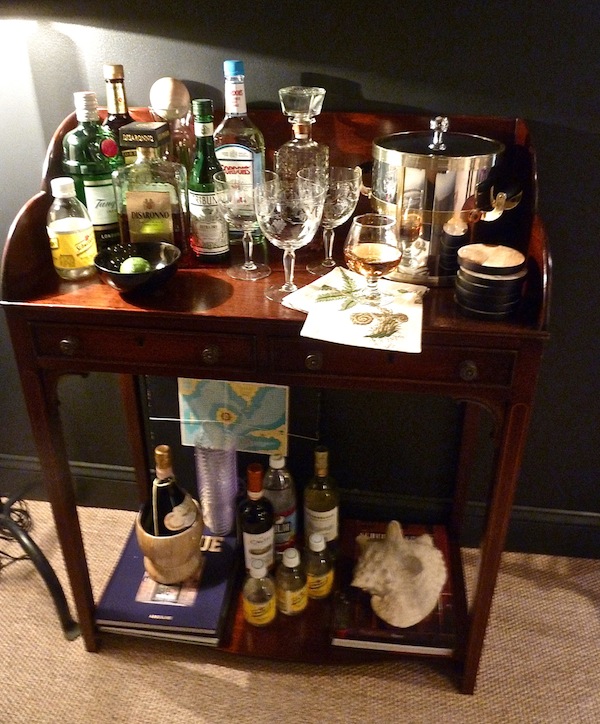 And for a little contemporary spin on traditional design, the Oomph Charleston mirror adds a touch of clean classic chic.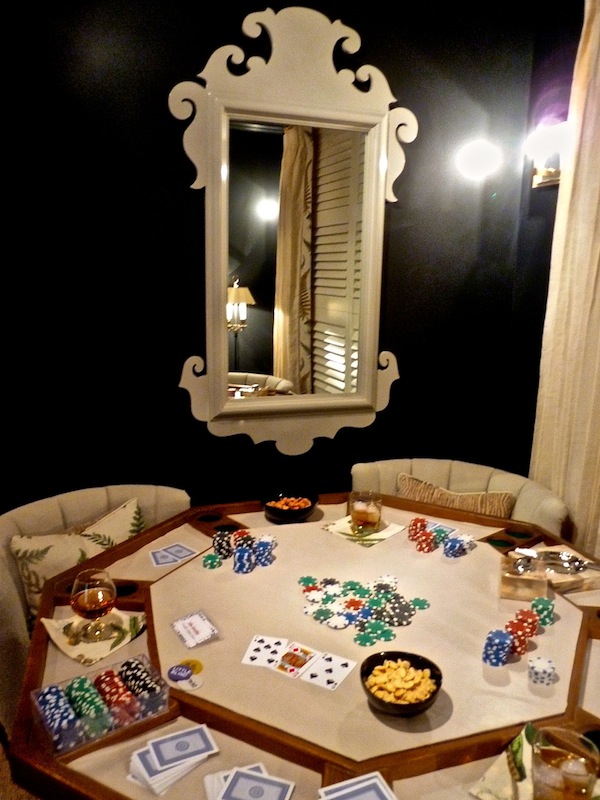 There are a lot of great ideas to take away from this vignette but none more important than keeping it personal and expressing an authentic point of view!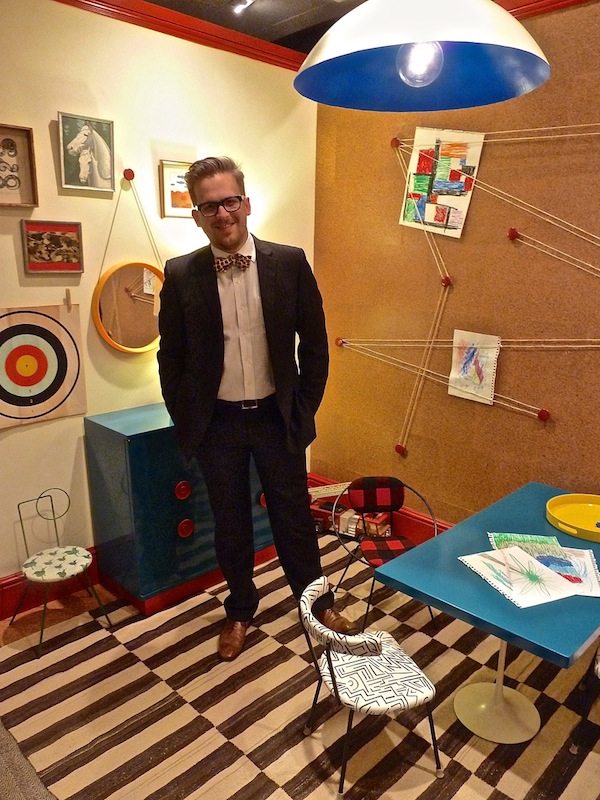 The last vignette in the front room was by Bachman Brown Clem of Bachman Brown Design. His distinctive modern interiors let the tots have a turn in his colorful kids' playroom. With a midcentury stamp, everything in the booth is vintage except for the dome light, which is the designer's nod to 'designing on a shoestring' – it's actually a wok from Chinatown.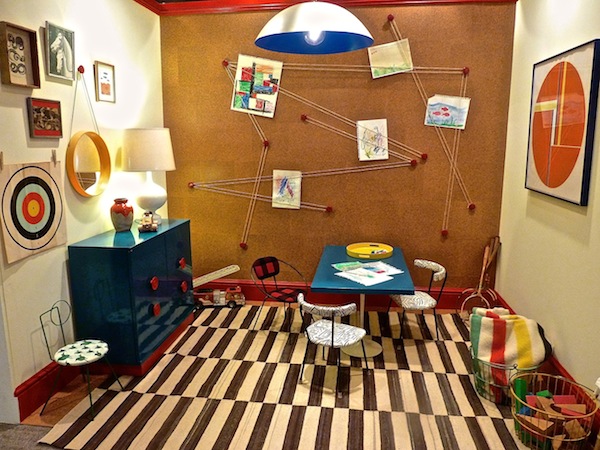 Stripes and bold graphics keep the eye moving.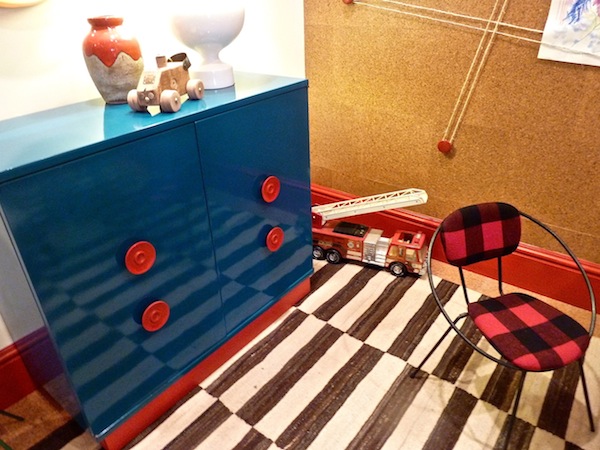 As the designer explained, "I love doing kids rooms because when you run out of ideas, just talk to the kids themselves and you'll get a million more. They have amazing ways of thinking creatively."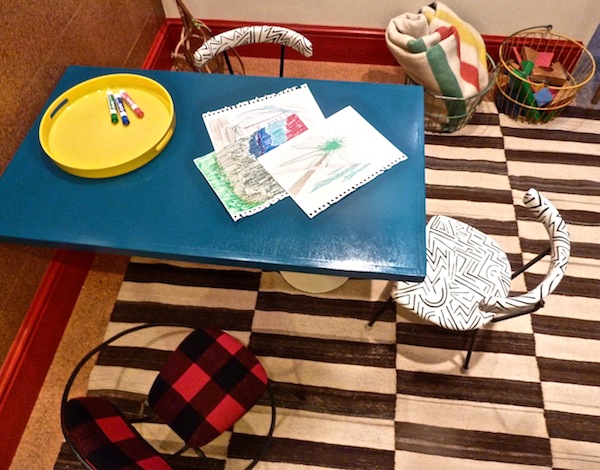 And I think the designer's pint sized inspiration will keep the creative juices flowing. From the cozy work station above to a youthful version of a gallery wall below, it's never too early to introduce be design savvy!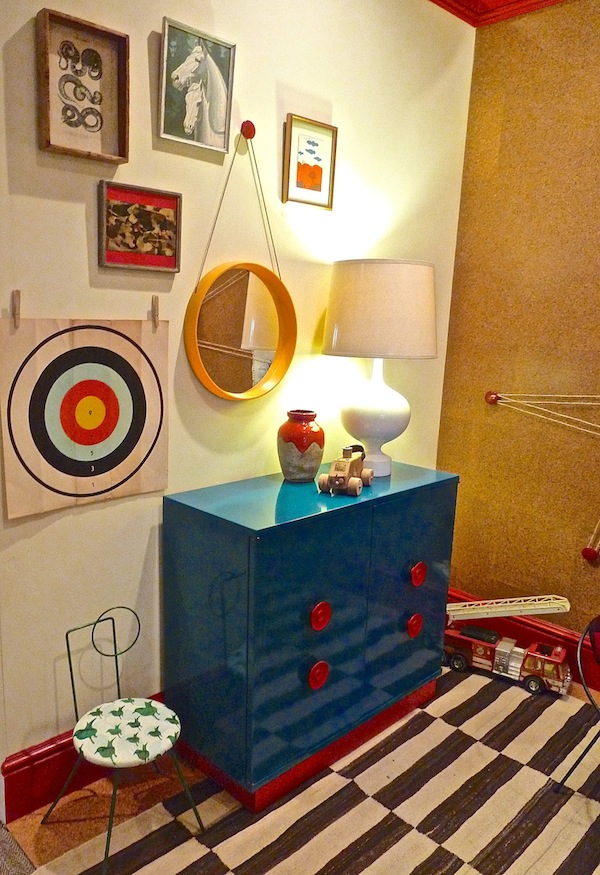 As I entered the back room, Jennifer Gresinger's charming vignette was so inviting I was tempted to take an extended break on her comfy chaise – but the designer beat me to it!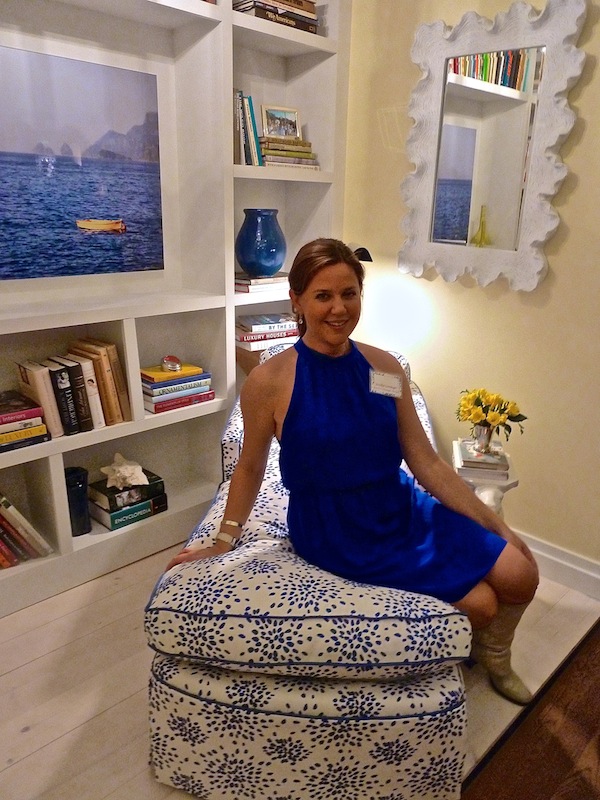 When asked what inspired her appealing "Reading Room," Jennifer explained it was a home in Southport, Maine decorated by Sister Parish. "I chose a fresh pale yellow for the walls, Albert Hadley's Fireworks fabric (for Hinson) for the chaise and a pickled wood floor that gave the space a warm environment. The shelves are stacked with a collection of interior design books and decorative objects that add to the coziness of the room."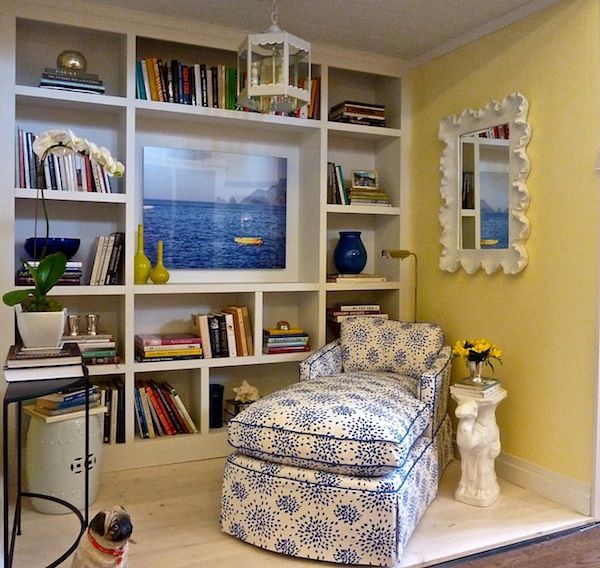 The fresh colorway was echoed in the accoutrements scattered throughout the vignette including the decorative pottery from local ceramics source Thomas K. Libby. With her offices in the nearby seaside town of Rowayton, Gresinger has access to many local artists such as fine art photographer Barbara Erdmann, whose shot of Capri looks luminous mounted on plexiglass.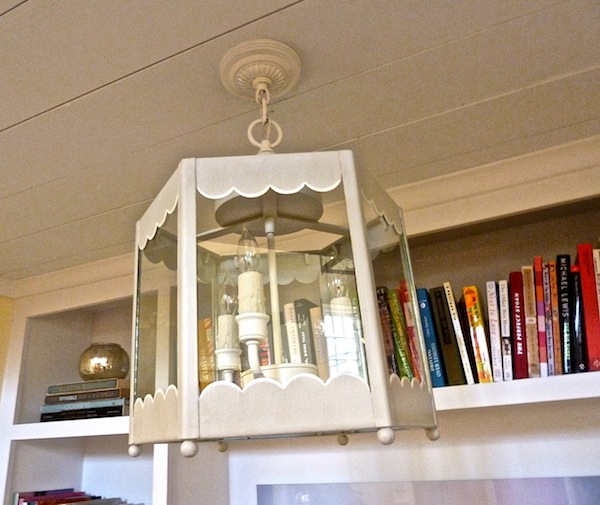 Years of working for designer Mariette Himes Gomez has trained Jennifer to create interesting vignettes in a wide variety of decorative styles. Here she successfully mixed high and low, choosing accessories from a Ballard ruffled mirror (see large room shot) to Colleen and Company's scalloped lantern, above.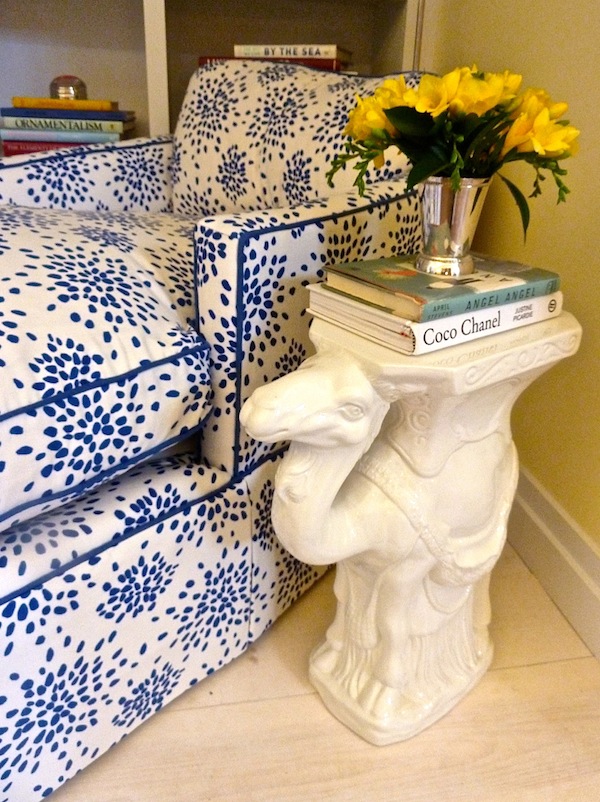 Thoughtful whimsical additions served practical purposes, including this charming fellow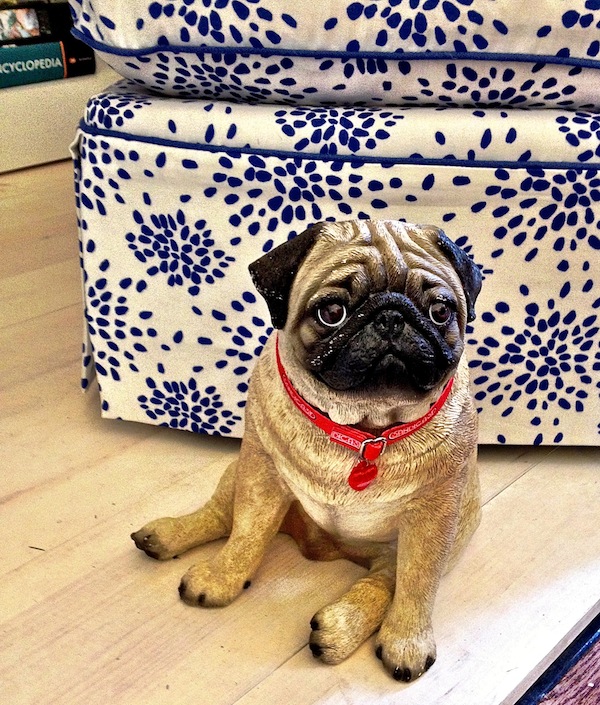 who I'm sure would be good company during a visit to lounge on the comfy chaise while perusing the contents on the shelves!