One of the most photo friendly areas on Nantucket is the charming town of Sconset in the southeast corner of the island. With an abundance of rose covered cottages and a tiny "town," it is brimming with history and nostalgia.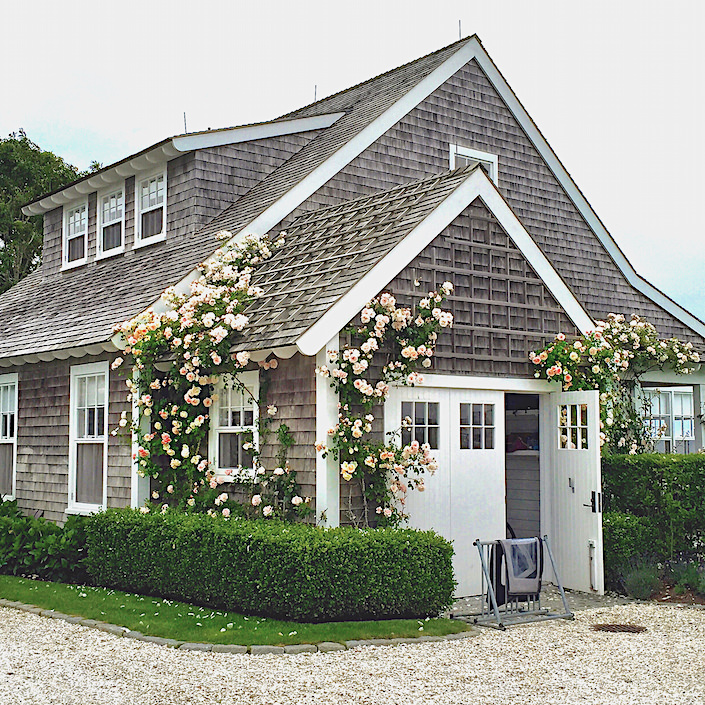 Several years ago, I shared one of my first house tours –  a stylish home on the Bluff. Today we visit their guest house, where style and comfort meet summer living with ease.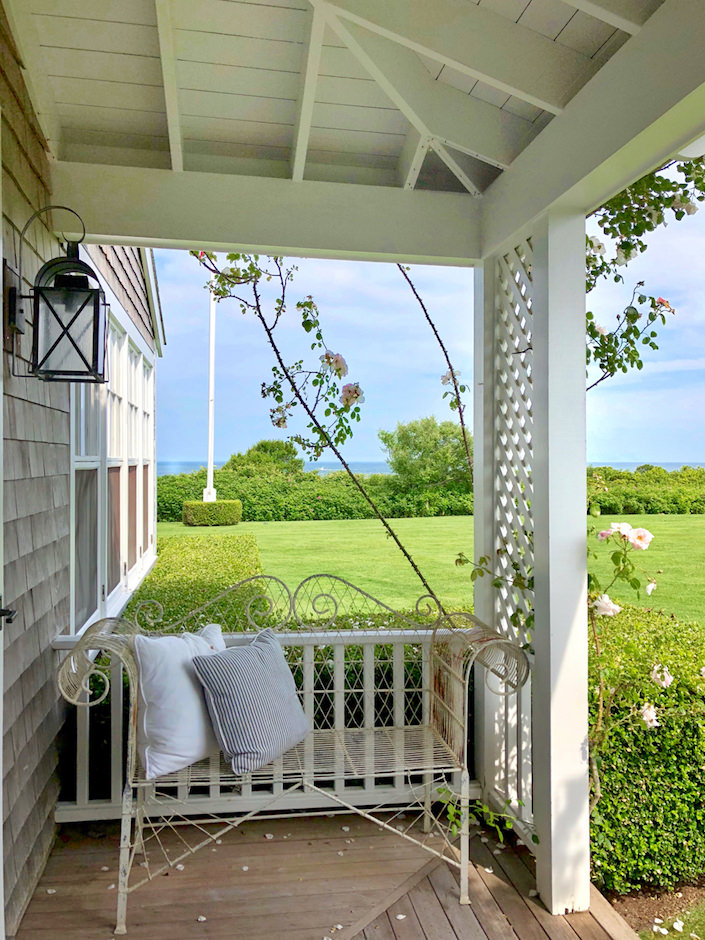 While the guest house has been renovated, it retains a cottage feel and proportion, with lattice trim, deep overhangs and more whimsical architectural details, distinguishing it from the main house.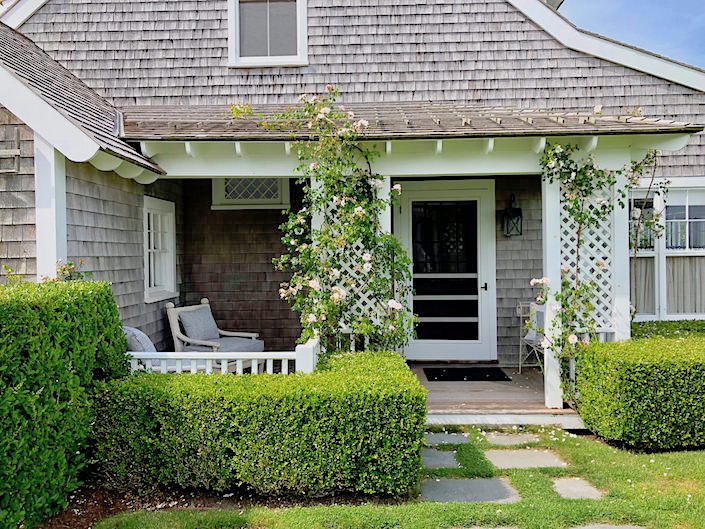 The entry reflects the vintage Nantucket vibe with an antique painted chest, bamboo frame mirror and shell and sailing accessories that inform the cheerful informality of the house.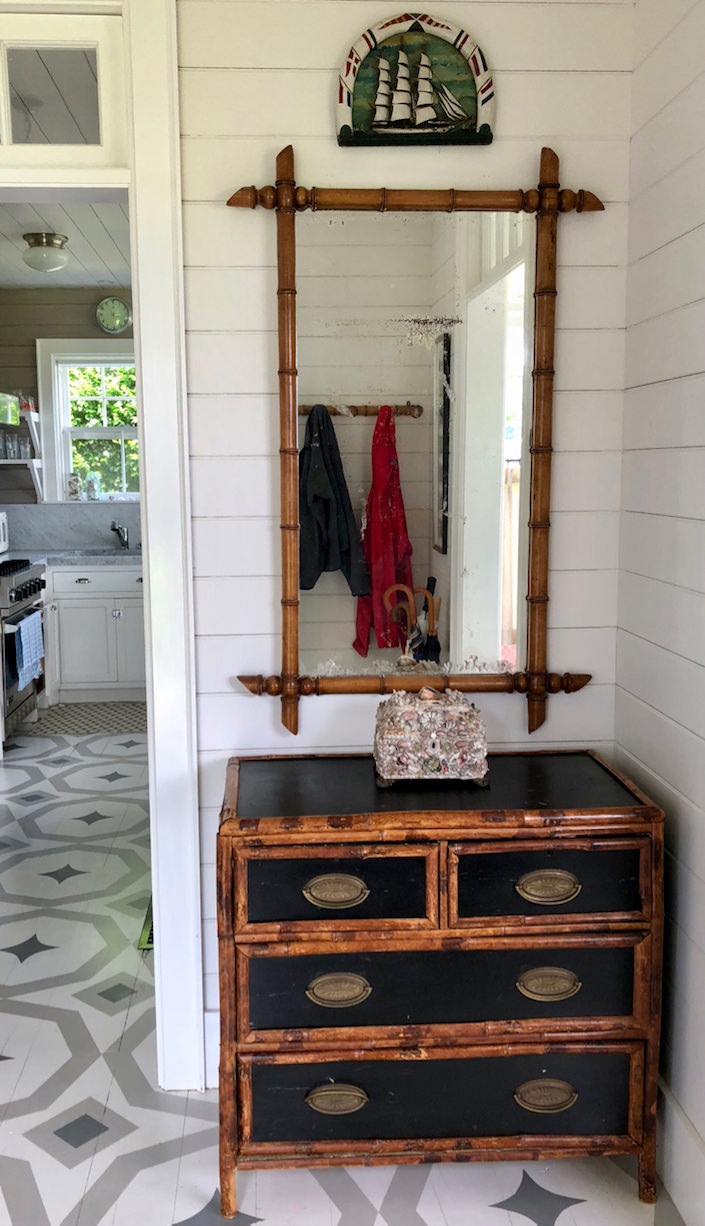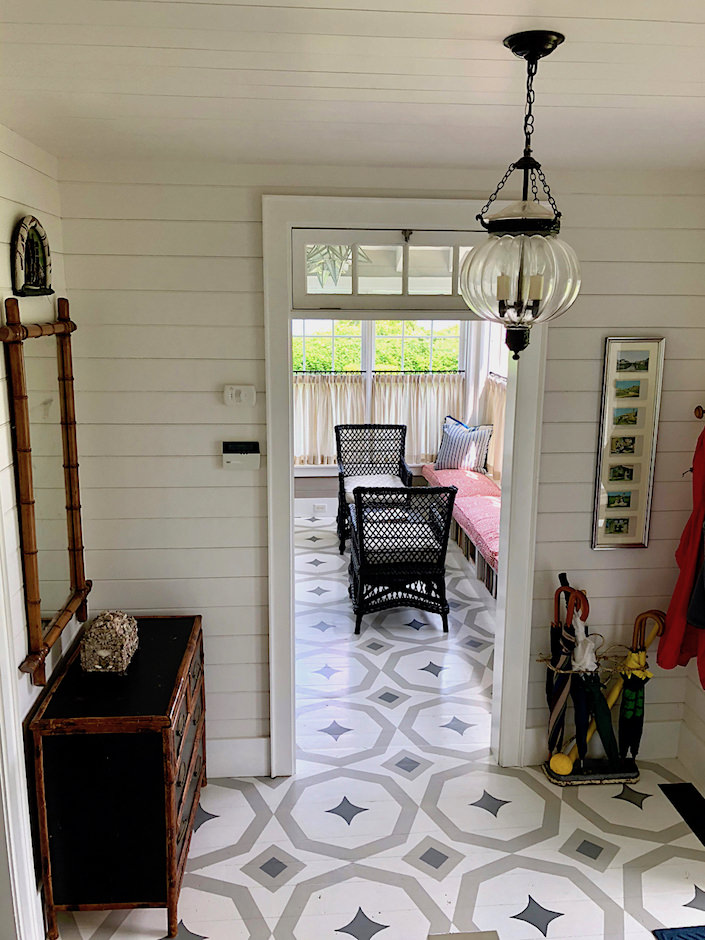 When updating the guest house, the owner had seen a painted floor Bob Christian had done for  Suzanne Rheinstein in her NYC apartment, that she had reproduced for the entire downstairs, unifying the entry, living/dining areas and kitchen with an airy graphic appeal.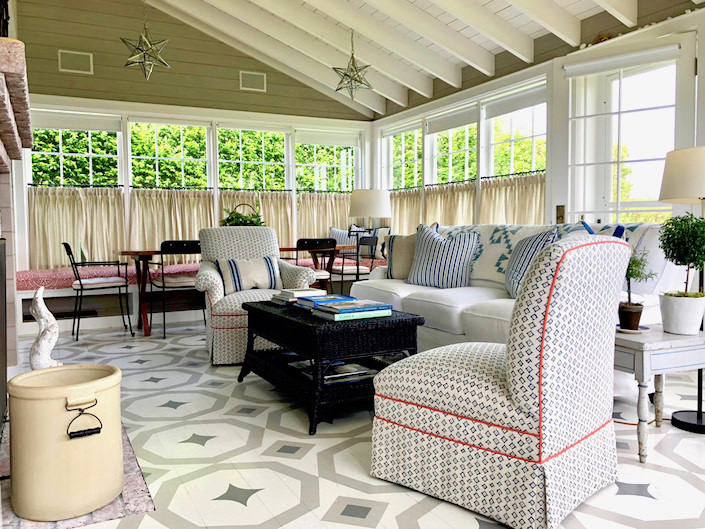 And while my friend has a great eye and is a resourceful collector, she needed assistance pulling it all together. Designer Lee Ann Thornton was brought in, who updated the furniture with a light, timeless touch and dark wicker accents,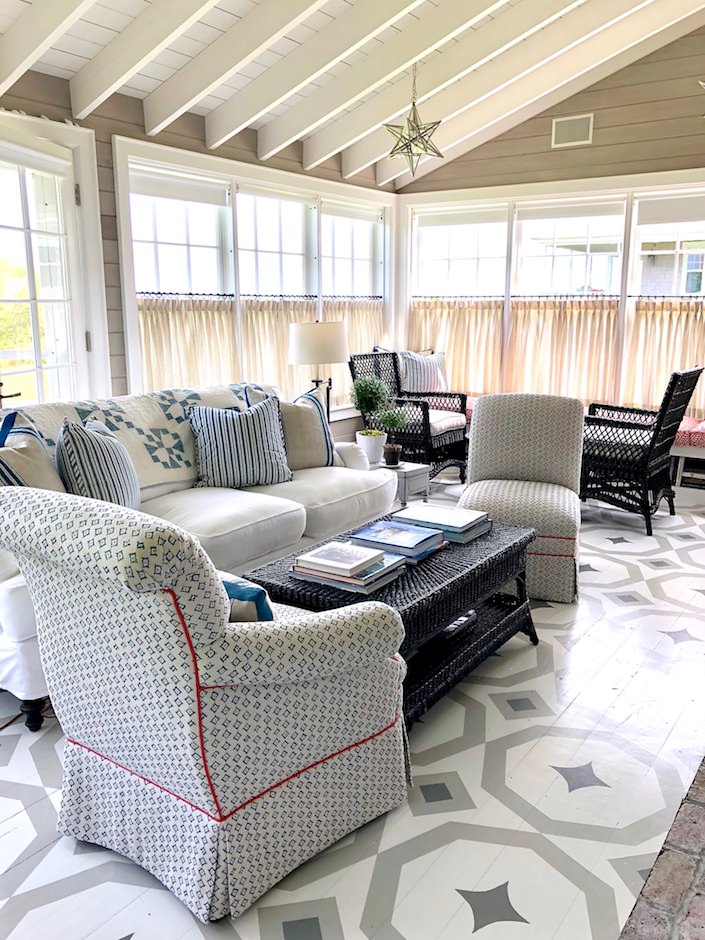 all of which paired perfectly with my friend's vintage pieces.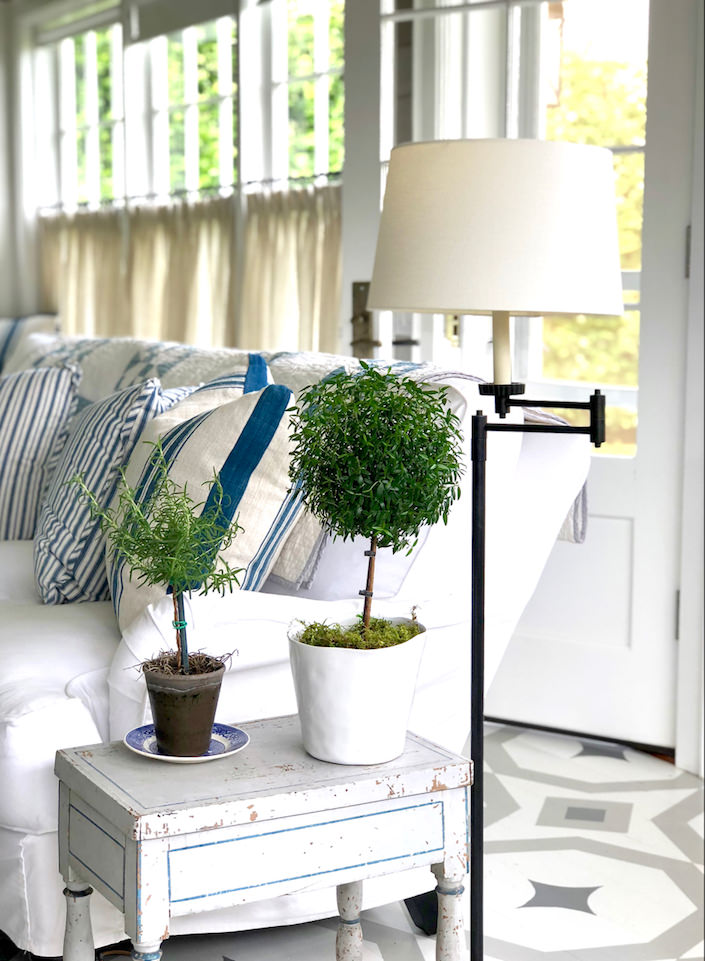 Pass by the kitchen with a wink and head down the hall,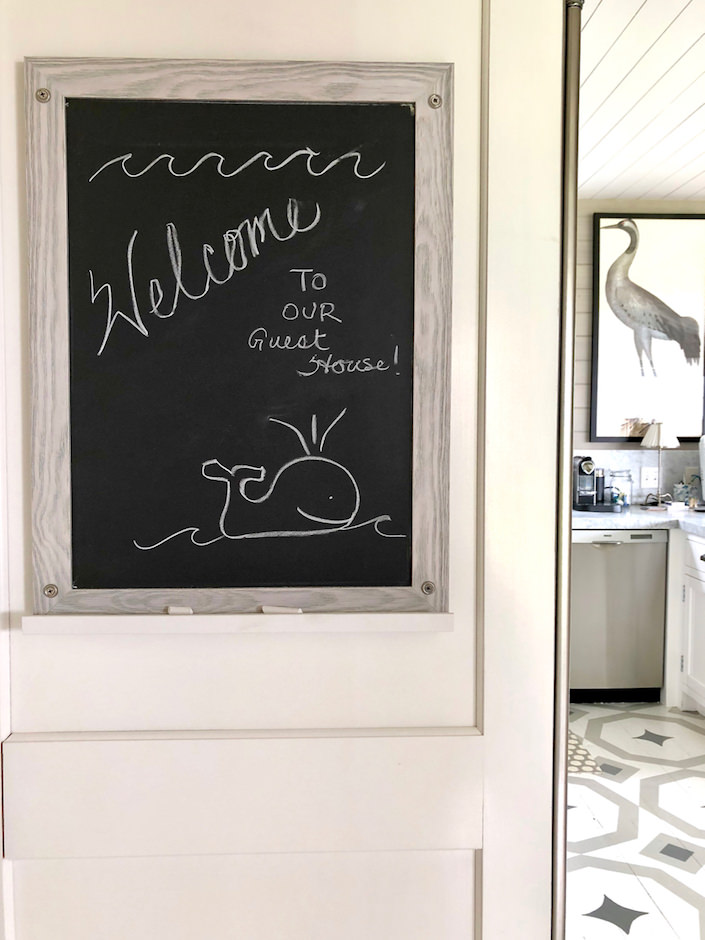 where the rustic ocean art meets mud room overflow.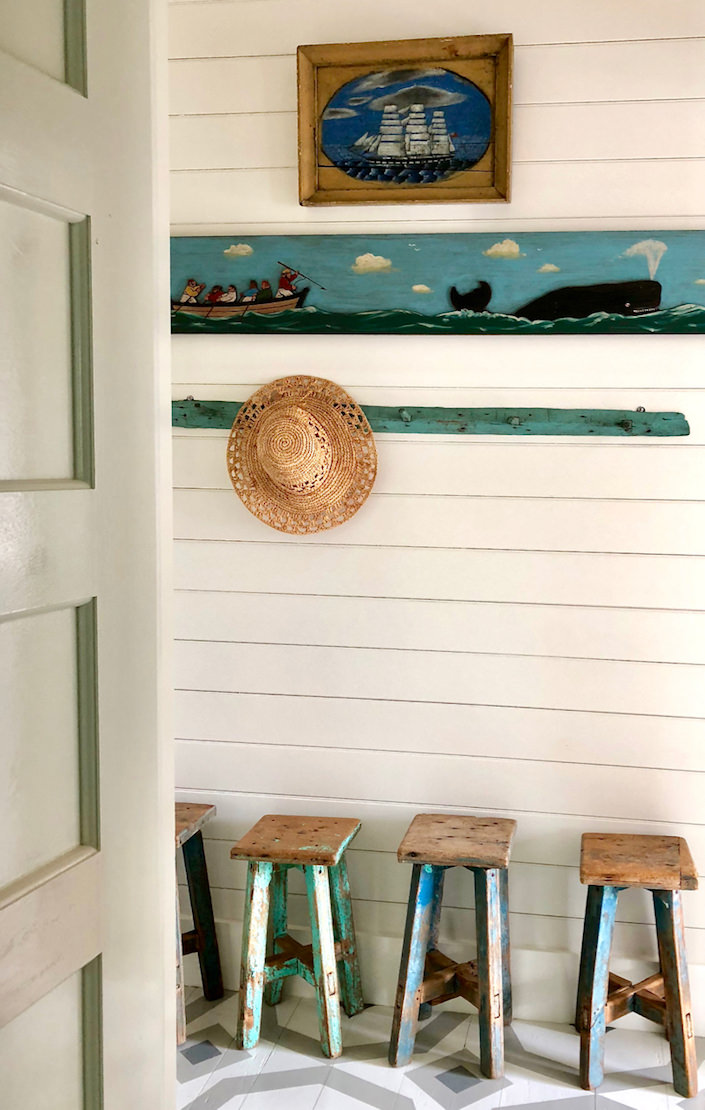 Painted floors are a theme and this bath segues between the grays in the patterned floor above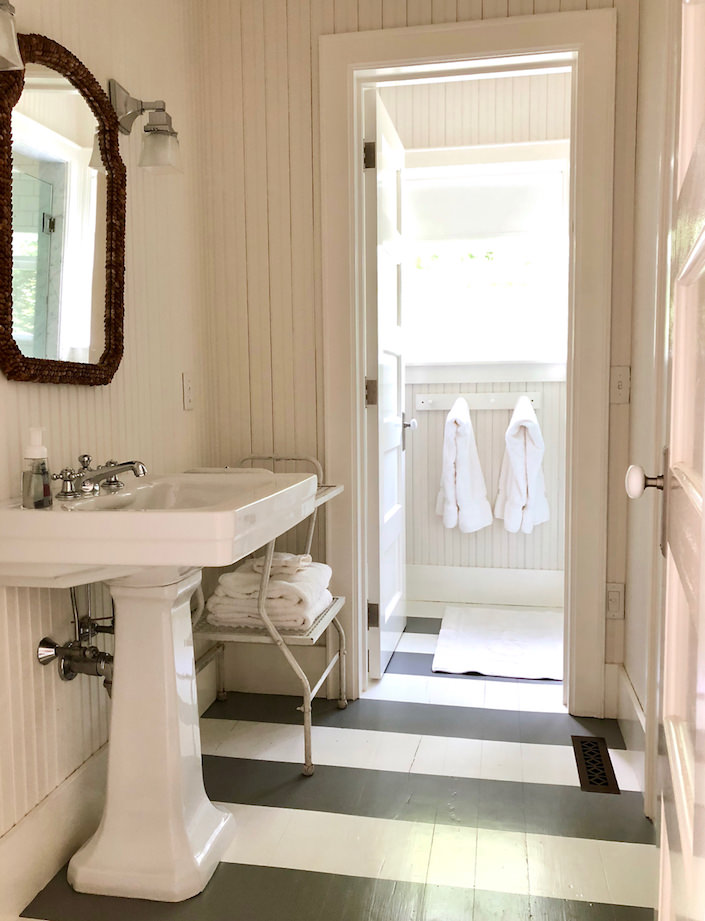 and the bedroom beyond, below.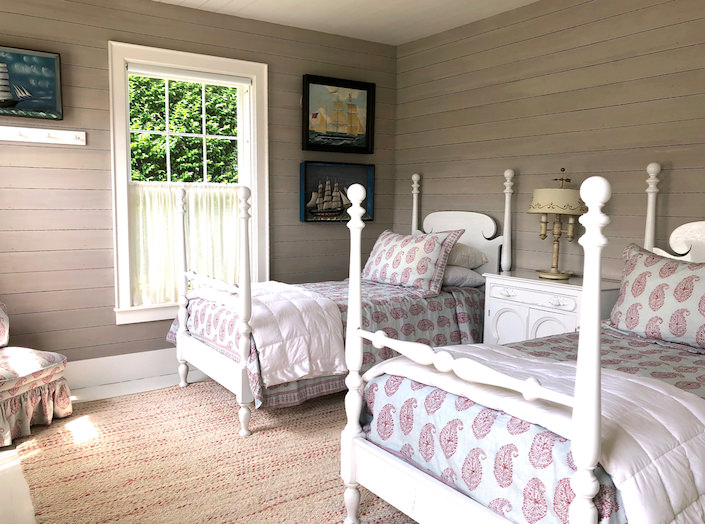 Ship art and the owners' collections of dioramas pop against the gray walls,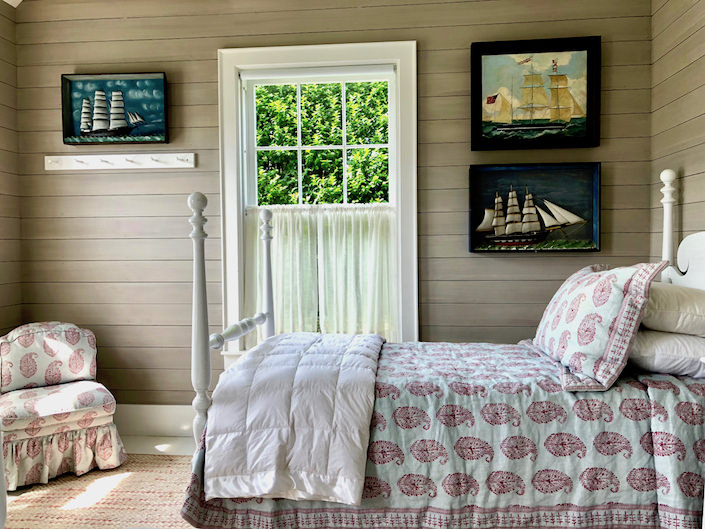 as do a weathered gilt mirror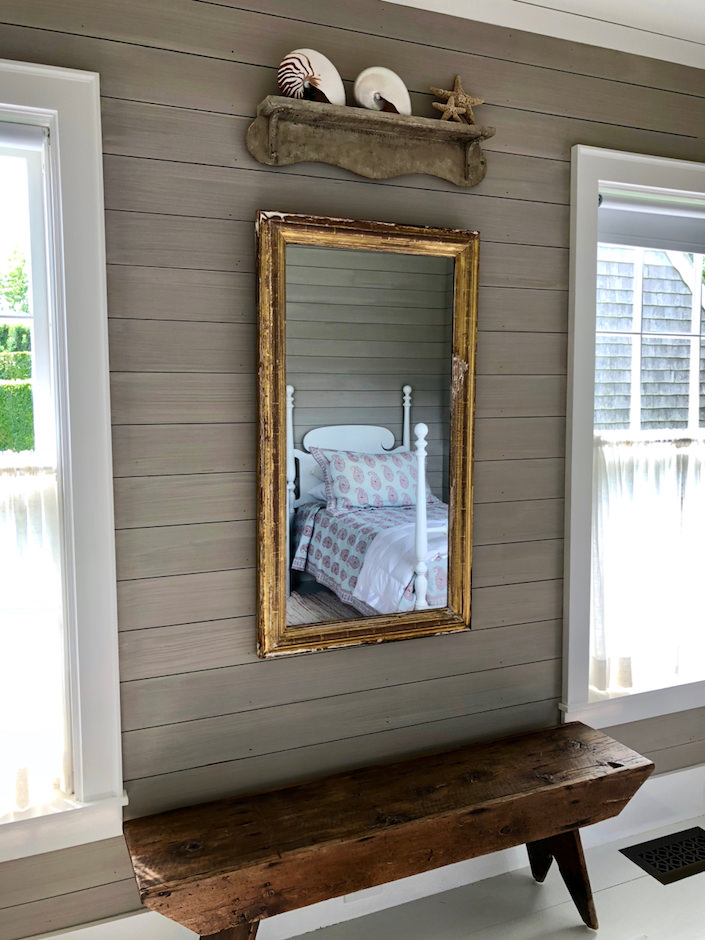 and vintage painted chest, perfectly placed in a niche.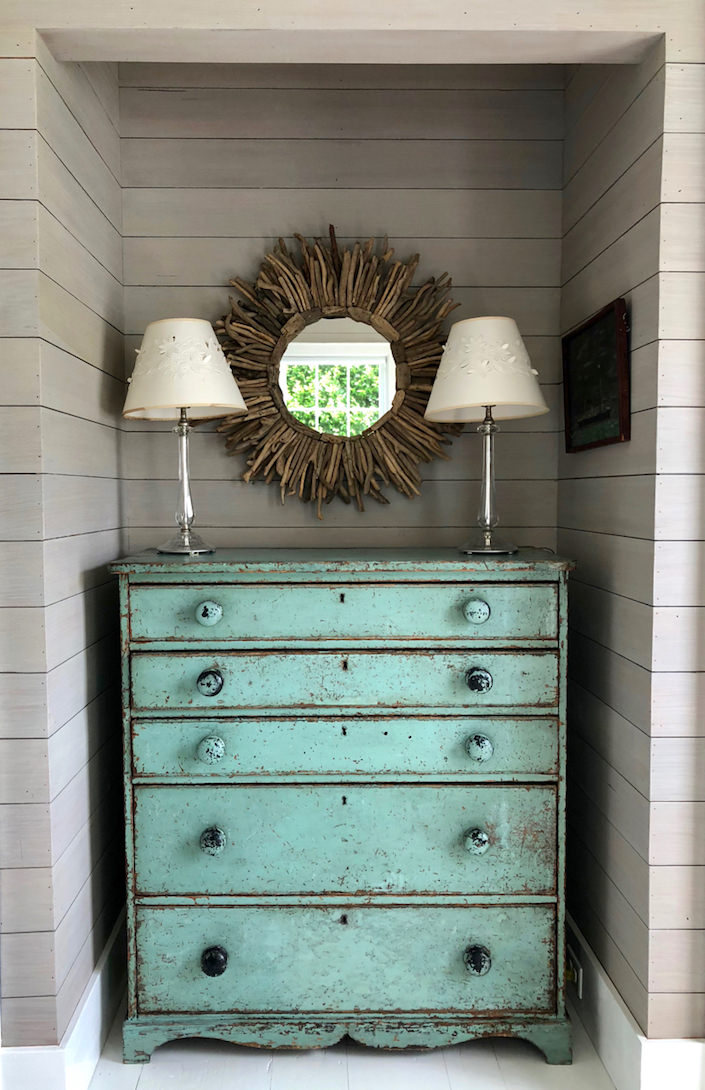 The horizontal plank walls continue upstairs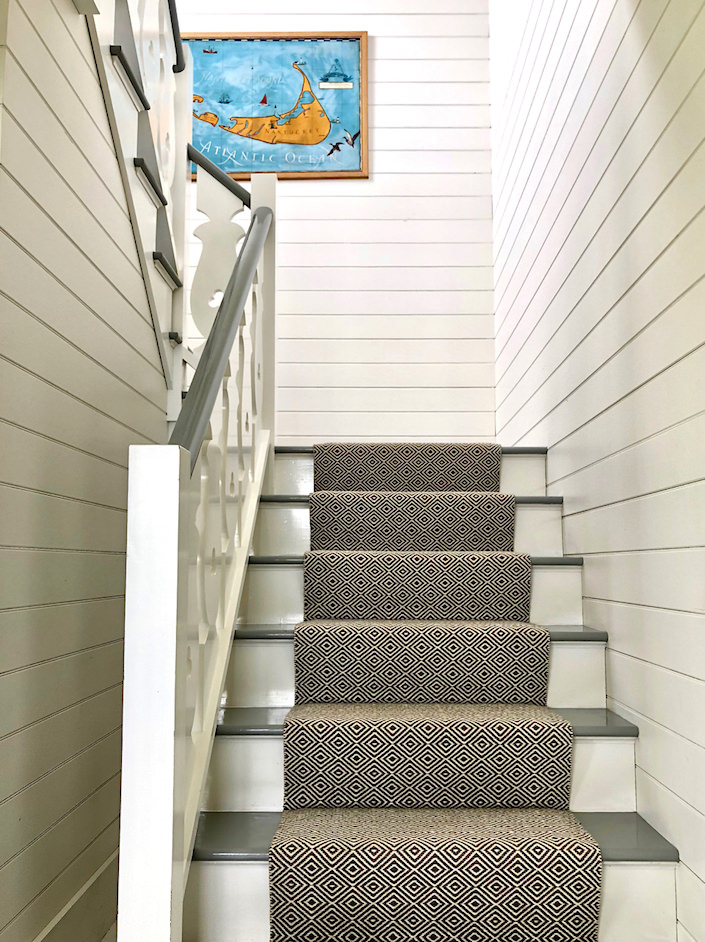 with fun decorative balusters, echoing details my friend had seen in a historic building on island.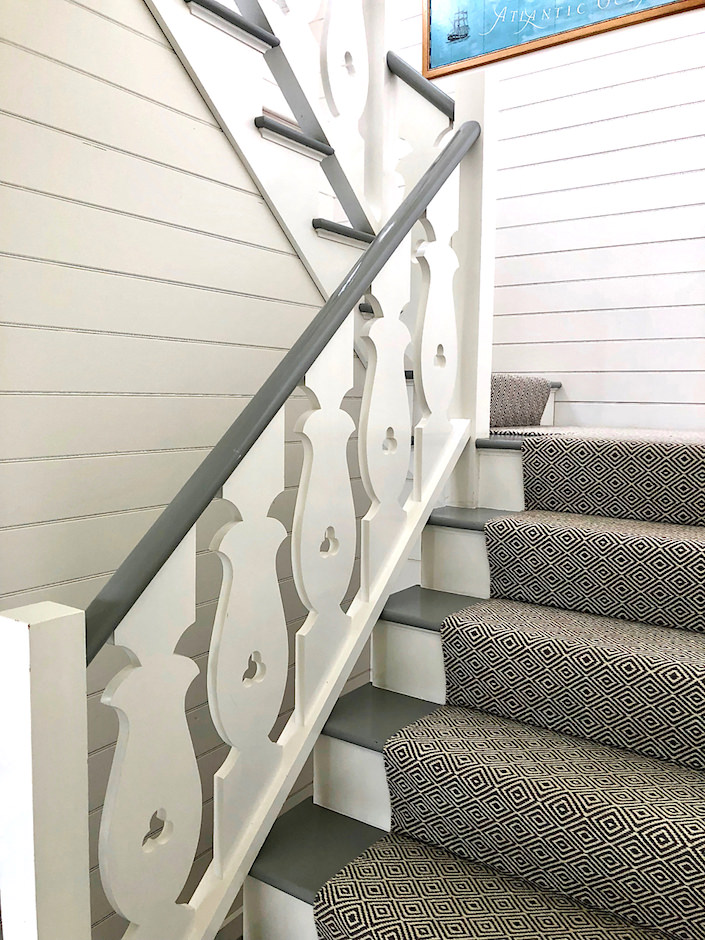 Upstairs, the bird themed master bedroom is open to the rafters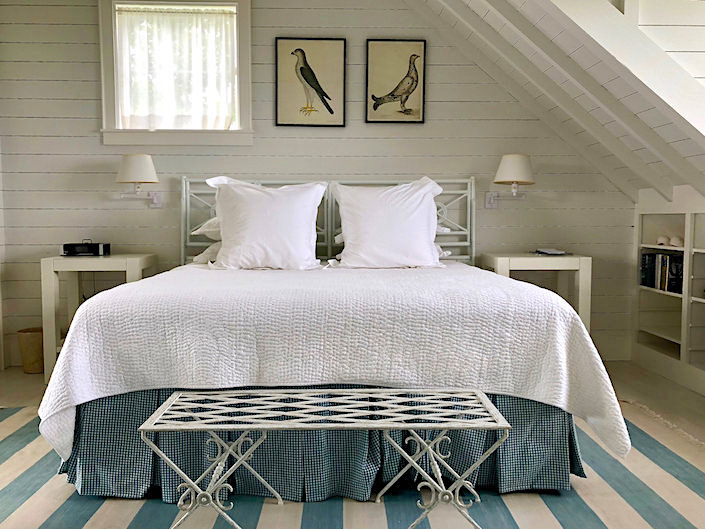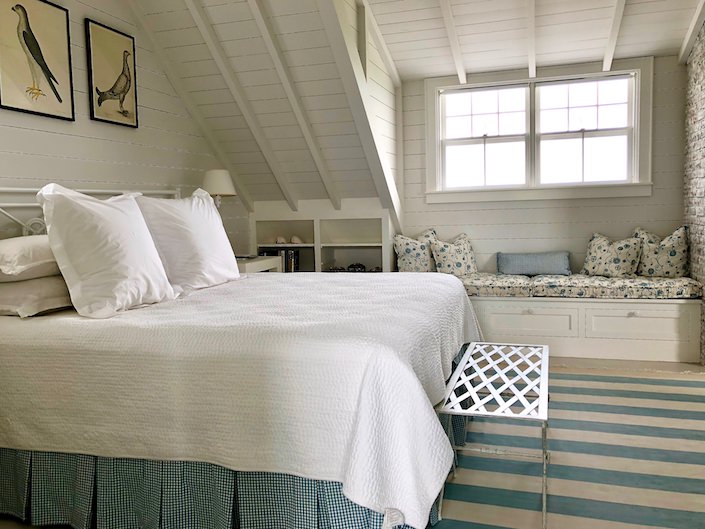 with an airy blue and white mix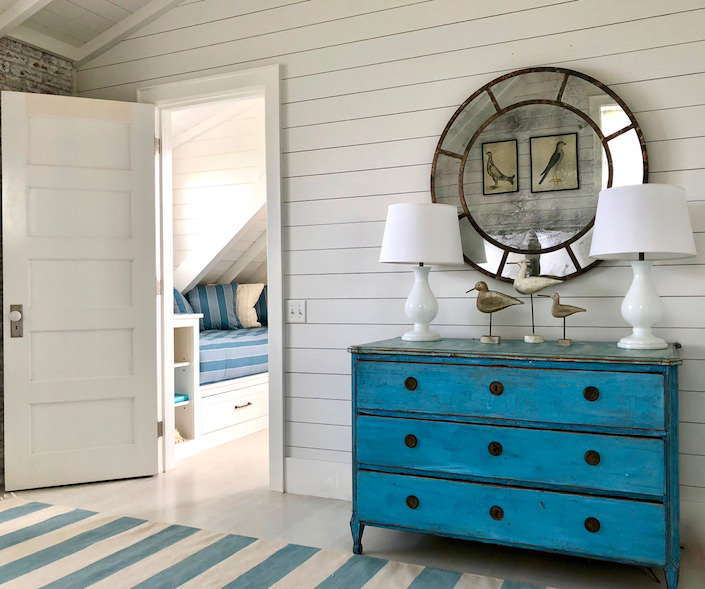 and views of the ocean beyond.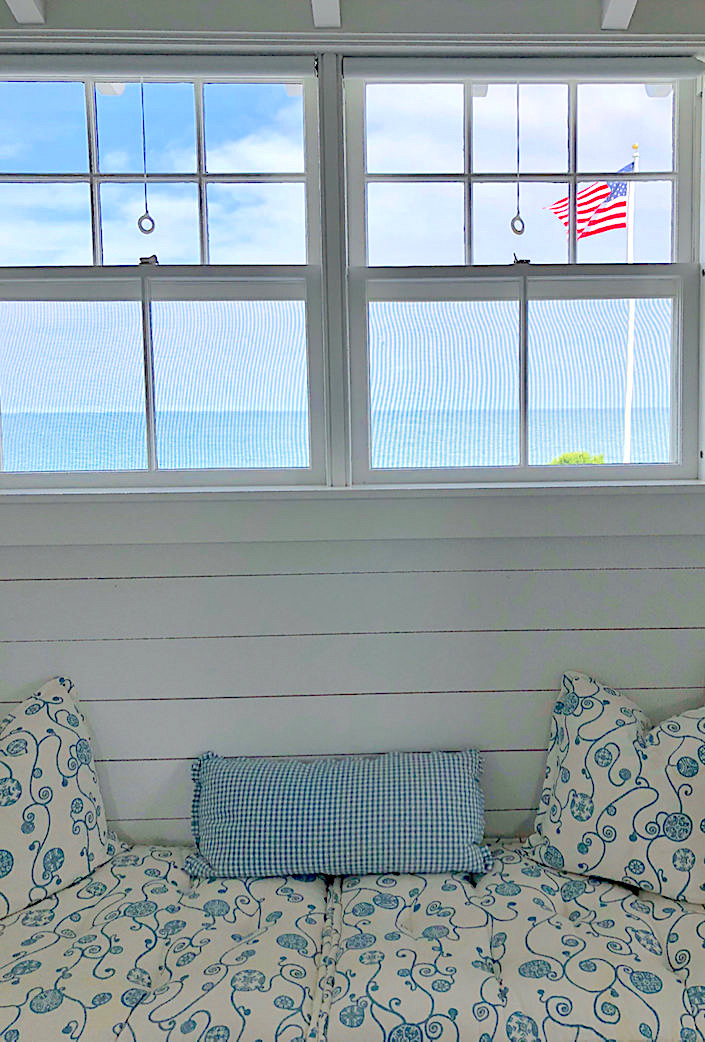 While the bath has all modern conveniences, it retains its cottage charm with a splatter paint floor and more nautical art.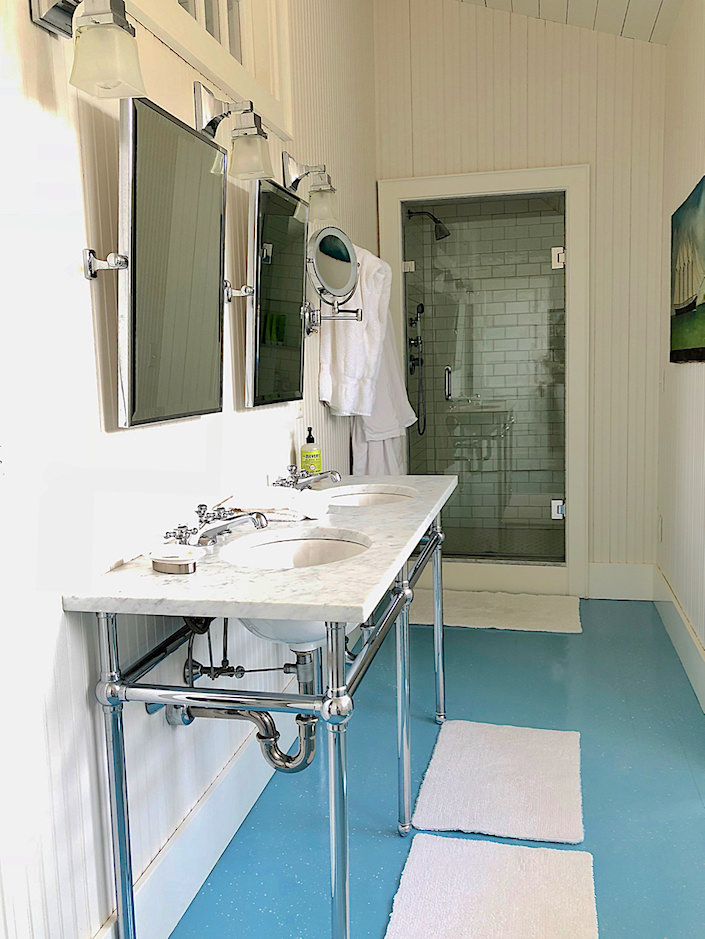 all photos by Stacey Bewkes for Quintessence
This guest house, like the main house, has serious beach chic appeal. With authenticity, personality and an appropriate sense of place, it is the perfect outpost for summers filled with family, fun and carefree living with style! Thank you to my friends for letting me share their fabulous home.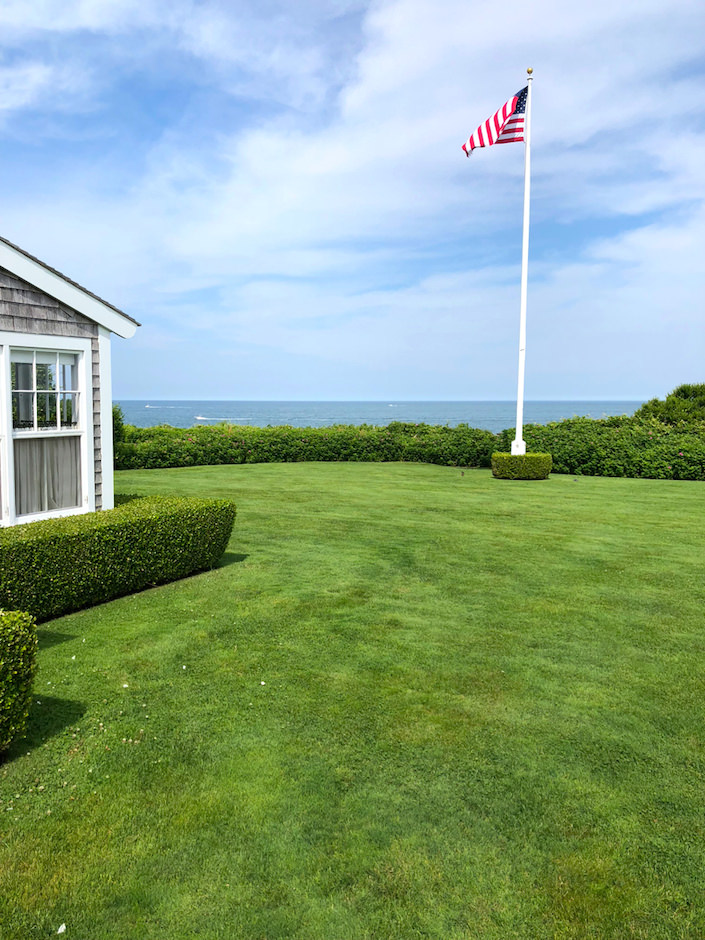 SaveSave
SaveSave
SaveSave
SaveSave
SaveSave
SaveSave