As a source of decorative and fine arts for both the entertainment and design/antiques industry, Newel has been an insider's choice since 1939. Originally founded by Meyer Newman as a prop house for Broadway shows, Newel is still, four generations later, a leader in both its fields. Since 1969, it had housed its massive collection in an enormous six story building far east on 53rd Street. Last fall they made the move to airy quarters in the much more convenient Interior Design Building at 306 East 61st.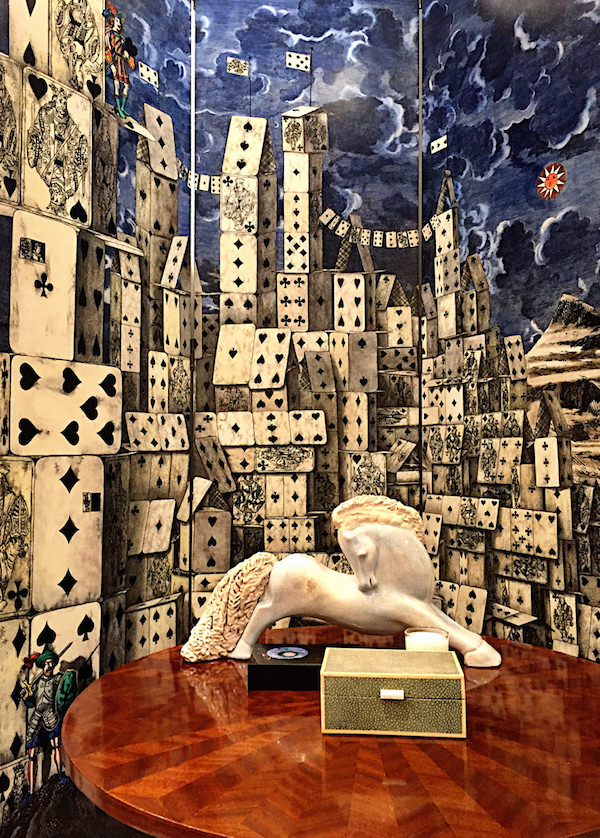 Joining a distinguished list of other prestigious names in the building, Newel saw the opportunity to present a curated collection, showing the wide variety and depth of their inventory, such as the splendid Fornasetti screen (that had just come in), Primavera horse and Art Deco shagreen box above.  The remainder of their holdings is now housed in Long Island City, focussing primarily on their rental business. I stopped by before the holidays to visit with friend Guy Regal, Executive Managing Director.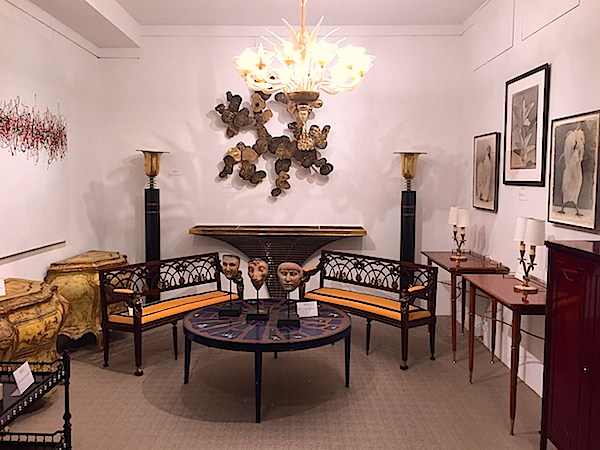 Like the 1st floor at 53rd Street, the new location has rooms, carefully curated to show how pieces from different eras can stylistically work together. As Guy explains, "The goal with every room is to include a mix of contemporary 20th century with more period furniture. There must be a relationship in each space. No room is just stagnant. There has to be a dialogue between the pieces." Above, for example, black and gold make a statement in a room where a fabulous Newel ostrich-upholstered brass and gilt wood console sits below a 1979 Silas Seandel bronze, steel. copper and brass wall sculpture, topped by a stunning 1940's Venetian Murano gold dusted glass chandelier.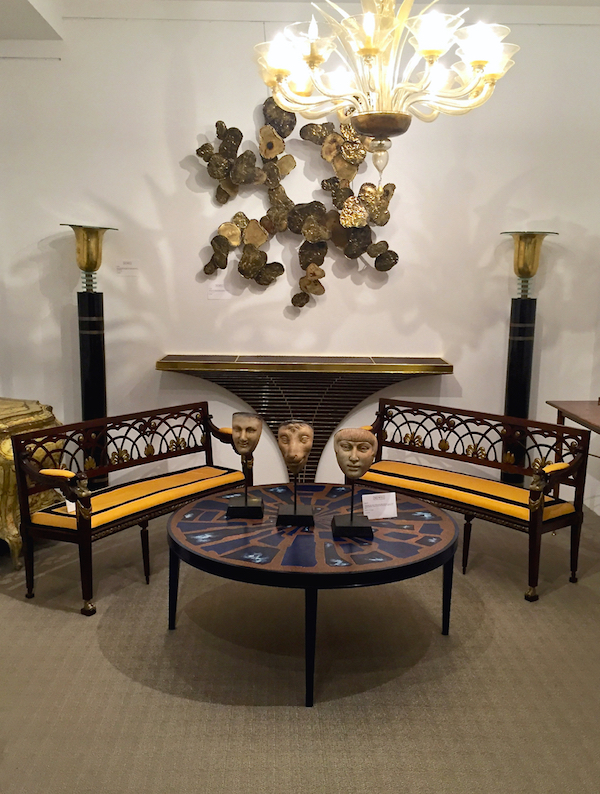 The 19th century loveseats with their Egyptian neoclassic design add to the theme with bold lines and movement.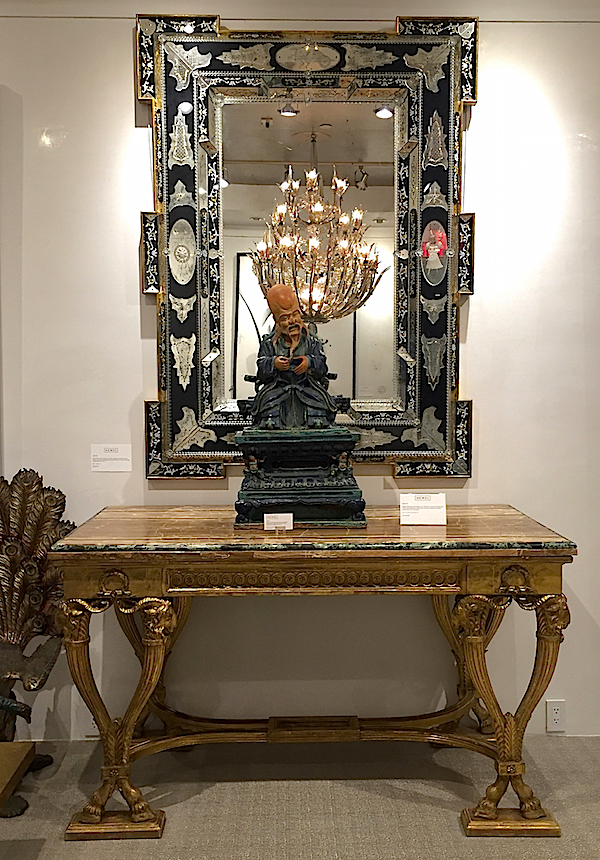 Above, a large Venetian mirror (one of a pair) looks chic over a spectacular Adam gilt wood console, the Ming Dynasty porcelain figure offering longevity and luck! The mirror's partner below over a gilt carved eagle console.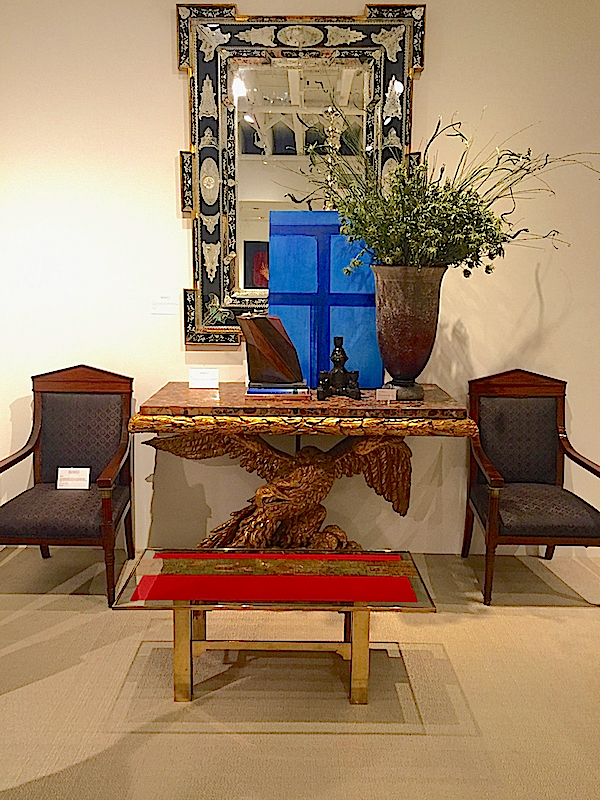 A vibrant vignette below features one of Newel's own designs. The cabinet is a masterful mix of diamond relief gilt wood doors and glass (you can see the beautiful craftsmanship in the detail shown in second photo) shown with a 60's Italian waterfall coffee table and Jack Roth's black and white abstract tryptic.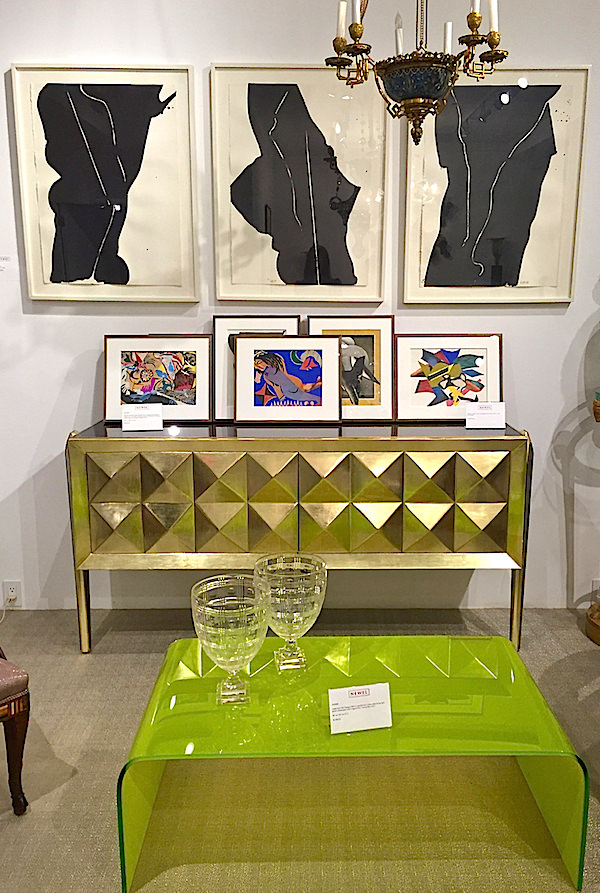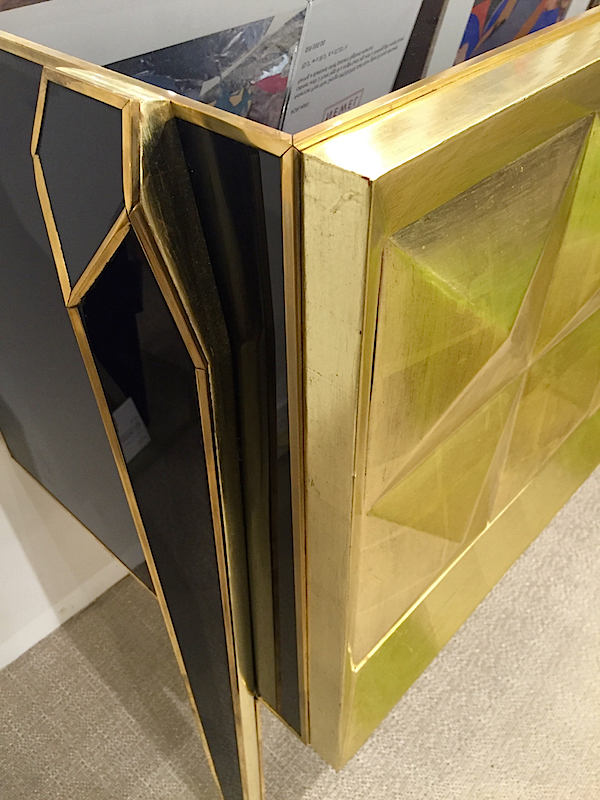 Despite what some designers thought in the Wall Street Journal piece about design trends, I think there is still a place for well executed faceted pieces. It's the design and production that separate fine work from mass market. The cabinet above and jewel-like mirror, below, that Newel makes are both exquisite and can be customized in many colors and sizes.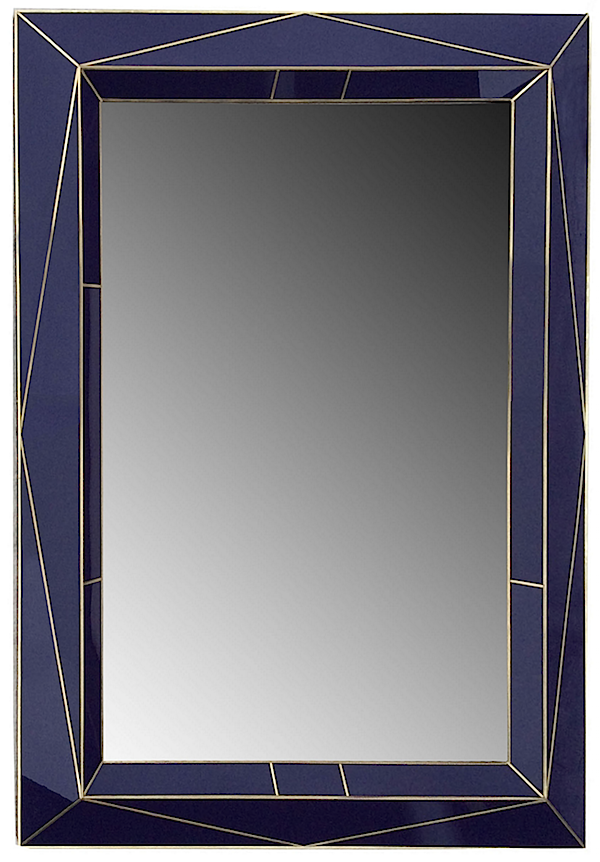 More jewel-like treasures were seen in this luxe combination of the studded pink lacquer box on the Belgian 70's resin coffee table inset with Lapis Lazuli.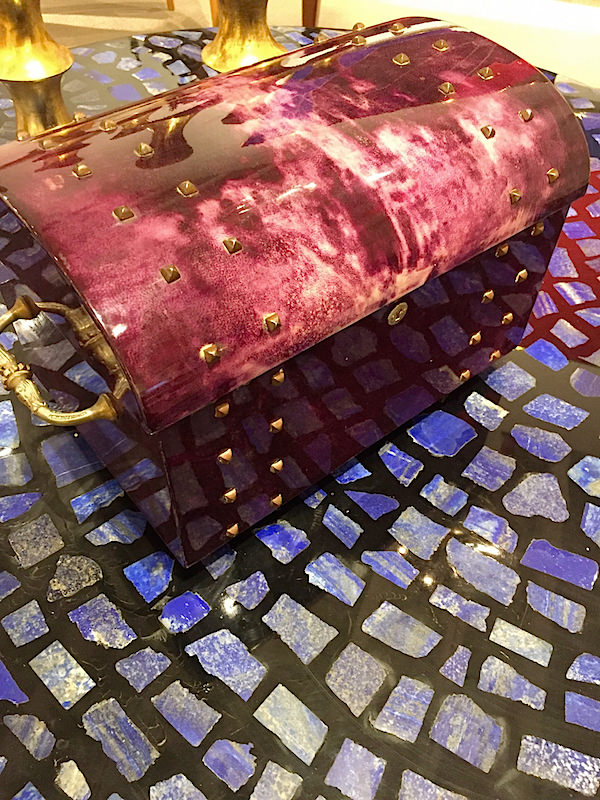 I loved this corner of columns and pedestals anchored by two Italian blue lacquer Greek key mirrors (also customizable).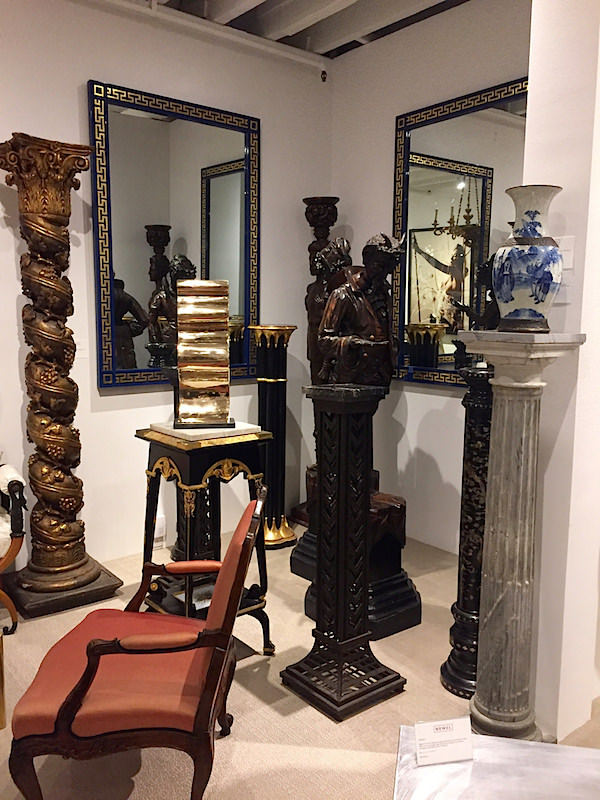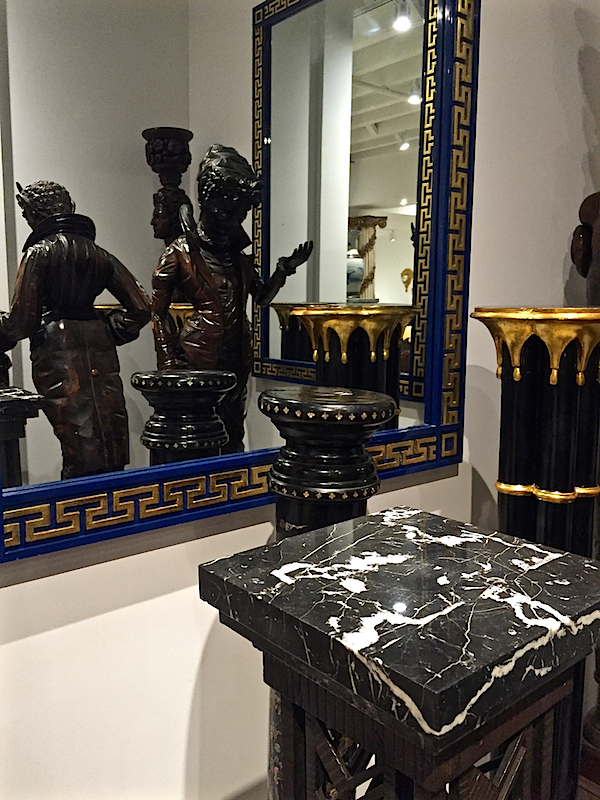 And while all the spaces are stylish interesting mixes with covetable pieces, the large 24′ by 24′ room in the back is a spectacular stand out.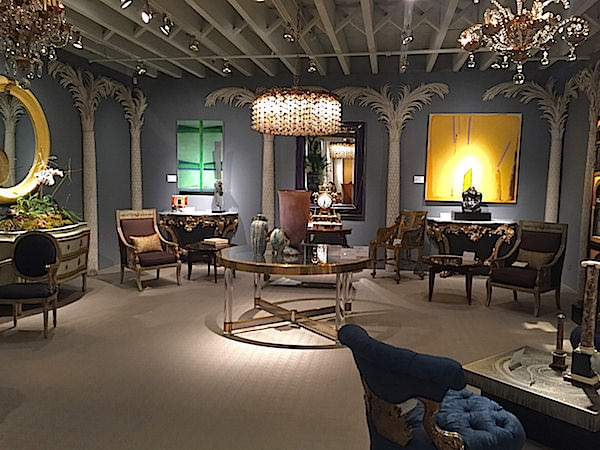 Punctuating the perimeter of the space are giant painted wooden palm trees. After acquiring them and researching their provenance, Newel discovered they had originally been created for a Fifth Avenue apartment in the 1930's. Later in the 1960's, when the iconic French design firm Jansen redesigned the apartment, they kept the trees, the chic final room making the cover of the collectible volume Jansen Decoration, below.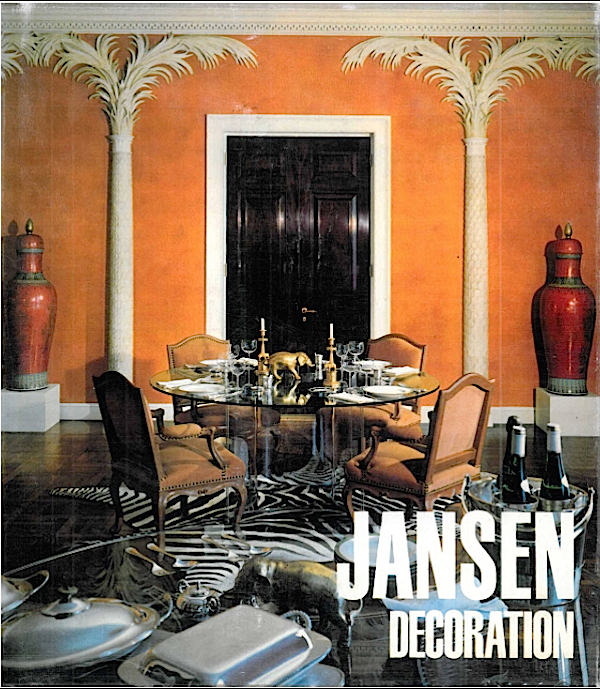 The overall ambience is eclectic, sophisticated and brimming with style.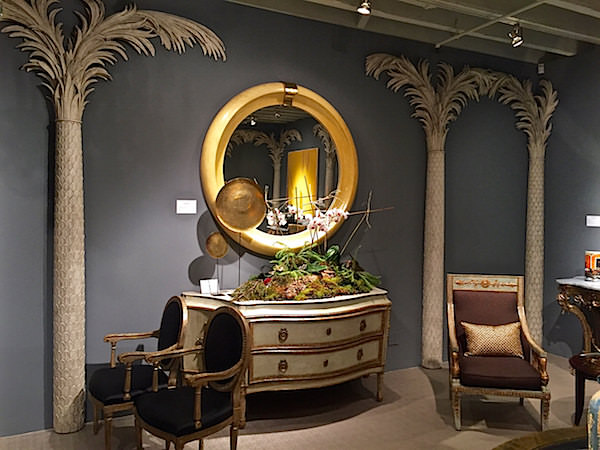 I particularly liked the fantastical pairing of the palm trees with 19th c. Venetian Grotto settee.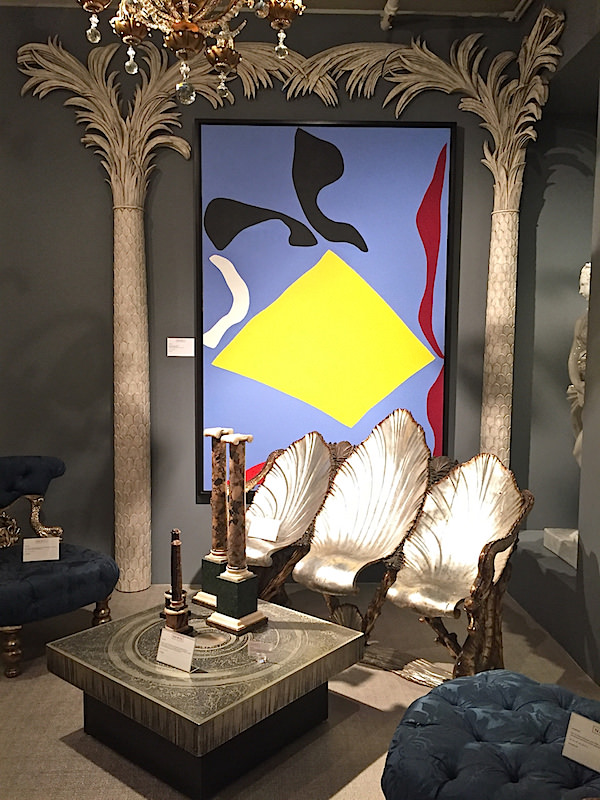 Visiting Newel is not only a visual pleasure but a learning experience. You can be sure that their carefully curated spaces are not only meticulously documented but represent the chic and unique.