I am officially playing hooky from my normal posting today – for the first time, well – ever!! But of course not completely – I am working on the next BEHIND THE Q, doing research and hopefully spending a little time here.
I also have been meaning to give a little shout out to my very talented friend Maybelline Te, who you met here. A few weeks ago, she sent me a little surprise. Not only is Maybelline an incredibly gifted furniture designer but she spends some of her down time making jewelry. What a bundle of creativity!!  She remembered my love for statement necklaces and coral, in both color and shape. Having met in real life, she knows my reasonably tall stature can handle something substantial!! So – thank you May, I LOVE it!!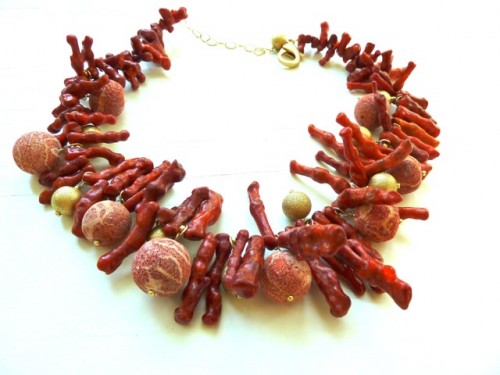 Be sure to stop back this week. I am featuring an absolutely beautiful, never-published-before classic house seen through vignettes that I know you will love!!