photograph Jay Lawrence Goldman
Last Wednesday was one of those days I wish I had more of. I met my sister at the Met where we saw a lovely exhibit (more on that later), had lunch in the serene Trustee's dining room, and then wandered down to Bergdorf's. Always good for a little divine distraction, the fabulous jewelry department was chock full of treasures. I was particularly attracted to a new line, which has an interesting story.
Following a career in private equity, Ashley Pittman decided to volunteer for the Clinton Foundation's HIV/AIDS Initiative in Rwanda, where she immediately fell in love with the country and its people. Upon returning home to the states, she attended law school but never forgot her experiences in East Africa. Ever since her time there, Pittman had the idea to start a jewelry line made of indigenous horn using the skills of local artisans. After searching for months, she serendipitously met Penny Winter, the wife of the owner of the Ngong House outside of Nairobi, who owned a small shop in the hotel. Together they formed a partnership that has become Ashley Pittman Jewelry, producing horn, bronze, and gemstone jewelry from Kenya.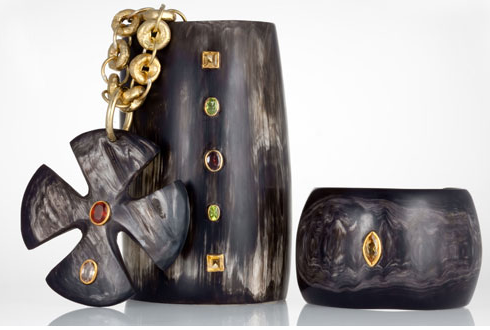 The horn is from cows raised by local tribes and then carved by a women's cooperative. The use only fair-trade stones, mined in Africa, which are then set in Nairobi by local artisans. The company works closely with their partners in Kenya to assure that workers are paid fairly and all work conditions are bright and well-ventialted.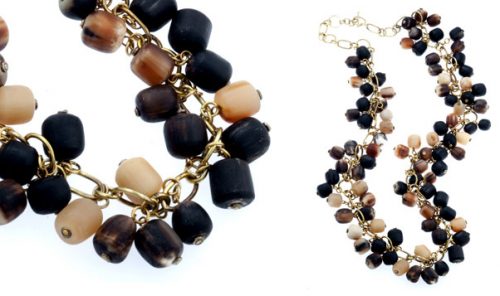 The pieces are natural, organic and chic! Not to mention that your purchase is doing good. It helps to support not only the artisans but their drought-ridden community. The company has an associated foundation that donates 10% of all profits from the jewelry collection back to Kamboo, an agrarian community that has lost all means of income and sustainability over the last four years. It funds a school, dispensary and local health center which Penny Winter and her husband raised the initial investment to build.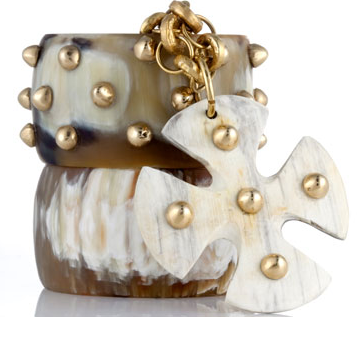 The pieces are beautifully made and versatile to wear. They can straddle any style from BoHo chic to elegant statement. Diana Vreeland would have loved this line! Can't you just picture her with these cuffs stacked and the maltese cross?! I think she would have said "Why don't you just …"
photo by Priscilla Rattazzi via Fashion's Most Wanted.
I think she would have chosen this Muruthi Horn Bangle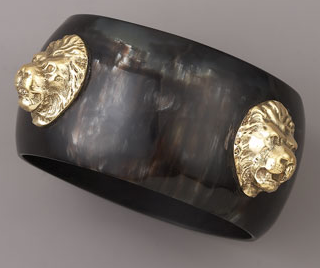 this hazy cuff bracelet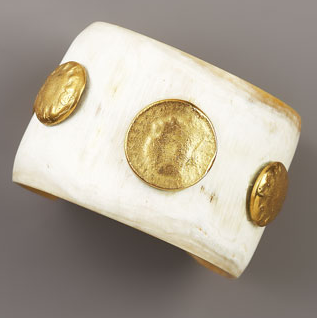 or this bronze chain necklace to wear together with the horn cross.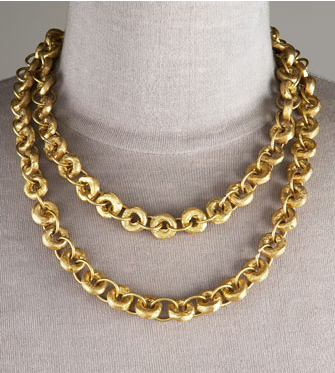 All elegant iconic pieces, echoing the shapes and textures of their country of origin. And you don't even have to rationalize your purchase – you can wear it in good conscience.