This is going to be a year of many firsts for me – and one was my visit to the New York International Gift Fair on Monday. Not wanting to be overwhelmed, I only included the Piers this time – and even that was a whirlwind of eye candy!! I was thrilled to see the beautiful booths of friends who own two of the most stylish companies around, both from right here in Connecticut.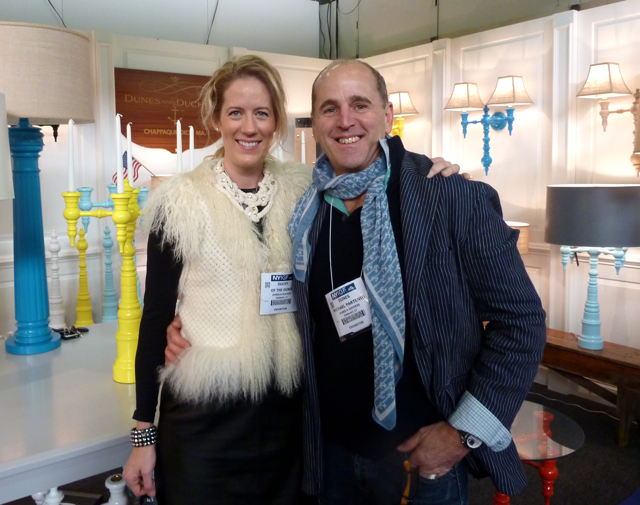 Although Stacy Kunstel, editor/stylist extraordinaire and her partner, talented photographer Michael Partenio started Dunes and Duchess only fairly recently, it has already become a darling of the press and chic shops everywhere. Their handcrafted lamps, sconces, tables and now chairs have a chic updated nautical appeal that works in both traditional and modern spaces. This season they added No Scurvy Lemon and Cap Ferrat Bleu to their high gloss color repertoire, although pieces can also be ordered in the cerused wood finish as well.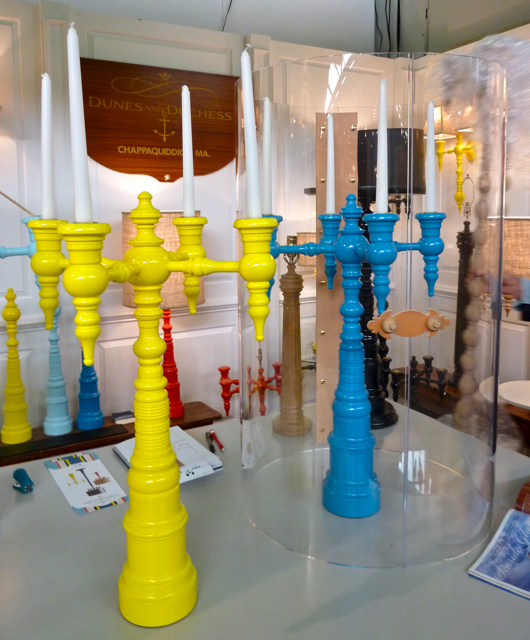 There are several product additions this season, such as the single scones below, but my favorite has to be the chic Lake House Chair. Wide and deep, it is incredibly comfortable and would be a perfect seat for the tall men in my family! The paint color and fabric possibilities for this are just endless!!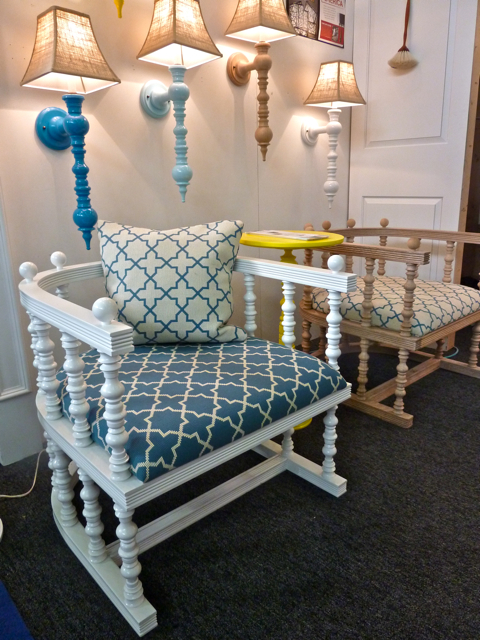 It is always great to see the lovely Diane James girls, twins Carolyn James McDonough and Cynthia James Matrullo, co-owners of the decorative floral company with their mother, the actual Diane James, who founded it over a decade ago.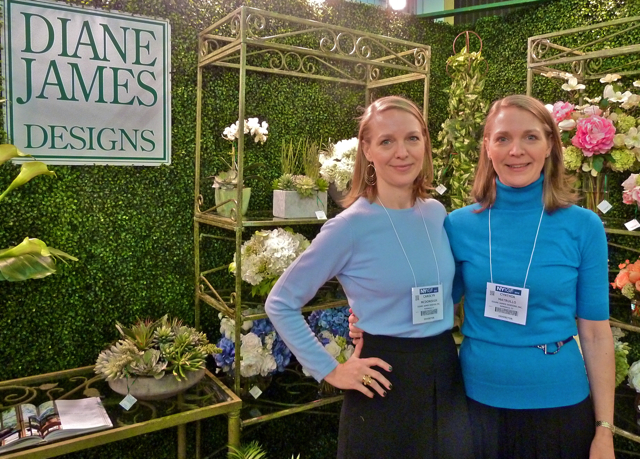 Their fabulous booth, lined in boxwood, was like a breath of spring air filled with the gorgeous silk flower arrangements. With designers from Michael Smith to Michael Kors as clients, the exquisite arrangements are found at Bergdorf's and high end boutiques around the world. Sometimes scent is the only distinguishing difference between these and the real thing. Look at the some of the exquisite colors they are showing for the upcoming season.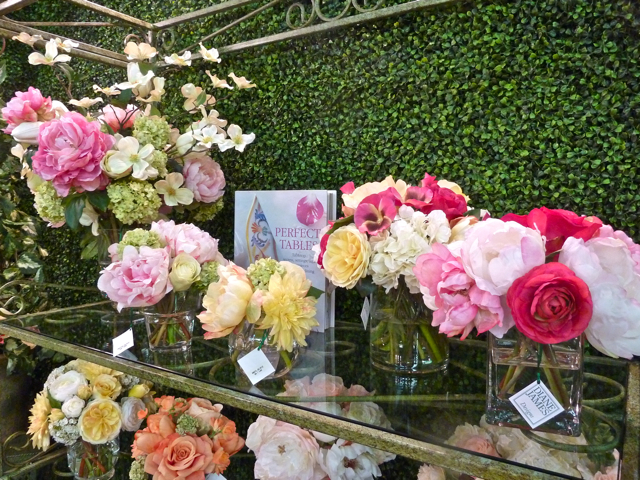 Although not a new company, a discovery for me was Holly Stuart Designs. My love of tabletop is no secret and I have written about the appeal of hard placemats before here. Holly started her company out of her love of dressing the table as well. Inspired by block prints and timeless patterns of the past, her mats are handcrafted here in the United States. Each is backed in black, trimmed in gold and protected with three coats of low matte clear polyurethane.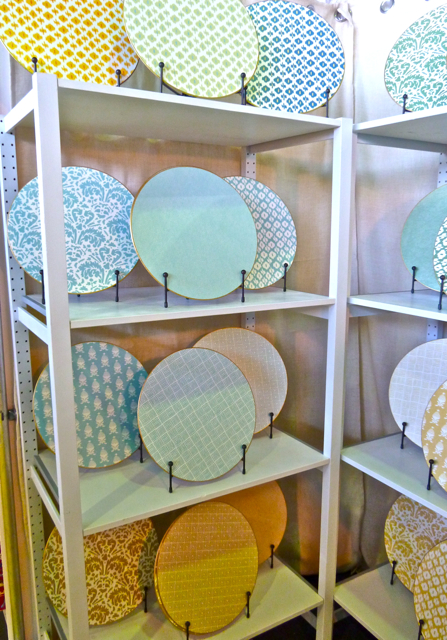 With a wipeable finish, they are an elegant solution even with kids in the picture. Holly's mats have a great price point for such a beautifully made product.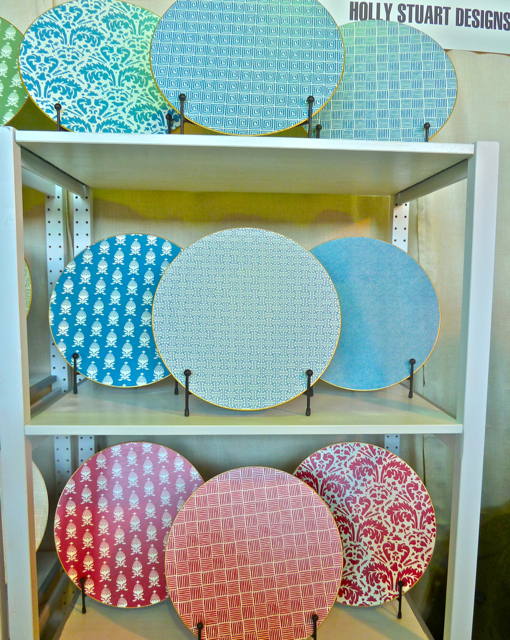 At the end of the day I discovered a brand new company that I think has a potential hit on its hands. It was hard not to be instantly charmed by the eye popping color combinations and fun logo-esque designs on these adorable Lolo bags.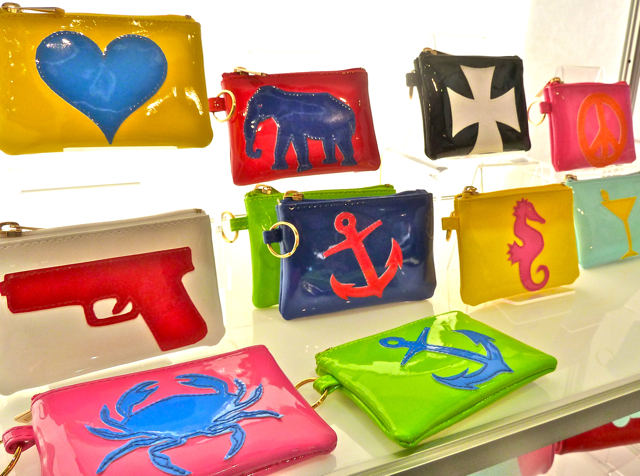 Another Connecticut based company, these fun patent leather creations come in a amazing array of shapes and sizes. While they offer a mid size bag, below top, I think a large tote would be a runaway success for the summer!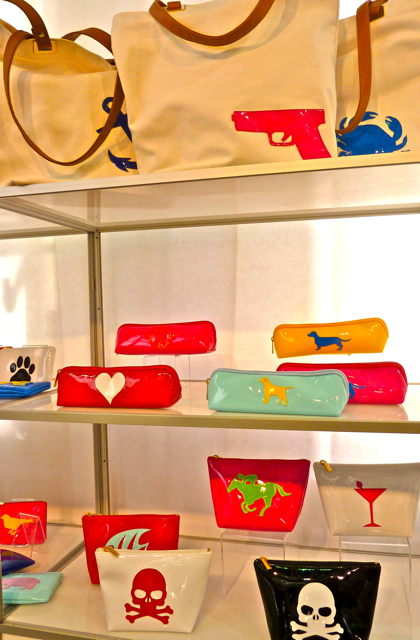 Allowance friendly price points lend them an across-the-board appeal from adults to kids. There was such a large selection, I had to take several shots to cover them all.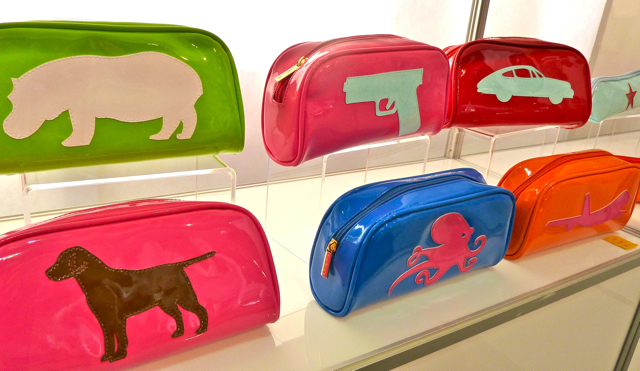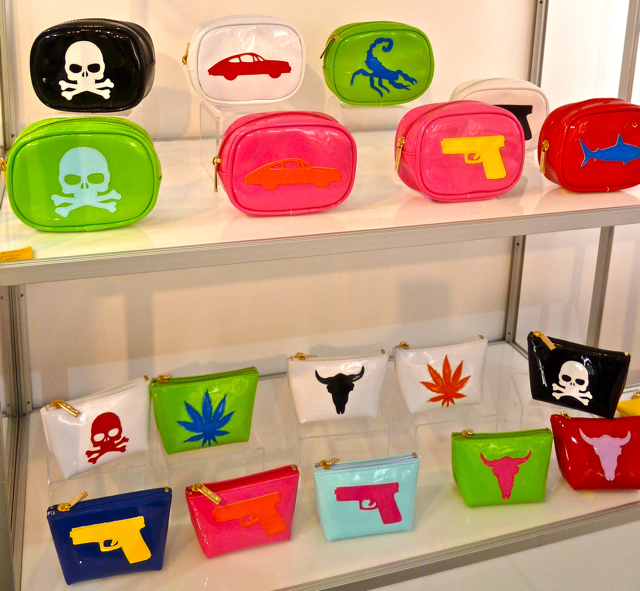 Look for more gift fair finds in the next several posts to come.