For any who missed Monday's post, we are continuing our tour of an amazing Diamond Baratta designed house in Connecticut, full of color, collections and masterful coordination of pattern. Here we look down the stairs to the basement, with a hint of what's to come. The walls are covered in a durable, subtle patterned anaglypta wallpaper, so appropriate for a family of seven!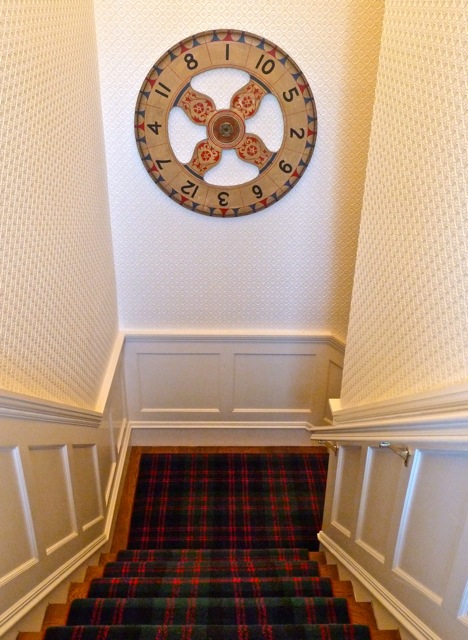 A great venue for Superbowl or gaming fun, downstairs is a colorful, comfortable, practical space, perfect for the large family or crowd of guests.
And of course no room in this house would be complete without the requisite artisanal piece, in this case a fabulous rustic cabinet from Randy Holden.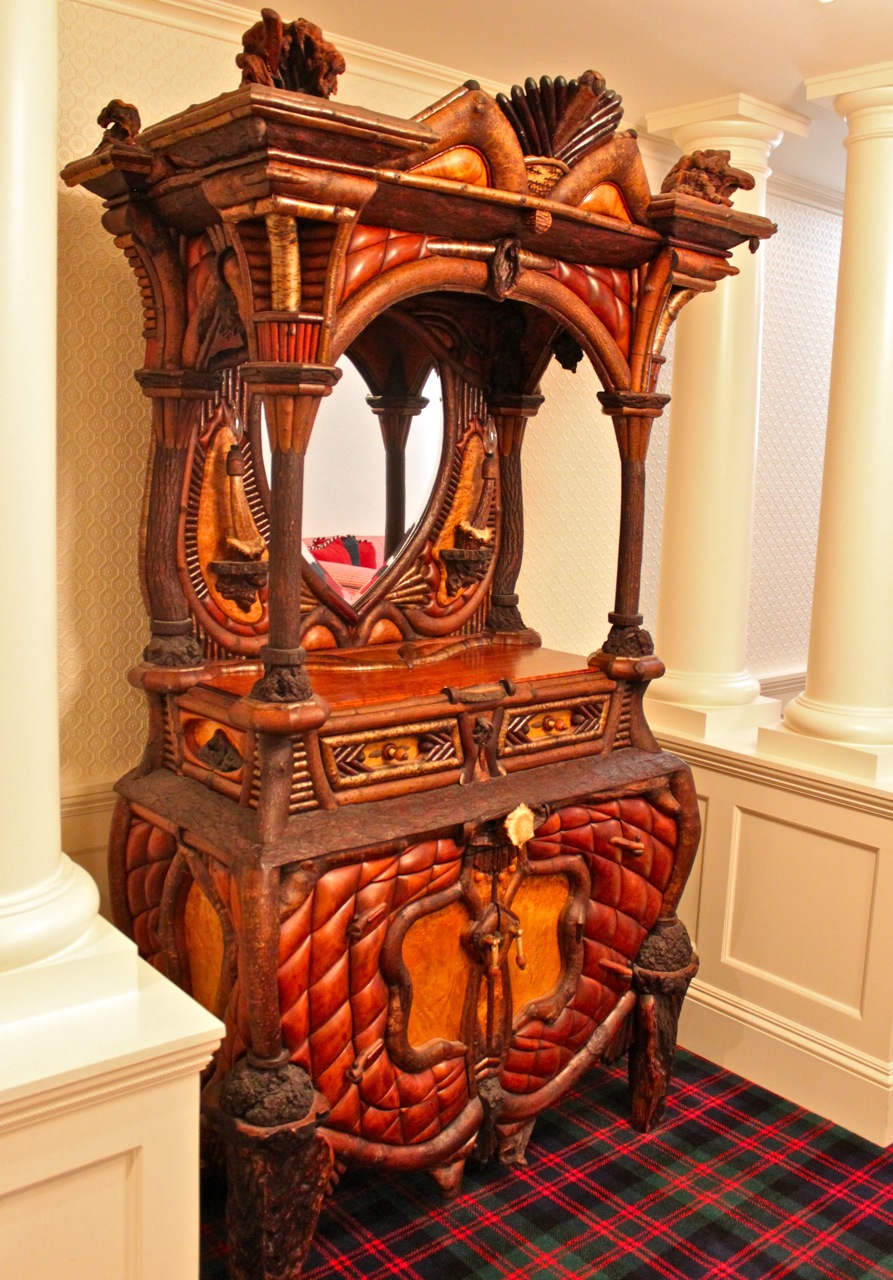 A home theater in a house of this significance is de rigueur. This one is complete with fun vintage posters and red leather of course!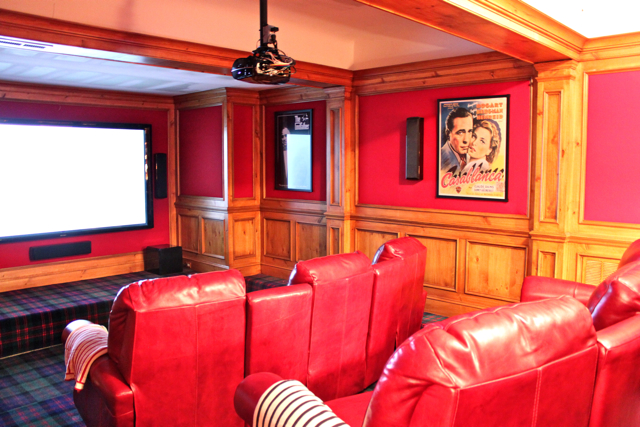 More collections can be seen as we head upstairs. An antique letterbox holds a charming assemblage of children's plates. You can't see in this shot but an original letter from the box still resides there. And on the right a set of antique children's sleds hang with an antique sampler – a very It's a Wonderful Life moment.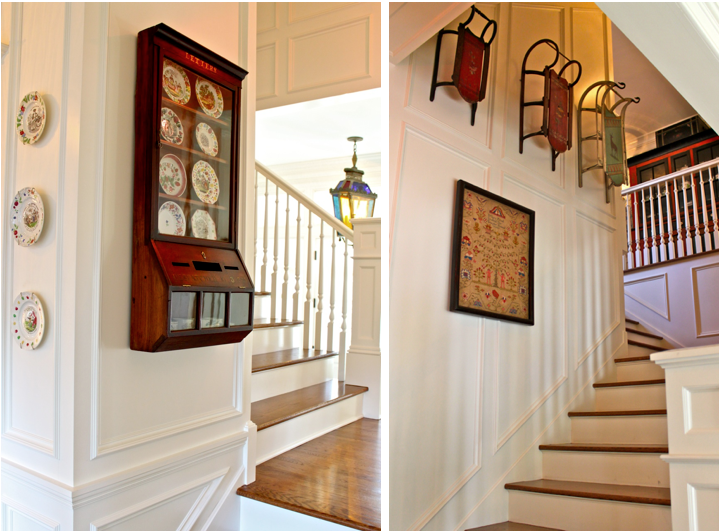 As with the first level, no corner is overlooked. Generous halls and landings allow for a well curated mix of fine federal and country American pieces!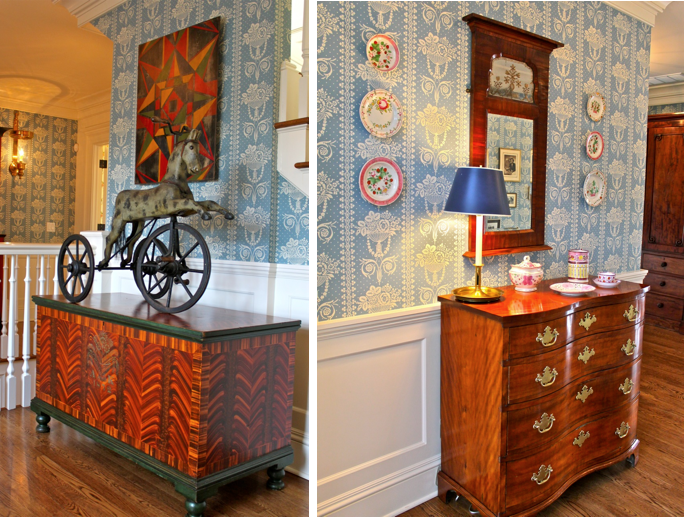 A classic enfilade connects the family bedrooms, master suite and upstairs sitting room.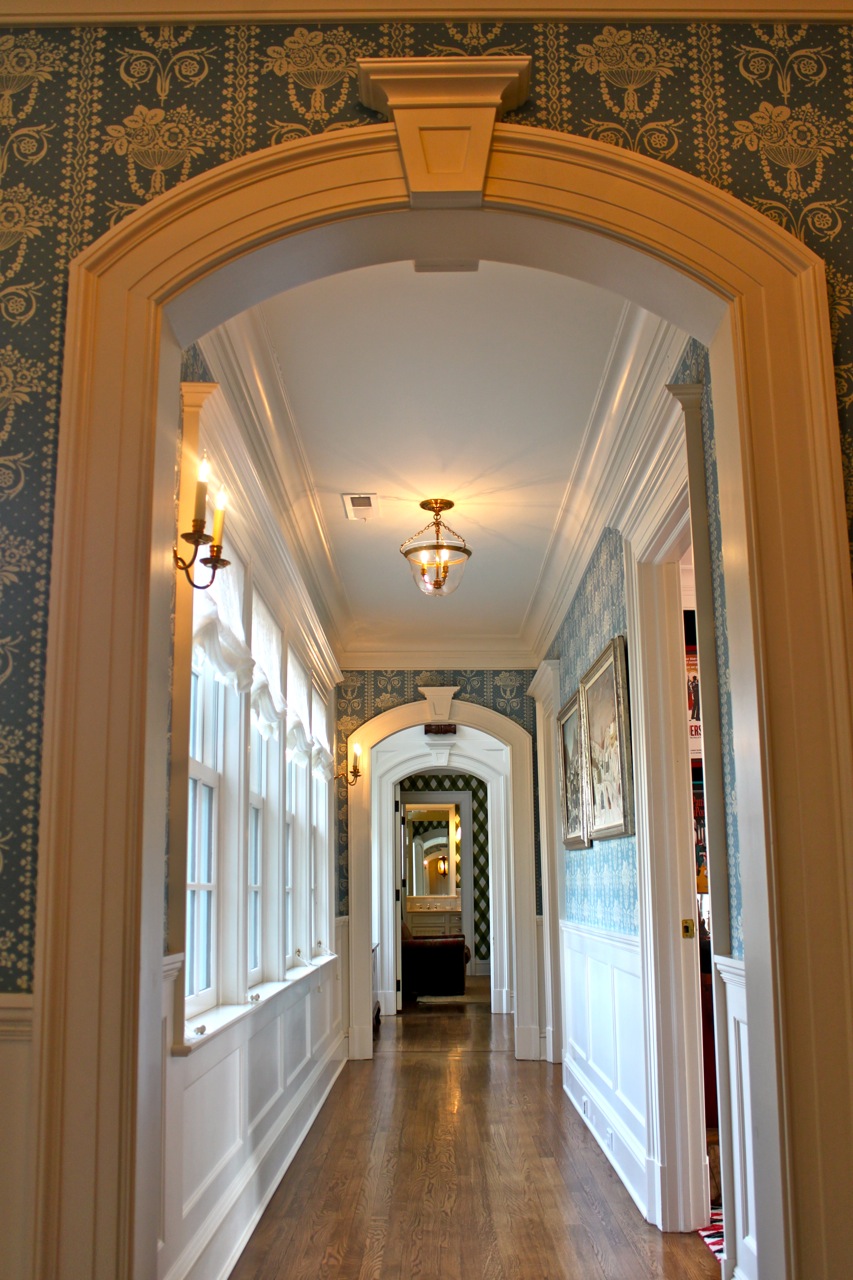 Clearly collecting runs in the family as the pretty antique cherry maple four poster in one of the daughter's bedrooms originally belonged to the owner's grandmother.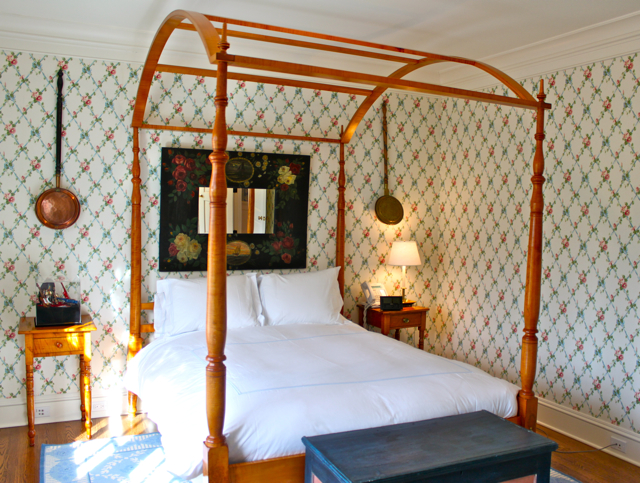 The art collection in one of the son's rooms and bath reflects his love of baseball and the theater. The wife is also a talented quilter and made all of the examples seen throughout the house. The designers coordinated them carefully with other patterns in the rooms.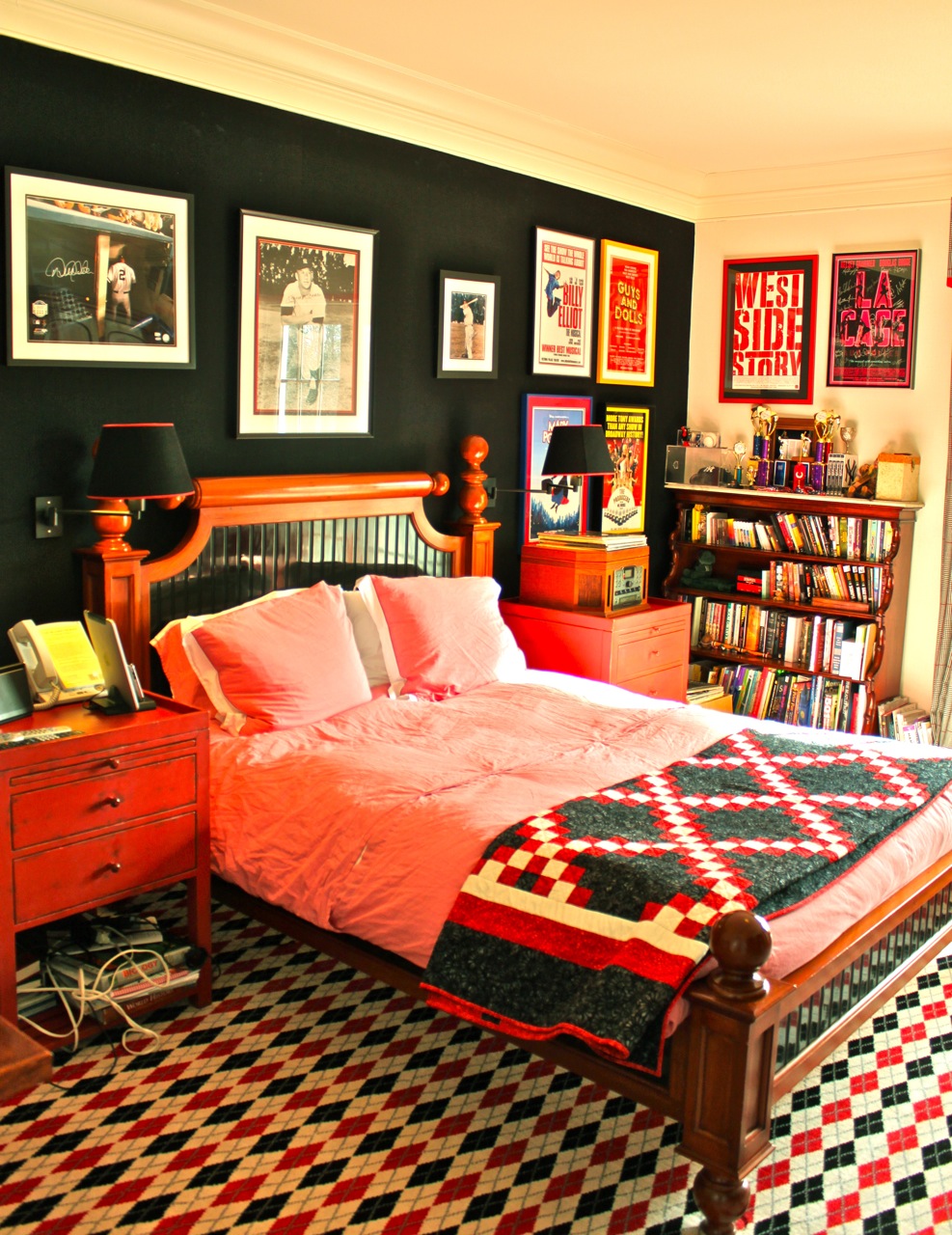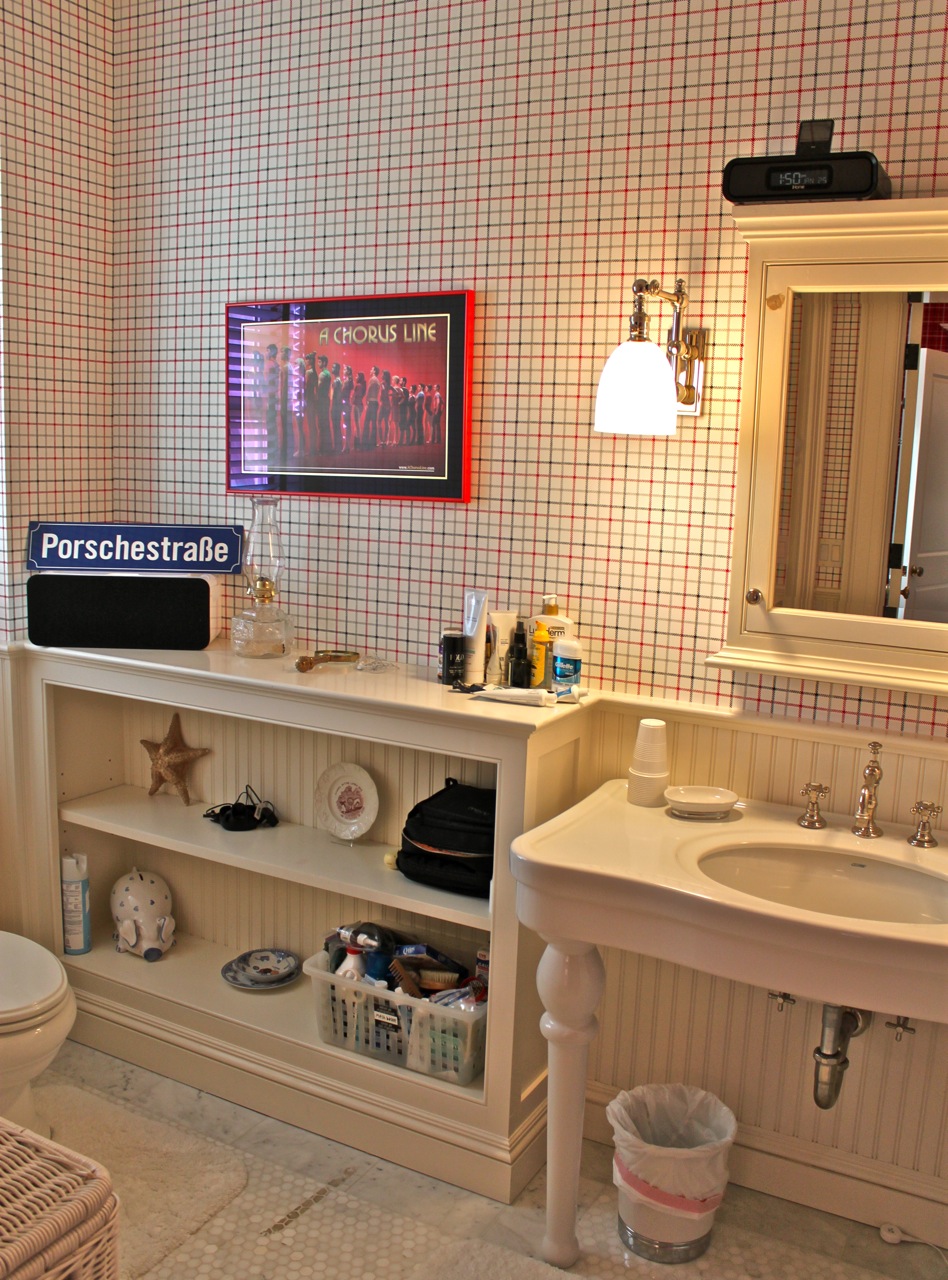 The tone changes to French country in the master suite, starting in the sitting room where the pretty desk, another piece inherited from the owner's grandmother, is the star.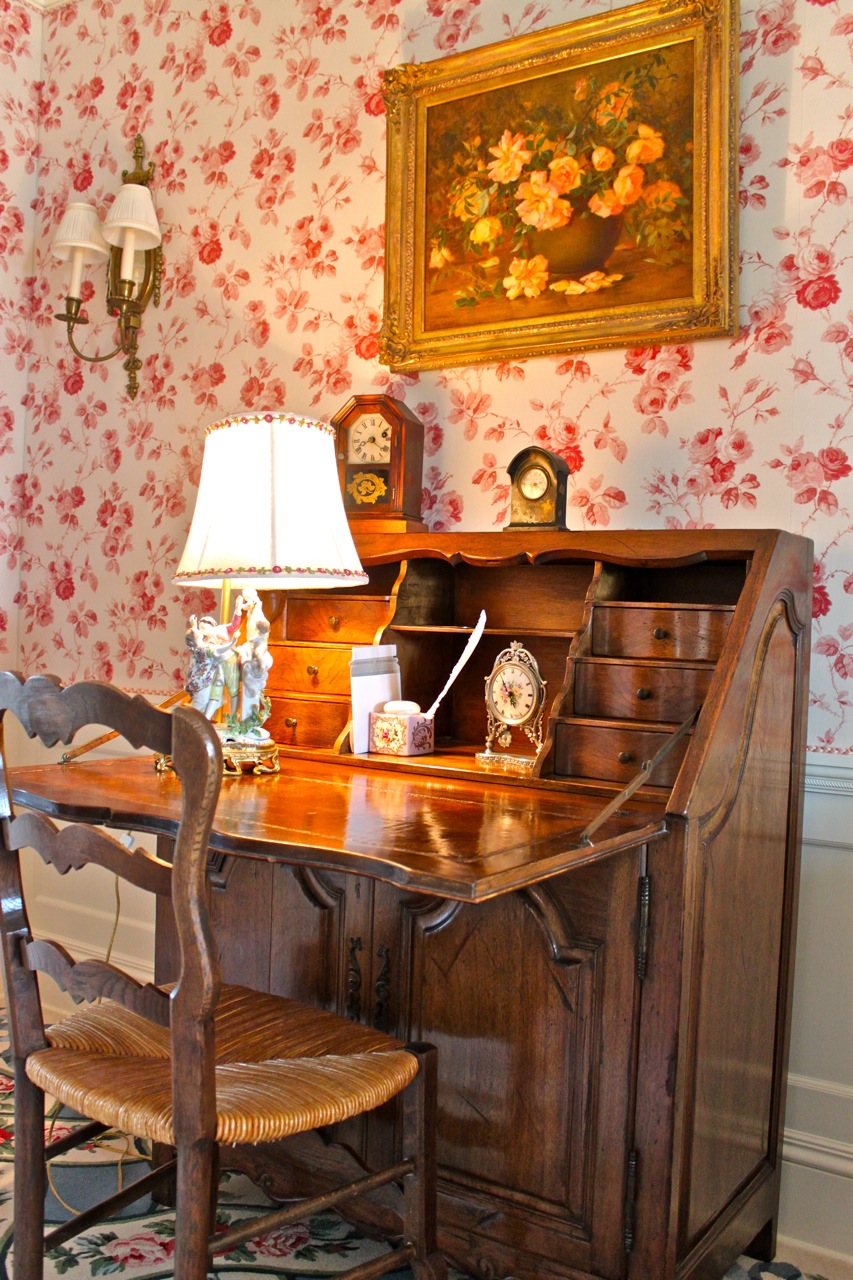 The bedroom is an exercise in more is more, with painted furniture including a custom made armoire, upholstered walls with matching chaise, coordinating needlepoint rug etc.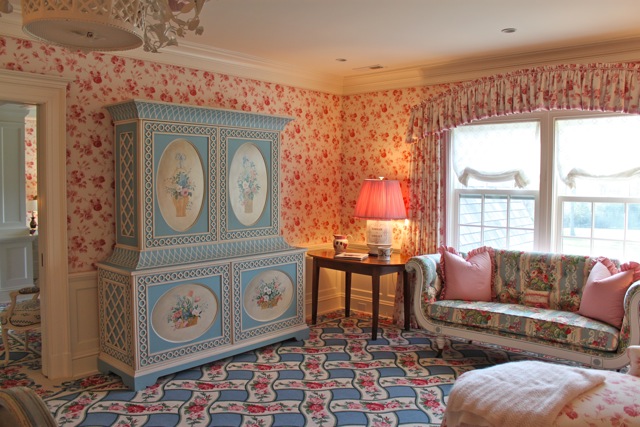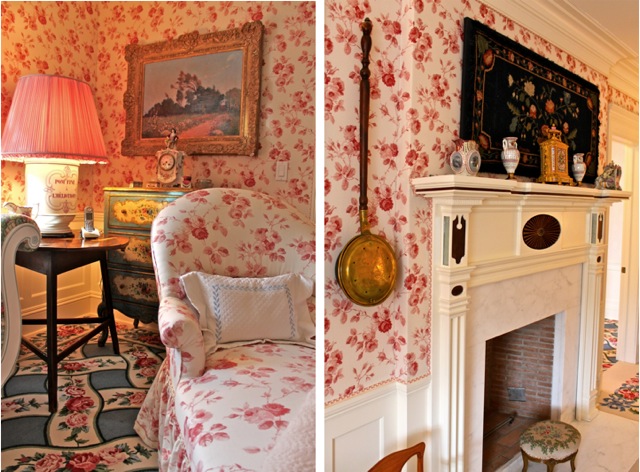 The painted bed was a find at les puces on a buying trip to France, adorned with another home made quilt.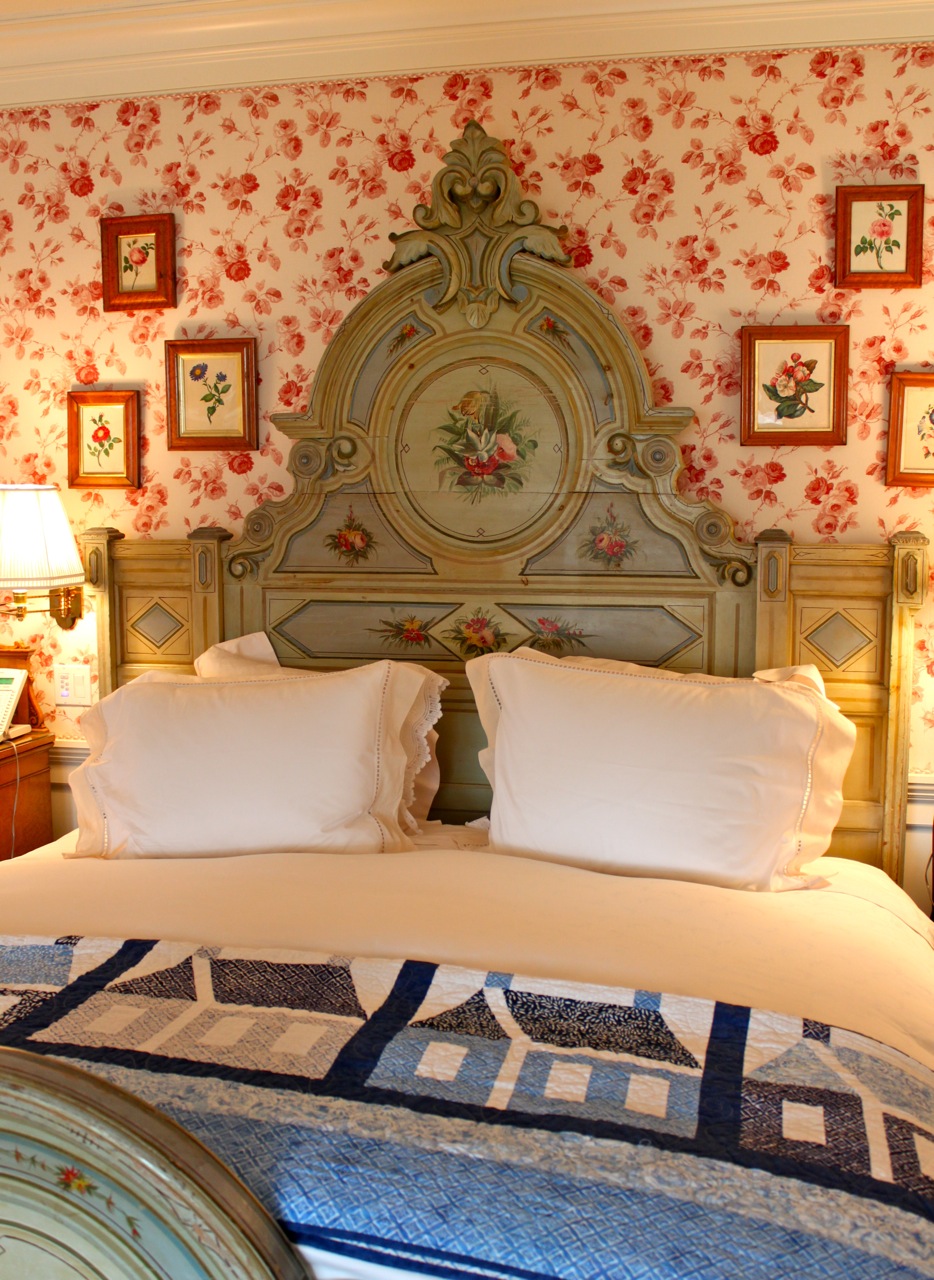 Spacious his and hers dressing room/closets are of course to be expected.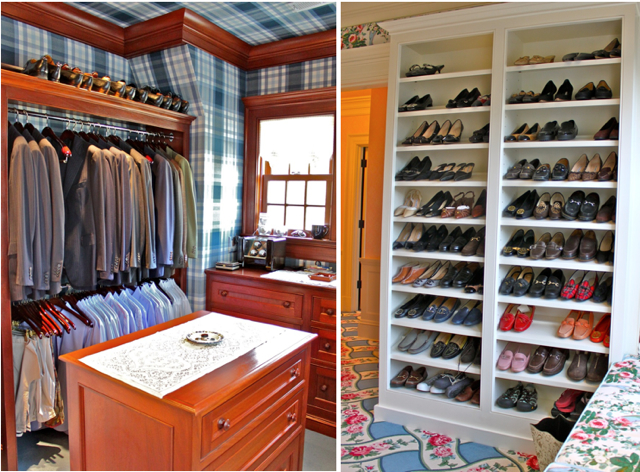 What I love are the thoughtful details such as the cranberry knobs throughout the master suite that echo not only the pinks in the decor but also the collection downstairs in the dining room.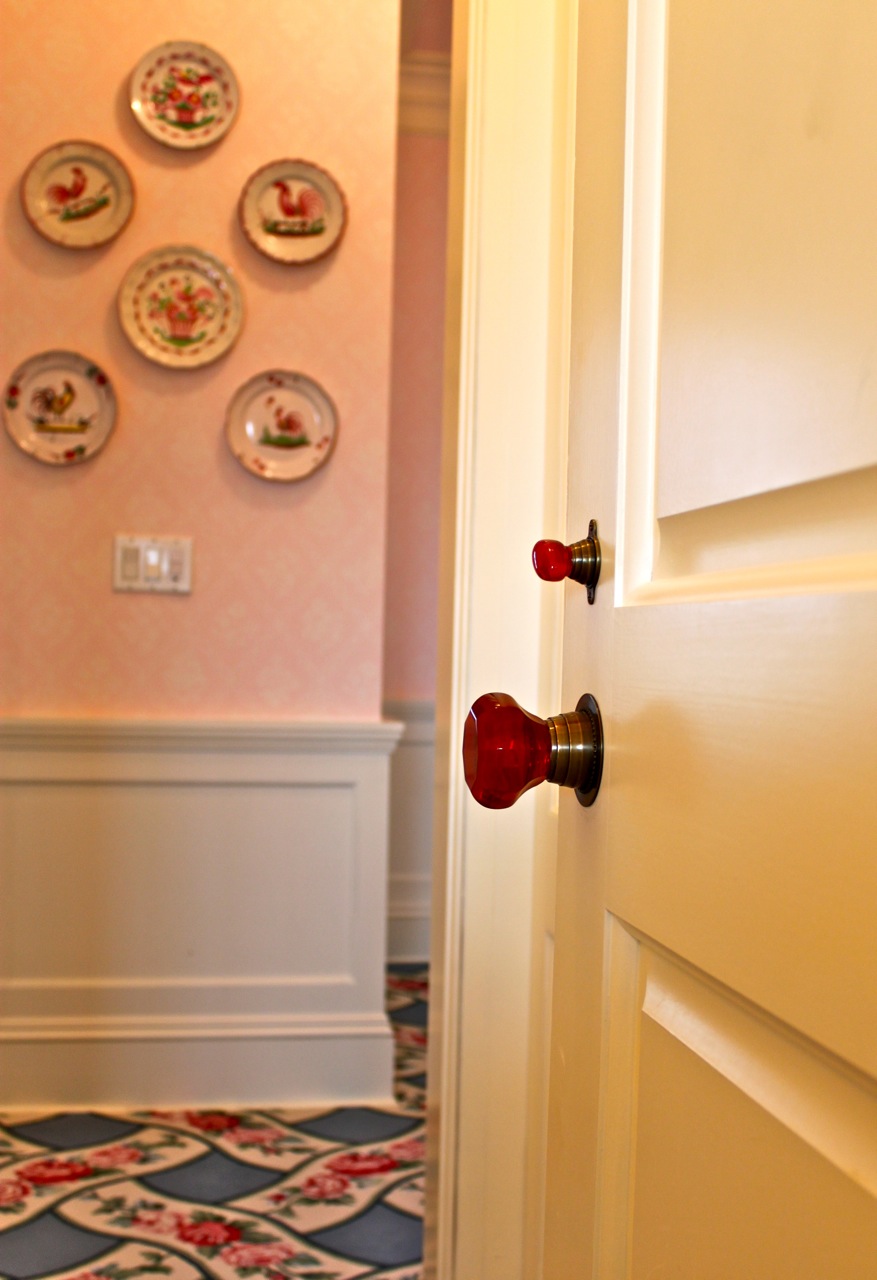 On the second floor is a cozy sitting room. With a fireplace and lovely balcony it offers a quiet escape from the more public sitting areas.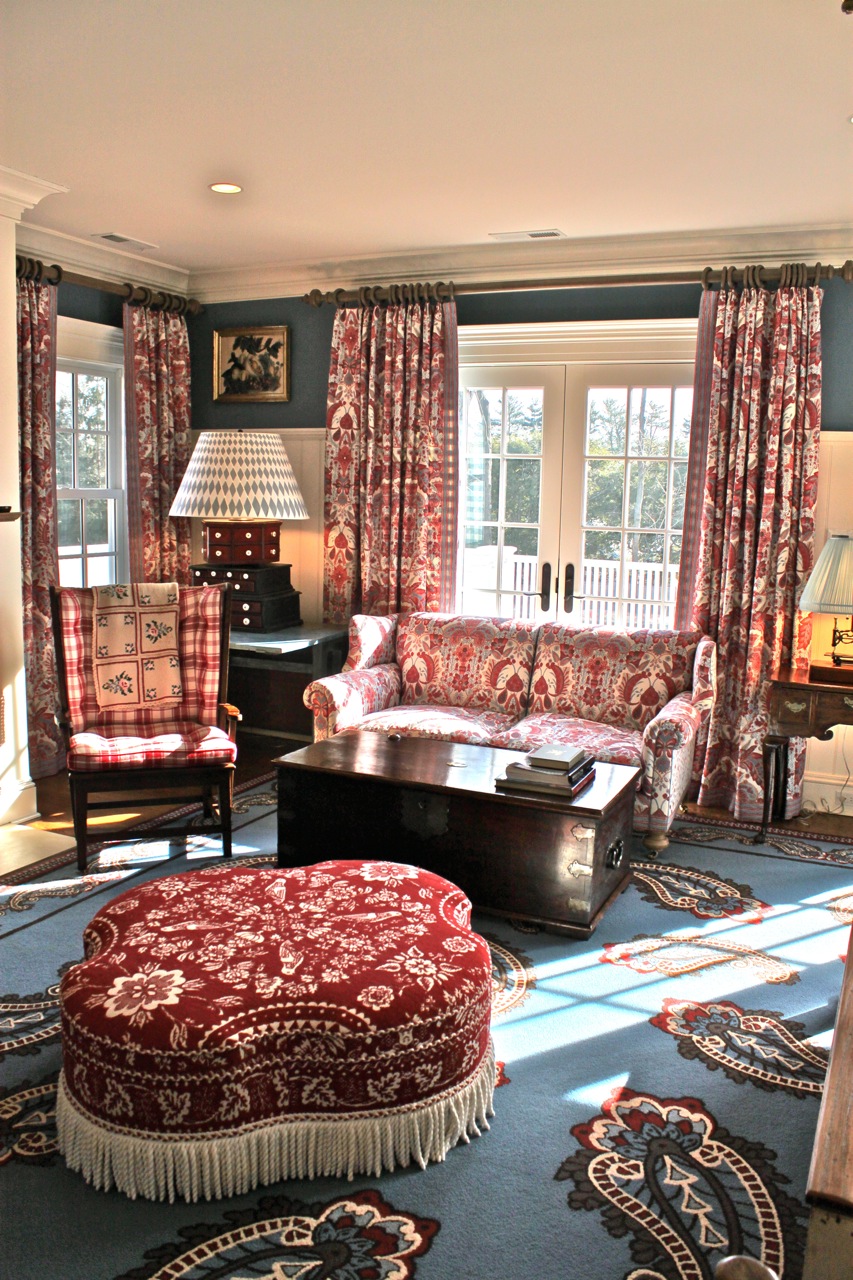 Again fun pattern mixes abound with more examples of Diamond Baratta unique lighting choices. Here antique sewing machines are repurposed for a room where perhaps a little quilting or mending occurs.
The top floor is an old fashioned eaved living space with one more bed and bath. I know I would have begged for this floor if I were a child living here. The sitting area has a lovely stenciled floor and charming chaise with pink ticking and another home made quilt.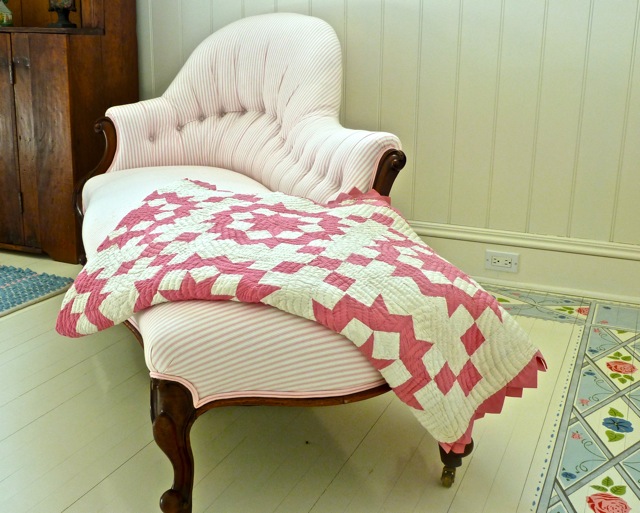 Hope you've enjoyed the tour of this amazing house! I love when an owner's vision and personality comes through – it's the difference between a house and a home!