While I couldn't possibly write about all the wonderful vendors I saw at the New York Gift Show, I thought I would give you a brief overview today and tomorrow of a few more favorites. This by no means represents everything I saw and liked but hopefully gives a little flavor of the diverse offerings.
Michelle Hatch, who I featured last year here, had many beautiful new pillows, some with fabulous vintage velvet ribbon. Her crisp clean designs are the perfect tailored addition to any setting.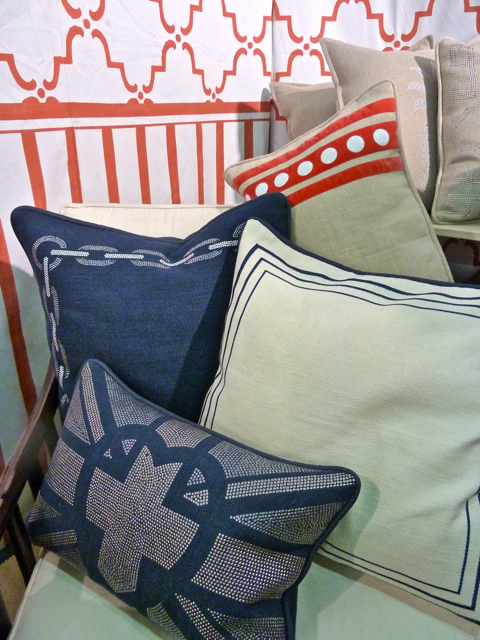 I of course love that Audrey Sterk is a Nantucket resident. For over a decade she has been a part of the thriving artistic community there. While she is well known for her custom scenic wall coverings, she has many other products including a line of more graphic wallpapers. Fair Street, below, is patterned after a piece of antique paper she uncovered at an antique house on the island.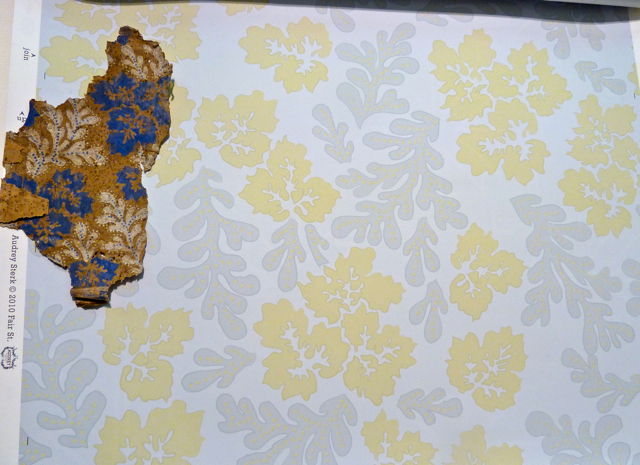 Two other new patterns, Arrows and Trellis, below, have a wonderful graphic appeal. Audrey's wallcoverings are all wipeable and environmentally friendly, including a recycling program, where you can trade in your fabrics with them when you are ready for a new look. Just mail it back and they add it into their line of recycled fabrics for a future project. Be sure to check out her fun new line of tables and other accessories as well.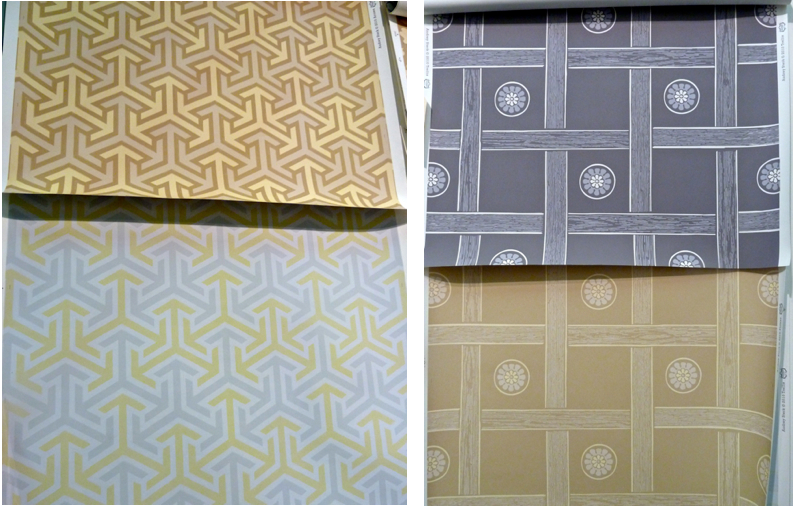 I'm sure you are all familiar with the wonderful Chelsea Textiles. I have long been a fan of their beautiful fabrics and furniture and wrote about owner Mona Perlhagen's spectacular London townhouse last year here. A couple of years ago they launched a new lacquer line, recreating some of their most popular pieces in a fabulous high gloss finish. There were many pieces at the Gift Show that caught my eye including this charming small demi-lune table in their beautiful sky blue (all 12 colors are gorgeous).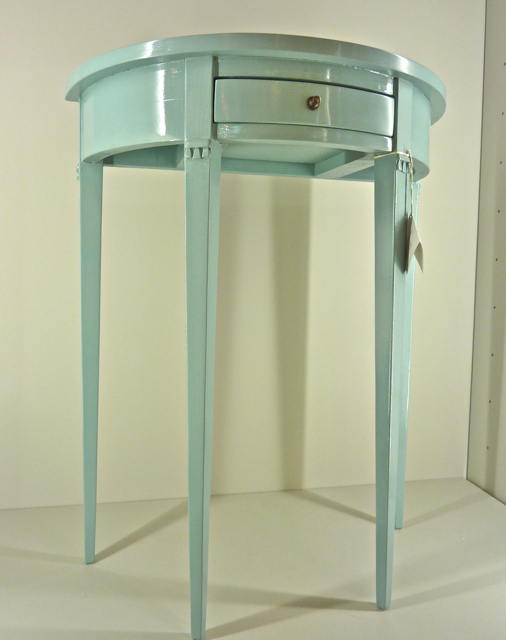 Wendover Art Group, out of Clearwater, Florida is a manufacturer of unique high-end wall décor perfect for both home and hospitality applications. Their impressive collection includes everything from original work to reproductions from publishers and photographers. It's a great option for those looking for large decorative pieces.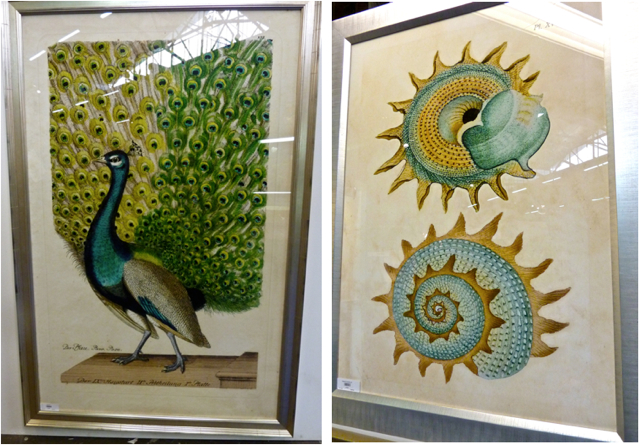 Design Legacy's team of artists, designers, and craftsmen out of Dallas offer a huge array of furniture, fabrics and accessories that can all be customized. I loved many of the whimsical fabric choices on the great chair shapes. The Jenny chair, below right, in Scrimshaw, would be a perfect (and comfortable – trust me on this one) addition to any summer beach residence.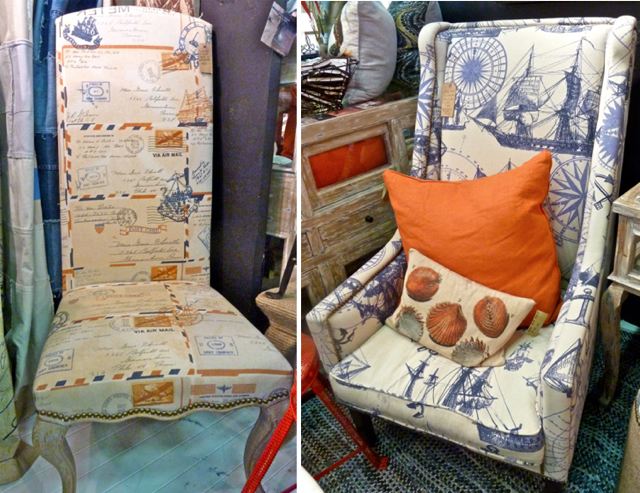 I first learned about Connecticut based Lance Wovens on Taigan, one of my favorite online shopping destinations that I have mentioned on several occasions. I was delighted to finally see their beautiful line of hand woven leather pillows and bags in person and meet co-owner Anne Arnold, who started the company with her Italian partner Stefano Bruni. I have been coveting their chic Architect tote for quite a while. I love the classic navy but it is available in a bevy of beautiful Italian leathers, as are the pillows below!
Julian Chichester is an easy line to love. I have followed them for years and saw them in London, where I included them in one of my Decorex posts. I particularly liked the Jane Churchill Curved Desk. Modeled after a 1940 oak desk, it is entirely covered in marbleized black vellum, giving it a fabulous subtle sheen. It looked great paired with the elegant Kelso wing chair, sporting the nailhead trim we are seeing so much this season.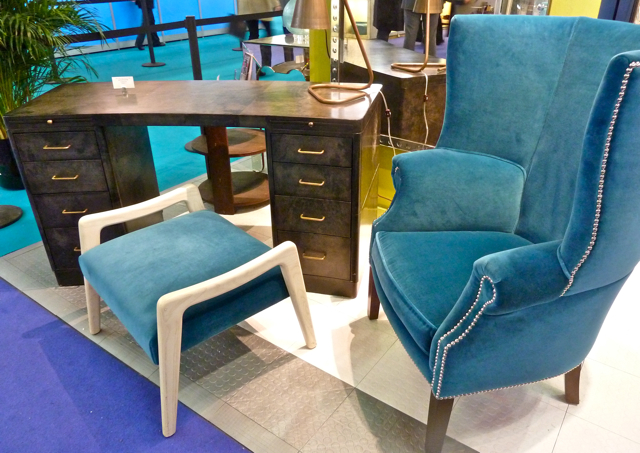 Their more reasonably priced line, Mr. Brown had wonderful pieces as well including this rather fetching Pearl Chair. I could see this versatile occasional piece equally at home in living room, bedroom or library/office.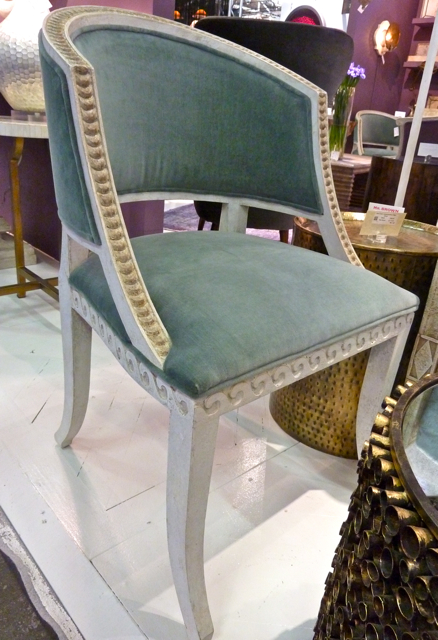 Stop by tomorrow for the final installment of my New York Gift Show finds.