I would imagine many of you are familiar with Belgian designer Serge de Troyer and his Miami based company. His lucite trunk, an iconic piece that I featured here, is now available in a smaller version. The pillow inside is part of a new collection cleverly made from upcycled fur coats.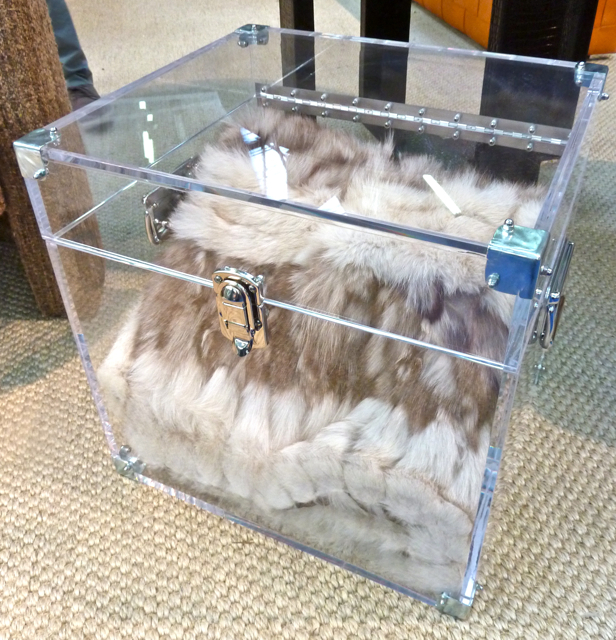 Other new products include a chic woven leather bench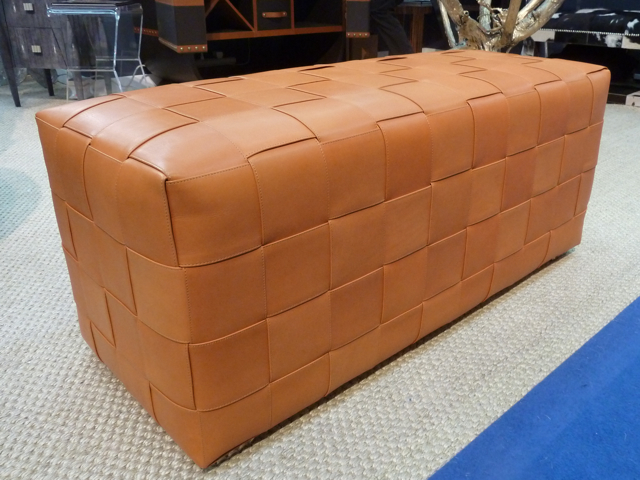 Stylish twig base table, available in a variety of finishes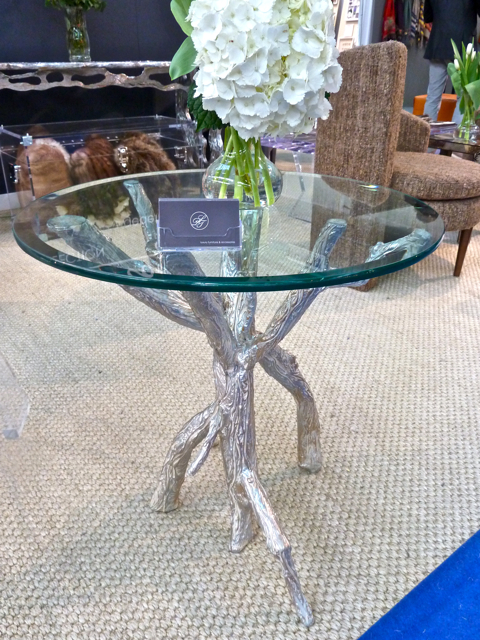 as is the nature-inspired console (with the large lucite trunk below).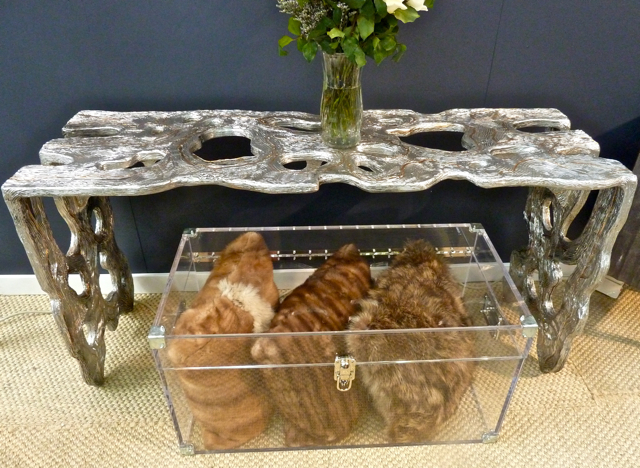 A new collection of accessories includes these handsome shagreen boxes.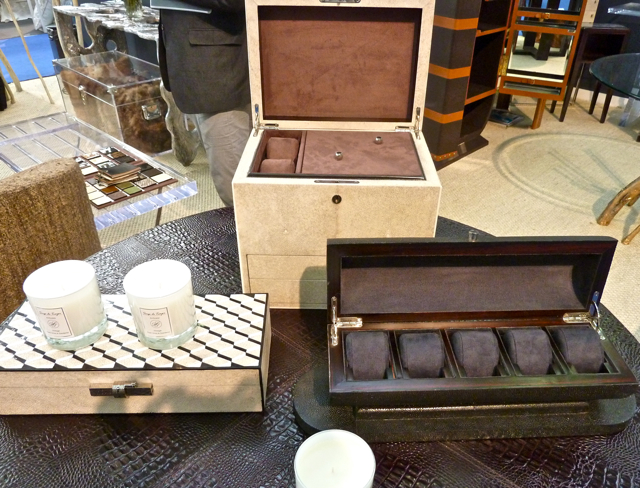 And although not new, I had to share a shot of their incredible bar. The details and quality of construction are amazing. All designs are made to order and can be totally customized.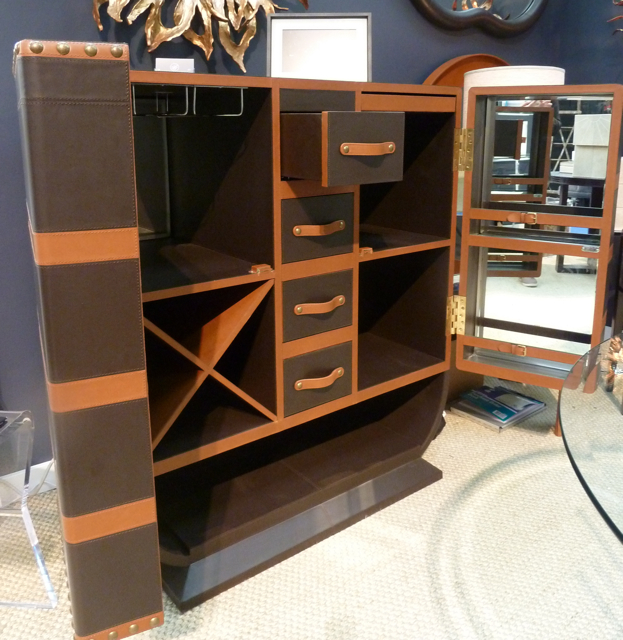 Even the inside of the drawer is quilted.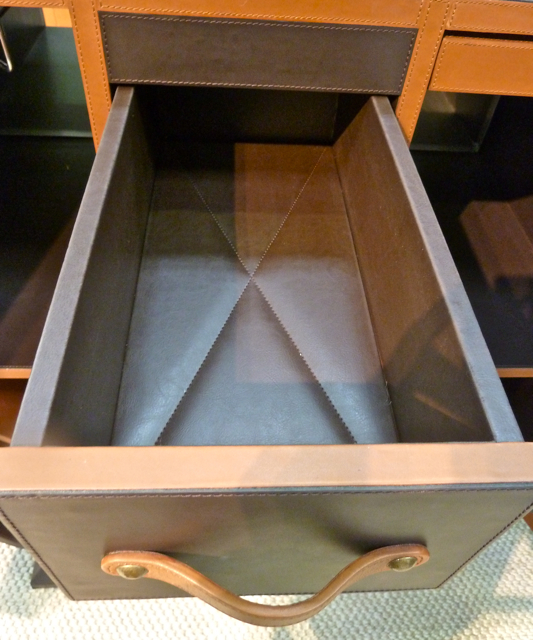 Do you,as I do, love the paintings of the Dutch Golden Age – the beautiful portraits, landscapes and still lifes with their exquisite detail and rich lighting? Well Dutch Touch Art has a stable of highly skilled artists who create hand-painted decorative oils based on their national tradition. With amplified colors, enhanced scale and altered compositions, they revive the style for contemporary spaces.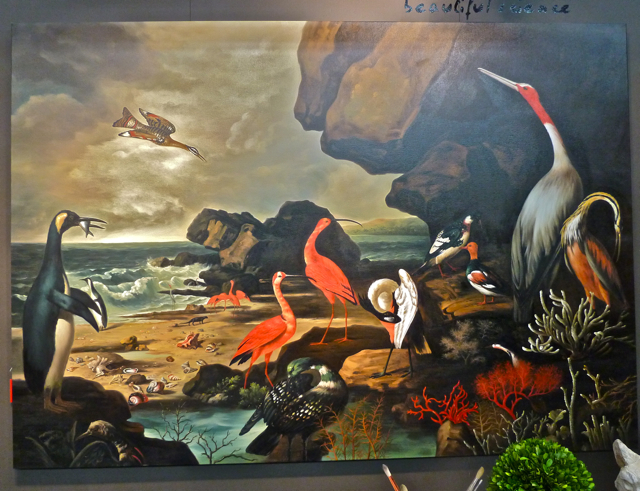 Run by mother and daughter team Barbara von Schreiber and Shawn Silver, who I met at the show, Dutch Touch Art offers an updated collection of traditional classics, merging old with new. The painting shown above is magnificent in person. Based on a 1650 original by Philippe de Champaigne, the colors are incredibly luminous and it is a striking statement at 6 x 9 feet!!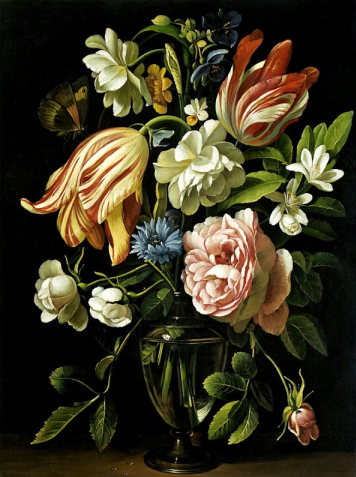 In addition to their extensive collection of Dutch landscapes, birds, maritime scenes and flowers like the one above based on a Daniel Seghers original, they also have a children's section,  a collection curated by Nathan Turner, and a new pet portrait division! They do many custom commissions and have worked extensively with contract orders.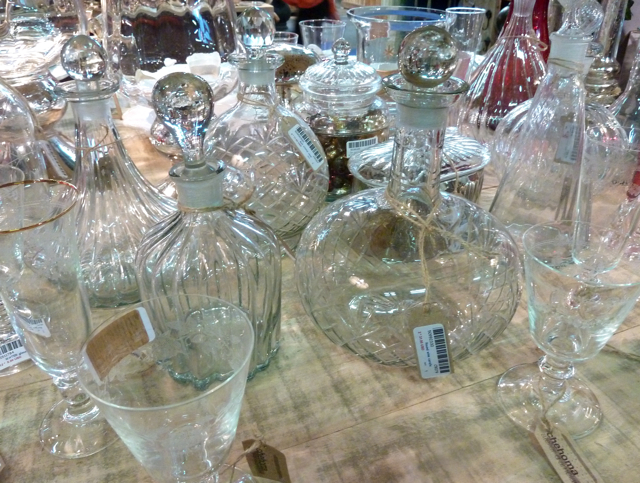 With a 25 year European presence, Belgian based Chehoma has been in the US since 2007. Their booth was overwhelming, chock full of sylish decorative accessories. It would have taken me hours to go through it all but clearly there is something for every style and every room in the house!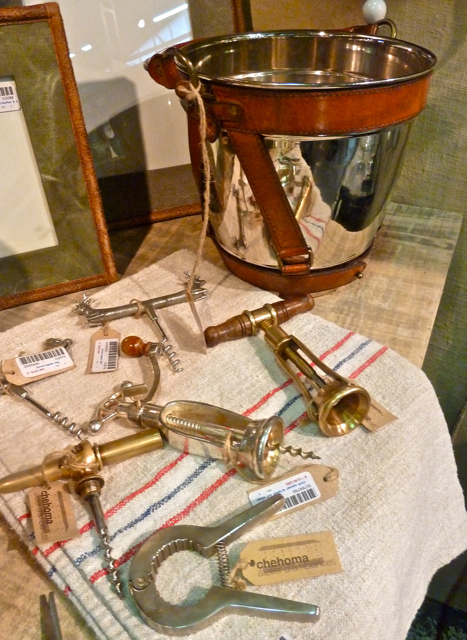 I loved the charming rustic chic of Lostine's booth at the show. I envisioned their handcrafted aesthetic in a minimalistic loft or enchanting farm house. Most of the products are made in Pennsylvania like this style savvy wood and leather stool.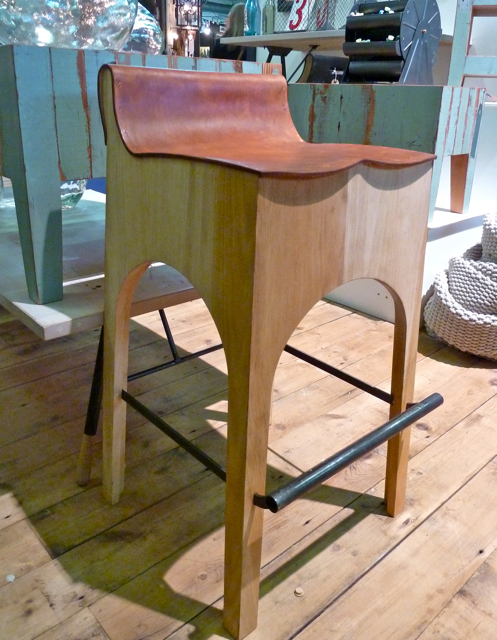 Others feature some imported elements like this marble top from India, but the base is still hand made in Pennsylvania. There were also many appealing accessories from metal crates and baskets to their wonderful milk paint dipped cutting boards.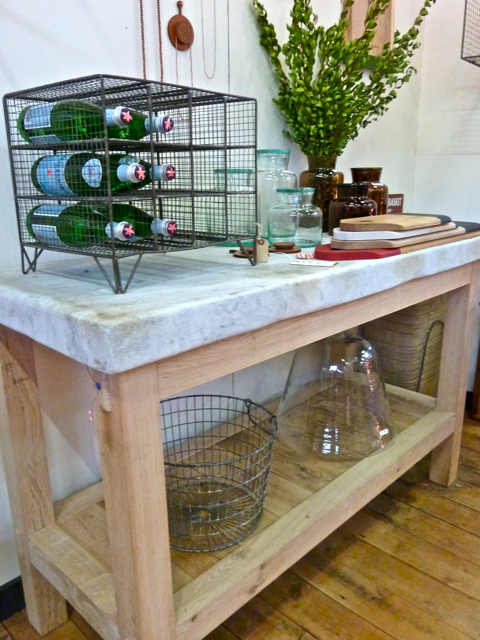 Ox Bow Decor is another version of countrified charm. Their line of framed prints and fun pillows are based on vintage prints, reinterpreted for today's market. The pillows are amply sized, printed with eco-friendly water-based ink on 100% pure linen with plump down and feather filled cotton inserts.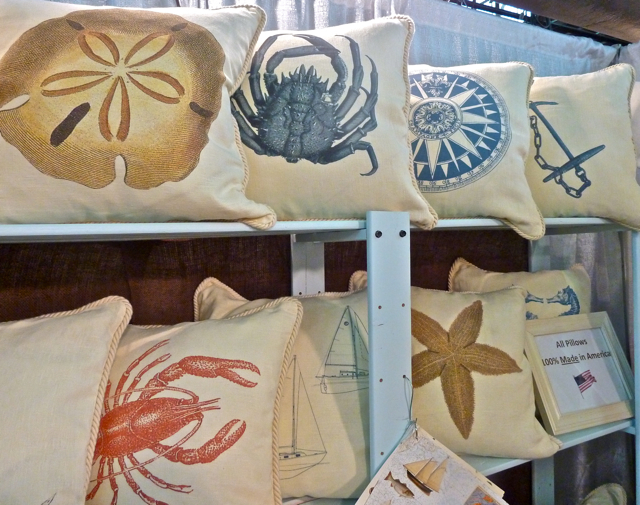 They would be a fun decorative accessory in the country or an easy way to dress up a beach rental for the summer.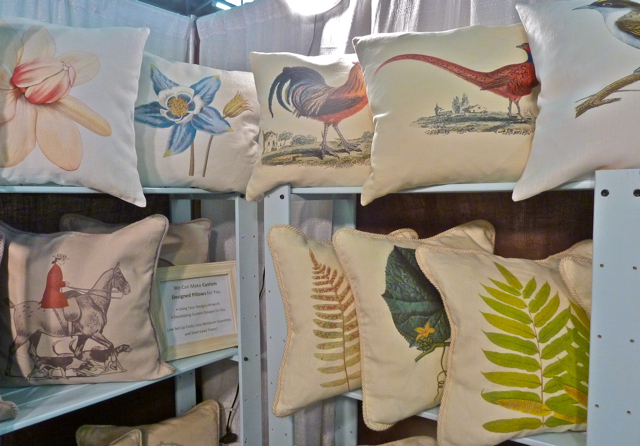 I am endlessly fascinated by Christopher Wilcox's Natural Curiosities. This is my kind of company. It's almost like a modern day salon that just happens to produce commercial products.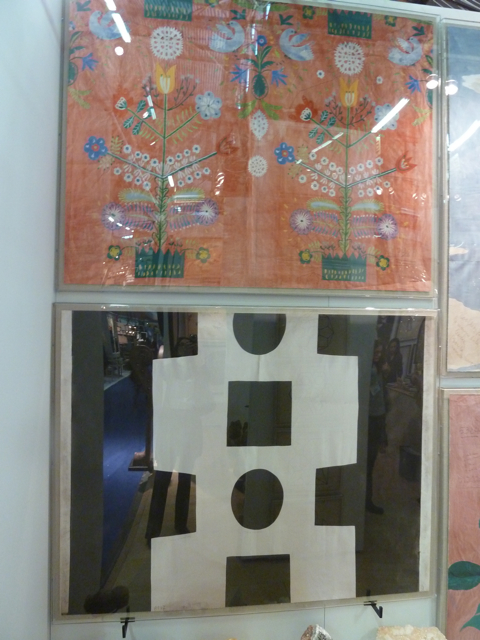 They are consciously at the forefront of the intersection of intellect and art. The studio produces a wide array of pieces that just ooze with creativity. Soon Wilcox will be opening a "Warhol Factory" type made-in-America eco-friendly facility in Los Angeles where all the art will be made.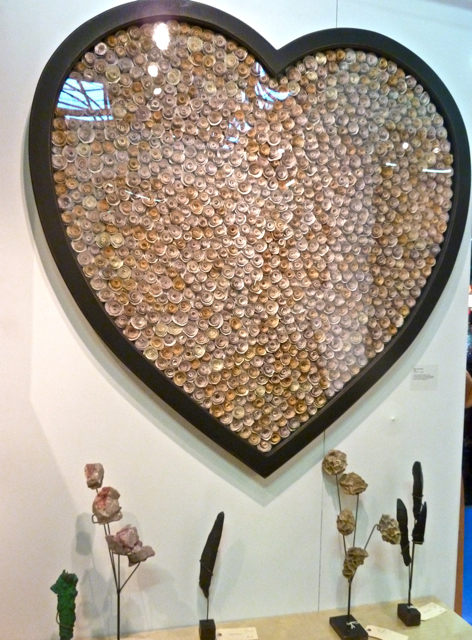 I loved this Paper Rose bed above. From a second edition of book art, they have deconstructed and "sculpted" aged book pages to create almost 1,000 hand rolled perfect roses then assembled into heart form. Talk about a Valentine's Day present!! From the textile archives of Paule Marrot or a collection of early and historic garden designs to Briana Sophia Horne's butterfly collection, this eclectic unpredictable art house is as deep as it is diverse.
Hope you've enjoyed visiting the Gift Show with me! Be sure to be on the lookout for my picks at the ADHome Show next month!