While landscape design has always been an important feature for a home, the increasing emphasis on indoor/outdoor living over the last several years has heightened even further the priority given to gardens and the design of our environmental spaces. One of the most recognized east coast landscape architect firms, Edmund Hollander Design, has been creating lush and meticulous outdoor spaces for the last 25 years. In their recently published second volume, The Good Garden, we can revel in dozens of gorgeous estate gardens throughout the Northeast.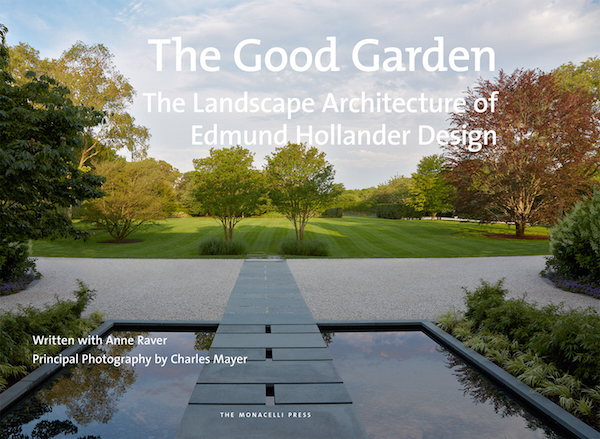 Organized thematically, we learn how individual components, from gateways and paths to walls, allées, pergolas and more can be employed to create dazzling, dynamic and unified gardens and landscapes. In discussing entry areas, the formality of this Hamptons home is echoed and enhanced by a tailored front garden with a mix of textures and geometric forms, from the symmetry of the bluestone walkway to shaped shrubs and hedges and strategically placed urns.
There are many ways to direct movement through a garden and Hollander explains how stairs can cleverly create the choreography of the space, regulating turns, pauses and changes in elevation. Below, wide grass panels, low walls and stepping stones punctuate the visual landscape, leading people through the outdoor rooms.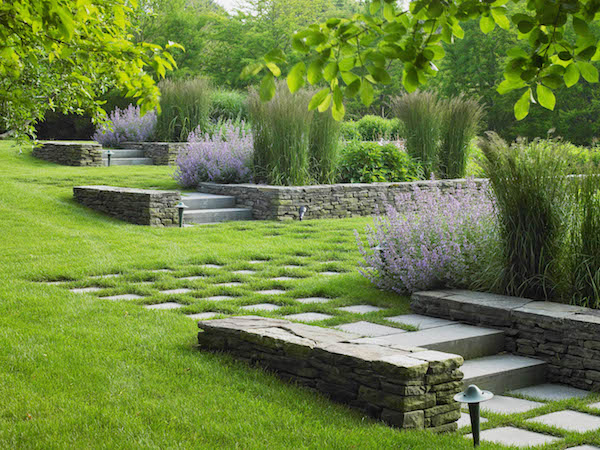 A sense of dignified drama is created in the beautiful sequence of steps below with low walls of ilex crenata "Green Lustre" (for you horticulturally knowledgeable readers) and a graceful tunnel of arching cypress trees.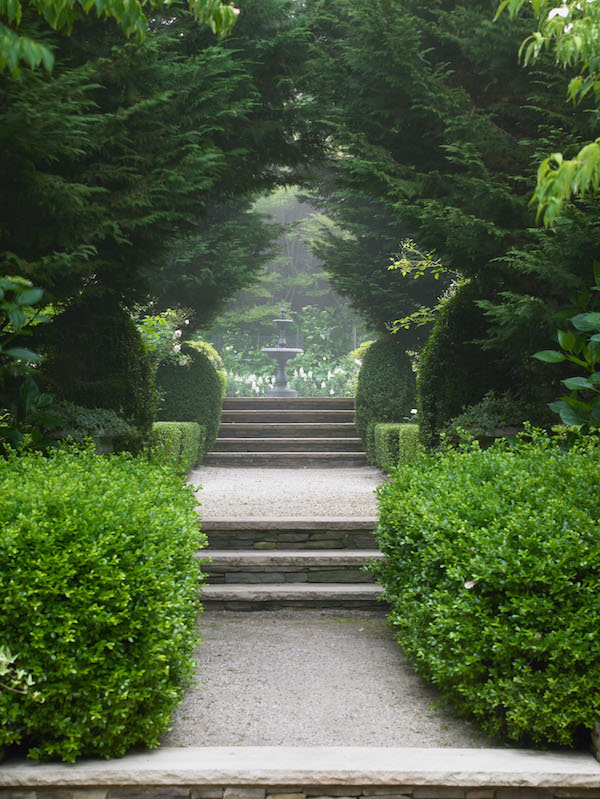 And for a romantic cottage garden feel, below, three levels of steps, with flat areas of grass joints in between, are enhanced by full borders of lavender, purple and white flower beds.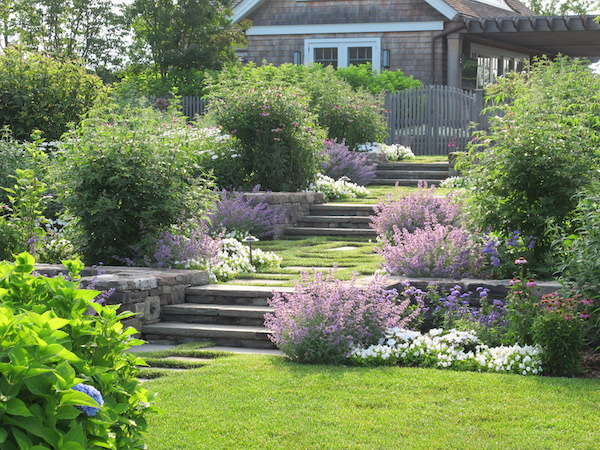 Inspiration for summer months abounds including advice for landscaping around pools which should provide both a serene and private environment for those lounging and swimming as well as something attractive to see from other parts of the property. Below, the plantings swathe the pool and surround, enveloping it into the garden.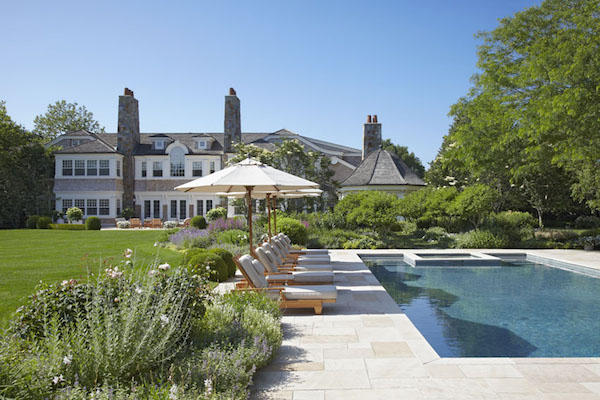 In many areas there is also the consideration of a mandatory fence surround. Below, a rustic wooden version with deep lush border offers a sense of "delicious isolation."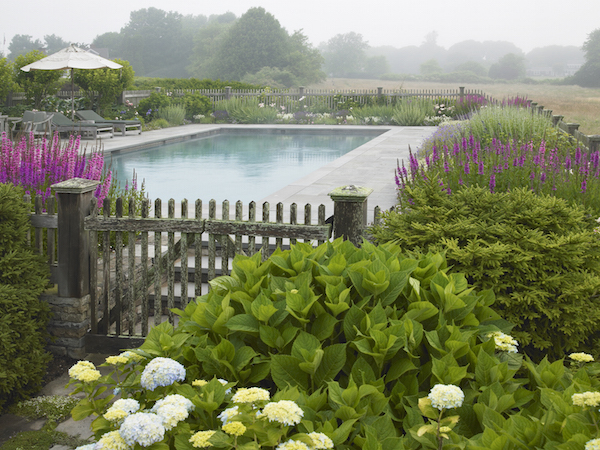 The very elegant pool area below is anchored by lovely Japanese pagoda trees (Sophora japonica), underneath which abundant borders of mature plantings lend the area a quiet timeless appeal.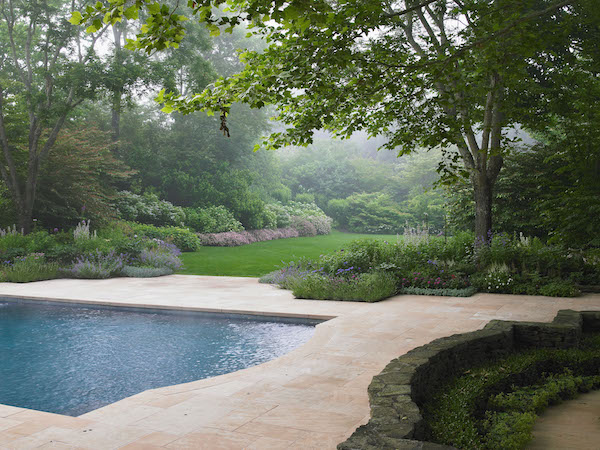 As we all search for shade in these hot summer months, Hollander shows us how pergolas are a beautiful way to provide solace from the sun with plants and flowers. Below, Chinese wisteria drapes the architectural form while also lending its fragrant scent.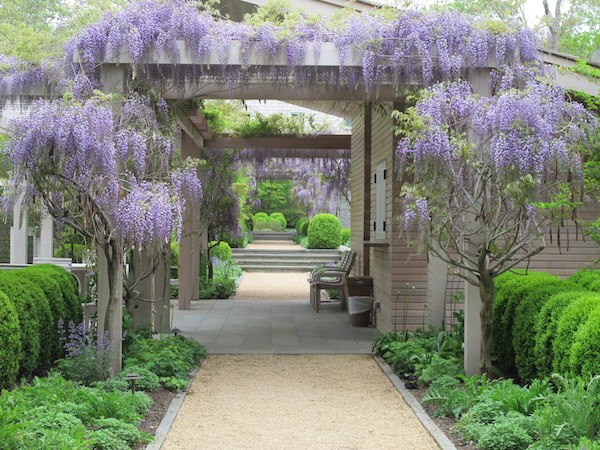 And on this poolside pergola, below, hardy Japanese wisteria affords ample shade for a generous seating area.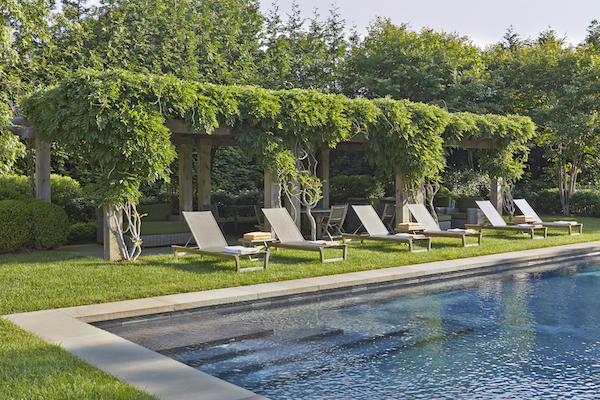 This is merely the tip of the iceberg. With over 300 color photographs, The Good Garden not only offers an envy inducing peek at glamorous projects throughout the Hamptons, Connecticut and upstate New York, but also provides ideas and information for those looking to enhance their properties at home.