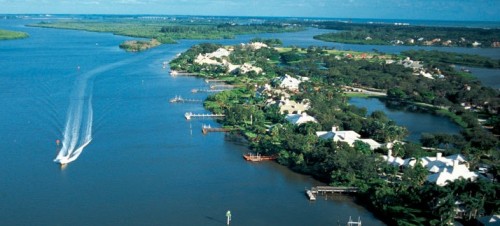 As I am in Florida, I thought it would be nice to take a break from our regularly scheduled programming (both Wednesday Wines – which I hope to post Thursday – and my coverage of the AD Home Show, which will continue next week). Today we will be taking a vicarious (for you) visit to the lovely gated community of John's Island in Vero Beach where I have been lucky enough to be spending a few days this week.
Founded in 1969, John's Island is a beautiful 1,650 acre private community set on a barrier island, that includes nine miles of Intracoastal Waterway and three miles of private beaches. The landscaping, all careful maintained is lush and exquisite along with a wide range of property types from large luxury homes to condos on the beach, all of which must conform to an architectural review board to keep the aesthetic appeal at its peak.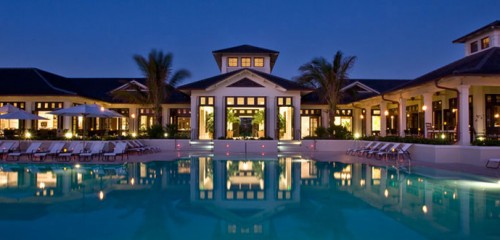 There are golf courses, tennis courts and croquet lawn but the new jewel in the crown for the community is the beautiful beach club which was spectacularly renovated three years ago by J Banks Design Group.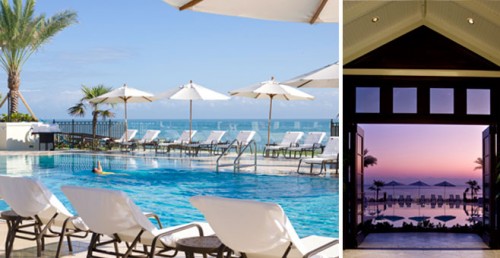 Not only does it include the expected pool, restaurants and lounging areas but also a handsome library with fireplace, billiards and game tables.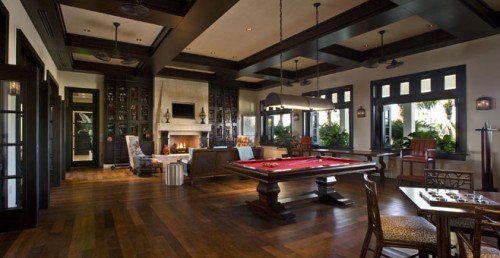 It is a sophisticated and elegantly casual design incorporating custom designed lighting crafted by Crenshaw lighting and many custom furniture pieces executed by Stanford Furniture, who are the manufacturers of the J Banks collection furniture line.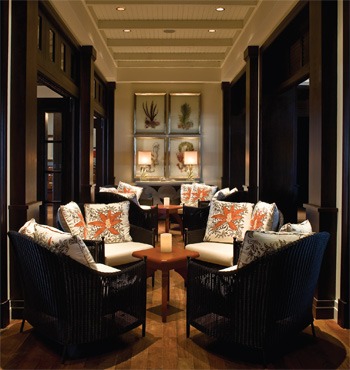 The palette is a soothing combination of creams, washed grey, taupe and chocolate with accents of pale blue and coral. The use of pecky cypress and stained ipe wood add to the classic southern feel.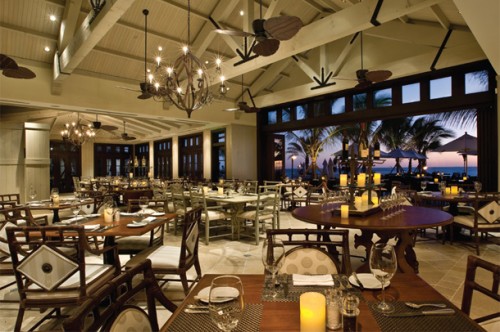 There are many spectacular homes here and I thought it would be fun to look at several that are currently on the market. This spec home was designed by architect Peter Moor with interiors by Lk Defrances & Associates. The Anglo-Caribbean feel is echoed both in its architectural details and interior of handsome neutrals. This is my kind of spec house!!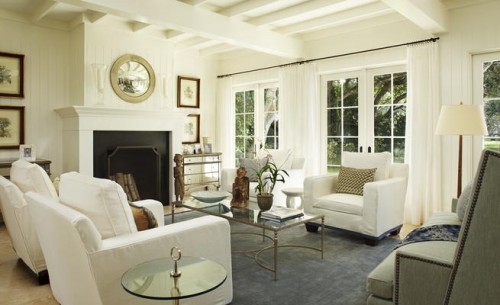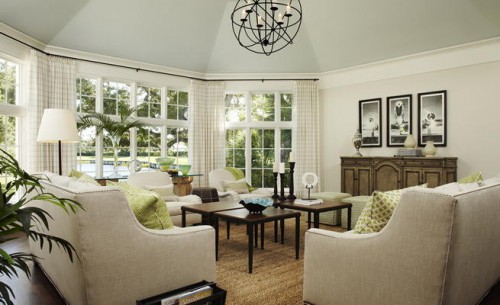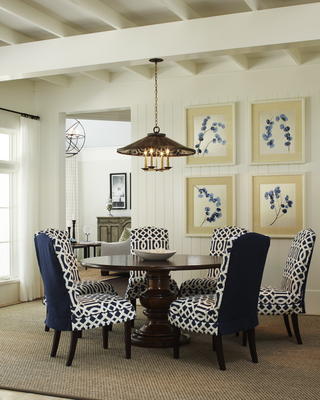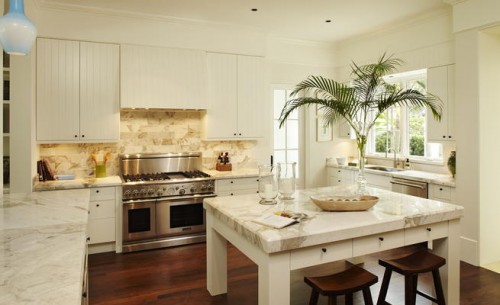 The master suite includes a fireplace and luxurious his and her baths. I think it's interesting that this is the room with the most color. I love the built in niches above the side tables.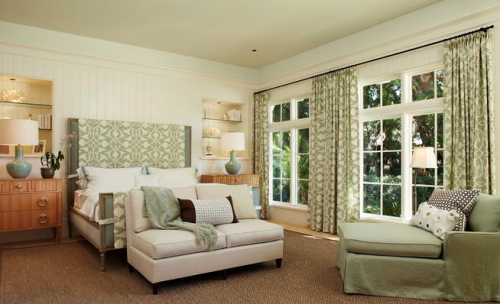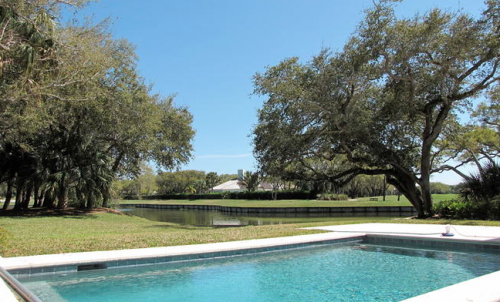 This spec home, with a lush island feel and open floor plan was designed by architect Moulton Layne Architects with interior design by Spectrum who also have a handsome storefront in the Village Shops not far from John's Island.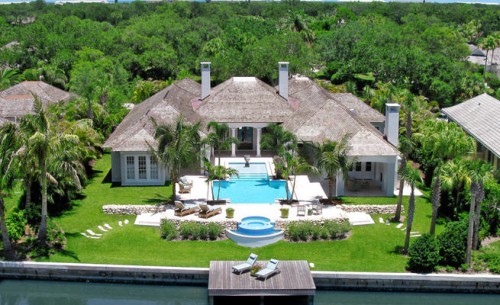 With water views from every room, it really feels like an island paradise.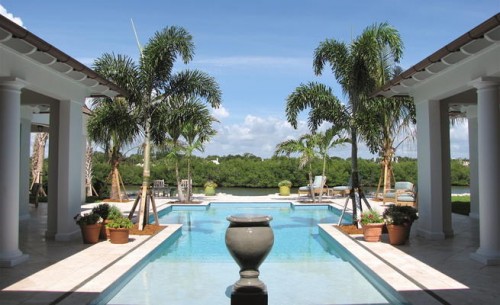 Doesn't this look like a fabulous island resort? But it could be all yours!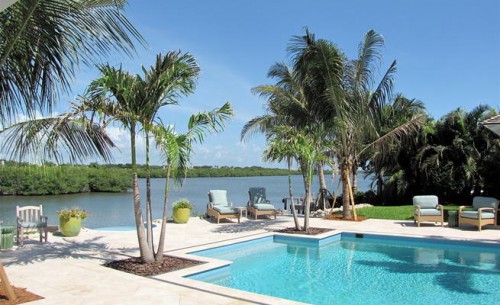 The new boat dock is an ideal place to relax outside and watch the local wildlife.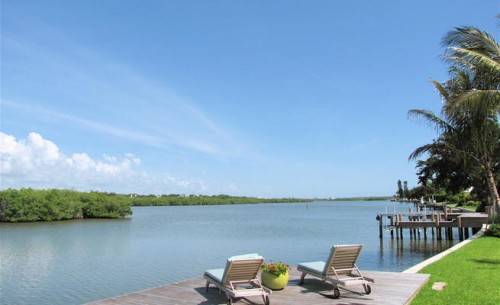 Moving inside, the serene color palette echoes the water views.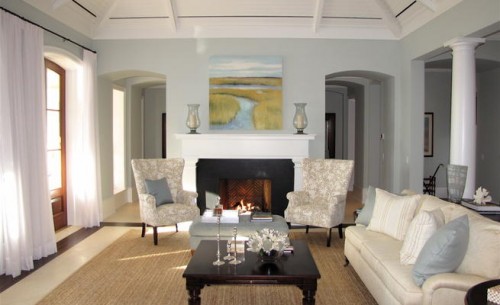 The open floor plan creates an airy and easy living space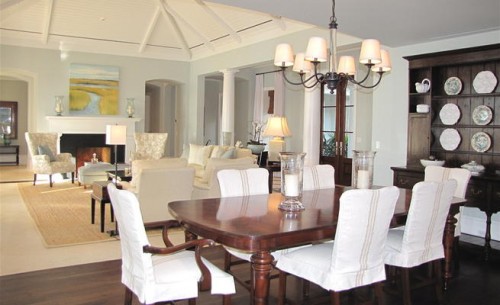 I love the dark kitchen. It is sleek, sophisticated and modern but still warm.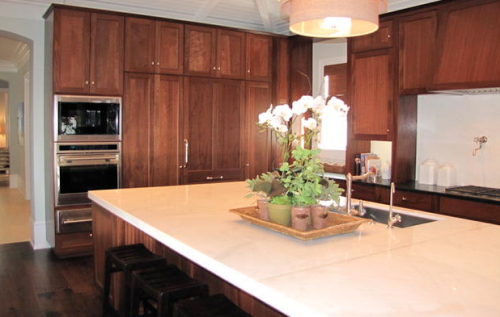 And the marble is a lovely contrast.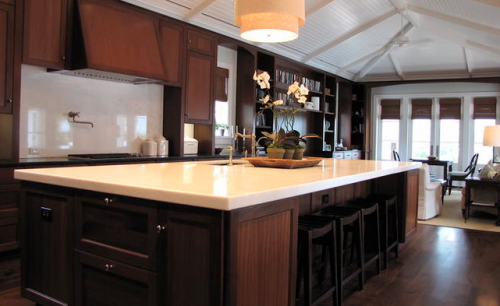 The library continues the dark theme with a distinctly British Colonial feel.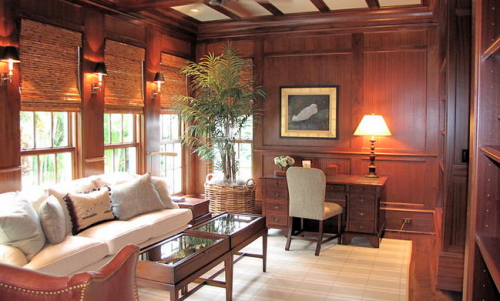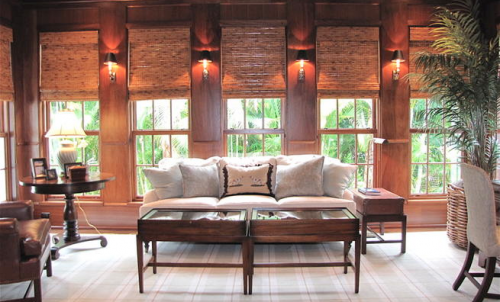 And a final outdoor lounging space includes a fireplace.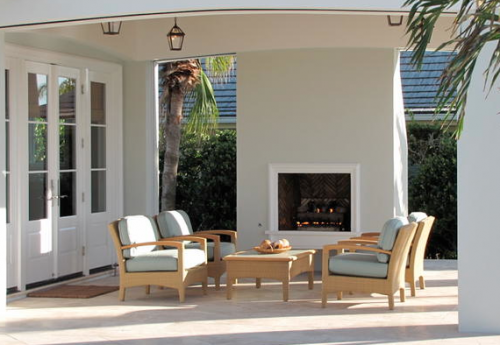 Our final feature is an Oceanside Village courtyard home, interesting for its unique floor plan and lush plantings.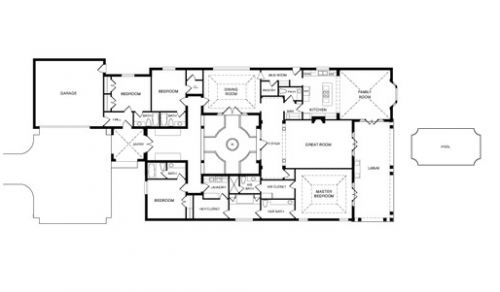 Unlike the previous two houses, this is not a spec house but is also available for sale.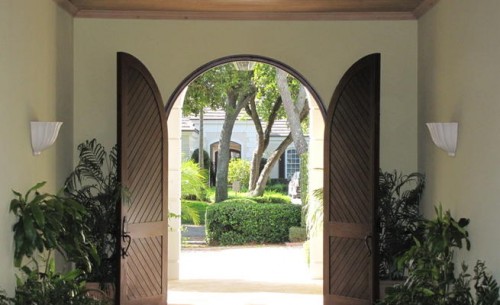 This beautiful seaside home greets you with graceful arches. The courtyard with fountain is central to the house.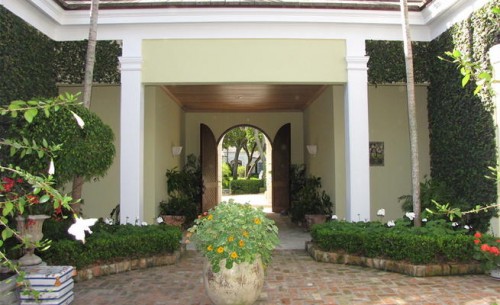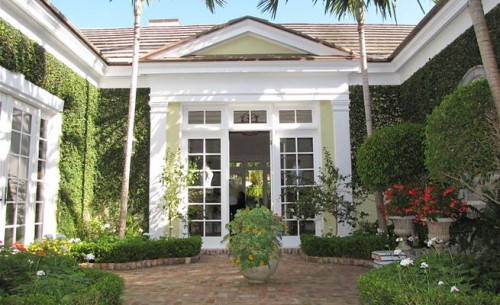 All the principal rooms open onto the graceful lanai with wet bar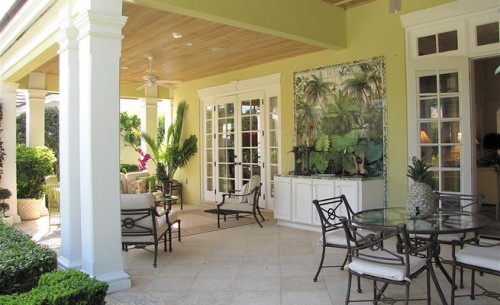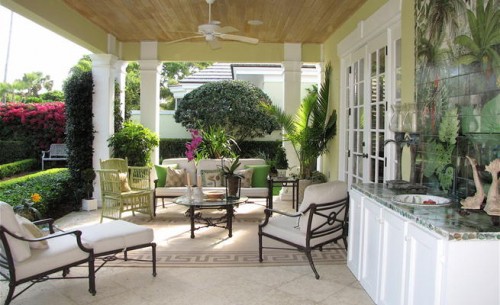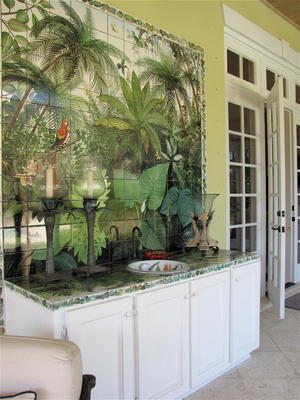 How fabulous is the tile work? The epitome of tropical chic!! The lanai overlooks a breathtaking pool surrounded by lush landscaping.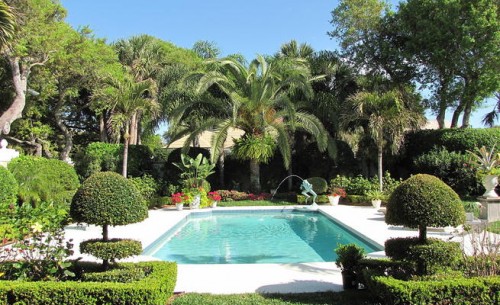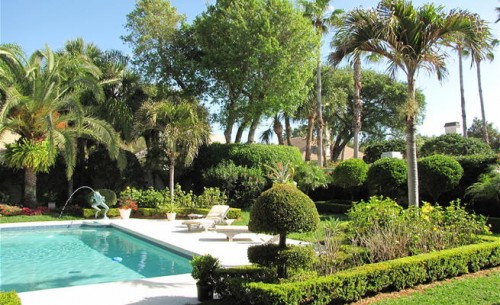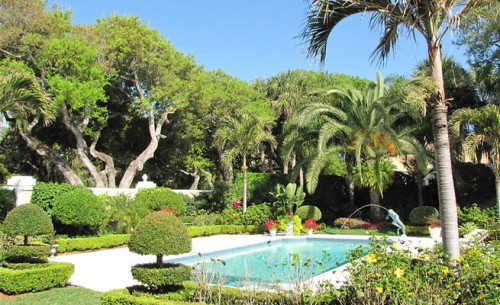 Inside is a gracious living room with fireplace, dining room, family room and adjoining kitchen with wet bar. A master suite and three separate guest suites complete this lovely home. Can you imagine?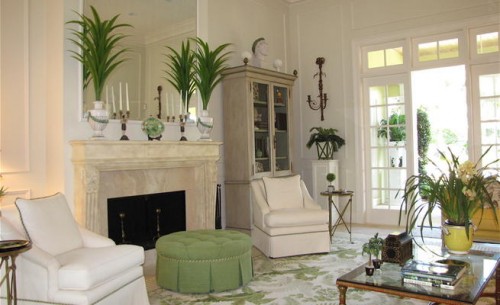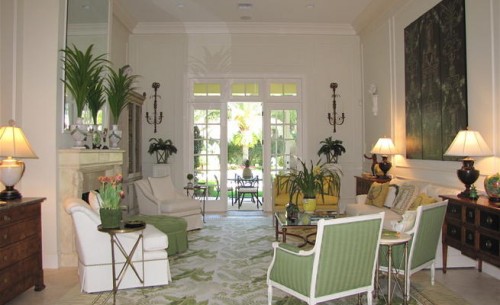 It is also possible to rent at John's Island with the recommendation of a member or as a potential buyer/client through their real estate office. It's been a lovely few days here. It is a peaceful place, ideal for bike riding and lounging by the pool. We've had delicious meals both at home and out and my daughter finally beat my husband at miniature golf – a milestone event!! I'll be sorry to return to the wintry mix that is evidently awaiting me, for this has been my view for the past several days.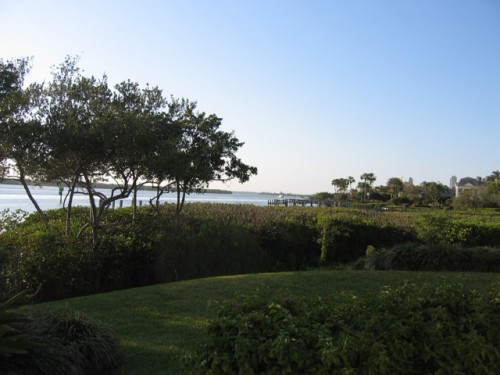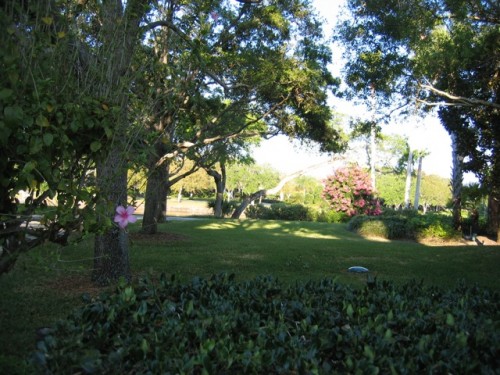 And I'll be so sad to be covering up my colorful toes!!