This year's Hearst Designer Visions takes place in the landmark building 250 West Street in Tribeca, renovated by Gal Nauer Architects, where the spacious residences are apartments with a loft-like appeal and spectacular views overlooking the Hudson River.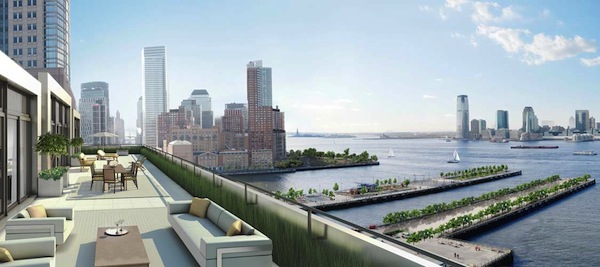 Antony Todd said the corner unit he designed for Veranda spoke to him immediately. As Carolyn Englefield, the editor who worked with him on the project said, Todd's aesthetic has a global European point of view, speaking to livable luxury, timeless design and understated elegance, just what Veranda is all about.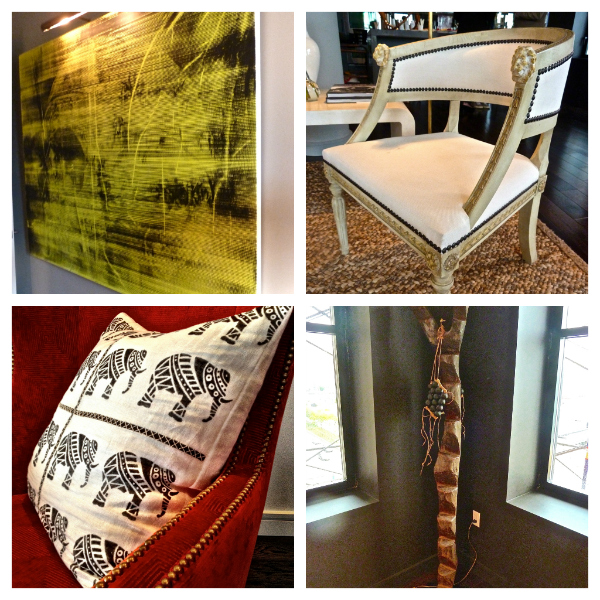 Todd's imagined inhabitants are a couple in their late 30s early 40s with a teenage son, who didn't necessarily want a perfectly polished apartment but one which included objects from their travels and told their story. As "philanthropic cosmopolitans" who have successful creative careers, they have lived abroad and support environmental and humanitarian causes throughout the world. Their style, as Todd designed for them above, is a bohemian chic mix of fine antiques, tribal art and modern painting. The wife likes high fashion as well as high tops, the husband is as passionate about brand strategy as African elephants and the son is evidently loving their new digs where he can feel as comfortable skate boarding in their new neighborhood as staying home reading Kerouac.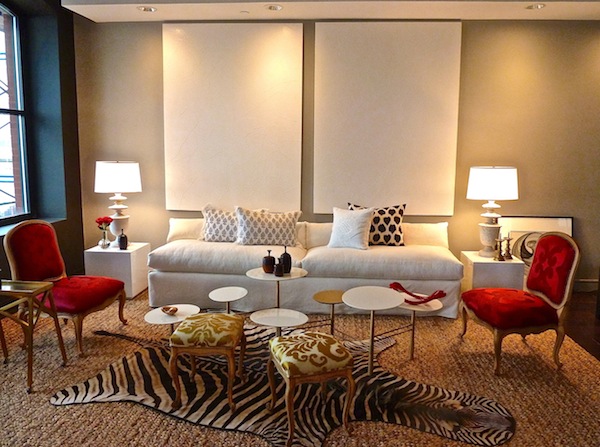 Artist Thomas Fougeirol's large scale paintings drove the spirit of the design with blocks of bright and neutral color. The living room features lighter walls in Benjamin Moore's Silver Fox, Todd's favorite gray, that he uses in almost every project he designs. The darker Night Shade softened the windows with their dark frames and unified the space. With an eclectic mix of furnishings from Ironies, John Rosselli and Todd's own downtown shop, the living room has a lived-in casual chic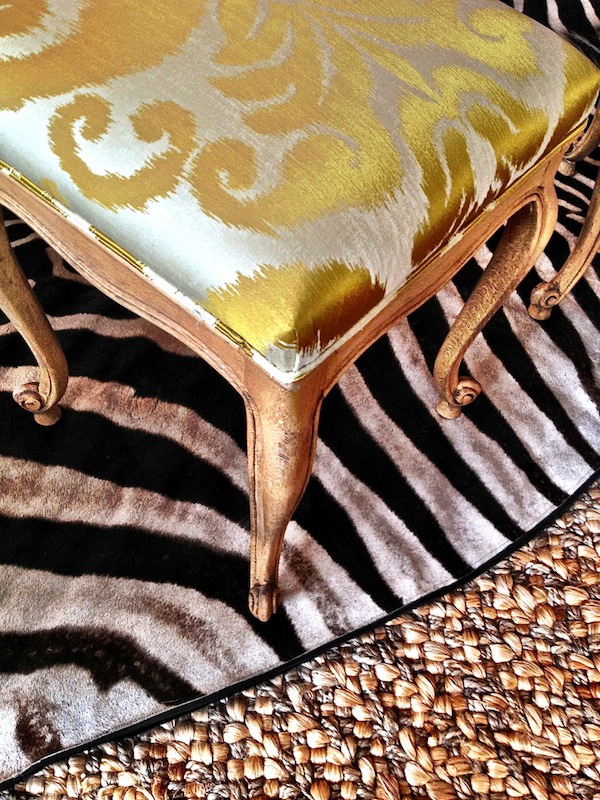 that you can see in this close up with the gutsy Merida jute rug mixing happily with the zebra pattern and elegant Dedar silk ikat.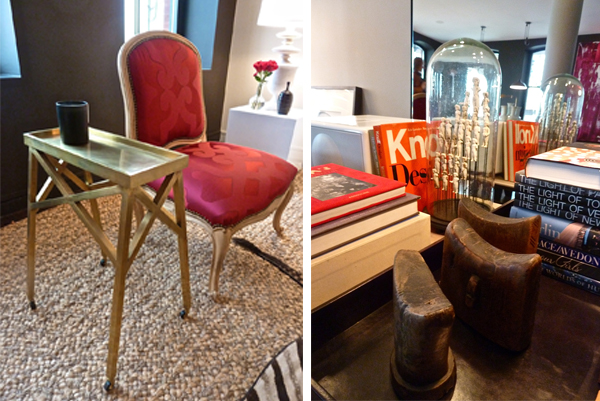 High and low, elegant and rustic, gold and wood, it's all in the sophisticated mix, perfectly expressing the worldly yet relaxed style of our cosmopolitan family, and perhaps the designer, whose own casual chic I managed to snap.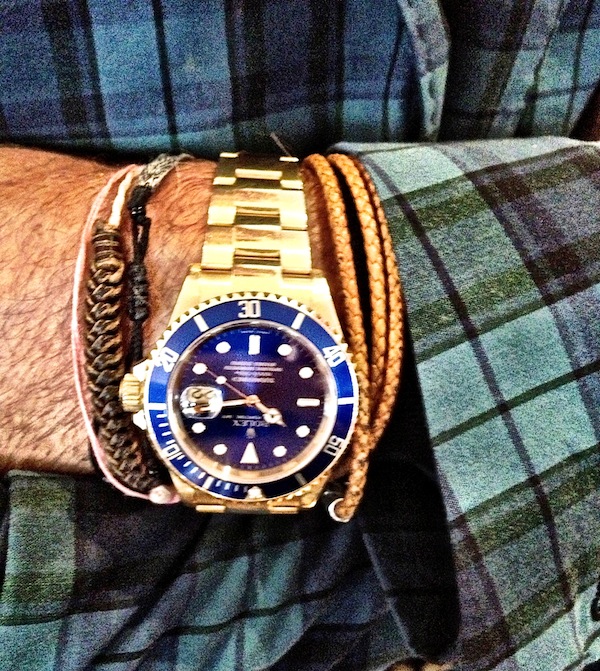 A personal touch was added to the mix with Todd's portrait of himself and his mother, a copy of which is in each of his own residences.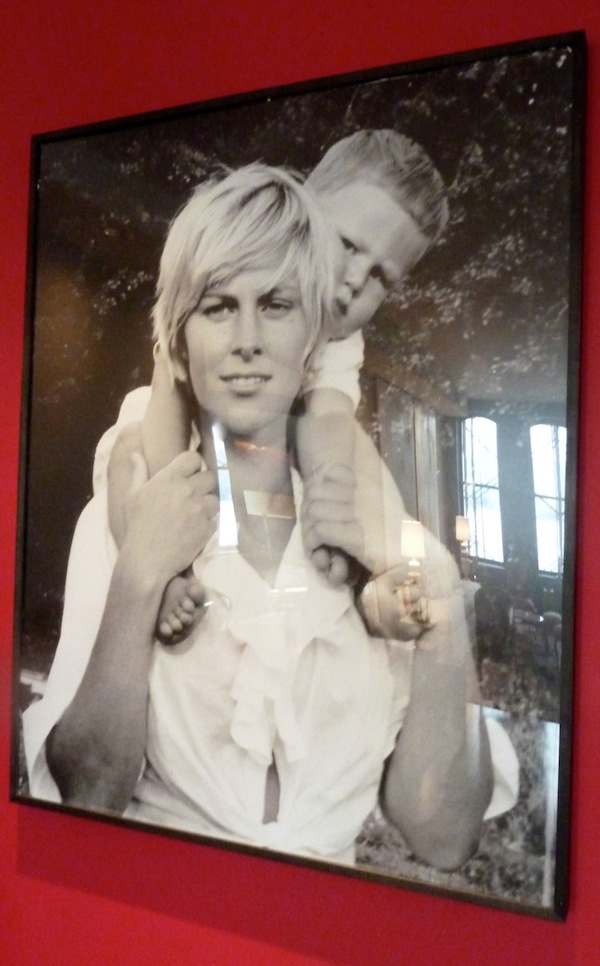 The dining room features a table of Todd's design that could function for a multitude of occasions.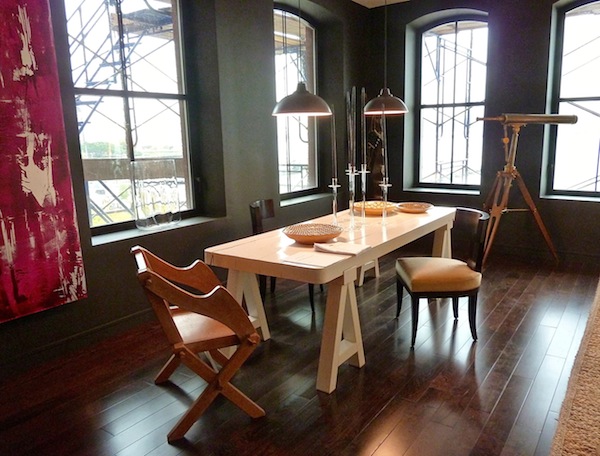 Todd is a big cook and designed the sleek Poggenpohl kitchen in a dark neutral, Terra Matte.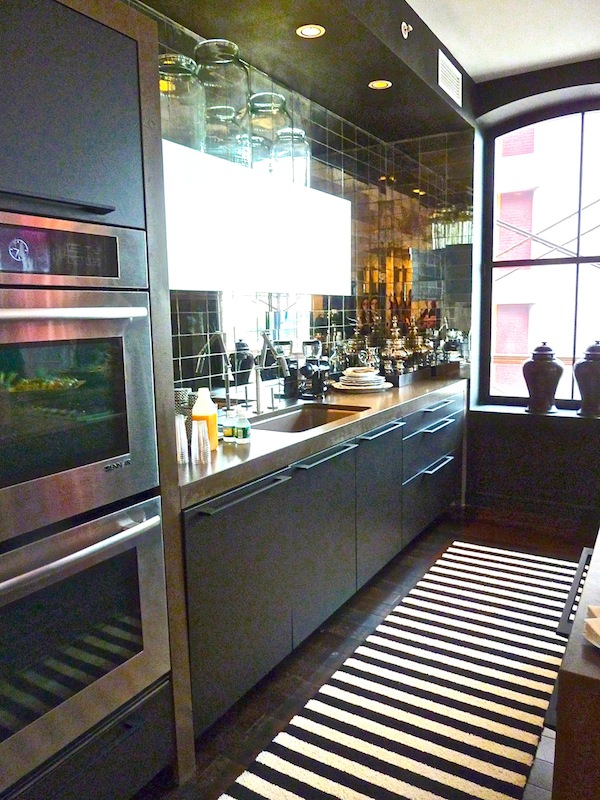 He specifically mentioned the downdraft JennAir stove that he feels makes the kitchen more open and accessible without a hood to divide the open space.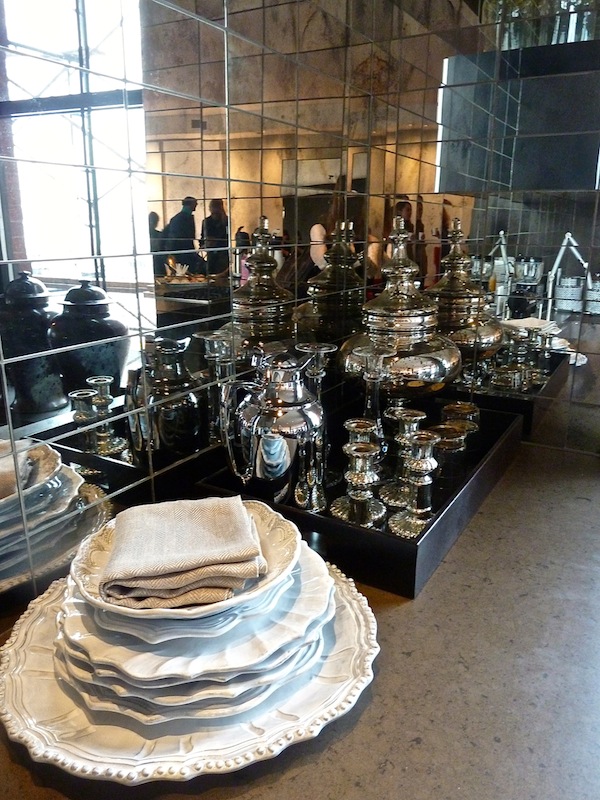 The kitchen received a dose of glamour with a fabulous backsplash of mirrored Ann Sacks tiles that echoes Todd's love of vintage mirror.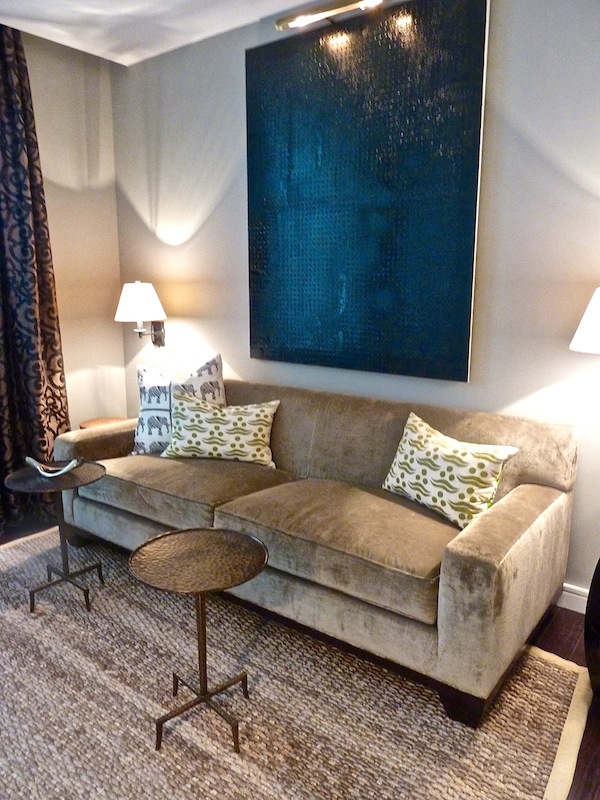 One of the three bedrooms was fashioned as a media room, including an Ironies sofa and side tables with pillows from Gracious Home and Todd's retail shop. Another large Thomas Fougeirol canvas and Merida jute rug against Silver Fox walls create a calming neutral space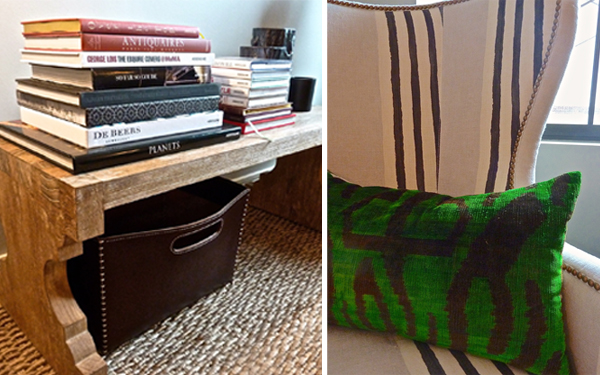 with comfortable seating and plenty of reading materials.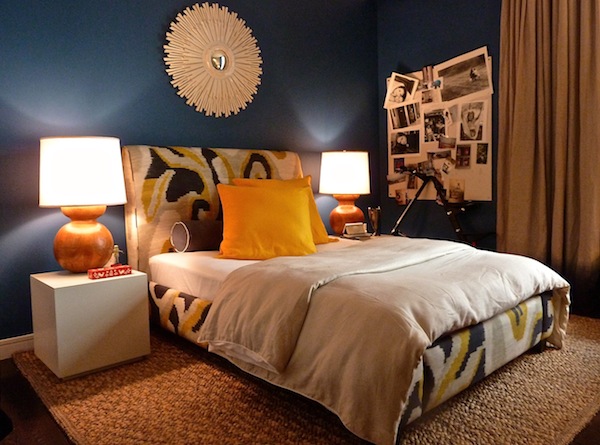 I loved the Blue Danube (Benjamin Moore) walls in the son's bedroom, especially in combination with the lively Dedar Artwork pattern on the Lee Industries bed.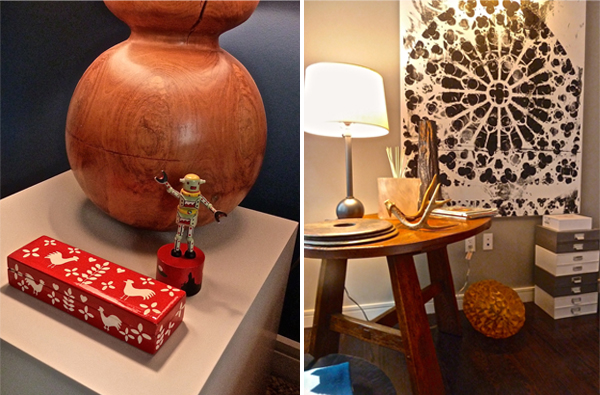 Again, thoughtful details tell the story.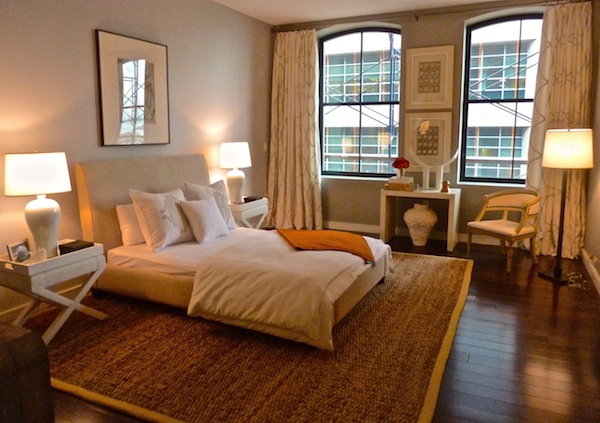 The master bedroom is an oasis of calm in creams and neutrals. Beautiful monogrammed Leontine linens appoint the bed.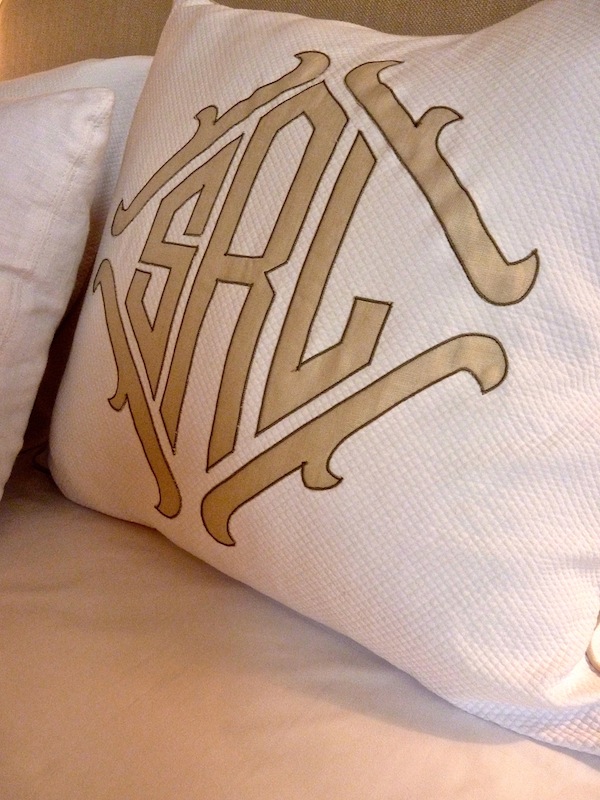 Black and white stools and console by Alpha Workshops support the global accoutrements.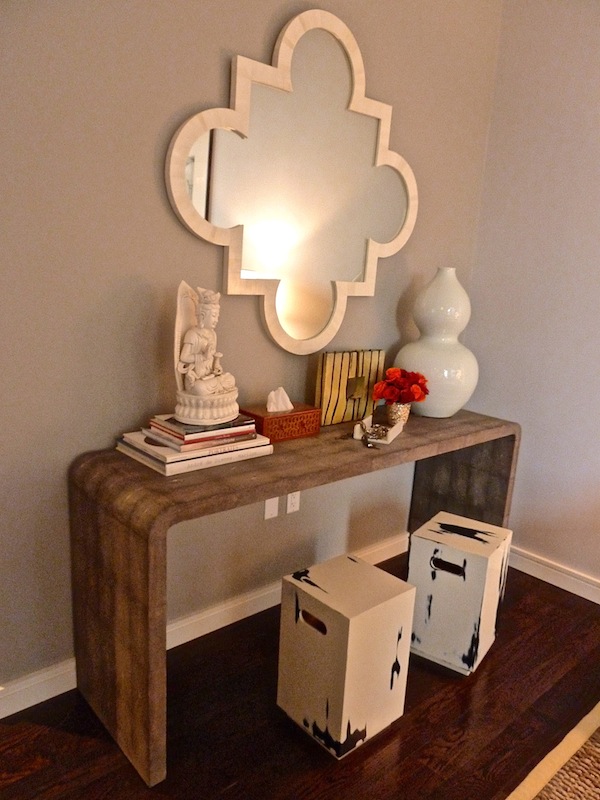 And across the room, an equally appealing eclectic vignette shows off our couple's cultured collections.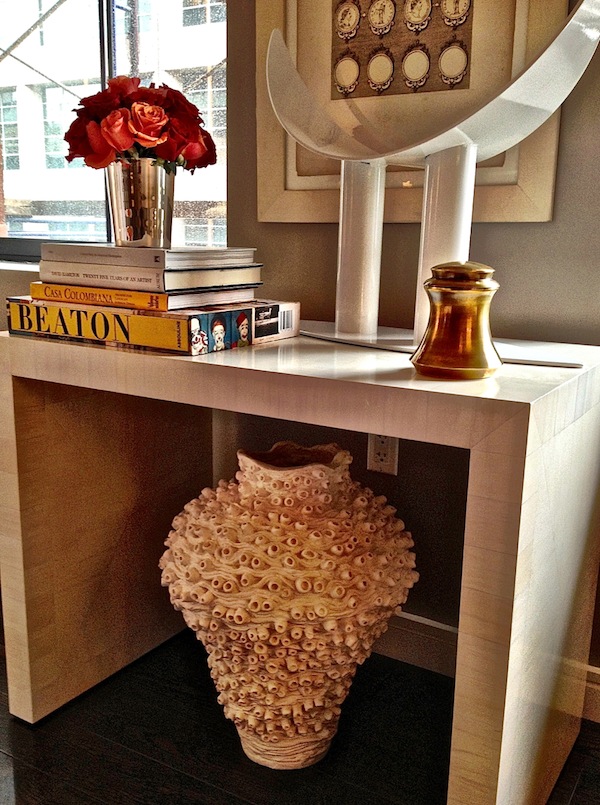 But who knew what glamour awaited in the master closet, completely taken over by the fashionable wife. Designed by California Closets, the entire space was personally styled by the Badgley Mischka team, Mark Badgley and James Mischka, whose fabulous clothes and accessories dress our couture-clad mom.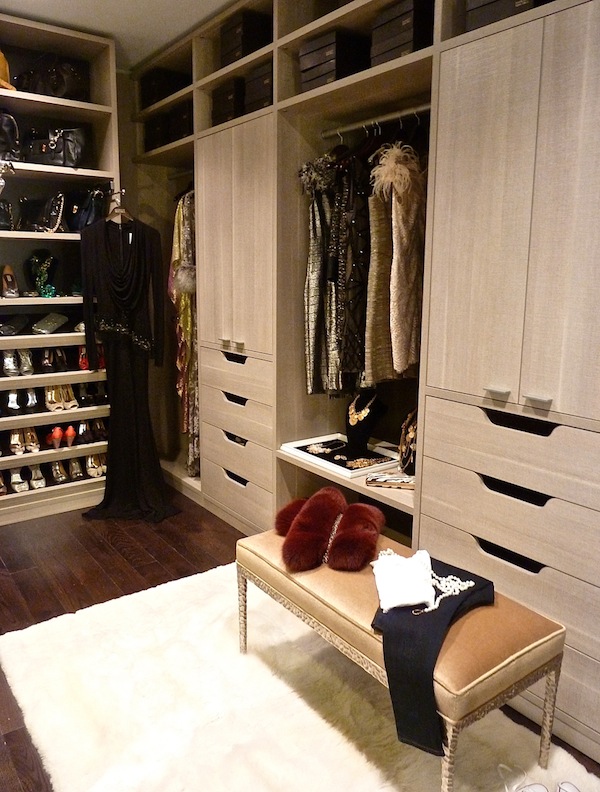 From casual Converses to elegant evening attire, her closet is cossetted with goodies.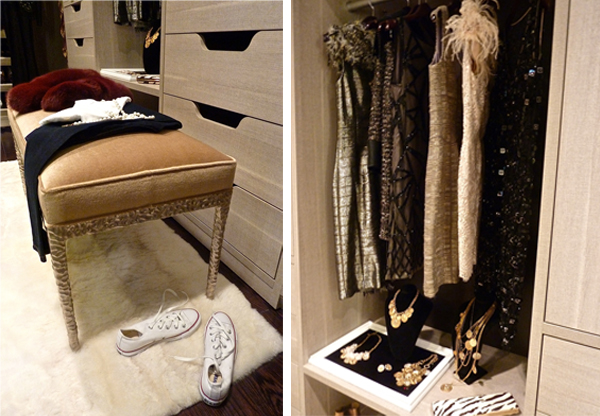 But the real treat for me was the jewelry. What a fabulously fun collection of costume treats – the perfect way to end a marvelous tour! Stay tuned for when Designer Visions opens to the public.