It wasn't until I saw the exhibit Fortuny y Madrazo: An Artistic Legacy at the Queen Sofia Spanish Institute that I realized what an incredibly rich family history was behind this legendary talent. While we think of Fortuny as a name primarily associated with Venice, it is actually the strength of his familial Spanish heritage that fueled his passions. Conceived by and curated with Oscar de la Renta, chairman of the Institute's Board of Directors, with the cooperation of Fortuny,  the exhibit not only looks at the influences that shaped Fortuny's career but is an art history lesson in and of itself.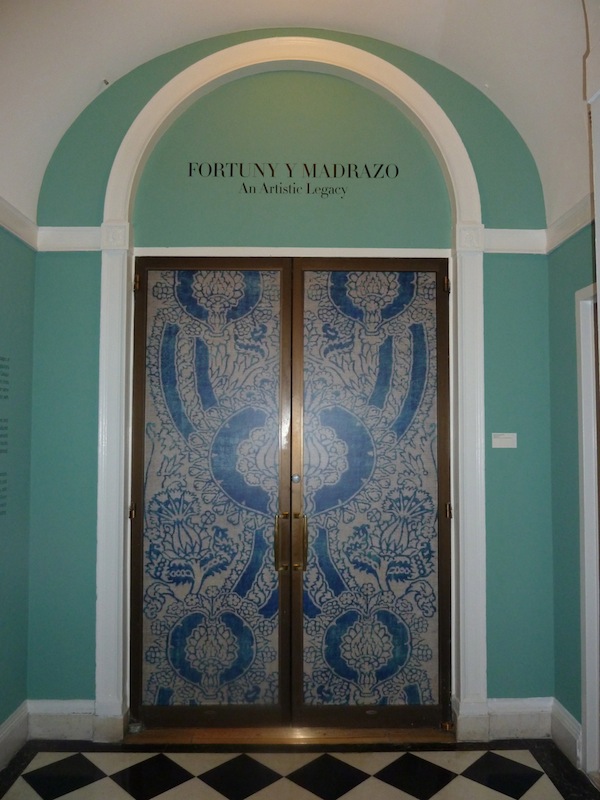 Fortuny's mother's side of the family, outlined below, included painters José and Federico de Madrazo, who were not only well-known Spanish artists but instrumental directors of the Prado, expanding its collections to establish it as Spain's most important museum of art.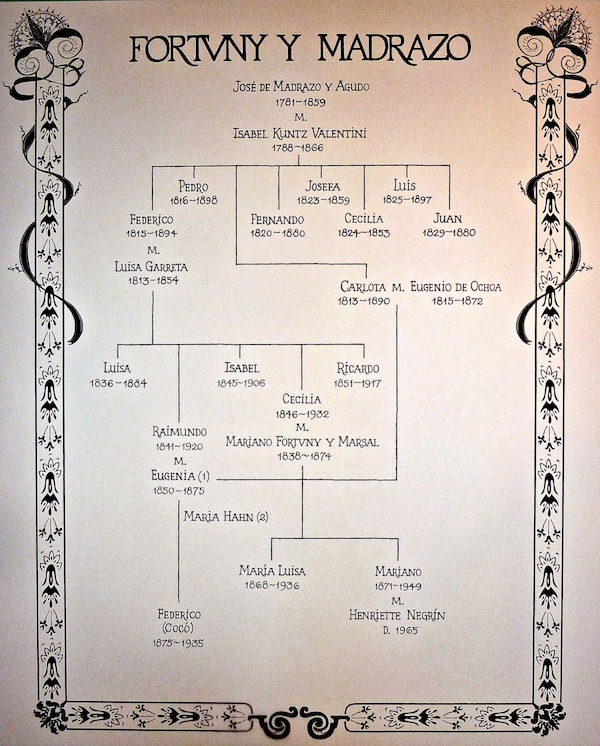 His father, Mariano Fortuny y Masal was one of the most important painters in the history of Spain, after Goya, best known for his orientalist motifs and landscapes. Perhaps it was his location in Granada, with its history of Moorish influence, that established his connection to the Islamic cultures that would be so significant to both father and son. He also shared the period's popular interest in turquerie, inspired by the French Romanticism of Delacroix and family friend Ingres, whose portrait his father Frederico had painted in 1833.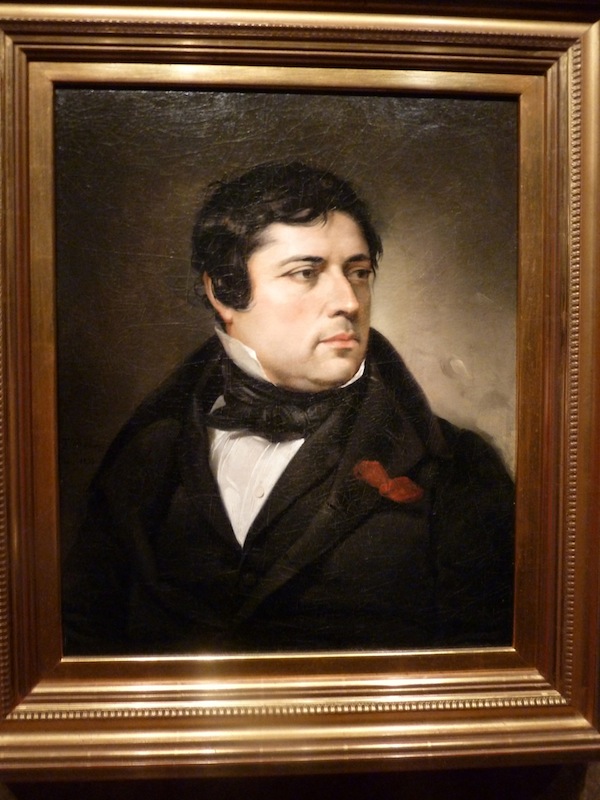 Travels to North Africa inspired his work and collection of decorative arts, interests the younger Fortuny would inherit, but it was the fascination with the Near East and the Turkish caftans, pajama-like pants and turbans of embroidered textiles and bright colors that would so directly influence his son's fabrics and clothing designs, as seen in this ensemble from 1927 of a green silk velvet metallic print jacket over olive green silk satin bib overalls.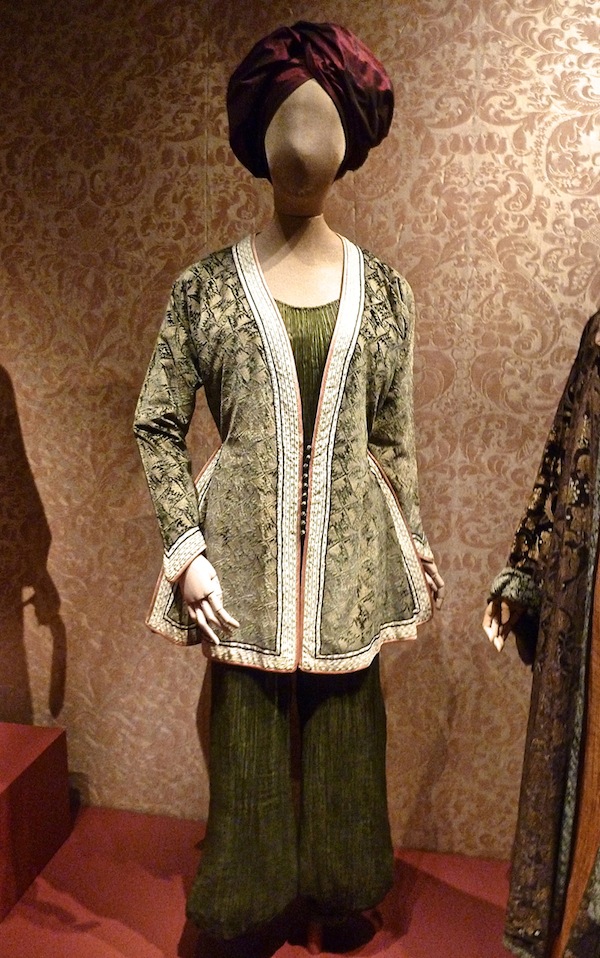 Although Mariano Fortuny y Marsal died prematurely, his wide ranging interests and talents would always inform his son's creative genius. After his father's death, young Fortuny, his mother and sister moved to Paris and finally settled in Venice, a city sharing a long history with trade and influence from the east. While Fortuny's many interests are well documented, he considered painting to be his profession. It was, however, his clothing and textiles that established his artistic legacy, the Delphos dress as his most recognizable design.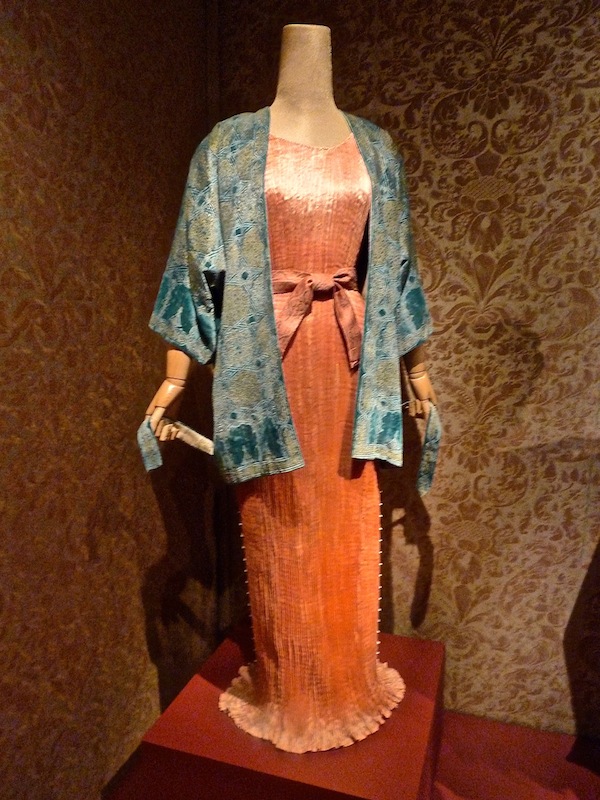 Created around 1907, it defied the strict dress codes of the time, with a loose silhouette that would normally have only been acceptable for wear in the privacy of one's home. Based on the classical influence of ancient Greece, the Delphos is named after the Charioteer of Delphi, a 5th-century B.C. statue, which sported a simple draped garment called a chiton.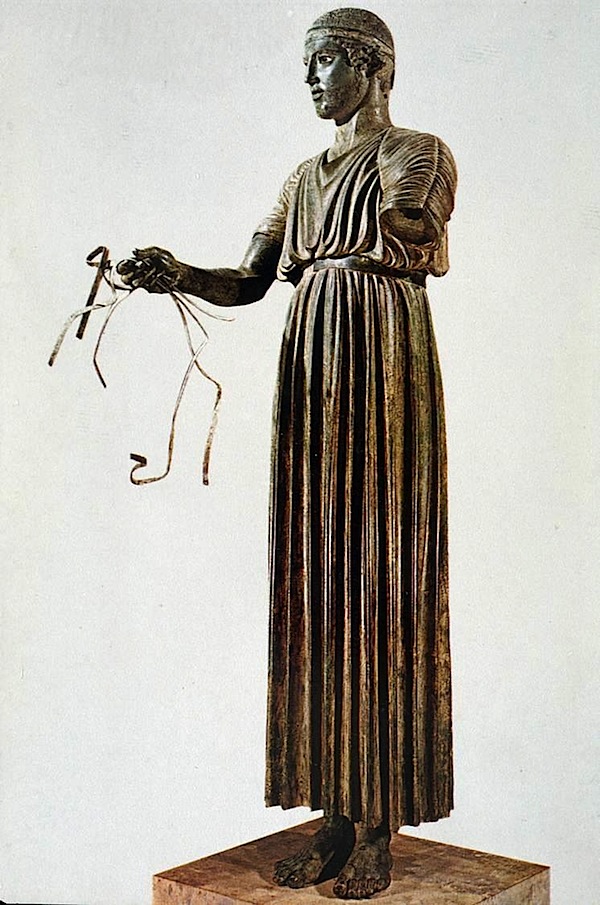 Fortuny was an early supporter of eliminating the corset, and the Delphos, with its unstructured shape, encouraged freedom of movement, perhaps why it was favored by dancers such as Isadora Duncan, whose adopted daughters are shown wearing Delphos dresses below (please excuse the blur from shooting through the glass).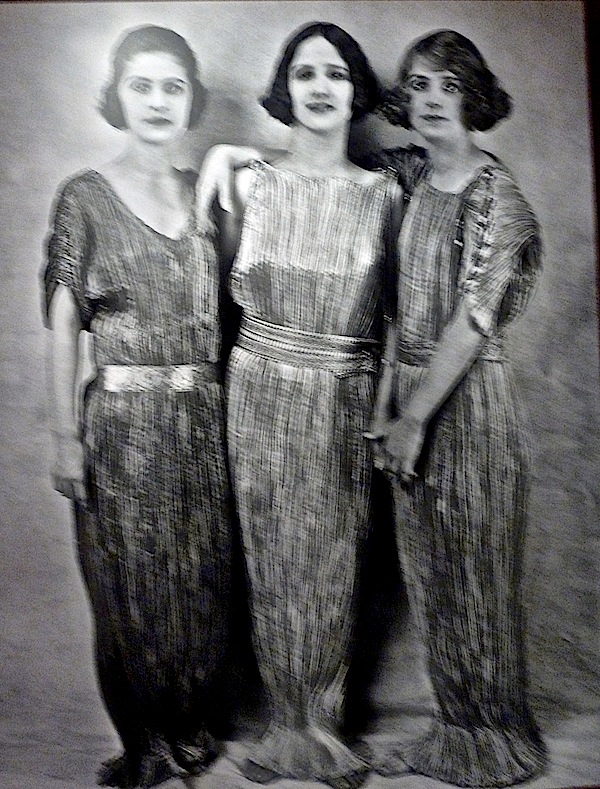 Because Fortuny was not a fashion designer per se, he could afford to disregard trends and his designs remained true to his vision for decades. By 1925, the Delphos was considered a tea gown and by the 30's was adopted as an evening dress, known for its columnar shape, elaborate pleating and Venetian glass beads, which served as both decoration and to anchor the featherweight silk, as seen below.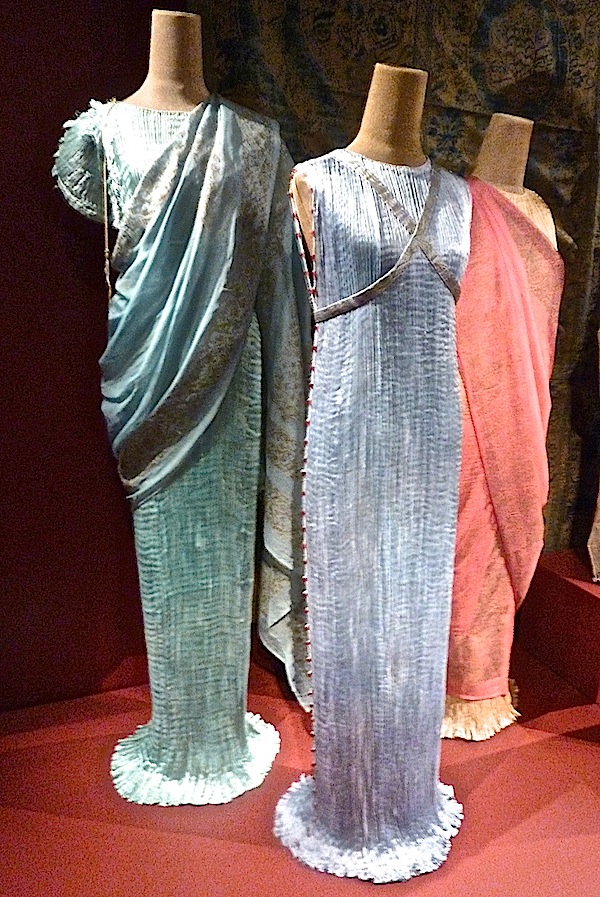 From the Marchesa Casati and Isadora Duncan to Peggy Guggenheim and Gloria Vanderbilt, Marisa Berenson and Geraldine Chaplin, Lauren Hutton and Tina Chow, all have favored Fortuny pieces.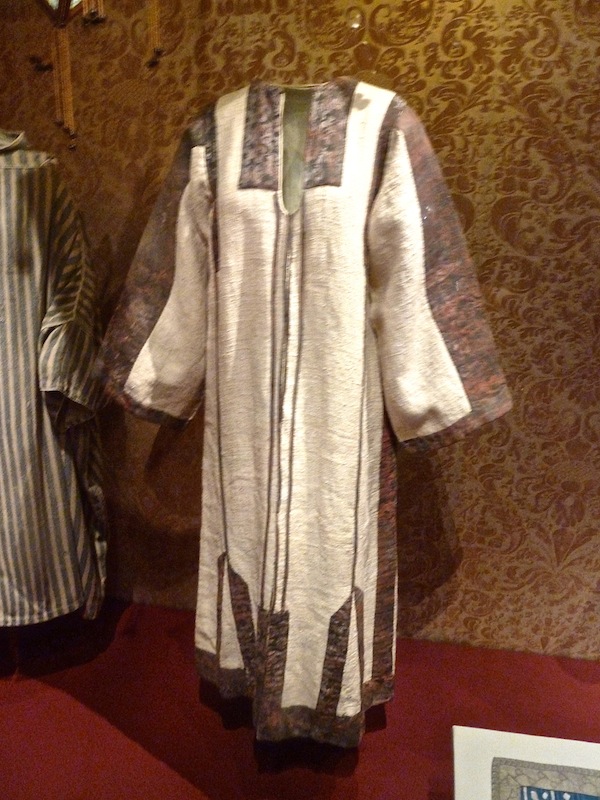 But it is not just the classic Greek silhouette that Fortuny incorporated. Like his father, he referenced inspiration from his travels to North Africa, such as with the ivory cotton djellaba above, reminiscent of Berber robes. Or sometimes he would combine cultures such as showing the Delphos dress with a Persian-inspired print jacket, as below.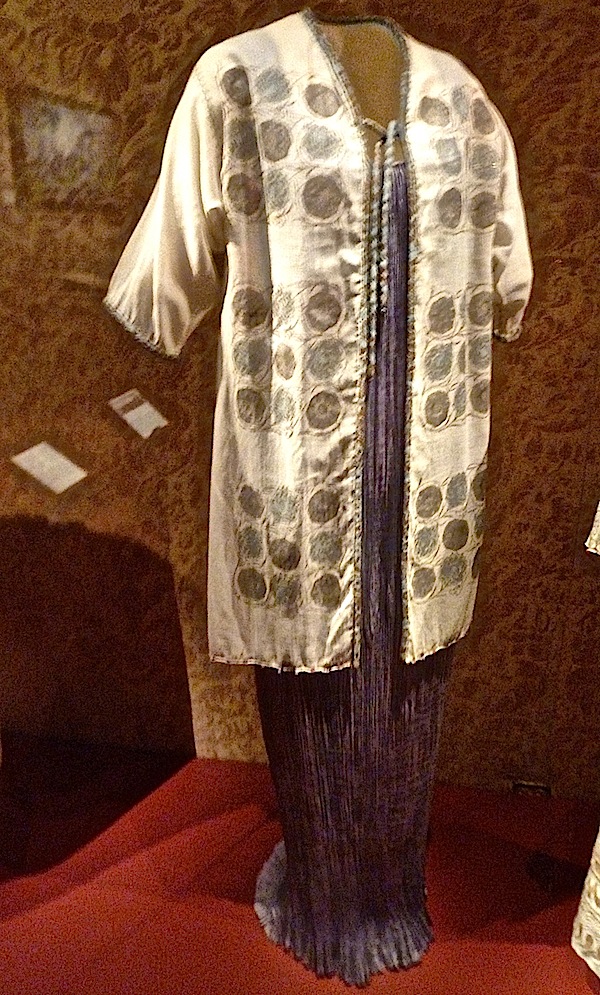 If the infinitely pleated Delphos was all about flow, color and light, then the garments with large undisturbed surfaced were the best receptacles for his over scaled prints, from Renaissance motifs to Persian or Islam patterns. The Eleonora style, named after actress Eleonora Duse, combined a medieval Spanish silhouette with Renaissance inspired silk panne velvet and stencil patterns from various sources. It is difficult to see, but the sleeve seams cleverly incorporate pleated Delphos fabric – the best of both worlds!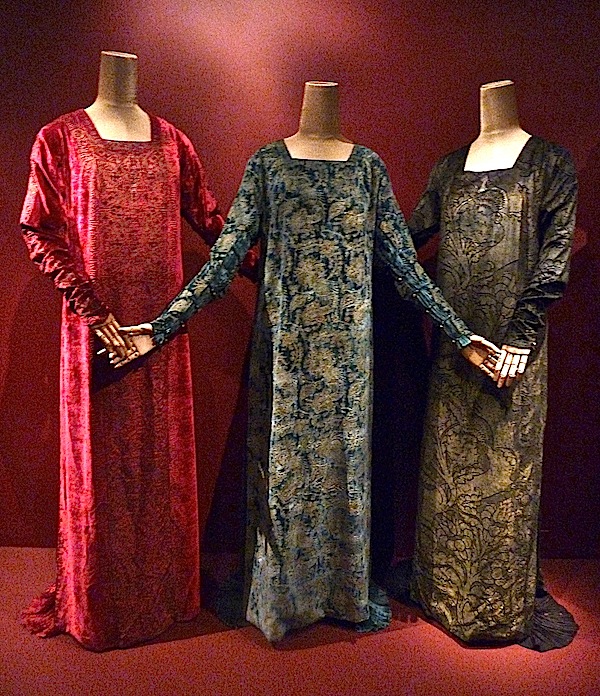 We know Fortuny's interests also included the theater. He designed lighting and sets for the stage as well as costumes and like Duse, actresses coveted his clothing for both on and off the stage.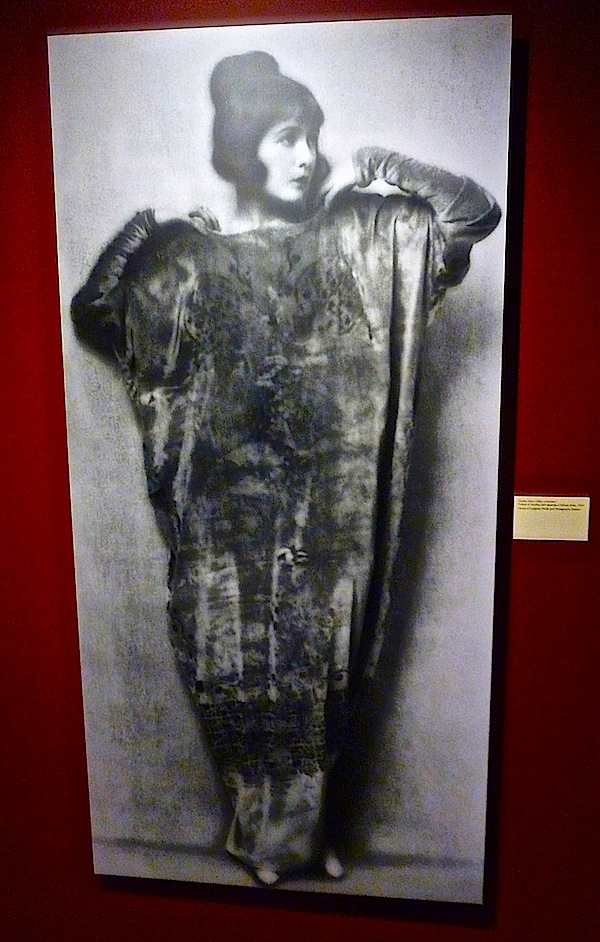 It was when the Gish sisters were in Italy filming Romola in 1924 that Dorothy purchased her first Fortuny pieces, including the dress below (Gish shown in the dress, above). She eventually gave it to Irene Worth who wore it in her 1994 show, Irene Worth's Portrait of Edith Wharton – talk about timeless!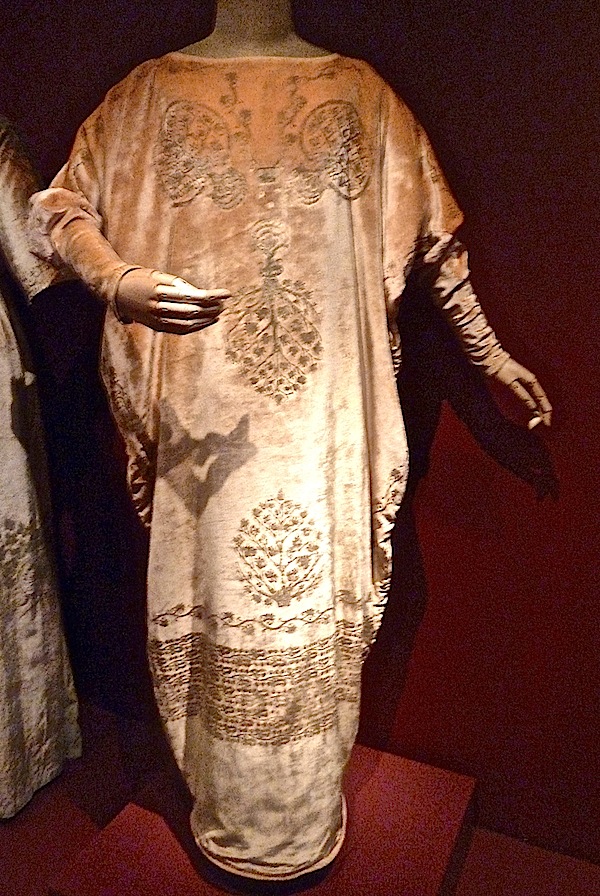 Fortuny combined his enthusiasm for both art and technology in photography. As early as 18, he was experimenting and by the 1930s he patented a special photographic paper that gave prints a more artistic appearance. He used photography to both document his clothing designs and as an art form, as in this Nude, Study for a painting from 1865. Like so much of Fortuny's work, this image seems to transcend time – recalling stylistically both Brassai and perhaps even early hints of Helmut Newton.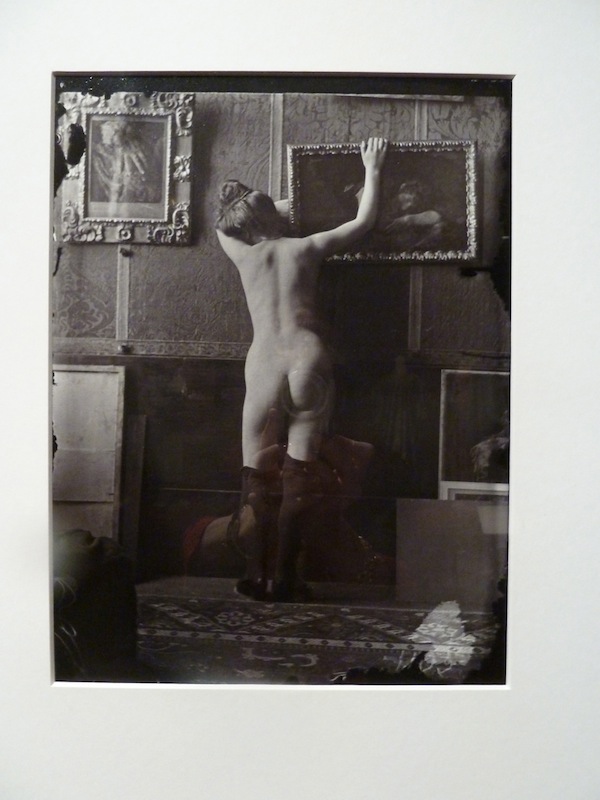 It is amazing to realize how timeless and timely Fortuny's life and creations are. Considering our current design interest in the exotic and the melding of global influences, as well as the crossovers between fashion, art and design, as exhibited by Mr. de la Renta himself, this exhibit is an inspiring and educational experience I highly recommend.
all photographs except the Charioteer of Delphi taken at the exhibit by Quintessence