Today we take a final look at this year's Rooms with a View Designer Showhouse. Design chair Parker Rogers partnered with Serena & Lily to create his Southport Garden Folly, charming treillage room inspired by the gardens at his own Southport home.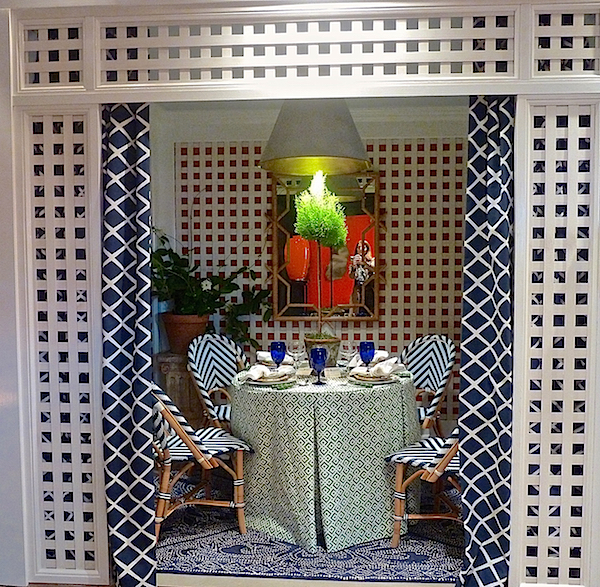 "Through the more formal gardens, we have built a large Lattice House which is known to many for delicious cocktails dinner parties.  I am also inspired by my many friends and family that love to come by and enjoy the beautiful views."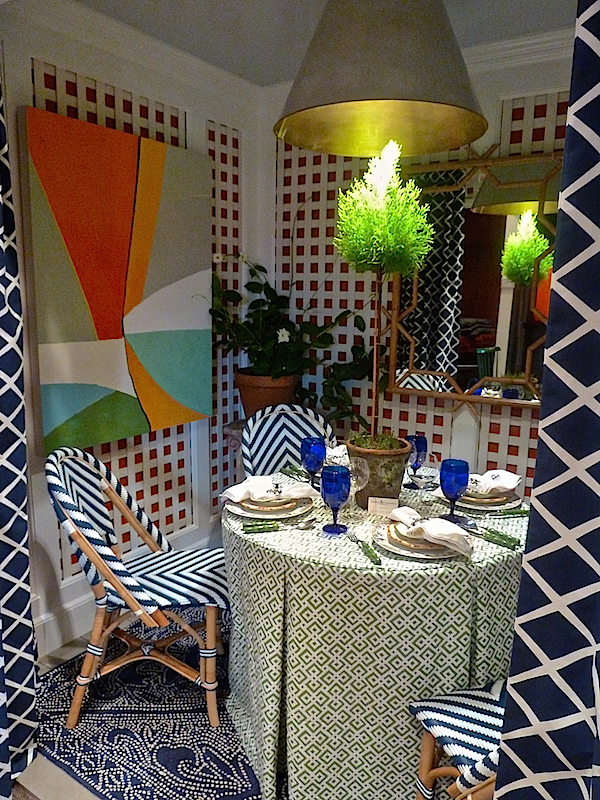 Graphic pattern play was the visual theme of the room.The navy and white palette of the Serena & Lily Diamond fabric hanging at the entrance, Chevron Riviera Chairs and Mirabelle rug were the perfect foil for the pops of green in the Lattice fabric tablecloth and Parker's own bamboo flatware and table accoutrements.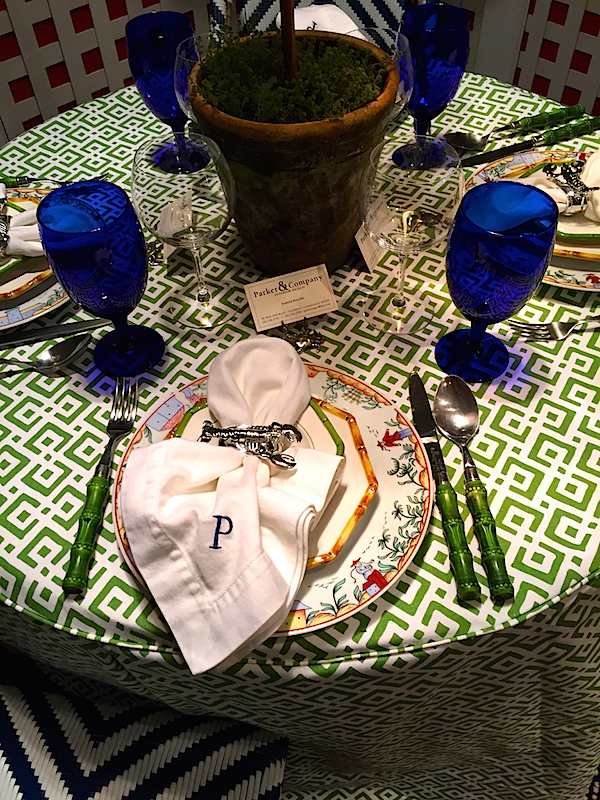 Around the corner, the party was ready to start with Parker's fun styling of Serena & Lily's antique inspired South Seas Bar Cart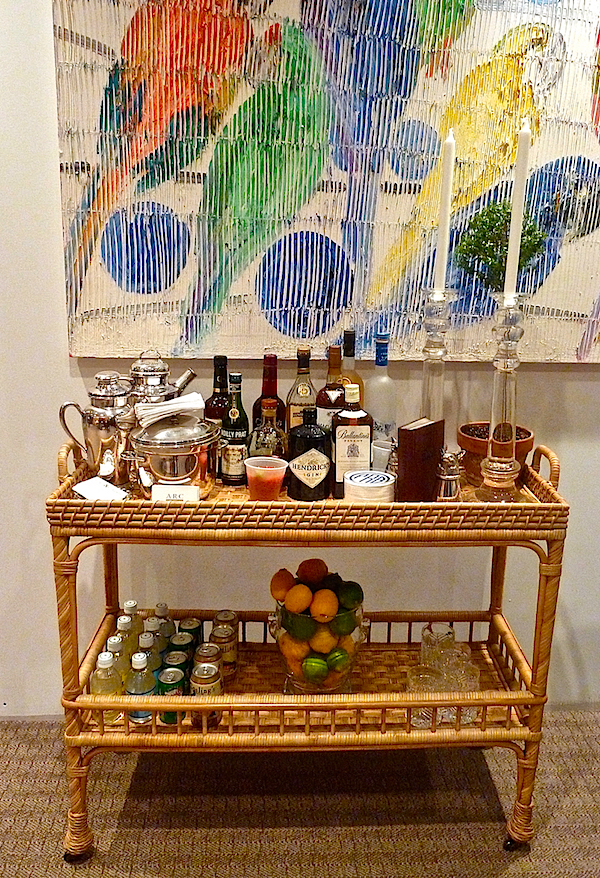 and you have to admire the colorful creativity of Marna Ringel's cocktail hour floral arrangement with celery stalks as the supporting structure.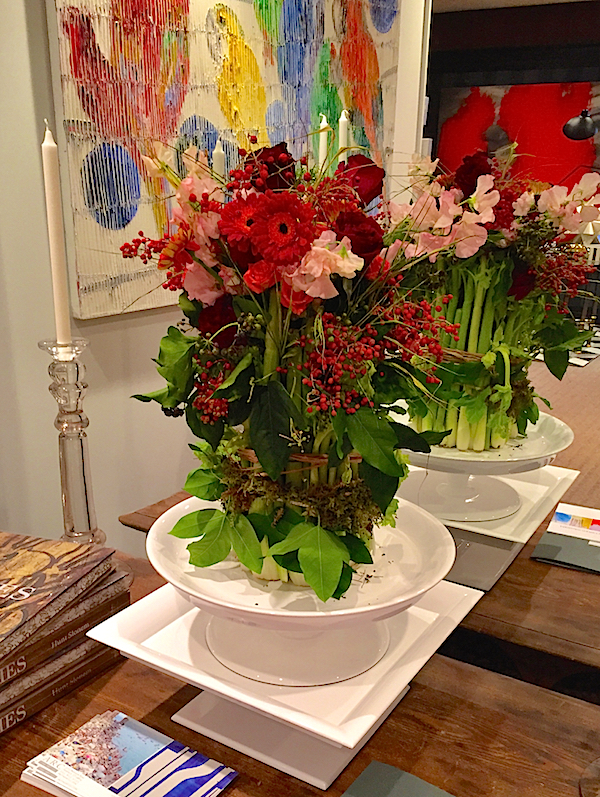 Parker finally got to relax after months of hard work at the opening Gala last week.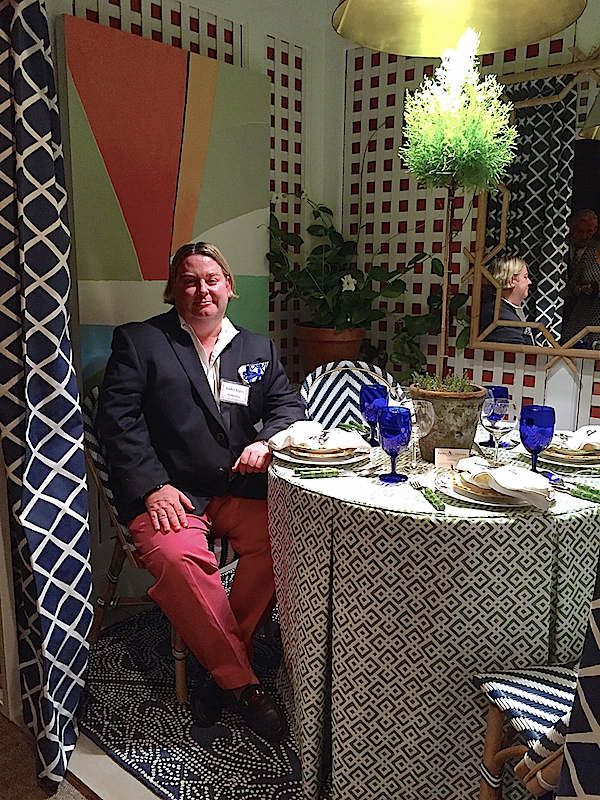 "Women have sat indoors all these millions of years, so that by this time the very walls are permeated by their creative force, which has, indeed, so overcharged the capacity of bricks and mortar that it must needs harness itself to pens and brushes and business and politics." – Virginia Woolf, A Room of One's Own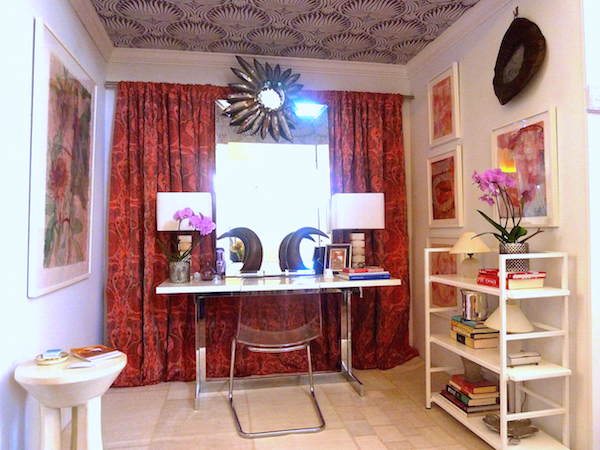 Inspired by Virginia Woolf's novel, Tara Seawright focused on the importance of "every woman having a space to call her very own: a space to create and flourish in her own element. Having a beautiful space to work in is soothing yet inspirational."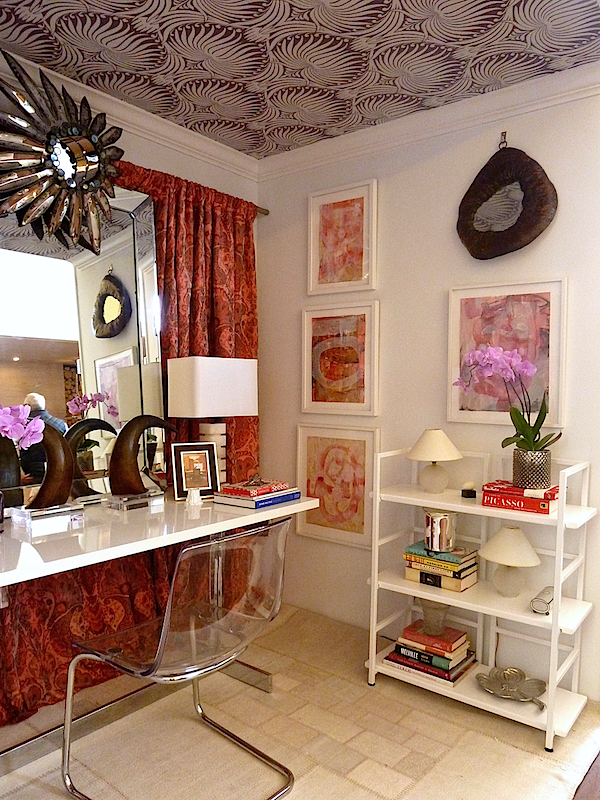 Tara's concept started with a pink palette, as seen below in her original sketch.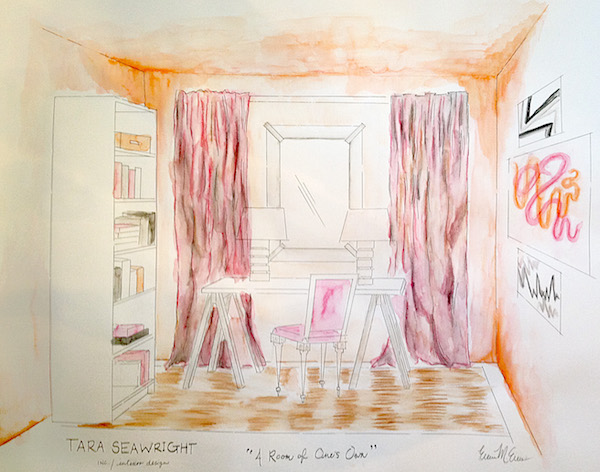 "Pink is fun and feminine, but also lively and playful, encouraging an upbeat vibe. Our design is meant to be comfortable with a glamorous twist. The silk ikat curtains add that hint of glamour and the numerous mirrors help open up the small space. Every woman needs a few mirrors around her to let her beauty shine." I love a wallpapered ceiling and here Farrow & Ball's bold Lotus added color and pattern in an inventive way. Tara commissioned her husband, artist Sam Seawright, to do several custom pieces for the space. The Pink Series, above, a set of four abstract paintings, added color and depth to the space. And Maypop, below, a "beautiful and subtle watercolor, creates a feeling of comfort and serenity, offering an artistic window into nature in an otherwise windowless room."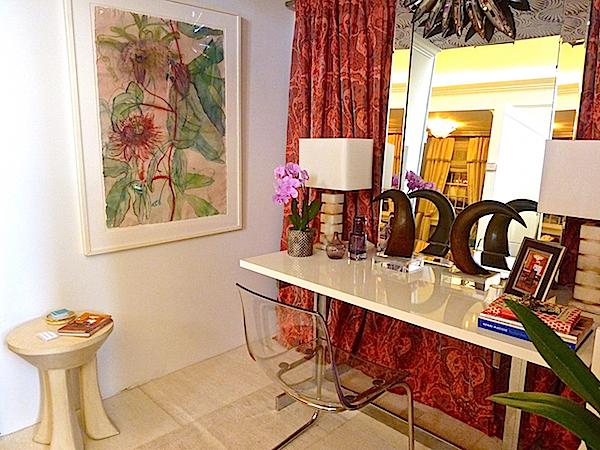 "Every woman should have a room that reflects her own creativity and passion. Our goal was to show that every family can carve out  a space, even as small as 8' by 6',  for that most important woman that makes each family hum."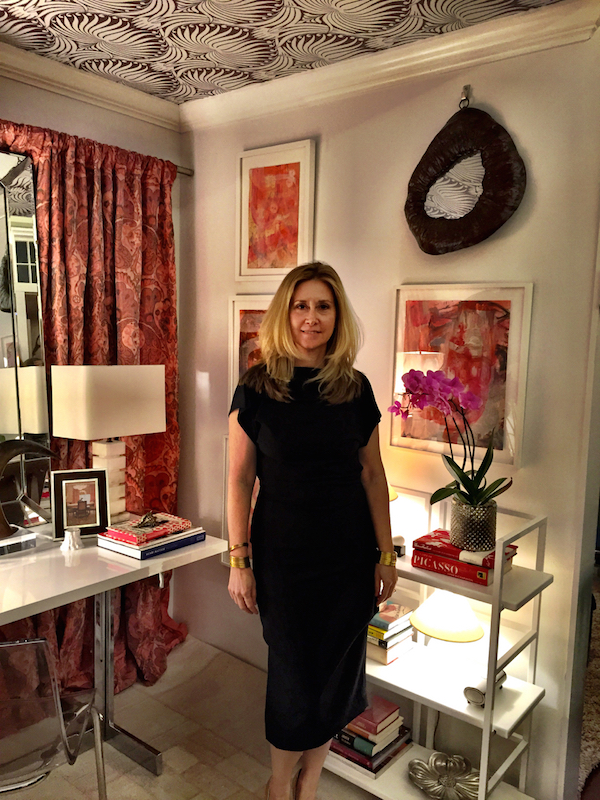 "This entry hall is a tribute to all of the entry halls in the houses I've grown up in, as well as the entry halls from my grandmother's houses and most especially the houses decorated by my great grandmother Sister Parish. " – Eliza Crater for Sister Parish Design.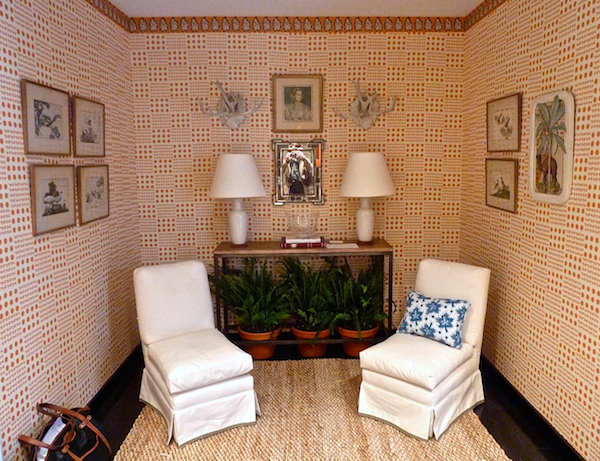 "My mother, grandmother and great grandmother have had a huge influence on how I live and approach interior design. Houses to these women should  be warm, inviting and layered with treasures collected over time," as was clearly expressed in Eliza's original sketch below.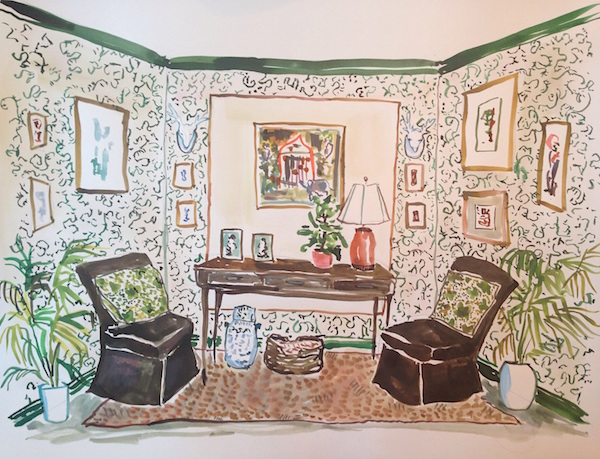 "The Campobello fabric on the walls is made by my mother's company and is from Sister's personal fabric archives. My grandmother created the mirrored collage on the wall and in this way I hoped to represent a piece of all three of these women in an attempt to create a warm, comfortable, timeless space that all three would cherish and respect."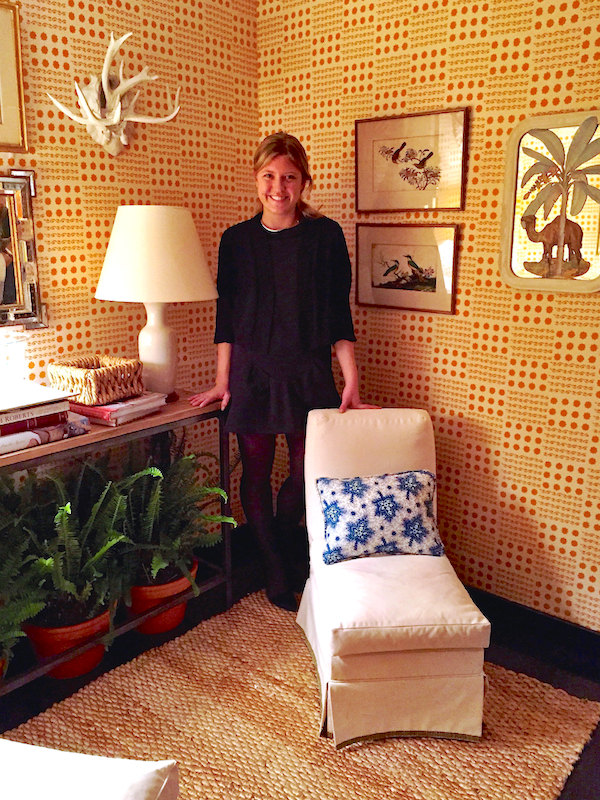 The New York School of Interior Design's vignette, led by Veronica Whitlock and Margaret Mintz  mentoring a student team, created Starry Starry Night: An Ethereal Bathroom, inspired by "looking back at the dramatic, traditional, yet modern interiors of Albert Hadley."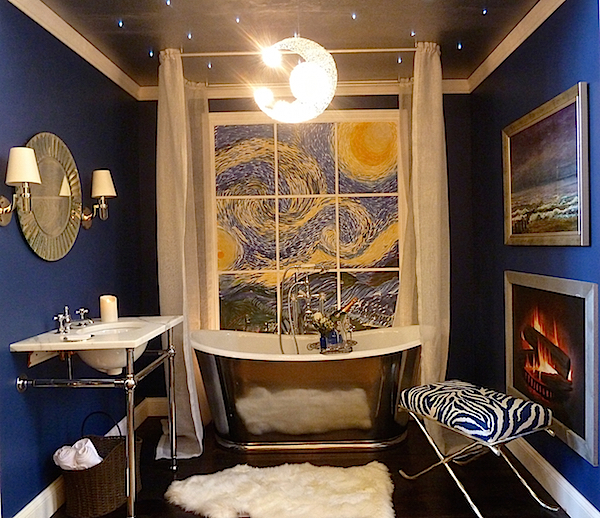 With elegant bathroom fixtures from Waterworks, and incentive from Van Gogh, they "wanted to create a romantic moment – an evening scene sitting in a beautiful tub sipping champagne and gazing out towards a magical sky."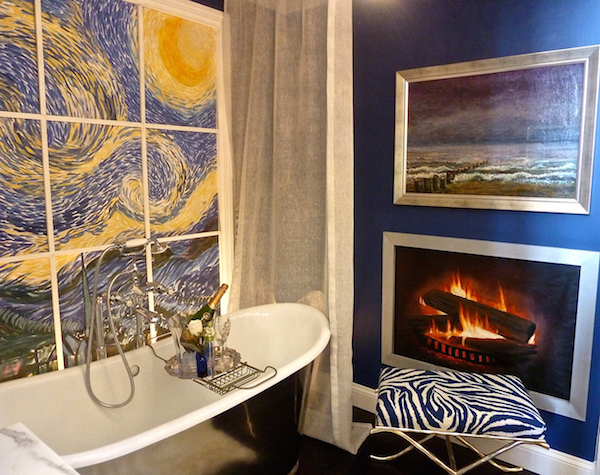 With the aid of modern technology, it is amazing how much their original sketch, a 3D rendering generated by "an autodesk educational product," resembles the final room.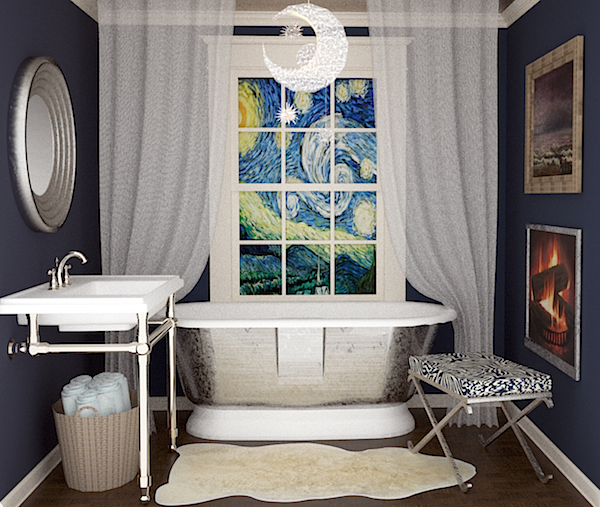 Veronica, below, representing the team.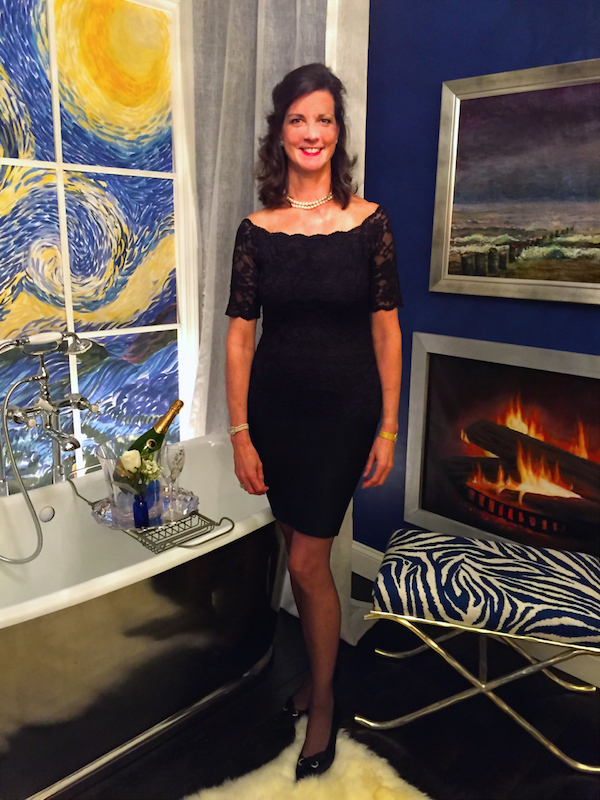 There were many accompanying events throughout the weekend and media sponsor Domino Magazine stylishly decked out the chapel in preparation for a special evening.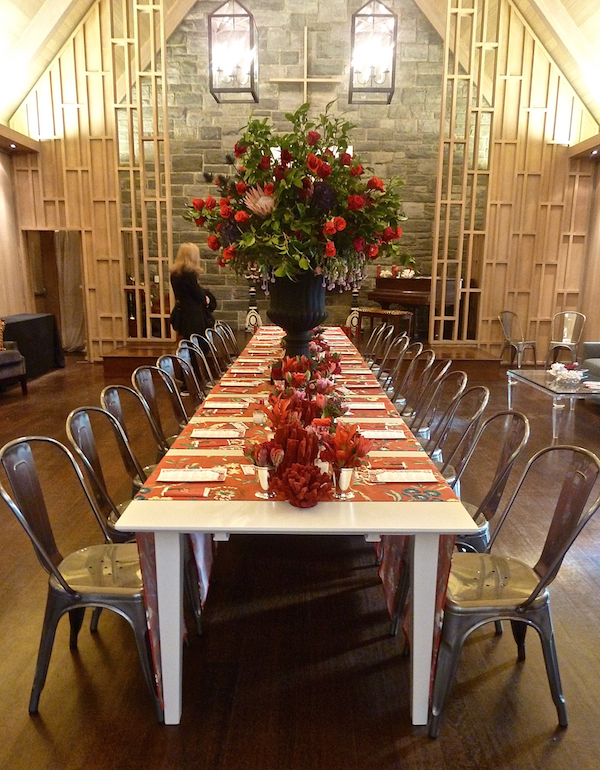 All things red of course led, appropriately, to Diana Vreeland,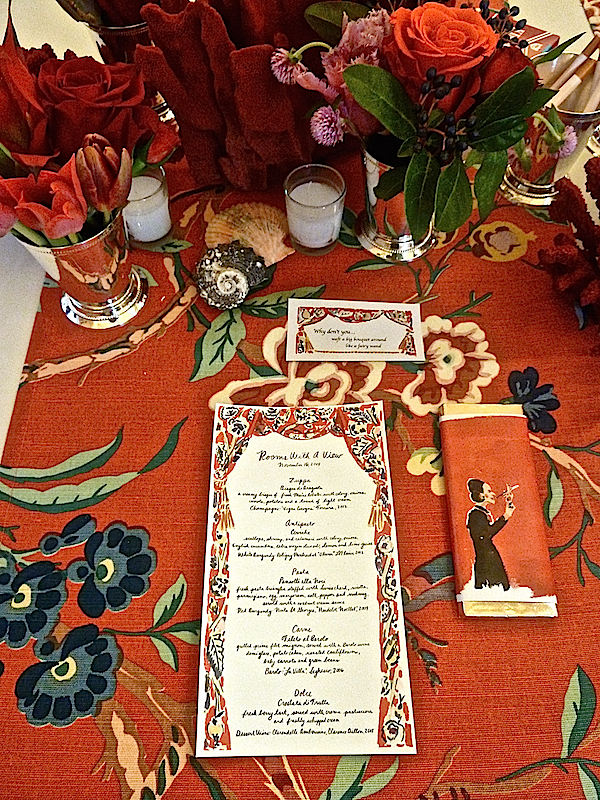 officially celebrated as the high priestess of design!! Looked like my kind of church dinner! Kudos to all involved for a fabulous 20th anniversary of Albert Hadley's venerable designer showhouse.