photo from Life
Now that we've chosen what champagne to drink, we have to decide what to drink it in! So many choices, so little time! Last week in the New York Times, director of education for Moet Hennessy USA, Seth Box (whose brands include, among others, Dom Pérignon, Krug, Veuve Clicquot, Moët et Chandon), discussed exactly that. A man after my own heart, he feels that Americans drink too little champagne, saving it only for special occasions. He also feels strongly about what glass to serve it in.
He admits that although flutes are "great for presentation and showcase bubbles beautifully, from the tasting standpoint, the shape isn't ideal." He prefers something rounder on the bottom that tapers on top like this Baccarat Remy stem. He classifies this as "boring but perfect".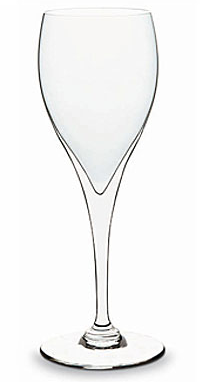 For a classic flute, he choose the Facet Champagne flute from Lalique – a beautiful classic pick. I love its elegant retro feel.

For modern he choose this fabulously sleek Inside Out glass by AMT studio. Such a clever design!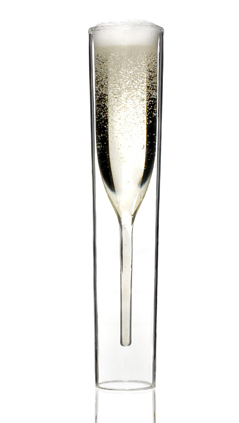 And for a retro look, he chose this sturdy Stork Club glass by New York First Company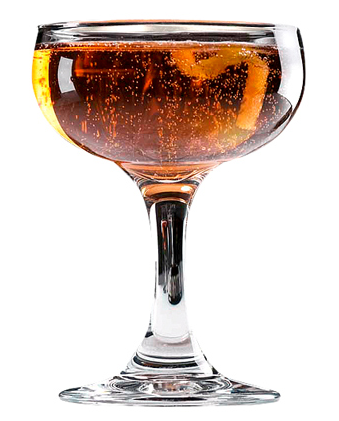 But there are so many other wonderful choices out there as well. Let me show you just a few of my favorites.
For the simplest classic glass, my choice would be the Dom Perignon by Baccarat. It's clean elegant lines are always in style and would go with any tabletop design. It's what I own.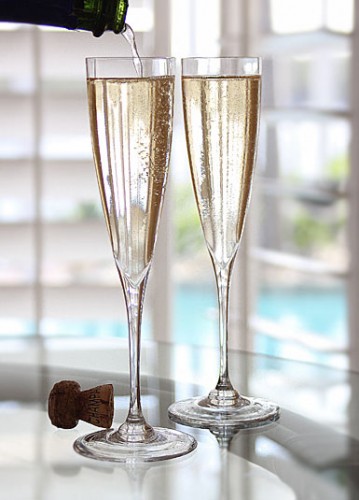 But if I were going to branch out, I love the Saint-Louis Bubbles, designed by Teleri Ann Jones. This famous French manufacturer has a rich heritage and each of these flutes requires up to five days' work, involving the skills of eight craftsmen to produce the shape and five more to complete the cutting. It is available in clear or a virtual kaleidoscope of colors. This lovely pink is one of the most recent additions.

Even though this Bacchus champagne tumbler by Theresienthal was designed in the 19th Century by Henriette Steigerwald, it walks the fine line between traditional and modern style. The rosettes and beading on this design, available in six colors, are inspired by glasses from Roman and Middle-Age glassware, reflecting the Romantic aesthetic. I love the incredibly detailing.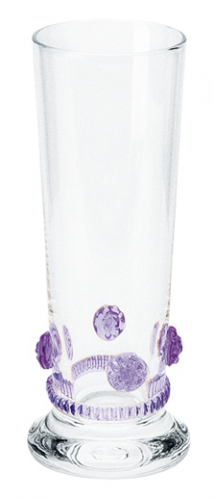 William Yeoward, one of my favorite designers, offers a variety of stunning options. Generously proportioned, these elegant Beatrice & Violet flutes are based on 18th century originals and are perfect for the enjoyment of champagne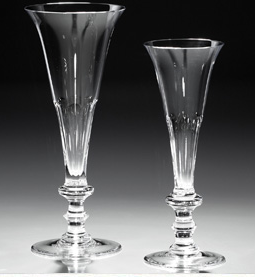 The Bunny pattern, one of my favorites, originates also from the late 18th century. The rosette motif was very popular at that time and it has a beautiful combination of delicate engraving and flat cuts.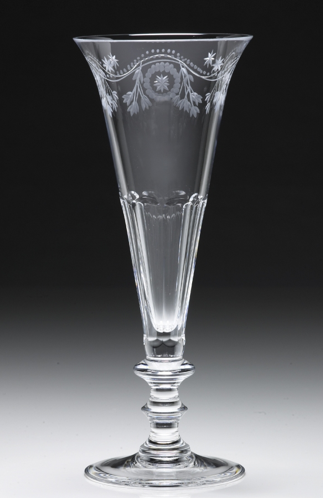 The saucer shaped Fern is a pattern from the mid to late 19th century when botanical designs were very popular and wealthy landowners were competing with each other to grow and propagate plants from cuttings brought back from exploration in exotic places.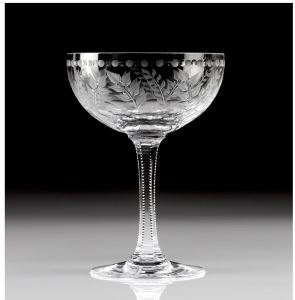 Or if you want true antique, how about this rare set of Murano champagne glasses from 1stdibs. Made in Italy around 1900, each glass is hand blown and no two glasses are alike in shape or height.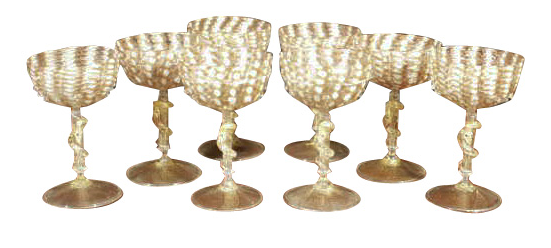 But no matter what you drink it in, you're bound to have a festive evening if you're drinking champagne, the drink of kings (and queens of course)!