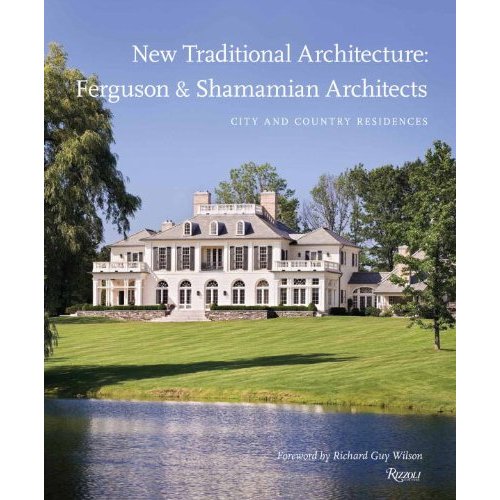 As soon as I saw this book was being published, I knew I had to have it. New Traditional Architecture: Ferguson & Shamamian Architects is a beautiful oversized monograph of one of the most distinguished architectural firms practicing classical design today. Close to thirty residences are featured, with large detailed photos and accompanying project descriptions written by Mark Ferguson and Oscar Shamamian themselves, assisted by Joseph Giovannini. In his foreword, Richard Guy Wilson, chair of the Department of Architectural History at the University of Virginia, describes them aptly as a client oriented firm which wants to "further American traditions," following in the tradition of McKim, Mead & White and Delano & Aldrich. Although I found Wilson's praise oddly a bit restrained with a rather modified, third party commitment to endorsement, he summed up,  "True, many of Ferguson & Shamamian's houses are very large and ambitious, however, they are thoughtful designs that contain the spark of beauty, history, and grace." For such an accomplished team, I'm surprised they couldn't find a more enthusiastic supporter to introduce this splendid tome. They should have asked me!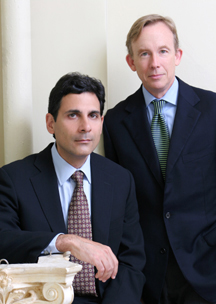 Ferguson and Shamamian established their partnership in 1988, after having joined forces while working at Parish-Hadley. It was this period that honed their "understanding of the essential fusion of interiors and exteriors, and of architecture and interior design" which informs so much of their work today. It shouldn't surprise you that alumni from this firm include, among others, Gil Schafer.  And the interior designs for these homes read like a who's who in the industry – from one of their most frequent collaborators, Bunny Williams to Michael Smith, Mario Buatta, Victoria Hagan and the late Mark Hampton, the houses are exceptional inside and out.  While many of these homes are featured on their website, I like having the descriptions with the background information and it is luxurious to have them collected in book form. The large format allows you to really appreciate the details and craftsmanship that distinguish their work, along with floor plans and detailed drawings which are included. Although the website is very extensive, nothing can trump owning a beautiful publication such as this that is available for frequent perusal.
There are a wide variety of  projects featured including apartments, such as this Park Avenue one with interior design by David Kleinberg (photographed by William Waldron).
The firm was hired by a client who had worked with them on three previous houses to renovate this house in Los Angeles. The resulting structure, with handsome interiors by Michael Smith and beautiful landscape architecture by Mia Lehrer is a rather dramatic improvement.
photographs by Lisa Romerein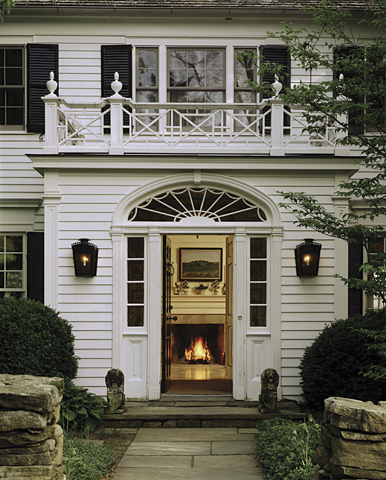 One of my favorite homes is right here in Connecticut, in Kent. The house prior to renovation was an undistinguished clapboard structure that didn't relate to the vintage barn on the property.
photo Ferguson Shamamian
The owners wanted to restore it to the kind of charming country house they knew it could be. I just love the accompanying text for this feature. "The old red tobacco barn that stood like an adjective waiting for a noun was stained gray so that it no longer looked like an outbuilding divorced from the main house."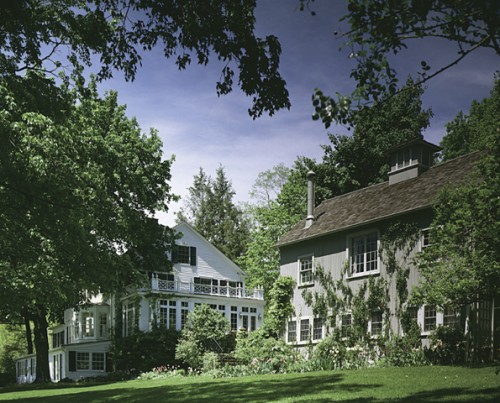 And summing it up, "Frank Lloyd Wright said that architecture was like tailoring – it's a matter of the terminal points, the cuffs and collars. … Although the low-impact renovation did not involve substantial construction, all the small changes, the cumulative power of the detail, proved to be an agent so powerful that what might have been simple architectural change amounted to a transformation of character."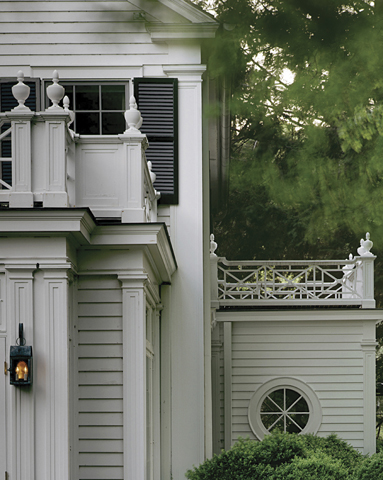 Isn't that the perfect description for what anyone is hoping to attain in a successful renovation? And the very reason one choses an experienced firm with historical expertise and grounding like Ferguson Shamamian, so that the proportion, scale and details look authentic and appropriate.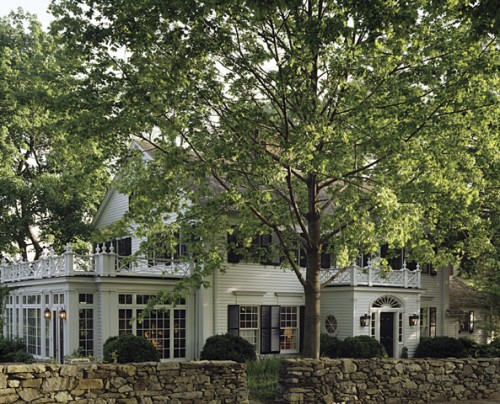 The beautiful landscaping is by Nancy McCabe and the charming interiors by Mario Buatta.
photos by Durston Saylor
Those of you who love traditional architecture will find this a welcome addition to their collection both for explanatory design details  and illustrative inspiration. But be warned, this beautiful edition is quite large and will probably find a home on a coffee table rather than in the bookshelf!