The holiday festivities have begun and while I certainly enjoy celebrating with the design community, it doesn't always leave time for working behind the scenes. So while I catch up, I thought I would share a favorite project that has been in my files for years. I am interested in anything that Studio Peregalli touches. Their sophisticated sensibility is, as the title of their book revealed, an impressive Invention of the Past.  But in few projects is the melding of old and new as dramatic as in the Milan townhouse of Kartell owner Claudio Luti and wife Maria. I first saw the house in House & Garden almost a decade ago, where the emphasis was on the design firm's remarkable recreation of a fabricated past as in the entry below.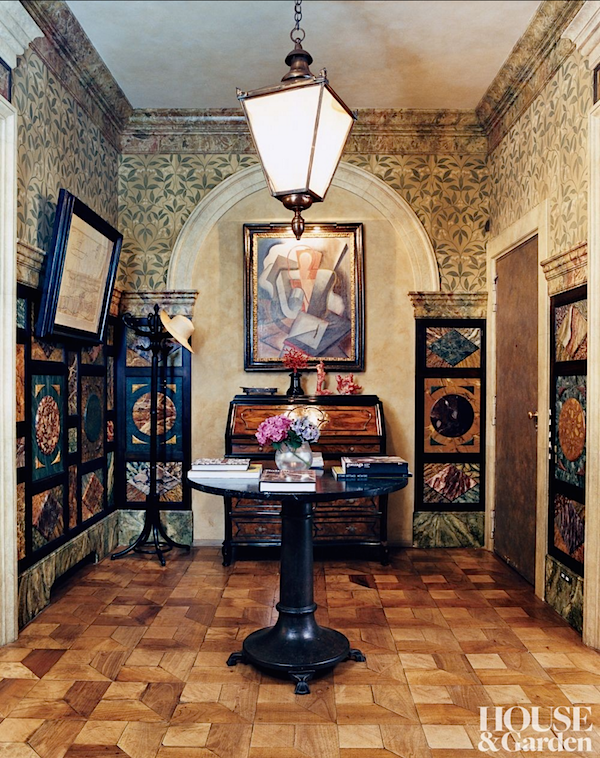 However, Kartell's iconic Louis Ghost chair by Phillippe Starck made an appearance, paired with an early 19th century English table, in the verdant garden room.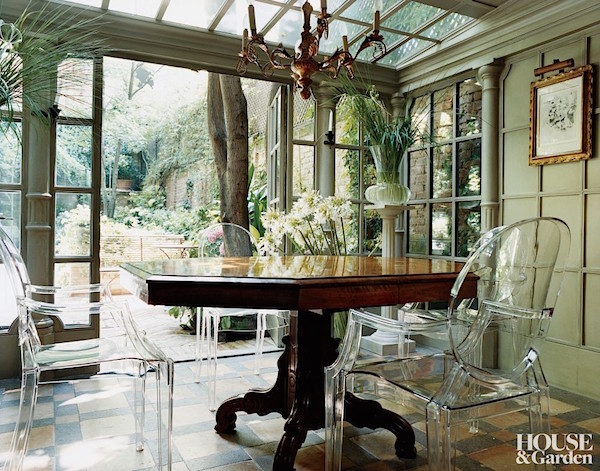 And in the stunning bathroom with tumbling block patterned marble floor and Venetian plaster walls, Kartell's Eros swivel chair adds a modern touch.
photos above by François Halard for House & Garden
In T magazine's piece about the house several years ago, they shot the bathroom with Patricia Urquiola's Foliage chair as the featured Kartell piece.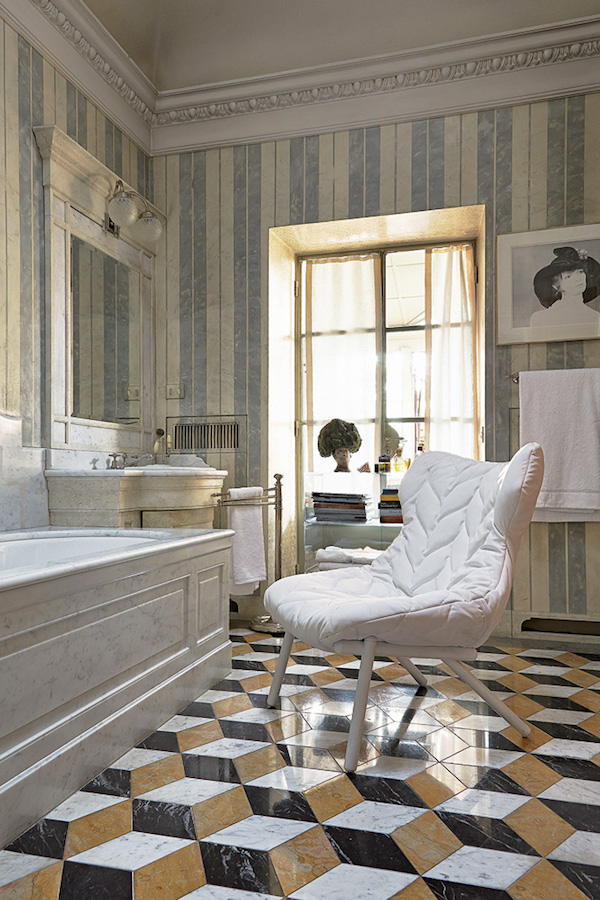 T also showed how another Patricia Urquiola Kartell piece, her Comback chair, fit beautifully in the entry hall against a patchwork of faux marble.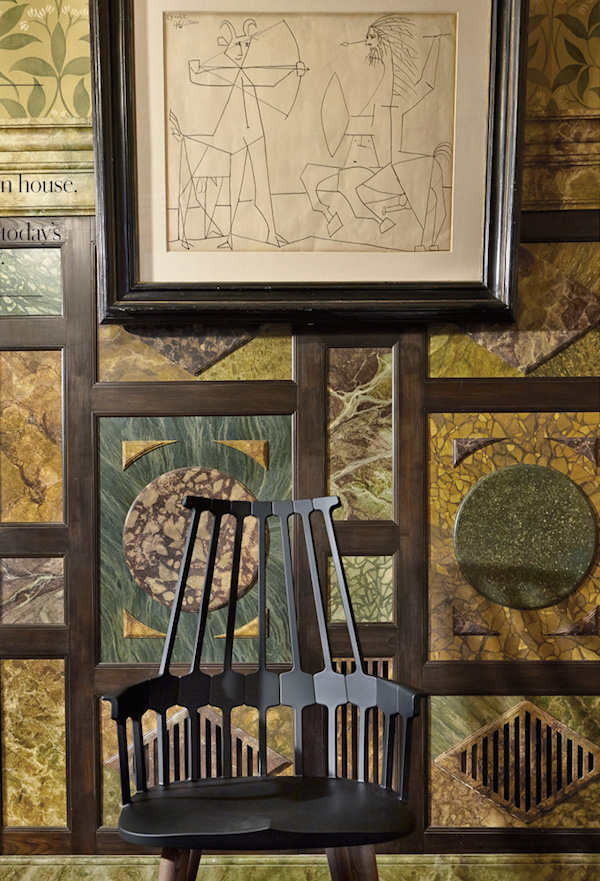 In the bedroom, Philippe Starck's Ghost Buster for Kartell echoes the lines and function of more classical pieces yet lets the beautiful statement walls take the final bow.
three photos above by Ruy Teixeira for T magazine
The Milan townhouse appeared around the same time in Casa Vogue, where a few new rooms and pieces were featured. The traditional paneled library includes two of Piero Lissoni's Pop armchairs in an amethyst velvet that is a splendid counterpoint to the warm woodwork.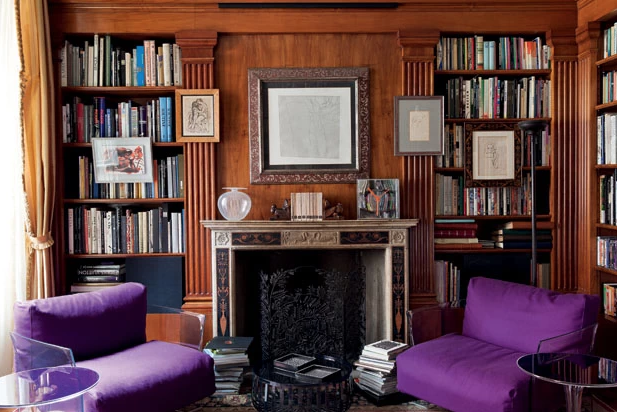 It's amazing how versatile Starck's Masters chair is. Perhaps because it is a fusion of three modern classics  – the 7 Series by Arne Jacobsen, the Tulip Armchair by Eero Saarinen and the Eiffel Chair by Charles Eames – rolled into a single contemporary composite. It looked right at home in the bedroom,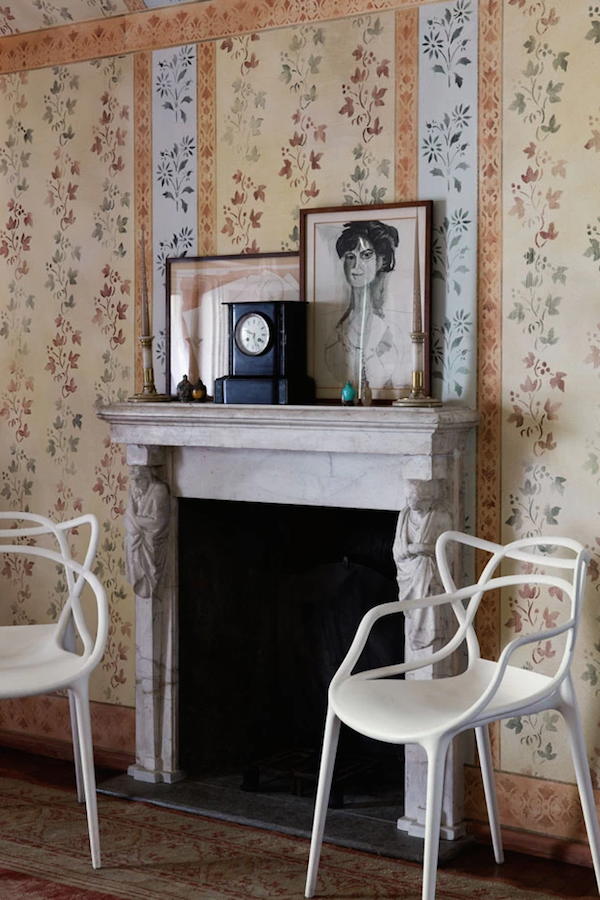 but really adds a sinuous sophistication in the garden where amethyst glassware is a stunning contrast against the green setting.
three photos above by Giorgio Possenti for Casa Vogue
The brilliance of Roberto Peregalli and Laura Sartori Rimini yet again proves how a masterful understanding of the past can be the most powerful tool for moving forward.