There were so many scene-worthy moments at the Connecticut house of Robert Couturier that we decided to offer you a short sequel, an amuse bouche of sorts. Welcome to chez Robert part deux – the library!
From an antique federal door arose the marvelous free standing structure that is Robert Couturier's library. My photos pictured the myriad of construction accoutrements for the latest house addition, but below is its normal graceful state.

photo courtesy of Robert Couturier Inc.
With an octagonal interior, flanked with resurrected columns from a house of the same era as the door, it is filled with books, collections and exquisite furnishings, a marvelous melding of classic American architecture with French interior style. The lead fabric is the Le Manach pattern Marie-Amelie, named for Louis Philippe's wife, for whom it was originally produced. Silk velvet and Holland & Sherry embroidered pillows grace the elegant chaise.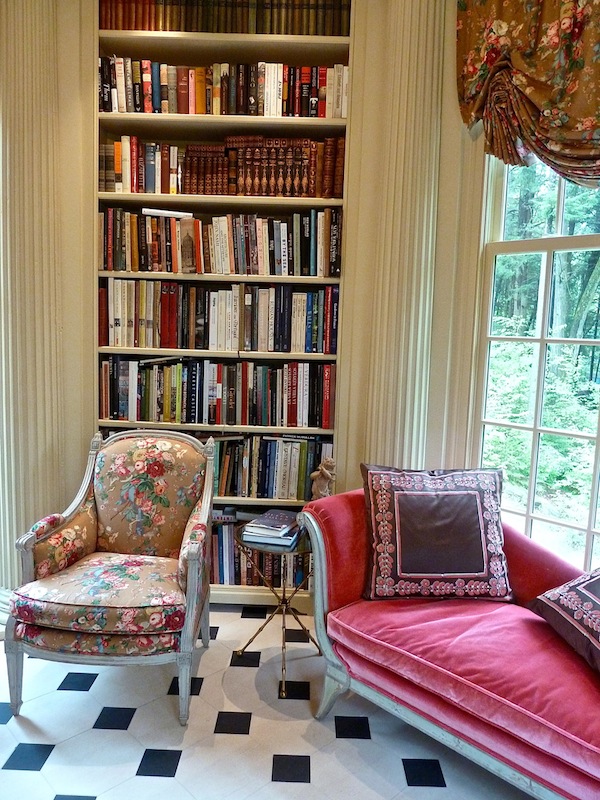 Perhaps inspired by the famous library at Château de Groussay, both the chaise and fabulous leather desk set are by Emilio Terry, who collaborated with Charles (Carlos) de Beistegui on the addition to his legendary 19th century chateau.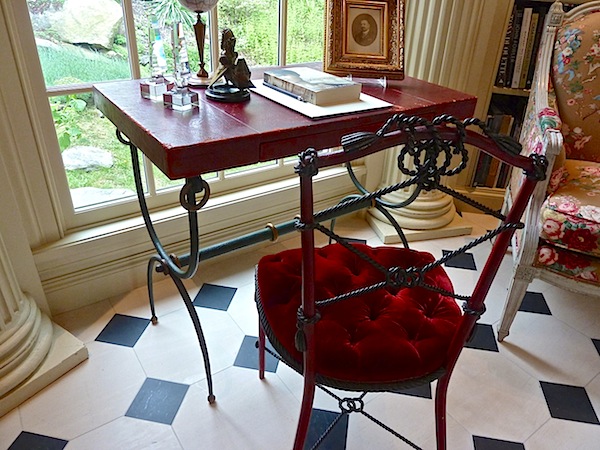 Overlooking the lake below, Robert Couturier has created a luxurious refuge of timeless elegance to satisfy his thirst for knowledge, beauty and joie de vivre. An inspiration for all.