One of the best aspects of the AD Home Design Show is that it covers the full gamut of design. As the leading US luxury design fair, it features an international array of offerings from art to appliances. In this final segment on this year's show are picks from a variety of categories.  Eric Trine describes himself  "inside the middle of a triple venn diagram of art, craft, and design." Through furniture, sculpture and decorative objects, he is an active contributor to the growing made in America studio movement. I loved his beautiful leather and metal frame Rod+Weave Chair in the handsome copper finish that is having its moment. A classic in his collection, it is available in many variations and powder coated colors.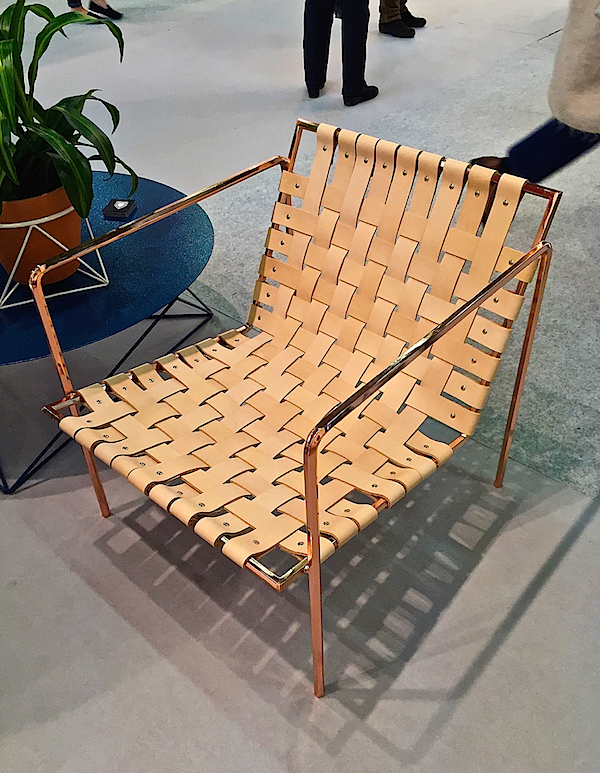 Michele Varian included copper in her new Mala lighting collection. She showed how chic and easy mixing metals and materials can be with these stylish new pendants in copper or brass with wood beads.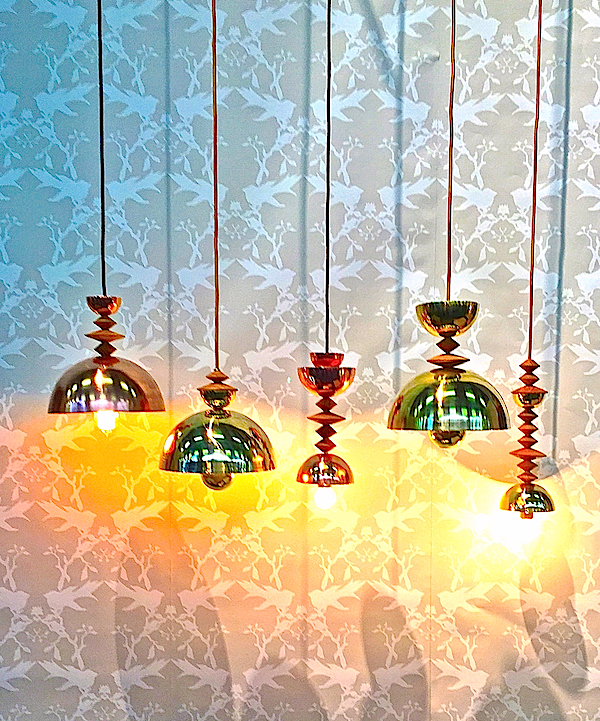 And her new Rose Mirror exuded a warm glow against her Plume wallpaper in Snow Copper.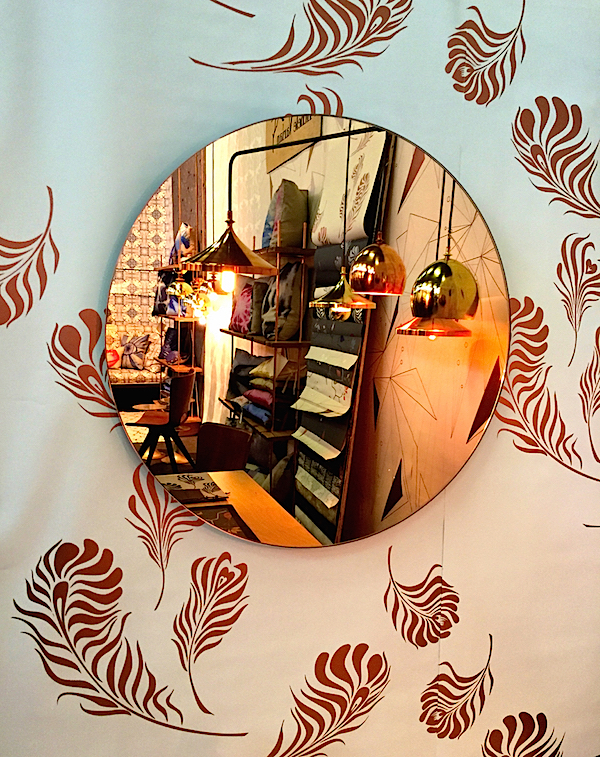 Furniture designer Emmanuel Delalain is a product of classic apprenticeship training, having learned the essentials of his craft in his family's atelier in the South of France building sailboats. Now with his own shop in Brooklyn, he produces fine artisanal furniture with a focus on craftsmanship, detail and functionality.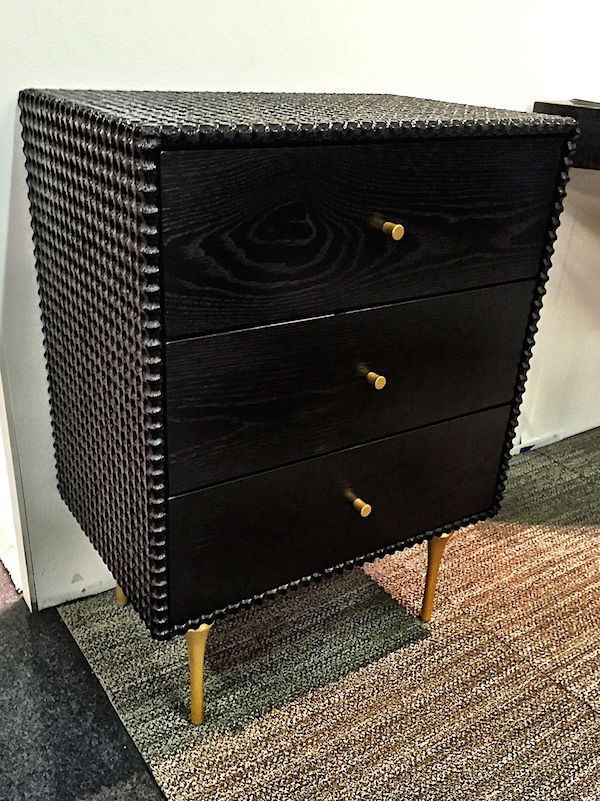 Like a piece of jewelry, his Marie Noire Console, above, is of hand carved white oak with a paint finish on elegant gold stiletto-like legs and matching delicate pulls. With a similarly articulated surface is the graceful Bertrand desk with matching leather on the top and inside the drawer.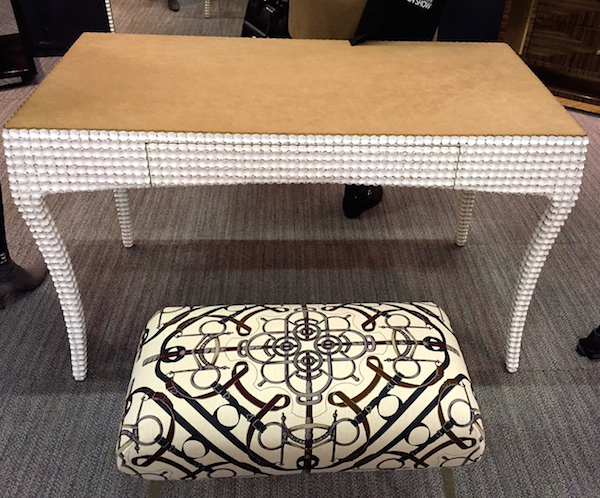 A variation on his open HannaH Side Table, this beautiful piece features elegant matched graining. Truly functional art.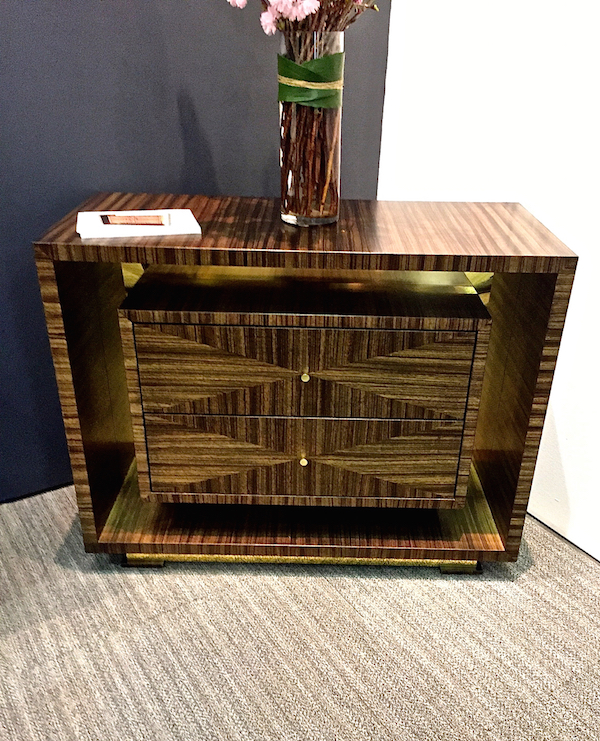 For a new textural take on a classic material, Brit Kleinman's hand-painted leather collection, AVO, transforms tradition through color and pattern.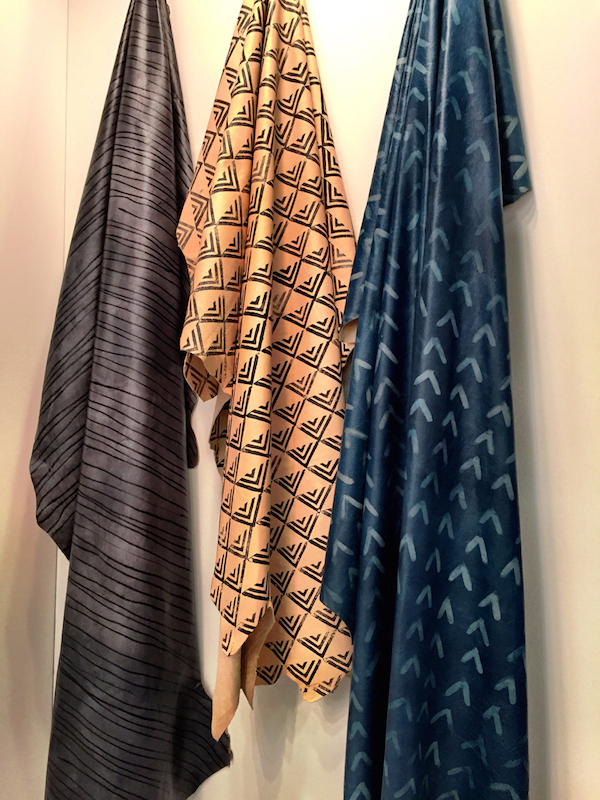 I loved her new Indigo Relief technique  for dying leathers, as seen above right and below in her new Painted Plains collection.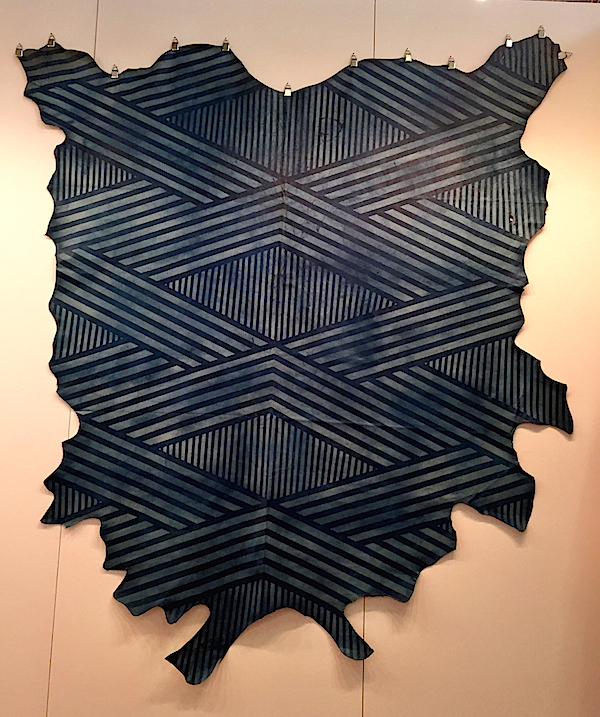 Another new technique, block painting, was featured on several of her new leather pillows below.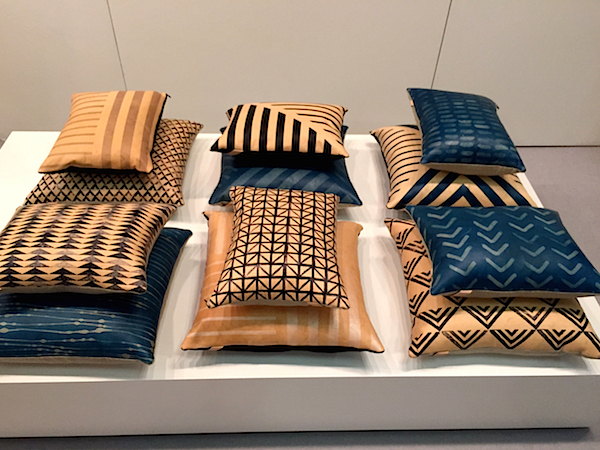 Leather is also the material of choice at Lance Wovens. While perhaps best known for their iconic Architect bag, which I wrote about several years ago here, pillows and accessories, the company is also the provider of a wide variety of sophisticated and innovative leather surfaces to many upscale design and architectural firms around the globe. New weaves and textures were introduced at the show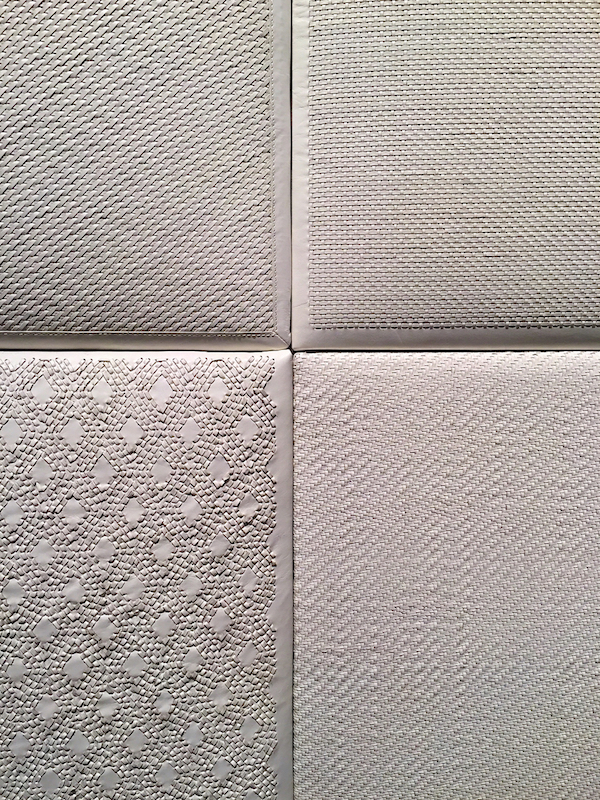 Leather rugs are incredibly durable and while there are many existing patterns, Lance works with designers to execute any number of custom designs.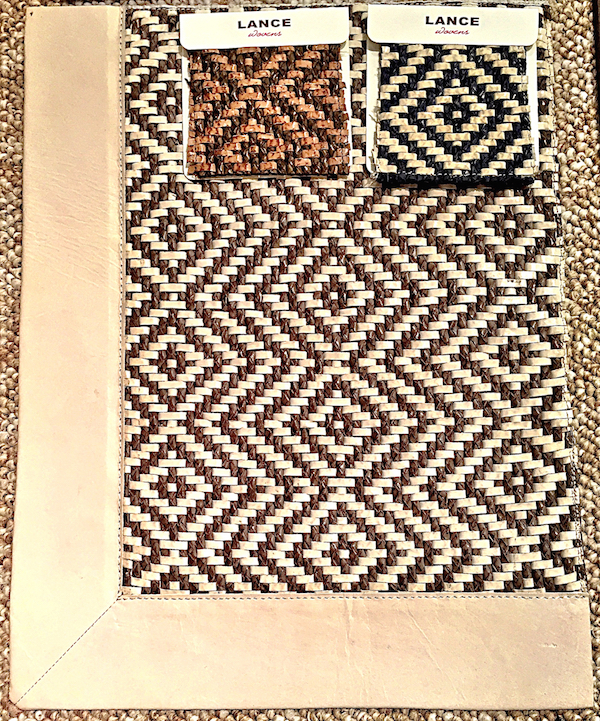 New colors and weaves include subtle sparkle to pick up other gold tones in a room or for a hint of glam.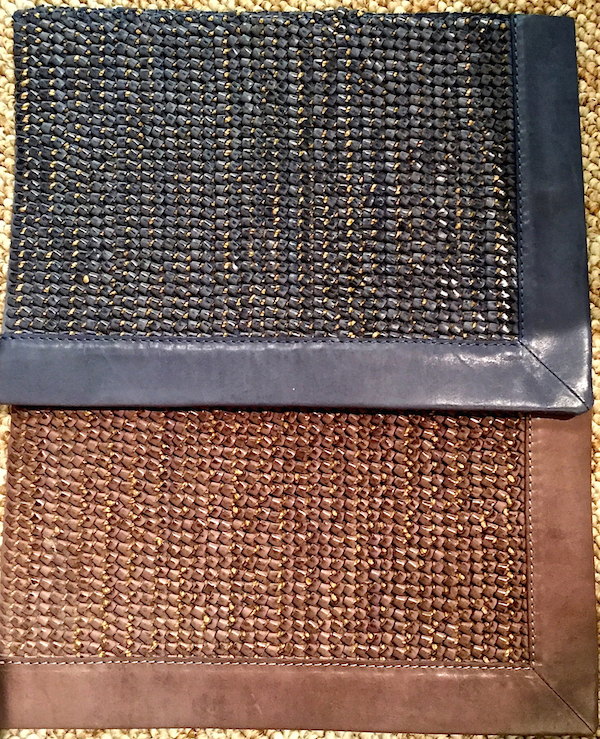 Most think of leather walls for a study or library but how chic would this Chanel like leather tweed be for a woman's dressing room? Lots of creative possibilities!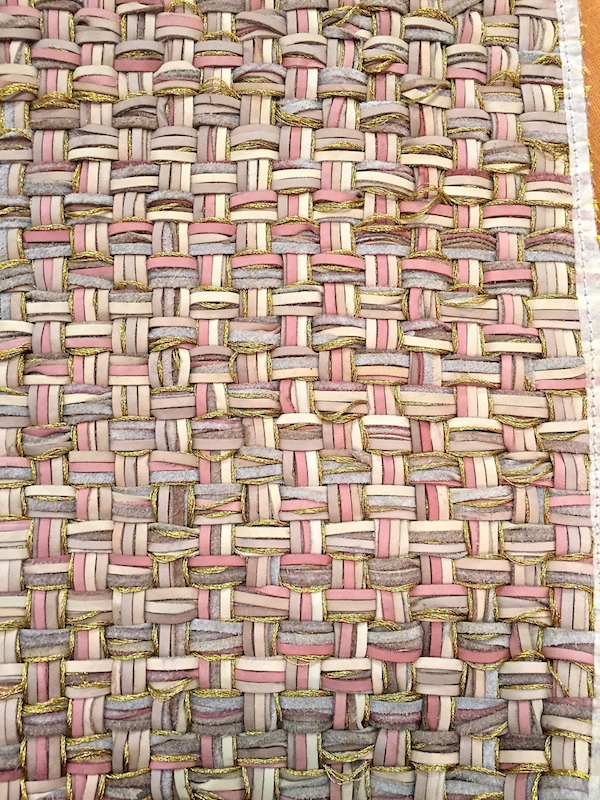 Color and pattern weren't the only story at the show. Clear made a statement as well. My kids have been clamoring for a ping pong table for years. While we don't really have room, I wouldn't mind accommodating this Lungolinea Crystal version from Calma e Gesso. Italian of course.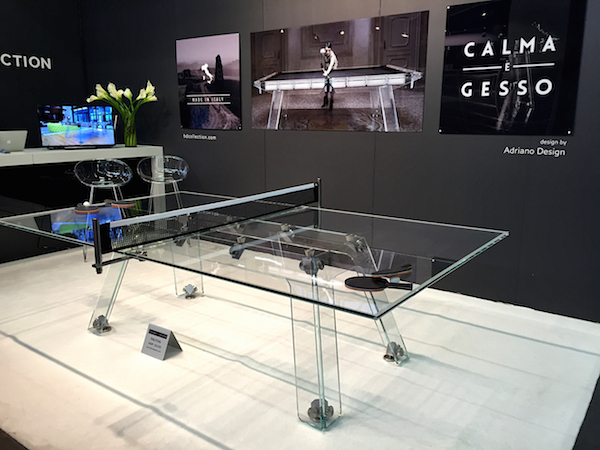 And I think this Cap Ferrat acrylic side table from Plexi-Craft is a great way to add a little Midas touch to any room.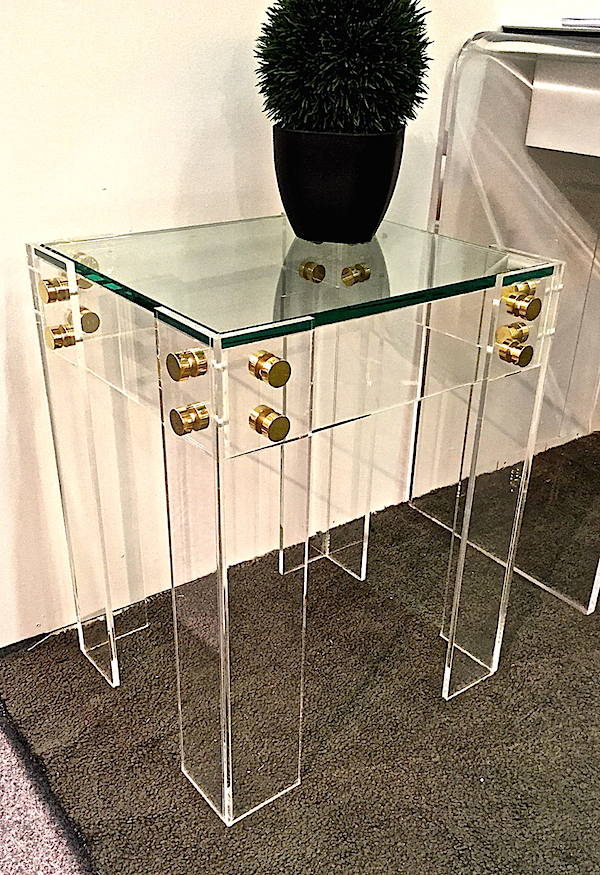 Viyet, the online marketplace for buying and selling high end pre-owned designer furniture choose the design show to announce an exciting new collaboration with Benjamin Moore, whose clever Color Capture app can now match Viyet products to corresponding colors in their collection, making buying and decorating around Viyet purchases a snap. To celebrate the introduction, designers Caleb Anderson and Young Huh created his and hers vignettes. Against a background of Benjamin Moore's Portland Gray Aura Eggshell and accent border of Caponata Advance High Gloss, Young presented a serene space of elegant ivory and white products from Viyet's offerings, such as the pair of  Thomas Pheasant Baker Tufted Back Chairs and retro chic Jean Perzel Paris Sconces.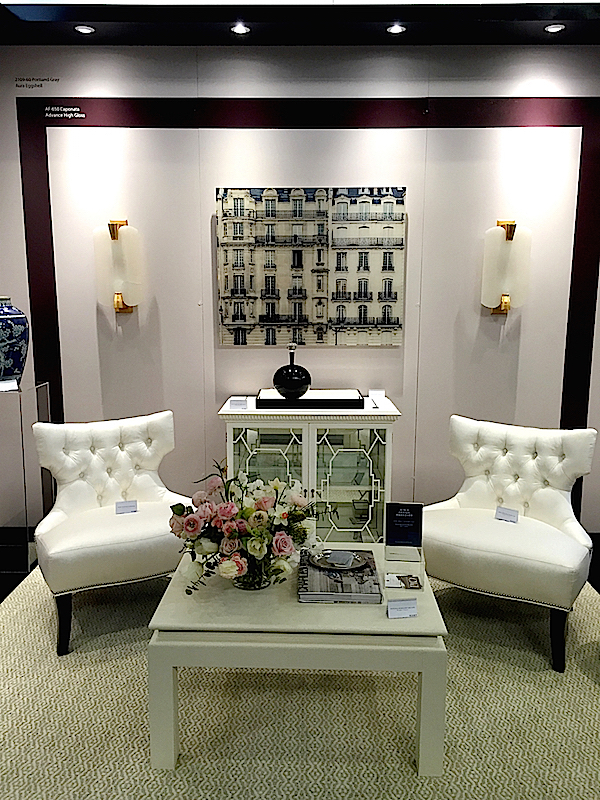 The AD Design Show is a haven for those seeking the latest and greatest in luxury home appliances and a bit torturous for those of us not in the market for updates or redos. Gaggenau's cutting edge German technology combined with sleek contemporary design is hard to beat. You may remember my piece last year about the brand.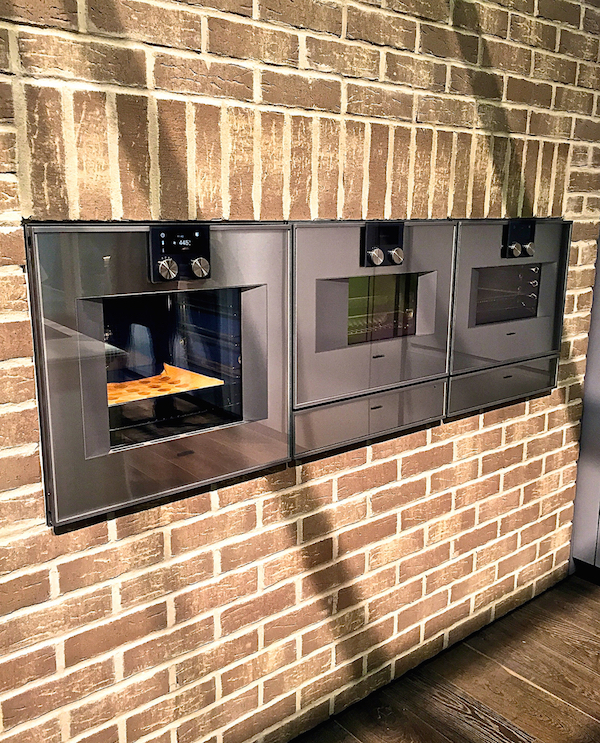 In their bottega inspired space, they introduced their new 400 series speed microwave oven (on far right above) with handle-less automatic door and warming drawer below to match the other ovens in the series. And the new handleless DF-280 dishwasher with hidden controls, below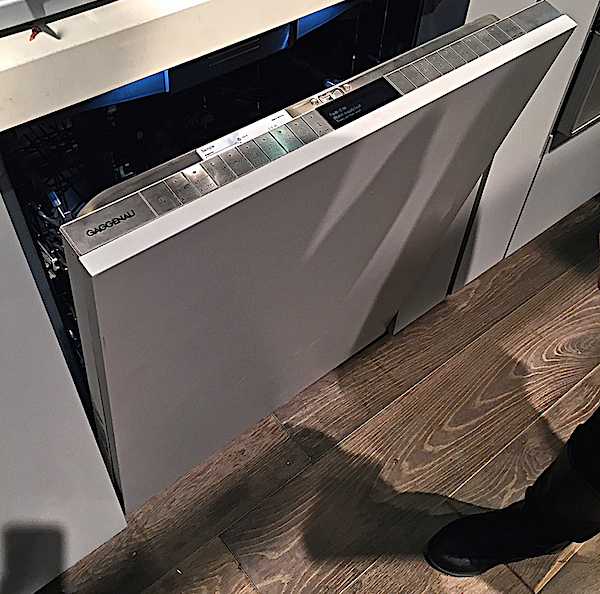 has the innovative feature of projecting an image on the floor indicating the progression through the cycle.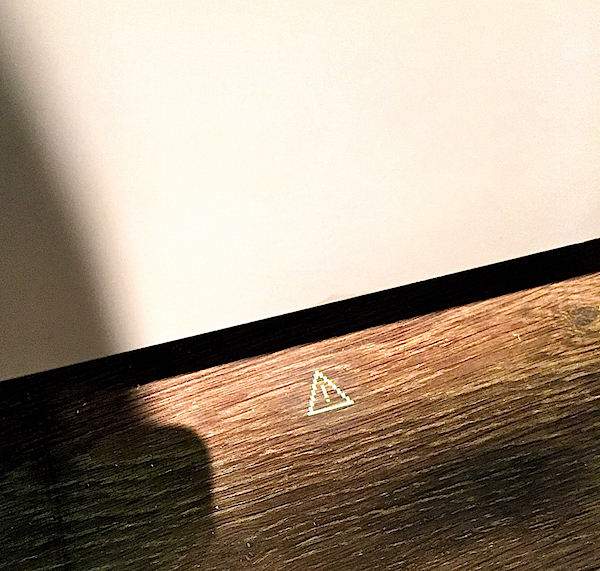 The big news at Miele, the other major player in high end German luxury home appliances, was the introduction of their new Range series. With a wide selection of size and power configurations and complete assortment of features, from wireless roast probe to a MasterChef menu with over 100 programs, it is sure to be an exceptional product. From dishwasher to washer/dryer to vacuums, I have personally owned many Miele products over the years and can attest to their efficiency and longevity.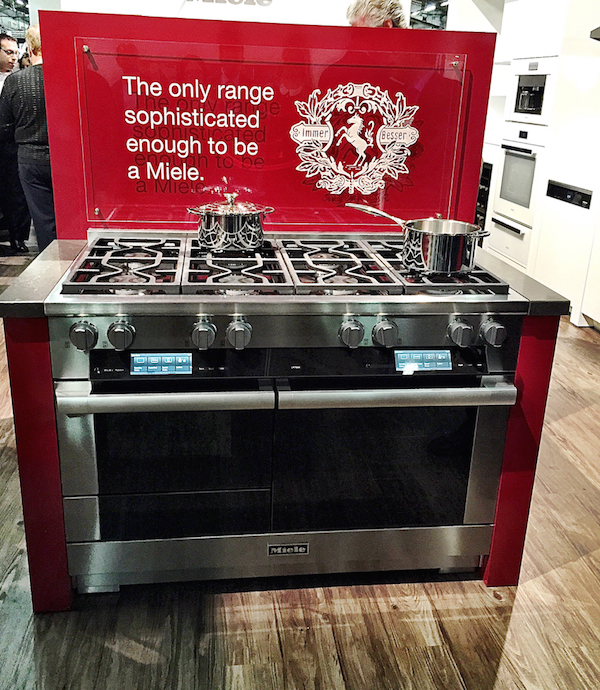 This concludes my coverage of the AD Home Design Show. Stay tuned for reports from the NY Botanical Garden Orchid Show, DIFFA Dining by Design, the Neue Galerie Klimt Woman in White exhibit, new design and gardening books and much much more in the week or two to come. You won't want to miss a thing!