While last week was chock full of design happenings, I was thrilled to be able to at least sneak a peek at the glorious tables for the 2016 Lenox Hill Neighborhood House Gala. Always a favorite event of the season, this year the gala honored long time board member Audrey Gruss for her leadership and generosity. In addition to, most importantly, raising a total of $1.15 million dollars for this worthy organization, the spectacular tables offer an abundance of inspiration for spring entertaining. Alex Papachristidis with David Monn created a scene for an Enchanted Chinoiserie Evening.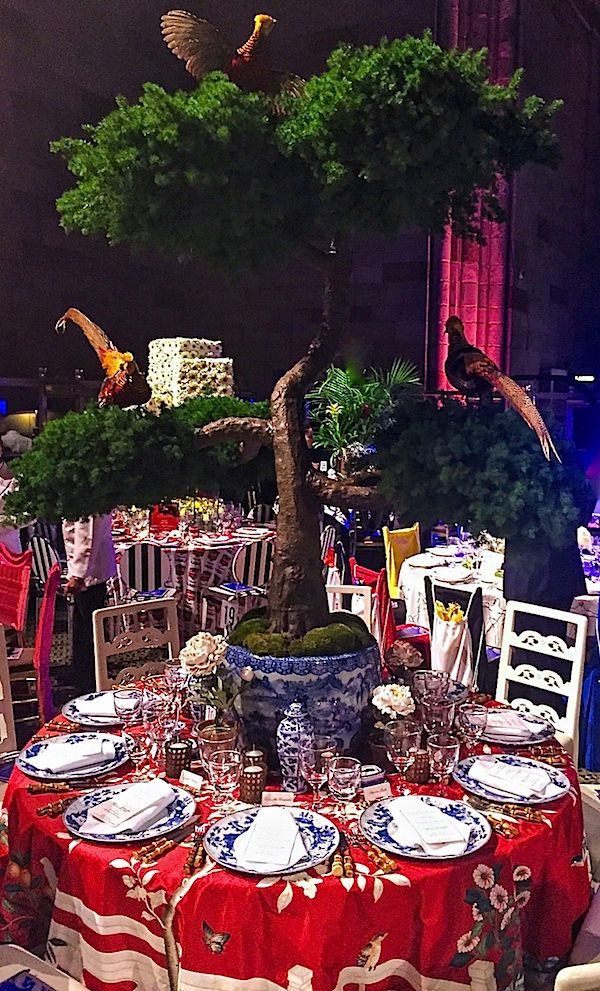 With a stunning hand painted tablecloth Alex designed with Gracie, porcelain flowers by Vladimir Collection (see our video visit to Vladimir's studio), Blue Shou dinnerware from Mottahedeh, William Yeoward glassware, monogrammed napkins from Leontine linens, blue and white porcelain and accessories from John Rosselli and beautiful dinner menus and place cards from Glorie Austern at The Calligraphy Company (glorie.austern@gmail.com),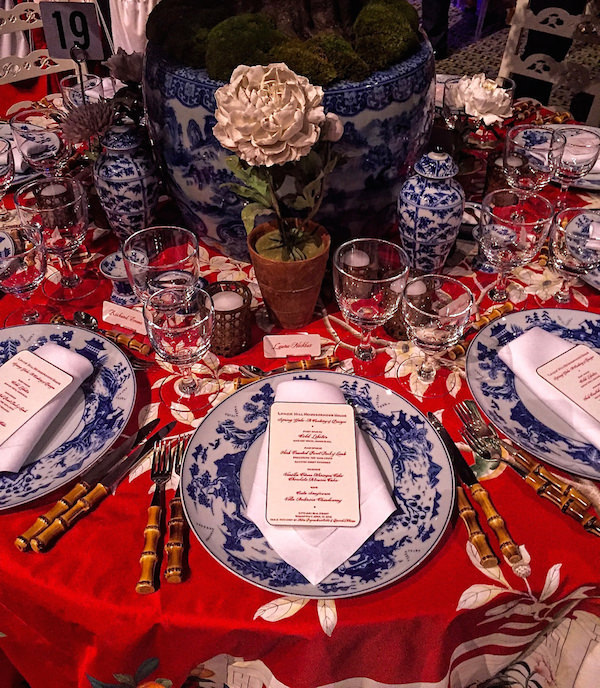 it was a lush and layered example of timeless elegance. And the crowning glory was the birds at the top of the giant bonsai.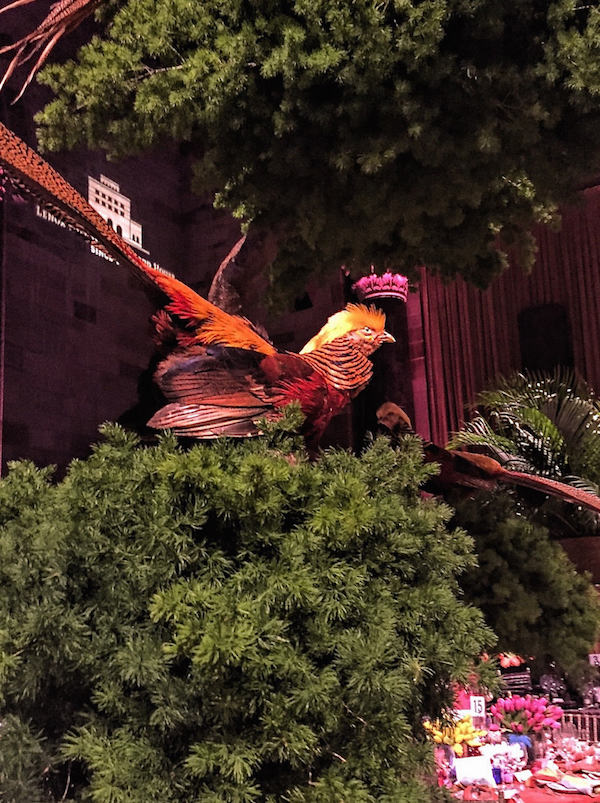 The theme of the evening was A Century of Design and Marco Scarani for Creel and Gow chose the 1970's with his vibrant Duquette's Folly.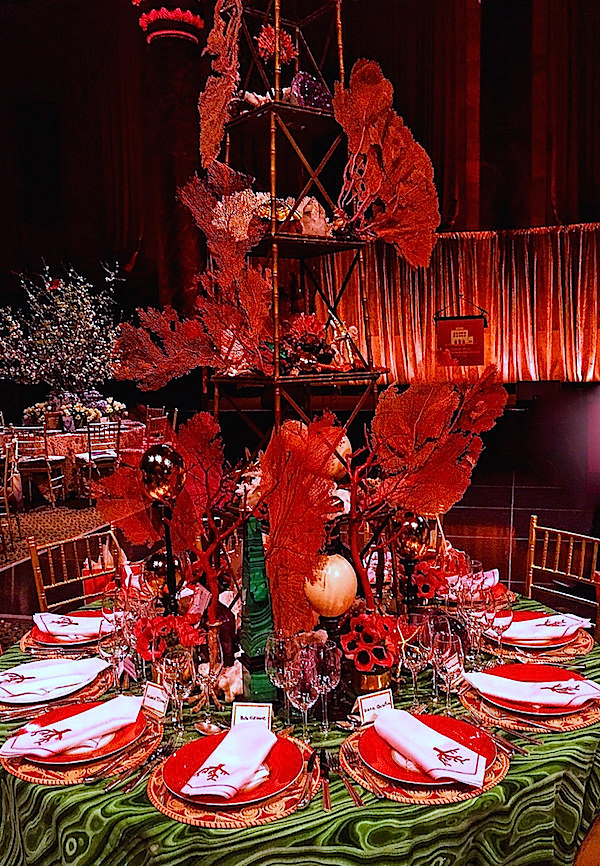 With a covetable collection of coral, malachite, obelisks and other Tony Duquette favorites,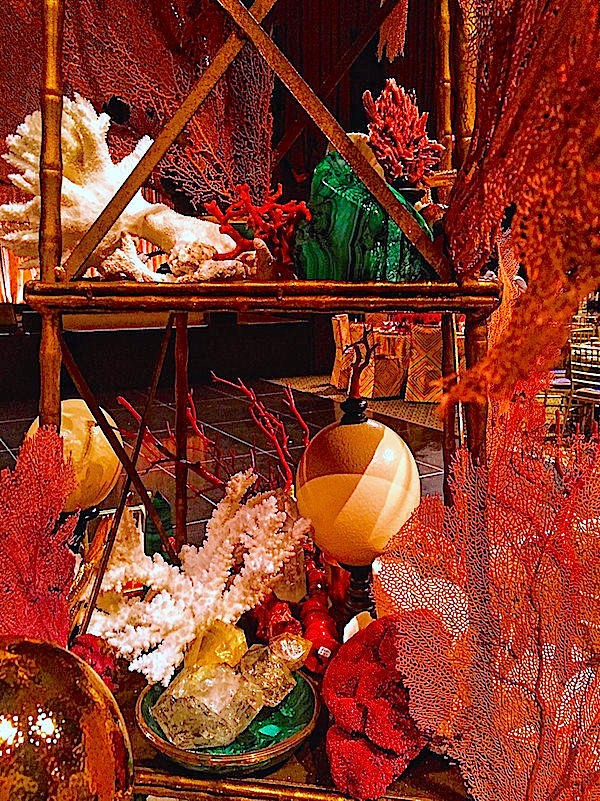 the table expressed the more is more Duquette aesthetic with items from the global chic upper east side cabinet of curiosities.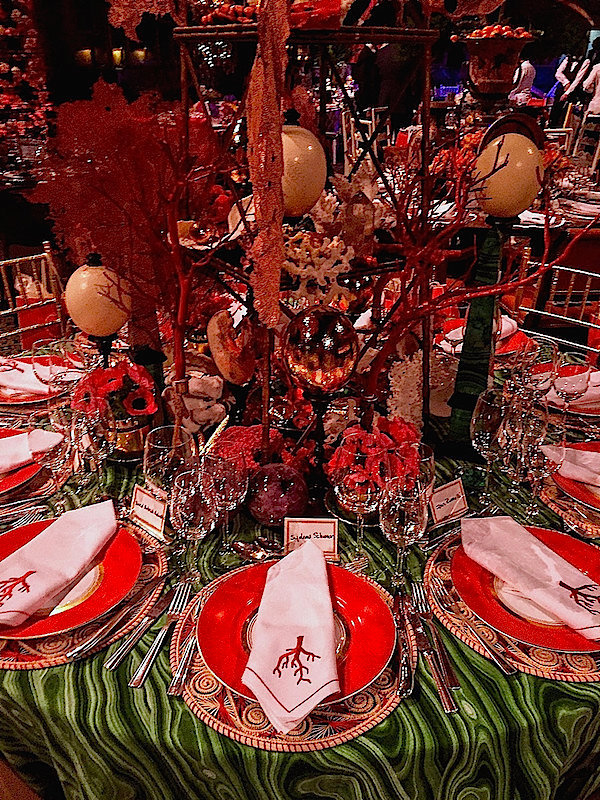 Honorary Design Chair Christopher Spitzmiller's Flower Power! table celebrated the 1970's with fabulous new ceramic pieces.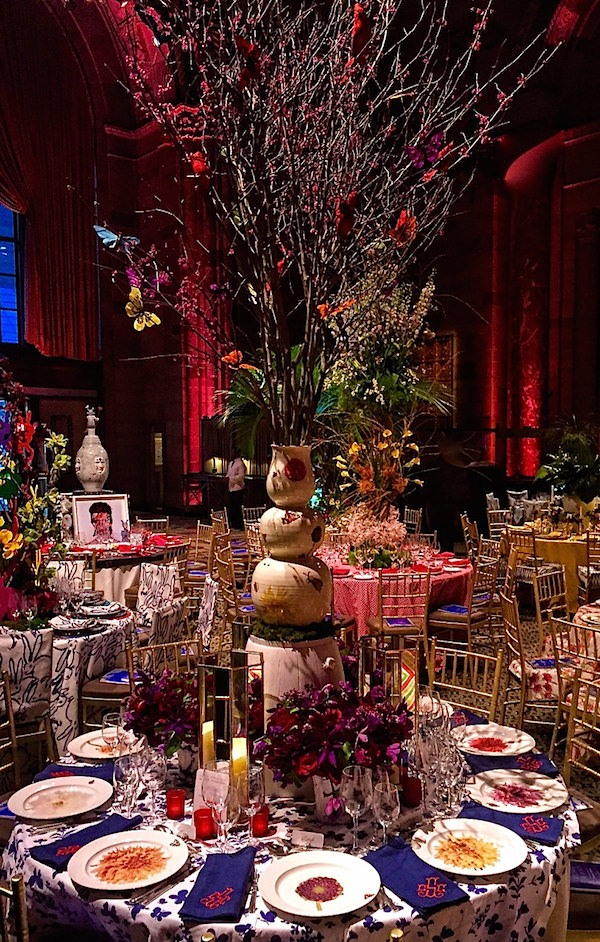 Topping his table with an enormous new Triple Gourd Vase, Chris surrounded the centerpiece with his new Large Hadley Hurricanes and hand-made ceramic Dahlia Chargers.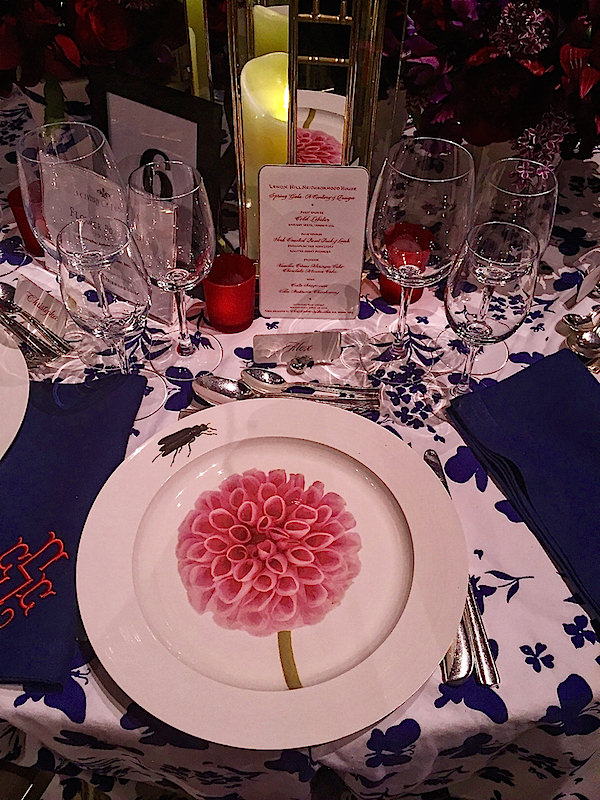 Using images of the flowers he grows in his garden at his country house, Clovebrook Farm, each plate featured a different bloom and garden insect. The vintage tablecloth and Bergdorf's napkins monogrammed by Madison in Dallas were offset by beautiful arrangements by Plaza Flowers.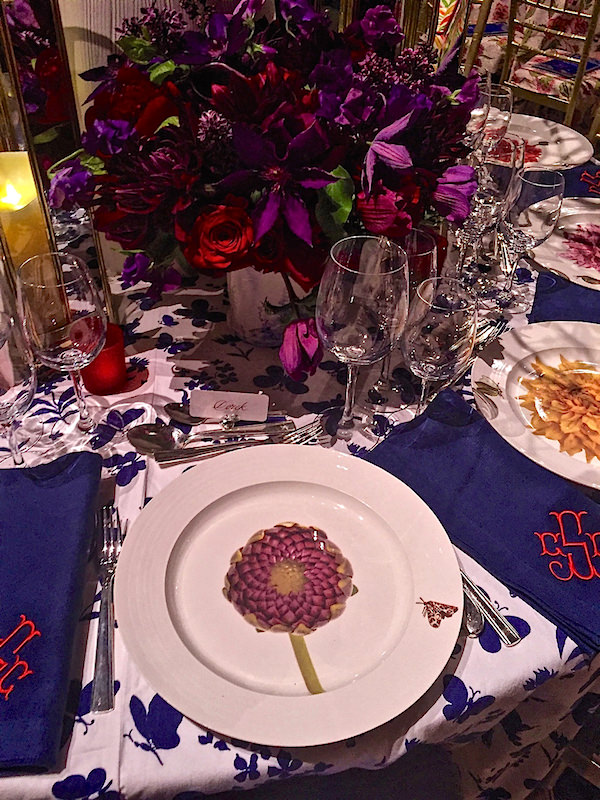 In a Study of the Greek Style, Scott Snyder referenced the early 19th century Regency Period.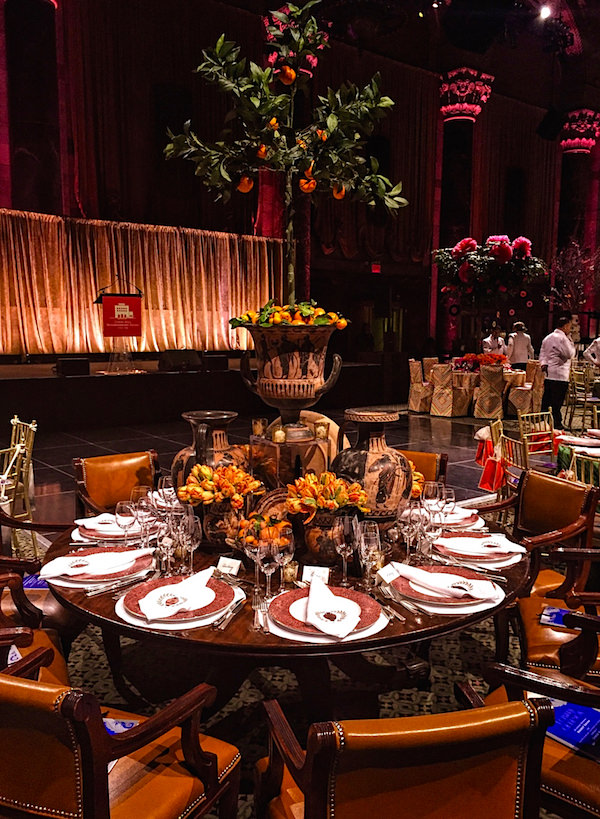 With handsome English Regency mahogany leather upholstered arm chairs from Newel, Greek style painted terracotta vases and urns and clever thematic monogrammed napkins, the designer proved yet again that what's old is new.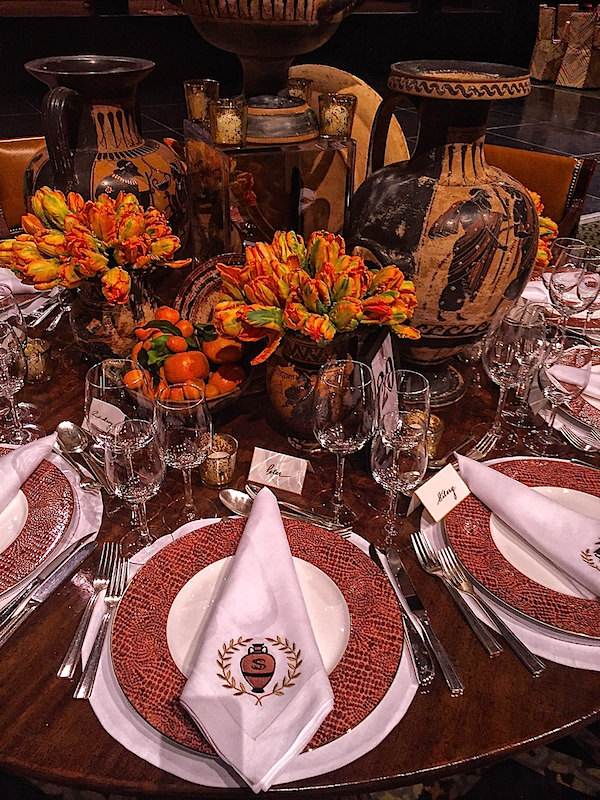 Alessandra Branca's table was a timeless and beautiful representation of Indigo Dreams, a perfect example of her mantra that a well-lived life is the mix of classic beauty with the everyday, graced with "comfort, elegance and wit."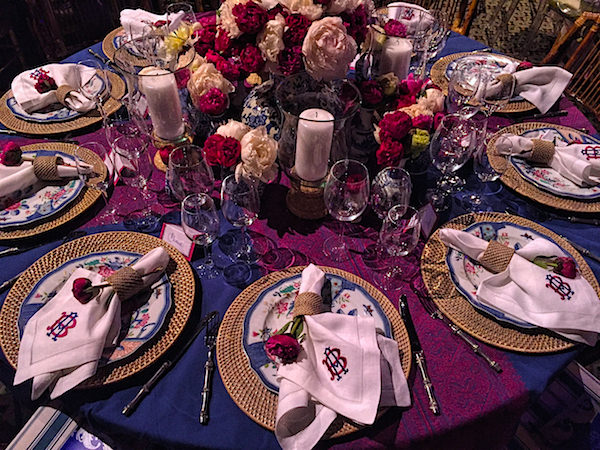 On a tablecloth of Schumacher's beautiful new embroidered Toledo fabric from their Couture Collection (which I wrote about here), Alessandra added a casually chic assemblage accented with a spectacularly lush arrangement of peonies from G. Page Flowers.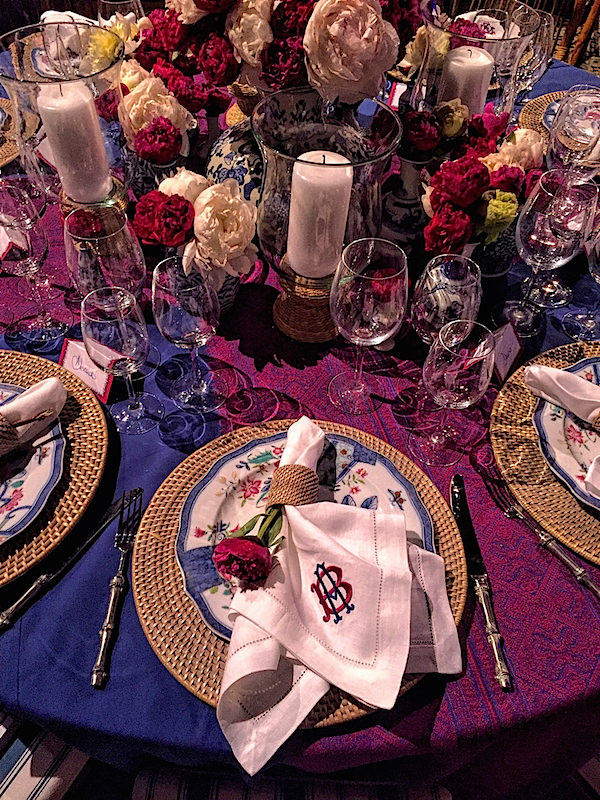 In a table of creative collaboration, Harry Heissmann and Emily Evans Eerdmans teamed up to channel legendary decorator Henri Samuel in a tribute to French 20th century design.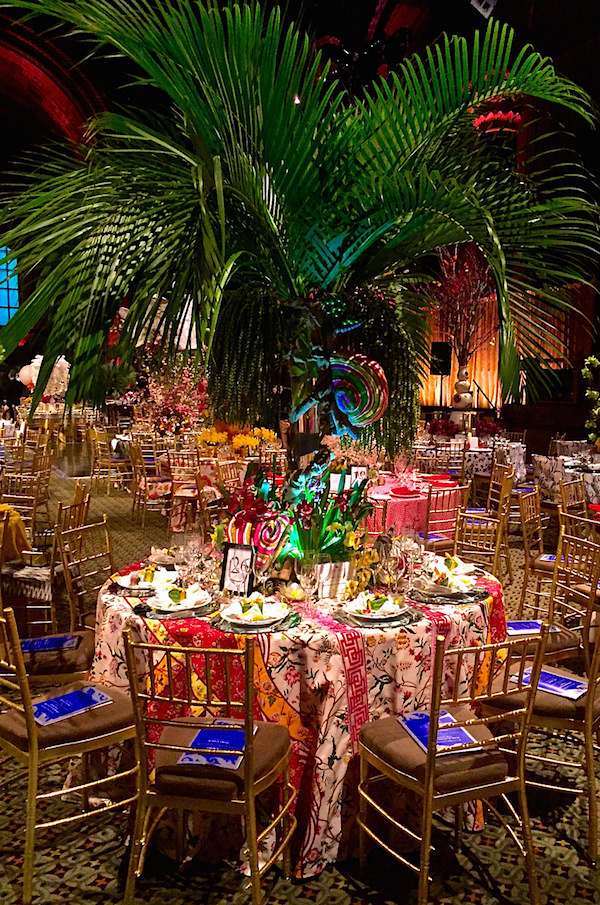 A display of layered opulence included Brunschwig fabric, Samuel & Sons trim and fabulous centerpiece by Emily Thompson Flowers. Even the details wittily referenced Samuel's work (specifically the ceiling in the d'Ornano Paris residence) with the snail sculptures by Mark Gagnon.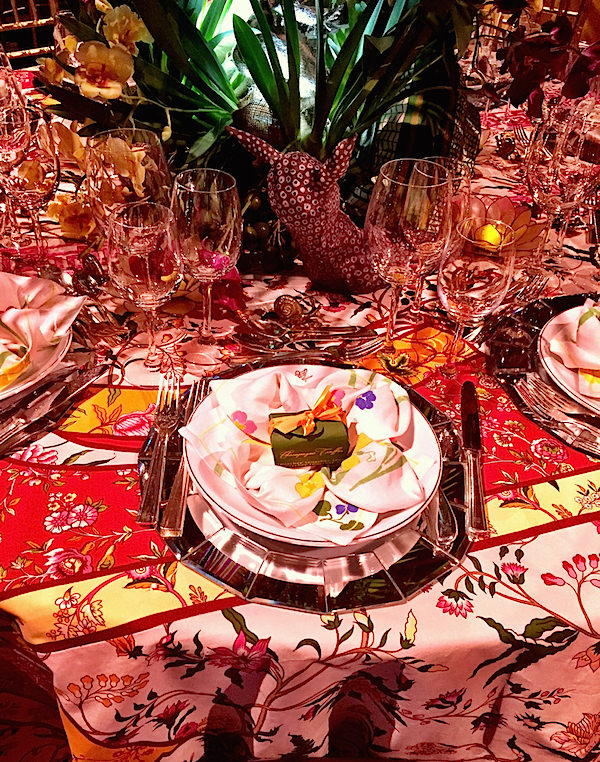 McMillen brought the Psychedelic Sixties back with colorful flair. The statuesque tree centerpiece by American Foliage beckoned all former flower children with its bright blooms and LP's,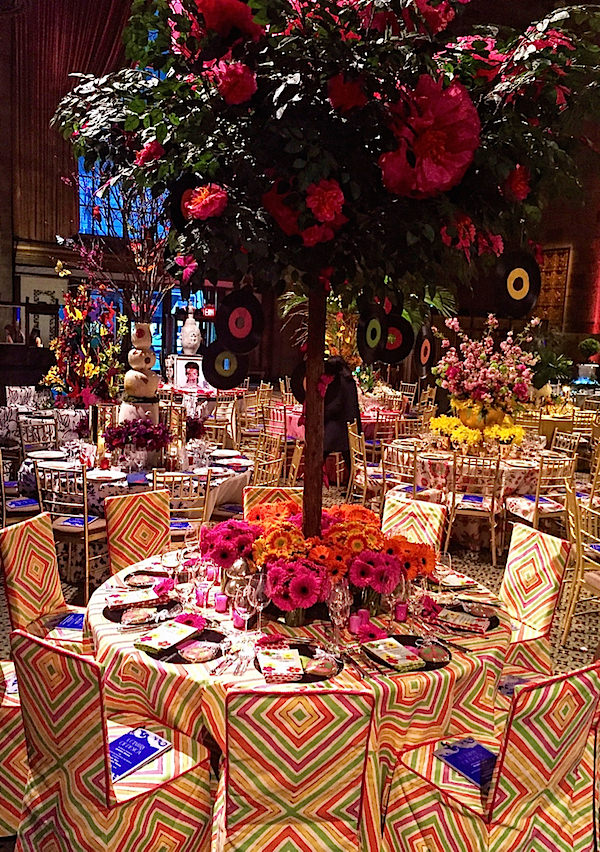 which then served as placemats on the table. A colorful Quadrille pattern trimmed with Samuel and Sons piping, for the chair covers and tablecloth was fabricated by Jaydan Interiors. Even the cookies were peacing out at this trippy table.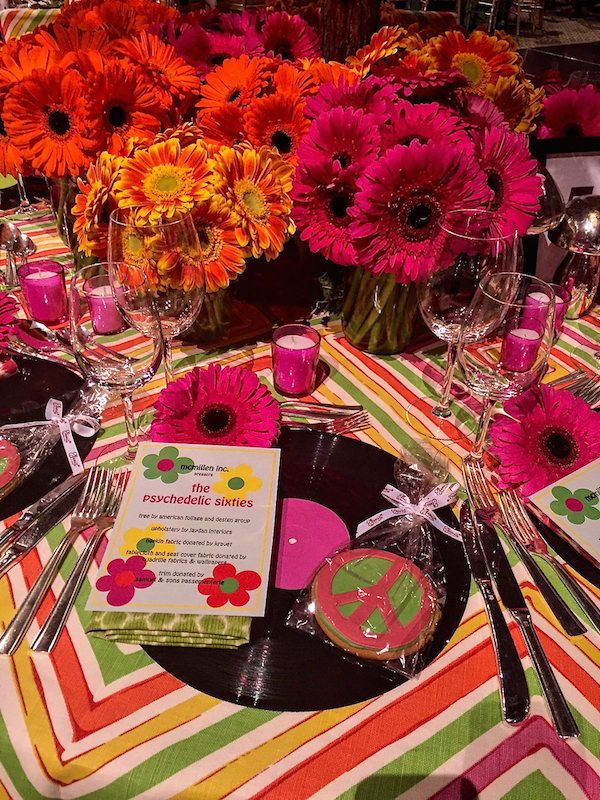 Hunt Slonem looked forward to the Year of the Rabbit in 2023 for his Rabbit is Rich table, anchored with his enameled steel Hutch sculpture made for the occasion intertwined with flowers by Kurt Rausch.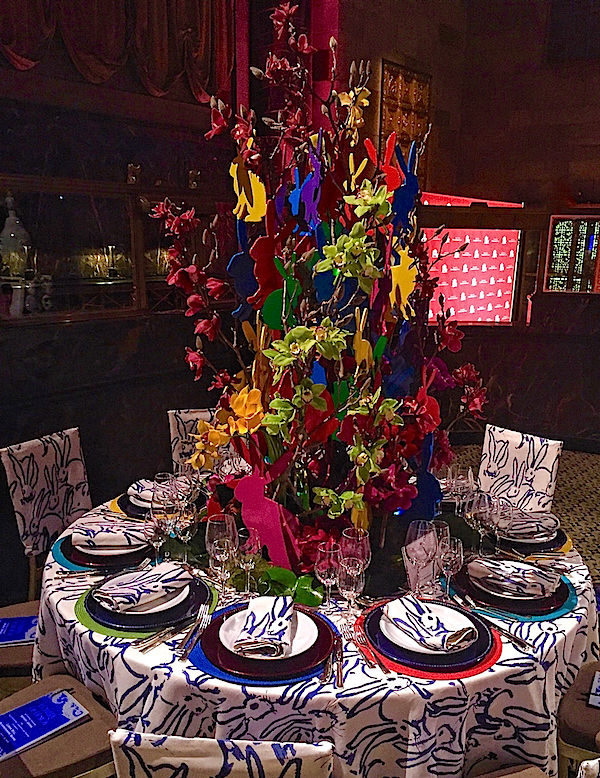 Hunt's Hutch fabric for Groundworks/Lee Jofa covers the table and chairs and was fashioned into napkins for a unified theme co-sponsored by David Duncan Antiques.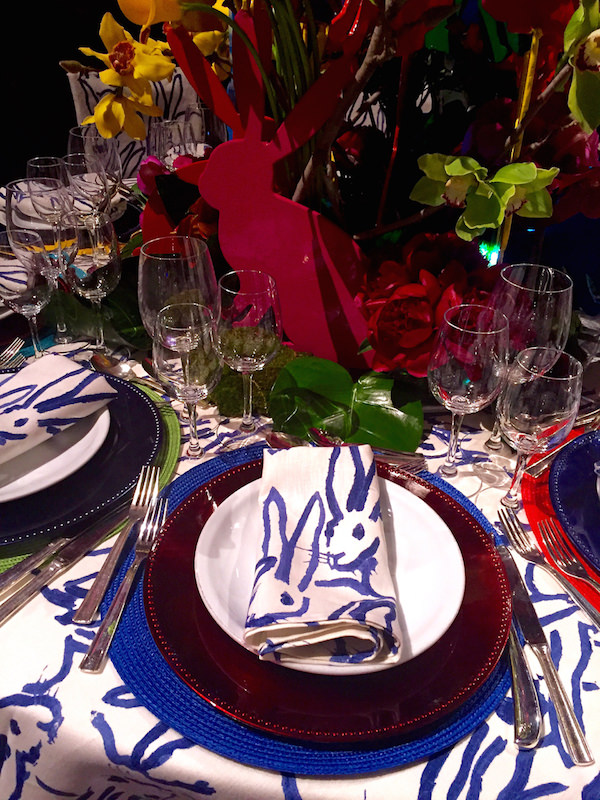 Design Chair and Gala Leadership Committee member Ashley Whittaker took us back to the 1970's with Breakfast with the Bradey's. With a Noguchi lantern, gorgeous apricot tulips from Anaka Maurits Floral Design graphic tablecloth by Lee Jofa, executed by Kristen's Curtains, napkins from Number Four Eleven and Kravet fabric seat cushions,
those of us old enough to remember were reminded of pop graphics, avocado green kitchens, fruit loop breakfasts and "the way we all became the Brady Bunch."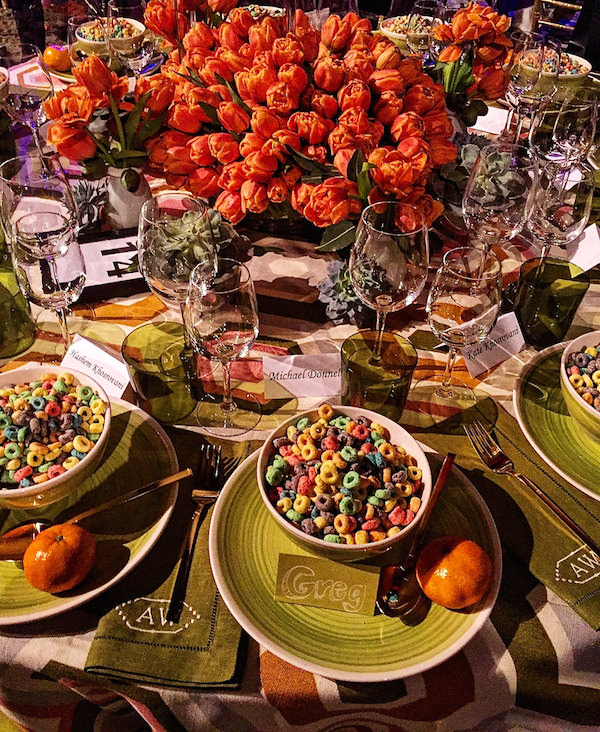 "Art is anything you can get away with." Andy Warhol' iconic quote was the inspiration for the 1960's table with table design by Andrea Stark for Stark Carpet and table décor by Robert J Peczka Jr. for The Special Event Resource and Design Group of Palm Beach.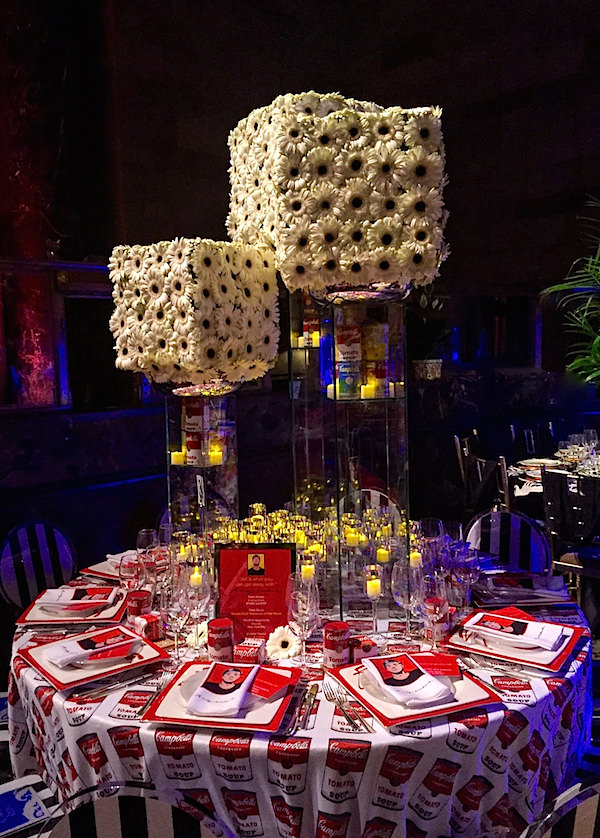 With amazing floral centerpieces by Ovando, the table featured a tablecloth of Warhol's famous Campbell's Tomato Soup can print with coordinated printed napkins and graphics.
all photos Stacey Bewkes for Quintessence
Stop back next time for more inspiring tabletop design from the 2016 Lenox Hill Neighborhood House Gala.