The second installment of our new travel video series comes via my video partner, Susanna Salk, who recently traveled on a family vacation to Iceland. This nordic nation with its vast natural resources and friendly, happy population has been having a renaissance. See what Susanna found so intriguing about this unique destination.
For those who perhaps missed the first episode of Virtual Postcard, our new series features videos and photographs shot by top designers and style makers during their travels to inspiring destinations, which I then fashion into short videos. The updated version of the classic travel postcard, these pieces are the next step beyond the enviable moments we see on Instagram. Susanna sent me some of her dramatic shots of Iceland's breathtaking beauty, below, with a little narration about each so we can all be tempted to plan our own trip!
Iceland is all about looking out your car window: it's all for the taking so don't bother bringing a book and hold your camera at the ready At any moment, at any mile or juncture, the topography suddenly changes and it's magical in a whole new light. This suddenly presented itself to me out the car window on a journey one afternoon driving around the Snæfellsnes National Park on the island's western peninsula.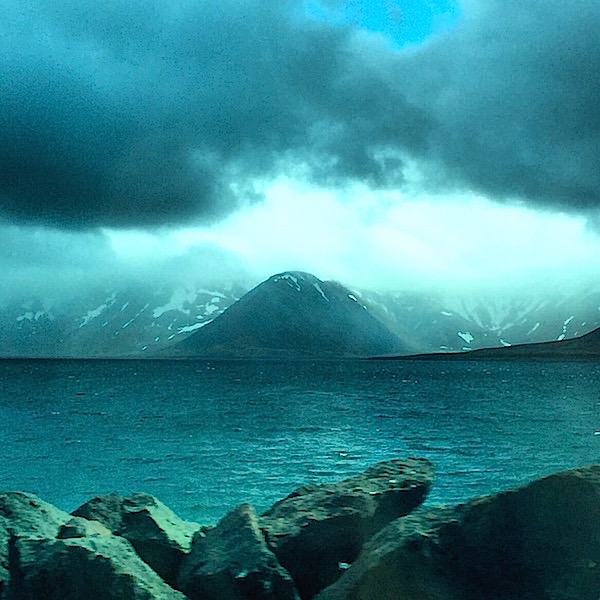 Iceland offers more entertainment in one day than any amusement park or air conditioned theater. The "geysirs" in the Golden Circle are active and periodically shoot hot springs. When you took showers in the nearby capital of Reykjavik, the hot water had an egg-like sulpher smell: that's because it really came up from the ground hot like that! And I loved that whatever restaurant we ate at, the first thing the waiters brought were pitchers of cold, delicious water for the free taking. No "sparkling or tap?" here.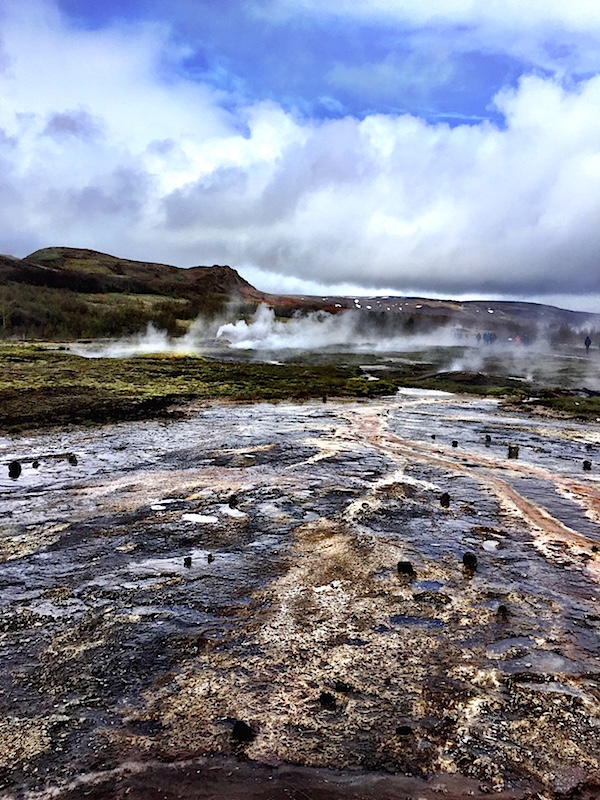 You can become jaded about waterfalls in Iceland. This one was spotted driving on the way South from the capital to Vik. You can see them from the road they are so large. Here a steep row of steps offered views at its top. (There is no charge or lines to access Iceland's abundant tourist sights.) I took this shot when I saw a path midway up across a narrow ridge that gave a dramatic shot. For a few breathless minutes, it was just me.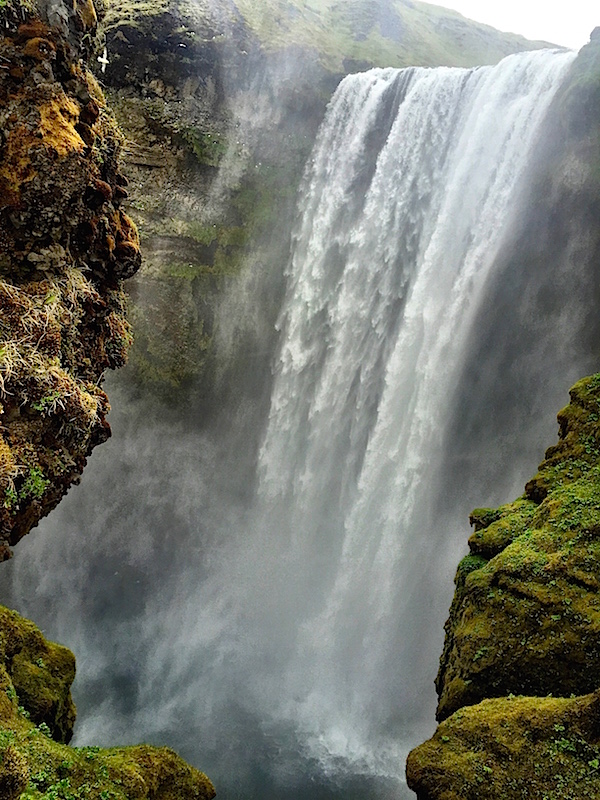 I made my family drive a detour to find the black church of Buoir. Its crisp dramatic beauty on the barren landscape (Iceland really has no trees as far as the eye can see in many areas) made me think I was starring in my own Ingmar Bergman movie. Just below it, were spectacular beaches where we walked and had a sandwich. Then we had yummy espressos in the chic Hotel Buoir next door, whose groovy interior felt like a cross between Brooklyn and Amsterdam. Wifi in all the cafes no matter how remote is plentiful and fast.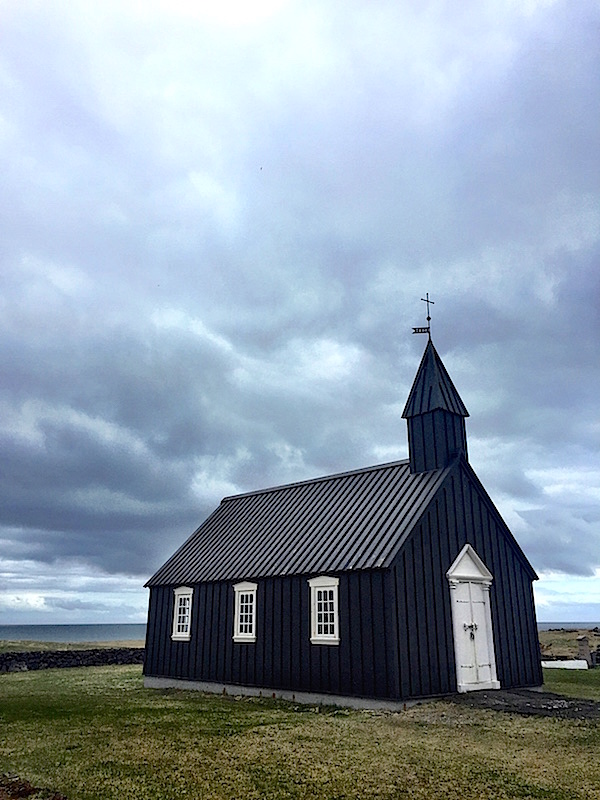 I'm so glad we stopped in Harpa, Reykjavik's concert hall built in 2011 that overlooks the city's harbor. The structure consists of a steel framework clad with geometric shaped glass panels of different colors. For several years it was the only construction project in existence in Iceland. Now the city feels vibrant and bustling. It's friendly without being bland, cool without trying too hard. Delicious food with great service is everywhere. From the many coffee houses that felt like we were in Williamsburg, to hip restaurants that rivaled Los Angeles' passion for fresh and healthy eating, to multiple trips to the infamous Baejarins Beztu Pylsur hot dog stand, there was always something tempting one of us.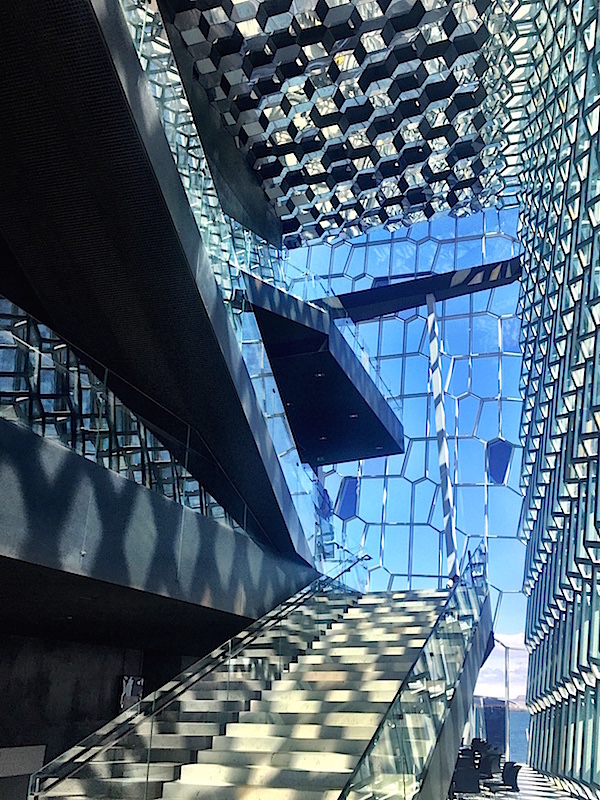 Thank you Susanna! Stay tuned for our next episode of Virtual Postcard – it's the next best thing to being there.