In our latest Virtual Postcard video, join us in Paris as Susanna visits the City of Light and discovers that it's the little things and the everyday rituals that make Paris feel like a favorite friend with whom you share memories and new discoveries on every visit! Whether you're riding a bike at night past monuments that have outlasted kings, or ordering escargot or a custom hat for the very first time, Paris entertains as much as it intrigues!
We were in Paris for a very busy week of filming (stay tuned) and were thrilled to return to our favorite home base, Hotel d'Aubusson. For location, service and amenities, it's hard to beat. Conveniently situated in St. Germain des Prés, it's an easy walk to the plethora of restaurants, shops and galleries in the 6th. In addition to stylishly updated rooms and baths, they serve a wonderful breakfast,
have a lovely jazz lounge with live music many evenings and, weather permitting, there's a charming central courtyard where you can enjoy a meal, coffee or a cocktail.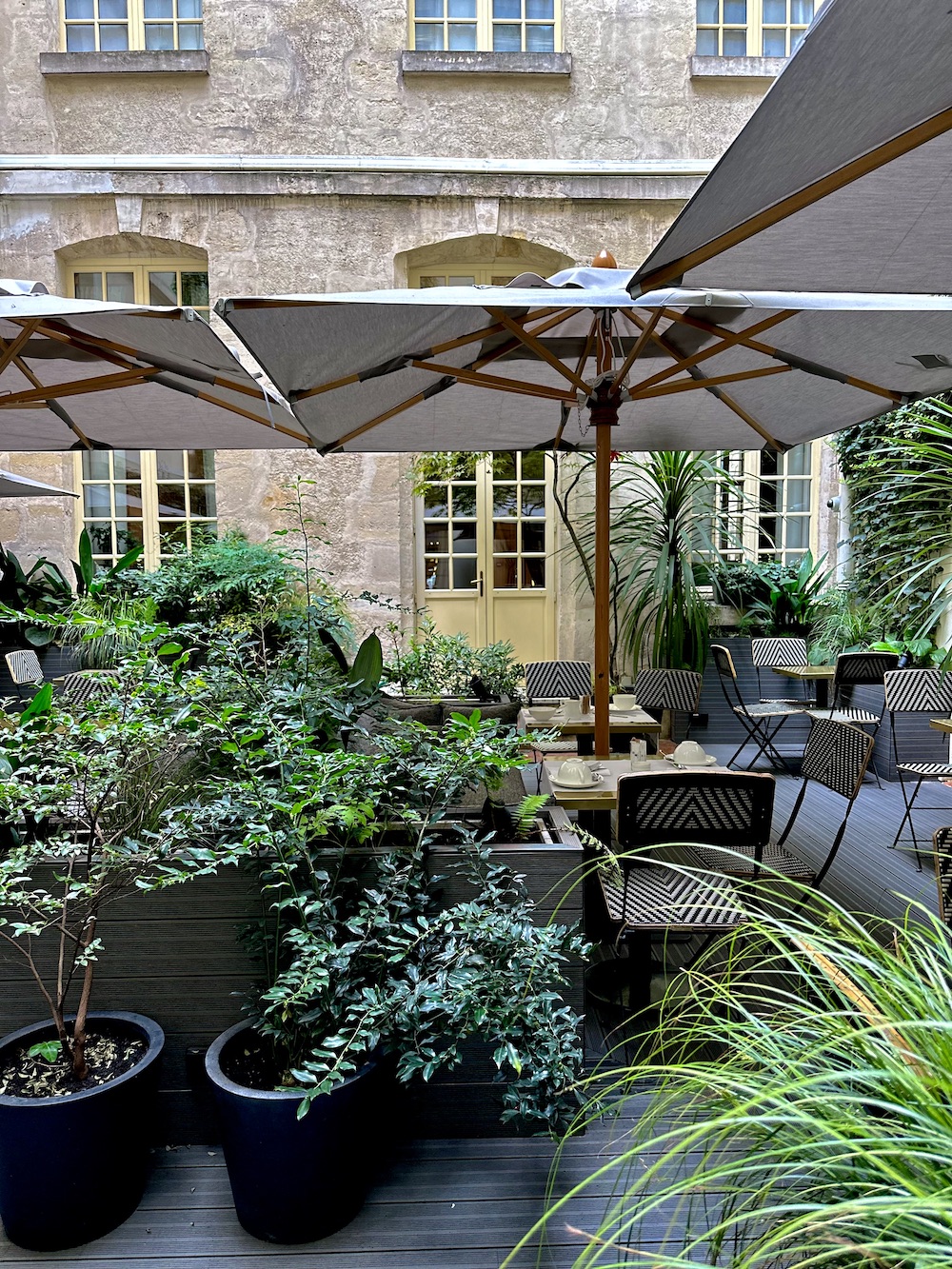 I have been a long time follower of the stylish and charismatic Linda Wright on Instagram and finally had a chance to make a pilgrimage to her shop Crimson Cashmere. We had so much fun with her – below, she instructs Susanna how to wear her iconic and versatile poncho – see it over the Quintessence x D'Ascoli Ophelia dress in the opening segment of the Virtual Postcard.
If you are a hat wearer, La Cerise sur le Chapeau is a must visit. From shape to color to band and even embroidered feather, every element of your hat is custom. The most difficult aspect is making a decision!
A visit to Paris is not complete for me without a visit to my friend Eric Goujou's remarkable shop La Tuile à Loup. His made-in-France ceramics and hand picked artisanal wares never fail to inspire.
A design friend clued us into the recently opened fabulousness that is Arrogant Verneuil. Part gallery, part shop, it encompasses new and vintage fashion, art, decor and the unexpected in its own stylish universe created by Rozemarijn de Witte, Dutch founding editor of LINDA magazine and French husband Pierre Traversier, who also live there. It's a sophisticated, worldly, totally personal lifestyle space that will have you rethinking your design perspective.
In the 7th arrondissement, just blocks from the Seine, Valerie Guille oversees Maison Guyard. With a mouth watering selection of homemade charcuterie, foie gras, cheese, prepared foods, sandwiches, baguettes and more, they are a go-to for take out and catering in the neighborhood and well beyond. We were introduced to the charming shop by the lovely Malou Edwards, with her daughters in the clip below, when filming with her and designer husband Micky Hurley in their stunning Parisian home (stay tuned).
These are merely a few highlights of our stay. Stay tuned for the At Home With video visits from Paris coming soon. And if you are planning a trip or even a staycation, note our Stylish Traveler pieces that served Susanna so well on this trip:
So bon voyage and stay tuned!