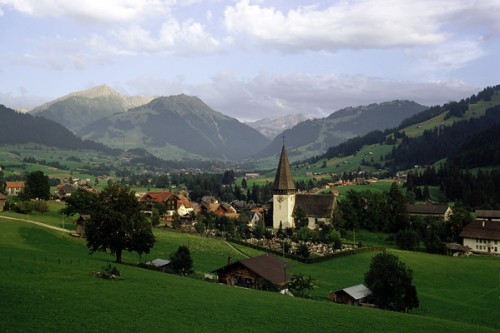 Switzerland is an understated place. This small landlocked country is not prone to outward displays of exuberance or extravagance. You rarely hear about Swiss stars at Oscar parties, young Swiss "it" girls in the pages of Vogue or a bevy of Swiss restaurants in New York boasting its cuisine. Unlike its more outgoing French, Italian and German neighbors, Switzerland seems to hold its cards close to its vest, so to speak. And it's not as if there isn't talent there – it's just that, like the country, their stars can be described with adjectives such as  reliable, consistent and tasteful – not exactly fodder for the National Enquirer or People. Take for example the very talented yet reserved Albert Kreimler of Akris or the incredibly dependable Roger Federer. Lately, however, the Swiss, or Swiss inspirations seem to coming out of the woodwork.
Firstly I read how J. Crew's menswear creative director Frank Muytjens took his inspiration for the new  two-story pine paneled men's store on Madison Avenue from a centuries-old farm in the Swiss Alps. Now when trend-setting J. Crew has a concept, it frequently means people follow.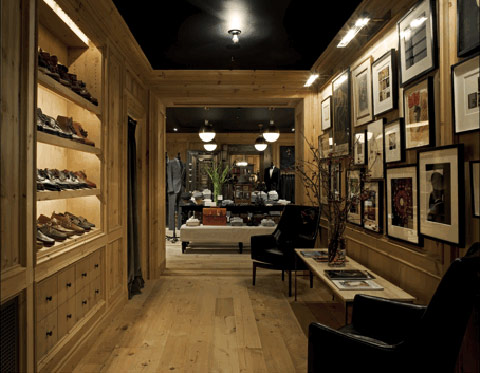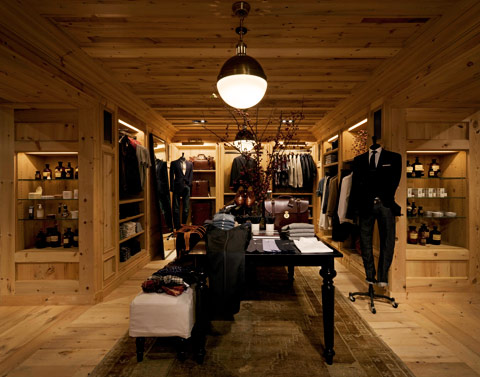 Then I read, on Dominique Browning's lovely blog Slowlovelife, about Swiss artist Ugo Rondinone's tree sculptures in the IBM plaza in New York.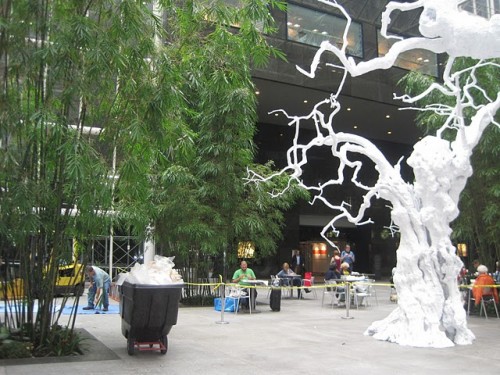 Soon afterwards, the Wall Street Journal featured an article about gallery owner Gian Enzo Sperone's incredible art collection in his 18th century house in eastern Switzerland.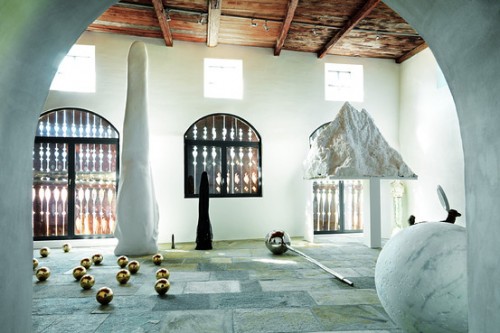 And then when I was doing the research for my piece on Waris Ahluwalia's pop-up shop/tea room, I discovered that it was designed by none other than Swiss architect Christian Wassmann.
But the confirmation that something was going on was when I saw Lonny magazine's terrific current issue. There it was – a big travel article on Zurich.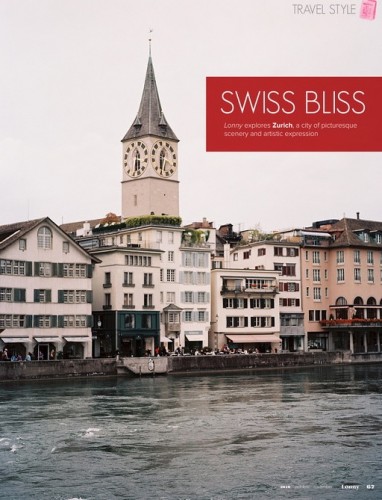 Now what I have neglected to mention is that I spent my summers in college in Switzerland and frequently took the opportunity to visit Zurich. The Lonny article did mention my absolutely favorite place for a respite from exploring – Café Schober, the uber charming café in the old part of the city.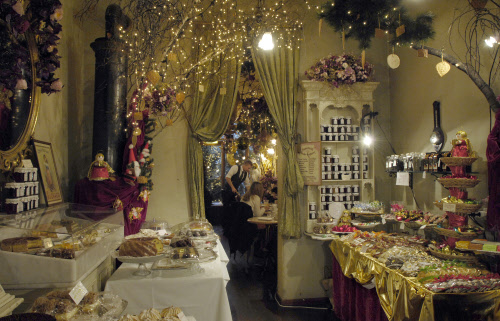 And it also mentioned Kronenhalle, one of the city's most famous restaurants.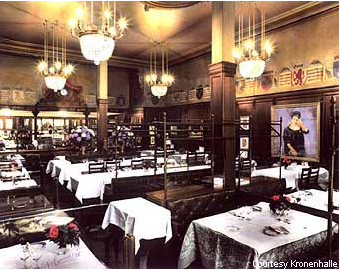 They serve one of my favorite Swiss dishes – geschnetzeltes, a delicious rich offering of veal strips in a cream sauce, served over noodles (or with rosti, the well known Swiss fried potatoes). Here is the recipe from my favorite well-used Swiss cookbook.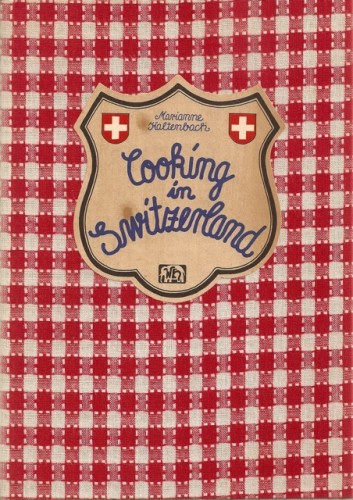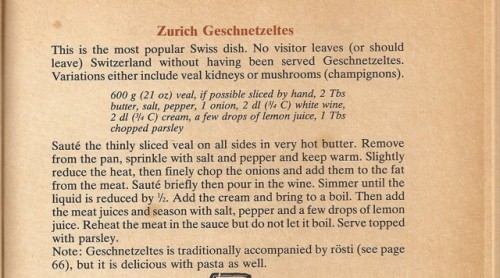 The article also breezed by the fact that Zurich has an incredible assemblage of museums, including the Kunsthaus, which perhaps deserved at least a little blurb, considering its impressive collection, which, in a few years, when it permanently receives the holdings of the Foundation Buhrle, will be the leading center for French Impressionism outside of Paris.
One of my favorite shops in Zurich, however, did not make it into the article but I can understand why. Heimatwerk is a very particular shop that showcases the traditional handiwork of Switzerland. It is not hip or trendy but represents the history of handmade goods in this somewhat ethnocentrically proud country. You may recognize some of the products such as these charming Appenzeller belts or dog collars.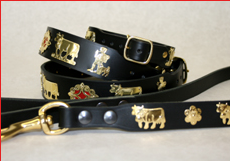 or of course the ubiquitous cuckoo clock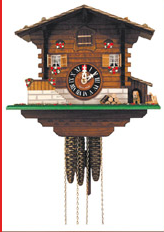 But what is not on their site, but I'm hoping still in the store, is their traditional collection of high quality linens, threads and booklets of old cross stitch patterns that are an integral part of old Swiss traditions.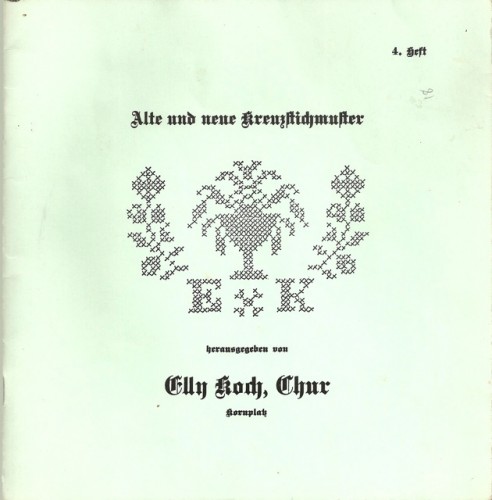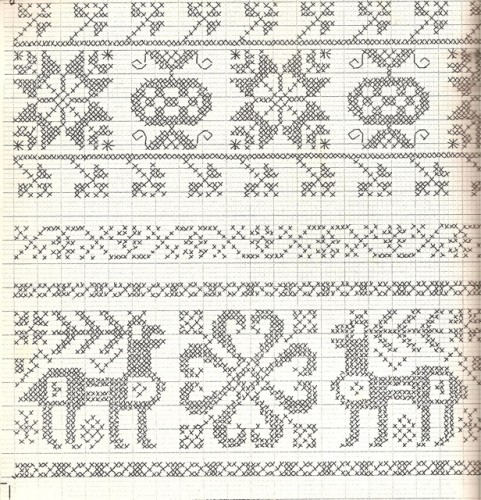 And here is some of my handiwork –
two different dishtowels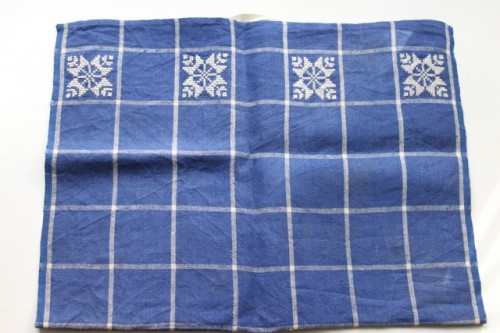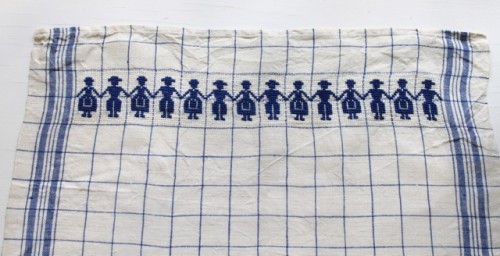 a set of placemats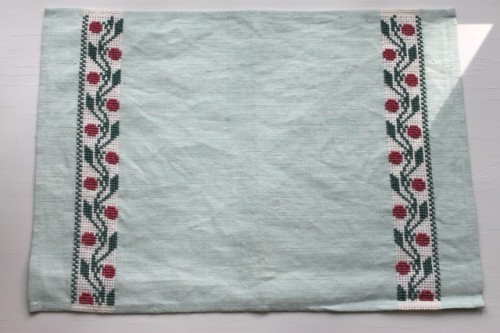 and a bookmark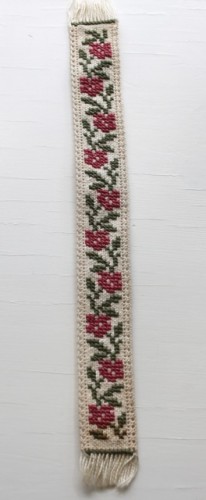 I'm hoping to make it back to Switzerland  – I haven't been in quite a while – but in the meantime I have a feeling we'll be hearing from them soon.