Although the Ivy League was originally formed as an athletic conference, the connotation associated with this group of eight prestigious schools casts a much wider net. Whether it's education, influence, or even style, most people have formed some sort of mental association with the term. And as author Daniel Cappello in his new book for Assouline, aptly points out, "the Ivy League might be seen as one of the most successful and singularly American brands."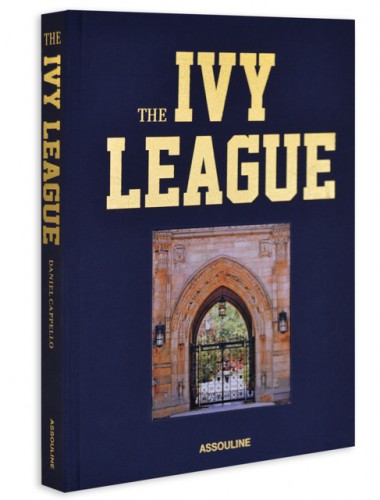 Glancing through this new tome by Assouline, one is offered an inside peek into the individual and distinctive style of each school. And while the landscape both in general and at each has certainly changed over the years, including perhaps most importantly, the introduction of co-education, some traditions and eccentricities have not. Whether you are a student aspiring to attend, a nostalgic alum, a curious reader or a style monger looking for great architecture or campus appeal, there is a little something for everyone. You'll find famous graduates, pop culture influences, and vintage photos. While I wouldn't necessarily characterize some of the schools in the same way as Cappello, I must remember that it has been many years since I have visited most of these campuses and some not at all.
Cappello starts with the "big three"- Harvard, Yale and Princeton –  and these schools also have the best and most varied selection of photos. The author has assigned descriptive subtitles for each school that I will leave you to determine if accurate. As a Harvard grad, he sums up his alma mater as "the Ivy's Ivy."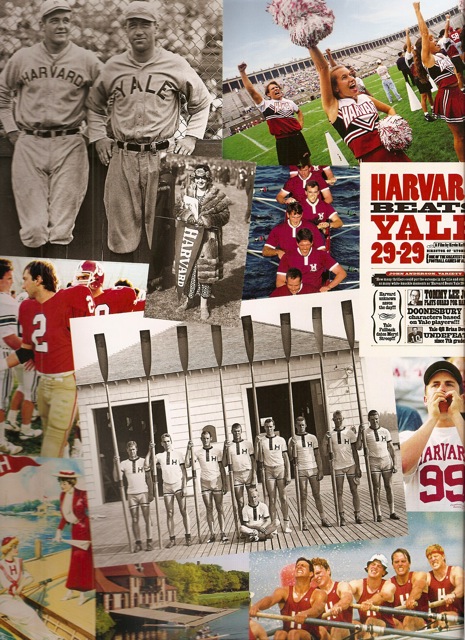 As "The ghosts of Harvard exert their influence both on campus and in the world beyond," the school has been portrayed in endless books and movies throughout the years.
A few mentioned are Love Story, The Paper Chase, The Social Network and With Honors.  I would have loved to have seen a bit more devoted to the style in each of these films, but perhaps that can be a future volume!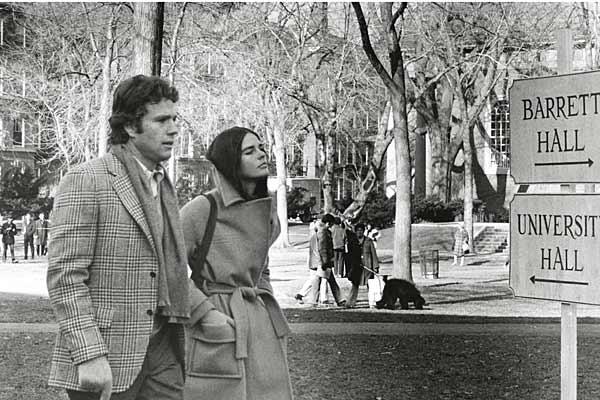 In my mind, Yale was the best section. "The Classic Ivy" according to Cappello, the school's beautiful gothic campus is captured well inside and out.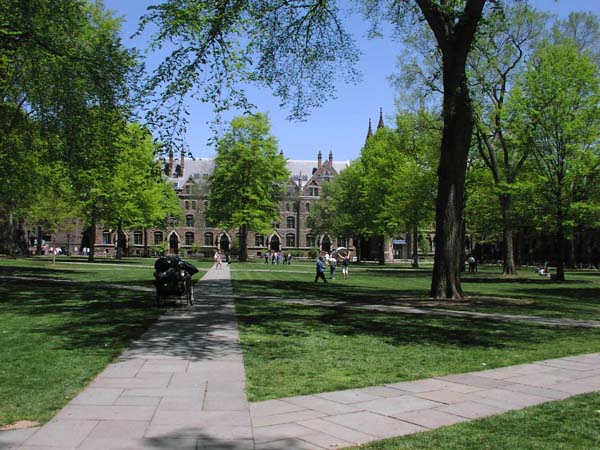 I loved this collage that has a bit of the cult classic Ivy Style about it. I find these casual around campus shots so appealing and only wish there had been a few more scattered throughout. From the the wonderful 1935 bicycling shot, to the peek inside the library in 1966, to the questionable sartorial choices that these early coeds made in 1969 to finally an undated  scene outside Berkeley College, you can piece together a bit of visual Eli history.
There are some terrific shots of graduates from Gerald Ford in the football locker room to a young Bill and Hillary and Jodie Foster looking like she is barely high school age. But  one of Yale's most memorable features is its buildings. With a history of consistently having one of the finest architectural schools in the country, it seems fitting that it should have such a distinguished architectural landscape. If you have ever been inside Sterling Memorial Library, designed by Yale grad James Gamble Rogers in 1930, chances are you have not forgotten it – its majestic gothic arches and witty carvings are iconic.
Princeton, as "The Preppy Ivy," has probably the most indisputable moniker. A famously beautiful campus, Blair Hall was the first collegiate Gothic dorm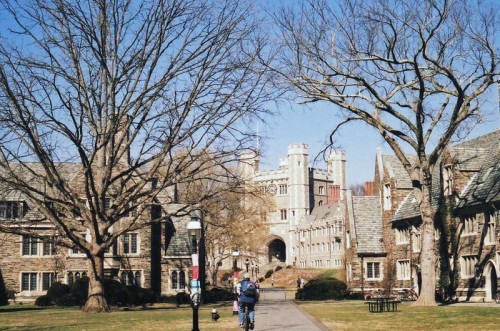 In 2010, GQ's Gordon von Steiner documented style on campus. Unfortunately this fabulous two page spread was difficult to scan but hopefully you get the idea.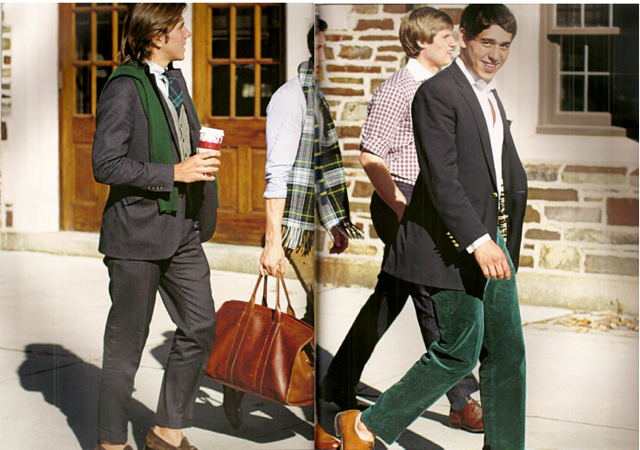 Cappello nicknamed Brown the hip ivy. With an abundance of celebrity children and a curriculum famous for its flexibility, Brown tends to attract independent students of style. Eva Amurri, Andrew Lauren and Lisa Loeb are a few of the alums in the limelight.
But it was probably JFK Jr.'s straying from the family tradition at Harvard that led the way for other legacies migrating to the freedom that Brown offers. The first college in the country to accept students regardless of religion, its open minded spirit has continued to this day. In fact, with an entire entrepreneurial undergraduate program, that spirit is not only accepted but encouraged and is probably why there are so many grads in fields like publishing, media and the arts and further, why it is consistently ranked #1 for America's Happiest College Students in the Princeton Review. But all this new thinking takes place within the confines of a traditional ivy clad campus.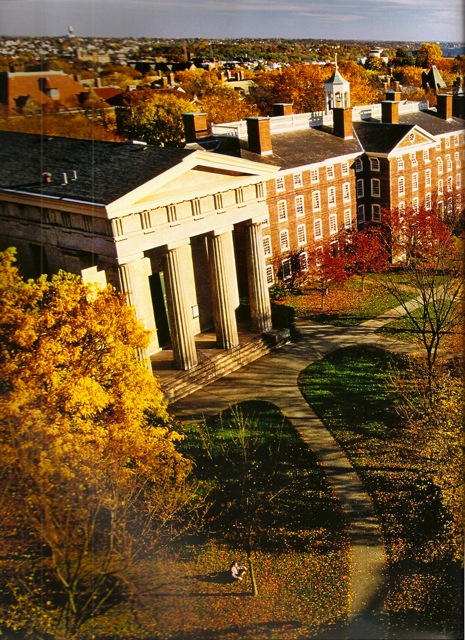 In fact the august John Carter Brown Library is widely regarded as the world's leading collection of primary historical sources regarding the Americas.
There is good reason why Darmouth is known as the Big Green. Just take a look at this beautiful aerial view.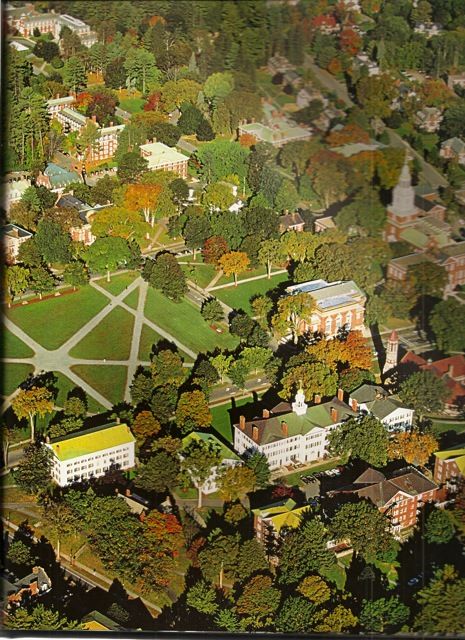 Cappello calls it "The Rugged Ivy" and that is fair considering the emphasis on nature at this rural New Hampshire campus. The smallest of the undergraduate ivies, its location and close student population make Dartmouth an appealing fit for those wanting a true New England experience. The school's outing club is the oldest in the nation.
With a great New York City address and a "socially savvy and politically minded" student body, Columbia is referred to as "The Urbane Ivy." Its history of protest, as seen below during the famous 1968 sit ins, and diverse culture lend people an image of left leaning intellectually intense students that probably isn't too far from the truth according to Cappello.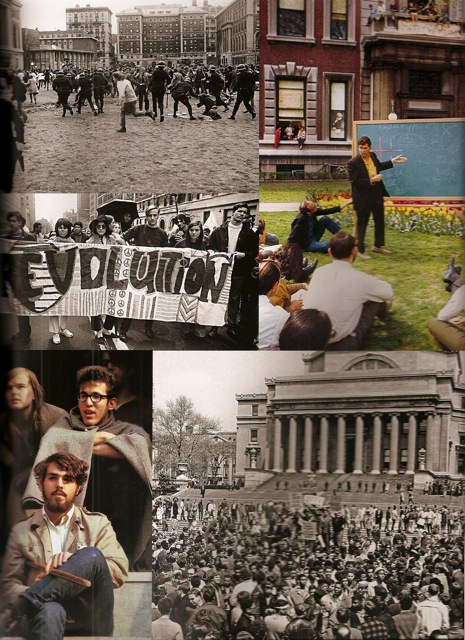 A diverse population of applicants who want to take advantage of all New York, in addition to the university, has to offer, students hail from around the globe. This sophisticated student body gets to enjoy New York on a campus of ivy style buildings filled with certain traditions such as the beautiful lit walk at the holidays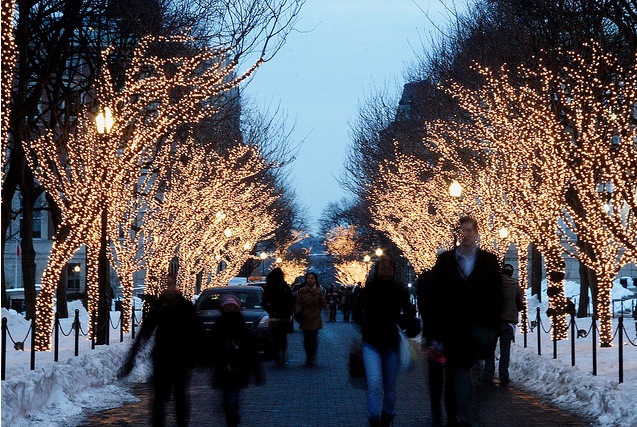 photo by  Donald Andrew Agarrat
And like many of the other Ivies, Columbia has its fair share of pop culture references. During season four on Gossip Girl, Blair Waldorf, Serena van der Woodsen and Nate Archibald all attend Columbia
Unlike many of its ivy siblings, Penn has a focus that allows career study versus just liberal arts. Students can attend Wharton as undergraduates and actually study finance for example. With four distinct schools, Penn does not have a single identity like the most of the others. One alumna Cappello interviewed described the school as "the pre-professional ivy…very geared toward professional life." Perhaps it still owes something to its founder, Benjamin Franklin, below, a man of wide ranging interests and practical application – "that spirited combination of wily pragmatism and refined business acumen."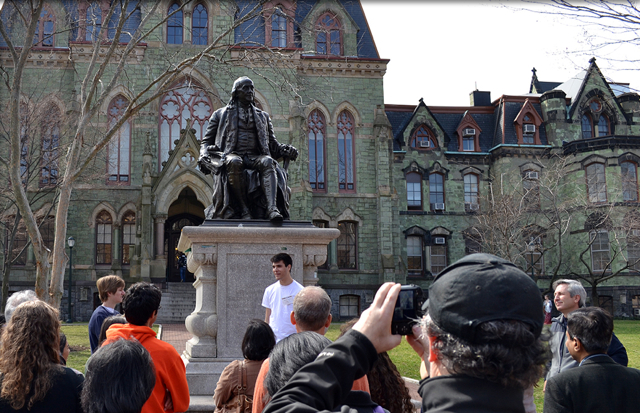 Photo by Steve Minicola via U Penn site
Although situated in an urban setting, Penn's architecture recalls its colonial days and students seem to appreciate all that Philadelphia has to offer.
One of the oldest traditions on campus is Class Day, culminating with the presentation of an engraved wooden spoon to the most popular member of the senior class, "who became known as the 'Spoon Man.'" Here is the ritual being celebrated in 1959.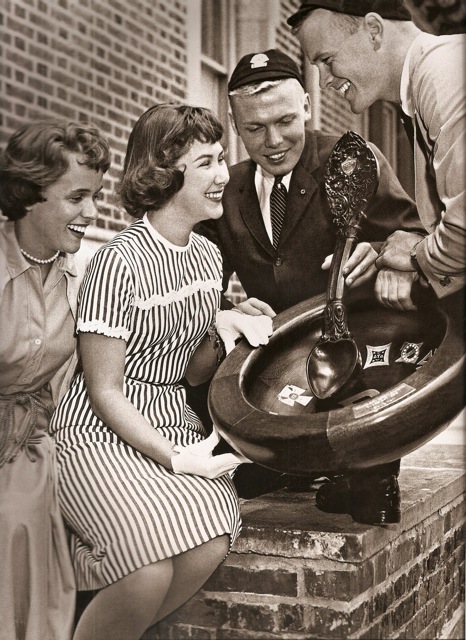 There is also a strong Greek presence on campus that perhaps serves to unite a large undergraduate student body.
The youngest of the ivies, Cornell, like Penn, boasts several – in fact seven, distinct schools from the College of Agriculture and Life Sciences to the School of Hotel Administration. In addition, the school is part of the New York State University system and federal land grant institution. But unlike Penn, Cornell sits in a remote and rural location in upstate New York.
And unlike some of its older compatriots, its campus features a variety of architectural styles.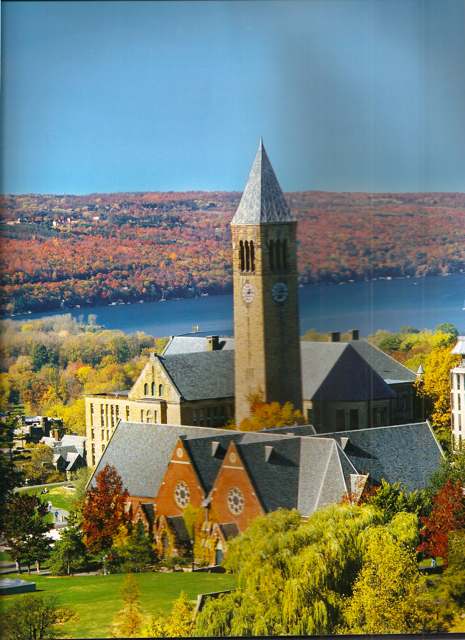 It's nickname in this volume, of "The Ivy for Every Man," refers to its founding fathers' inclusive and progressive vision for education, making a college education available to all qualified students including women. Unlike any other ivy, Cornell has been coed and nonsectarian since its inception.
While Cornellians, as they are known, enjoy many academic choices and a beautiful landscape they are also known for their intensity. While some say it's the easiest ivy to gain admission to, they often, in the same breath admit it's the hardest to graduate from. Evidently no grade inflation here. With a healthy Greek life and an abundance of talented sports teams, there is ample opportunity for students to release their worries. And like the other seven schools, Cornell has its share of distinguished alums – Christopher Reeve, Toni Morrison, who received her MA there, and E.B. White.
If you've found this brief overview intriguing, then I would suggest putting The Ivy League on your list – it's a treasure trove of information and visual inspiration.