Who doesn't love Oscar? Oscar de la Renta is one of only a few designers who consistently delivers timeless elegant fashion statements season after season. Over the years, I have been lucky enough to score a few pieces on sale which have remained treasured mainstays in my wardrobe.  And last month, I was thrilled to attend the Oscar de la Renta fall runway show for the first time.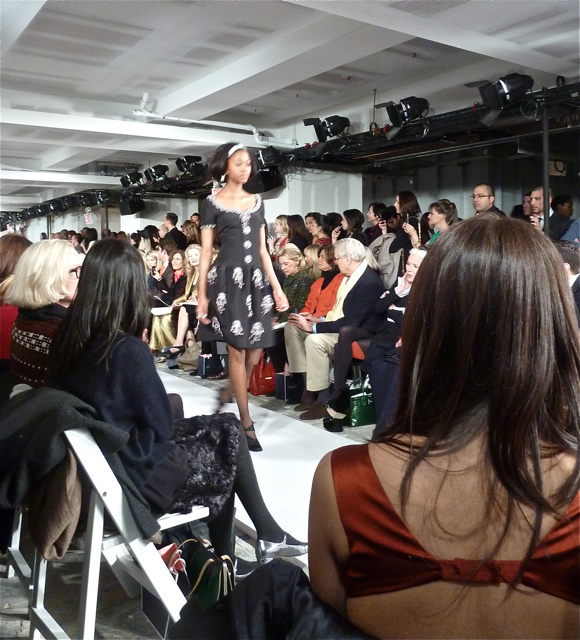 A relatively intimate affair in what is to be the company's spacious new offices overlooking Bryant Park, it was a veritable who's who of fashionable New Yorkers. While only two seated rows deep, it was still rather difficult for me to capture good shots of the fast moving runway. But the next week, during market, I had the opportunity to spend the day at Oscar's, with some up close and personal time with the collection. As beautiful a presentation as the clothes made on the runway, it was nothing compared to seeing the exquisite fabrics and workmanship in person.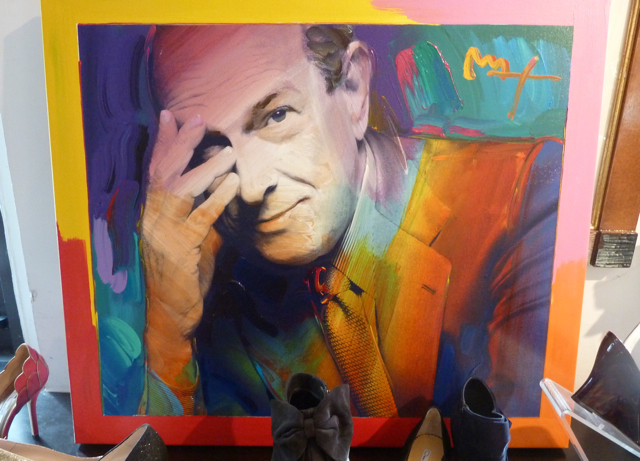 Oscar de la Renta is a hallowed name in fashion iconography. A true gentleman who embodies both tradition and modernity, his line is representative of the man himself. And at 79, the designer has no intention of slowing down. In fact, if anything, he is accelerating. The fall collection clearly made a conscious effort toward attracting a broader audience as the brand has been doing through its social media channels as well. The hysterical video that twitter star Erika Bearman (aka @OscarPRgirl) recently released went instantly viral. It's like the old Woody Allen saying about the shark – it has to constantly move forward or die. And Oscar is most definitely moving forward. With his savvy step son-in-law Alex Bolen at the helm, the company is expanding in both merchandise and outlook. In fact, the day I visited was Alex's birthday and the close knit company was celebrating appropriately (yes, they were delicious).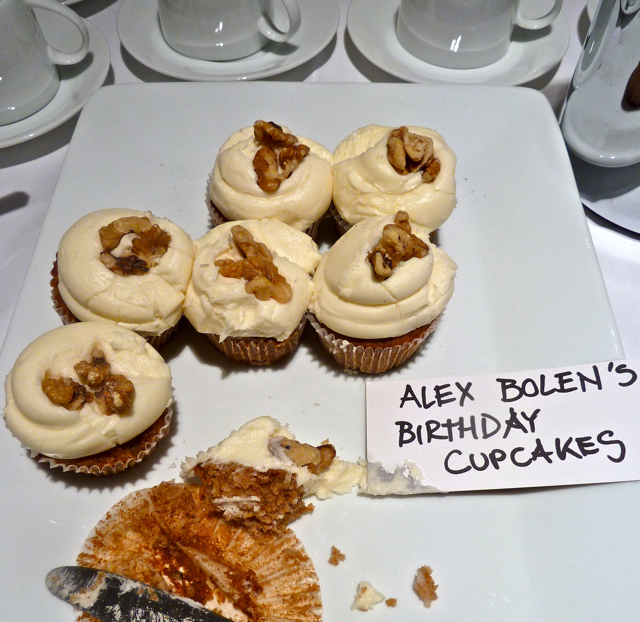 While the fall collection represented a step in a decidedly new direction for the firm with flirty new features including witty jewel themed fabrics, fresh young pastels and youthful silhouettes, it was still all accomplished with the utmost sophistication in both fabrication and layering.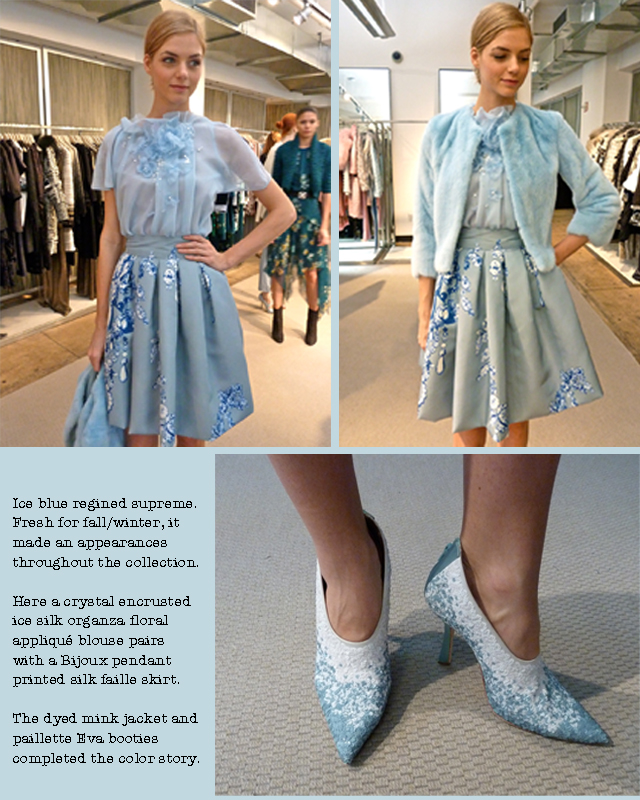 Take a peek at the details on this incredible silver paillette encrusted floral appliqué ice cashgora coat.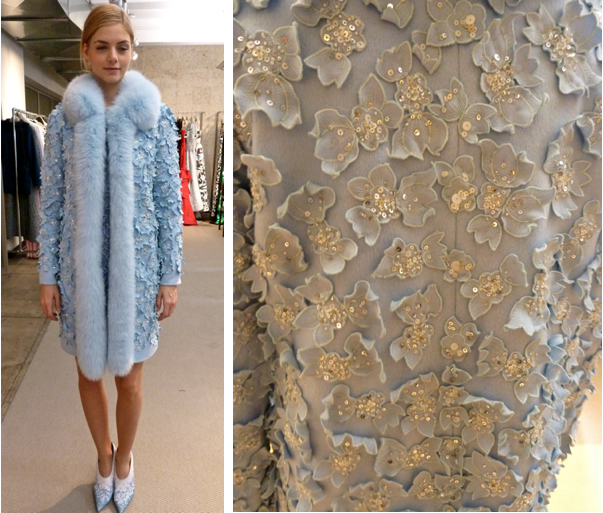 Ice was countered with a baby pink, named rosé in similar Bijoux printed silks, 50s inspired jewel encrusted princess dresses and dyed mink. But my favorite color story in the collection was nile, a rich blue/green redolent of both fall and its festivities. In crushed velvet, cashgora or silk, it make a smashing statement in both fashion forward and traditional designs.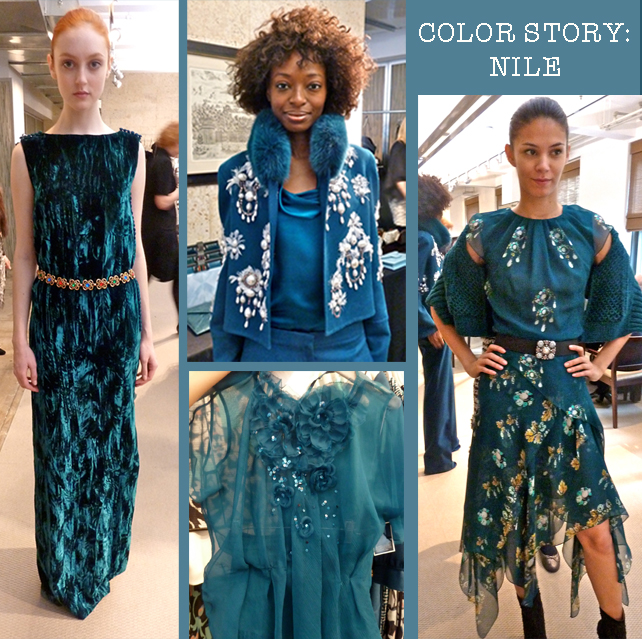 Within the nile story, you can see the rich layering that makes an Oscar collection so very special. The classic nile ribbon tweed dress is layered with a coordinating but not matching tweed jacket and topped with the casually chic abstract tweed printed nylon down vest with nile fox collar. So many ways to make the look work for you!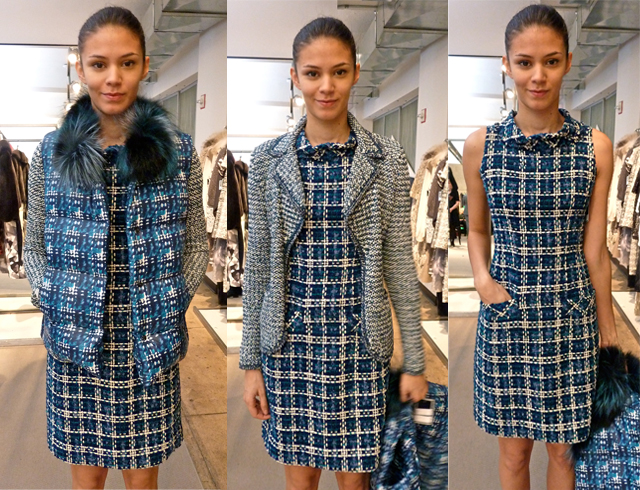 Classic black is back for fall (did it ever go out?)  and this is territory that Oscar owns. Whether paired with white, gold or jewel tone, it is expressed with glamour and, as always, incredible detail.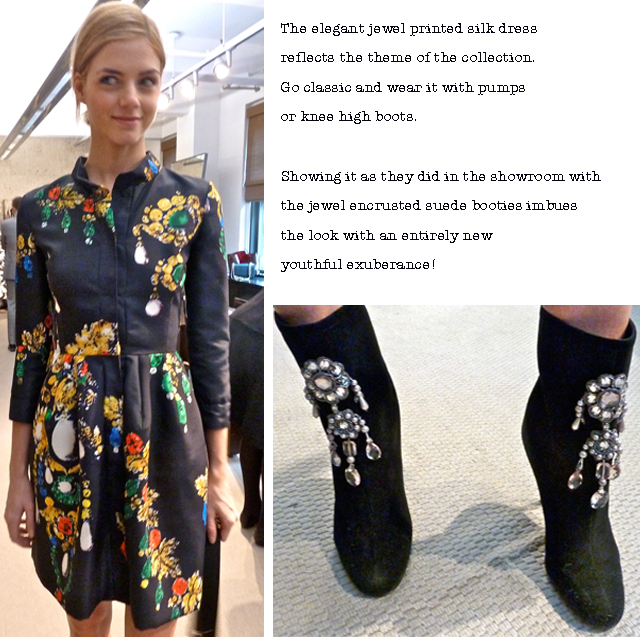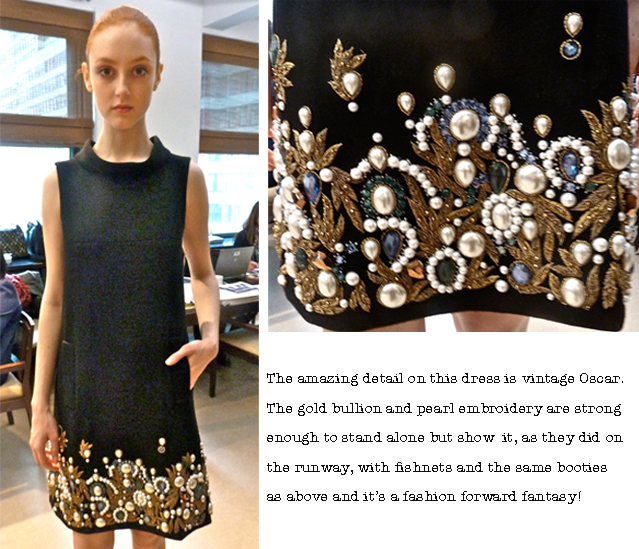 Perfect for black tie or red carpet this magnificent black paillette embroidered gown with a lace ribbon embroidered tulle skirt is simply divine!!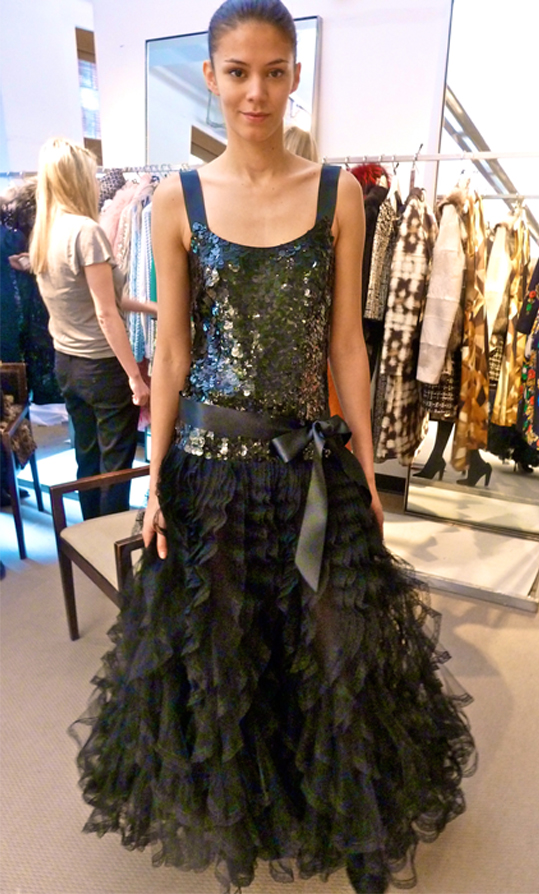 Including gold, the color of the fall season, was a natural for the designer. From upscale casual chic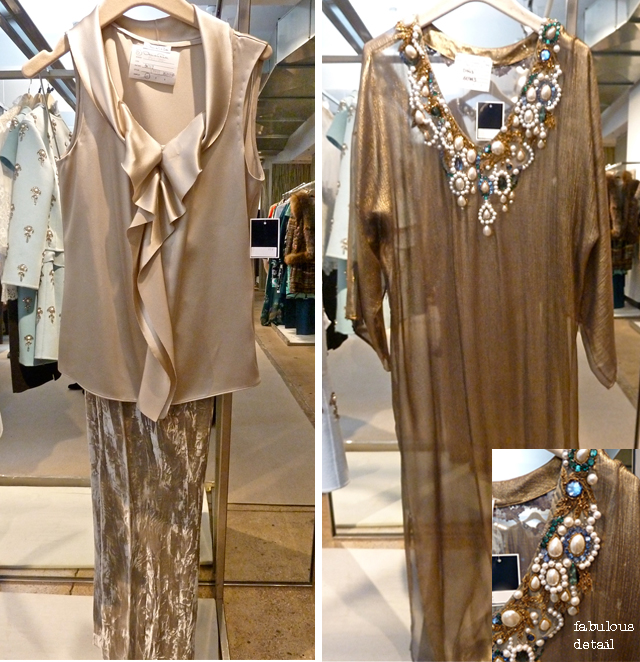 to fully ornamented gilt, gold made a strong appearance. This gold bullion and bead embroidered glitter tulle gown with iridescent gold silk taffeta skirt, worn with gold paillette Eva booties, was breathtaking.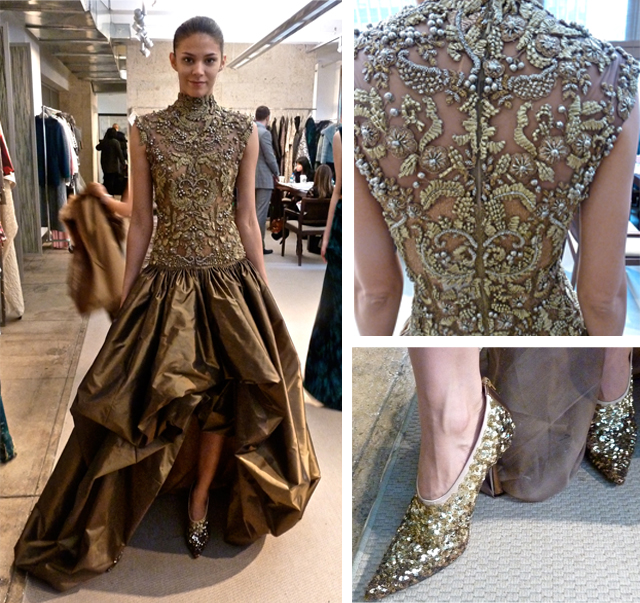 What I never realized is how enormous the actual collection is. What we see on the runway is of course just a selection but the variety of offerings is mind boggling. I couldn't possibly show you even half but what is particularly interesting is how the runway translates to the more retail oriented pieces for non red carpet customers.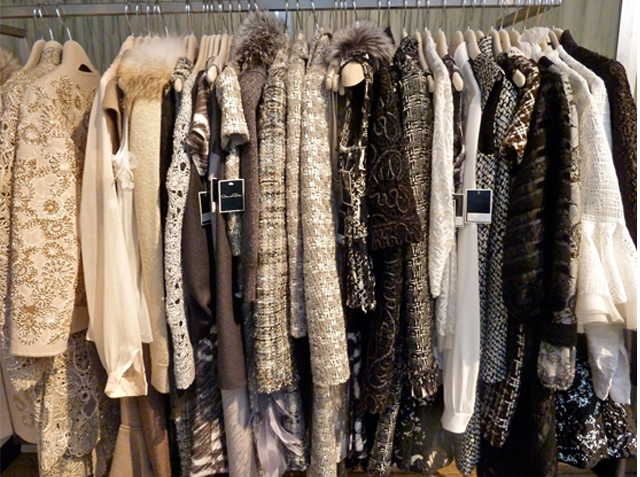 This charming cardigan features the ice blue and jeweled theme embroidery of the runway collection in a more subdued way. I would wear this in a nanosecond!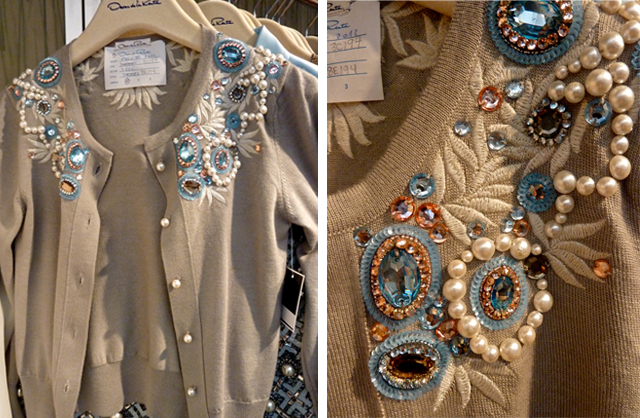 Oscar's classic bolero sweater reinterpreted for the fall again with ice blue jewels.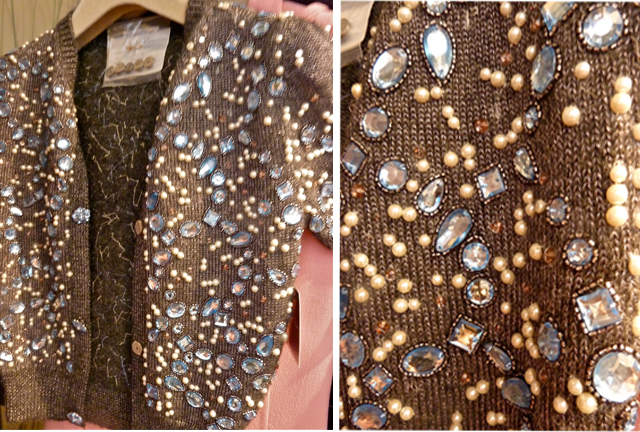 This homage could easily become a tome – there were that many beautiful pieces. But in conclusion, I thought I would show you, if I had to choose (big if), what I would pick from the runway. As soon as I saw this outfit, I knew it had to be the one, partly because of the beautiful sable tonality, perfect for someone of my coloration. Although hard to see, there is paillette embroidery on the tweed printed silk dress. And the crepe de chine coat is going to be reversible from the quilted print to the inside tweed. Exquisite in every way!!  Stop by tomorrow when we will have a look at the accessories, shoes and fabulous furs in this marvelous collection!!