Before we return to activities on Nantucket, I wanted to be sure that the legions of readers who are Tony Duquette jewelry fans were aware of the upcoming auction at Sotheby's, from August 18 – 30th.  The auction house's first online-only jewelry sale, it is structured similarly to eBay, with each lot going to the highest bidder at the close.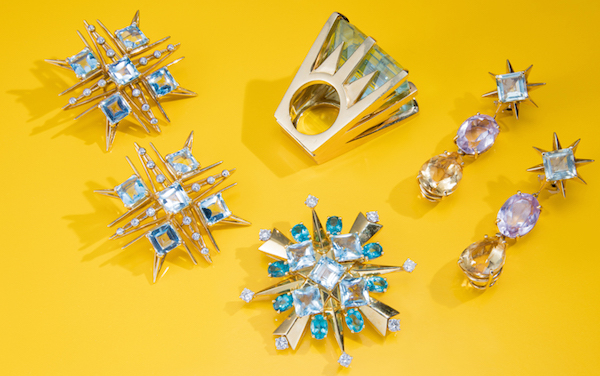 Featuring 32 extravagant jewels by the famous designer, the sale includes a wide variety of more is more statement pieces. As explained in my piece on the new Tony Duquette/Hutton Wilkinson pieces, the starburst is a classic Duquette motif that can be seen in the offerings above.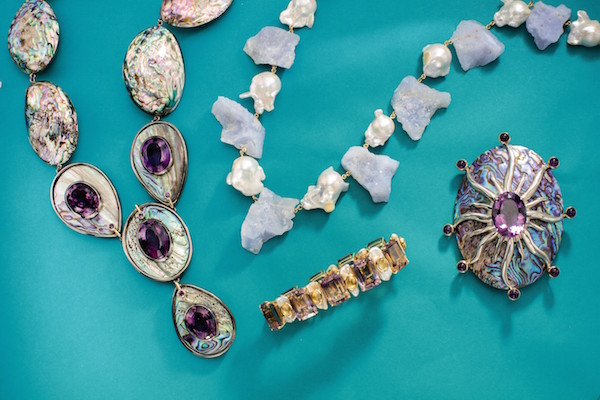 Whether for his house, garden or jewels, Tony was one of the first designers to understand the advantages of recycling and repurposing. While he also used precious gems, he knew how to make the most of natural materials such as shells and rough cut stones as seen in several of the pieces above.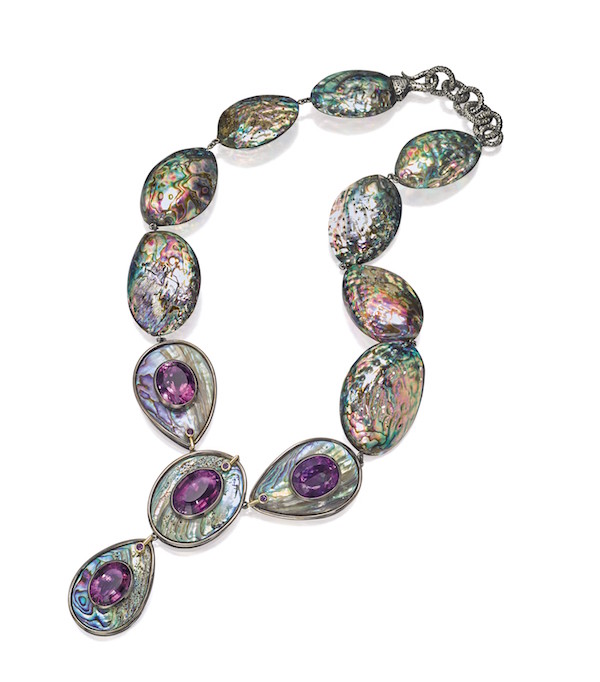 A closer look at the necklace, above, and brooch, below, reveals how Tony mixed natural and carved abalone shells with beautiful amethysts. The brooch also features an organic version of the sunburst theme anchored by a 42 carat amethyst.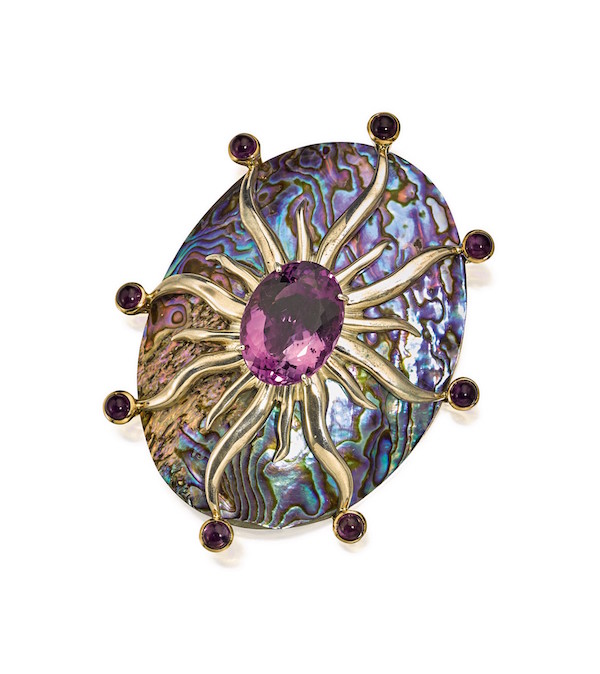 Tony Duquette jewelry is often theatrical and the brooch below is almost costume-like in its appeal. Topped by a crowned monkey head, it includes over 26 carats of oval and hexagon-shaped tourmalines accented by pearls and citrines.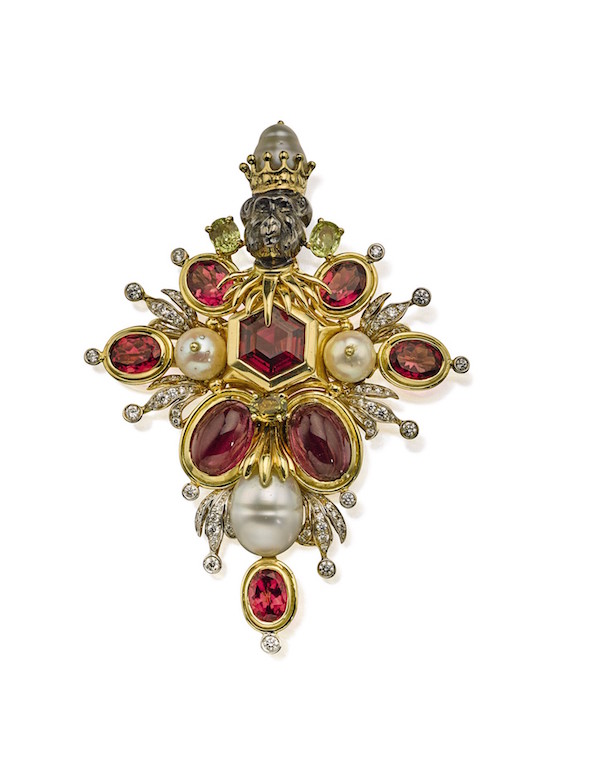 Green was a favorite color of Tony's and malachite held a very special place for both him and Hutton Wilkinson, his protégé and partner, who carries on the Tony Duquette legacy. The brooch below pairs malachite with cultured pearls in a classic starburst design.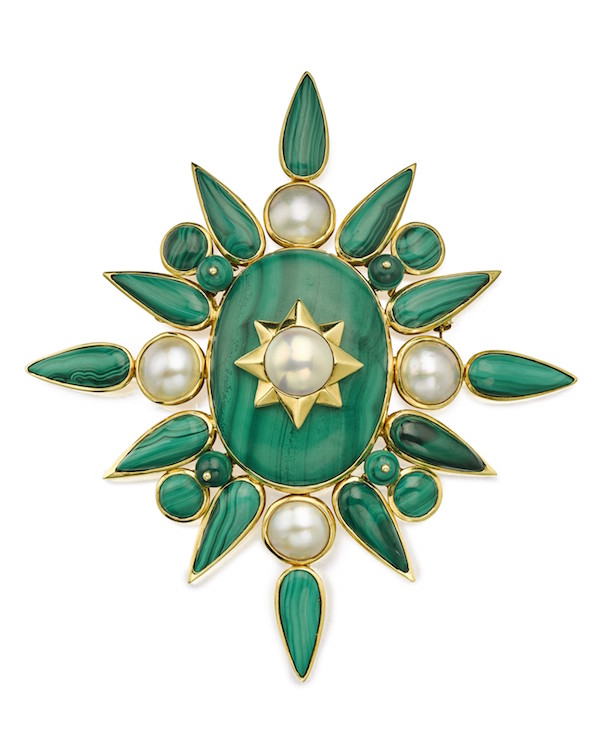 And for anyone searching for statement cocktail rings, the amethyst, prasiolite (a green variety of amethyst) and pearl number below might be just up your alley.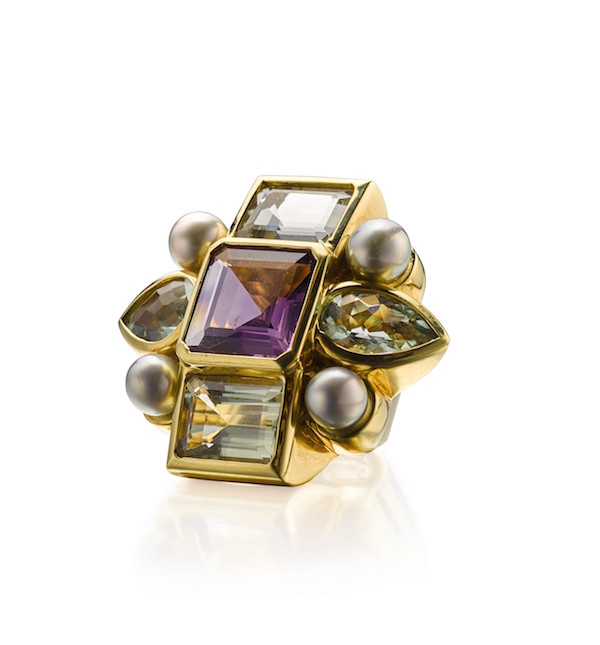 As the auction gets closer, all lots will be featured on the sale page in time for bidding. Wishing all bidders best of luck next week!