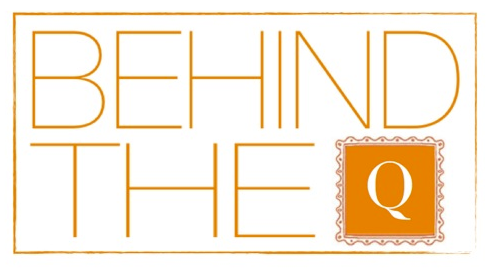 Welcome to the second BEHIND THE Q, a monthly feature showcasing behind-the-scenes visits with select stylemakers. In entertaining venues, we explore, through both video and editorial content, their style quotients and insight into their creativity. I am thrilled to introduce this month's subject.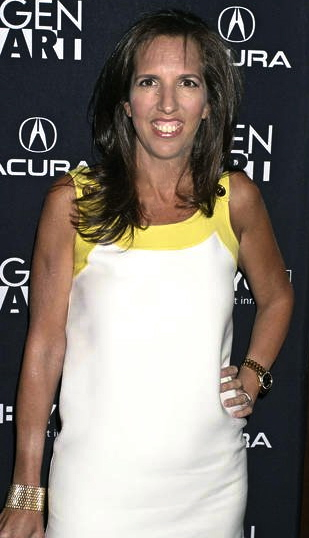 Liz Lange is a name synonymous with style. In 1997, she single handedly changed the face of maternity fashion forever launching her eponymous line. Finally fashionable mothers-to-be everywhere had sophisticated sartorial choices. Everyone, from celebrities to stylish suburban mothers, counted on Liz Lange Maternity (then available at 3 flagship boutiques) to keep them looking chic those nine long months. Ten years later, after having also developed a line of maternity active wear for Nike, the maternity line for Target (still a best seller there), and authoring a book on pregnancy style, Liz sold the original company.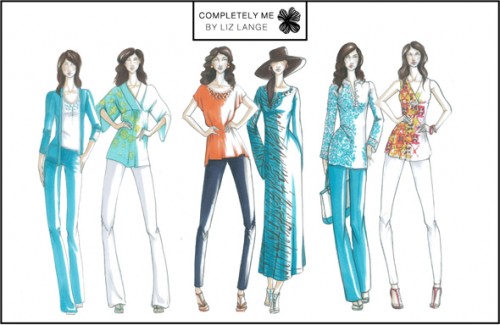 Not one to rest on her laurels, she designed her first non-maternity collection, Completely Me by Liz Lange, this year for HSN. In addition, many of you know her from the fun shopping site, Shopafrolic, she co-founded with sister Jane.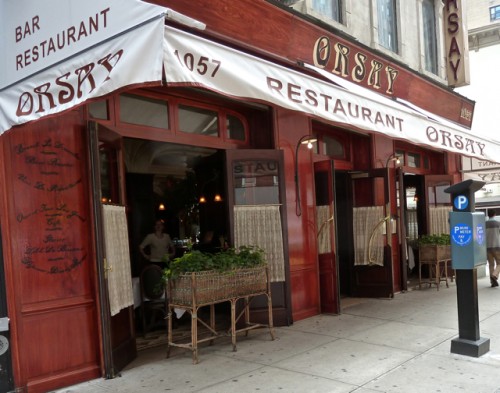 I caught up with the busy entrepreneur recently in New York where we spent the day visiting some of Liz's favorite haunts in her upper east side neighborhood and grabbed lunch at the chic restaurant Orsay where we had a chance to chat.
BEHIND THE Q: Liz Lange from Quintessence on Vimeo.
Our first stop was Milly, the chic young label of designer Michelle Smith, who opened their flagship store this spring on Madison Avenue.

The shop has a distinctively chic design and beautifully merchandised. Every detail is thoughtfully considered – even the changing rooms are incredibly stylish.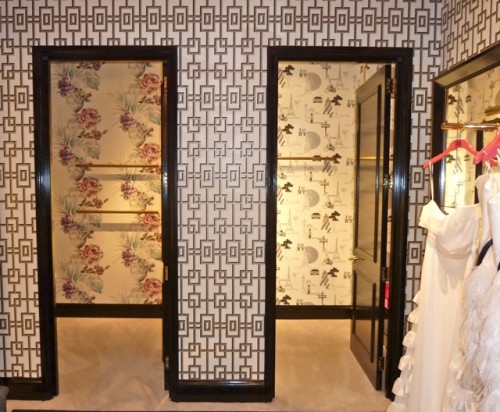 In additional to colorful, vintage and Parisian inspired clothing, the line now includes the charming children's collection, Milly Minis, as well as fashion jewelry and handbags.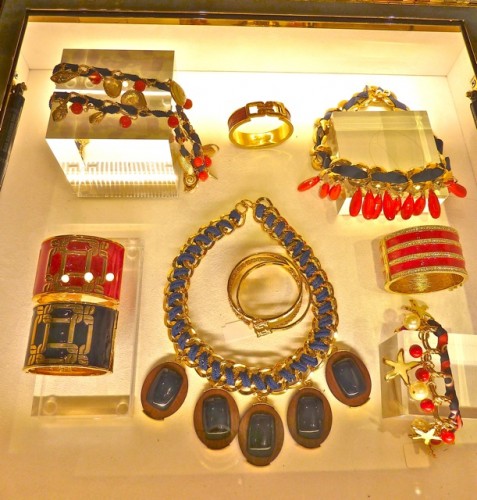 It was difficult to choose just one thing – so we stretched the rules a bit!! Liz loved this Ribbon Mini skirt – perfect for summer.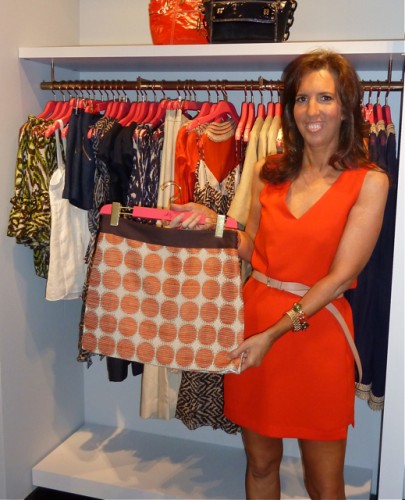 In keeping with Liz's taste for bold jewelry, she picked this fabulous Beaded Teardrop Necklace. It actually looked perfect with what she was wearing. Liz and I both love navy and I seconded her vote for this Beatriz Day Dress – a classic go anywhere piece.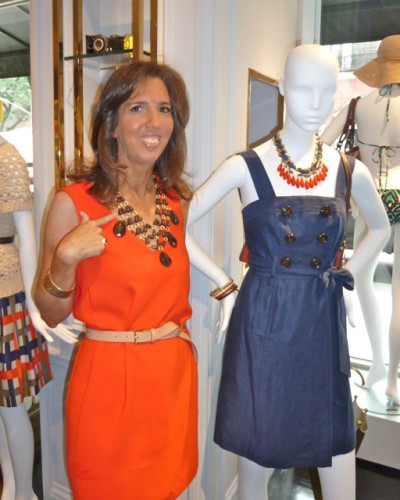 It must have been my color karma influencing Liz's choice of this beautiful orange Slim Haley Dress.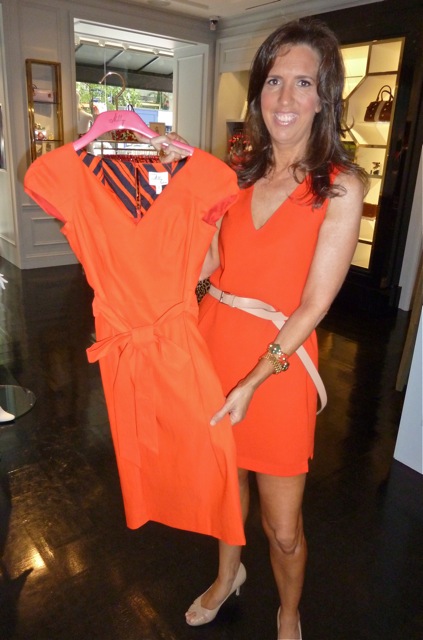 Even though Liz's daughter is too old for the line, she couldn't resist showing off a couple of items from the charming Milly Minis collection. How adorable is the Milly Minis Party Dress or my personal favorite, the Milly Minis Combo Dress.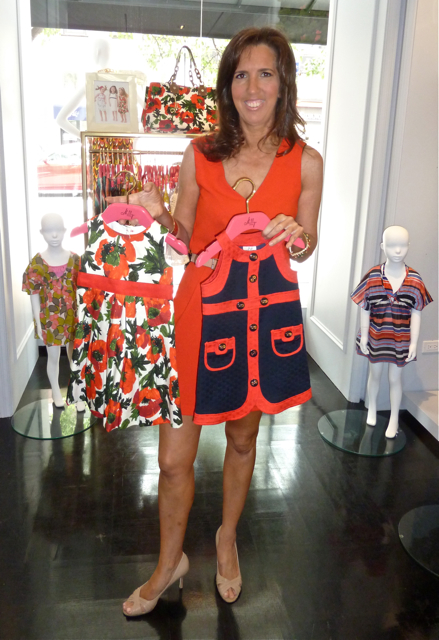 Around the corner we stopped by Via Quadronno. An upper east side institution, this restaurant and paninoteca is the perfect spot for a quick pick me up!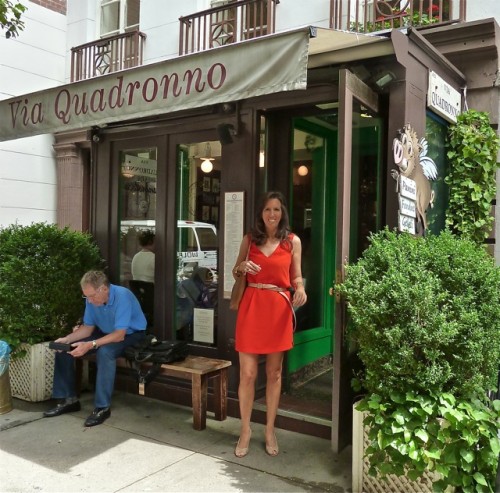 Calypso is the place to shop for an upscale shot of boho chic. From flowing caftans to  casual chic separates and distinctive accessories, St. Barth's style has never been so accessible.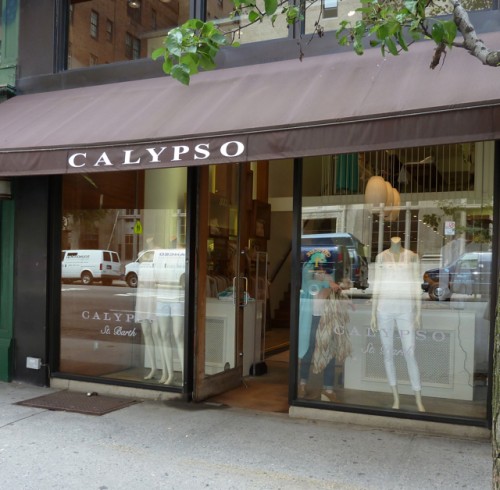 The color coordinated displays make putting pieces together a breeze!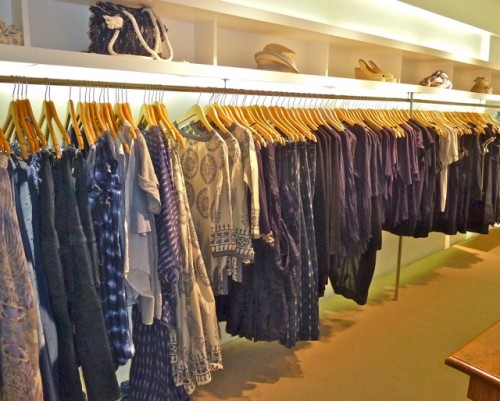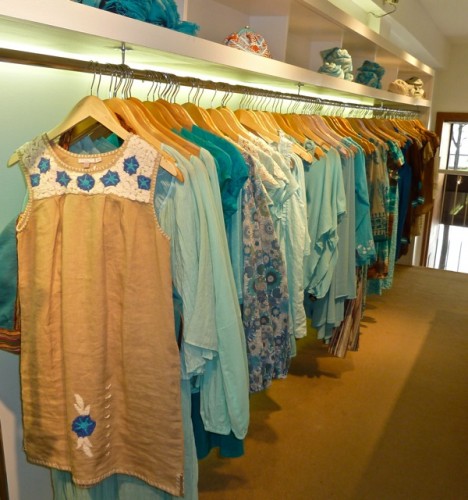 Liz spends much of her summer in the Hamptons where this fun tunic could do double duty from beach to casual lunch.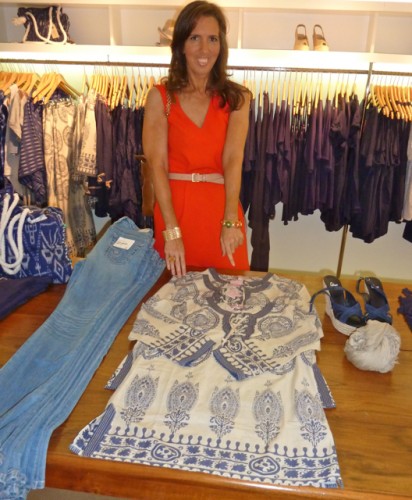 Nautical chic never goes out of style!! With white bottoms and gold jewelry, this top is a perfect versatile addition to a summer wardrobe.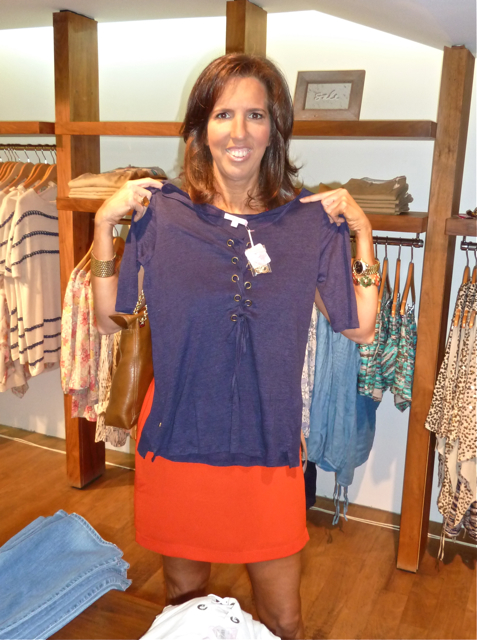 What a perfect summer shoe for almost every occasion. A roped wedge espadrille is a seasonal must-have!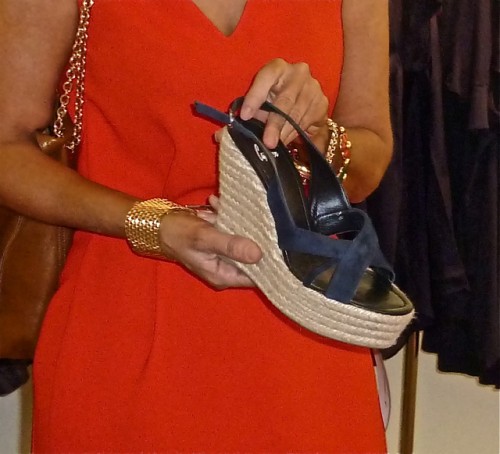 Our final stop was Gale Grant, one of Liz's hidden jewels. In a convenient midtown location, this small store is jam packed with an incredible collection of traditional and trendy fashion jewelry. Since 1947 they have offered a wide selection of high-end costume jewelry from both well and lesser-known designers.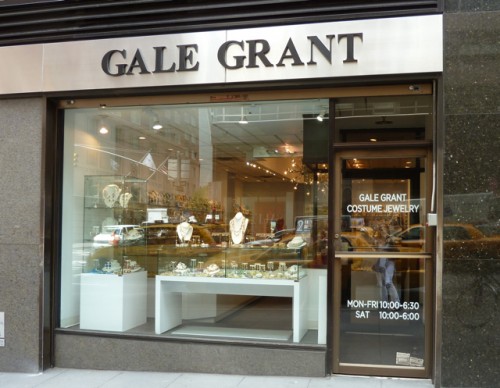 The choices are overwhelming. Everywhere you look you see something new!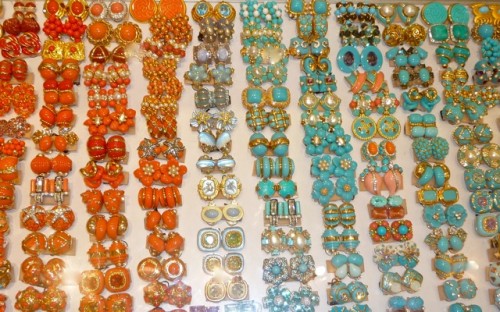 Liz picked this fabulous sparkling cuff – so perfect to dress up any outfit!!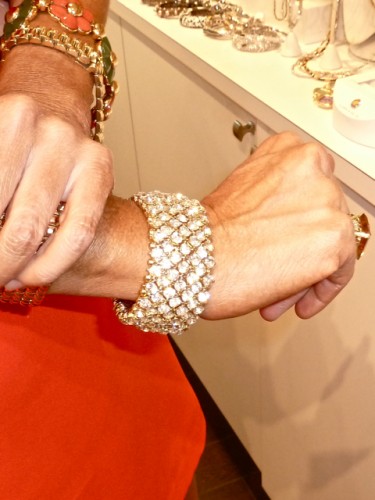 These looks similar to a drastically more expensive version. Wear as many as you like together for everyday or evening.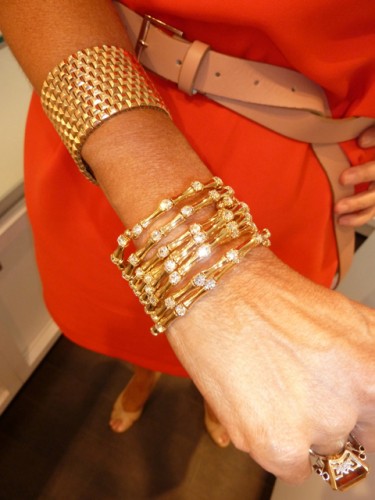 Liz actually owns a pair almost identical to these that she has sported for black tie. Who's to know they're not the real thing!!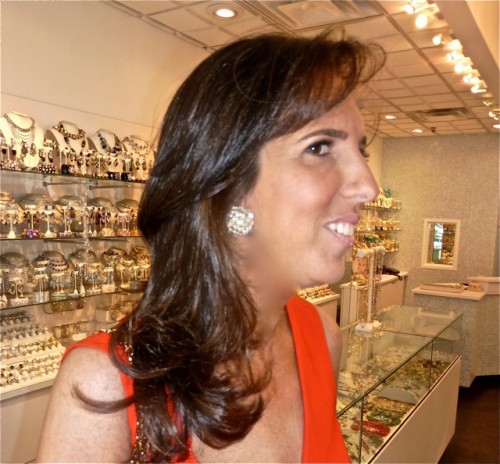 One of the store owners, Paula Grant, pointed out her best sellers. These flexible sparklers are so reasonable and easy to wear – no wonder they're so popular!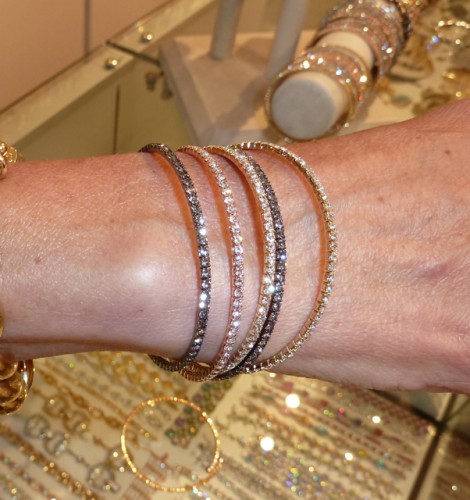 And for all you fashion and style mavens who can't ever get enough of Liz's sage advice, we have a little bonus. Pay attention as this month's stylemaker outlines her five wardrobe essentials!! And don't forget to check out Liz and Jane's picks on Shopafrolic.
BEHIND THE Q: Liz Lange Bonus Feature from Quintessence on Vimeo.
See you soon for the next installment of BEHIND THE Q.