In her stunning new book, Jeweler: Masters, Mavericks, and Visionaries of Modern Design, Stellene Volandes, jewelry expert and Editor-in-Chief at Town & Country magazine, profiles seventeen accomplished designers, whose exceptional work represents unique combinations of creativity, technical expertise, and individuality.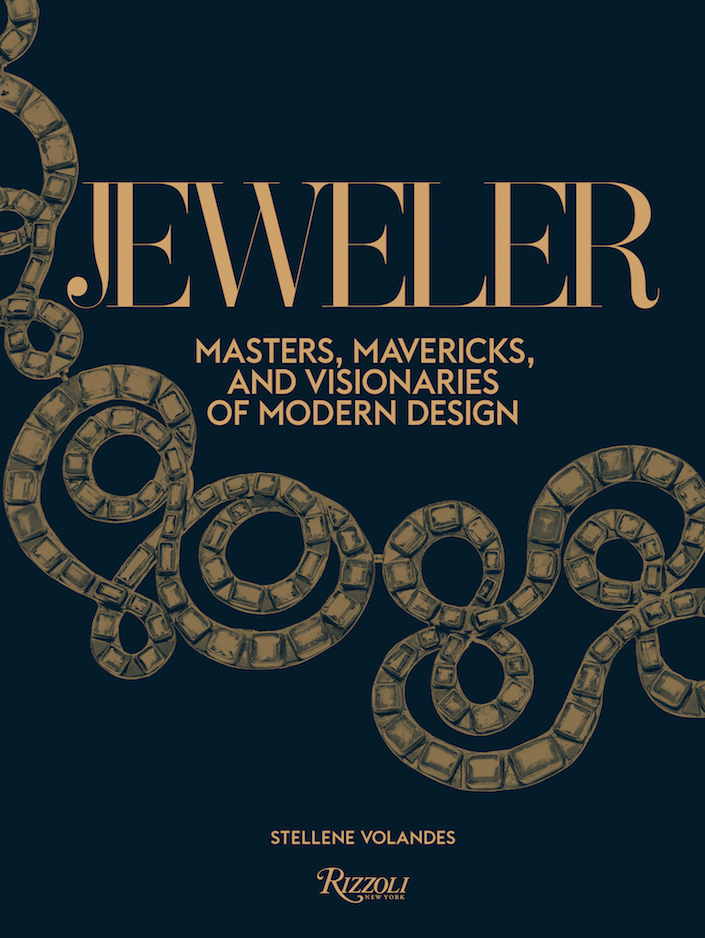 What sets jewelry apart is the intimate connection to its maker. "A piece of jewelry, whether I am wearing it, buying it, or writing about it, always means infinitely more when I know who made it, and more importantly, why."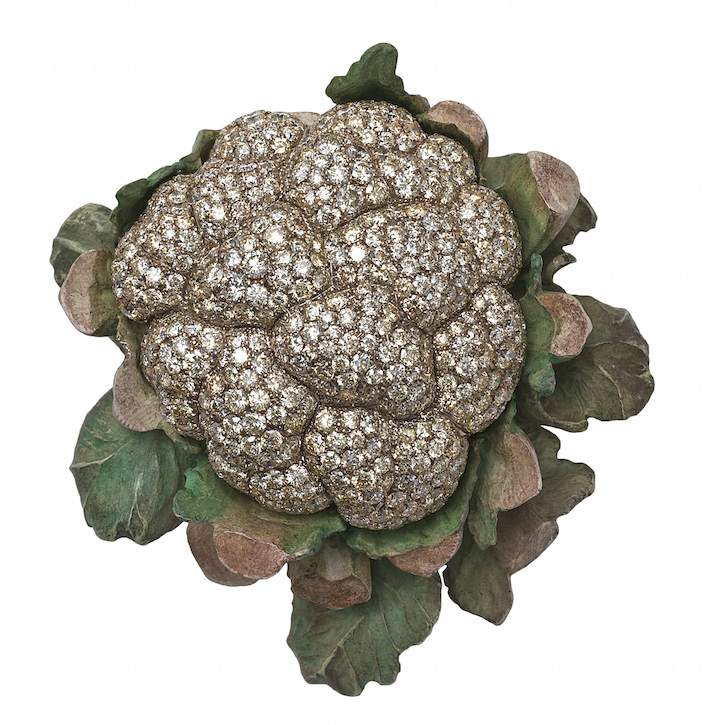 The herculean task of whittling the book down to these particular artists from the vast pool of talent was determined by the following criteria – jewelers who are alive and working today, not well known to the general public although very respected in the jewelry world and those jewelers who have been courageous enough to create a clear and distinct aesthetic and remain true to it. The one of a kind pieces from fourth generation German house Hemmerle, for example, are as exquisite as they are innovative. One of the first to combine unusual materials and subject matter, such as the Cauliflower brooch above, Hemmerle creates pieces that exude "modernity and magnificence."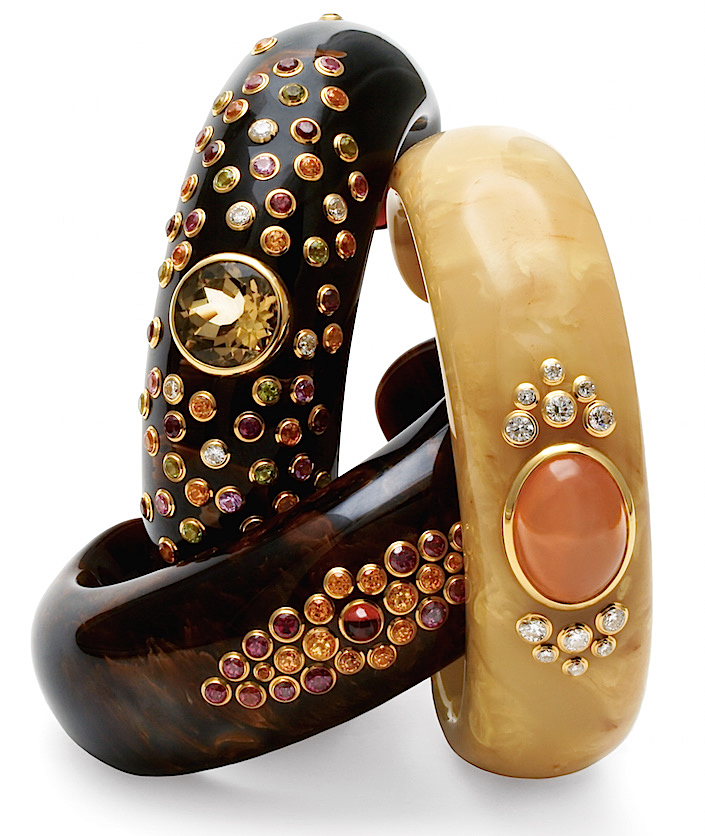 The book is as beautifully designed as the jewels featured within. "I wanted to make sure that every chapter honored and presented each jeweler's aesthetic in a very clear and direct way to the reader." You will not, for example, mistake the chapter on Mark Davis' fun jewel encrusted Bakelite pieces, above, with the section featuring the sculptural purity of Elena Votsi's work – her gold and diamond Cyclos ring below.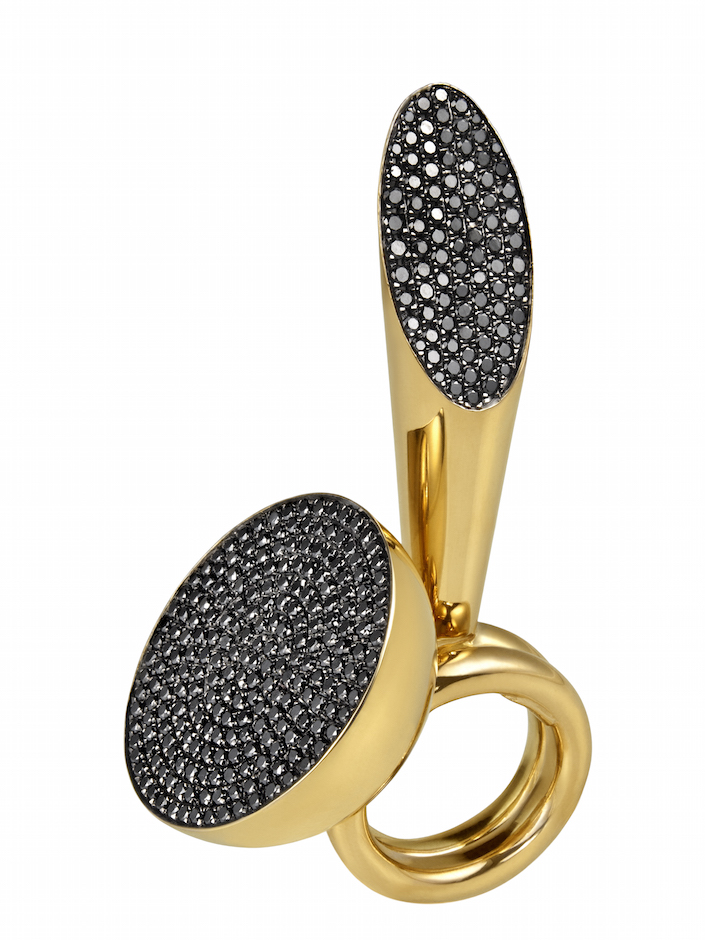 "How fascinating is the power of a jewel, transcending eras and embodying infinite symbolism." Carolina Herrera expresses the magic of jewelry in her foreword to the book. The power of gems is long documented and yet it takes a great jeweler to transform a gorgeous stone into a work of art. And that is what Stellene captures in her book – the stories behind these modern makers and their work, from the bold decorative pieces Muriel Grateau creates for confident contemporary women (her signature carved black onyx in a ring with carnelian below)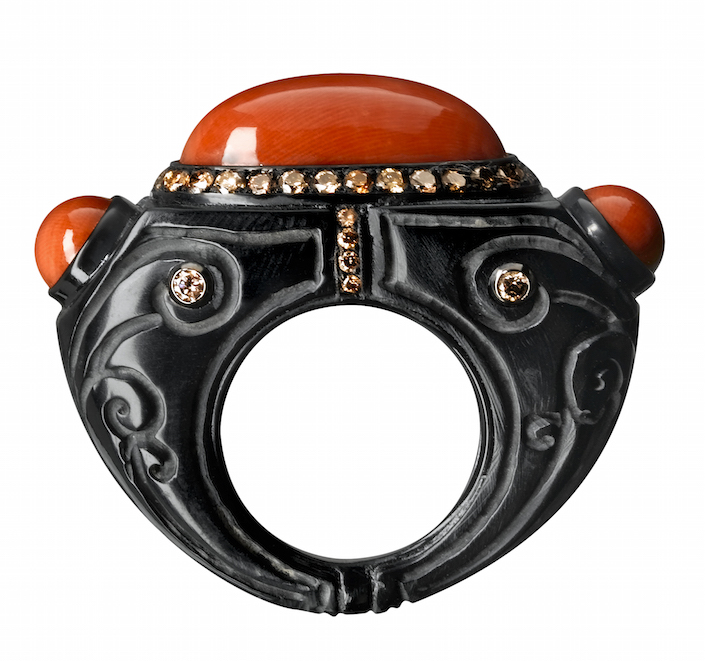 to the colorful baroque brilliance of Lydia Courteille – her 13th sign ring in tourmaline, rubellite, and ruby below.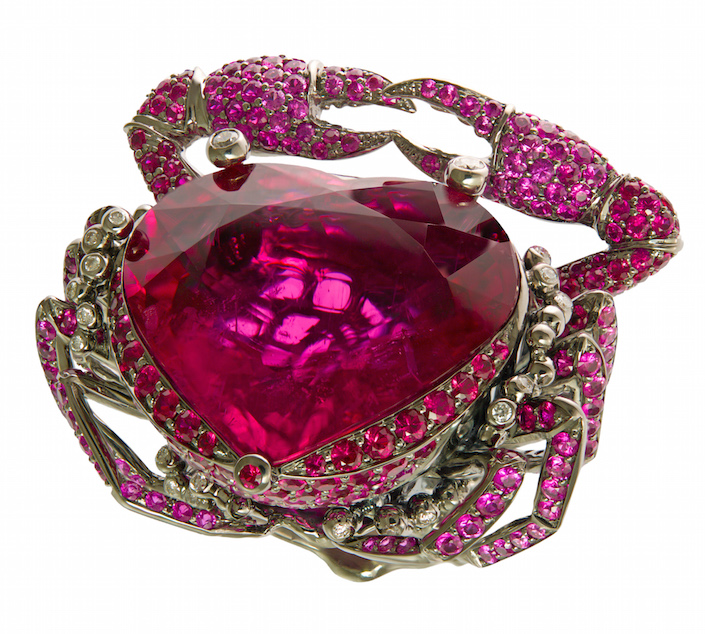 to the meticulous and artistic craft of James de Givenchy as seen in his Sea Anemone brooch with old mine cut diamonds.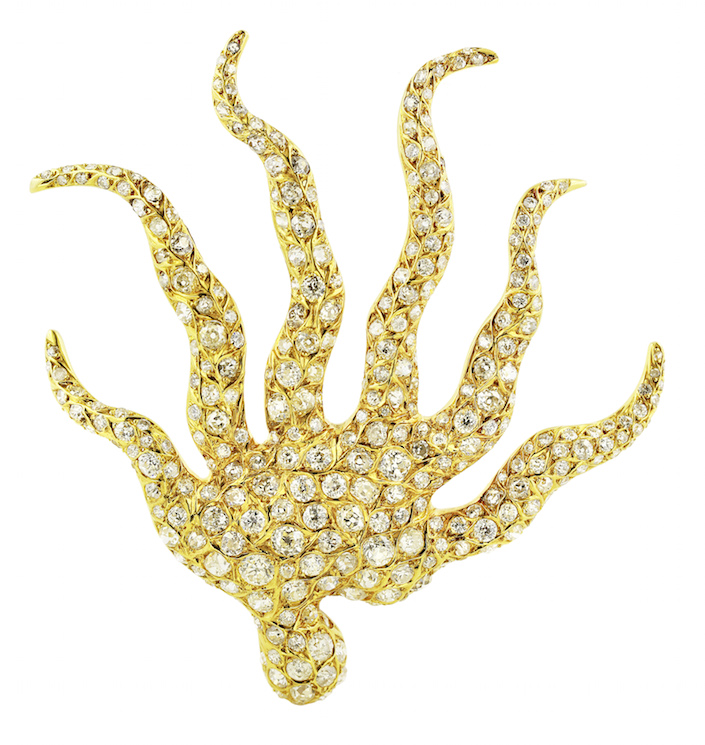 "While I love jewelry for its pure beauty, what really hooked me is how jewelry is cultural artifact. You can look at pieces and tell the history of the world through them. So few people see it that way, so, in part, my mission has been to treat jewelry with the same intelligence and cultural point of view that people talk about art or literature." And so she has.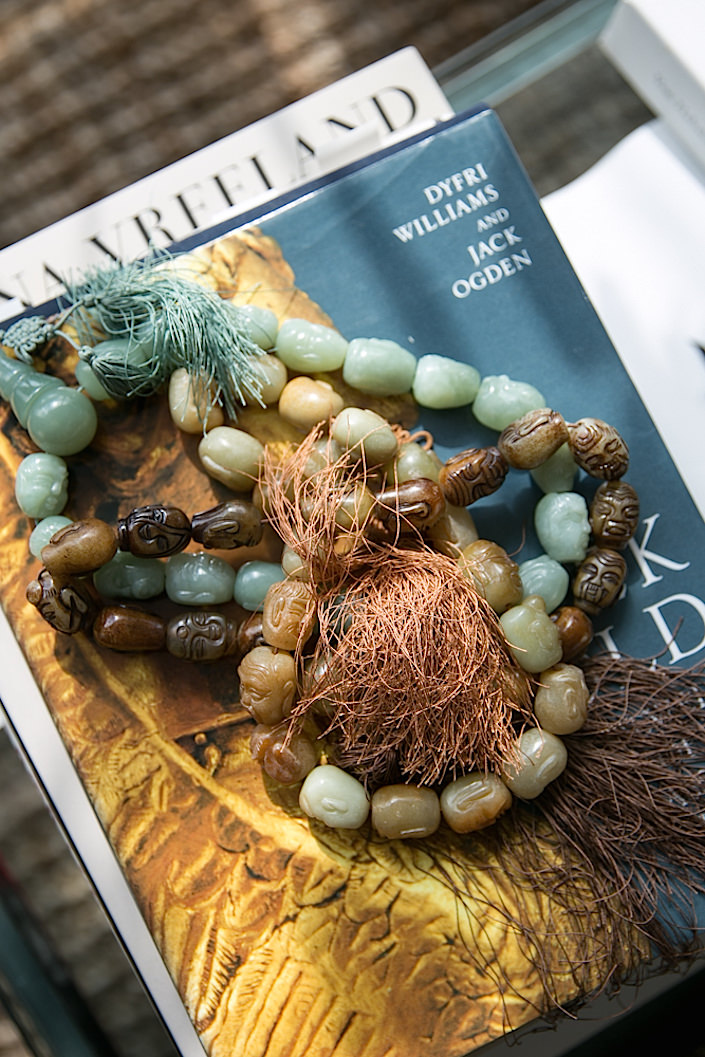 I recently stopped by Stellene's office at Town & Country to discuss several of her personal favorites and get a bit of her own jewelry back story.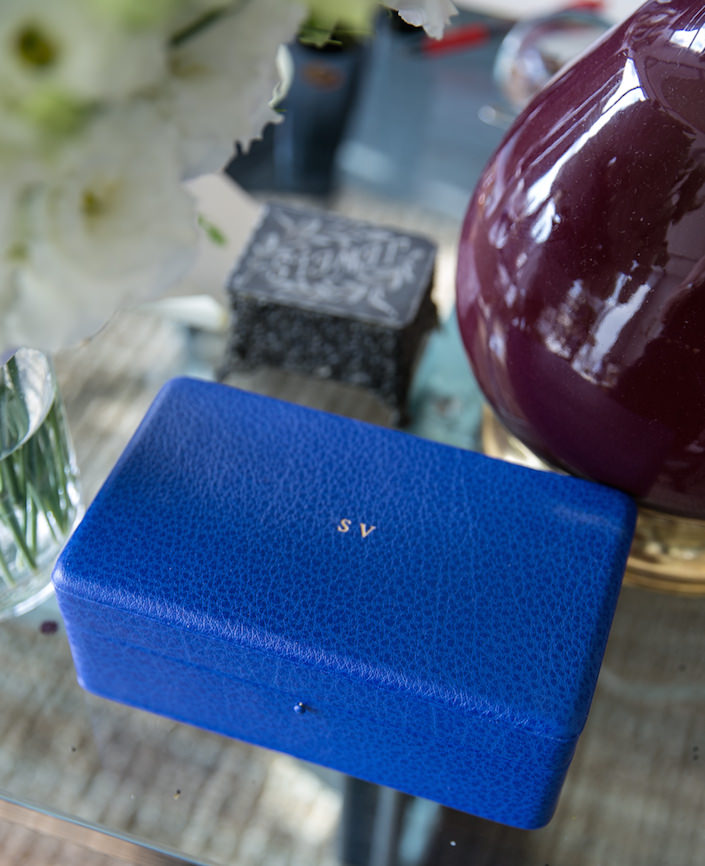 Step into her stylish domain and evidence of her passion is everywhere.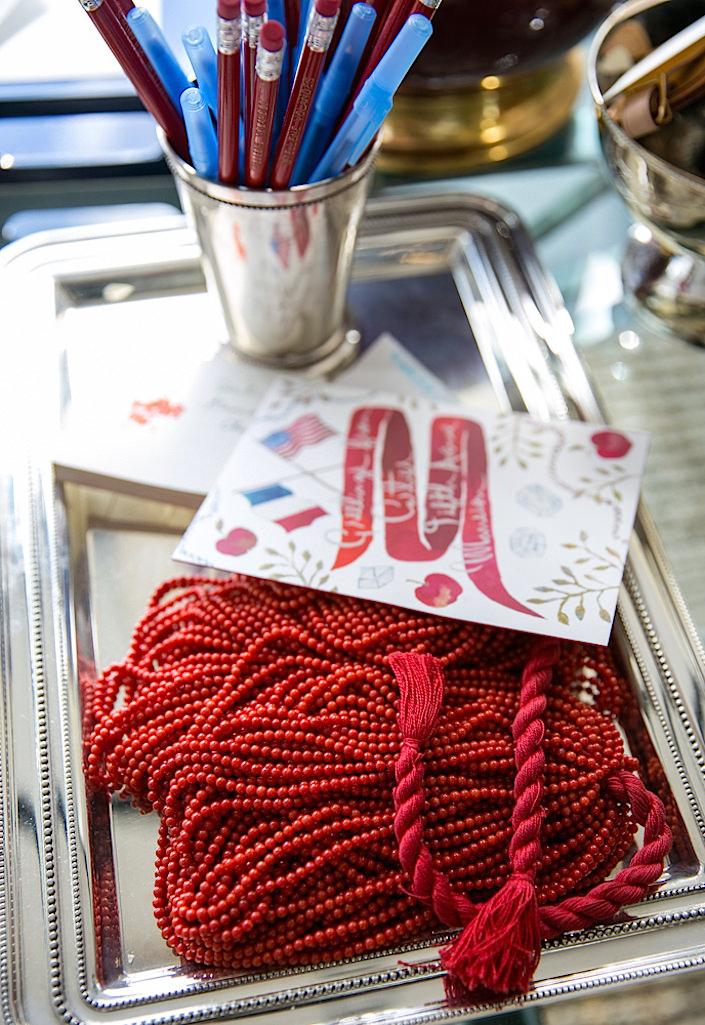 Growing up, Stellene's family traditionally marked special celebrations with jewelry. In fact she remembers buying her first piece of real jewelry at the Lalaounis boutique in the Athens Hilton with her mother. It was the first time a jeweler's inspiration was presented to her and she was impressed with how the images of Greek history were woven into the pieces. It was an aha moment as Stellene realized jewelry had a historical significance and that a jeweler's imagination could be fueled from so many sources.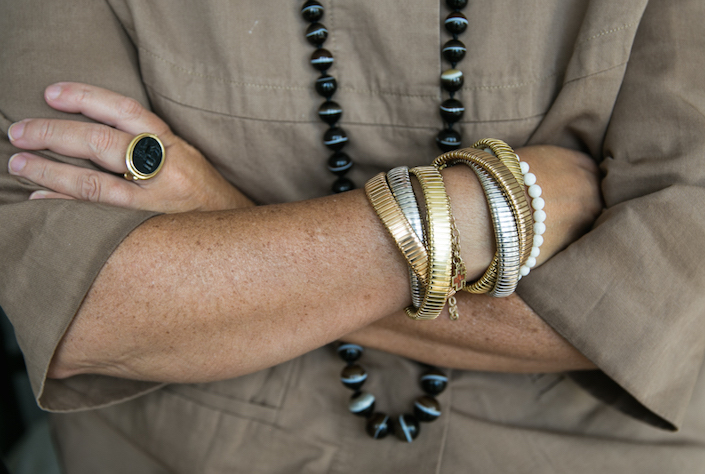 Stellene now wears something from Lalaounis almost every day (her charm bracelet peeking out above and gold bangles below) and if she feels she might be having a challenging day, she always puts on a piece – somehow the talismanic power makes her feel like she has a Greek army behind her.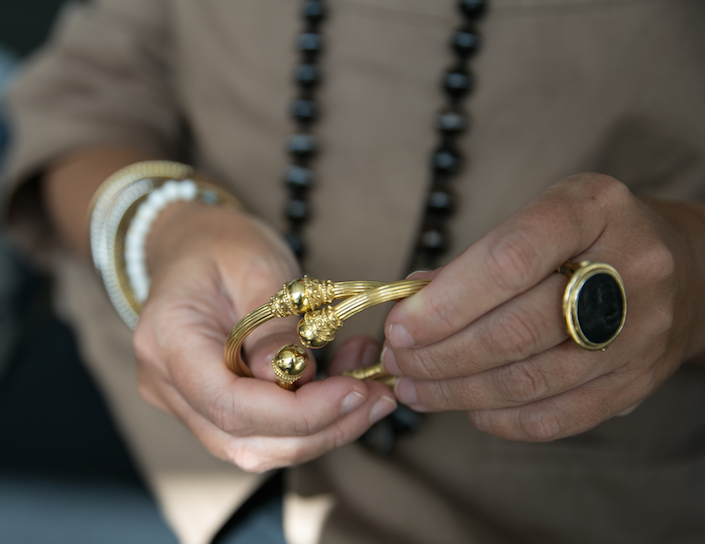 She also frequently wears Janis Provisor, a wonderful painter who saw the artistic possibilities of jewelry. Stellene would like to dispel the myth of jewelry as an intimidating and private aspirational world. She believes true jewelers are welcoming and want you to appreciate their work. Janis' pieces are such products of one artist's mind and in wearing her pieces, Stellene feels a personal connection to a friend.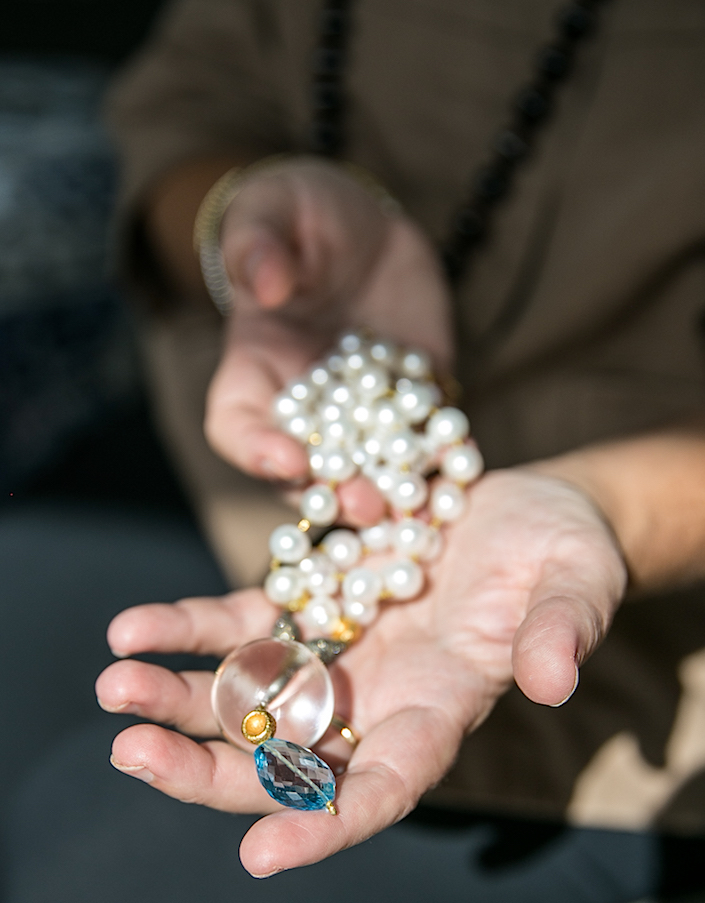 While Elsa Peretti is too well known to offer the sense of discovery Stellene wanted for the book, she certainly represents a jeweler with a singular vision. For people looking for a no-fail jewelry gift, Stellene always recommends Peretti. Stellene's classic Peretti braided silk Circle Hook earrings below are still available in a choice of colors.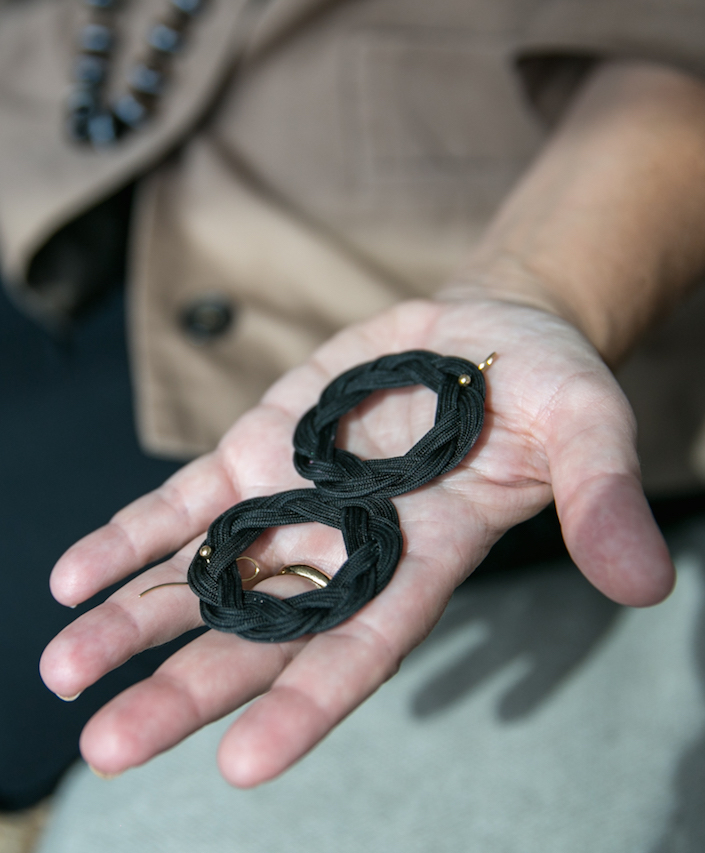 For at least six years Stellene had been coveting a spectacular Verdura pendant. The necklace held particular significance for her as it was named after the Byzantine empress Theodora, one of the most influential women of her era, and an original first century jewelry girl who believed adornment bestowed her with even more power. Stellene had worn it to an event with Verdura and every so often would go into the boutique to try it on. The day she was announced as Editor in Chief of Town & Country, she called Verdura to ask if she could borrow the necklace for the very special occasion. When the official photo of her was taken, she was wearing the necklace and decided the time had finally come to make it her own. It is now a much loved regular in her jewelry wardrobe.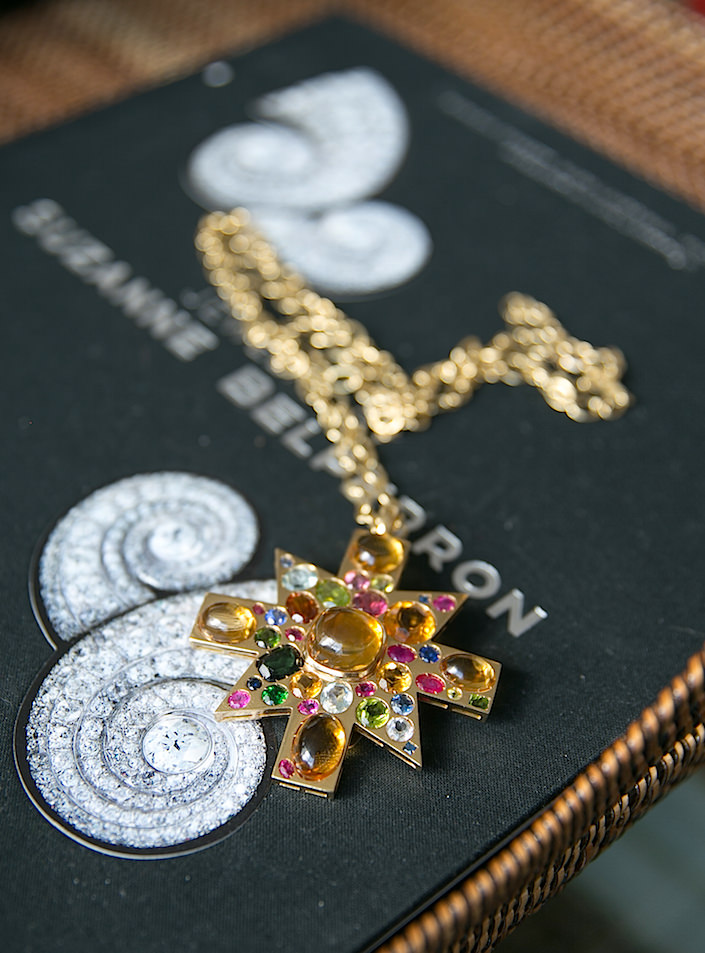 Stellene describes Brooke Garber Neidich as one of the great women of New York and in wearing the designer's signature rolling bracelets every single day, feels that she is channeling just a bit of the jeweler, philanthropist, and arts patron. Stellene counts her as one of the many wonderful people in the jewelry world who have been warm and welcoming to her in her career.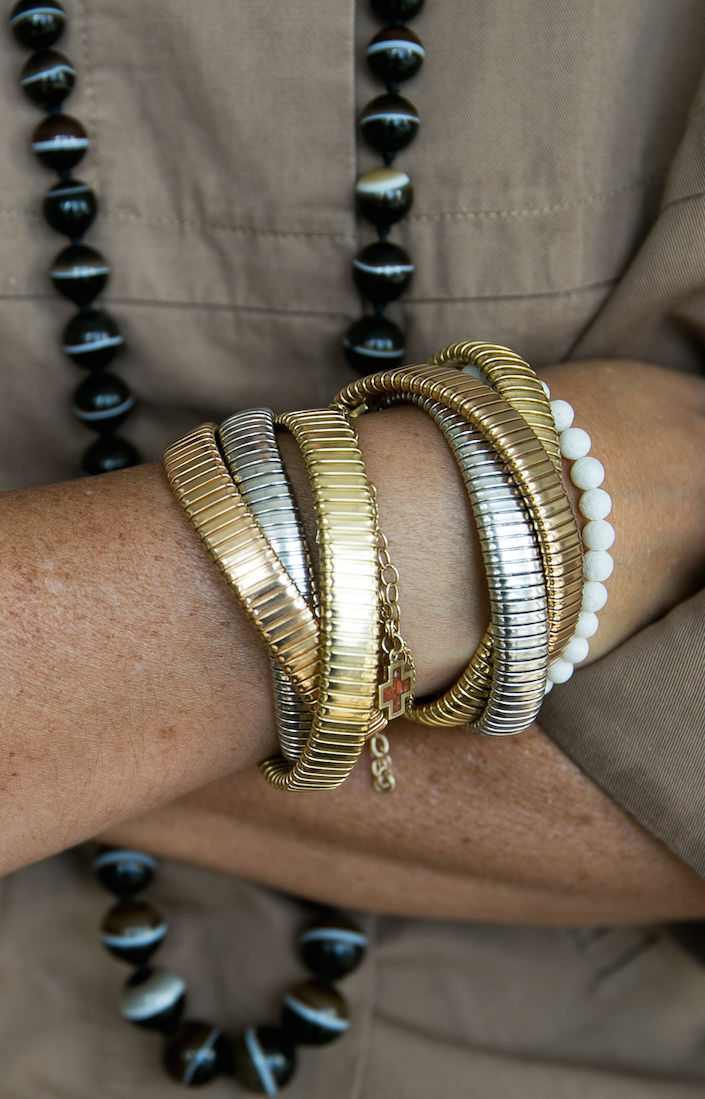 As a Leo, when Stellene feels she needs to channel the power of a lion she wears her intaglio ring from Antiquus in Venice. Whenever Stellene is asked to recommend shops in Venice this is one of her go-to's along with Antonia Miletto, who is profiled in the book.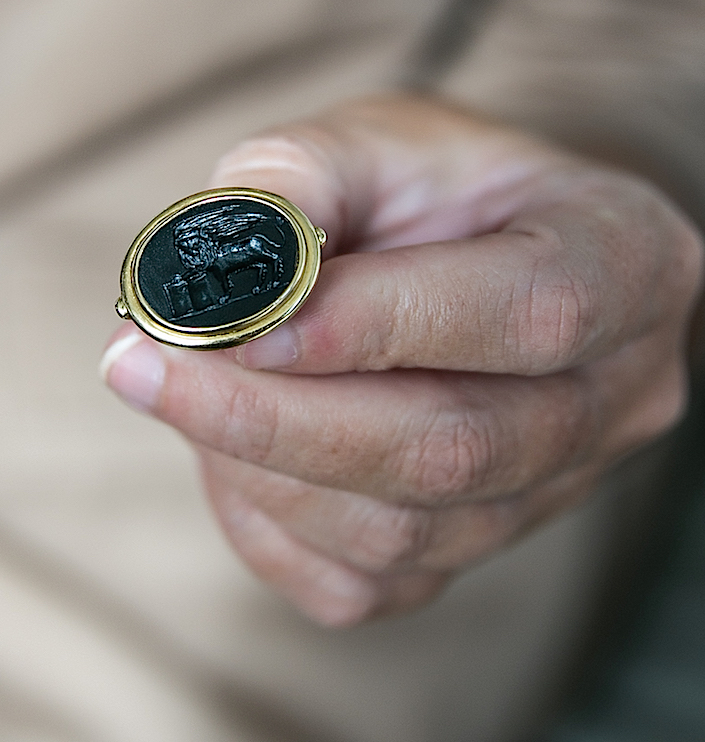 While Stellene Volandes oversees all subjects at Town & Country, her passion for and knowledge of jewelry makes her the perfect champion of the creators of this enduring art. She captures the mystery and magic, the timeless allure that has fascinated collectors since the beginning of civilization. For, as she says in her foreword, "Long after the wearers go, the jewels are still here. And for that alone, the makers have earned their moment."
All photos of Stellene Volandes and her jewelry by Stacey Bewkes for Quintessence