The Sunday evening before the Design Bloggers Conference was one of supreme visual artistry. First was an awe inspiring visit to Hutton Wilkinson's Casa Contessa and Tony Duquette's Dawn Ridge next door. Somewhere in between James Hilton's Shangri La and Auntie Mame on steroids, the creative expression at both these residences is beyond words.
The gardens at Dawn Ridge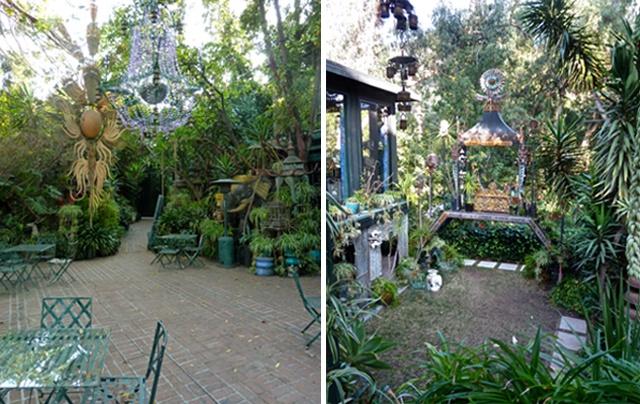 Tony Duquette's monkey room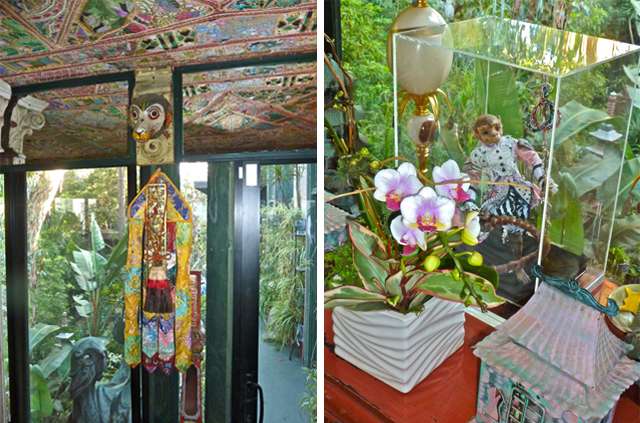 Hutton and Ruth Wilkinson's amazing house Casa Contessa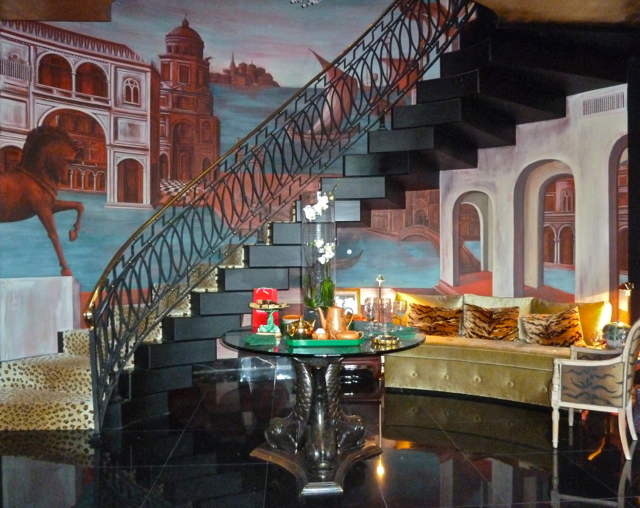 For a more extensive selection of photos and information about our visit, please stop by friend Liz Morten's blog Dovecote Decor here.
Next on the agenda was a cocktail reception at the chic la Cienega shop Hollyhock in honor of blogging friend Ronda Carman of All the Best and her upcoming book with Rizzoli (the Hutton Wilkinson tea was also an L.A. welcome for her). As I had come via a very questionable and circuitous cab journey, I so appreciated catching a ride with stylish friends editor/stylist Stacy Kunstel and photographer Michael Partenio, partners in Dunes and Duchess.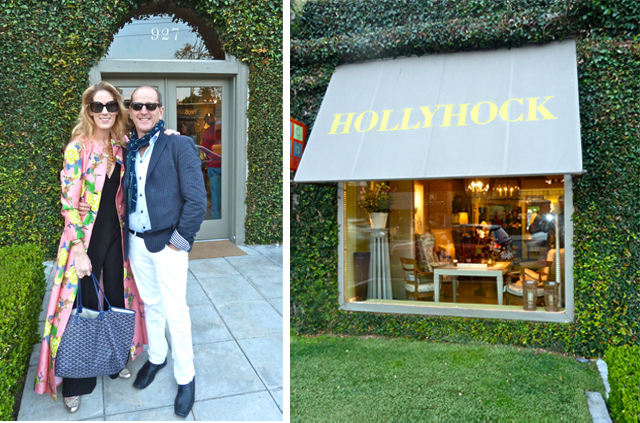 As a longtime fan of Suzanne Rheinstein and her refined yet casually chic New Orleans meets L.A. style, it was a thrill to visit in person. It was everything I expected and more – in fact I would have been happy to move right in.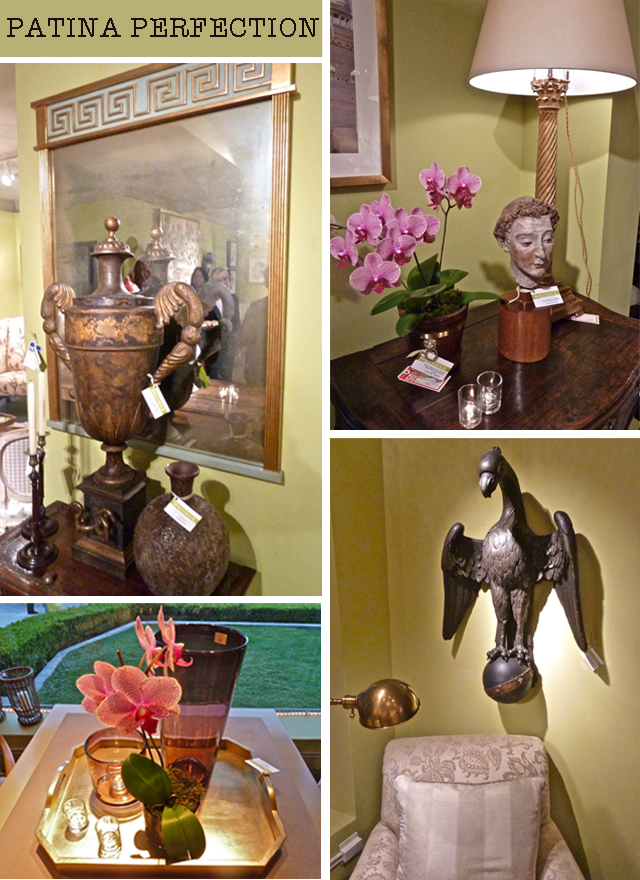 Rheinstein's shop is a brilliant blending of antique, vintage and contemporary furnishings. Feel free to follow her lead to create your own masterful mix of patina, texture and form by adding distinctive objets d'art and glints of gold. Hers may be a rather distinguished mix of old and new but it's really all about the character and charm.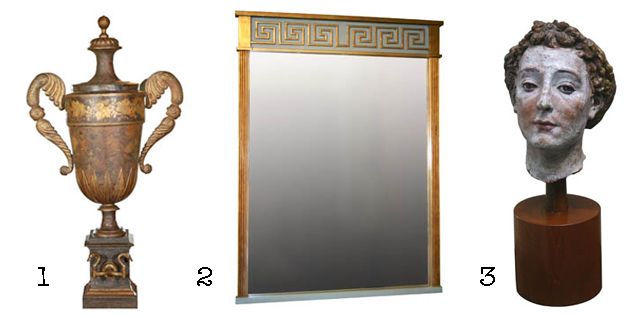 1) French 18th Century Painted Tole Lavabo  2) Hollyhock's Greek Key Mirror
with Reeded Detail  3) 18th Century Sicilian Terra Cotta Head on a Wooden Base From the Tony Curtis Estate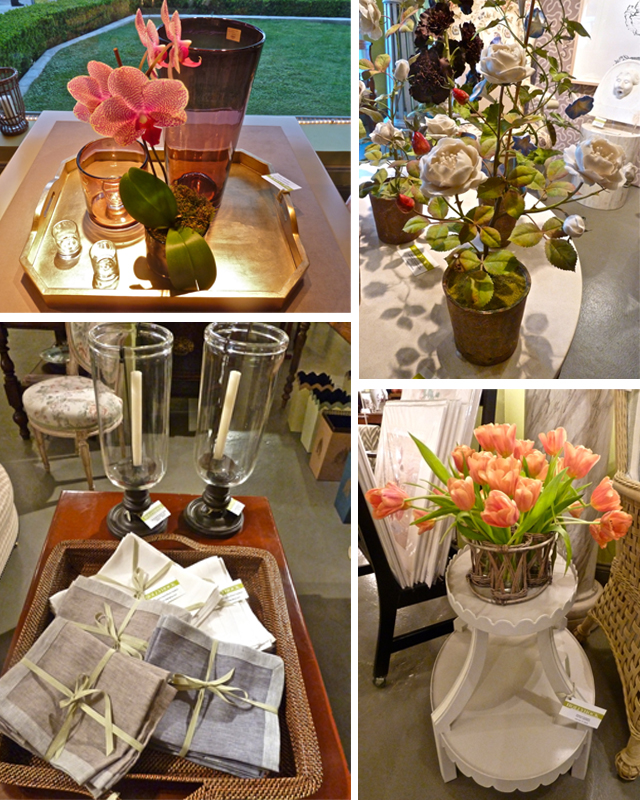 Accessorizing is the key to a finished room. Hollyhock's vignettes were chock full of pretty pieces perfect for spring. Get ready for warmer weather by adding versatile selections that can be used indoors or out for inviting tablescapes and entertaining with style.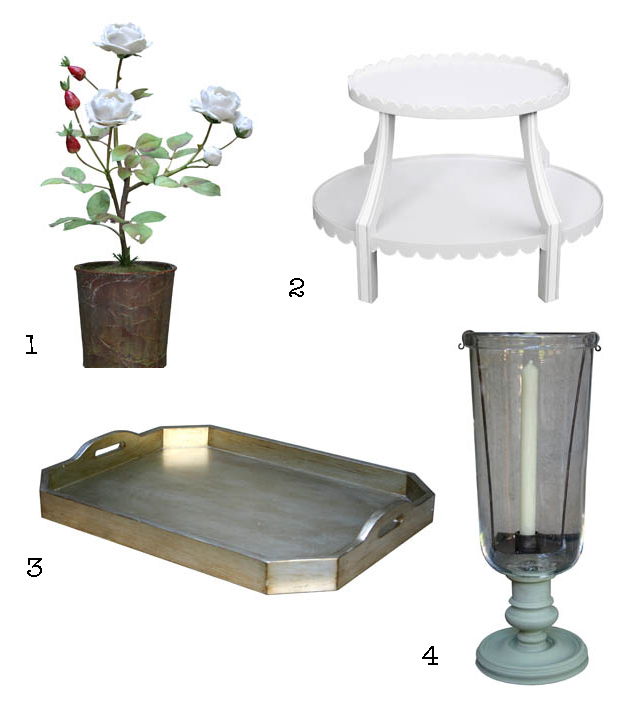 1) Vladimir Kanevsky Tole and Porcelain Rose Arrangement with White Roses and Three Red Hips  2) Hollyhock Two-Tier Scalloped Table/Stand  3) Silverleafed Rectangular Tray  4) Hand-made Photophore in Farrow and Ball Colors. Verte de Terre shown here
One of the most charming aspects of Hollyhock is the seating selection. Many occasional chairs have been repurposed and updated, lending them a distinctive and decorative air. Rheinstein clearly loves green in all my favorite "stepped on" shades and there were so many beautiful choices in both accessories and furniture as here. The 18th Century Louis XVI Chaffeuse on the left was painted, gilded and then newly upholstered in Rheinstein's own Garden Roses (in Lime/Leaf) for Lee Jofa. The chair on the right was one of a pair that was sold. I would adore these on a covered veranda, where I could imagine sitting sipping one of Lulu Powers' divine mint/cucumber/vodka concoctions I was introduced to later in the week at the Harbinger TRADHome party – refreshing yet lethal!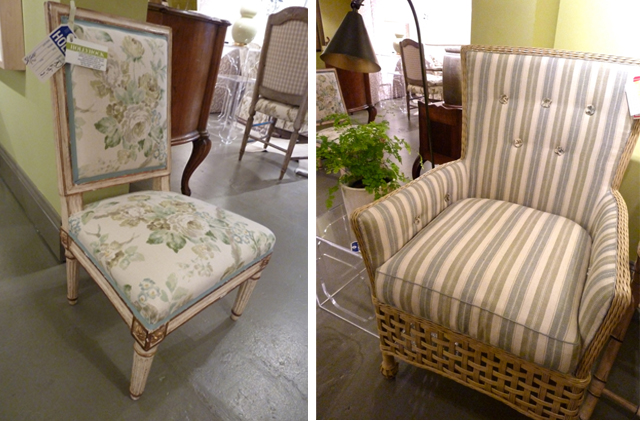 Next time you're in or near L.A., I highly recommend a trip to West Hollywood with Hollyhock as a must-visit on your list. And if you're an armchair traveler, the next best thing is Rheinstein's lovely tome At Home: A Style for Today with Things from the Past.