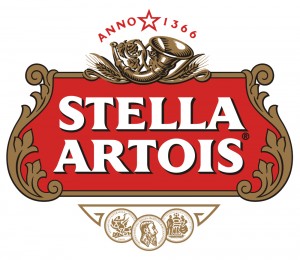 I love a great marketing campaign. There are so many bad commercials out there that when you see something special it's like a breath of fresh air. Stella Artois, the upscale boutique Belgian lager, has a long history and over the years its advertising campaigns have frequently had associations with films. Long known for their clever advertising, the brand offers access to many of its TV ads on its site.
But this year, with its switch to the English ad agency Mother, an even more sophisticated approach was taken. Over the summer they featured a campaign shot by Bert Stern, famous for his 1962 pictures of Marilyn Monroe, with the tagline, "She is a thing of beauty."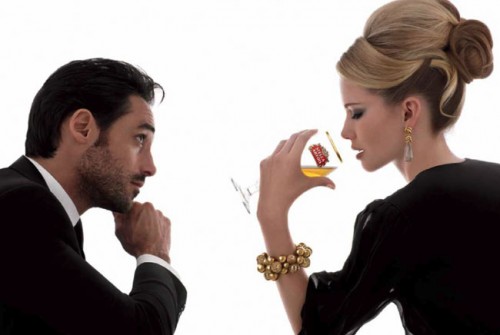 And Wim Wenders also shot a video in this series. Recently they brought in filmmakers Wes Anderson and Roman Coppola who continued to reposition the brand with a 1960's French film world tongue-in-cheek spin.
However, where it really gets interesting is the introduction of the new Stella Artois Black label. The lager, which is launching in England, the 14th – 25th, will only be available in ten selected pubs and bars, which will be transformed into stylish settings for these evenings of interactive theater.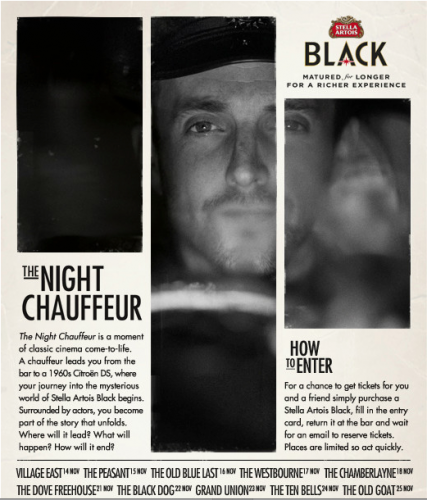 Customers who purchase the new premium lager are given a special card to fill out and return to the bartender. From these, the recipients of an actual invitation are selected and notified by email. If they choose to accept, they can reclaim two tickets to the venue of their choice. They will then discover the story behind The Night Chauffeur – a film noir of unanswered questions. They report to the location they have selected. After a phone on the bar rings, the bartender calls out the name of each of the guests and a chauffeur sees him or her to a special Stella Artois outfitted Citroën DS (the perfect choice!). As it says in the small print of the poster above, "Surrounded by actors, you become part of the story that unfolds. Where will it lead? What will happen? How will it end?"
I know I'm curious – how about you?