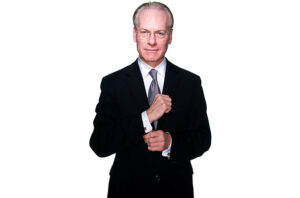 I have a whole new appreciation for Tim Gunn! Who knew that the Project Runway judge and style guru also has a passion for serious design. At the tender age of 7, he evidently spent his allowance to purchase reproductions of Thomas Jefferson's architectural drawings for Monticello! Now that is impressive. Yesterday, Gunn was the guest curator on one of my new favorite places, ahalife. His fortuitous pick presented me with the opportunity to write about not only ahalife but also the incredible designer, both of whom were already potential subjects.
Ahalife (as in the aha! of a wonderful discovery) is a two-month old website that they describe as an "online discovery destination". Every 24 hours a single product, selected by a guest curator, is offered for purchase. Guest curators up to now have included such luminaries as style icon Iris Apfel, designer Cynthia Rowley and author/editor Tina Brown. It is, however, more than just a shopping site. Each pick is accompanied by the story behind its making along with a profile of the designer. It is rather like the shopping version of this blog – products from a range of categories are featured, from fashion and food to beauty, home decor, travel and tech with a backstory on each, explaining the "craftsmanship, unique provenance and amazing aesthetic." Here is a video featuring founder/CEO, Shauna Mei, explaining the genesis of ahalife.
Well back to Tim Gunn. Gunn had early on considered becoming an architect and after graduating from Corcoran College of Art and Design (associated with the famous gallery) in Washington, he became an architectural model maker. This explains his choice of Timothy Richards' model. This incredible miniature sculpture depicts the 18th century Radcliffe Camera at Oxford.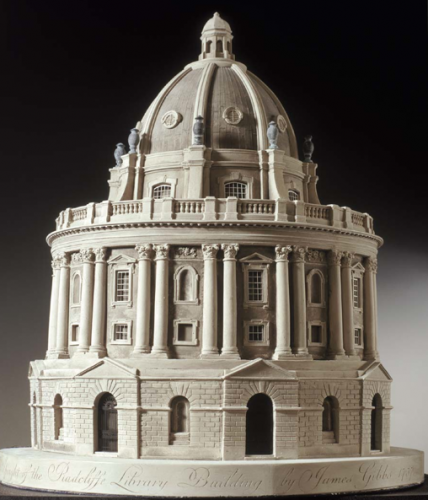 Timothy Richards' work is nothing short of miraculous. Born near Bath, England, he grew up fascinated with the history and architecture of that Palladian city, which clearly informs his work today. After attending art college, Richards had a myriad of jobs including outward bound instructor and teacher. But it was his stay on the Greek island of Spetse, working with adventurer Tim Severin that set him on his current course (Severin was building a Bronze-Age gallery using traditional tools and techniques). Richards' first model was of Jane Austen's house in Bath from 1762.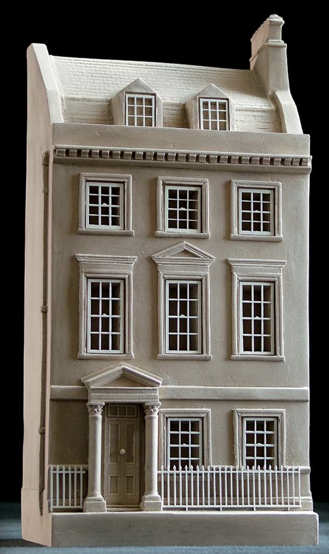 You can read more about him in his interview on ahalife. He has since gone on to make models of many of the finest buildings primarily in England and the United States.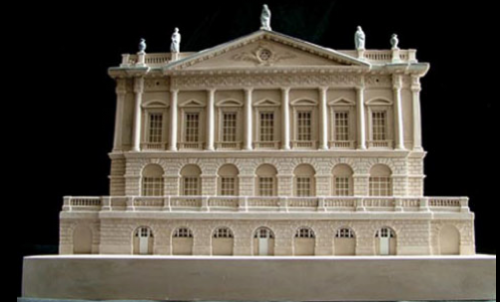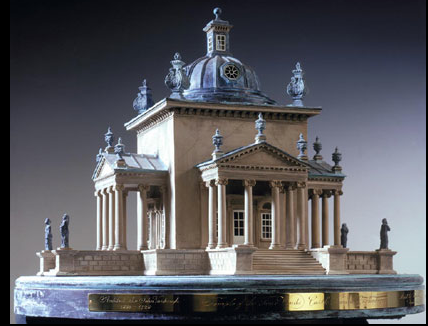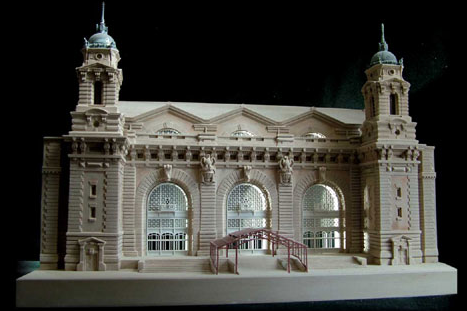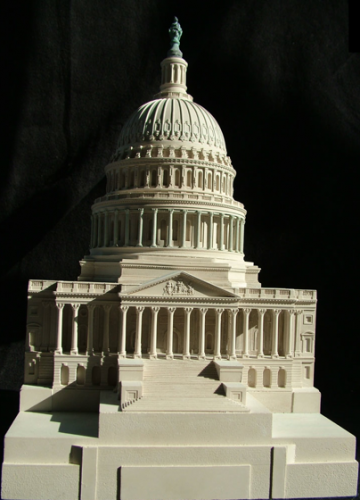 In addition, there are the bookends. You can choose single doorway models, of famous entries, which can be used as one end to hold books where the other is a wall, or as a display piece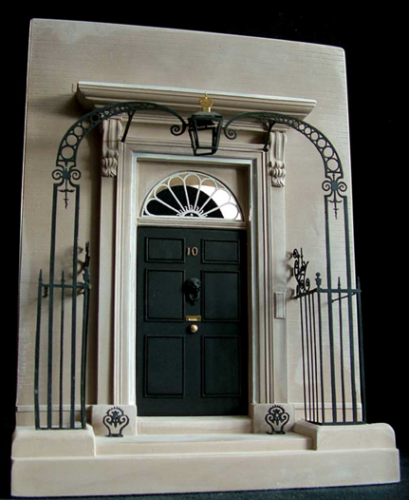 or split pair bookends, where the building is actually divided in half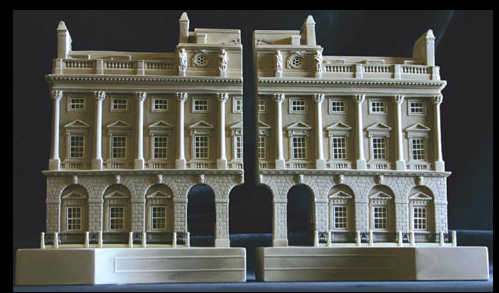 or single bookends, individual models of famous buildings and houses again to be used as a book end or ornament.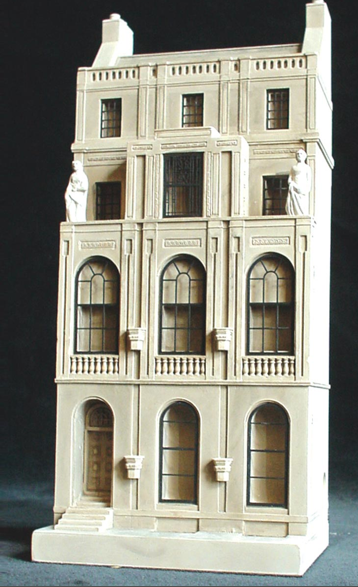 Richards also accepts commissions for bookends or models. Can you imagine your home immortalized by such a master?!
I became familiar with Richards' work through the "Palladio and His Legacy: A Transatlantic Journey" exhibit which was at the Morgan Library in NYC. This show featured thirty-one original Palladio drawings from the Royal Institute of British Architects, together with several rare architectural texts, and sixteen of Richards' models. The drawings and texts illustrated the journey from Italy to North America of Palladio's design principles of proportion, harmony, and beauty.
The show is now at The National Building Museum in Washington, DC until January 9th. It is the first time the drawings have been on view here in over thirty years. If you live anywhere near D.C., I highly recommend a visit.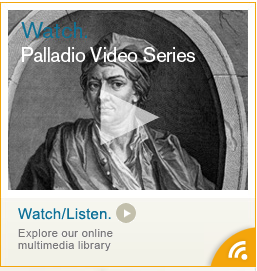 The museum also has an amazing online multimedia library that currently features ten videos about various aspects of Palladio's work, from co-curator British architectural historian  Charles Hind discussing "What is Anglo Palladianism" to "Why Palladio's Work Still Resonates" by distinguished Palladian scholar Howard Burns. They are truly a wonderful resource. In the meantime, here are a few of Richards' models in the exhibit.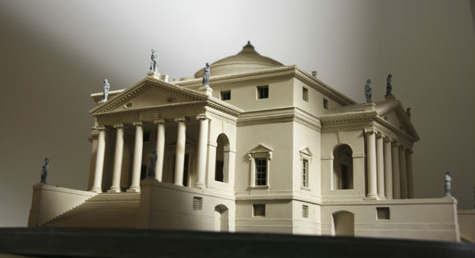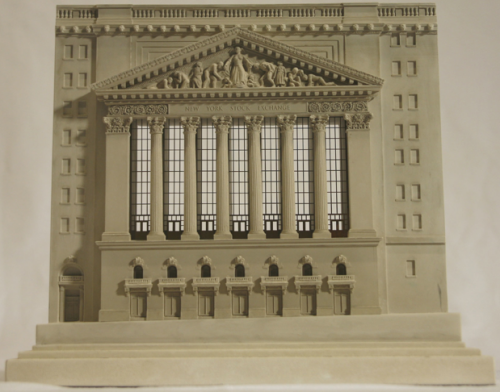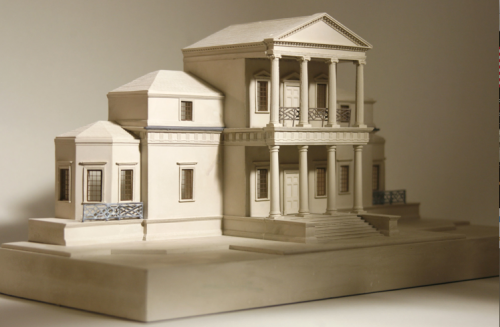 This piece, for me, represented a wonderful coalescence of discoveries, from Tim Gunn's aesthetic sophistication, to ahalife's wonderful curated picks, to Timothy Richard's incredible models, to the wonderful video library on the National Building Museum's site – I hope you enjoyed accompanying me on this little journey of delights!