Someone reminded me recently of the Charles Eames quote, "The details are not the details. They make the design." It is so true and is one of the hallmark differences between good and great. As projects come to a close, sometimes final finishing touches can be lost, as interest wanes or budgets bulge. One detail that can be overlooked is the lampshade, but it is like the jewelry in the room, the final dressing detail.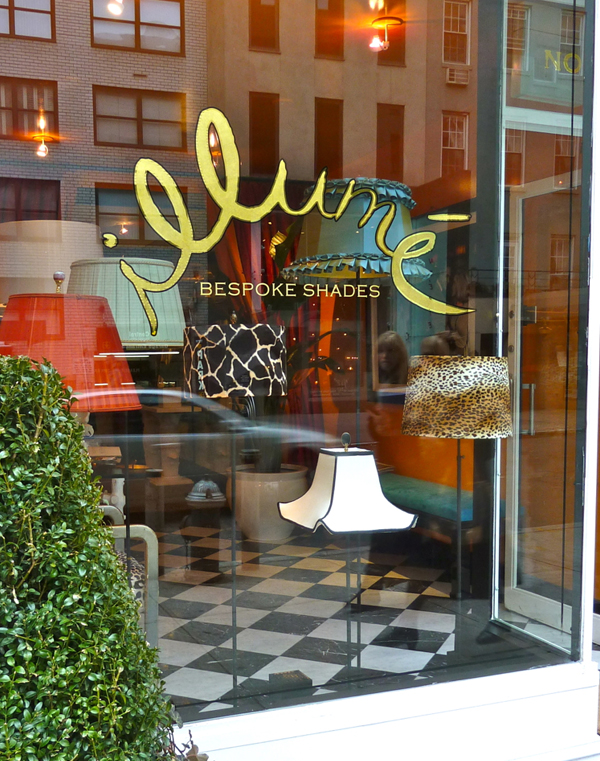 Perhaps one reason it is an under appreciated asset is that it is difficult to find a good source. Well no longer. With the recent opening of Illumé in New York City, the search is over. Steps away from the D&D building, Ronald Scinto and Mark Candido have set the standard high with their new bespoke store and workroom. Open to both trade and retail, there is an enormous variety of stocked shades. They have discovered that many customers don't have the patience to wait for custom and now clients can "walk out the door the same day with a lamp shade that's beyond their expectations."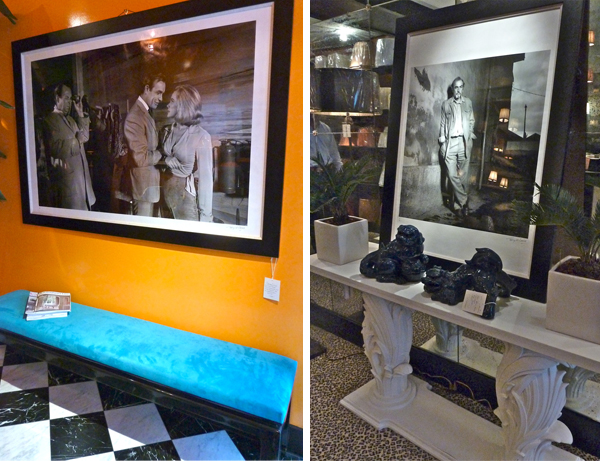 The entrance of Illumé is more like a small salon with fabulous Terry O'Neill photographs and unique furnishings.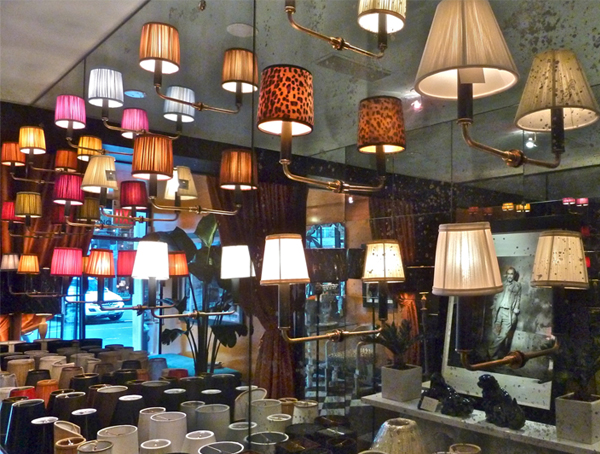 On an antiqued glass wall hang sconces with handcrafted shades, many made in Paris ateliers, because as Ron and Mark explained, they "bring romance to light!" A lampshade store they feel unlike any other, they make shades for stock, anticipating what people want, in styles, colors and sizes, based on their 14 years of experience. While their original Accessory Store in Stamford, CT, next to the Antique & Artisan Center, which they also started,  still exists, the duo wanted to do something more upscale and unique with their city space.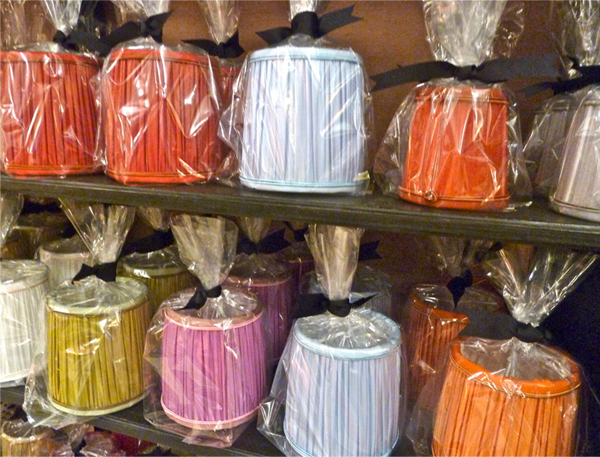 Fabrics are sourced from all the major houses and currently represent the rainbow of hues we are seeing both in interiors and fashion. Ron and Mark have been making colored shades for years and are thrilled that customers are finally moving beyond beige and taupe.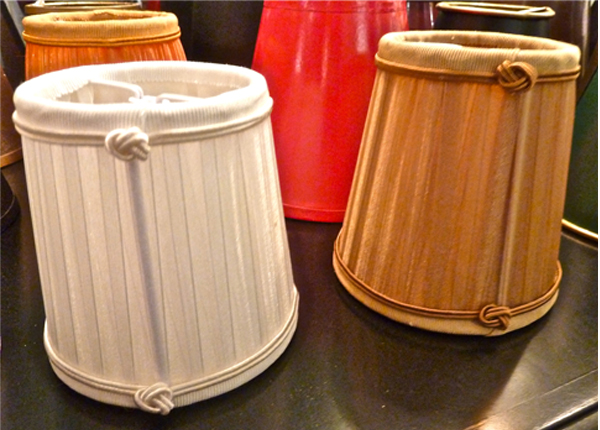 All of the shades from Paris feature their signature hand tied knot as above. Ribbon overlay, organza over silk charmeuse, delicate couture hand sewn details – anything is possible including of course COM.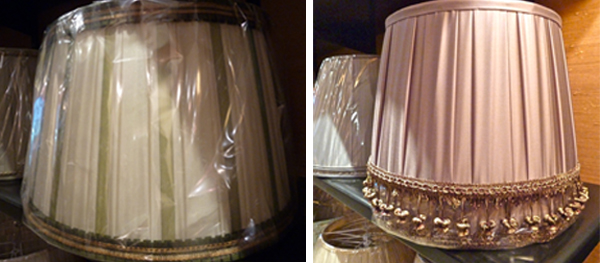 The whole idea of selling ready made shades is so customers can see how they look made up and how they look lit. Instant gratification is a good thing. While you can find some ready made shades around, you certainly won't be seeing these fabulous animal prints
Or this beautifully crafted Fortuny shade ready to take home!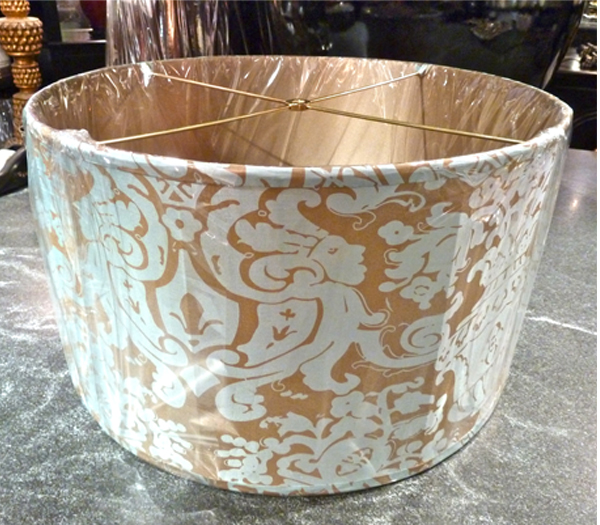 Many customers come in thinking they know what they want, but end up going home with something more exciting and distinctive. When visiting the store, Mark and Ron recommend coming in with measurements of your lamp (overall height with and without shade) and a photo to facilitate selections. But who knows, you might fall in love with one of the many vintage lamps or examples from John Rosselli that they carry as well. And how fabulous are these high gloss hardback shades – which can be customized in any paint color?!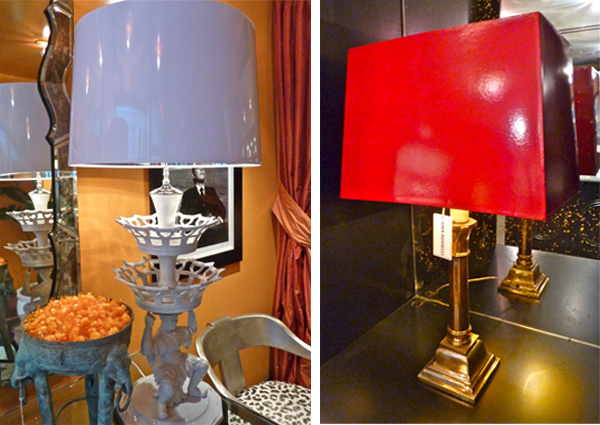 Or in a matte finish with the inside in a contrasting color if desired. Here the paper shade is hand painted to look like tole – but it could be any combination!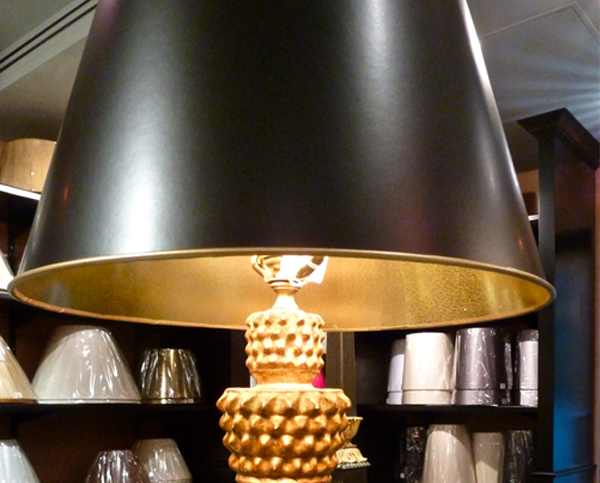 But this isn't all – Illumé includes an alter ego, a workshop – from the beautiful side, we move to the more utilitarian, representing a bit of old New York, when things were handmade by people you knew – with an appreciation for the craft, the process, the one of a kind. With a separate entrance, the space is visible from the street.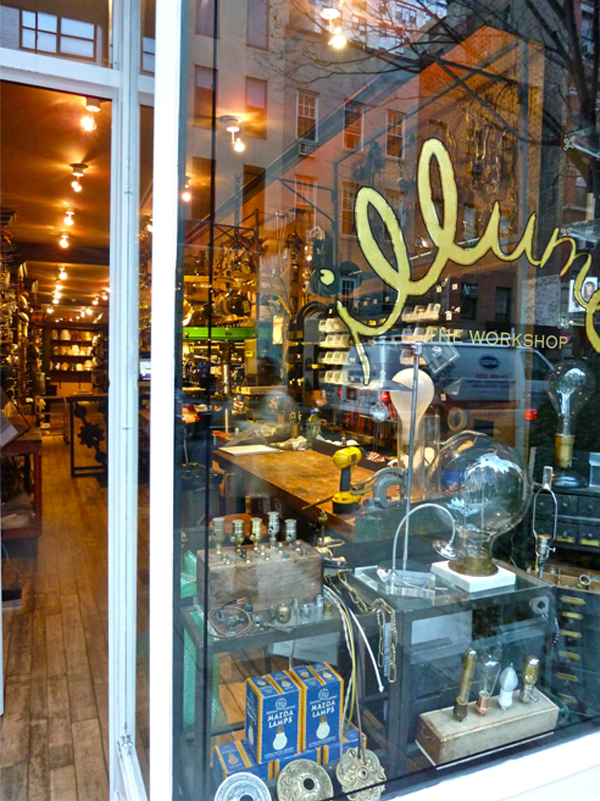 A little bit of a decorator's hardware store mixed with a lighting repair shop, this side of Illumé is heaven for all of us who remember being entranced by childhood trips to the neighborhood hardware store.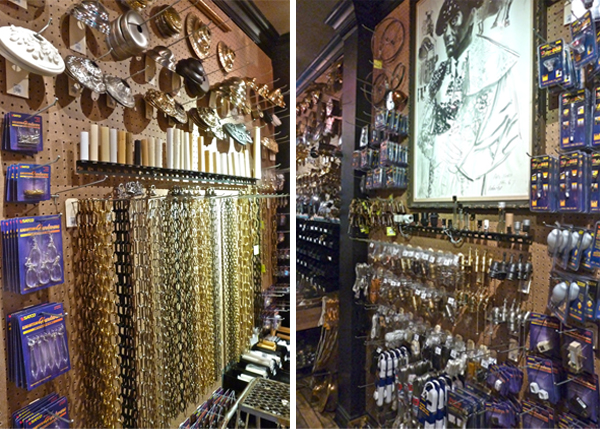 But this is even better, including all the little extras you might need when decorating from picture hooks, plate hangers and candle covers to silk wires and vintage bulbs.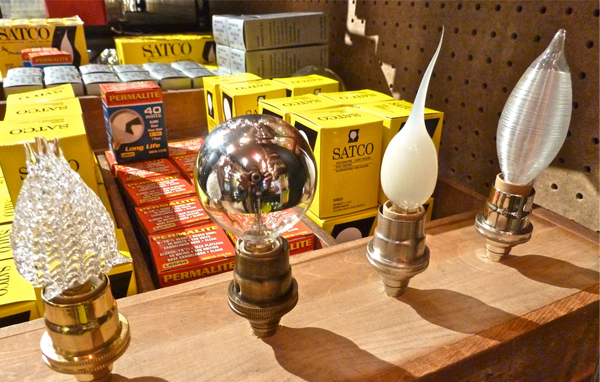 The workbenches came from an old factory in Bridgeport, CT. Here they do rewiring, repairs and create new lamp designs.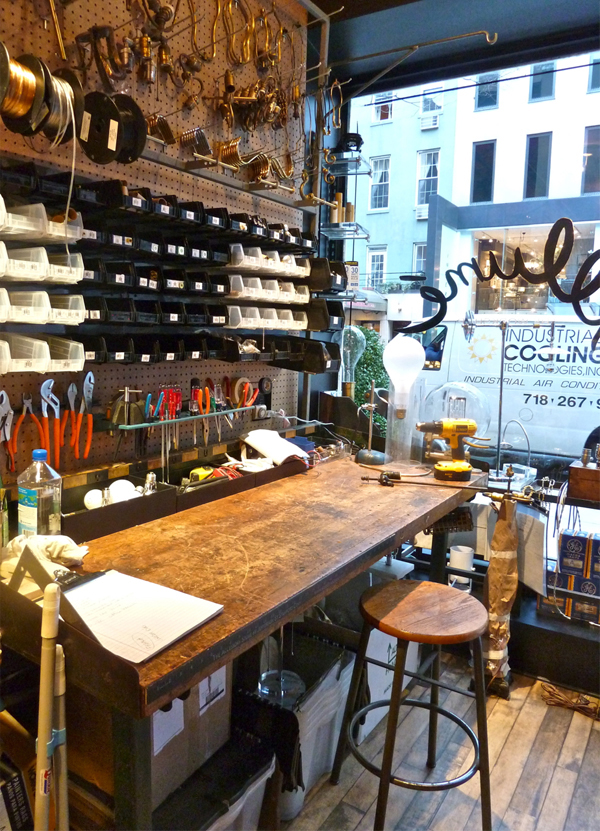 A visit to Illumé is most definitely an illuminating experience! Whether you're in the market for new shades, need a repair or just a little inspiration, Ron and Mark will guide you to the light side with care and expertise!