Anticipating next week's Fall Market at the D&D Building (more exciting news about that next time) followed by the first ever TEFAF New York Fall at the Park Avenue Armory (I will be reporting back), the public exhibitions for Sotheby's fall auctions next week of furniture and decorative arts are now open. With an enormous array of everything from porcelain to tapestries to silver and more, there is something for almost every collector, from neophyte to expert. There were so many lots that interested me in the first auction, Collections: European Decorative Arts, on October 18th, that it was a tough decision whether to share, so don't be surprised if you're bidding against me!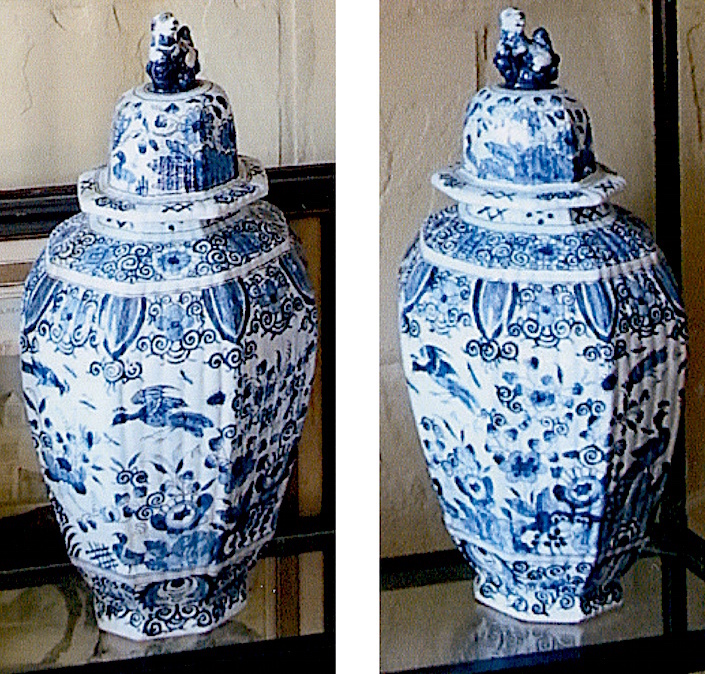 Blue and white ceramics are always popular and this auction has a fantastic selection. Delft in particular is highly collectible and while there are several pairs of covered vases, this beautiful 18th century duo, above, is wonderful at almost two feet tall.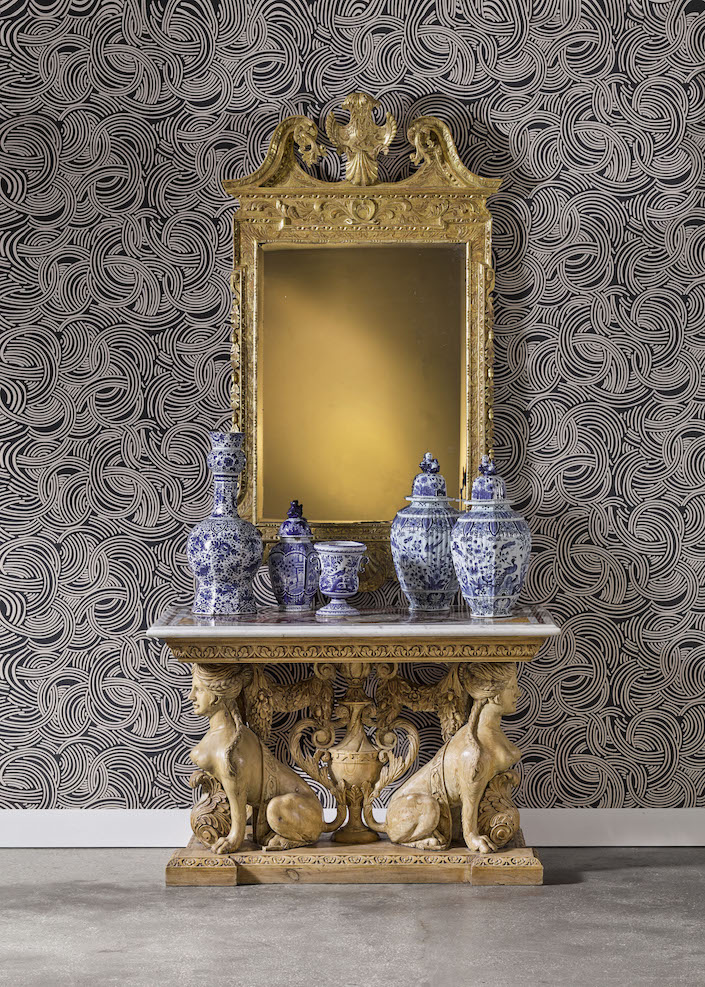 Farrow & Ball, which is celebrating their 70th anniversary, collaborated with Sotheby's for the exhibition, providing the backdrop for selected vignettes, shown during the weeklong pre-sale exhibition starting today. Above Farrow & Ball's Tourbillon provides a graphic backdrop for the Delft vases, along with other blue and white ceramics, sit on a George II style stripped pine console, a copy of the famous one by William Kent that sat at Ditchley Park.  The mirror, however, is period – a splendid George II gilt-gesso example from 1740.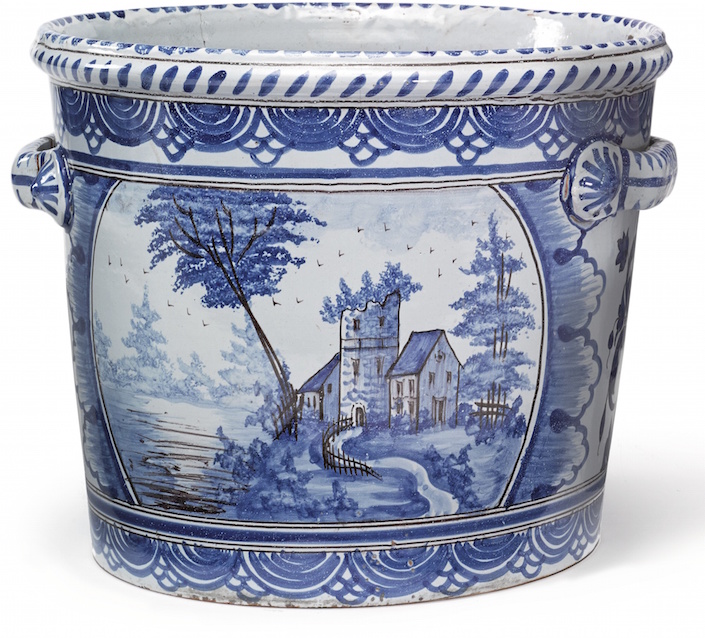 Jardiniéres are incredibly useful and this 18th c. Nevers faïence example is lovely.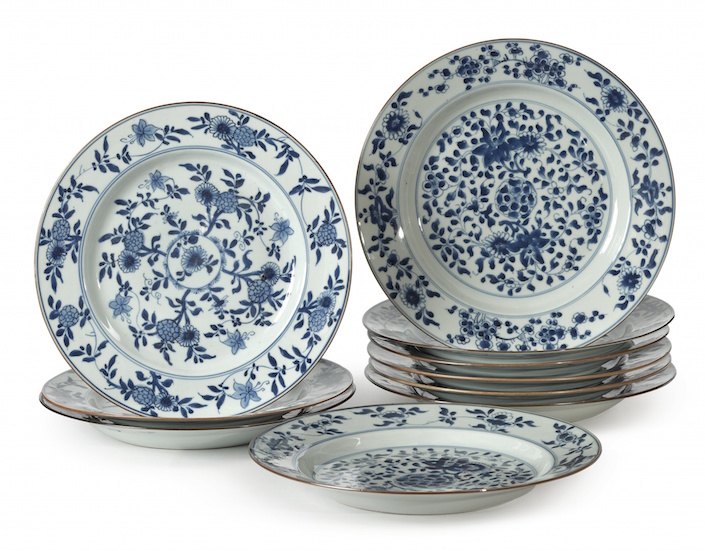 Blue and white Chinese export porcelain is a tabletop staple and this early 18th c. set of ten plates is especially appealing due to their large size (10-7/8″).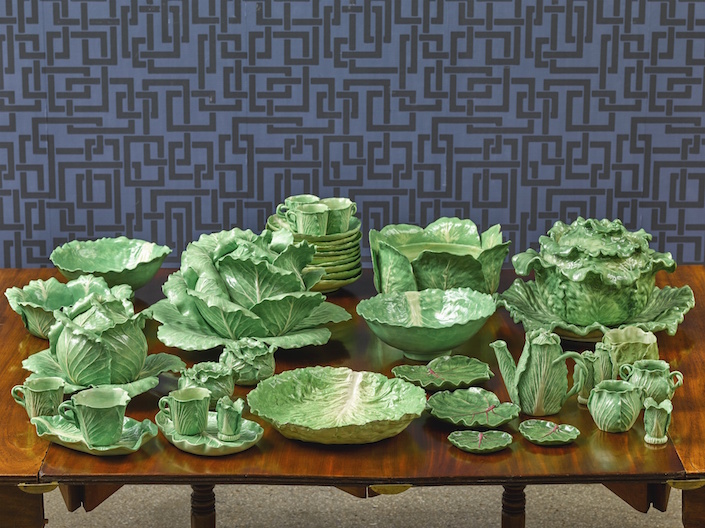 Dodie Thayer ceramics need no introduction and the auction includes a large assembled part dinner service. The tureens are included in separate lots. Here Farrow & Ball's new Enigma wallpaper, named for British mathematician Alan Turing, is a lively pairing with the colorful organic forms of the Dodie Thayer.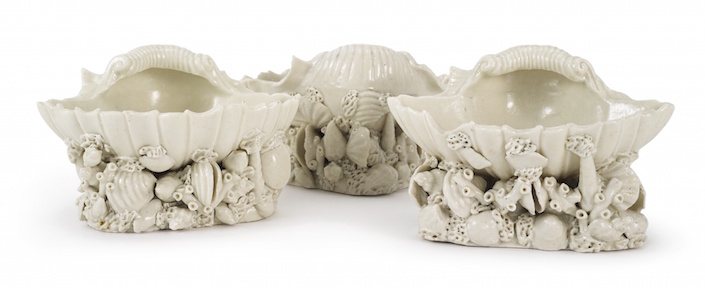 For more neutral table accoutrements, these three exquisite Plymouth porcelain shell-shaped salts circa 1770 would be an elegant artisanal addition.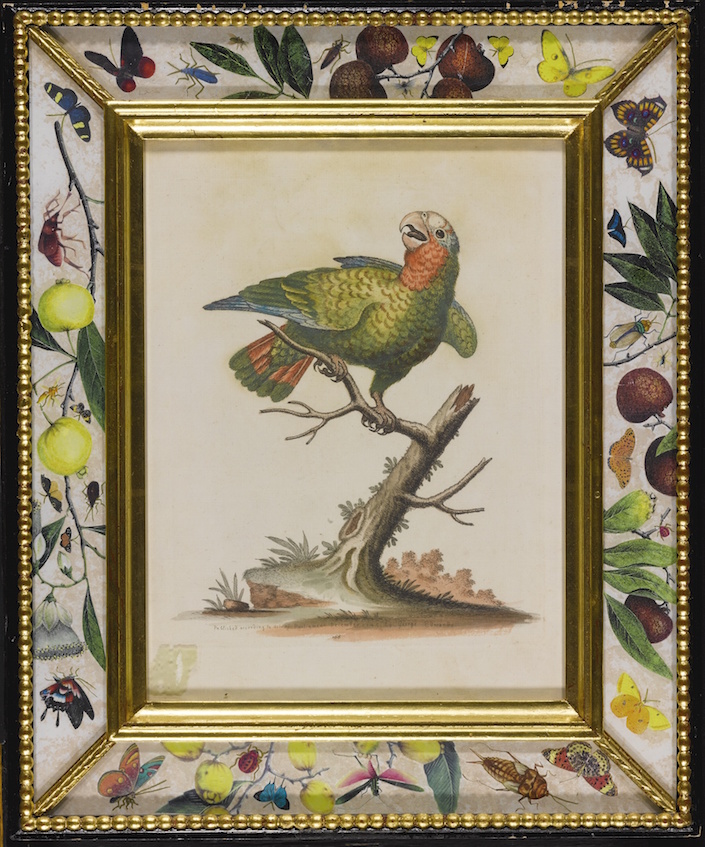 I adore the decorative appeal of this set of six hand colored engravings. From the Natural History of Uncommon Birds, after George Edwards (1694-1773), they are paired with later decoupage frames. Perfect for a garden or even powder room!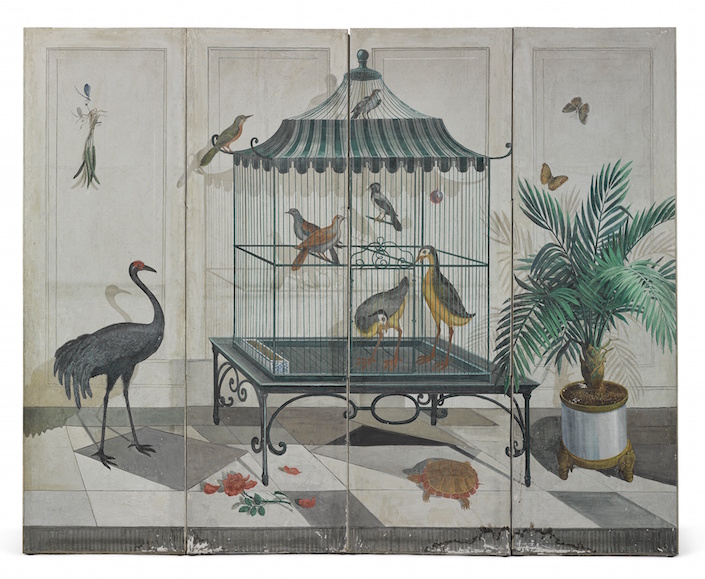 And with an estimate starting at $1,000, this wonderful early 20th c. four panel screen is huge ornamental bang for the buck. Wonderful anywhere but especially for a dull or unsightly corner or behind a sofa à la Coco Chanel.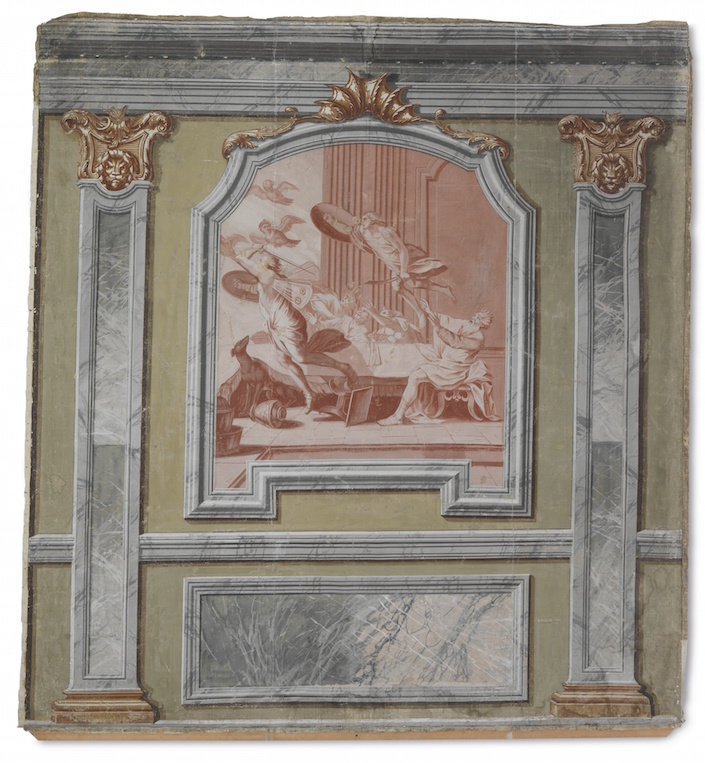 For someone who is looking to envelop a large space in dramatic style, this set of four 18th c. Louis XVI painted trompe l'oeil architectural canvas panels, depicting the four elements (earth, air, fire and water) would be a statement making dream. From the Chateau de Saint-Germain-au-Mont-d'Or in Burgundy, France, they would transform any home into a castle. In fact, these panels, along with several of the other lots shown above, are from the collection of Mrs. Douglas Auchincloss, whose Long Island residence, below, was transplanted from the village of Les Petits Thons in the Vosges area of France to Upper Brookville, Long Island in 1927 by Ashbel H. Barney, president of Wells Fargo Company.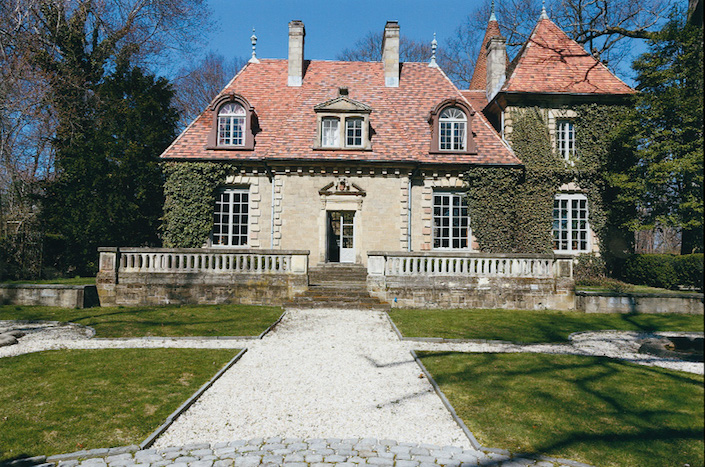 The second Collections auction, on October 19th, includes vertu, ceramics, Russian Works of Art and silver such as this adorable pair of pooches below.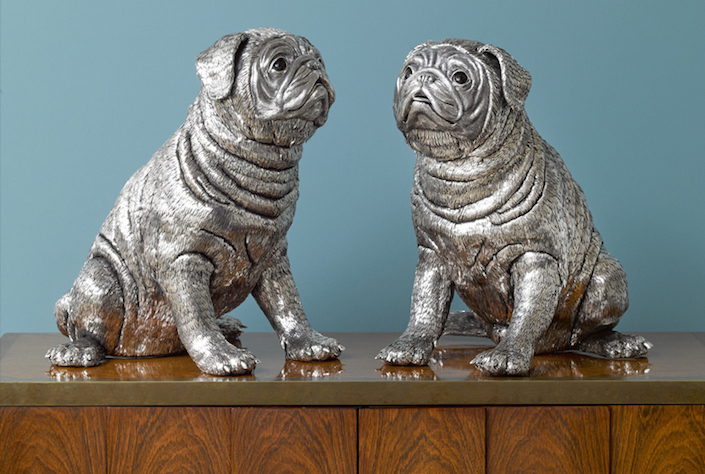 Calling all pug lovers – that means you, Mary McDonald! How fabulous are these silver pug wine coolers, almost identical to a Buccellati pair. The head is hinged and opens to receive a bottle of wine. And they look especially handsome against Farrow & Ball's Dix Blue in the exhibition.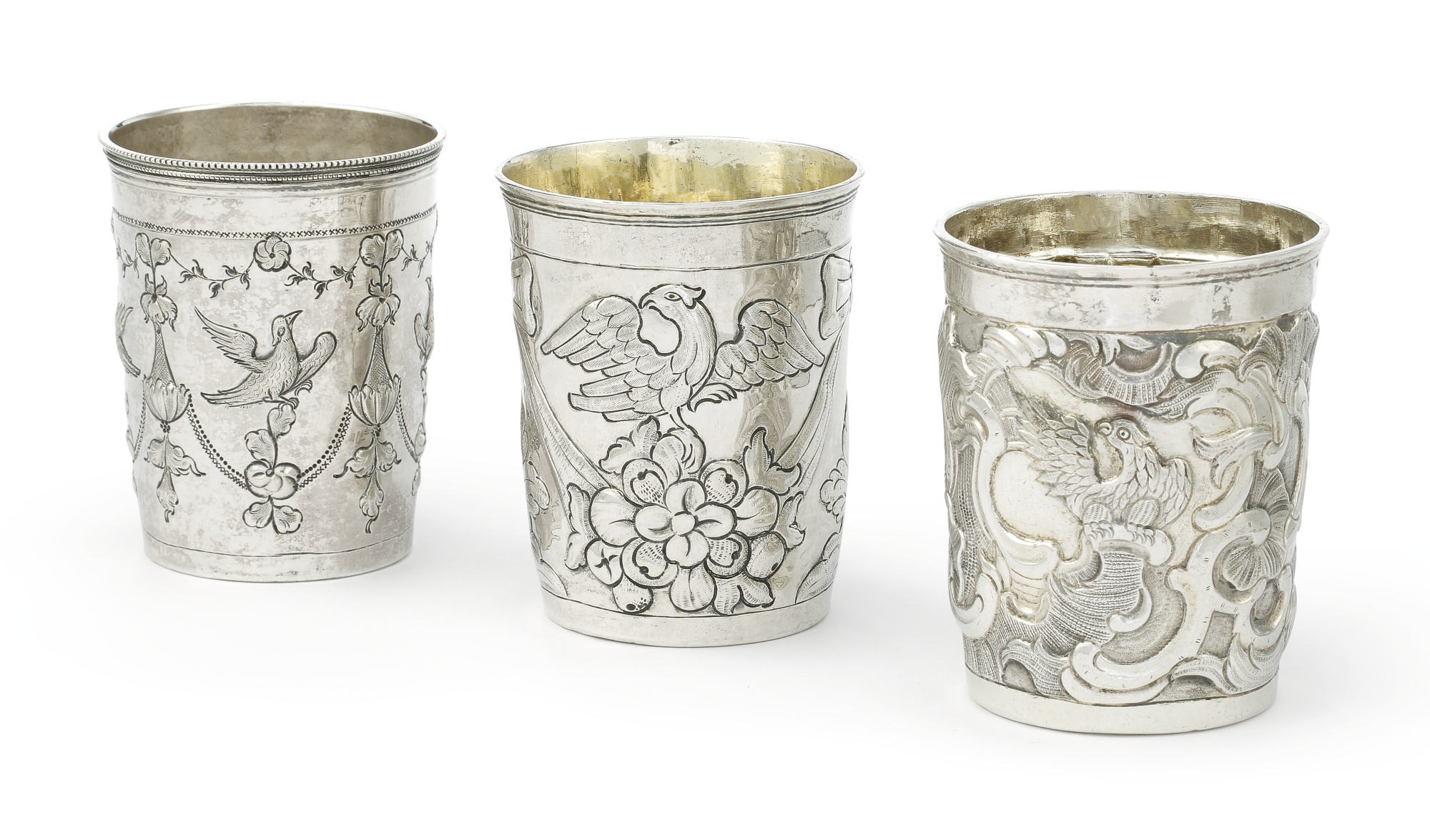 These handsome 18th century Russian silver beakers include repoussé work and chasing with foliage and birds. Decorative works of art can also be functional and these would make marvelous small bud vases, chic containers for bathroom essentials (think Q-tips or make up brushes) or desk accoutrements for pencils, push pins or paper clips. There are many ways to live with art and repurposing decorative objects offers them a new lease on life and makes your life more beautiful every day.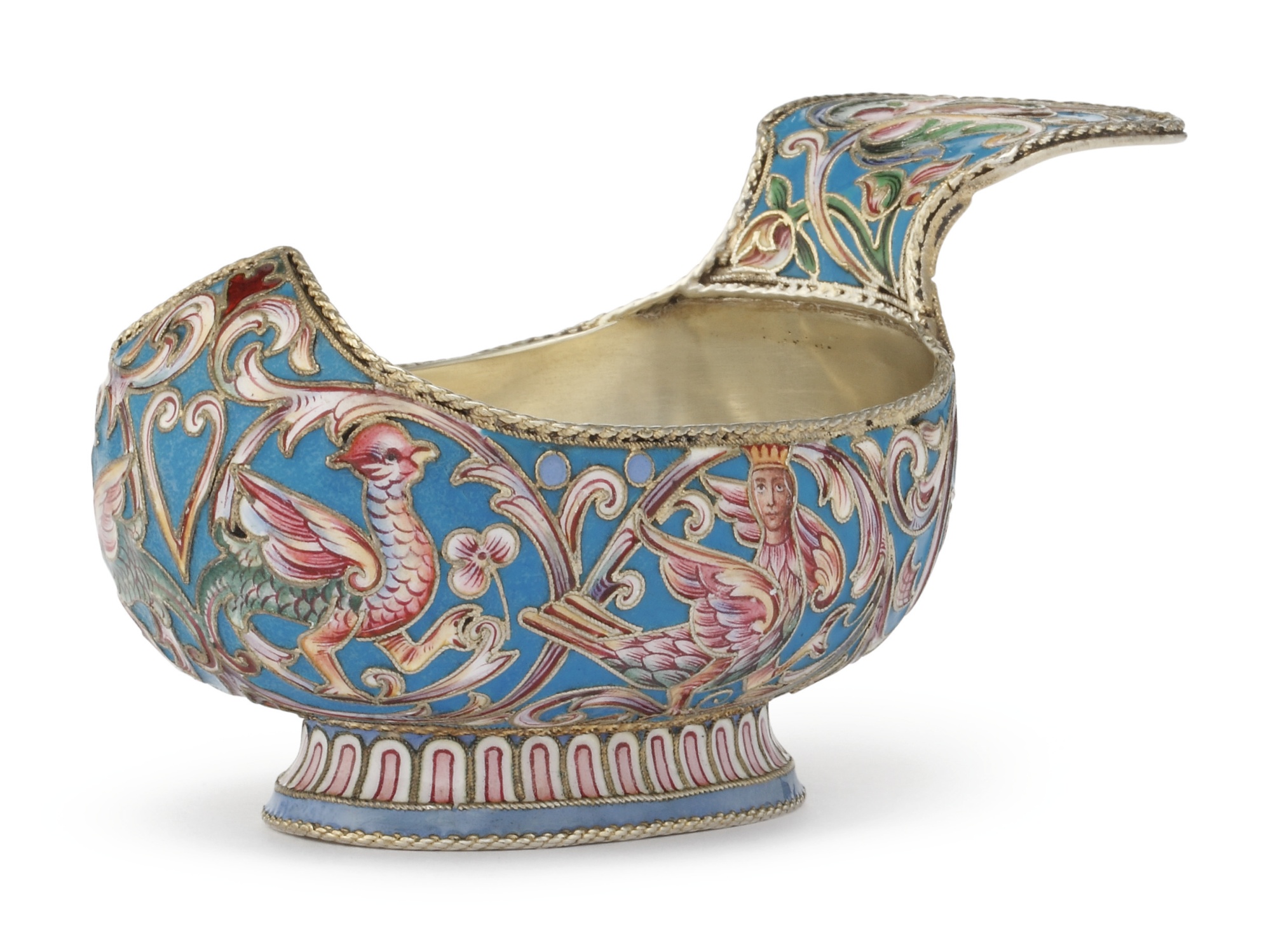 A kovsh is a traditional Russian drinking vessel shaped like a boat. This splendid example from around 1900 is silver-gilt and cloisonné, depicting two sphinxes and sirins (a Russian mythological creature half woman and half bird). The vibrant colors would add life to any tableau or table.
R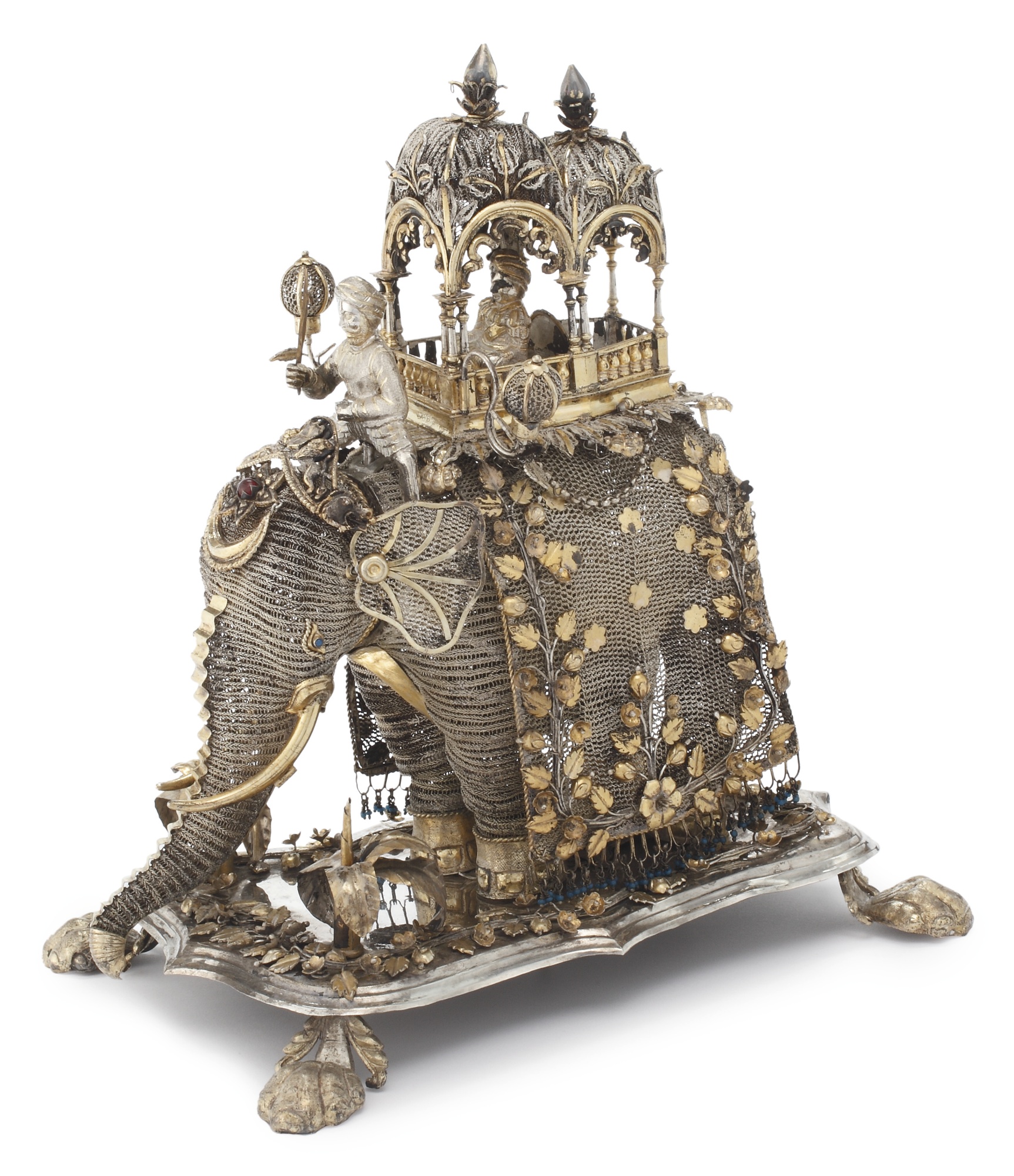 How marvelous is this Indian silver and parcel-gilt filigree elephant! At over a foot high, it is a testament to the royal treatment of rajahs at the end of the 19th century. A wonderful way to commemorate a trip to India, passion for the exotic or a love for or collection of pachyderms.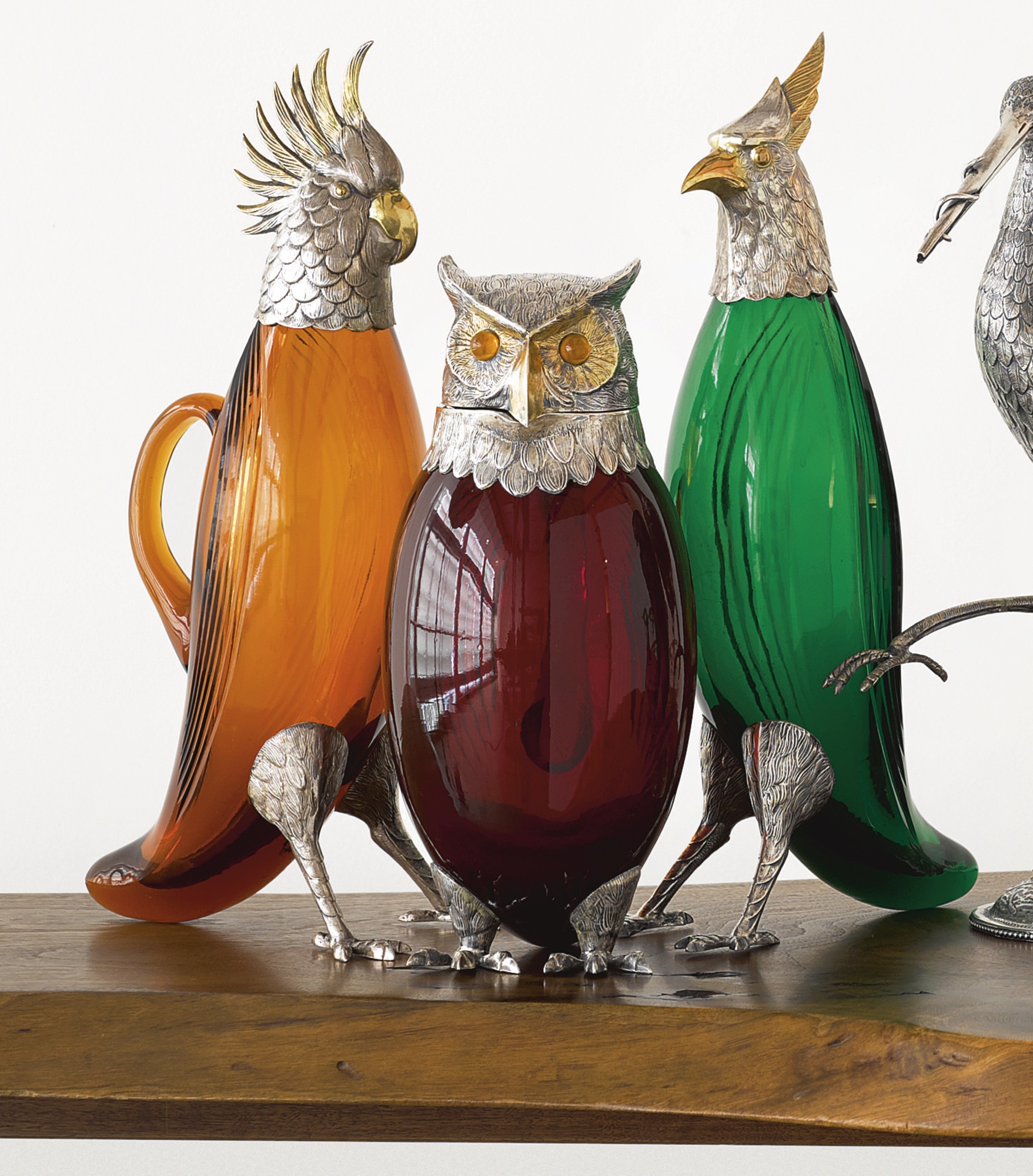 This auction includes many wonderful items for the art of the table from silver flatware, trays and serving pieces to candlesticks, tea sets and more. I found these whimsical Spanish decanters particularly amusing. With silver-mounted heads, gilt eyes and beaks on colorful glass bird forms, they would surely make even the most pedestrian bottle of wine taste better! I recommend a stroll over to York Avenue to check out the exhibition for Sotheby's fall auctions and the collaboration with Farrow & Ball before the auctions next week. Happy bidding!