While many of us have long loved the timeless pattern-on-pattern richness of maximalist interiors, it is currently enjoying a more widespread appreciation. One of the two covers offered for the July issue of Architectural Digest, below, is on point with a marvelous example of seaside maximalism, written by Jennifer Ash Rudick from her upcoming book Out East with Vendome, shot on location throughout the Hamptons by photographer Tria Giovan. Look next month for my video with Susanna featuring another project from the book, Muriel Brandolini's chic weekend beach house.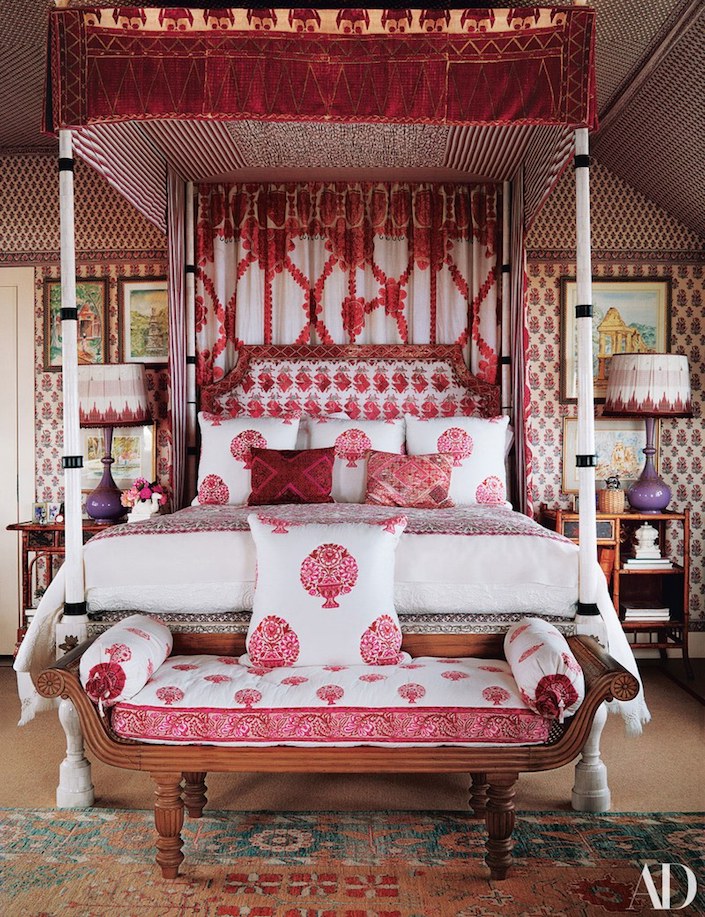 In the meantime, you can get a peek at Out East through Woody House. A charming, relaxed yet sophisticated cottage, its interiors by Peter Marino express the global chic of its well traveled owners. Above, in the cover shot of the master bedroom, we take a vicarious trip to India with custom fabrics by Marino swathing the walls and four poster from John Rosselli. Another corner, below, shows the lush layers reflecting the owners love of textiles and cultures.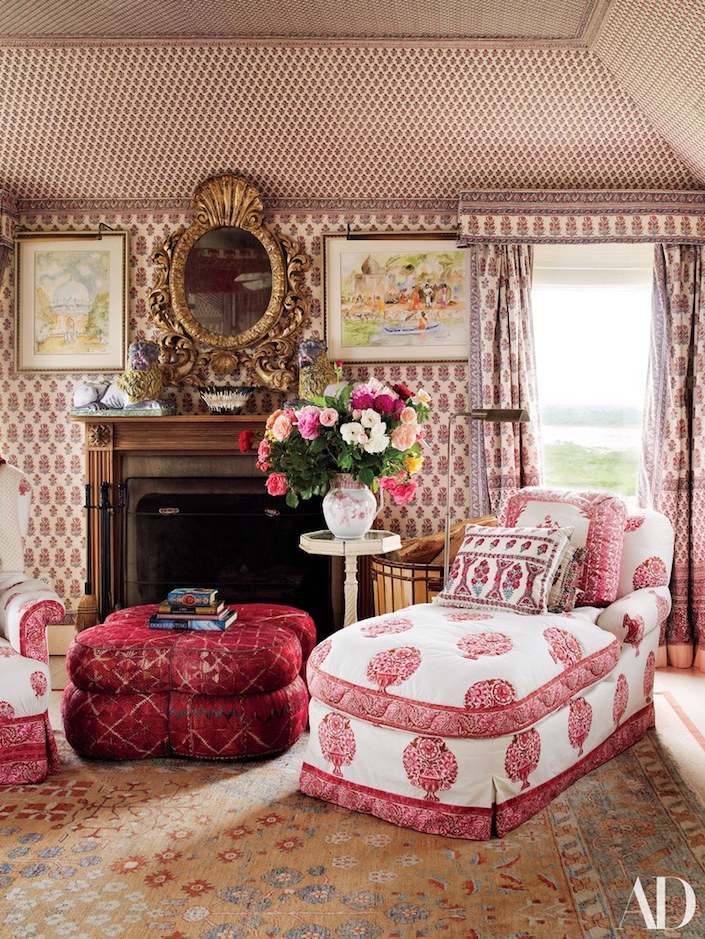 The entry hall is a welcoming respite that sets the tone of far off chic. With a borne by Genevieve Faure anchoring the space, a stenciled floor, and fanciful ceiling fixture enhance the exotic appeal.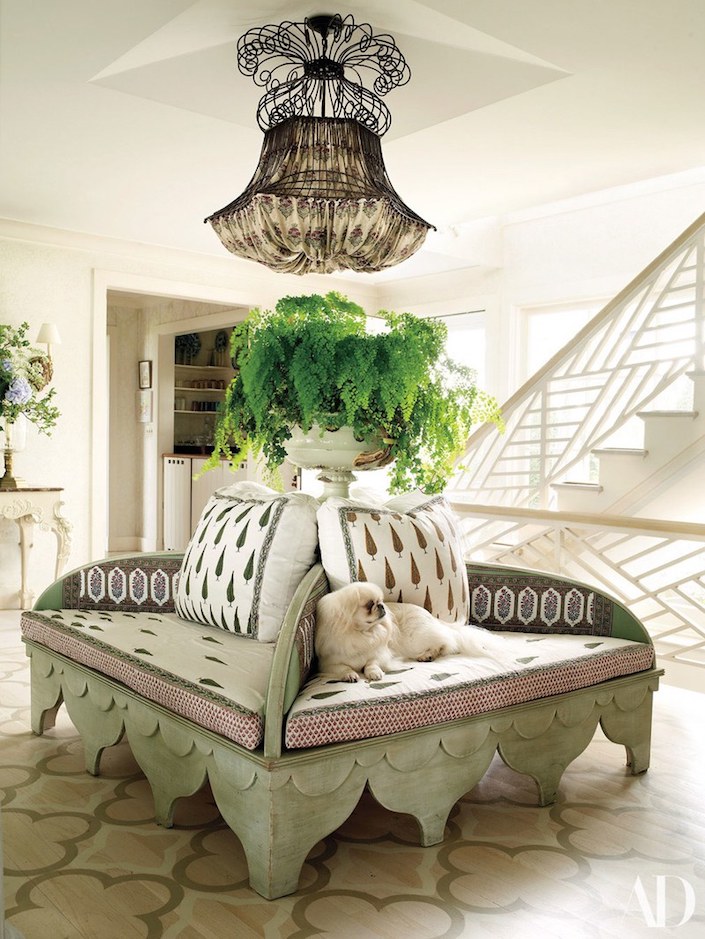 The library is a cozy eclectic space warmed by Marino's textiles, a chic mix of furniture and accessories  and the owners' expansive book collection, organized by insta-friend Kinsey Marable.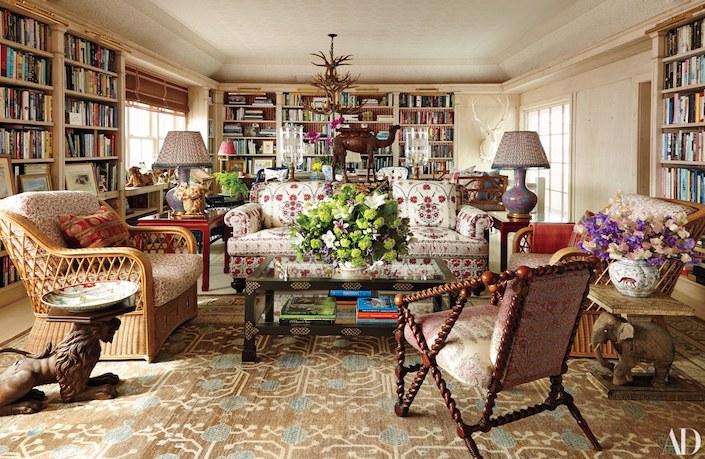 Longtime readers know of my obsession with jib doors, and the library, updated by architect Pietro Cicognani of Cicognani Kalla, features a fabulous book-filled example, below, behind a bench with fabrics from Uzbekistan.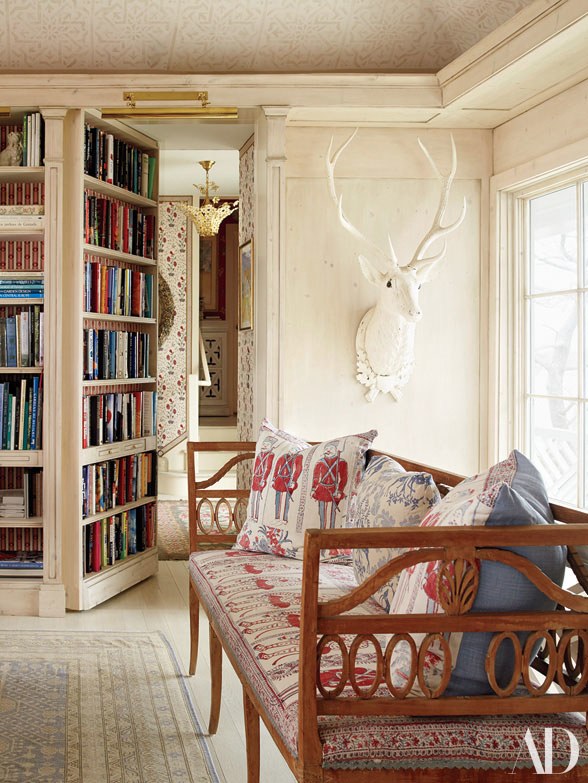 The living room includes watercolors by the husband representing many of the far flung locales visited by the couple and the Hamptons meet Morocco in the sunroom, below, with Moorish arches framing views of the garden.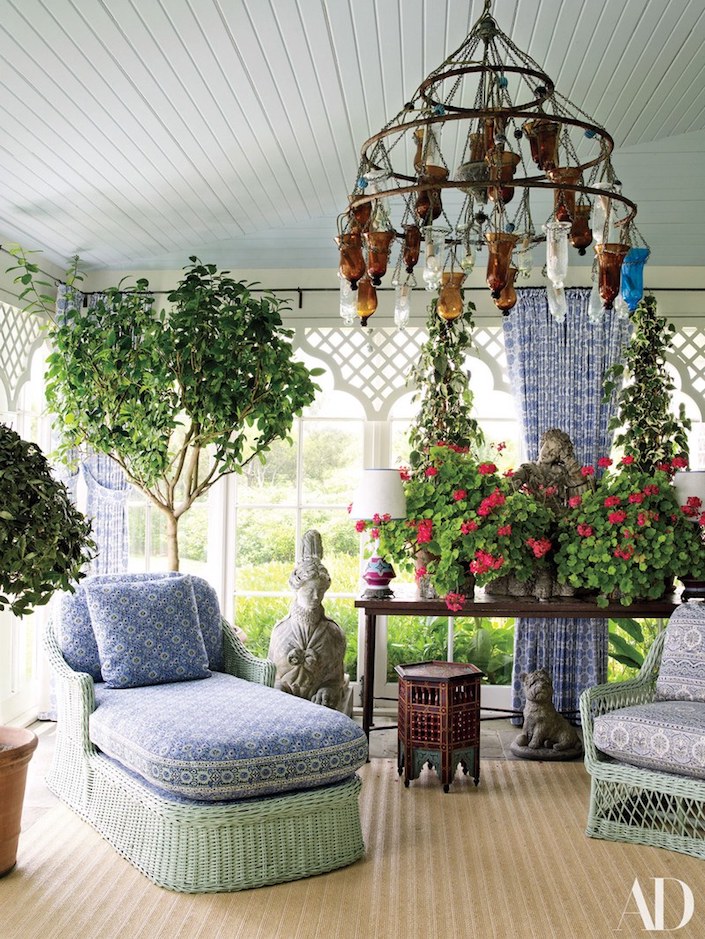 The gardens, designed with the help of John Hill, are a lush segue between the house and water.
all photos by Tria Giovan
Don't forget to stop back around the holiday weekend to help celebrate Out East with a video visit to a fabulous featured home!